Attending a high tea isn't something new. I do like the occasional high tea, quite fond of them actually. But how can you say no Virgin Australia when they ask you to attend a high tea at 40,000 feet? To be part of something that no other airline in Australia has attempted before, the highest of all high teas.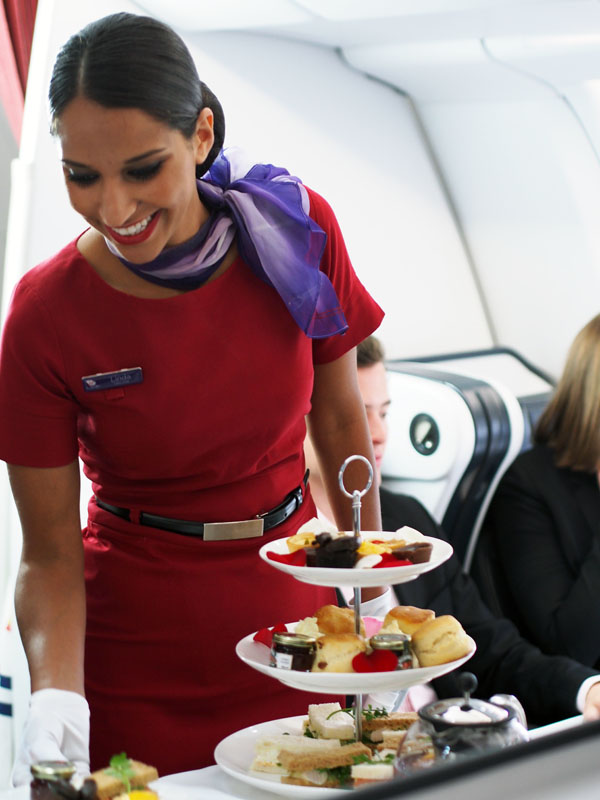 The high tea, served on today's (14/10/13) Sydney-Perth route, was to mark Luke Mangan's third anniversary of working with Virgin and to celebrate the arrival of the seventh wide-bodied Airbus A330 aircraft to the Virgin fleet. The A330 will be flying the Sydney-Perth route from this month for weekday services.
More than 300 scones baked, 580 ribbons sandwiches prepared, and 270 cups of tea brewed for the high tea.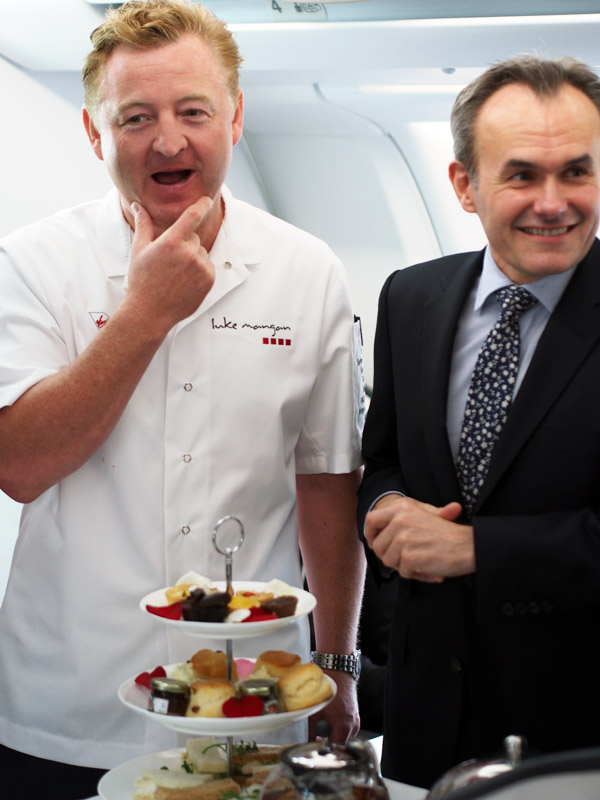 Before I share the goodies which were served, let me share with you my interview with Luke. I have always had a fascination with in-flight catering and wanted to talk high altitude dishes with him;
Q. Sara: What difficulties did you encounter when you first started to prepare menus to be served at 32,000+ feet, compared to satisfying customers on the ground?
A. Luke: With any airline catering we do encounter some food restraints , however we are very strict with our standards when it comes to preparing and storing our airline food. We need to ensure food is under refrigeration and comply with hygiene standards.
The ingredients and produce we choose for our dishes need to be robust, for example, salad ingredients need to hold up for a least 6 hours so we need to be mindful as to the ingredients we include in these salads.
We need to consider that some meats/produce work better than others such as oily fishes and more robust meats like lamb and beef. Certain foods like our beef and fish are seared before being loaded onto the aircraft and then finished off on board to prevent drying out.
We try to focus on ingredients that have lovely strong flavours such as fresh herbs and spices due to the loss of taste at high altitudes.
Q. Sara: Are there any ingredients/produce, that we will never see on an in-flight menu, as they just don't work at altitude or due to catering requirements for air travel?
A. Luke: Some meals work better than others when it comes to our in-flight menus. We rarely serve meats such as venison as they don't hold their moisture and tend to dry out too quickly.
Braised meats and oily fishes work best as they hold their moisture. We also find that certain things like offal are not very popular so we don't include these in our dishes. Currently our most popular dishes are those including fresh QLD king prawns and spring lamb, these are always really popular especially with flights out of Australia.
Q. Sara: What ingredient/produce are you presently enjoying being able to share with Virgin passengers with their in-flight meals?
A. Luke: We always try to take advantage of seasonal produce, so right now we are enjoying Spring lamb and Spring vegetables. We are also incorporating a lot of seasonal fruits in our breakfast dishes at the moment such as berries, mangoes and passionfruit.
Q. Sara: What is your personal all time favourite in-flight meal experience?
A. Luke: I recently had the pleasure of flying Virgin Atlantic in their Upper Class Suite where they served a variety of menu options one of which was a Graze Menu where they serve you a variety of small hot and cold dishes throughout the flight. It was a great way to dine on board and it lets the passengers sample a variety of in-flight meals during their flight.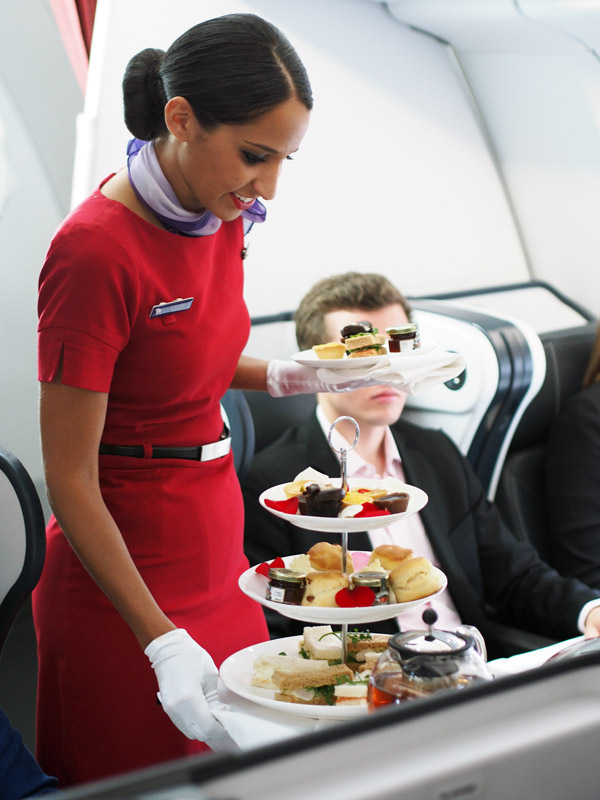 Australia's highest high tea, at 40,000 feet, was definitely a bit fun. But that is what Virgin is all about, along with their smiling service. I was lucky to participate in both the Economy and Business Class high tea experience.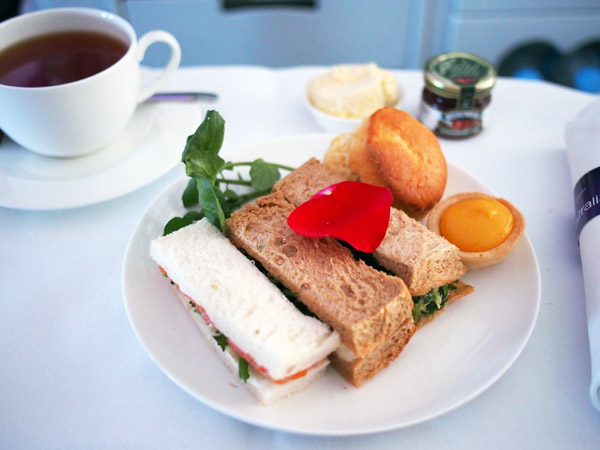 Of course not all high teas are created equal, and Business Class passengers were treated to a traditional silver tiered tray high tea. Passengers had a choice of both fruit and plain scones with creme friache and strawberry jam. There were ribbon sandwichs on brown or white bread, smoked salmon, cream cheese, as well as, poached chicken, rocket, or chicken, pesto. Plus mini lemon or chocolate tarts and mini chocolate cakes. A choice of either Early Grey or English Breakfast teas.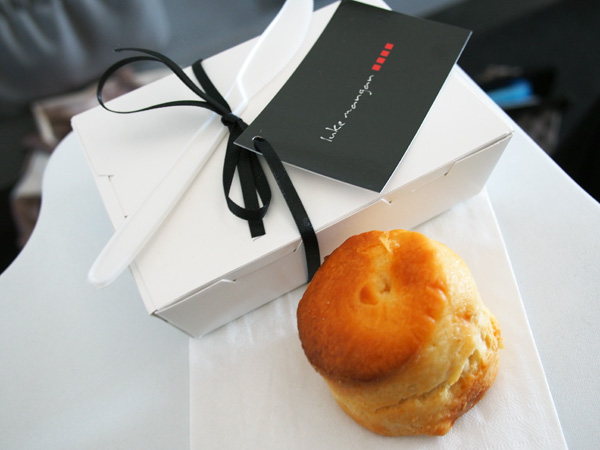 Economy passengers, unfortunately, were not offered the tray service of Business Class. This wasn't due to not wanting to, but logistically the aircraft would probably still be airborne and high tea still being served now. In Business class there are only 24 passengers, and the crew had to go back and forth the galley a few times to restock the trays. Can you imagine if this was done in Economy? Mutiny over waiting for high tea may have occurred.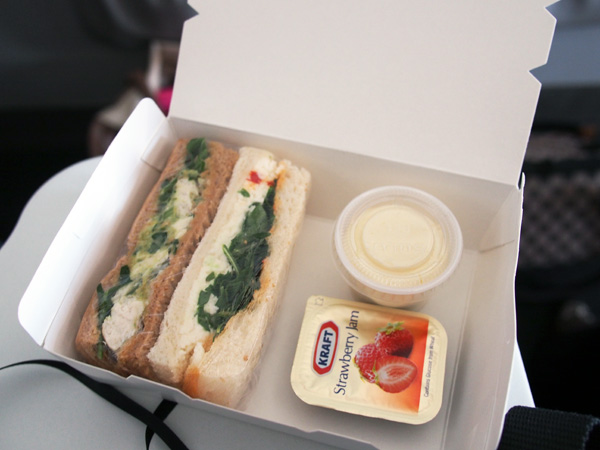 Economy passengers instead received a white box, stylishly tied with black ribbon and a little note card. In the box were two ribbon sandwiches, poached chicken, toasted walnuts, celery, basil mayonnaise and herbed ricotta, roasted red pepper pesto, basil. Their jam and cream were also in the box with the warm scone being served separately.
Virgin are flying the A330 Airbus Sydney-Perth and Melbourne-Perth on all weekday services as well as Brisbane-Perth two times a week. This makes this long haul interstate flight a lot more tolerable. The A330 has a spacious interior, lie flat beds in Business Class, dual lane service, luxury leather seating in all cabins, inclusive in-seat in-flight entertainment, plus a hot meal is included in Economy Class.
Do tell dear Belly Rumbles' reader, what is you 'best' or 'worst' in-flight catering experience? And what would be your ultimate in-flight meal? Please share, I would love to know.
Sara xxx
Belly Rumbles participated in Australia's Highest High Tea as a guest of Virgin Australia.