During May, Mad Mex held a challenge that I just couldn't ignore, Man Vs Burrito, I am Josh Vs Food after all. They put the challenge out to any amigo willing to accept the stomach defying attempt to eat a 1Kg burrito. If you succeeded you claimed yourself a limited edition tee shirt.
Mad Mex compared the challenge with the Battle of Puebla. This was when the Mexican army won an unlikely victory over the French. They were outnumbered two to one, just as my challenge burrito was twice the size of the delicious standard ones on their menu. The challenge was held during May and in line with the Cinco de Mayo celebrations that commemorate the Battle of Puebla.
I discovered two things about myself during this challenge;
1. I am a horrible, horrible, photographer, period.
2. All challenges are mind over matter.
Painting the scene………. I walked from Central to Circular Quay for lunch after a long day of digital media classes. The wind was blowing a gale, it was raining and my umbrella turned inside out. As I look for shelter I saw the warm dry sanctuary of my next challenge, Mad Mex.
I face these dual tortillas, filled with 2/3kg of rice and beans, which I choose to top off with chicken (the lighter choice), sour cream, hot sauce and their secret spices. My only thought is 'THANK GOD, I don't have to have a liter of beer with it!'
Cost: $17.50
Availability: N/A challenge was held during May
Difficulty: Medium
Repercussions: High
(Yes, I've added a new feature: Stats!)
So sitting down at my little takeaway table I start to chow down on the 2011 A Space Odyssey styled monolith. Now to say this thing was messy is an understatement, good thing I had a fork and a paper tray underneath this gargantuan burrito.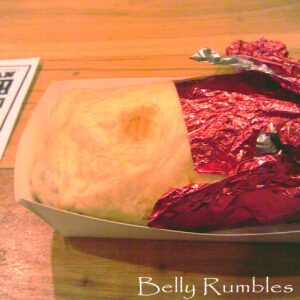 Looking at that last paragraph I may have made it seem bigger than it was, the actual challenge was a breeze 15-20 minutes, that's all. I scoffed the lot and won a tee. What I didn't know was the repercussions of the expanding mass in my stomach on the way home, rice and beans expand who knew! This evil challenge was made to be won but to cause suffering to those who took it on and beat it.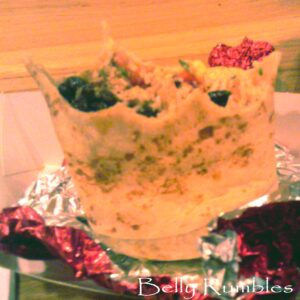 After my tee shirt turned up in the mail a while later, I posted a picture of me in it on the Mad Mex Facebook page. I won a free meal under the best wrestling pose category, thanks Mad Mex!
Would I do the challenge again??? Hmm maybe not. Would I eat at Mad Mex again, Hell Yes!!
As always I will do more and move on, burger the size of a cake here I come.
Josh