The Mahjong room is operated by Hong Kong born William Hui along with former Red Lantern Manager Drew Kohing.  William opened the Mahjong Room with Erika Chan back in 2002, and has been on my  'to do' list for a very long time now.  Mainly to head there on the last Saturday of the month for their popular mahjong lessons which are accompanied with yum cha.  You would think I would have gotten there by now!
My recent visit to the Mahjong Room didn't see me partaking in a game or two.  Instead I visited to try their new Open Rice Open Table menu.
"Open rice" means to start a meal in Cantonese.  "Open table" is a popular Chinese term which translates as opening up a table for mahjong.  An addictive tile game played in China for thousands of years.  And from what I have seen can end up being quite noisy and a lot of fun.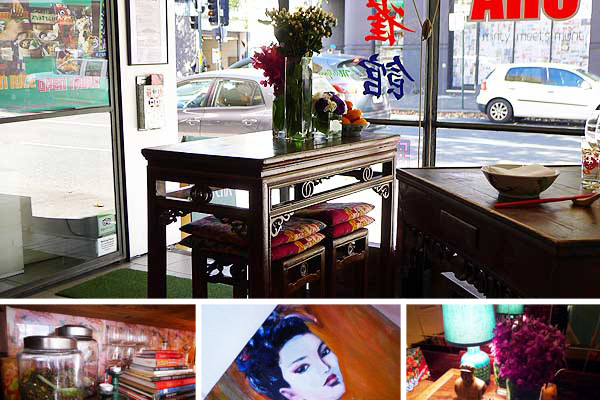 The Open Rice menu offers steamed, poached and pan-fried dishes as well as snacks.  The menu is designed for sharing and grazing anytime of the day.  The idea is to come in and order some food and enjoy a game of mahjong.  If you don't know how to play, then head to one of their special Saturday lessons I mentioned earlier.  Once you know how to play you are welcome to come in and play any day of the week.
If you have no interest in playing mahjong, don't worry it isn't a prerequisite to eating here.  Just come in and enjoy the food in the old world Chinese atmosphere.  I must admit I fell in love with how they have painstakingly decorated the private rooms, as well as the detail in the main restaurant.  Your dining table is actually a traditional Chinese wooden mahjong table.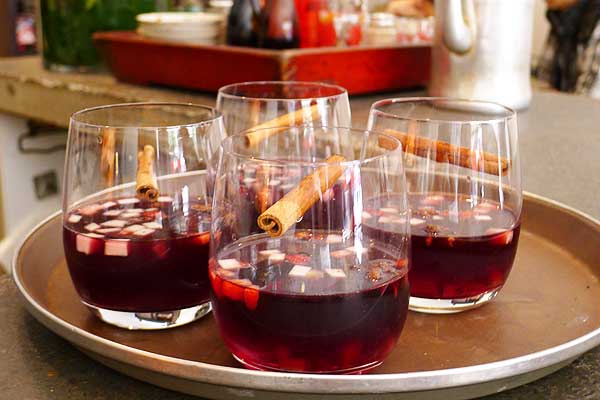 We left ourselves in William's capable hands to order a selection from the menu for us to try.  I was also tempted by not one, but two of their cocktails, both signatures of the Mahjong Room.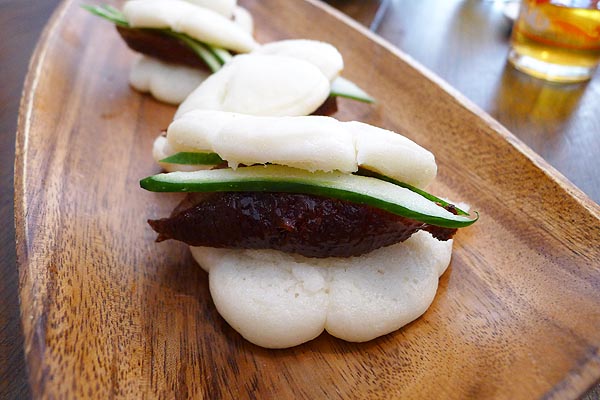 roasted duck with cucumber, 2 pcs $8
We tried three of the four steamed bun options on the menu.  Vegetarians are catered for with a vegetable steamed bun.  They use a butterfly style bun for both the roast duck and pork belly buns.  The roasted pork belly bun is one of my favourite dishes tried.  Crisp crackling and tender pork, winning combination.
There is steamed cheung fun, chicken sticky rice, curry fish balls as well as steamed eggplant and tofu on offer.  We end up sampling from the steamed dumpling section of the menu.  Both the har gau and siu mai are really enjoyable.  I am generally not a big fan of siu mai and tend to not eat it at yum cha, I would happily eat these large and juicy ones again.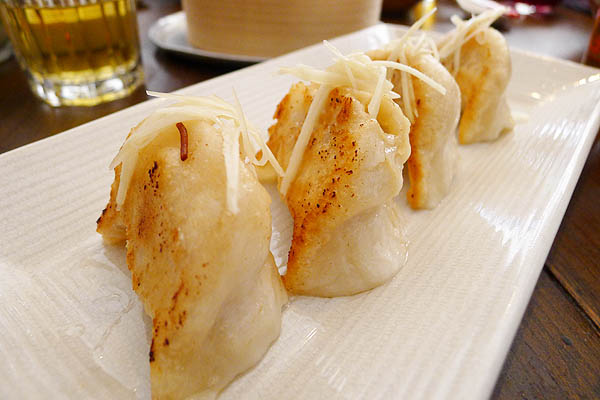 pork & cabbage dumplings, 4pcs $11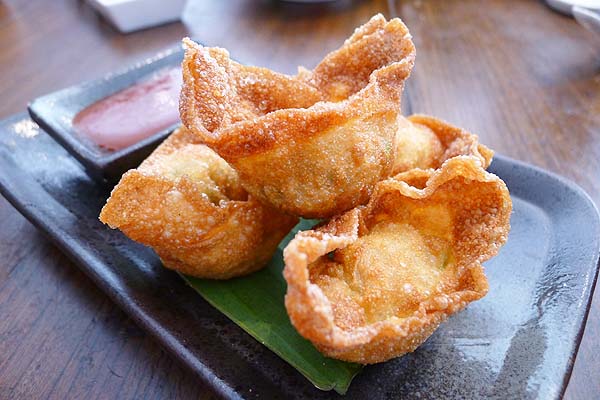 prawn & chicken wontons, 4pcs $9
Of course there is a nice little pan fried and deep friend selection.  The pork and cabbage dumplings have the nice crispness of being pan fried, are juicy with a small slurp of tasty liquid inside.  The mayonnaise served with the corn fritters may look pale and creamy, but it sure does throw one surprise hot chilli punch.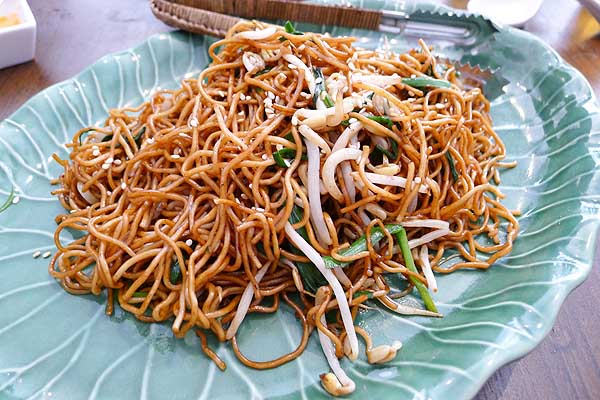 soy sauce fried noodle, a bonus dish which wasn't on the menu
William explains that sometimes there will be special dishes that aren't on the general Open Rice Open Rice Menu.  As in the case of the above the chef whipped up some noodles for us.
Already quite full, I would of normally forgone dessert.  I suggest you leave room.  The custard tarts were still warm from the oven.  The crunchy banana spring rolls are served with a ice cream, which pleasantly turns out to be lychee.  Also on the menu are firm favourites, fried ice cream and mango pudding.
I could quite easily see myself grazing away hours whilst playing mahjong here.  Of course a cocktail or two would be involved also.  Now I just need to get down on a Saturday to learn how to play!
The Open Rice, Open Table menu will be available at Mahjong Room from 11.30am to 3.30pm every Friday and Saturday.  The restaurant will be open as normal for dinner Monday to Saturday.
Do tell dear Belly Rumbles' reader, have you ever played mahjong?
Sara xxx
Belly Rumbles dined as a guest of the Mahjong Room.
Mahjong Room
312 Crown St
Surry Hills, Sydney
Tel:  +61 2 9361 3985
www.mahjongroom.com.au