I love Mamak.  It must be one of my favourite restaurants in Sydney.
Don't let the line up outside the door make you turn around and go elsewhere.  Trust me the line moves pretty quickly and the window entertainment keeps you amused.  Service is also pretty speedy once you are inside.
"Window entertainment?" you ask, yes you can see the roti being made right in front of you as you wait to get a table.  It amazes me how thin they get the dough before folding it up to cook on the hot plates, truly is pure talent.
What do I go there for?  Well I go there to get a roti canai fix (served with two curry sauces and sambal).  There are other variations on the menu, but I really like the plain one without fillings.  Chicken satay is also a must, I adore their chicken satay.  Small skewers of perfection with delicious peanut sauce and very addictive.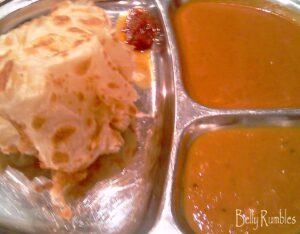 Roti Canai $5
Satay Chicken $8 1/2 dozen $14 1 dozen
I have had quite a few items off the menu now, but the roti canai and satay are what I go back for time and time again.
Rojack $12
There is dessert roti as well.  Roti pisang (roti cooked with banana inside) is gorgeous ($7.50).  It has this wonderful sugar caramelised outside.  What I really do love about this dish, is that I can get it takeaway and it makes the most perfect breakfast food the next day.  My other favourite dessert roti is the roti tisu ($9).  I am drooling about it as I type, it is a paper thin tall cone of crisp sugary roti.
Mamak isn't new, it has been around for a while now, but if you haven't been, seriously pay them a visit.
They also have a venue at Chastwood for those of you on the North Shore.
Also guys, apologies in advance for the bombardment of posts that will  be going up over the next week.  I am on holidays and playing catch up to clear the deck a bit for 2011.
Sara xxx