I am a massive fan of mushrooms and they are a staple in my kitchen. When I was approached to be one the official Mushroom Mania bloggers for 2013, saying yes was a no brainer.
What is Mushroom Mania I hear you ask. Each July the Australian Mushroom Growers ask a few bloggers from around Australia to seek out delicious mushroom dishes from local restaurants and cafes. This is in conjunction with a great competition they have running for the general public too, but more about that at the end of the post.
Why am I am fan of mushrooms? Mushrooms are one of nature's pure and natural superfoods. They are high in flavour and low in kilojoules, that fact alone wins me over hands down. They contain Vitamins B, B12 and D, as well as antioxidants. The Power of Mushroom website will give you the complete rundown of why this superfood is super for you.
As mushies are something we eat at home regularly, I don't necessarily order them when eating out. Well actually, as I think about it now, I do. Breakfasts and brunches are a must with a side of mushrooms. If I order a pizza, it always has mushrooms on it, always!. Eating at the local Chinese, there is always a stir fried vegetable dish ordered that is generous with mushrooms. I suppose I just don't actively think about ordering them, they are ordered naturally.
It was quite interesting when I started to seek out places to eat that make mushrooms the king of the dish. When you have a good look, there are amazing mushroom dishes all over Sydney.
I had been wanting to try Mejico since it opened, and Josh happily chose it as the destination for the family dinner to celebrate his turning 21.
Mejico's guacamole is one of their signature dishes. Avocado, red onion, coriander, lime juice, wasabi, walnuts and Serrano chilli, all pounded together in a malcajete at your table. Served with golden plantain chips. A fun dish, who doesn't enjoy watching food being prepared at your table?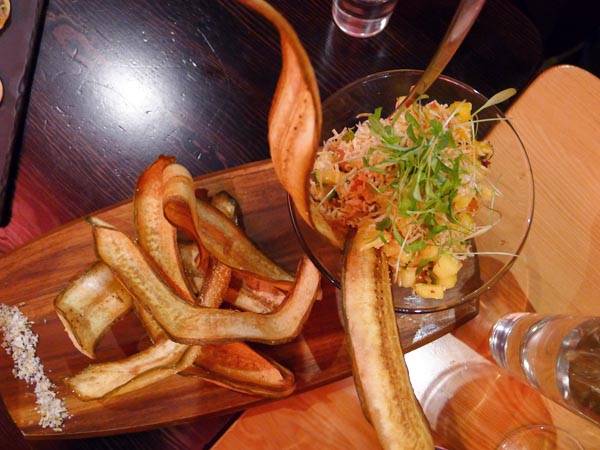 mango & habanero chilli salsa $10
The birthday boy is a big fan of mango, this salsa just had to be ordered. Along with the mango and habanero chilli, toasted coconut, cucumber, jalapeno, tomatoes and lime also made an appearance in the salsa. The salsa was a big hit with a nice big chilli kick.
A crispy house baked tostada is topped with finely diced scallop mixed with avocado, pomegranate, jalapeno and topped with crispy eschalots. A magical mouthful of flavours that I would order again.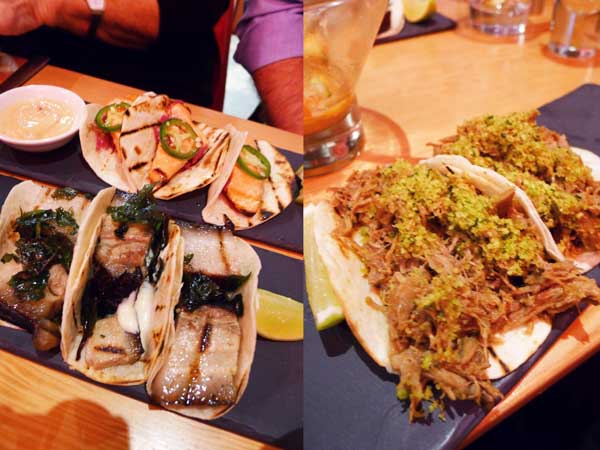 grilled ocean trout, smoked pork belly & braised lamb shoulder tacos $16/3
The grilled ocean trout taco is quite light, served with chipotle mayonnaise, pickled red cabbage and topped with a slice of jalapeno. I do love my pork belly, but sadly I am not a fan of these tacos. The fat ratio was way too high for me. Even though the pork is smoked for 20 hours, the fat was quite chewy and not appealing to eat. I didn't try the lamb tacos, but I have been advised they were pretty good.
We order a couple of sides of queso fresco (similar to halloumi). The slices of queso fresco are grilled and topped with Mejico's home-made agave syrup, pepitas and coriander.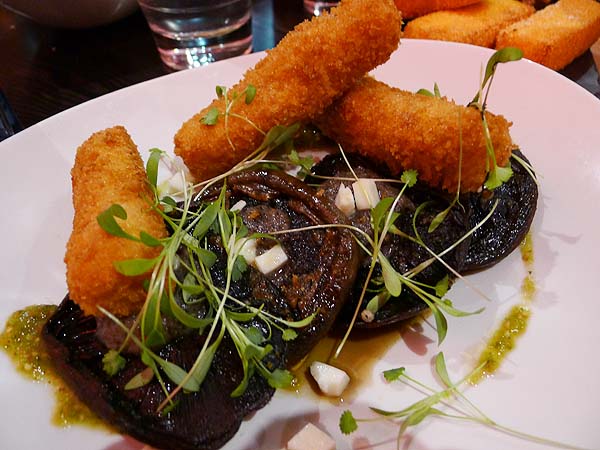 portobello mushrooms & croquetas $28
The portobello mushrooms are one of the main dishes at Mejco. It is great to see mushrooms take centre stage and not be just a side dish. Four large mushrooms with tomatillo salsa, black bean puree, ancho chilli, cumin, onion and manchego cheese. Served with crispy sweet potato croquetas.
The ribs are finger licking and worth the mess to eat them. They are marinaded in a chipotle chilli concoction and served with blackened corn and polenta chips.
We ended up having a great family meal to celebrate Josh's 21st. Ordered way too much food, some ribs even made it home for Sally. The staff are friendly and helpful. Mejico is a hive of energy. The only downside was the noise. Mejico is extremely noisy when it is busy as per our visit on a Friday night. We found ourselves shouting at each other all evening just to have a conversation. By the time we left I had felt like I had spent 2 hours in a night club. Ears were a little fuzzy, voice hoarse from shouting.
Mushroom Mania Competition!
I did mention earlier that there is a competition being run for Mushroom Mania by Australian Mushroom Growers this July. The aim of the competition is to highlight the amazing mushroom dishes on offer at cafés, bistros, clubs, pubs and restaurants across Australia. You'll have the chance to win one of 40 $100 restaurant vouchers and all you need to do is simply share the mushroom dishes you discover. It could be a beautiful breakfast, a luscious lunch or a delicious dinner, it just has to have mushrooms.
Entering is very simple, either via Instagram, Twitter or email. All you need to do is take a photo of a mushroom dish during Mushroom Mania. Competition closes 31st July (11.59pm)
Instagram: Follow @powerofmushrooms, post your photo and hashtag it with the name of the restaurant (#establishment), state (#state), #mushroommania @powerofmushrooms.
Twitter: Follow @Mighty_Mushroom, post your photo and hashtag it with the name of the restaurant (#establishment), state (#state), #mushroommania @Mighty_Mushrooms.
Email: Email your photo to [email protected] , state 'Mushroom Mania' as your email subject line, include your full name, phone number and delivery address, together with the name of the restaurant and state.
Do tell dear Belly Rumbles' reader, do you seek mushrooms out when you eat out? Or do you just order them naturally like me?
Sara xxx
Mejico
105 PItt Street, Sydney
Tel: +61 2 9230 0119
www.mejico.com.au
This post is sponsored by the Australian Mushroom Growers, but please note that Belly Rumbles and family paid for their own meal at Mejico and all opinions are my own.