I had read quite a bit about this place and it was on my hit list.  We (actually I should say "I", the boys don't have a say on where we eat, who are you kidding ;p ) decided to head here for a late lunch before heading to the movies on a Thursday.
It is pretty cool how all the instructions are laid out for you, no confusion on what you are meant to do.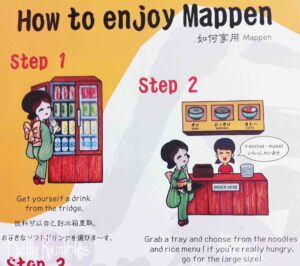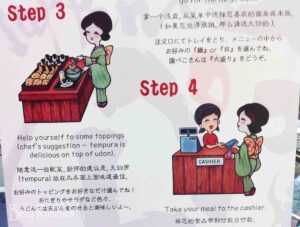 Pick up your drink out of the fridge, there is water available free of charge from a dispenser if you would prefer.  Order your noodles and collect them.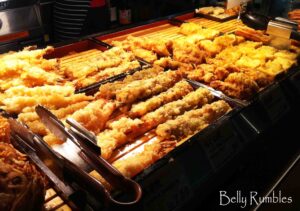 Slide your tray along to the tempura section and choose what tickles your fancy.  Next along the "canteen" line are an assortment of pickles, vegetables etc.
Then you reach the register.  Grab some tempura sauce out of the urn.  Put a spoonful of thinly sliced green onions and a spoonful of tenkasu (tempura crumbs) on top of your noodles if you desire.  You only are allowed one spoonful of each, so pile it high.  Grab a soup spoon, napkin and pay for your meal.  Chopsticks and chilli are on the tables.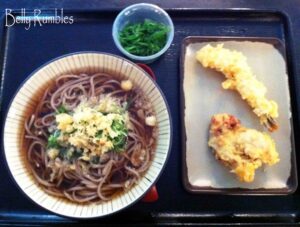 Kake soba small $3.90, chuka wakame $0.80, prawn tempura $2.50 & chicken tempura $1.50
I went for a Kake soba in the small size with a prawn tempura and also a chicken tempura.    I couldn't resist picking up a tub of chuka wakame (seaweed stem salad), I have a slight addiction to it.  The noodles and broth were good, the broth had some depth which I liked. Josh decided on the udon version of the kake and he thoroughly enjoyed it.
Tempura on the other hand……..
Okay I have read mixed reviews on the tempura, and I am confirming that they are right.  Come to Menya Meppan out of peak time and be prepared for stone cold tempura.  As I had that bit of knowledge under my sleeve I took my tempura from the back, which was just warm.  It seems if you want the hot crispy tempura get here when it is busy.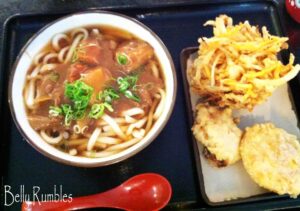 Curry Udon large $6.90, vegetable kakiage tempura $2.80, chicken tempura $1.50 & sweet potato tempura $0.80
Mac had the curry udon, which was a vegetable curry.  Now his description of the dish was "it tastes like the frankfurts that come with baked beans in a tin".  After this statement I had to have a try.  I actually don't eat tinned baked beans and frankfurts, so I can't say that it did to me.  I do understand what he meant though, it had a slight rich tangy smokey tone to the broth. Mac didn't really enjoy it at all, though being hungry he ate it, but would not order it again.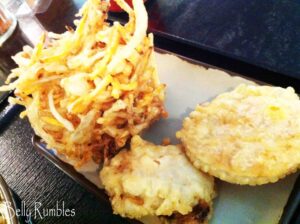 Both Josh and Mac had stone cold tempura, me bad, didn't tell them to pick from the back.  They enjoyed the vegetable kakiage tempura (mainly onions with a little carrot), but if it had been hot would have been fantastic.  I found it very oily when I had a try of theirs.  My prawn tempura was warm and was okay.  The chicken tempura, as it was cold, wasn't that great.
After you are finished you need to take your tray to the return window.  Organisation at its best!
Menya Meppan is quick, organised and the noodles are great.  I do love the concept of being able to create your own dish, just a shame that the tempura is stone cold out of their peak times.  Maybe don't make so much so it sits there and gets cold?  Would head back in a heartbeat during their busy times.
Sara xxx