I have fond milk bar memories.  Who wouldn't when you grew up right next door to one.   It was owned by an Italian family which we were close to.  Every afternoon before walking through our front gate after school, I would call in to the milk bar.  I would purchase a paddle pop or a mixed bag of lollies.  Sometimes I would splurge and buy a chocolate milk shake.  As we were neighbours and friends, they were always generous with the lollies.  I would hang out in the milk bar on the odd occasion and 'help out'.  I was probably more of a hindrance than a help.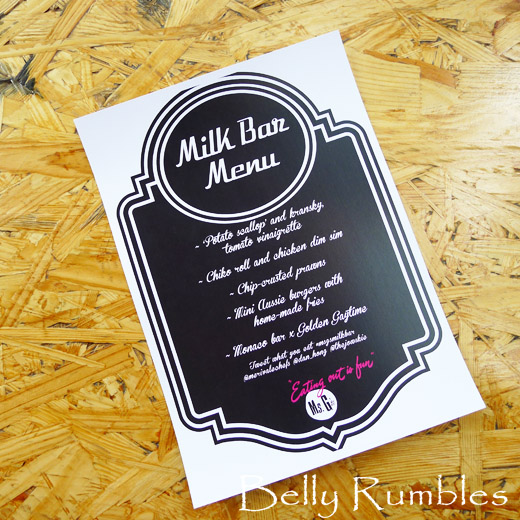 Last Saturday (17/03/12), as part of March into Merivale, Ms.G's held a special one off event.  Inspired by the humble milk bar, chef's Dan Hong and Jowett Yu created a five course degustation, Milk Bar Memories.  Five courses, plus a cocktail or chocolate milkshake $65/adult or $40/child.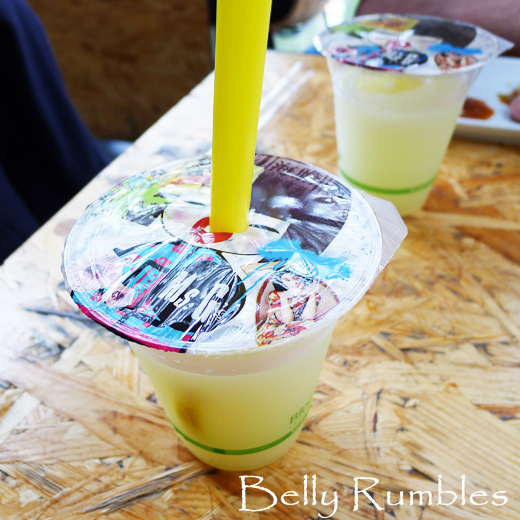 The event was sold out and the restaurant packed.  While Josh and I perused the menu and tried to envisage what the dishes would look like, we sipped on our yuzu slushies.  The yuzu slushie is a signature cocktail of Ms.G's; limoncello, vodka, yuzu juice and orange bitters packaged in a sealed cup which you pierce with an oversized straw.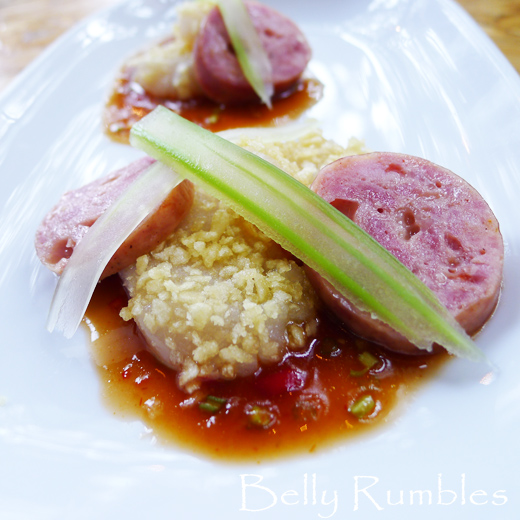 Potato scallop & kransky, tomato vinaigrette
Expecting a twist on the good old oily potato scallop, I didn't expect what was served.  A raw scallop which was sprinkled with potato chip crumbs.  I didn't realise it was actually a sea scallop at first.  I had taken a mouthful with the kransky and tomato vinaigrette which overpowered the sweet sea scallop.  Once it dawned on me what I was eating, it was quite clever.  The scallop and chip crumbs worked well together.
I am not a Chiko Roll fan at all.  For my overseas readers, the Chiko Roll is an Australian icon.  Pastry roll filled with a mushy mystery filling, mainly cabbage, which is then deep fried.  Sort of like a giant spring roll/egg roll.  Ms.G's version was truly enjoyable.  Filling of cabbage and pork, with more sophisticated pastry surround.  The chicken dim sim filled with chunky chicken topped with a drop of chilli sauce.  A lot more appetising than those deep fried golf balls at your local greasy spoon.
Each butterflied prawn was topped with a different crushed chip, cheese Doritos, chicken Twisties and Burger Rings, served with a slice of lime.  Oh dear what a terrible dish, such a shame to spoil three lovely crustaceans.  Quite a few people seemed to really love the dish, but I also saw quite a few plates head back to kitchen half eaten.  Both Josh's and mine were one of those.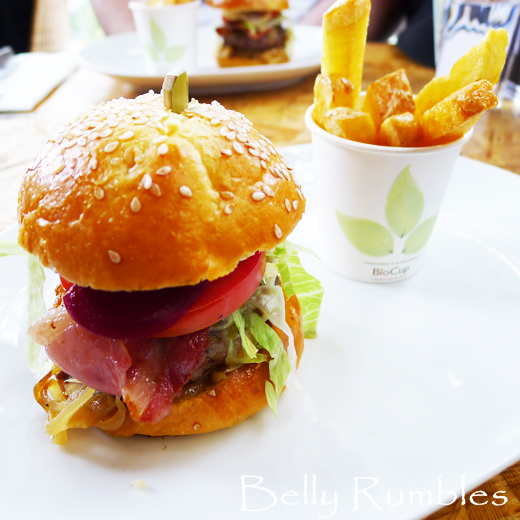 Mini Aussie burgers with homemade fries
The mini burger looks so cute served with a small cup of hand cut chunky chips.  A hamburger brioche bun sprinkled with sesame seeds, filled with bacon, beetroot, lettuce, tomato, onion, quail egg, thick beef patty and BBQ sauce.  The quail egg is a cute touch and beef patty cooked to a juicy medium.  Even though it was a mini burger, it was very filling.
Feeling very full from the mini burger, dessert turns up.  The love child of a Monaco Bar and Golden Gaytime.  Two buttery soft chocolate biscuits filled with two scoops of toffee ice cream and salted caramel sauce.  Sprinkled with buttery sweet biscuit crumbs a true highlight of the meal.
Do tell dear Belly Rumble's reader, what is your fondest milk bar memory?
Sara xxx