Lyn and Sal are the winners of My Kitchen Rules biscuit bake off. The prize, seeing their smiling faces on packets of Chocolate Macadamia Brownie Cookies in Coles supermarkets from today.
If you are a long time reader of Belly Rumbles you may remember I wrote a weekly write up of the Recipes to Riches cooking show a few years back. It only ran for two seasons, but my regular and not so regular readers enjoyed my write ups. As much as I enjoyed writing them.
MKR, just like Belly Rumbles, is in its 10th season. Oh, MKR what a train wreck you are to watch. I personally find it hard to look away. Don't judge me, at least my secret (or not so secret) vice isn't Married at Frist sight or the Bachellor/ette.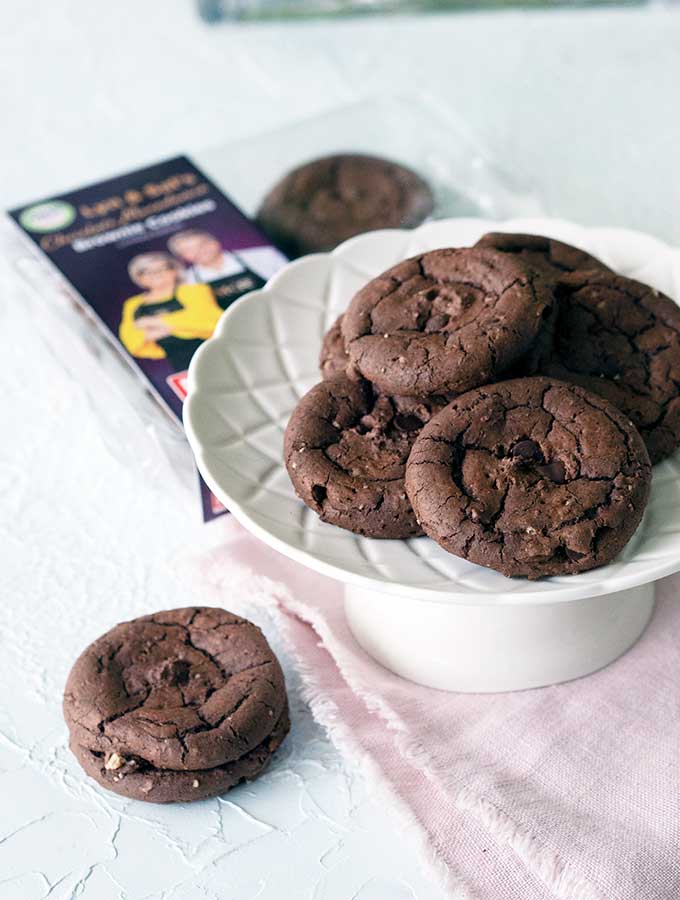 I do watch both My Kitchen Rules and MasterChef each season. Not so much for the brilliant cooking, or lack of. Okay MasterChef has some pretty talented contestants. It is more to school myself on what 15 minutes of fame reality TV contestants I am going to run into at the events around town.
Over the years I have been able to meet, chat to, and observe contestants from MKR and MasterChef. Not only does MasterChef bring to light some pretty talented cooks, but they tend to be a nicer type of person compared to MKR contestants.
MKR seems to choose, or breed, people that have a very large DYKWIA (do you know who I am) chip on their shoulders. I have met some lovely ex-MKR contestants like Dan and Steph who have opened a really great café at Hervey Bay called Eat @ Dan and Steph's. Sadly I have met some real twats as well.
With large and often not desirable personalities, or at least that is how they are edited to be. MKR offers a lot of material to write about. I have been tempted at the start of each season to write a weekly post, but it's just never happened.
Last night was different, MKR mirrored Recipe to Riches. Except the winner didn't get the riches, just exposure bucks at Coles.
I have picked up some of Lyn and Sal's cookies to share what they are like. But first, for those that don't watch the show, let's have a little recap of what happened last night. Plus a little insight into what I think of the contestants.
the biscuit challenge
It's the Coles challenge where the winning team will have biscuit glory with their product sold in Coles supermarkets nationally. The losing team? Won't face elimination but instead a penalty next challenge.
Considering the only reason why you would be a contestant on MKR is for your 15 minutes of fame, this is a pretty awesome prize. They probably had images of large POS marketing material and biscuits galore running through their heads.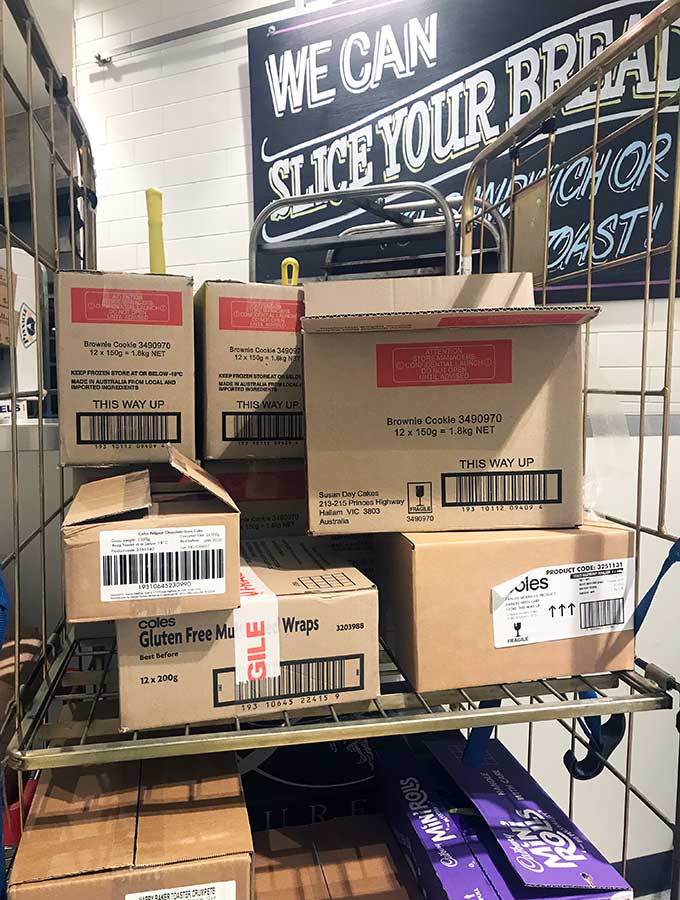 Sad reality check, this was the display at my local Coles at Kareela at 11am this morning. I had to ask where the biscuits were, and I was unceremoniously led to some defrosting boxes of biscuits.
Let the bake off begin
Like every episode the contestants are at Coles. The thought of purchasing my meat and vegetables from Coles for competition purposes (or any reason) puts me in a cold sweat. I love my local butcher and greengrocer. Not only for the service and knowledge they provide, but their quality over Coles. This is another story for another day.
All nine remaining teams are lined up at the entrance to Coles. Colin Fassnidge announces that they will be baking biscuits. All while Pete Evans feigns excitement over a product he would never purchase or eat off camera. Unless of course it is made from almonds activated under the full moon whilst being tended to by paleo enthusiasts who are sipping bone broth. He also isn't a fan of the Congress Plaza Hotel in Chicago.
We watch frantic contestants run around Coles like five year olds that have eaten way too many red frogs. I note that there is a predictable sweet theme happening and we get a glimpse of the flavours they are planning to use, white chocolate, dark chocolate, Nutella, nuts, bacon, cheese.
Josh and Austin
There isn't a lot of love amongst the teams for the Aussie Yanks Josh and Austin. Home schooled and a little eccentric, I actually quite like these guys. They call a spade a spade, are very comfortable in their own skin and have no filters. It will be interesting to see what their unedited selves are like.
Josh "We have to make a biscuit, so we can get our face on a cookie box, So I would literally buy a box of me each day and eat the contents."
They are making Pistachio shortbread with spiced crème anglaise and rhubarb compote. I admit that their biscuit excites me as it is different.
While I ponder their pistachio shortbread, Josh ponders if we are related to rhubarb as we both have a high water content. Not really sure what Austin ponders as he tends to take a back seat with Josh doing the talking (all the time).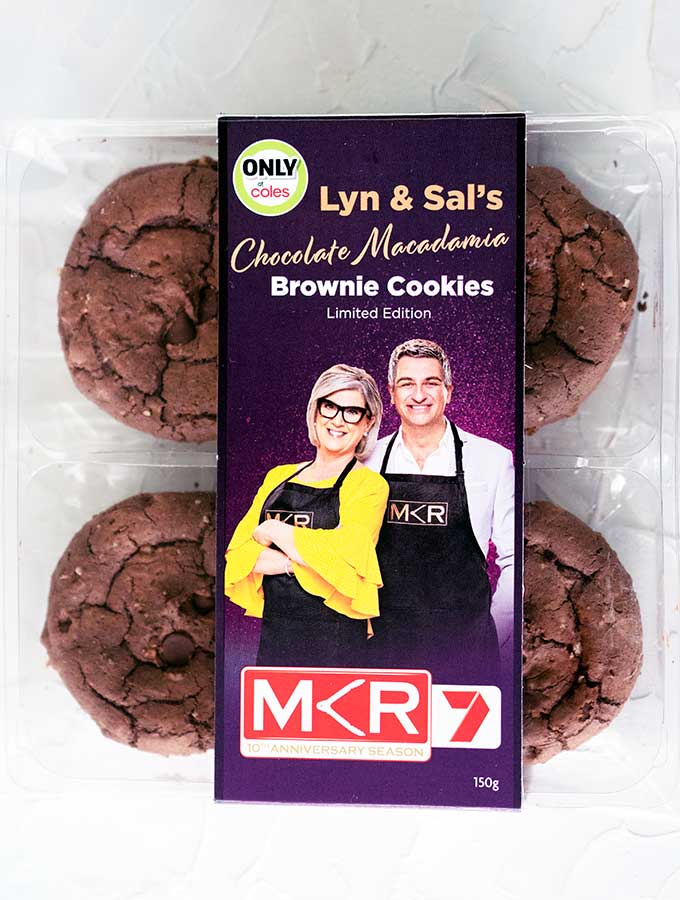 Victor and G
These guys are giving us a cherry ripe fix with their Cherry Kiss Macaroon, with whipped cherry yogurt and sour cherry drizzle. The coconut macaroon is tart like in shape to hold the cherry, yoghurt and drizzles.
It is gluten free, sticky and chewy and I like the sound of their biscuit. But like most of the contestants they haven't thought about what will be marketed and sold to the public. Their biscuit as well as most of the teams would be impossible to package with the yoghurt etc. And the biscuit itself is a straight forward coconut macaroon.
Knowing there is no way they are going to win, I do give them bonus brownie points for explaining the difference between a macaroon and macaron.
Lisa and John
This mother and son team have taken a turn in my affections. Being a mother, with a son that I work with, I wanted to love these guys. Sadly their cockiness portrayed on screen has dulled my love.
John "A lot of people are going to do a sweet biscuit, but that's not us we are savoury people." I feel you there John, I too am a savoury person.
Their biscuit is a Parmesan Cheddar & Chive biscuit with smoked salmon pate and cucumber oil. The cucumber oil has my attention but sadly we don't really get to see much happening with that during the episode.
John "I really think there is a market for savoury biscuits and we may be onto a winner…." I am pretty sure you can buy savoury biscuits, even in Coles. Cheese and chive aren't a ground breaking combination.
Matt and Luke
As we slowly find out who is baking what, we come across another team that believe everyone else is making sweet biscuits. It seems that savoury is also popular amongst the teams. Matt and Luke are making Sweet Potato Crackers with Mexican beef and salsa. Beef nachos anyone??
Ibby and Romel
Ibby and Romel are channeling their inner Josh and Austin and making Maple Bacon and Peanut Butter Biscuit with bruleed banana and bacon crumb.
They think their choice is a risk, but they "have to risk it for the biscuit". Romel wants to see his face on every single shelf in Coles. He will be there taking selfies every day. This really doesn't surprise me.
Pat and Bianca
Bianca is another one of the you like her, or you don't contestants. Pat and Bianca are not friends but competing together in MKR, which makes their dynamic an interesting one.
They are making Chocolate hazelnut biscuit with chocolate mousse and berries, and Bianca proudly states that their biscuit is special as they have two biscuits in one. I still can't work out how this is two biscuits in one.
They want to make sure it is "one naughty biscuit". One for the chocoholics.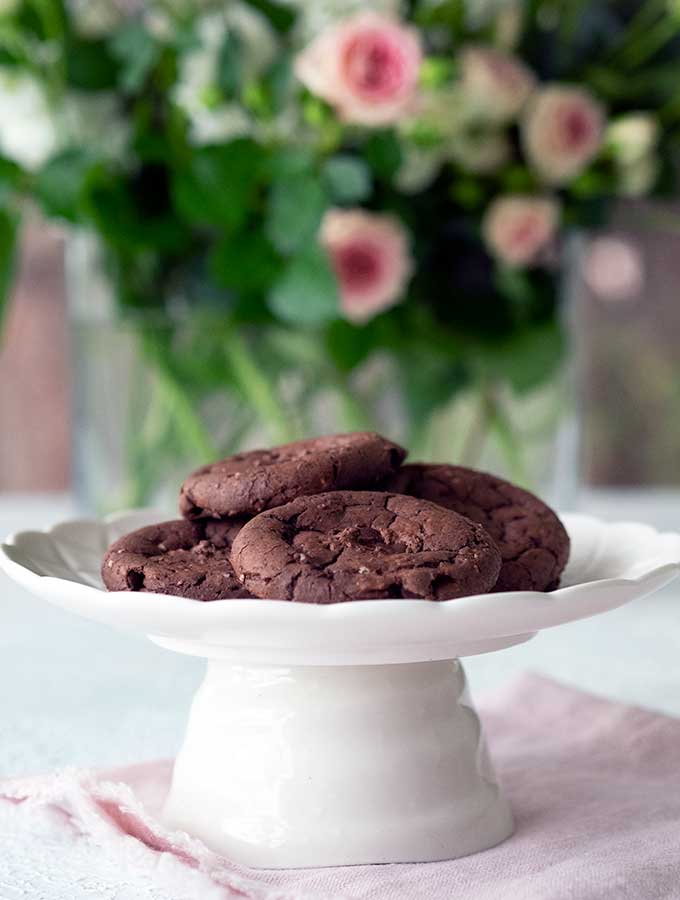 Veronica and Piper
When an Aussie beauty queen teams up with an American beauty queen it makes for interesting watching. The Aussie, Veronica seems more down to earth than her team mate Piper, who doesn't seem to like her team mate too much. They cook up a batch of White chocolate Rocky Road Cookies with banana and peanuts.
Piper exclaims "It would be so cool to win this challenge." It's all about faces on packets at coles. Vain much?
Lyn & Sal
Lyn and Sal are from Port Pirie, laid back and seem rather nice. Poor Lyn's most memorable moment to date on MKR is when she made the boo boo of speaking her mind during the instant restaurants. She stated to fellow contestant Karolina (now eliminated) "I thought you were trans." This caused all sorts of tears and controversy.
Don't worry Lyn you only said what the rest of Australia was thinking, including me.
As we know these guys are the eventual winners with Macadamia Brownie Biscuit Sandwiches with praline and strawberries. The caramel cream is being added to bring sweetness to the dark chocolate.
Andy & Ruby
The Peruvian girls are making Peruvian Cookies with Cinnamon Cream and Grilled Pineapple. Finally something that excites me. Something different, not fucking chocolate.
Andy lets us know that the biscuit has to crumble and melt in the mouth when you eat it. With their passion and a lack of Peru at Coles, yes please, I want this to win! Sadly I know it isn't going to.
The contest is in full swing
Now a solid 30 plus minutes into the program, contestants in full swing, and we finally know what everyone is making. It is time for the cameras to do the rounds and pick up potential disasters, slanging matches and gripes.
Matt and Luke are again telling us they hope to separate themselves from the other teams with their savoury creation. Then disaster strikes, the mincer gets clogged with chunks of fat from the scotch they are mincing.
Catastrophe is averted, instead the meat is being hand diced.
Ibby and Romel's cooking station is set up next to Josh and Austin. Josh picks up the scent of bacon like a truffle dog searching for truffles. He tells the guys they are being very American with their biscuit creation, I couldn't agree more.
Next we hear the shrill of a beauty queen "We have a pink marshmallooooooooooow!" The American shrill is like nails down a chalk board. And yes, you have pink runny concoction that you are calling marshmallow.
Mother's often state the obvious (Josh reminds me of this constantly – my Josh, not MKR Josh), and Lisa is no exception. She enthusiastically states that there is cheese inside the biscuit!
Err… okay, that's good to know. Always a good thing when you are making a CHEESE biscuit! I would hate for it to be filled with walnuts and capers.
I won't bother you with the droll that beauty queen Piper goes on with. Even when I am watching to review I can't help but switch off from the fake orchestrated beauty queen mask she wears.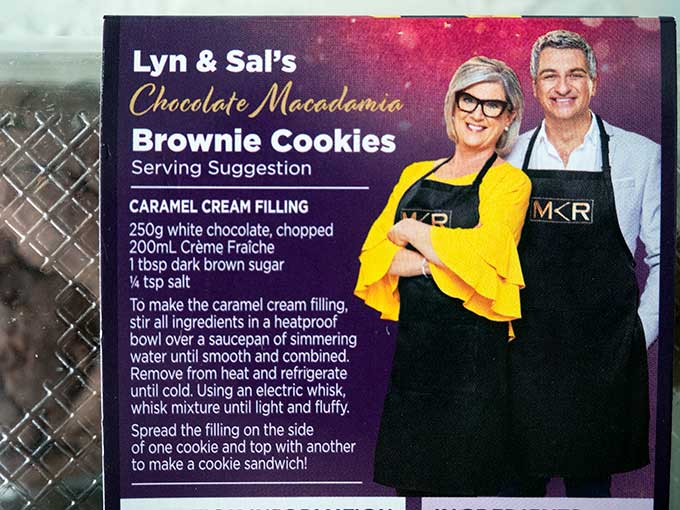 She assures us all the biscuits need all sorts of things to be perfect. And they will be perfect! Yeah, don't think so Piper. They have bitten off more than they can chew.
25 miutes to go!
As Colin yells "25 minutes to go", we see the teams heads down and bums up to the song, Watch Me (whip/nae nae).
I'm surprised Colin hasn't been doing the rounds and pointing out biscuit failure points to instill fear in the contestants. This always brings me so much joy. I realise at this point that most of the contestants are doing really well, and there isn't much failure to report.
Lyn scoops a teaspoon of the thick glossy brookie/brownie biscuit mixture on to trays. She wants them all the same size. Lyn probably didn't have access to one, but pro tip for those playing at home, use a cookie scoop. Looks a lot like an ice cream scoop and works a treat for uniform cookies.
Romel now explains to us all that their biscuits are based on a typical Elvis breakfast… No! No! No Romel! Poor Elvis takes his jet on a one time Fools Gold Loaf and Champagne binge and he never lives it down. He did like banana and peanut butter sandwiches too, but no breakfasts were hurt in his binge.
After giving us false Elvis breakfast information, we then find poor Romel trying to chop a lot of bacon. In doing so his hands get sore and precious gets a blister. They think they are going to win. Sorry boys you aren't going to win…
We leave Romel and his blister to cut to Bianca who exclaims "they are killllllling it". Note to editors, I don't need to hear the list of ingredients recited by Bianca every time you cut to her.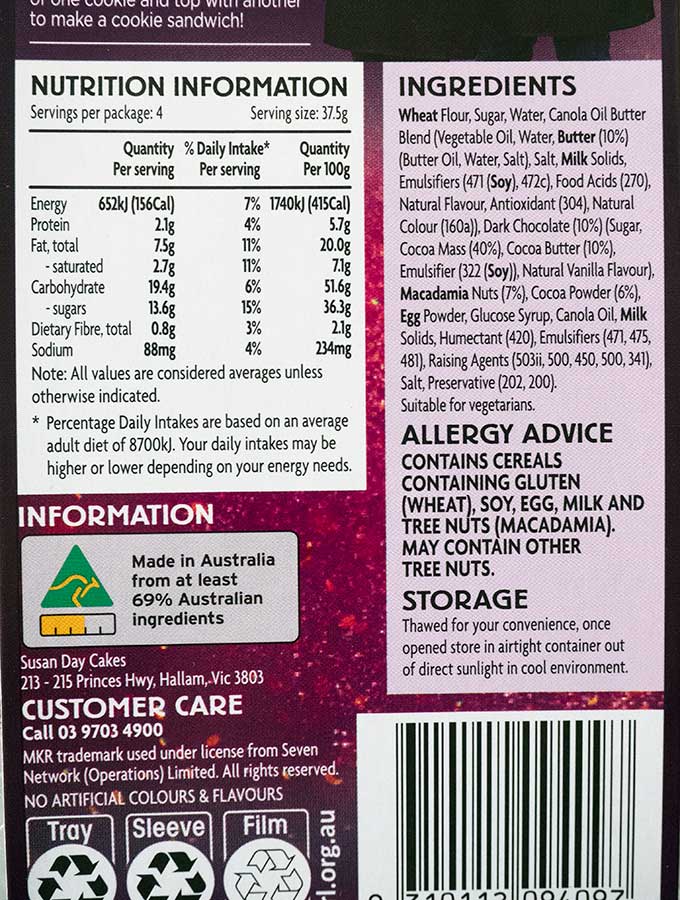 Poor Andy's world has turned into a game of Minecraft with all the Peruvian biscuit squares she is cutting out. She sees squares all around.
Colin does the rounds
Colin eventually makes an appearance at the beauty queen's station. This makes sense as they are the only team who are failing miserably this episode. The crumbed bananas are looking a bit like a disaster and Colin is there to sow the seeds of doubt.
His not impressed and gives input to the all knowing girls. He leaves with a turned up nose and these parting words "Bananas and cornflakes… alright, talk to you later."
The beauty queens are disagreeing, and tiaras are flying. Veronica is team crumbed banana and Piper isn't. Veronica states there is no time to change dish, and they are going to have to move forward with the bananas. Piper is noticeably pissed and told to just work faster.
We then cut to them in the "comment room" and Veronica again says they have no other choice but to serve these cornflake bananas. Piper's response is to clear her throat as if to say, "I am going to throw you under the bus again." As we saw her do in a previous episode, she's not afraid to lay blame on her team mate.
"Joooohn theeese biscuits smeeeellll sooooooo goood". Okay, we get the picture. Note to self. Sara, don't every talk like that again on any social media platform or video. Thank you, Lisa, for showing me how moronic it sounds.
Bianca states yet again that their biscuits are for chocolate lovers. This is about the thousandth time, we get it. Between this and repeated ingredient list, there really mustn't be much to film at their kitchen.
Colin yells 5 minutes to service!!!
The teams all start to frantically plate. That is all teams bar the beauty queens who are still frying bananas.
Pete now gets into the action and shouts "one minute to service." Sorry Pete, Colin's shouting skills surpass yours.
Service begins
After a round of high fives service begins. Eight of our teams leave their cooking nests and venture out into the world, as Piper has a whinge that Veronica is still cooking bananas.
The contestants are bombarded by school kids like seagulls swooping on hot chips at the beach.
As to be expected anything with chocolate is being snapped up. The Peruvian cookies are initially being knocked back. Matt and Luke's "tacos" are proving to be popular.
As all the other teams are swimming through this competition the beauty queens have become a "dramatic" focus. We head back to the kitchen to see Veronica and Piper still plating up. With Piper blaming Veronica completely for everything not being perfect, this includes the presentation of the dish.
The beauty queens are finally out of the kitchen and throw themselves at shoppers. First one approached is a young mum who looks horrified when the cookies are pushed upon her. A deer in the headlights, who would sprint out of there if she could.
Contestants running up and down travellators around the shopping mall thrusting biscuits at unsuspecting victims. Much to the judges' amusement.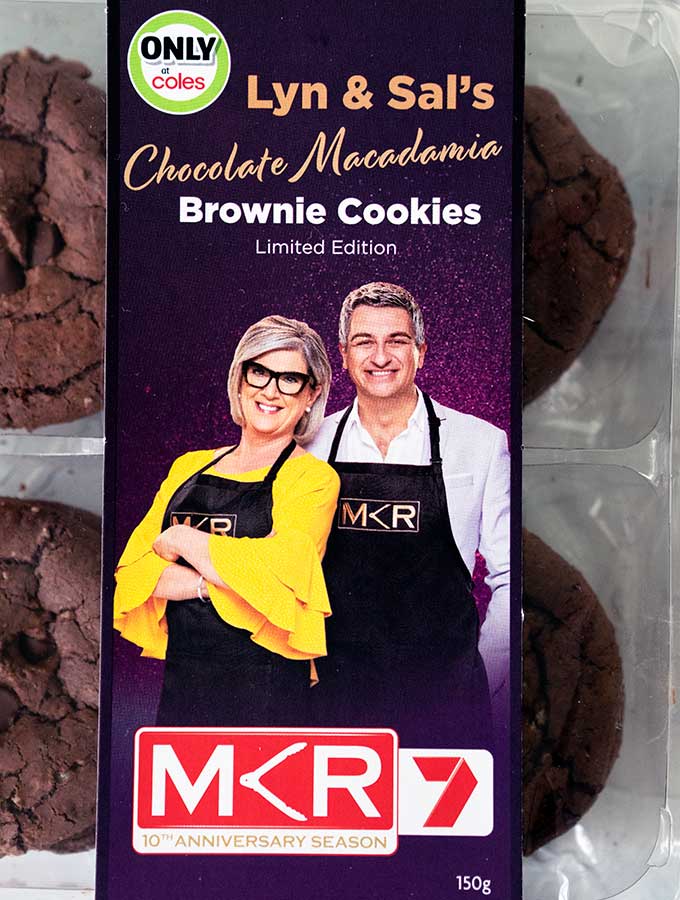 Bianca and Pat are being pushy and telling everyone to mark them a 10. They aren't the only ones with a lot of begging to the crowd going on.
Judges Tasting
We now get to hear what Pete and Colin think of the dishes. It is also the first time we see a few of the dishes plated.
Pat & Bianca: Colin recons it looks good, so does Pete. It looks like a lot of love has gone into it. Ganache coating is intense, but Pete can see it be a crowd fave, Colin recons they have worked well as a team.
Veronica and Piper: First thing Colin says is that the texture of the marshmallow is weird and very sweet. He isn't impressed and then goes for a mouthful of the banana. Peter says the cookie is very dry and sweet. He says this as he looks at Colin's reaction to a mouthful of banana. It's not a happy face. Colin simply states "don't do it" as Pete goes for the banana.
Lisa and John: Pete says it looks like a small little wheel very luxurious. Colin says a good size and likes it. The biscuit is a star but the whole dish works well. Pete says it is a serious biscuit.
Lyn and Sal: Pete says it has a gooiness and is a good cookie, delicious. Colin says it is everything you want in a brownie.
Victor & G: Pete says it is a mature offering and then Colin gives him a kiss. I seriously missed something here…….
Josh and Austin: It looks messy, and Pete says the cookies are short and not overly sweet, they are good. No spice in the anglaise. Colin can see this in a box.
Andy and Ruby: Peter feels they look a little sad on the plate. The syrup is intense, but it would be dry on its own. Mix it all together and it makes sense. Colin recons the flavours are there. It's his first Peruvian cookie and he is going back for seconds.
Matt & Luke: Colin says the crackers look sad, but they both agree that they were crispy, salty and have a cumin kick. When all together, the flavours all work.
Ibby & Romel: Colin says they look sweet. Peter isn't a fan of the flavour combinations, he isn't a fan.
They have fed the masses, now for judgement…
The teams line up like excited pre-schoolers. All wanting their faces on the packets. Colin congratulates all the teams on a job well done.
One by one the teams get feedback from the judges. There is a high standard across the board.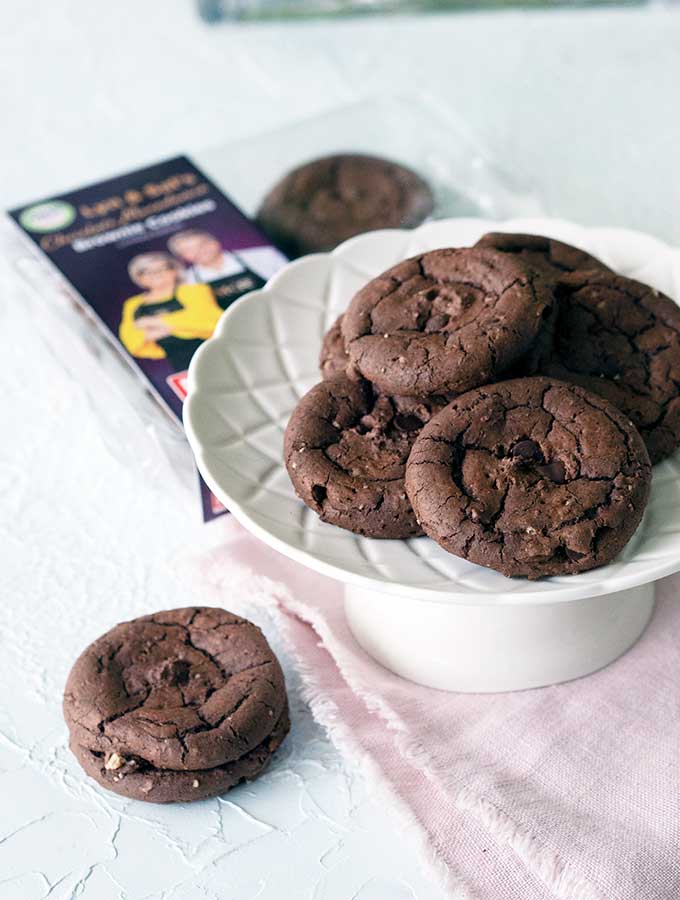 The crowd favourite is declared, the winners are Lyn and Sal!
Who was the least favourite?
This is where things get interesting. Pete says, one of you stumbled today but which team is it?
Whispers from Piper "I knew that was coming" "it's us" "I knew we should have changed the recipe" "it wasn't the right recipe" "it's the truth"
Austin "oh my god, look at piper" "she's going to pop" "she doesn't cry, she pops"
The losing team is revealed and as we all expected, it's Veronica and Piper.
It's then I start to hear a big bus looming full throttle towards Veronica, you guessed it, she is thrown under again by Piper. It's all Veronica's fault for wanting to power on with cornflake coated bananas.
Piper blatantly says "We actually were going to change it, but Veronica wanted to power through with the cornflakes, so we did."
We then get the whispered and not so whispered reaction for the other teams.
Josh, "How dare you blame Veronica you Botox filled little snake".
Andy, "what a bitch, it's the second time she has done that."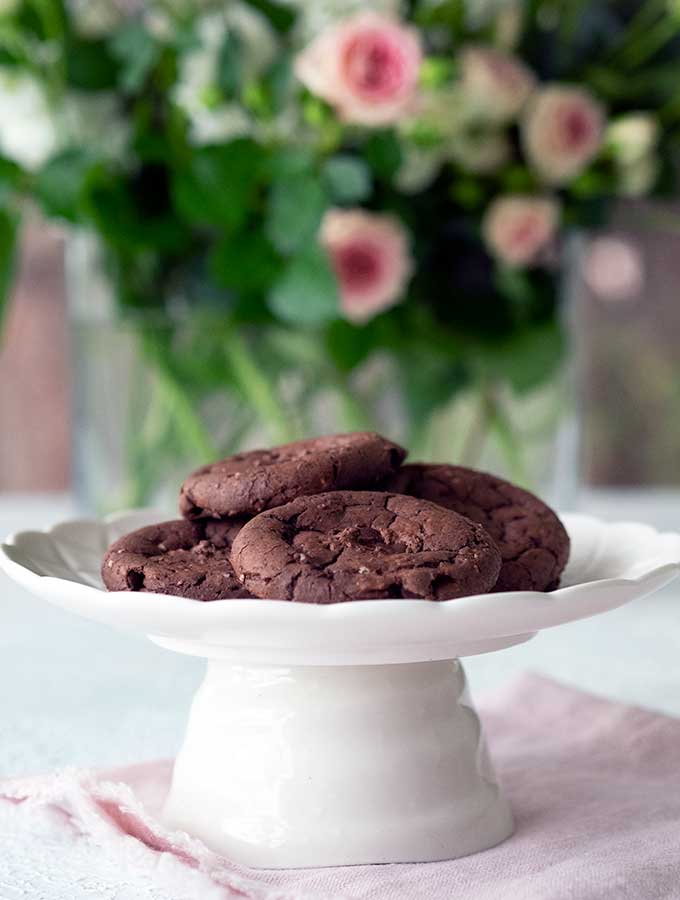 Piper if you are picked last for team sports from now on, don't wonder why. Ah yes, the fun, the games, and the drama of MKR.
But what are Lyn and Sal's Cookies like?
Firstly, well done Lyn and Sal on winning the cookie cook off. I bet you guys are as proud as punch today with them rolling out into Coles. Especially in your home town of Port Pirie.
I am sure the cookies taste nothing like what Lyn and Sal made. Saying that they aren't too bad.
Strong chocolate flavour, but very sweet. The almonds get a little MIA in the cookie as they are teeny little fragments. They are crunchy on the outside, soft in the middle like a brownie is.
There is a granular sugar texture to the odd mouthful. They really are sweet. They remind me of a Mrs Fields cookie, smaller and not quite as buttery.
The cookies retail for $5 a packet. With eight cookies in a packet they are roughly 63 cents each.
Once I found them hidden at my local Coles I purchased four packets. As the cookies were still frozen, back into my freezer two packets have gone. The other two packets I photographed.
Josh and I have successfully polished off three cookies each so far today. All in the name of research of course.
Would I buy them again? It all really depends on how limited these cookies are. With two packets in the freezer, one defrosted and yet to be open, we are pretty stocked.
Should you buy them? If you like cookies, like chocolate and want to pick something up from the supermarket, then go for it.
If you have tried Lyn and Sal's brownie cookies do let me know what you think of them.
Sara xxx
Sara has no relationship with Coles, MKR or Channel 7. This is NOT a sponsored post.
More Product Road Test Reading
Aldi Degustation by Teage Ezard – how does Aldi produce stack up?
Salted Caramel Macarons – Adriano Zumbo macaron mix
Is There Chicken in Your Store Bought Chicken Stock?
Ikea Swedish Meatballs – do they live up to the hype?
Marion's Kitchen – Thai satay sticks
Frozen vs Homemade Mashed Potato – which one is the winner
The Best Frozen Pepperoni Pizza in Australia – the result will surprise you