It's raining, humidity is high and traffic is at its after work peak hour best in Tokyo. We are in a taxi racing to get to the Four Seasons Hotel at Chinzan-so before dark. The big boss, Boots, has rung the Fuminator to see where we are. Boots has planned a very special evening for us which involves getting there before dark.
We are greeted by our Japanese colleagues as soon as we get out of the taxi. Handshakes, hugs and hellos are exchanged before our group is whisked off to the Chinzan-so gardens by two yakata clad ladies. Boots was anxious about us arriving before dark, the plan is for a pleasant stroll through the gardens to our dinner destination, located at the bottom of the gardens.
One of the truly beautiful pleasures of Tokyo are the gardens. For those that only spend a couple of days here you are faced with building upon building, a concrete desert. There are the well known gardens on every tourists' agenda, but it is the little known ones that are pure magic. I find nothing more magical than discovering a small pocket of well manicured and maintained garden amongst the concrete hustle and bustle that is Tokyo.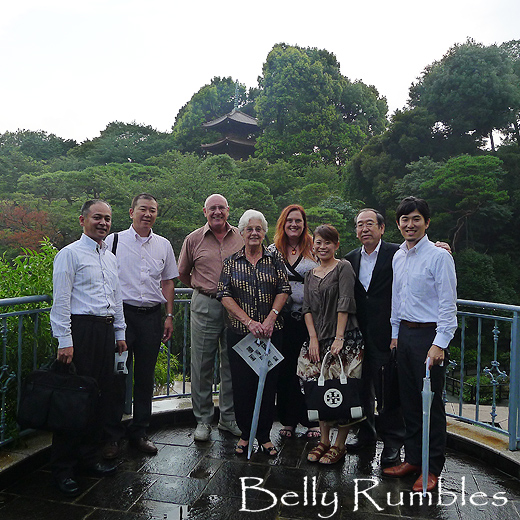 Quick group picture before our walk
The Chinzan-so Gardens were built by Prince Aritomo Yamagata during the Meiji era 1868-1912.
The area was famous for its scenic beauty and once was known as Tsubaki-yama (Mt Camellia). It was here that Prince Yamagata build his mansion during the Meiji era and called it Chinzan-so (House of Camellia).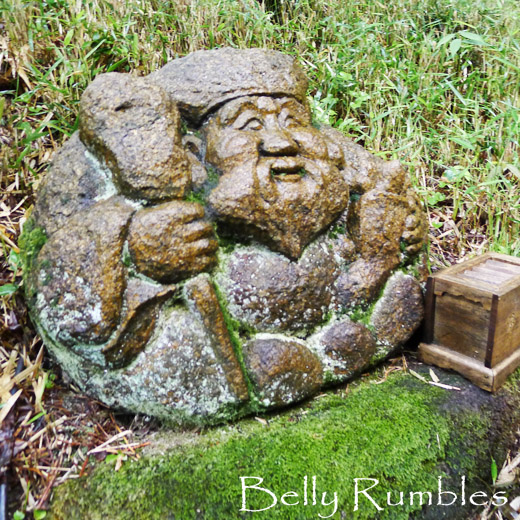 One of the many Gods that grace the path as we walk though the gardens
In later years Baron Heitaro Fujita transferred a three story pagoda to the gardens and placed other cultural assets there to add a 'taste of elegance' to the gardens. Beside the additions, the garden was left as Prince Yamagata had first designed it.
Today the gardens are the centre piece of the Four Seasons Hotel and the Chinzan-so Centre.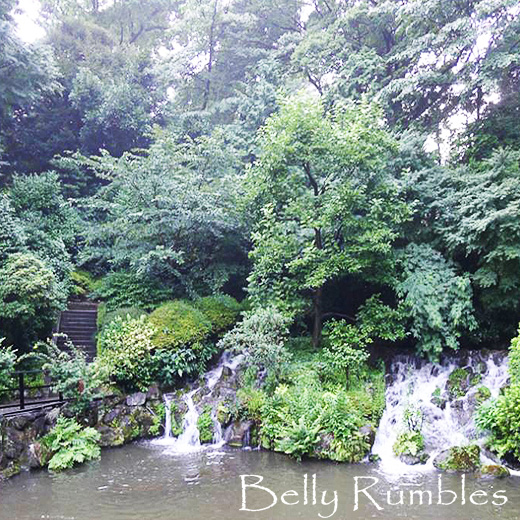 Yusuichi pond
We were lucky that the rain eased for our tranquil walk through the gardens. It was still extremely hazy and humid, a light mist gave a slightly magical feel to our walk. It also played havoc with my camera, so I apologise for the not so great garden pictures.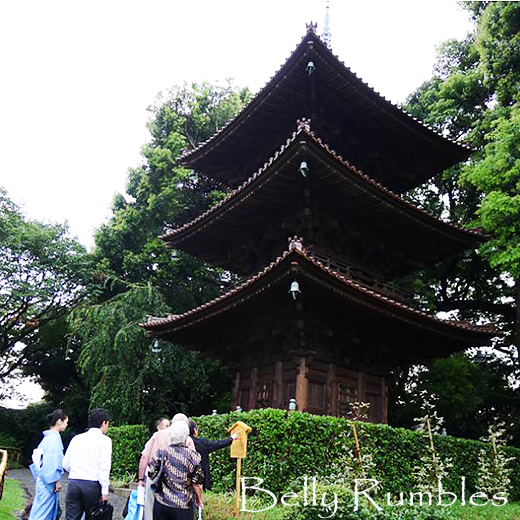 The Three Story Pagoda is the symbol of Chinzan-so and is believed to be 900-1000 years old. Not one single nail was used in building this pagoda, which originally stood in the grounds of the Chikurin-ji temple, deep in the mountains of the Hiroshima Prefecture.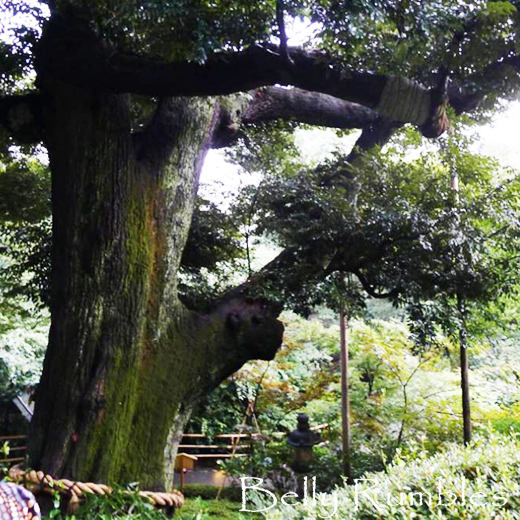 Goshhinboku is the 500 year old sacred tree. The oldest tree in the gardens with trunk diameter of 4.5M and height of over 20M.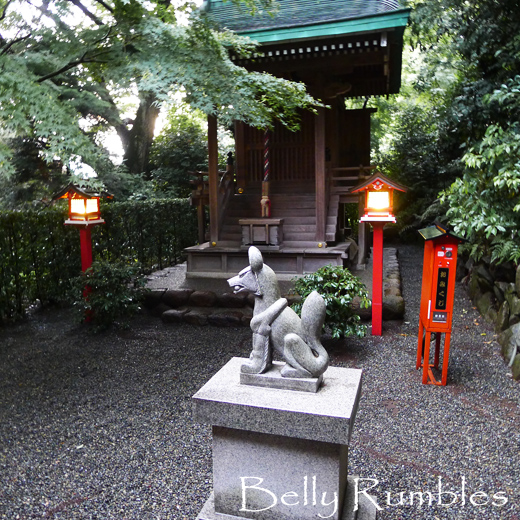 Shiratama Inari Shrine is dedicated to the fox. It was removed from the grounds of the Shimogamo Shrine in Kyoto and relocated to the gardens.
At the end of our walk our path stops at the first of five houses which make up Mokushun-do, our destination for dinner. The houses have a long and distinguished history. They were relocated to the gardens from Kyoto and I believe are around 500 years old.
The lovely ladies that guided us through the garden show us to our private traditional style dining room. I am taken back by how spacious the tatami mat room is for the eight of us. The major feature of the long room is a long table with four legless lacquered wooden chairs either side. It is traditional seating, well, it has the comfort of under table leg room to save us from having to sit cross legged or on our knees. There is an arm's length space between each 'chair', as I said, very spacious.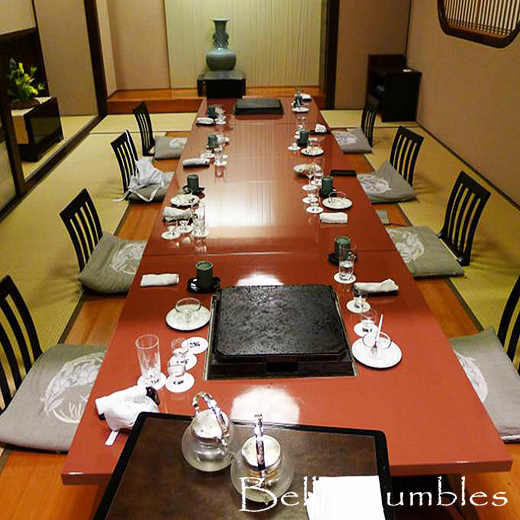 Snapped after dinner, therefore the reason why a little messy
It is now that I find out our guides will actually be our hostesses for the evening as well as cooks of the BBQ. There are two large stone hot plates, one situated at either end of the table. I am advised that the stone is actually lava plate which has come from Mt Fuji. If this evening wasn't already special, to find out I will actually be eating from something cooked on part of the sacred Fuji san is pretty humbling.
Drinks are ordered to start the meal. Boots knows me well, I am not a beer drinker, he tells me he knows what I would like to drink. He is spot on when he orders chilled sake. I love sake and it is nice to see over the past few years that Australia is starting to import more of the decent sakes. Unfortunately it never tastes as good as it does when drinking it in Japan.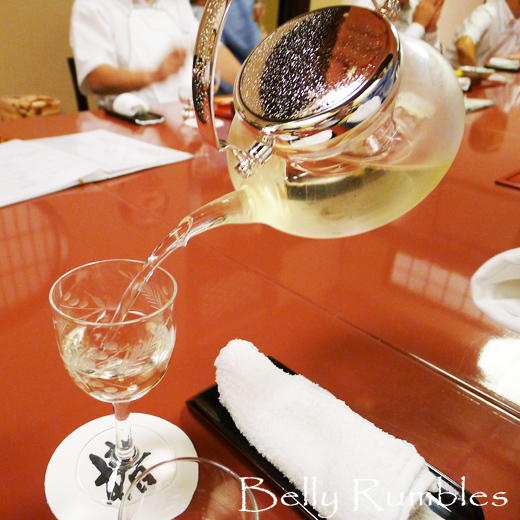 Sake served in in glass 'teapots' ice fills a glass container in the centre to keep it chilled
We start with a selection of beautifully presented small plates.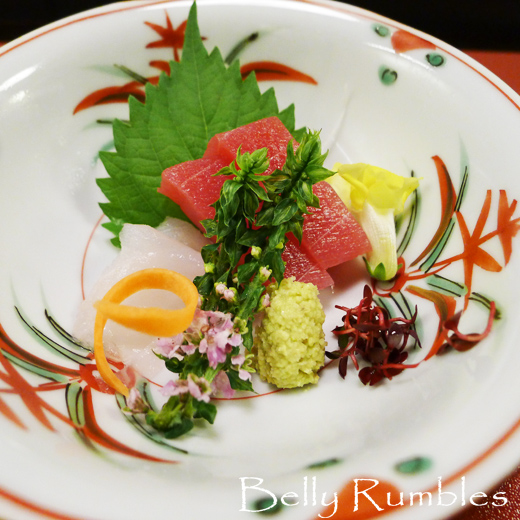 A gorgeous plate of sashimi which is a pretty as our garden surroundings. Tuna, sea bream, freshly grated wasabi, green perilla, hojiso (stem of young budding perilla) and benitade.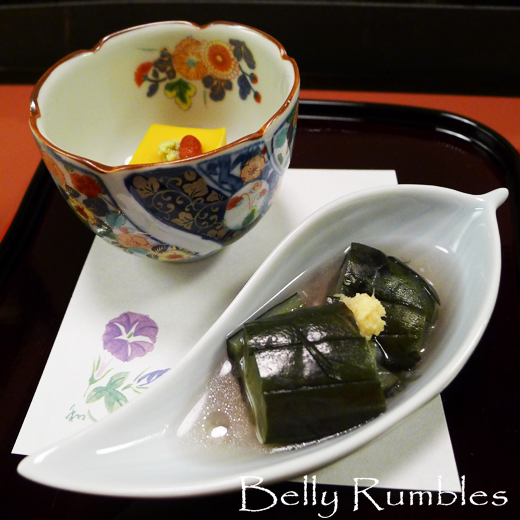 Pumpkin tofu and Japanese eggplant
Next our yakata clad hostesses fire up the BBQs and the fresh ingredients of our main meal are bought to where they will prepare our meal.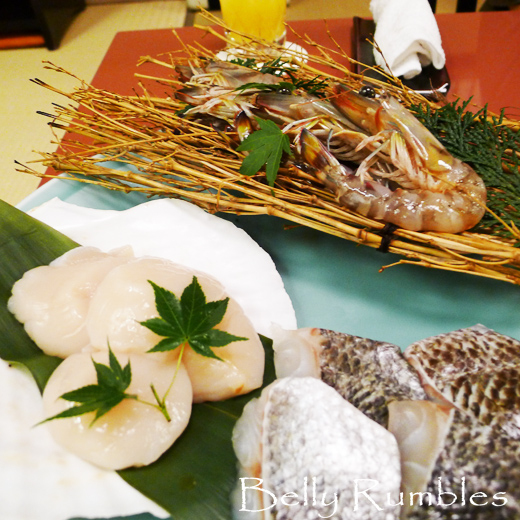 Scallops, fish and prawns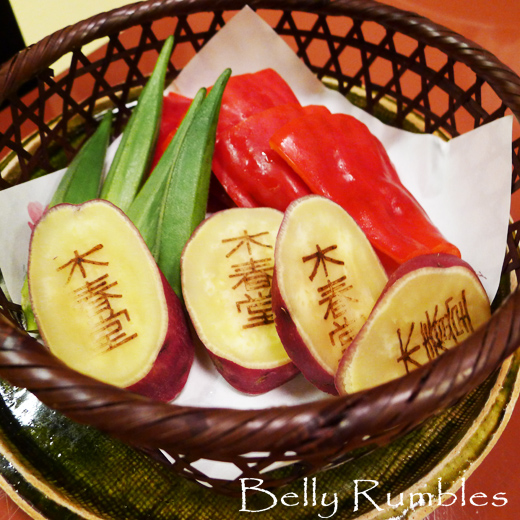 Okra, red capsicum and sweet potato, which has been stamped with the hotel's Kanji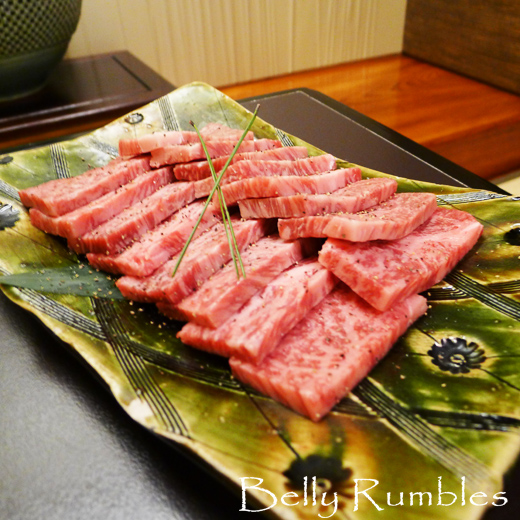 Please refrain from drooling. Kobe beef with a marble score of? Not sure, but it is way up there, just look at that gorgeous plate of beef!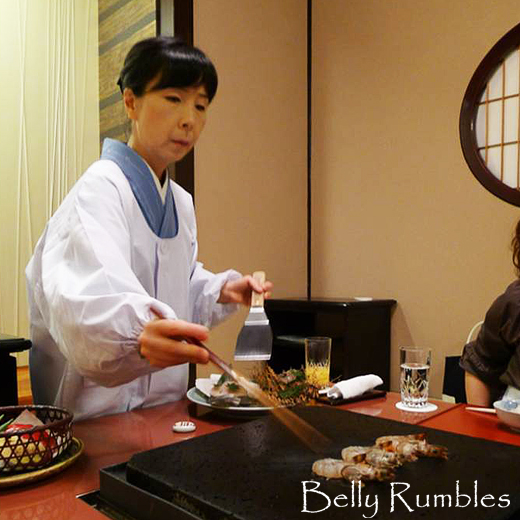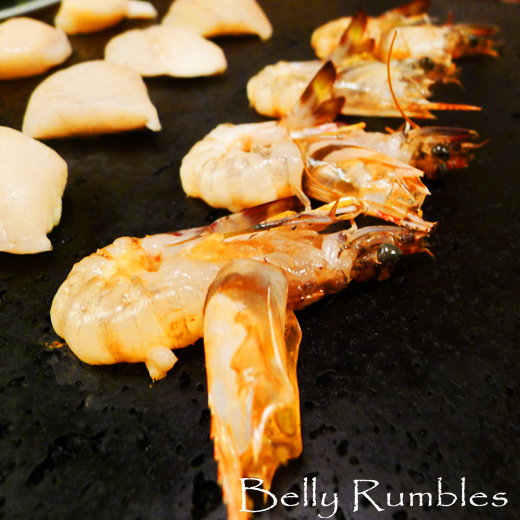 Scallops, fish and prawns cooking on Mt Fuji lava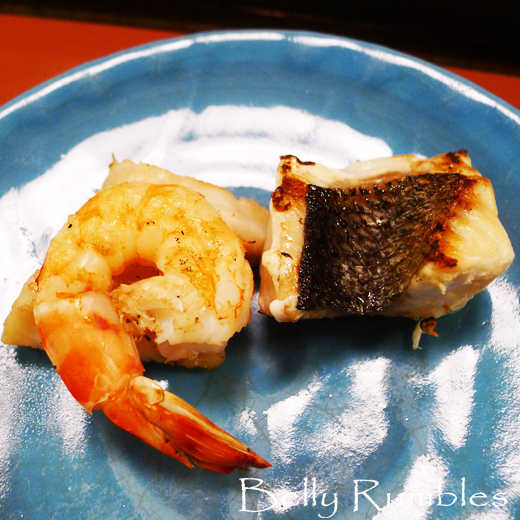 The finished items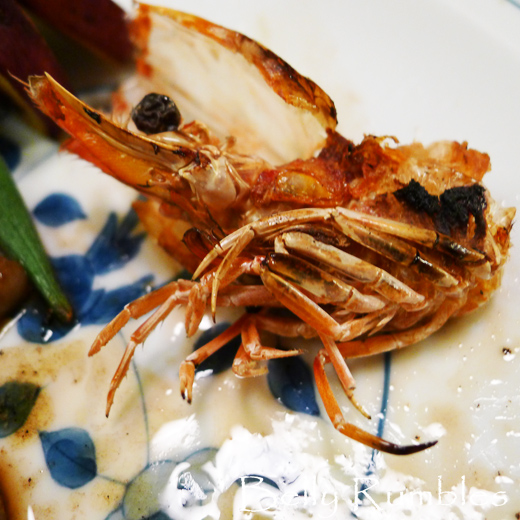 The most amazing prawn head I have ever eaten, plainly delicious. They were very crisp with a wonderful intense prawn flavour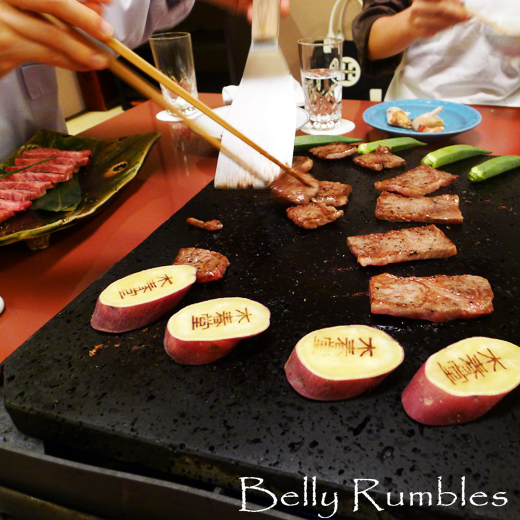 Kobe beef, sweet potato and okra cooking on the Mt Fuji lava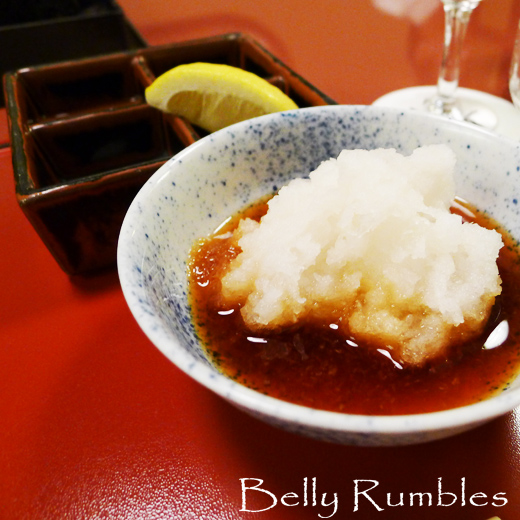 Side of salt, lemon and other sauces with grated daikon to accompany the BBQ'd meat, seafood and vegetables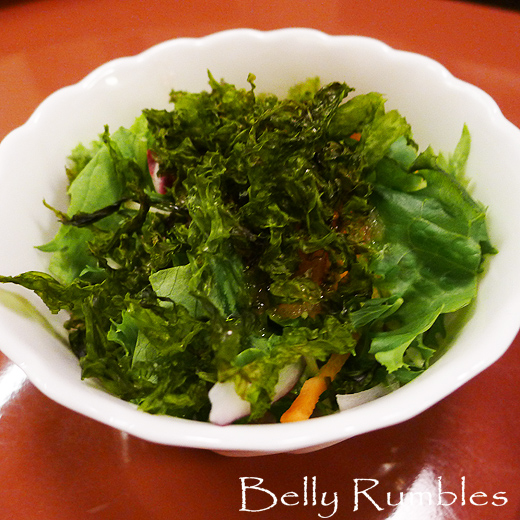 Refreshing salad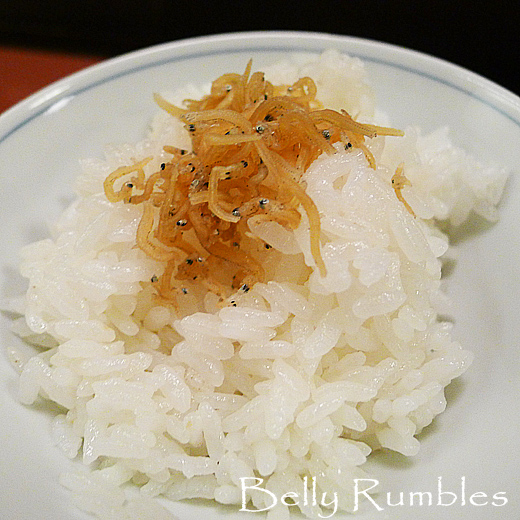 Rice with shirauo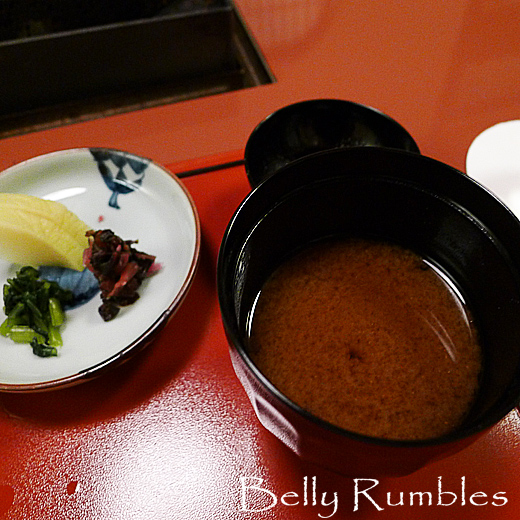 Miso soup with pickled vegetables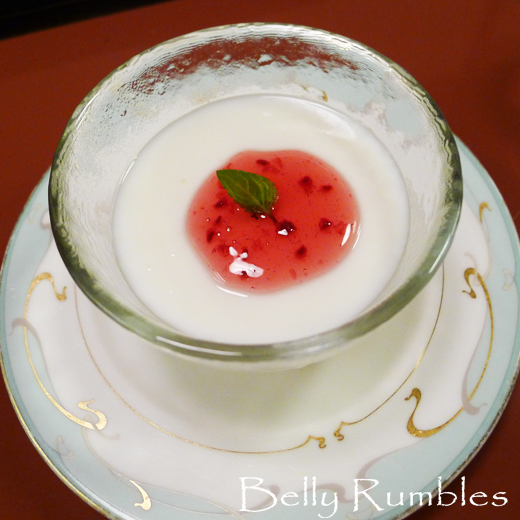 To finish off the meal we are presented with a light panacotta with strawberry sauce for dessert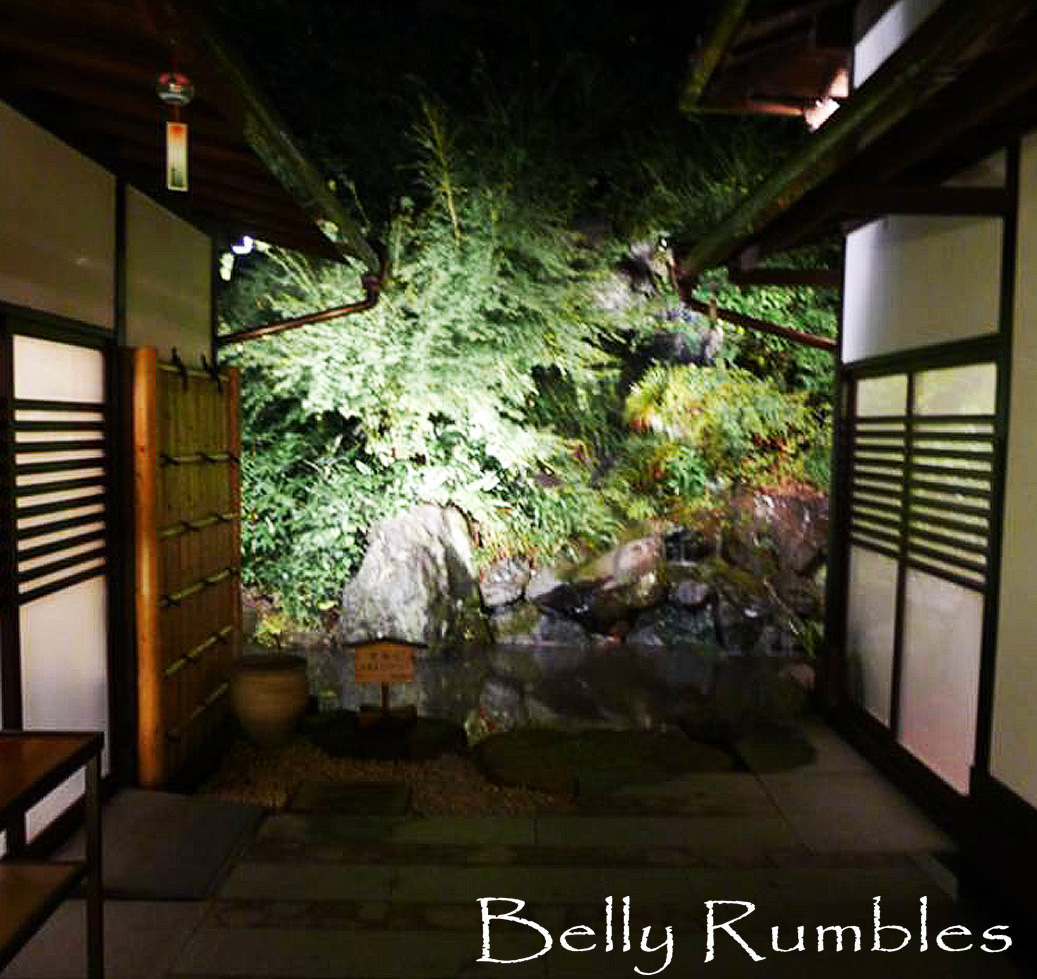 With tummies full, and very happy due to good company and sake we walk through the gardens again, this time is via lantern. There are also lanterns along the path, which give the garden a gorgeous glow. Light misty rain fills the air along with the night sounds of the garden. We can just hear the hustle and bustle of Tokyo in the back ground as we make our way back to the hotel's main reception and waiting taxis.
Sara xxx
If you enjoyed this article on Japan you may enjoy these; Nishiki Markets, Kyoto, Kaisendonya Jizakanaya Restaurant, Kayabacho, Tokyo & Mitsukoshi Food Hall
Chinzan-so
10-8, Sckiguchi 2-chome
Bunkyo-ku, Tokyo
112-8680 Japan
https://www.chinzanso.com/english