Happy Halloween everyone!
Whenever Ms.G's announce that they are putting on a special Saturday lunch, I am probably one of the first to call the Merivale booking centre to make a reservation.  It has become a tradition for Josh and I to have a 'mummy & me' date, and enjoy the surprises that Head Chef, Dan Hong, comes up with.
Normally I don't see the actual menu for these events advertised before the actual day.  This time the menu was posted on the Merivale website.  I had booked at least a month before I saw this.  When I did, I had doubts on if I wanted to actually attend the seven course, $75/head lunch.
I kept thinking to myself, and reassuring Josh, that Dan loves playing on words and what is written isn't necessarily what we will get.
Oh how I was wrong …………..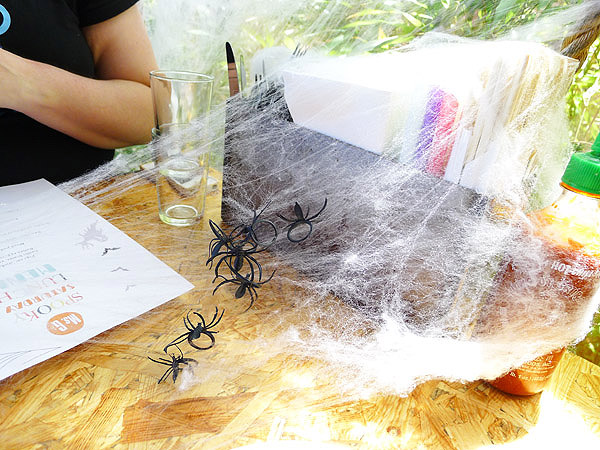 The tables were dripping with spider webs and spiders.  Staff were dressed up in costume.  The atmosphere was fantastic.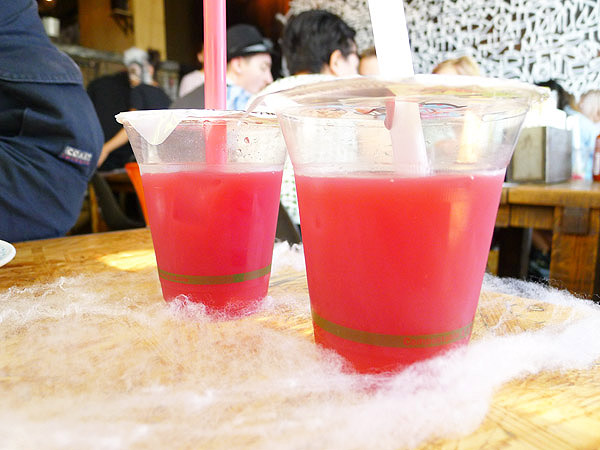 A complimentary 'blood' cocktail was served on arrival.  Vodka based, but the ghoulish part was the almond jelly which was meant to resemble brains as you sucked it up through the straw.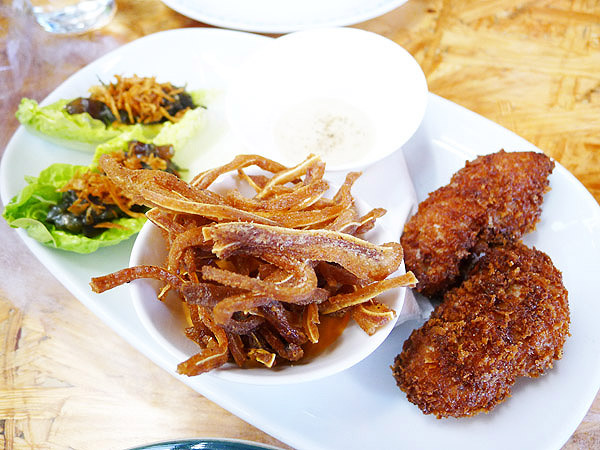 Pigs ear & stinky mayo, lambs' brains with yuzu pepper and rotten egg with sambal matah made the trio in our first dish of the lunch.
Some of you probably know I don't eat lamb, what you may not know is that the only part of lamb I will eat are brains.  I am one messed up puppy.  The brains were deep fried and had a super crunchy coating.  Pigs ear, when it is sliced thinly and then cooked to a crackling style finish is one of my favourite things.  It is like the best crackling ever with a bacon flavour.  I haven't eaten preserved egg before, these ones were preserved in-house and were great.  Added chilli and the nice crunch of the baby cos leaf they were sitting on made it a really enjoyable couple of mouthfuls.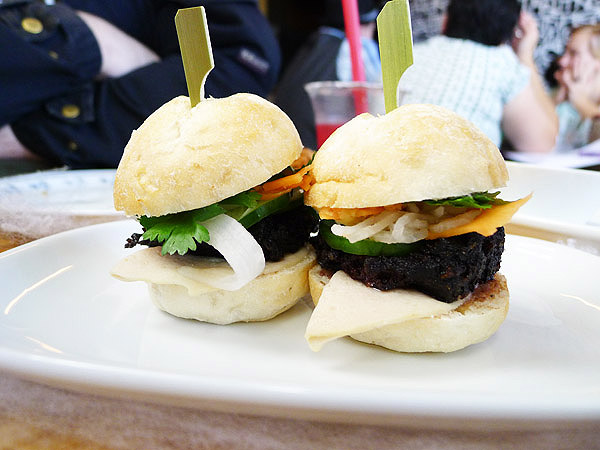 A duo of blood pudding banh mi are served, slider sized.  The crispness of the pickled carrot and cucumber are a great contrast to the soft fried blood pudding.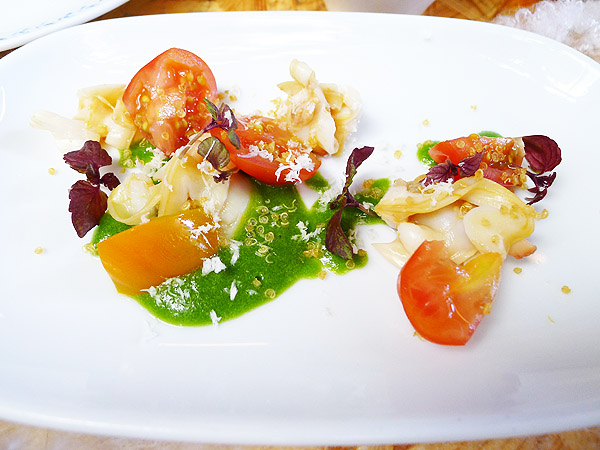 Raw clam, jalapeno snot, horseradish and tomato.  Our favourite dish of the lunch.  The jalapeno 'snot' wasn't over powering but gave a lovely heat to the raw clams.  A light and refreshing dish.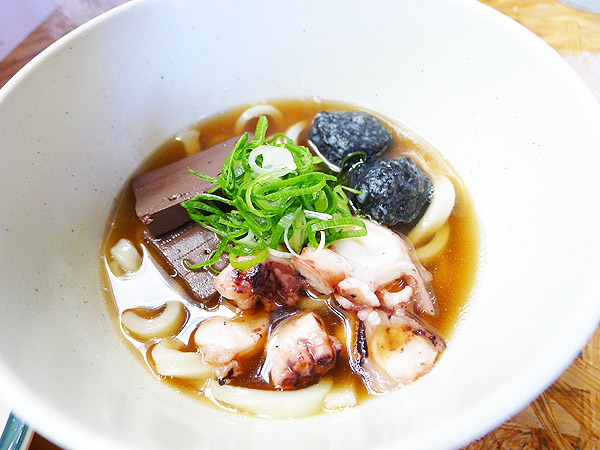 Witches cauldron of blood jelly, octopus tentacles and fish balls.  Udon noodles in a lovely broth with two thick slabs of blood jelly, chunks of octopus tentacles, and fish balls which were actually prawn balls with squid ink.  I am not a fan of blood jelly, have tried it many times, and I keep trying it and I still don't like it.  I really should stop trying it!  The blood jelly was left, but I polished the rest of the dish off.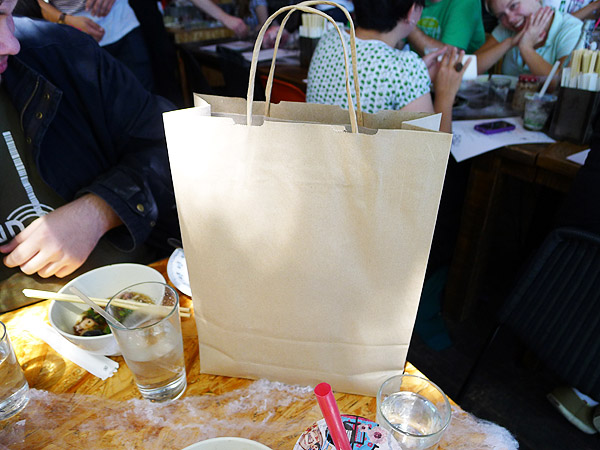 Ants on Larp……. Oh what to expect?  A brown paper bag is bought out to our table.  Our waiter reassures us that it tastes fantastic and that he had some earlier.  Oh and it is ant larvae that they use which is mixed with chicken mince.  Oh yummy, not.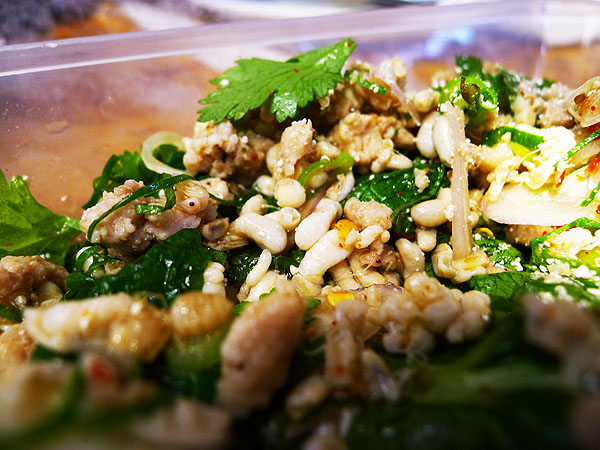 On opening the bag we find a takeaway container filled with larp.  There seems to be more ant larvae than mince in the dish.  At this point I wish that I was drinking and not driving, as a few glasses of wine may have given the Dutch courage to try it.  Instead I watched patrons at the other tables chow down as I picked at the mince.  A few mouthfuls of carefully picked up mince that didn't include the larvae and I was done.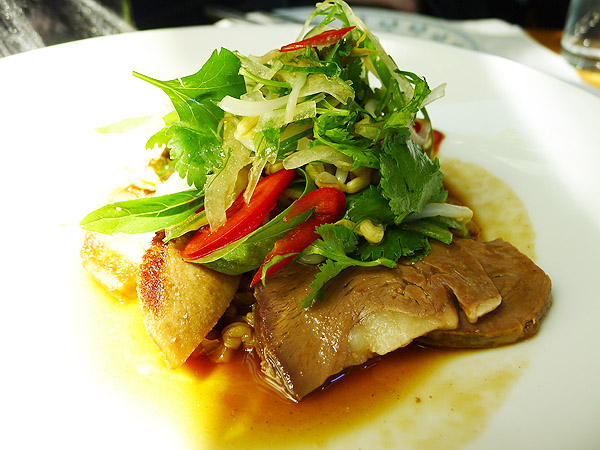 Frankenstein's heart and tongue, barley, flavours of pho.  Is as expected, beef heart and tongue.  The tongue was so tender, and in thick slabs.  The heart was also tender and sliced thinly.  After the larp both Josh and I had lost our offal mojo and only picked at the dish.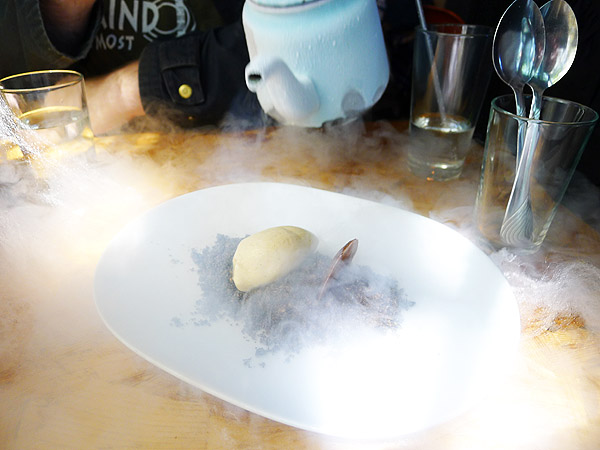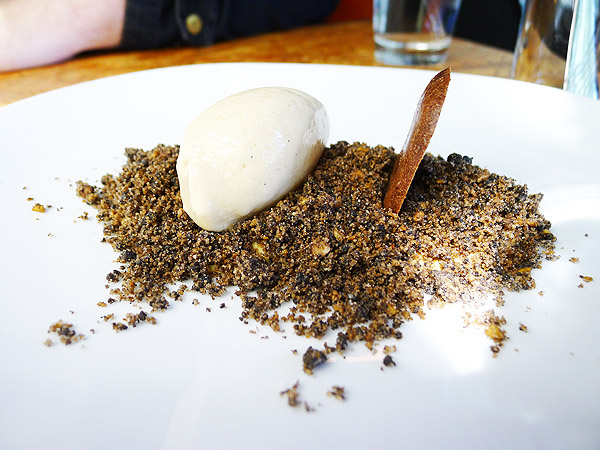 Pumpkin cheesecake grave, chocolate tombstone and maple ice cream.  Presentation was a bit of fun with the misty steam of dry ice being poured over the dessert on presentation.  I loved the gingerbread soil and maple ice cream.
Do tell dear Belly Rumbles' reader, would you ever eat ant larvae?
Also, if you haven't checked out my Halloween recipes for this year, there are my spooky/cute chocolate pumpkin spiders and chocolate & pumpkin mini whoopie pies.
Sara xxx
Ms.G's
155 Victoria St, Potts Point
Tel:  +61 (2) 8313 1000
www.merivale.com.au/msgs/
Other Ms.G's Event Reviews
The Morning After the Night Before
Milk Bar Memories