Have you been getting your zoodle on lately? Not quite sure what the hell I am talking about? Fair enough. Zoodles are zucchini, which have been spiralized to resemble noodles. So in other words, mushroom zoodle soup, is actually mushroom and thin squiggles of zucchini soup.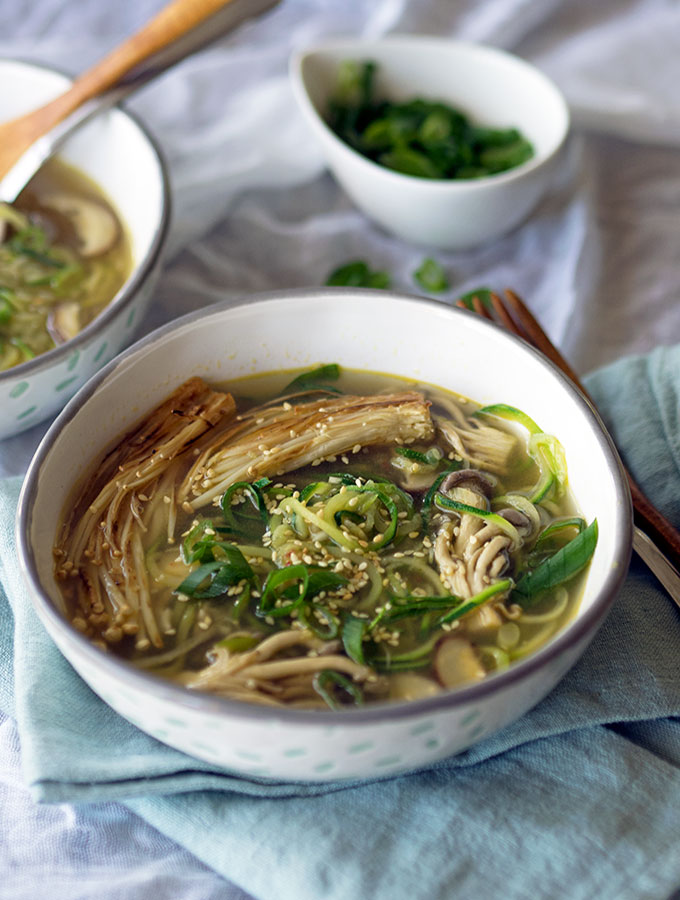 Still a little confused? I put a little video up on Instagram so you could see zoodle making in action, and the picture below gives you an idea on how it works if this is all new to you.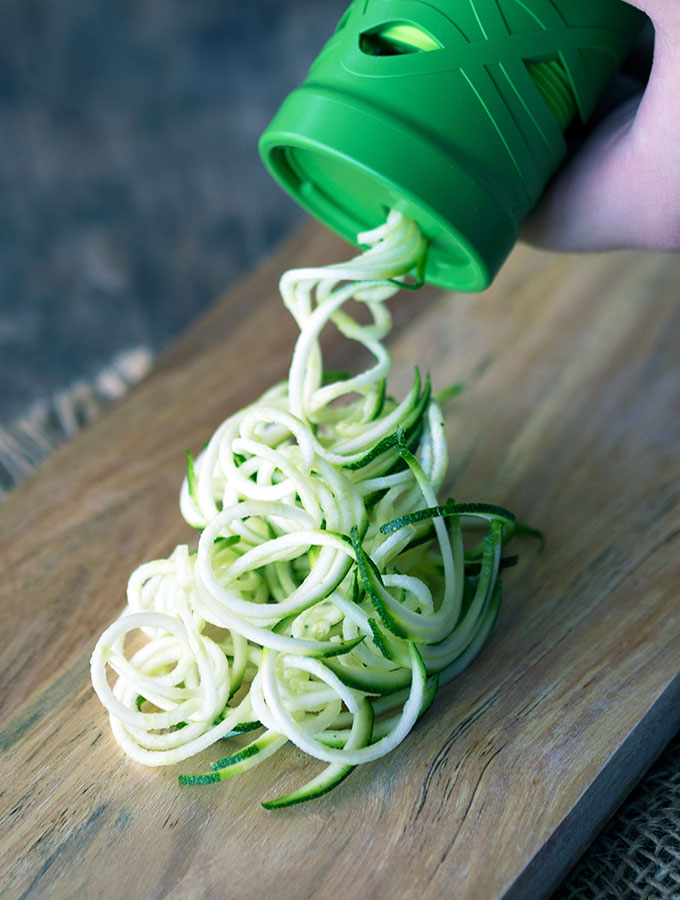 Why zoodle? They are a low fat, gluten free alternative to noodles. So for those of us trying to shed a few kilos, they are a great alternative.
Please don't feel the need to run out and invest in a machine to make zoodles for this recipe. This mushroom zoodle soup will be just as delicious and nutritious if you use a knife to thinly slice your zucchini, or you could also use a mandolin.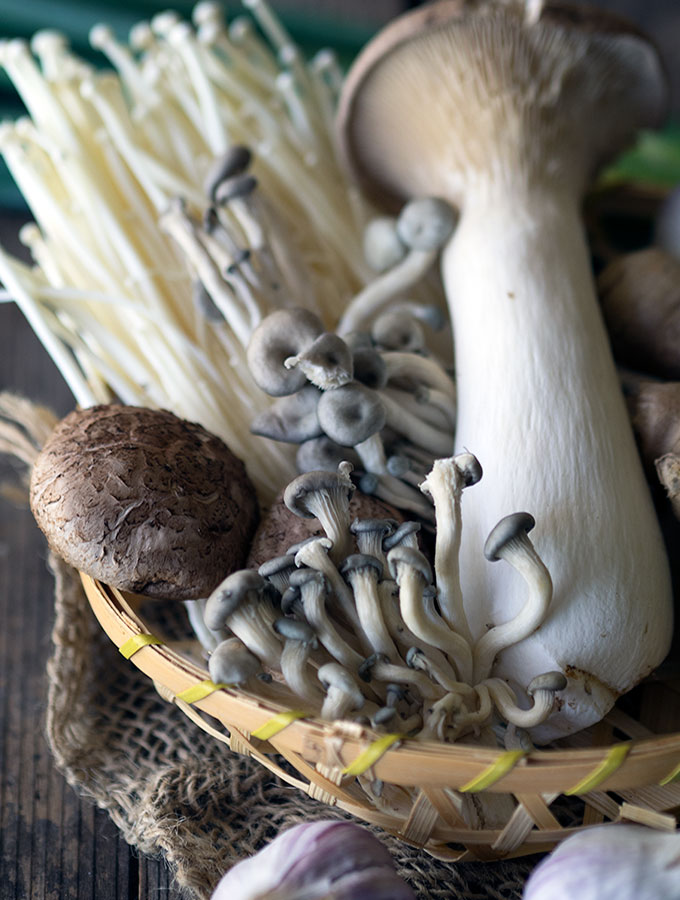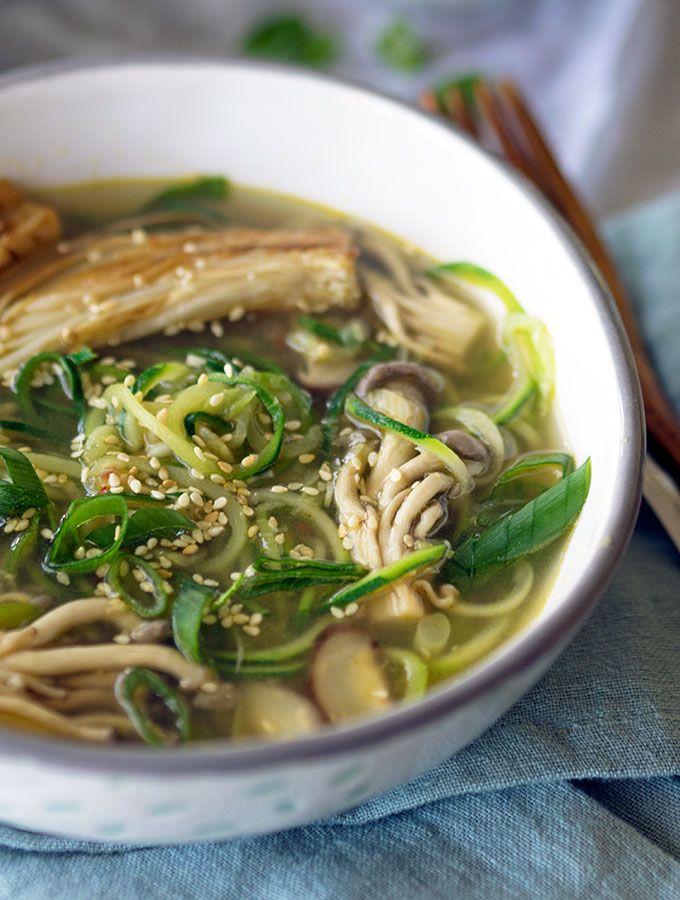 In fact I didn't buy a fancy spiralizer, just a small hand held device. Yes there is a bit more elbow grease involved than the larger machines to zoodle, but hey, I get Josh to do it. I must admit we have been zoodling left, right and centre in the kitchen. It becomes a little addictive.
This mushroom zoodle soup has a little Thai slant to it. The use of lemongrass, ginger and chilli add some lovely heat and fragrance to the soup. Perfect for heading off the winter sniffles. Then there is the addition of mushrooms, which are another nutrition packed food.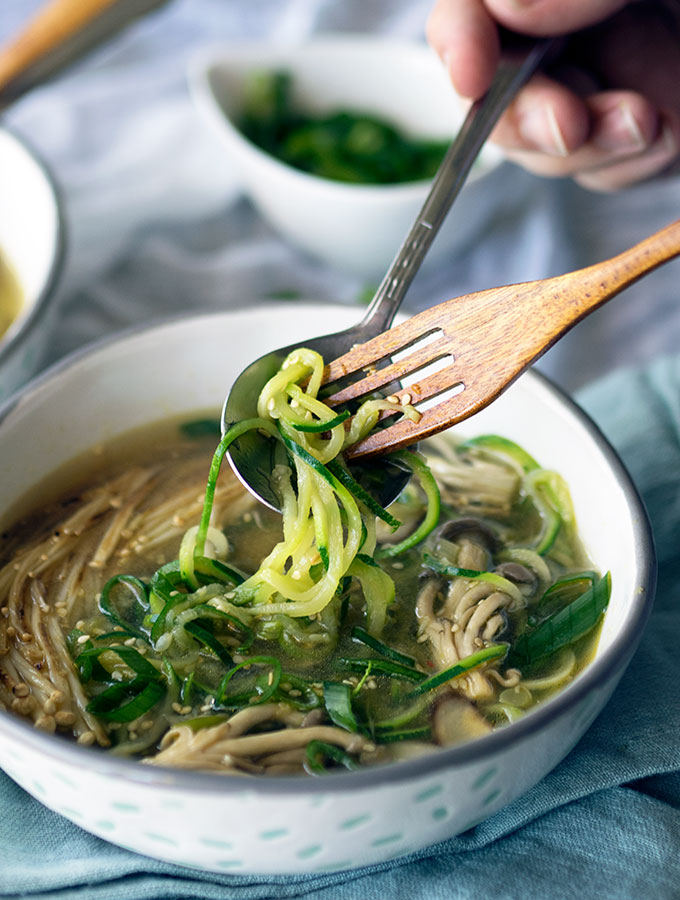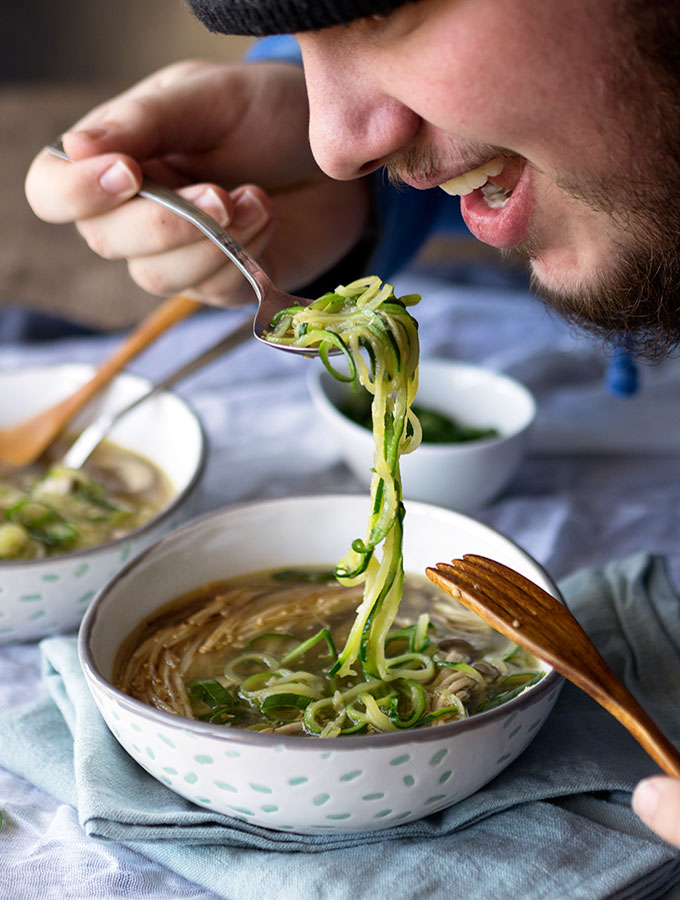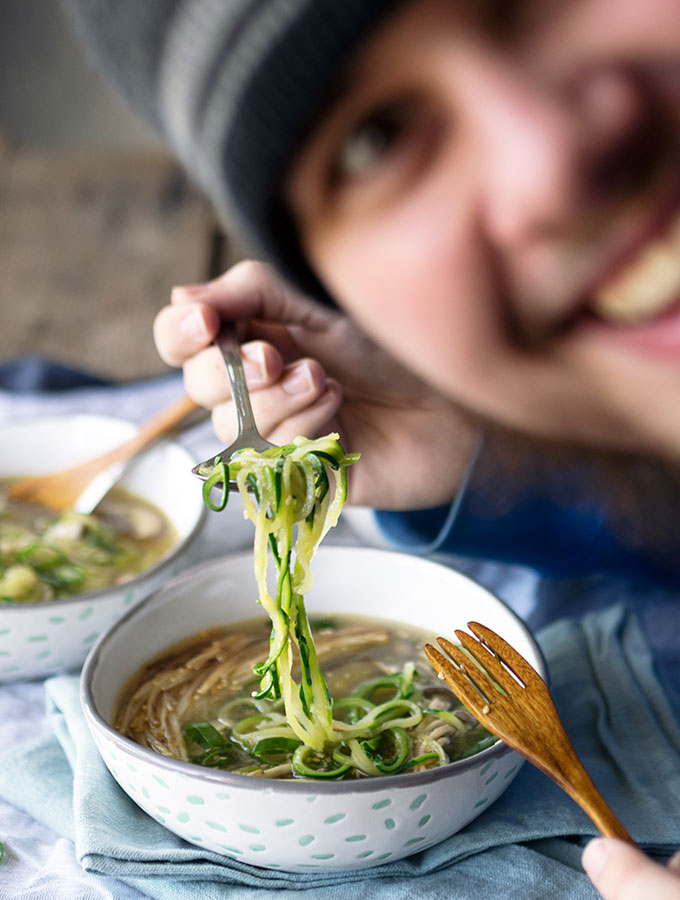 I prefer to use a homemade chicken stock with this soup as it has a more delicate flavour than packaged stock from the supermarket. I'm not knocking commercially made stock, I have an emergency pack most times in my pantry, and it has its uses. I also keep homemade stock in my freezer for uses such as this, where delicate flavours are involved.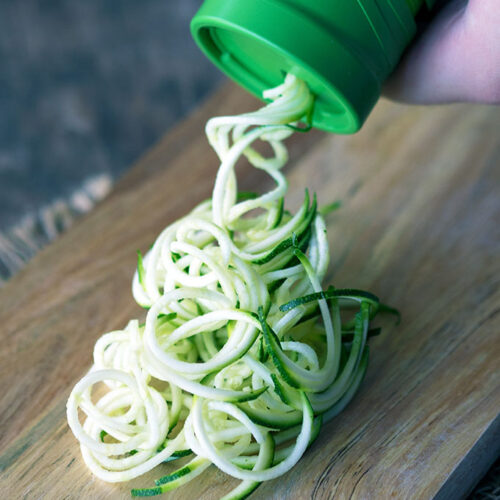 Ingredients
1

tablespoon

peanut or vegetable oil

1

tablespoon

finely chopped lemongrass

1

tablespoon

grated ginger

1

small red chilli

-

finely chopped

2

garlic cloves

-

finely chopped

150

grams

mixed Asian mushrooms

2

medium zucchini

1

spring onion

-

green onion, finely sliced

500

ml

chicken stock

-

for vegetarian use vegetable stock

1

tablespoon

soy sauce

toasted sesame seeds & sesame oil to garnish
Instructions
Place peanut/vegetable oil, lemongrass, ginger, chilli and garlic in a mortar and pestle and pound until a paste forms.

Zoodle your zucchini. If you don't have a zoodler, either finely slice your zucchini into strips or use a mandolin to make thin slices.

In a heavy base non stick pot, over a medium head, place mushrooms and cook until they become tender. Remove mushrooms from pot and set aside.

In the same pot place paste and cook until it becomes fragrant. Return mushrooms and any mushroom liquid to the pot and spring onion, stir, and then add stock.

Bring soup to a simmer and add zucchini. Cook for a further few minutes.

Divide soup into two bowls. Garnish with a sprinkle of sesame seeds and a few drops of sesame oil. Serve immediately.
DID YOU MAKE THIS RECIPE?
I do a happy dance when people let me know, tag me on Insgragram @bellyrumbles #bellyrumbles
Feel like a creamier mushroom zoodle soup? Add 125ml coconut milk when you add your noodles, and the sesame oil and seeds, and finish it off with a squeeze of lime.
Have you jumped on the zoodle train yet? What do you do with your zoodles?
Sara xxx
Become a subscriber and don't miss a single delicious recipe, restaurant review or travel adventure.