I receive the occasional out-of-the-box event invite.  A little removed from the normal invites I get, generally related to food or travel, but it is very rare.  A few weeks ago one such invite popped into my inbox to the launch of a plus size fashion label, Belle Curve.
My first instinct was to blurt out, "Oh damn, the world knows I am fat!"  Which really isn't something I hide.  If you Google me you will find photos of me on the interwebs, I don't hide my face on the blog, nor do I shy away from publicity photos at events.  No secrets here.
I prefer to use the word curvy, others would use words such as fat, obese or even whale.  The older I get, the taunts seem to get less and less, but only as recently as a couple of years ago I was yelled at across a park about my size, and not in a nice way.  You don't expect it, and it really does shake you.  Ahhhh yes, humans, such a lovely species.
As you get older your skin gets thicker.  Sure it hurts when somebody directly attacks you about your size, and yes I have cried on the odd occasion.   These days most people I met face to face have only nice things to say about me, what they say behind my back, to be quite frank, who knows or cares.
Generally my readers send emails and comments filled with lovely general discussions, or they want to debate about something I have written.  That's okay, I like that, and am completely open to people challenging me.  When they attack me on my physical appearance, then that hurts and of course those comments never see the light of day.
But let's get back to the invite I received.  After the initial split second 'they know' thoughts.  I had a chuckle to myself.  As I said, no mystery I am a curvy girl.  I actually put the following status update on my personal Facebook profile;
"It's official I'm fat (yah, I already knew), but it seems that I am now not only on food PR and travel PR lists, I have now officially made the 'we know she's fat' list and got myself invited to my first plus size fashion launch. #nevereatingagain".
You can imagine the comments in response to the above, friends having a giggle, a few saying that it was awesome and some getting defensive on my behalf.  I was cool with it, not offended by the invite, but at that stage still not sure if I was going to RSVP yes.  Why was I uncertain?  Mainly because I wasn't sure how I would write it up.  May I add there was no pressure to write about this event whatsoever.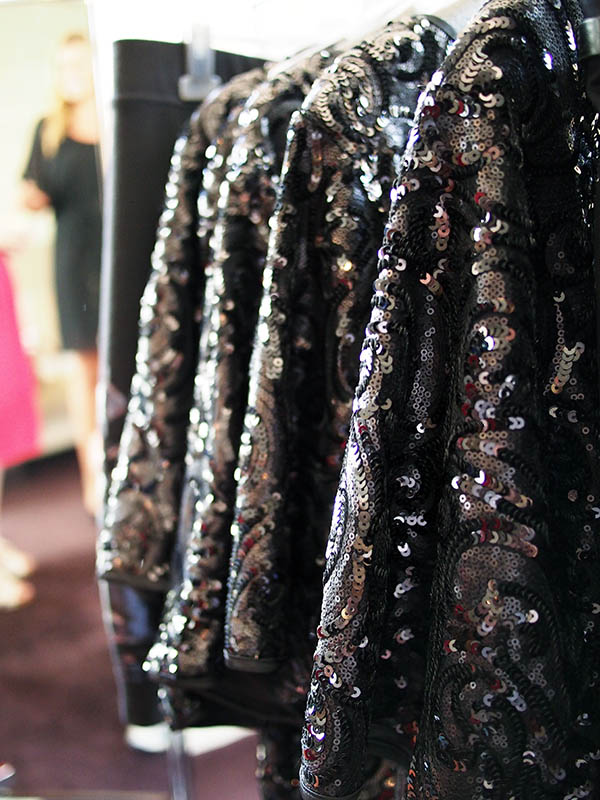 belle curve shine bright sequin shrug $59
Then I received a nasty comment from a reader on one of my recent Recipe to Riches reviews.  It actually was a two-part comment.  The first comment was to advise that I had made a grammatical error in the article I had written.  Oh no, the world is going to fall apart, I used 'of' instead of 'have' in the haste of getting the review up.  I can cope with this, and under normal circumstances would have published the comment, corrected the error and thanked them for brining it to my attention.  In this case I noticed there was a spam link in the comment.  Therefore it wasn't published.
The next day I received the most ugly response to my not publishing their comment.  I was called stupid and uneducated.  There were derogative remarks about myself as a food blogger.  The barrage of insults just kept coming.  That was fine, I can also cope with these types of comments, I do get the odd self-opinionated nut job reading the blog on occasion.  What upset me, and then made me angry, was the fact they then went on to attack my appearance.  Quite low to be honest and needless to say I didn't publish that comment either.
It was that comment which made me RSVP yes to the Belle Curve launch.  And it is that comment that ultimately introduced me to a whole breed of other bloggers out there, curvy fashion bloggers.  Before this event I had never read a curvy fashion blog or knew of their existence.  Oh how my world has changed.
Actually these girls are amazing and quite fearless.  They write about fashion for those with a bit of meat on their bones.  They put photos of themselves up on their blogs wearing their latest finds, and really do leave themselves open to nice and nasty feedback alike. The more I read the more I found out that the more popular bloggers get some nasty criticism as well as the creepy (think fetish).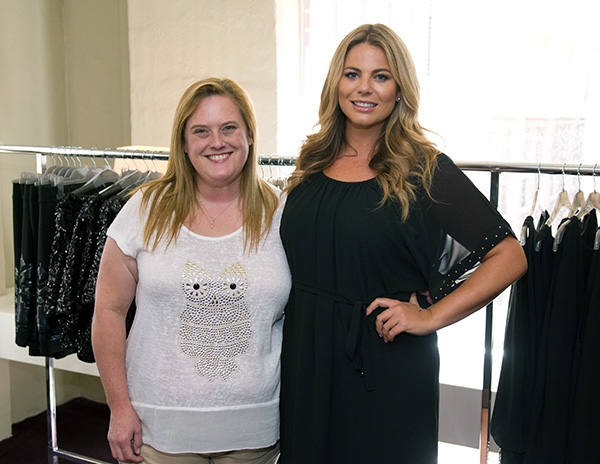 moi & glamazon fiona in the belle curve lolita dress (sold out)
The insecure person I am at times meant I was really quite nervous about heading along to the Belle Curve launch.  I knew I wouldn't know any of the other bloggers, and I didn't.  It was like starting fresh, attending my first ever media event, a blogging newbie.
My insecurities of course were unnecessary, the launch was nicely done.  The agency had arranged for small intimate groups of bloggers to view the new Belle Curve range.  The venue was the Penthouse at The Establishment in Sydney.
Our group consisted of four curvy girls (including myself), and as I suspected the fashion bloggers all knew each other.  I was definitely the odd one out.  I have to say, I have never been to an event where I was made to feel more comfortable.  Those three other bloggers (Dannimezza, Too Many Sequins, and  Owl Teapot) were so welcoming to this stranger from another blogosphere.
The event went along like any other, there just wasn't a chef or food involved.  Actually that's not quite true, there was a lovely selection to nibble at if you were feeling hungry.  An informal affair with the only formality being Fiona Faulkner, Belle Curve's ambassador, saying a few words about the brand.  Not only is Fiona stunning, she has the most gorgeous personality.
There was even a professional photographer on hand, Esteban.  We were encouraged to try on the clothes and have some fun with Target's new Belle Curve range.
As the others quickly dived in and had a good look at the range, I was on the apprehensive side and stood back a little.  This was all new to me.  Don't get me wrong, I love clothes, but my style is probably a little on the boring side.  I am seriously a jeans and tee shirt kind of girl.  Not big on accessories or shoes.
I made the conscious decision to try on only dresses from the range.  Completely take myself out of my comfort zone.  I had not worn, tried on or purchased a dress in at least 4 years.  The Belle Curve range is quite extensive, tops, pants, skirts and the mentioned dresses.
I picked a dress up off the rack.  It had a fitted sequin skirt, with the top half made from a looser chiffon fabric.  It gave the illusion of a separate skirt and top. I looked, I fondled and I noticed that it didn't have sleeves.  I like dresses with sleeves.  About to put it back when Fiona approached me.  "Try it on" she smiled, "it really looks stunning on".  I mumbled a reply, something along the lines of 'it doesn't have arms'.  To cut a semi long conversation short, she convinced me to try it on.  Oh Fiona, if you only knew how that moment has changed my wardrobe over the past month.  You have no idea what you have done, you have created a bit of a dress monster.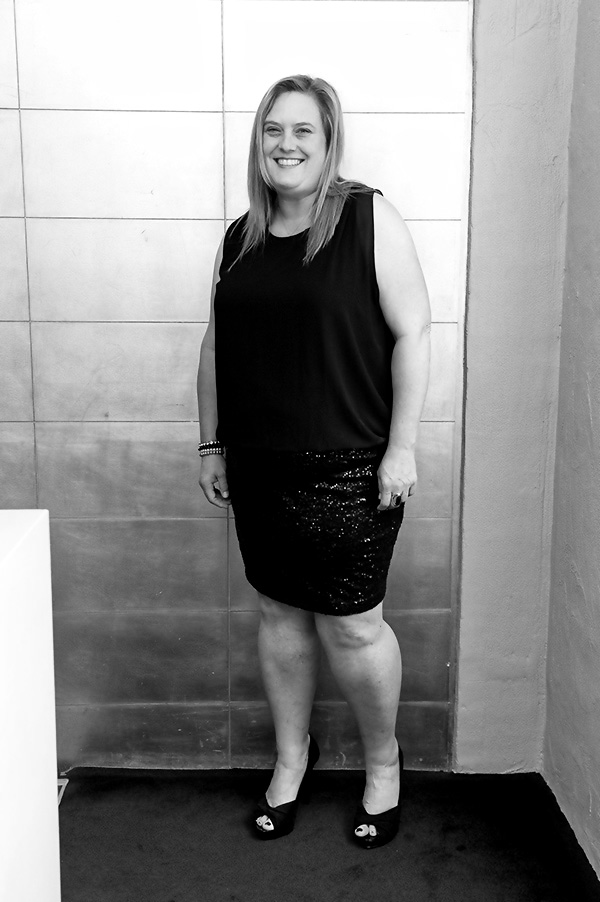 the ultimate little black dress – belle curve glamorous sequin dress $79
Needless to say I tried on the Belle Curve Glamorous Sequin Dress and I was amazed on how fabulous it looked.  It hid all my lumpy and jiggly bits, fitted perfectly and I felt like a million bucks.  That dress has now made its way into my wardrobe as my little black dress for the coming festive season.
I also tried on the Belle Curve Lolita Dress that Fiona had chosen to wear that day.  I will admit, it looked a lot better on Fiona, anything would look good on that woman, but I was happy with how it looked on me.  To my joy, that dress has also made its way into my wardrobe, thanks to a surprise parcel from the Target PR team.
I mentioned earlier about Esteban the photographer.  He was on hand to take some professional photos of us in the Belle Curve range.  It was at this point I wish I had had the foresight to wear stockings!  It has been at least 8 months since my legs saw sunlight.  It looked like sourcing a pair of shoes to wear with the dresses was going to be an issue as well.  Luckily Fiona has large feet like myself and I borrowed her size 11 black high heels.  Which I really didn't want to give back, they fit like a glove.
The Belle Curve range is a fantastic addition to Target and is available in store now.  It fills a much-needed gap of great looking gear for the curvy woman (size 16-26) at a reasonable price.  The range is designed to take you from desk to dinner.  There are a couple of specialty pieces as well.
The lovely people at Target are offering one lucky Belly Rumbles reader a $50 Target gift card to spend in store.  If you are a curvy girl like me, it will be an opportunity to purchase something from the Belle Curve range yourself.  If you aren't on the curvy side, don't panic voucher can be used for what you desire in-store.
Entry is easy, just have a look at the new Belle Curve range at Target here, and let me know which piece you would like to add to your wardrobe.
If you like the Belle Curve range, keep an eyes open in store as more pieces will be released in January 2014.
Sara xxx