What is so extreme about N2?  Well, they just happen to make their gelato using liquid Nitrogen.  Not a new concept and has been around for a while.  The first time I came across this method was on a trip to New York a few years ago.
Why make gelato with liquid Nitrogen?  Liquid Nitrogen freezes the liquid gelato 10 times quicker than a conventional gelato batch maker.  This results in finer ice particles and leaves you with a very smooth creamy gelato.
What also makes N2 stand out from the crowd is your gelato order is made fresh for you.  Fresh herbs, aromatics and other ingredients can be added at the last moment, giving the customer the freshest gelato in town.
N2 is decked out like a chemistry lab crossed with a kitchen.  There are beakers containing the gelato ingredients, funky coloured Kitchen Aids lining the steel bench and a giant caged vat of liquid Nitrogen safely out of the way of the action.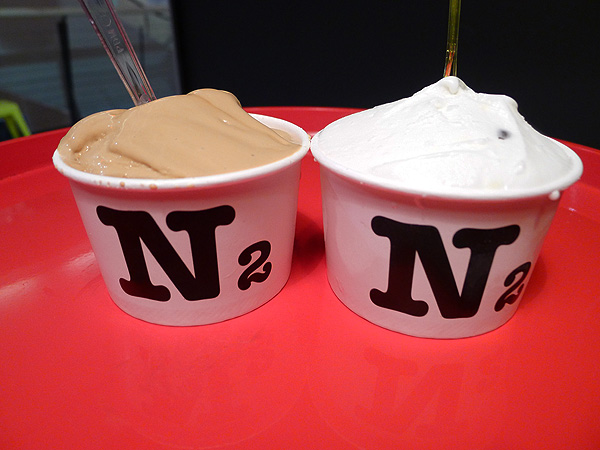 coff(ee) my butt(er)(brown butter & espresso) and chinka elf (coconut sorbet with passionfruit)
Most of the appeal of visiting N2 is watching your gelato being made.  Ingredients are placed in the bowl of the Kitchen Aid, and as the mixer beats away the liquid Nitrogen is added.  The gelato freezes solidly to the bowl, but by the time they chip and scoop it out in to your cup, the gelato is around -6C and perfect for consumption.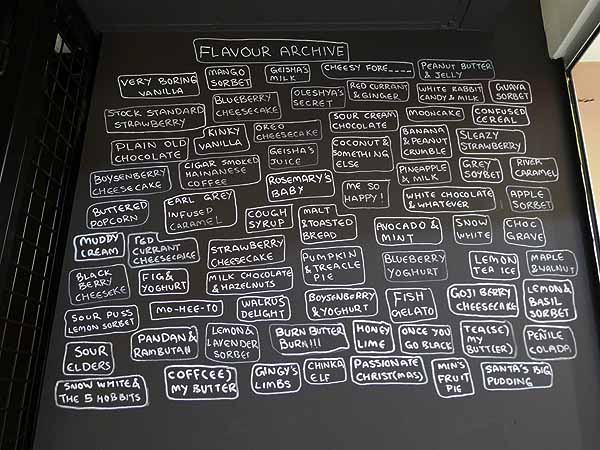 Don't visit expecting a large choice in flavours, expect around eight.  Flavours change weekly and you never know what to expect.  You won't find plain old chocolate or vanilla on their menu.  Instead you may come across truffled popcorn, salt & pepper calamari or earl grey caramel.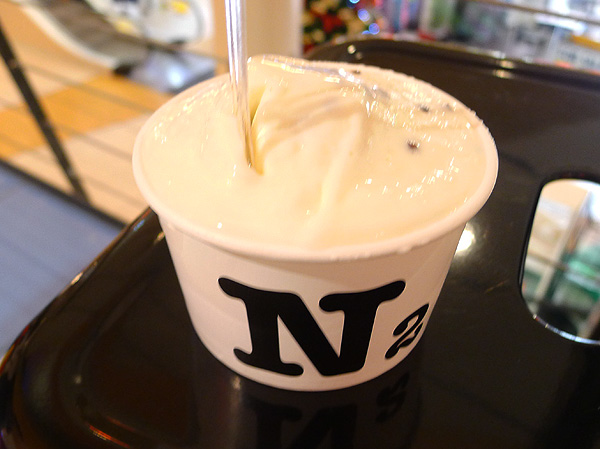 chocolate nibbles (cocoa nibs & milk gelato)
I have tried a few of the flavours now and prefer their lighter sorbet style gelatos to their heavier cream based ones.  I find the creamy ones just a little too creamy for my taste, whereas the sorbet style ones, even though still quite creamy are a lot lighter on the tongue and more enjoyable.
A cup of N2 gelato will set you back $6, there is only one size.  Extreme shakes are also available along with a few other beverages.
Do tell dear Belly Rumbles' reader, have you tried ice cream/gelato/sorbet made using liquid Nitrogen?
Sara xxx
N2 Extreme Gelato
43/1 Dixon St, Sydney
www.n2extremegelato.com.au