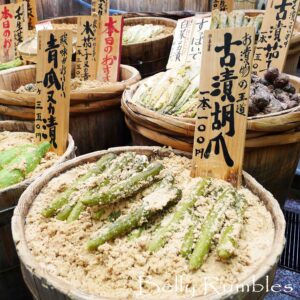 It would be unusual for me to travel and not investigate what a city has to offer food wise. What makes that town culinarily unique. Be it a type of food, a special restaurant or the local food markets. Kyoto is actually renowned for its sake and tofu. The locals say their tofu and sake is exceptionally good due to the local water. I will admit that I sampled lots of sake, but sadly didn't have a chance to chow down on tofu.
When I knew I was going to spend a few days in Kyoto, beside exploring as many heritage listed temples as I could, Nishiki Ichiba was on my agenda.
With only a few days in Kyoto, which would also include a trip to Nara as well as a visit to Osaka, our time was pretty well mapped out. It turns out that Nishiki Food Markets are the first place the agenda after arriving that afternoon from Tokyo via shinkansen.
Nishiki Markets (Ichiba) is known as Kyoto's Kitchen, and when you visit it is easy to see why. Unlike the massive sprawling Tsukiji Market in Tokyo, Nishiki is a lot smaller. The 400 meter long, five meter wide, covered, pedestrian only road runs east-west from Teramachi Street to Takakura Street. There are about 130 shops and stalls that run down both sides of the road. I find the markets a lot more friendlier and personable than Tsukiji.
It really is a culinary delight walking amongst the stores and stalls. You will find all sorts of goodies; pickles, Japanese sweets, dried food, sushi, fresh seafood, vegetables, flowers, sake, rice as well as knives, ceramics and other cookware. What I love about Nishiki is there is a nice assortment of food that is designed to be bought and eaten as you walk around. There are lots of samples to be tried as well. The merchants are friendly and encourage you to try what they have on offer. Almost everything that you will find at Nishiki is locally produced or procured.
The markets have a very long history . The first store was set up by a fishmonger around 1311. During the Edo period (16th century), Nishiki became a true fish market with several wholesale fish stores opening. Later on the market made the move from wholesale to retail and stores selling items other than seafood opened. Many of the stores that you see have been there for several generations.
Come for a little walk with me via my photos. I have only put a few up on Belly Rumbles, to have a look at all of them please pop by my flickr profile.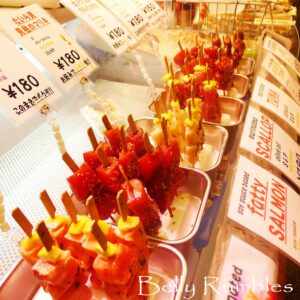 Sashimi on a stick, perfect on the go snack. A selection of tuna, scallop and salmon, marinated in various flavours.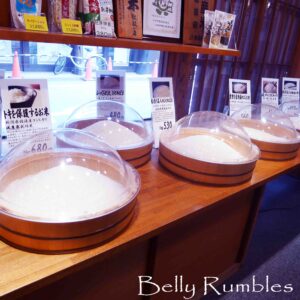 I use to think that we had a great variety of rices in Australia, it becomes very apparent very quickly that we have nothing on the Japanese.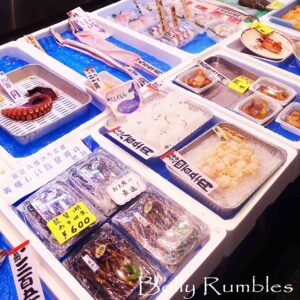 Various seafood including whale. What part of the whale I am not quite sure.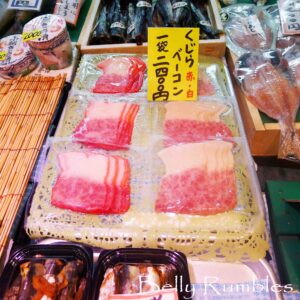 More seafood and whale meat, this is known as whale bacon.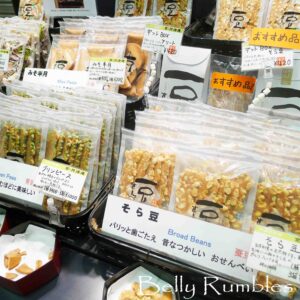 Broad bean, green pea and miso biscuits. You try the samples and then you just have to buy some, I did.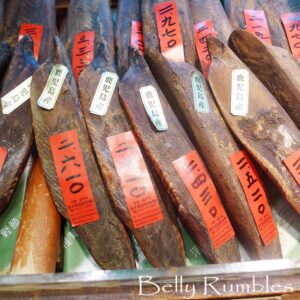 Katsuobushi (dried bonito) which is then finely shaved to make bonito flakes.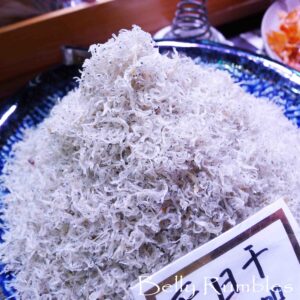 Shirauo (Japanese anchovy) which have been dried, mainly caught in the Kyushu and Kanto area.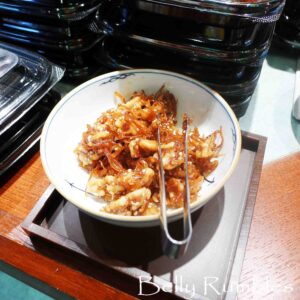 Shirauo with walnuts. We bought some of these to have with a beer back at the bar. Mean nasty bar person told us to put them away, not allowed to bring in food. They were absolutely delicious, soy and sweet flavour, quite sticky.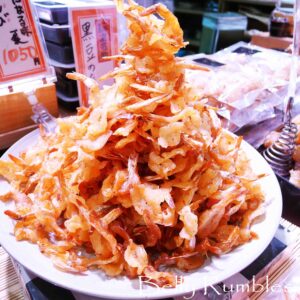 Dried prawns with chilli. One or two are nice but they get a bit much after a few.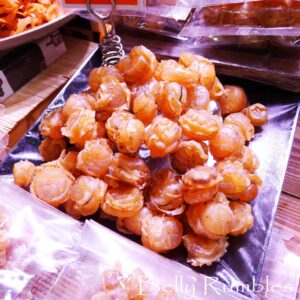 Dried scallops, ready to eat, got to love their snack food.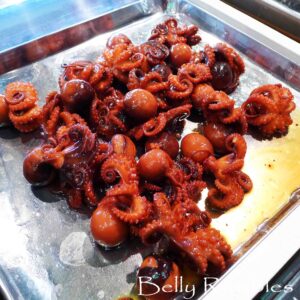 Little marinated octopi. Their heads are stuffed with a quail egg.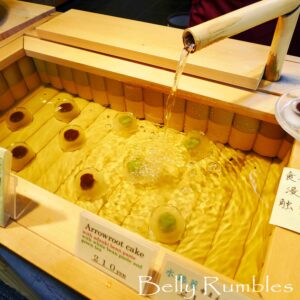 Gorgeous presentation of their arrowroot cake.
You can find me on flickrhere.
Sara xxx