Nishiki Market is known as Kyoto's Pantry, and for a good reason. The variety of food to be found will blow your mind. From fresh vegetables and seafood, right through to the fluffiest freshly cooked tofu doughnuts.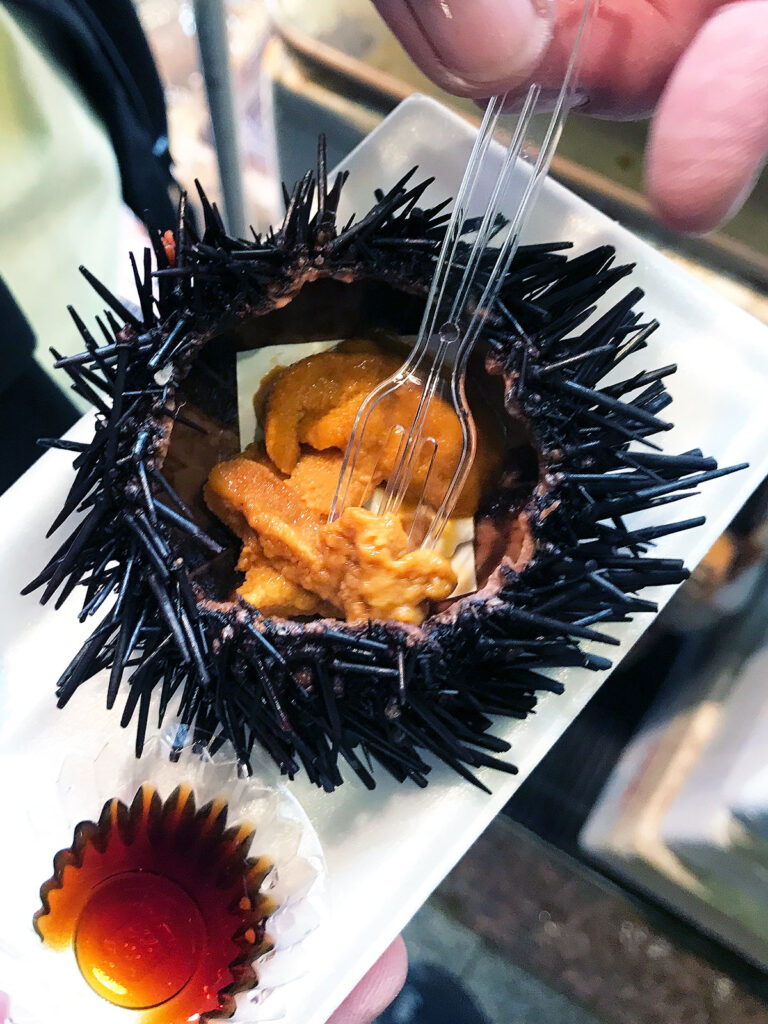 It would be unusual for me to travel and not investigate what a city has to offer food-wise. What makes that town culinarily unique. Be it a type of food, a special restaurant or the local food markets
I've been fortunate to travel back to Nishiki Market Kyoto many times over the years. If you are going to spend a few days in Kyoto it is a must visit along with exploring Kyoto's heritage-listed temples.
Nishiki Ichiba (Market) is known as Kyoto's Pantry. When you visit it is easy to see why. Unlike the massive sprawling outer market of Tsukiji Market in Tokyo, Nishiki is a lot smaller. Or at least it seems that way as it is one long continuous line of shops.
The History of Nishiki Markets
The market has a very long history. The first store was set up by a fishmonger around 1311. During the Edo period (16th century), Nishiki became a true fish market with several wholesale fish stores opening.
In later years the market made the move from wholesale to retail with stores selling other items than seafood. Many of the stores that you will see when you visit have been at the market for several generations.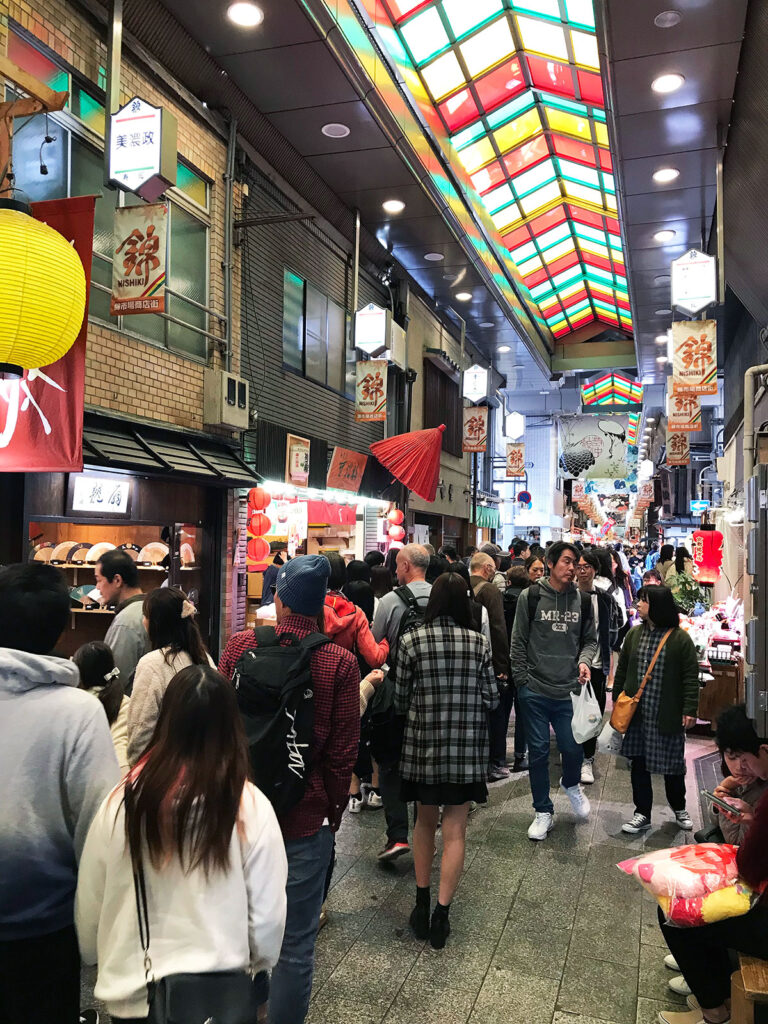 What Will I find at the Markets?
There are around 130 shops and stalls that run down both sides of the covered pedestrian walkway. It really is a culinary delight walking amongst the stores and stalls. You will find all sorts of goodies; pickles, Japanese sweets, dried food, sushi, fresh seafood, vegetables, flowers, sake, rice, ceramics, cookware, as well as the Nishiki Market Knife Shop.
You will find a buffet of food samples to try. The merchants are friendly and encourage you to try what they have on offer. Almost everything that you will find at Nishiki is locally produced or procured.
There is an assortment of food designed to be bought and eaten at the market. If you do buy a snack or two to enjoy at the market, and I do encourage you do, there are a few rules to follow.
Do not walk and eat. This is a no no in Japan in general, but even more so at Nishiki Markets.
Eat at or in front of the shop you have purchased your food from.
Do not eat food in front of the surrounding stores.
Place trash in the garbage bins provided, but good luck finding them.
Besides the samples and snacks, there are ingredients to take home, fresh and pantry staples. I often pick up a few things to bring back to Australia with me. Items that are hard to get or can't get at home.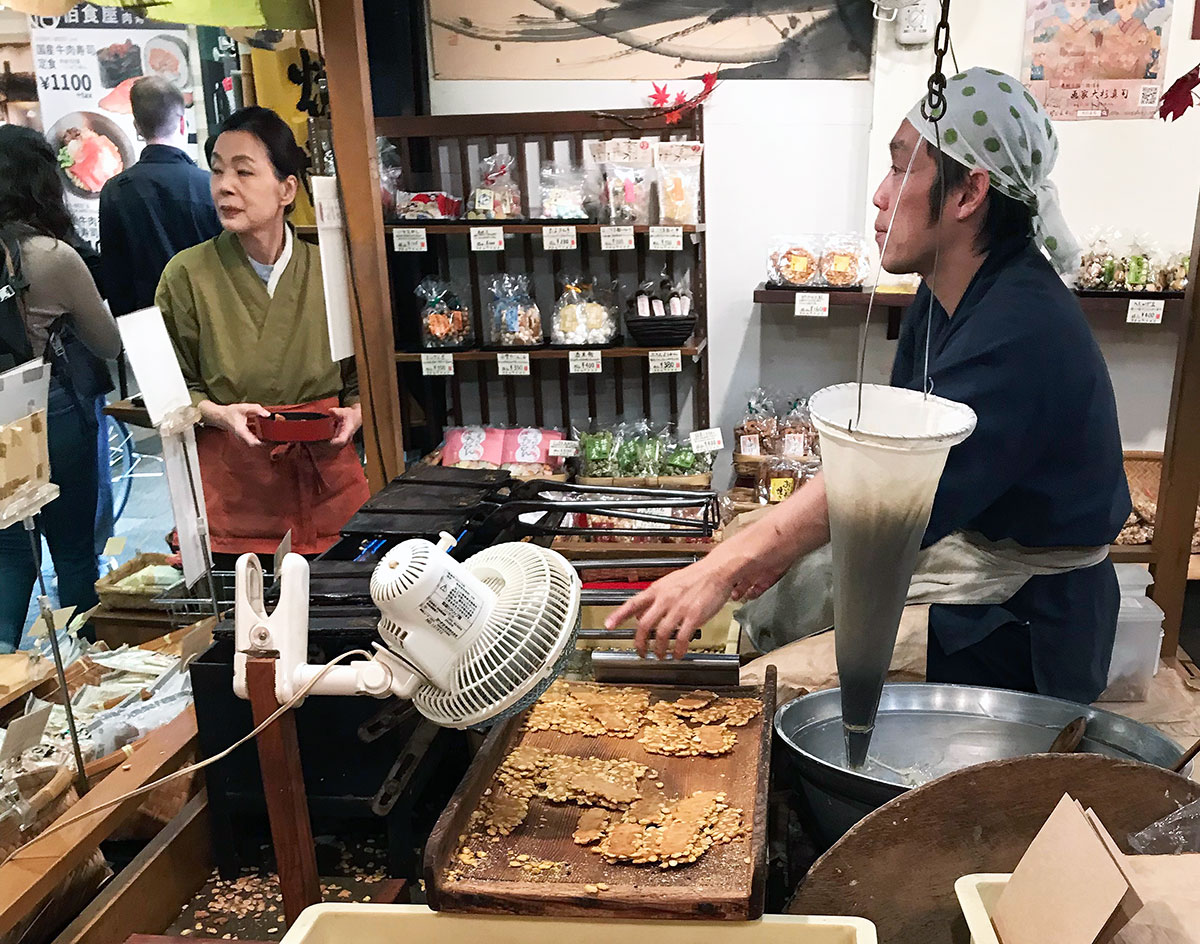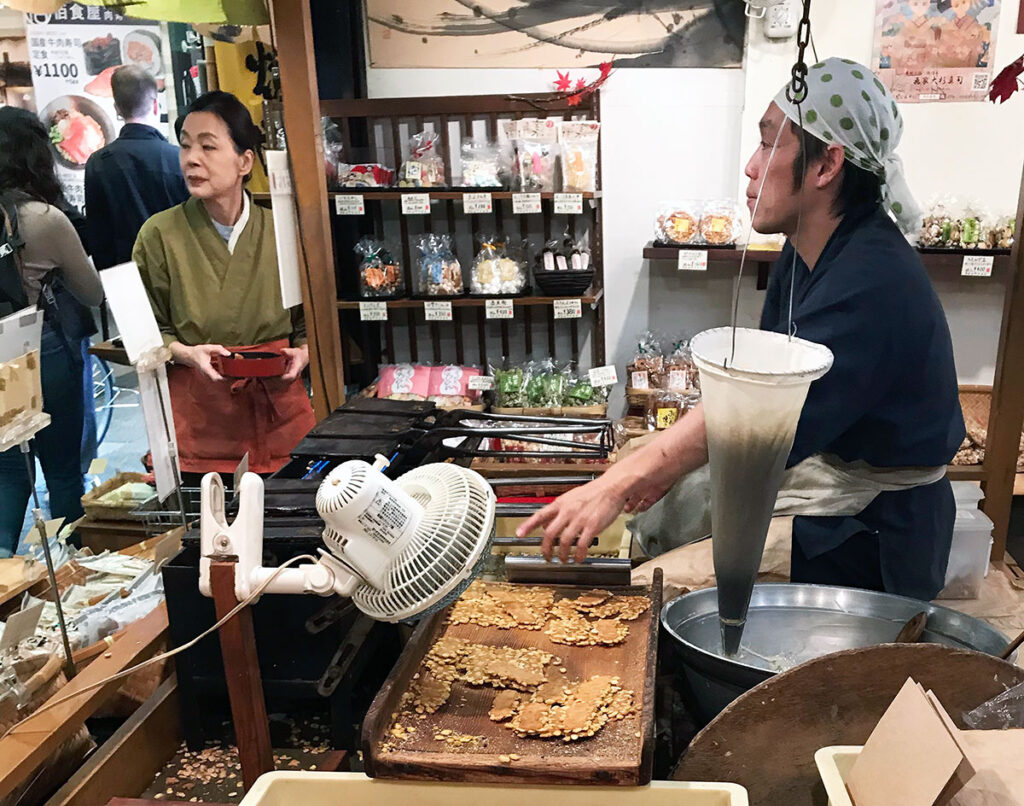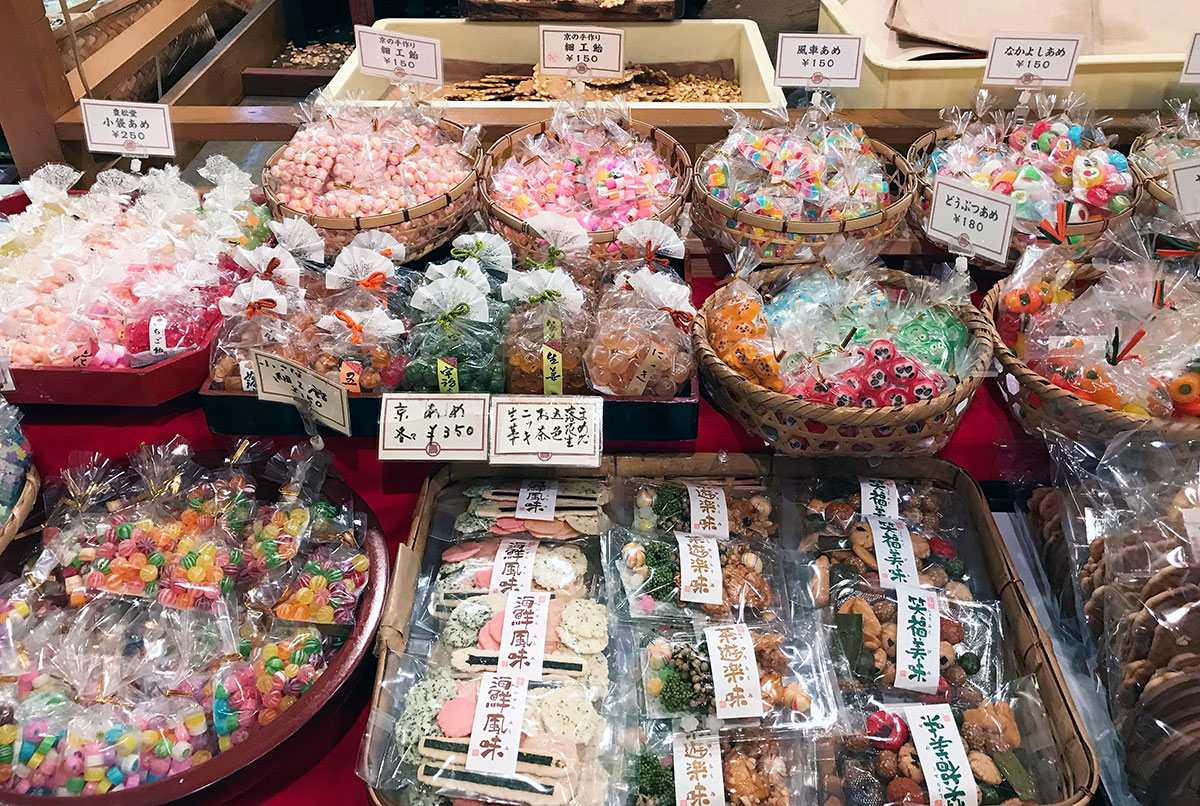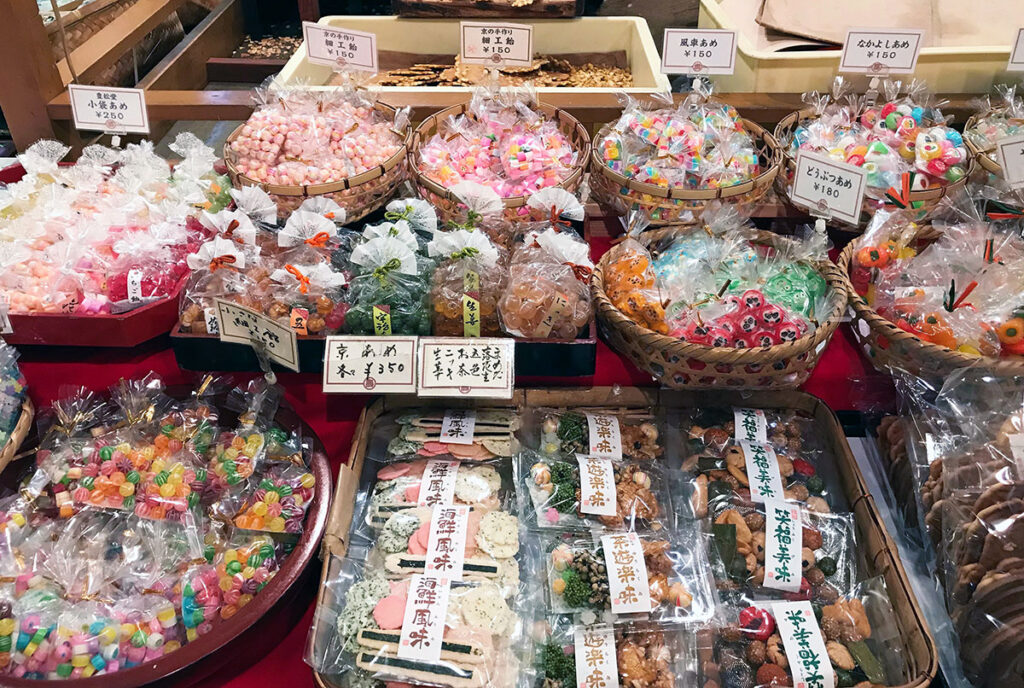 Nishiki Market Tours
The first thing you need to decide is if you want to take a guided tour of the markets. The Nishiki Market do not run tours, but there are plenty of companies that do.
Should I take a guided tour of Nishiki Markets?
If it is your first trip to Japan, or you are not too familiar with Japanese ingredients and food, then I highly recommend a guided tour. You will come away from your Nishiki Market visit with so much more knowledge.

The benefit of taking a tour is you will have a local with you, speaking the language. They will be able to order for you as well as make recommendations on what to try. Plus all that insider knowledge!
A few tours we recommend below;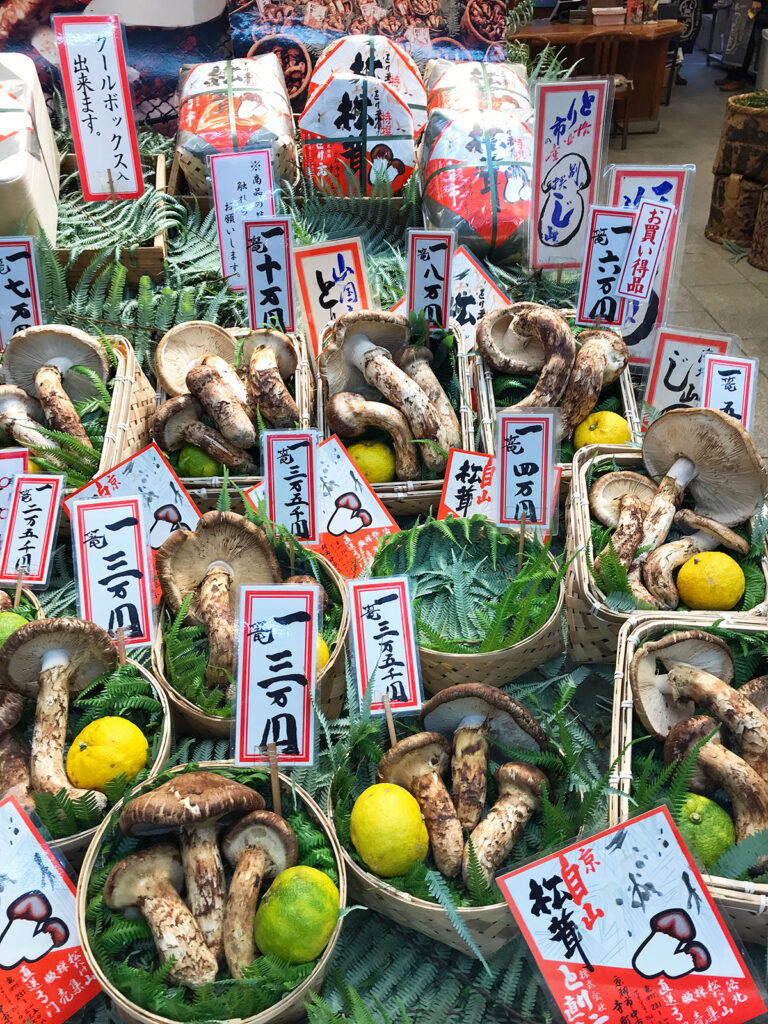 Best Food in Nishiki Market
FOOD TO EAT ON THE GO!
As a tourist, the best food in Nishiki Market is the food you can eat there or take away for a snack later. I suggest going with an empty stomach because you will have plenty to choose from.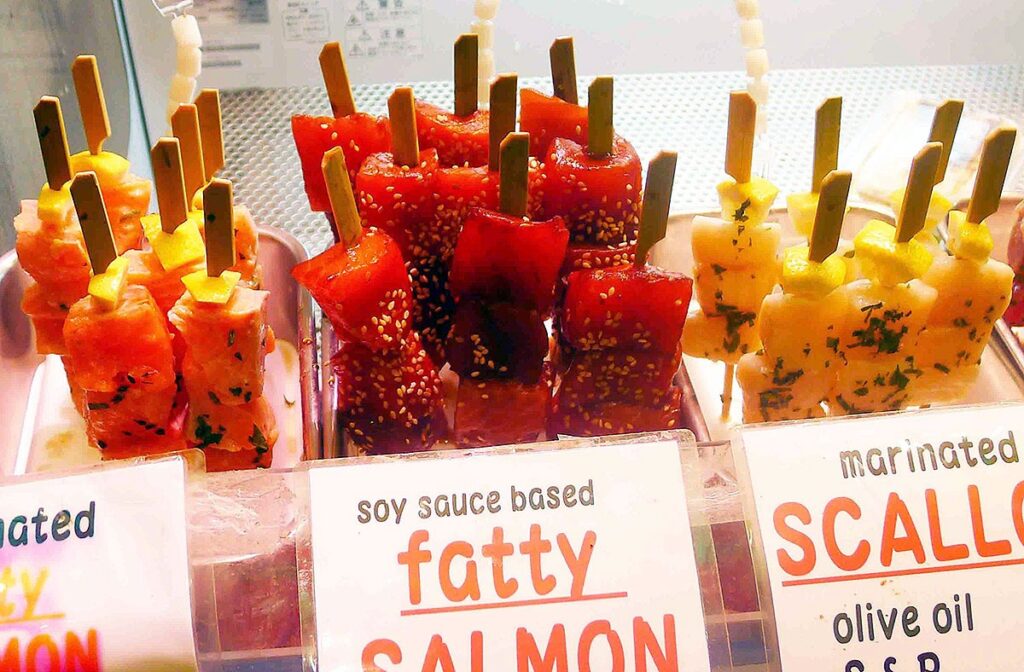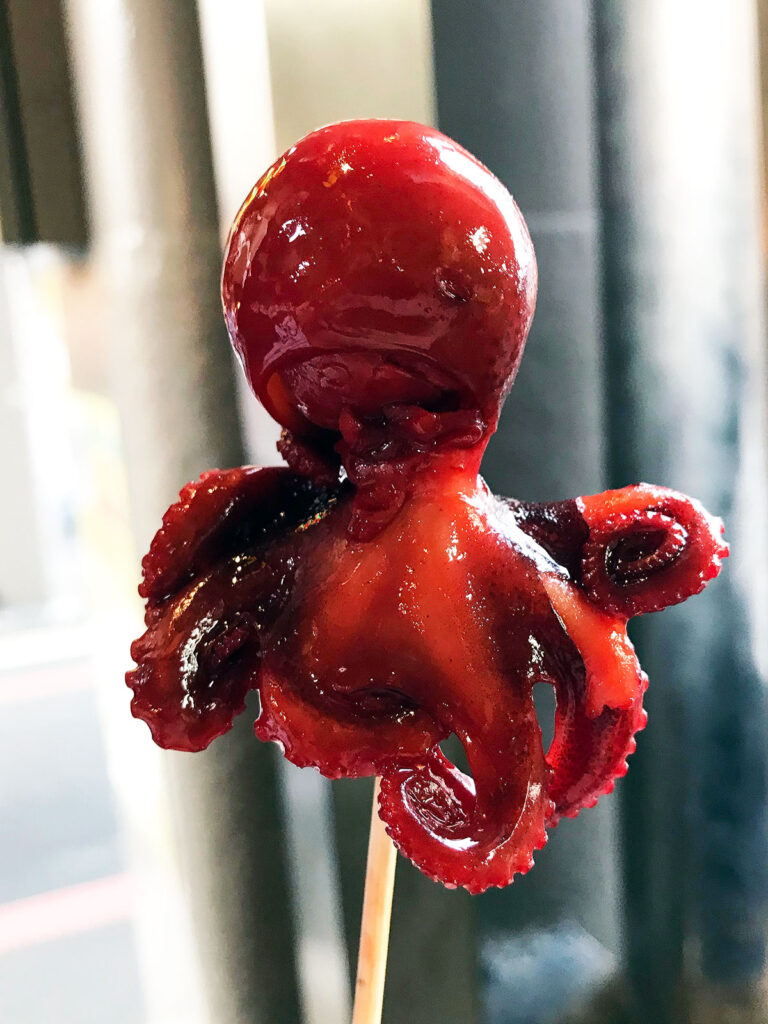 A must try is the Tako Tamago. You can't miss these lacquer red cephalopod. They are a baby octopus with a quail egg stuffed in their head.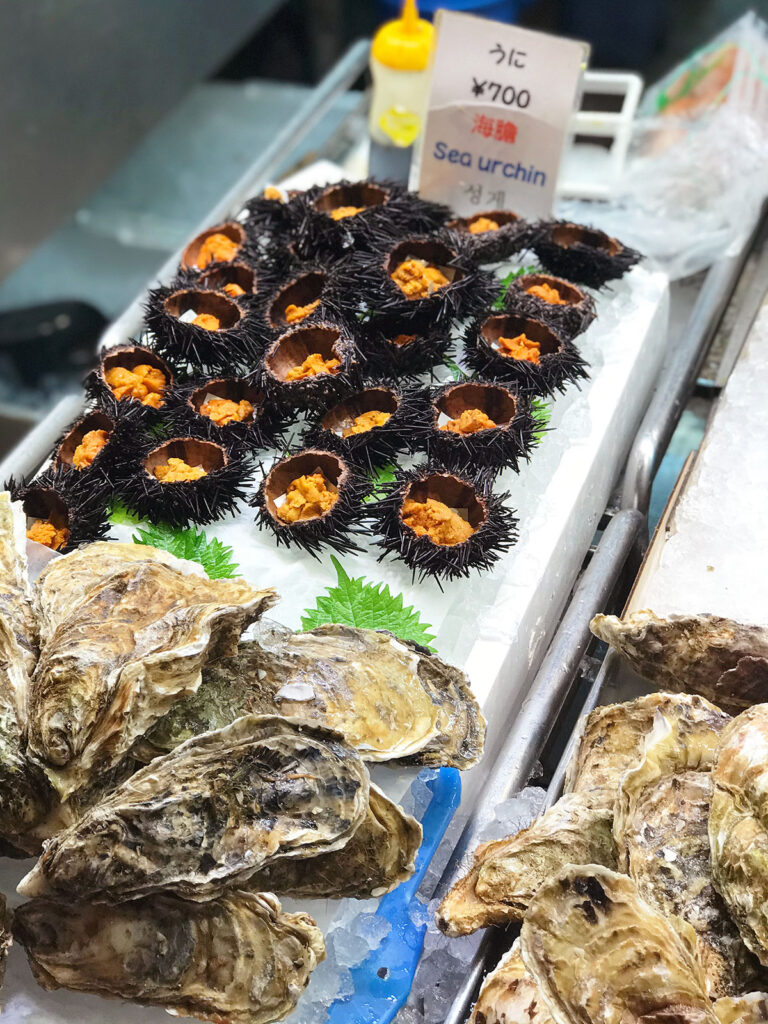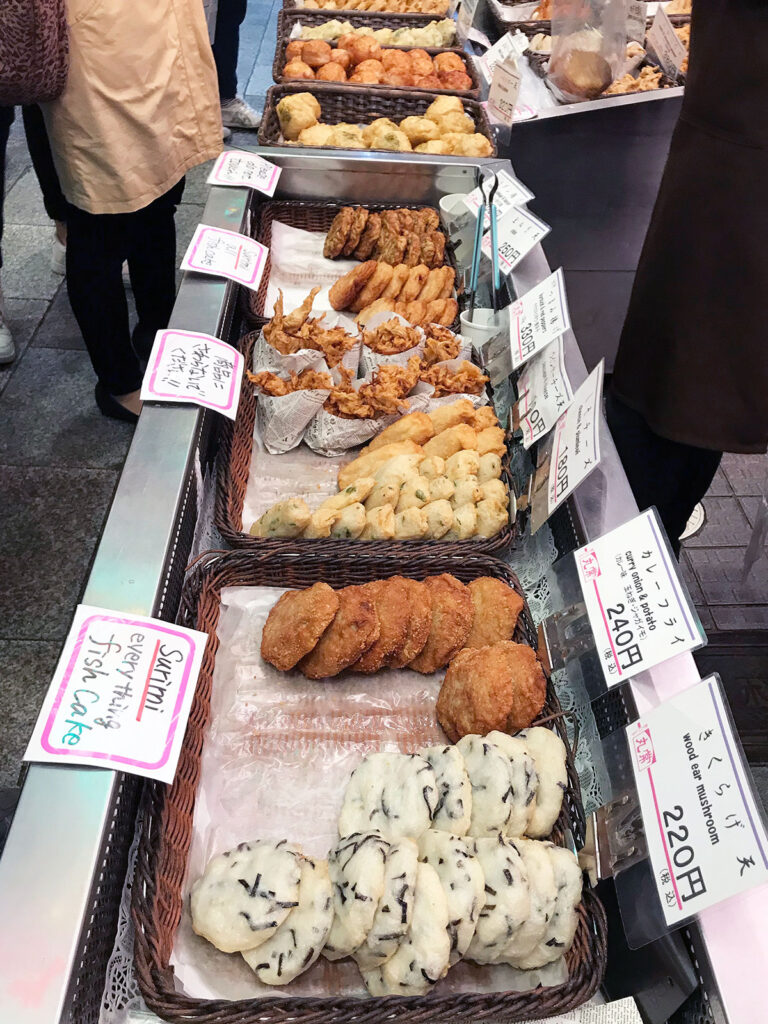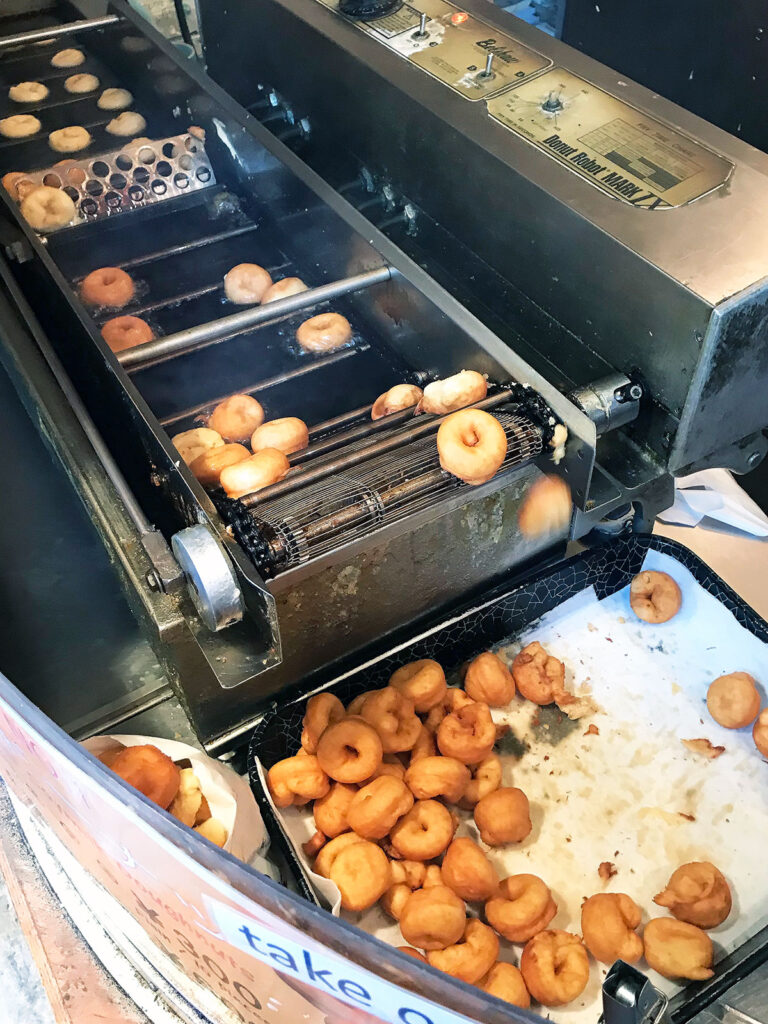 I highly recommend you try a tofu doughnut from Konnamonja. They are incredibly light, fluffy, and exceptionally tasty. For non-lovers of tofu, you would never guess that is what they are made from.
FOOD TO TAKE WITH YOU
If you like to have a nibble while you are having a tipple, Nishiki Market is snack heaven for happy hour. I'm partial to the teeny marinated fish called shirauo. The ones mixed with candied walnuts are particularly addictive.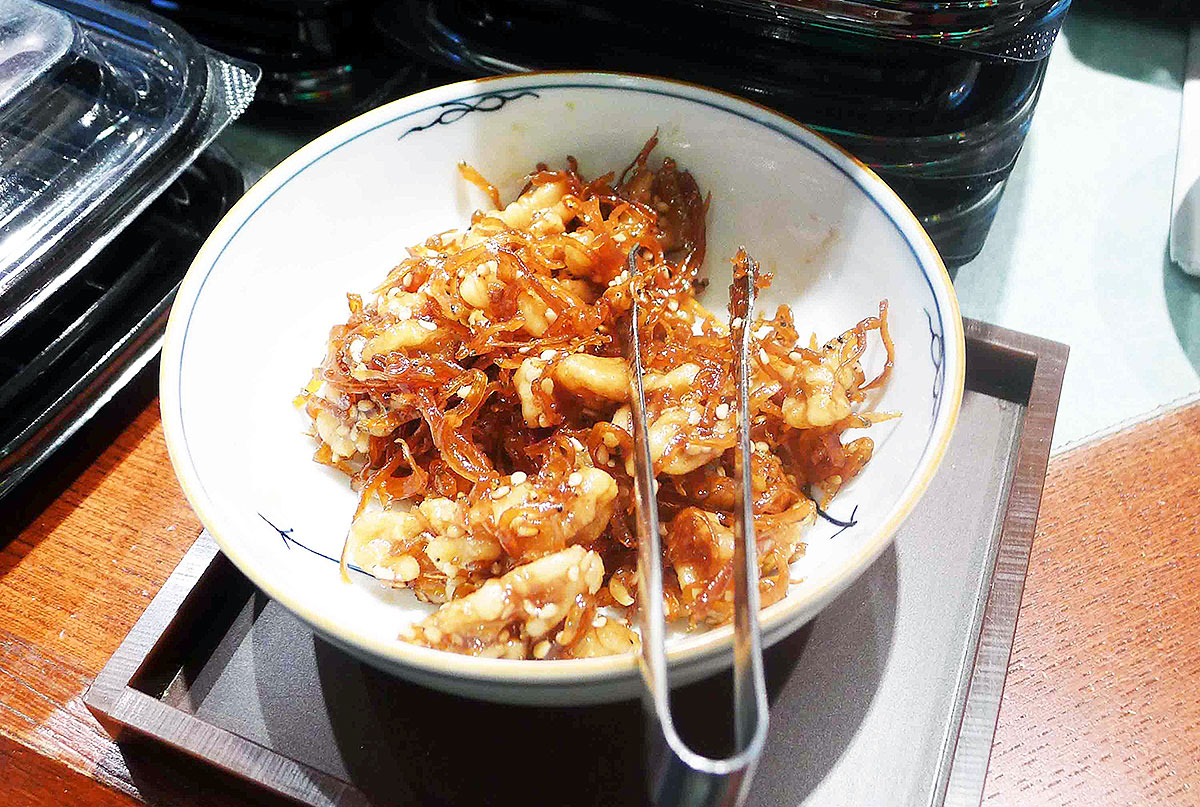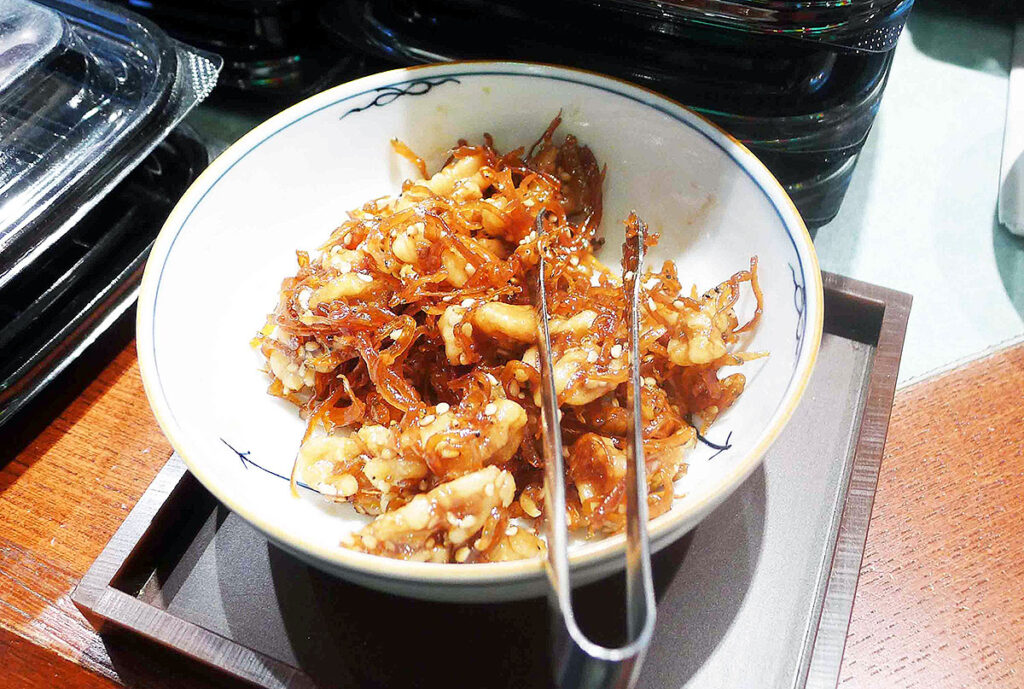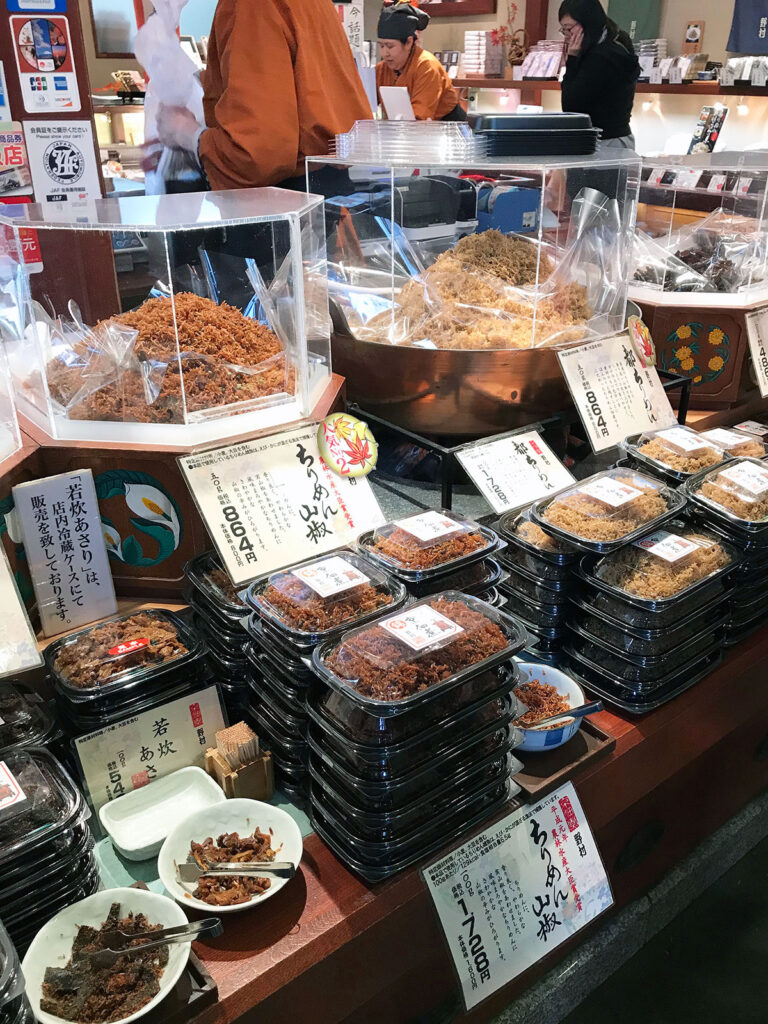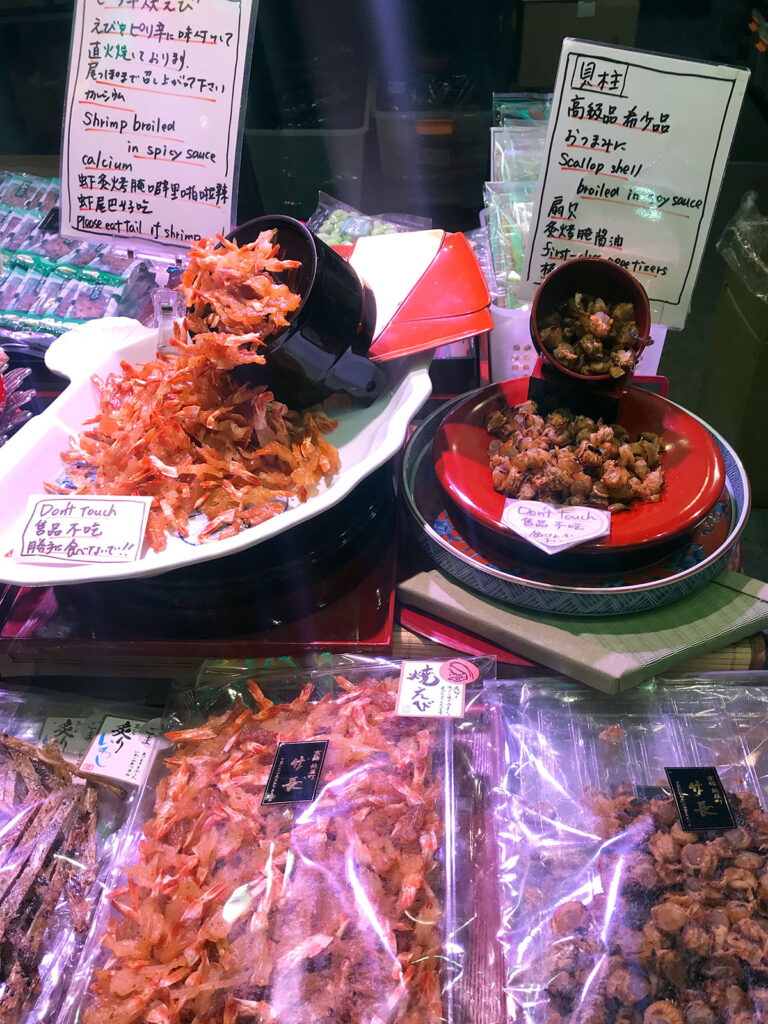 For those that have access to a kitchen there is plenty of ingredients and produce to play with. You will be the envy of most foodie tourists.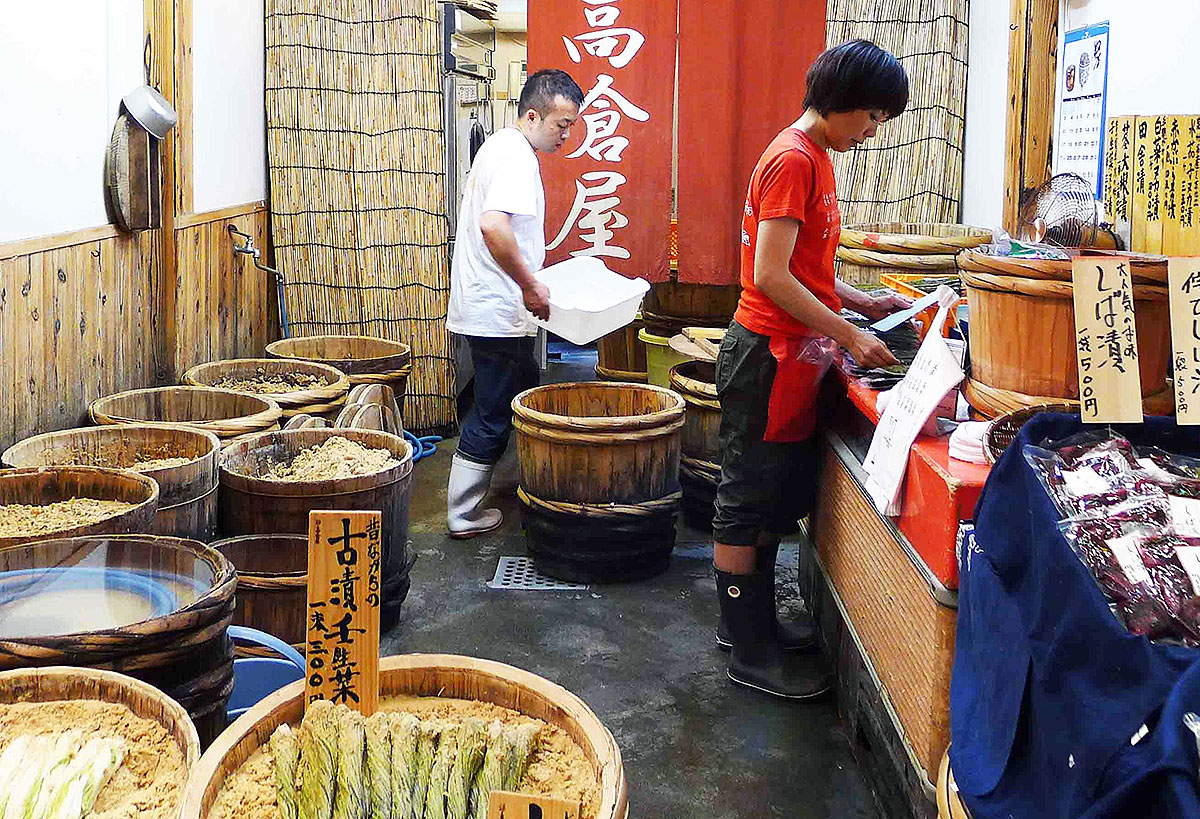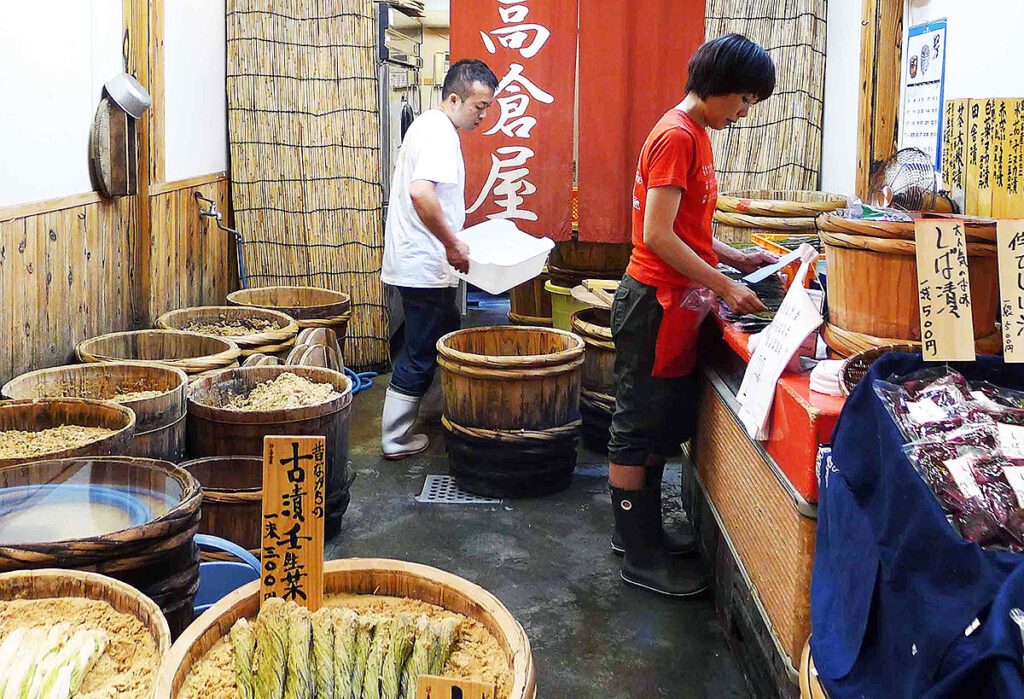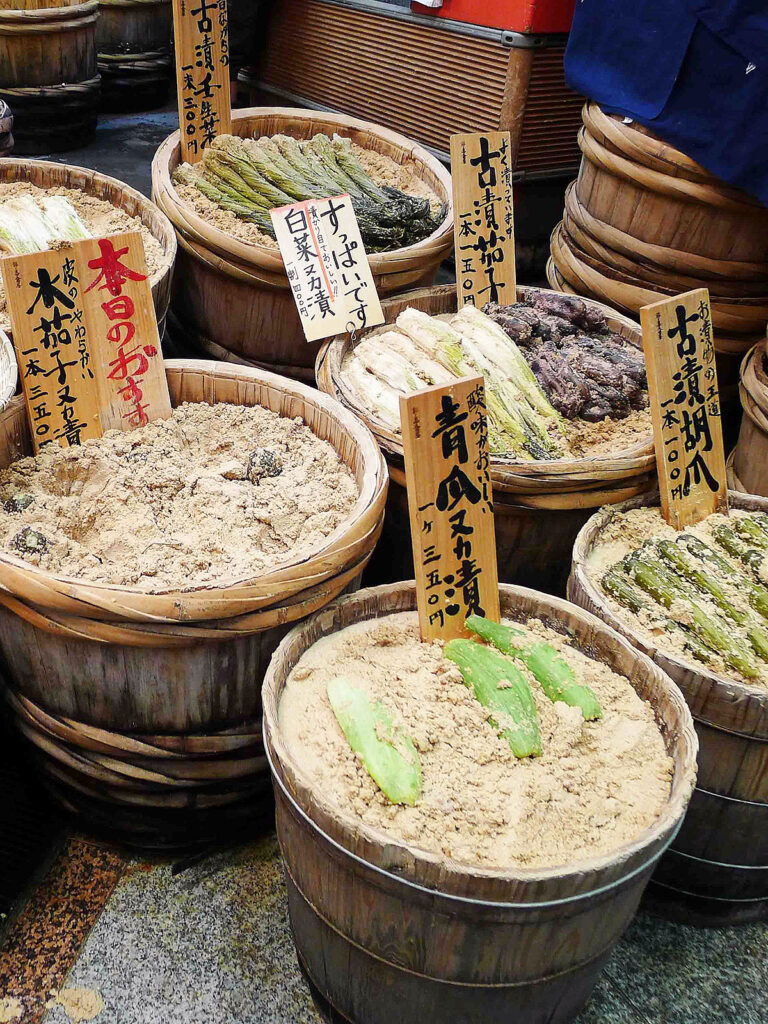 Pickles, pickels and more pickles can be found at the market. Most will just have to have a taste test and admire. Unless you have access to a kitchen and plan on experimenting and cooking while you are in Kyoto.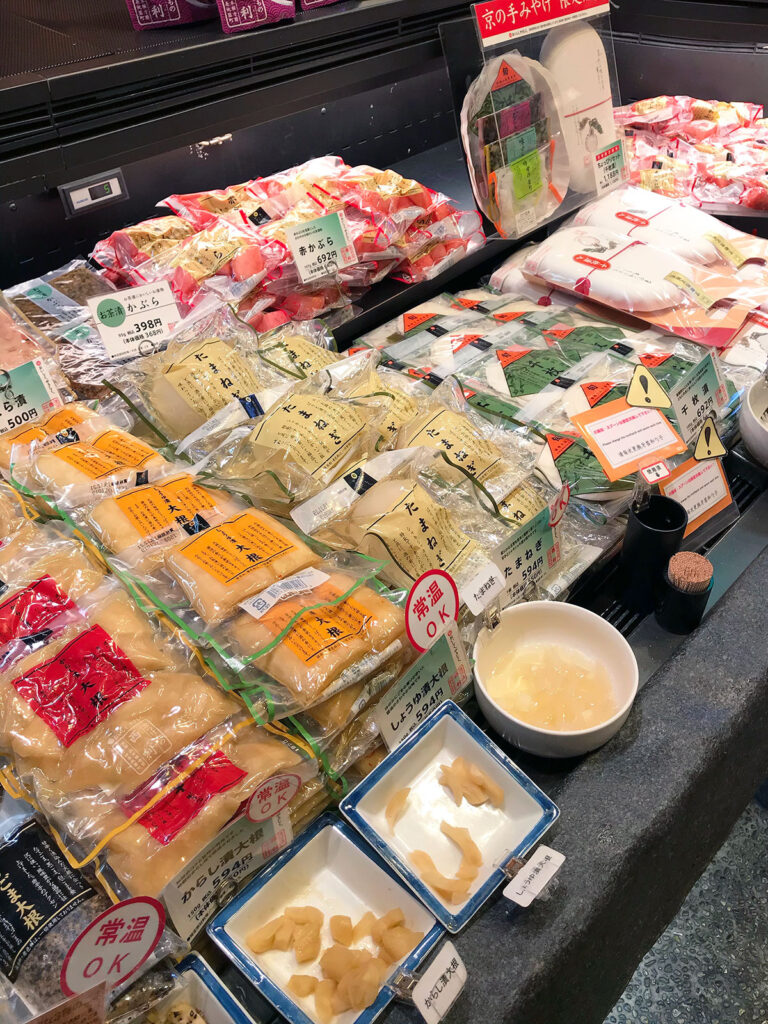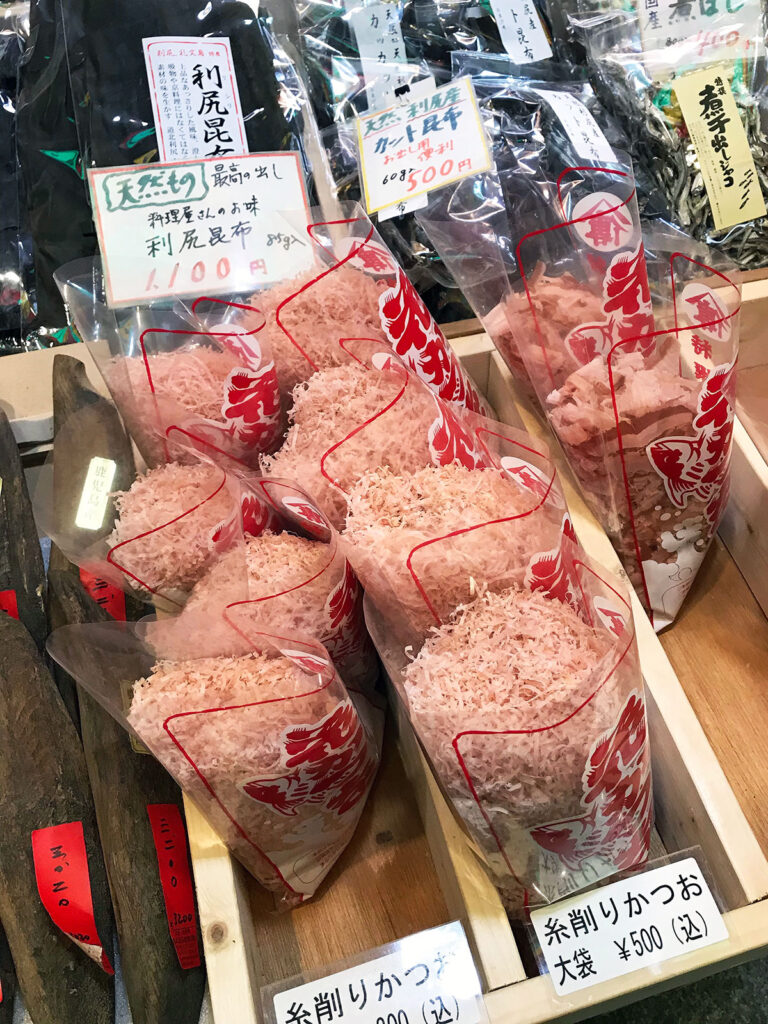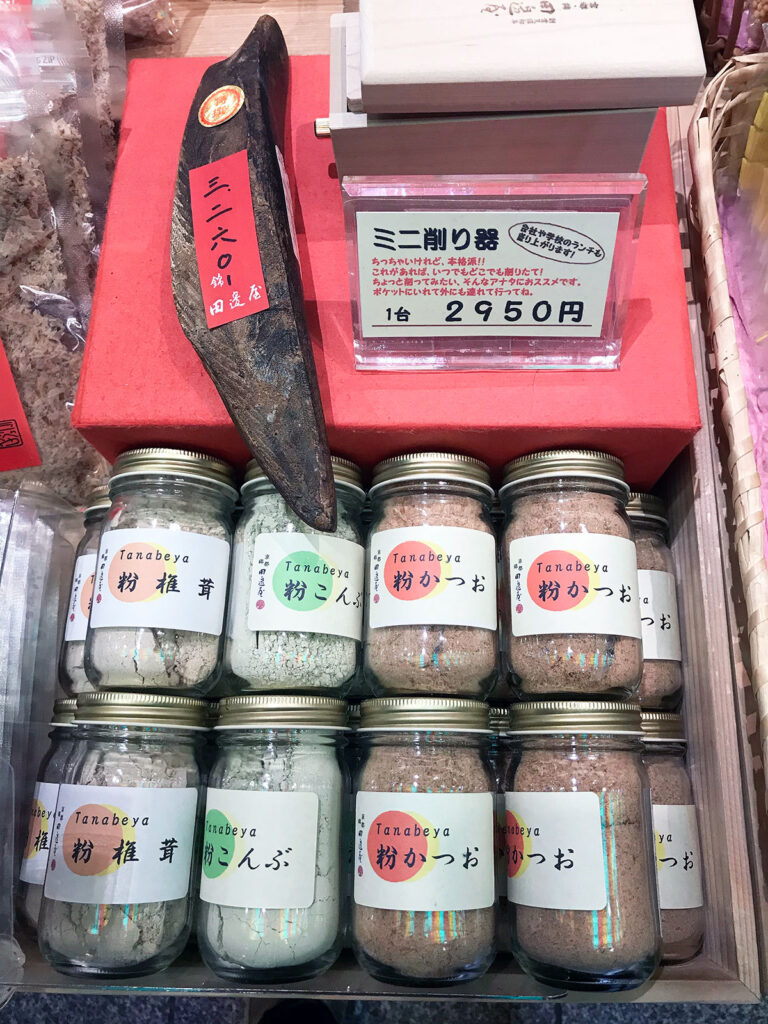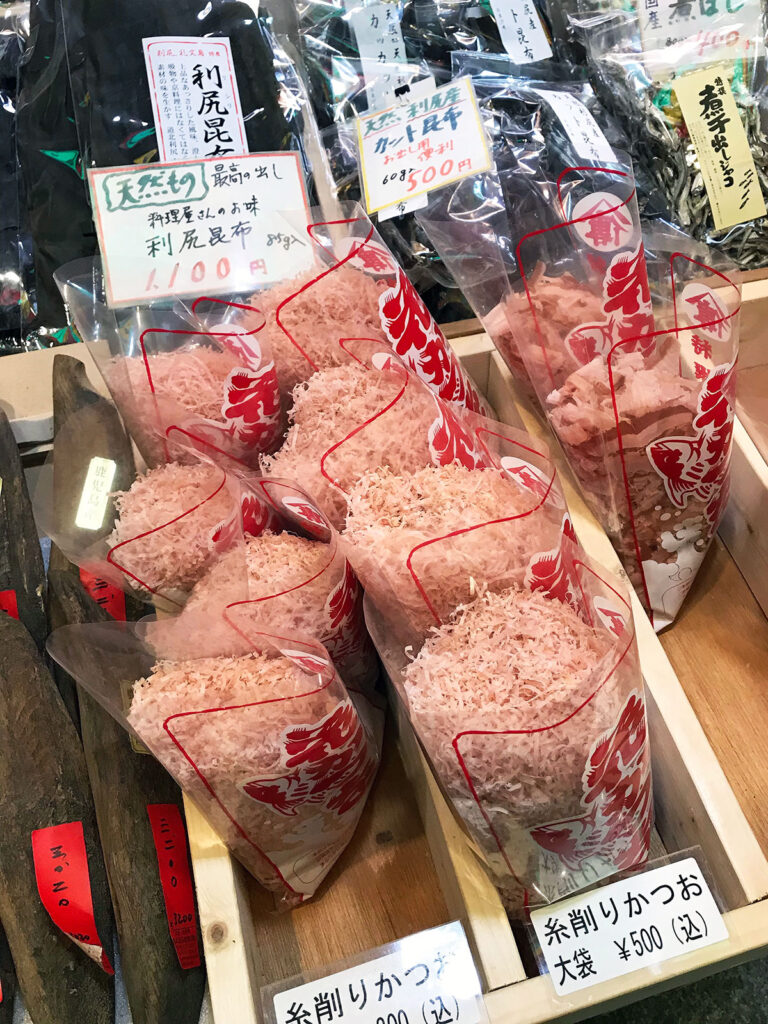 THERE ARE PLENTY OF SAMPLES TO TASTE
As I recommended visit on an empty stomach as you will be grazing from one end of the market to the other. There are so many delicious samples on offer.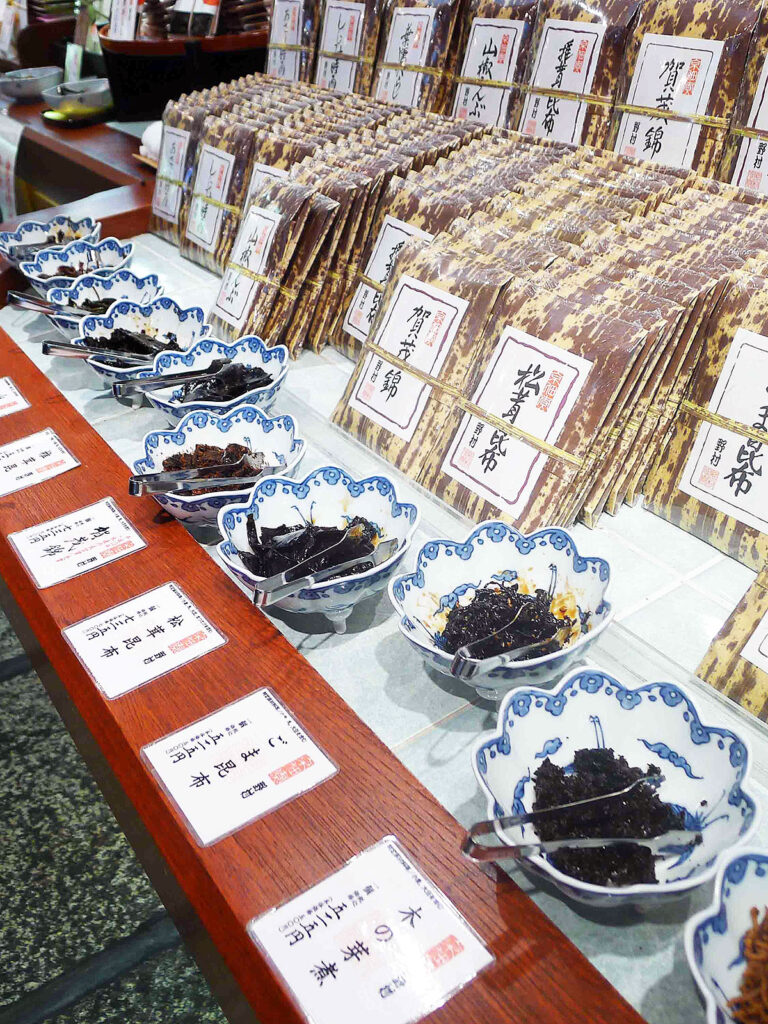 But What About The Seafood?
As the market originally was a fish market, you will still find an assortment of things that live in the water. Fresh uni to eat on the spot is a treat for the tastebuds. Cooked, raw and still kicking, Nishiki Market has it all.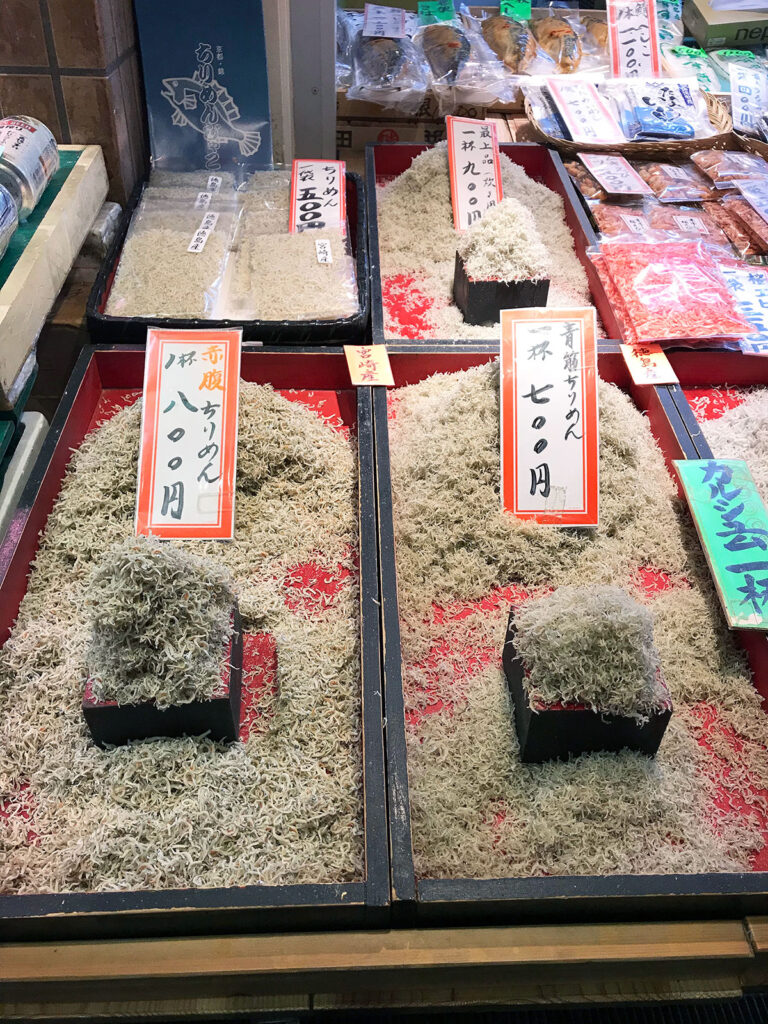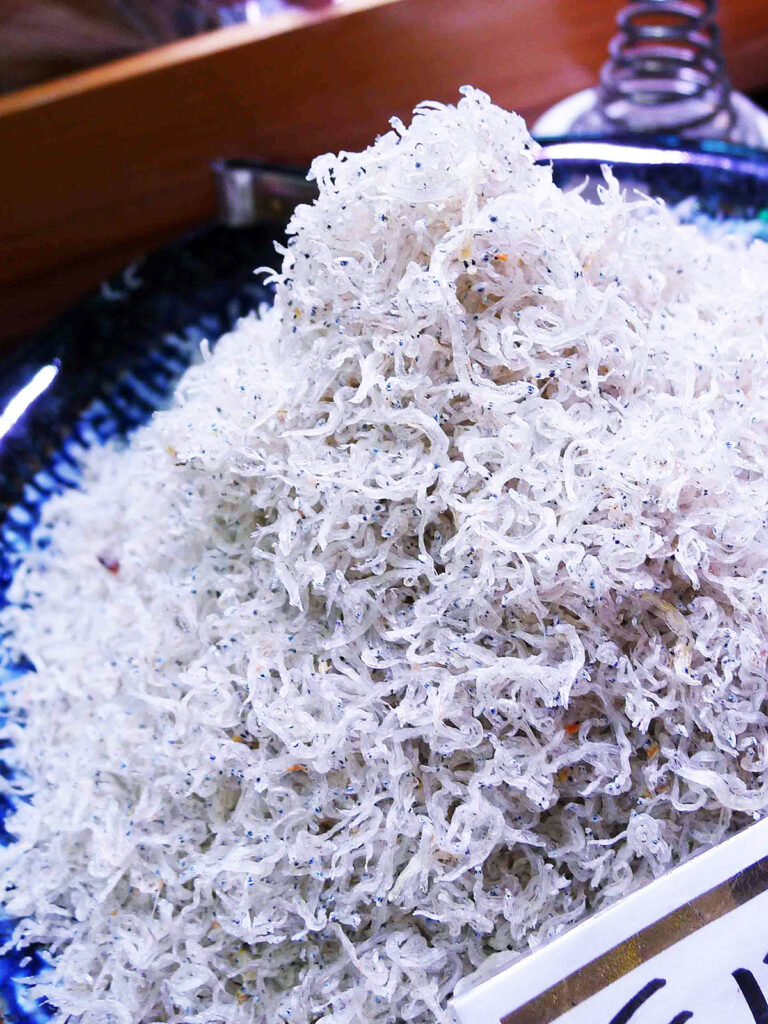 I mentioned shirauo (Japanese anchovy) earlier as a bar snack, which has been dried and flavoured. You can also buy it dried and unflavoured to use in cooking. Dried shirauo are mainly caught in the Kyushu and Kanto area.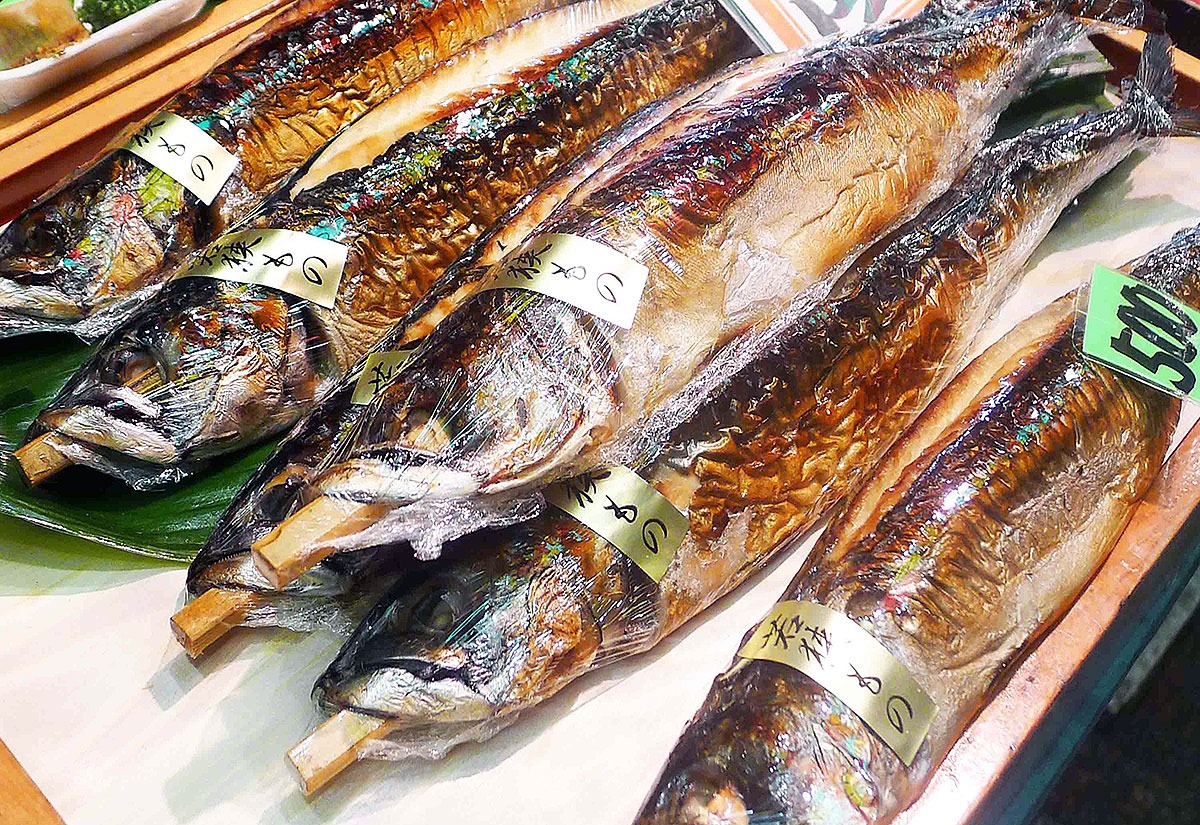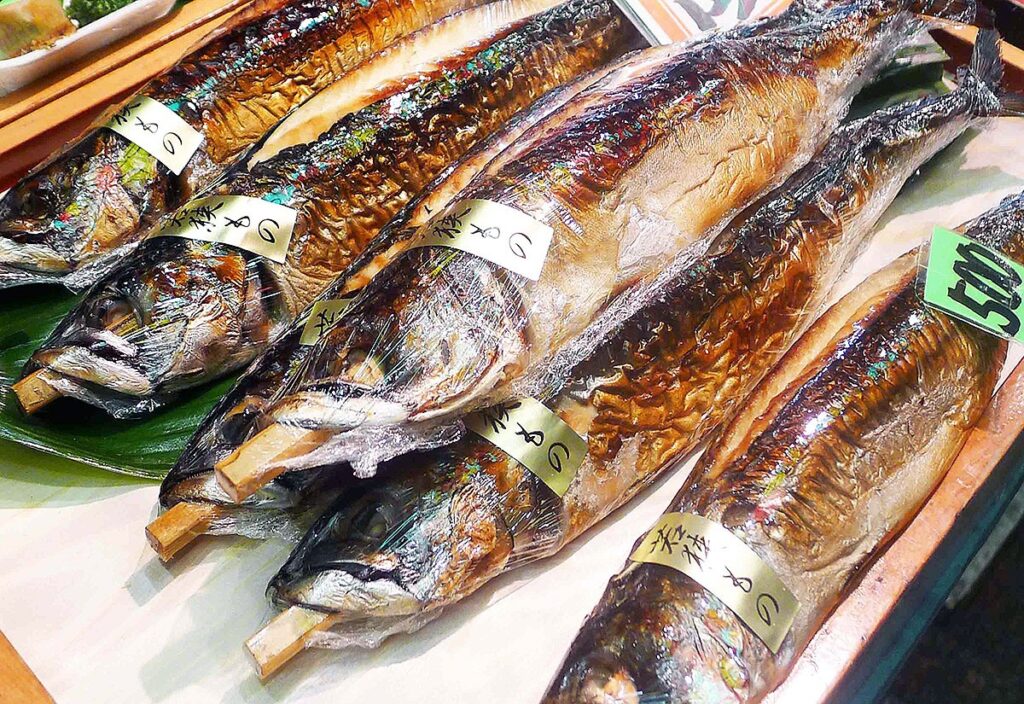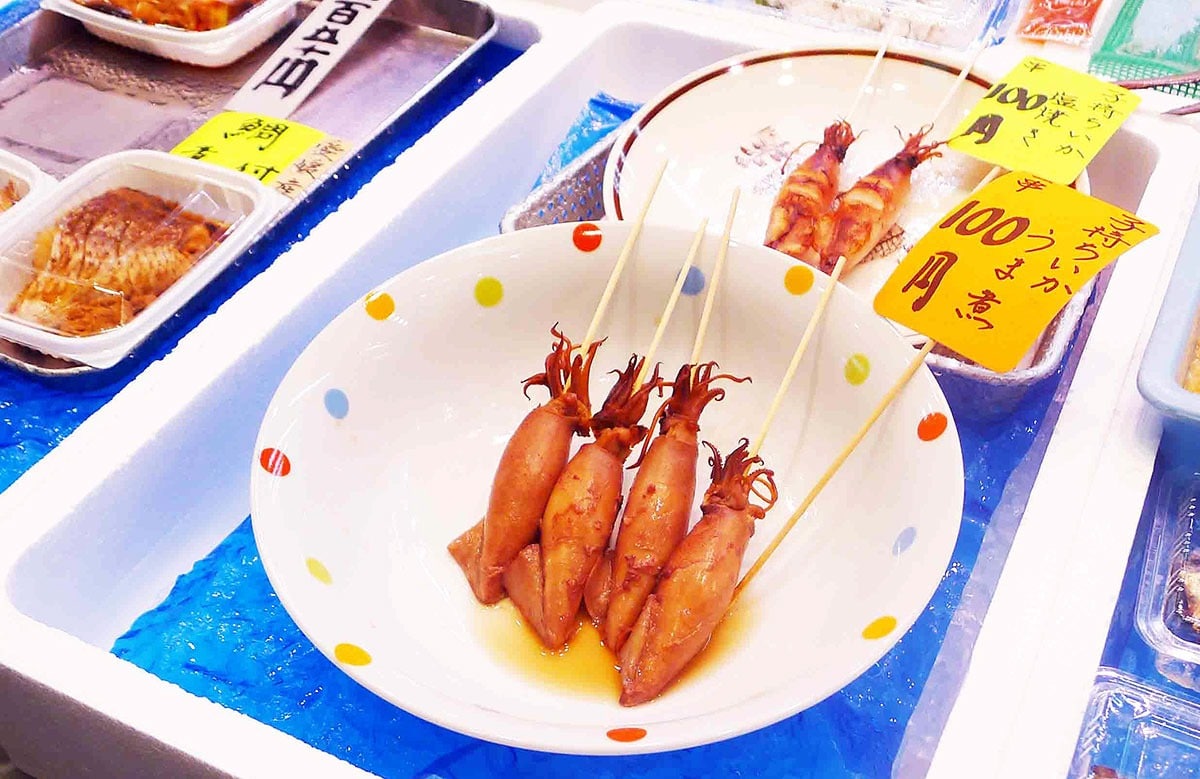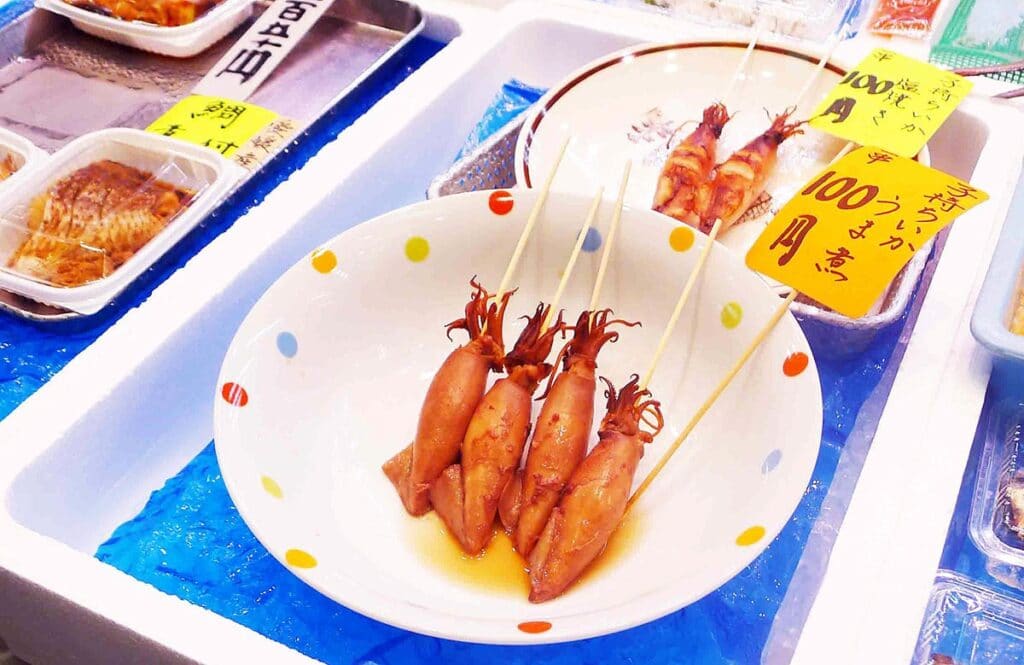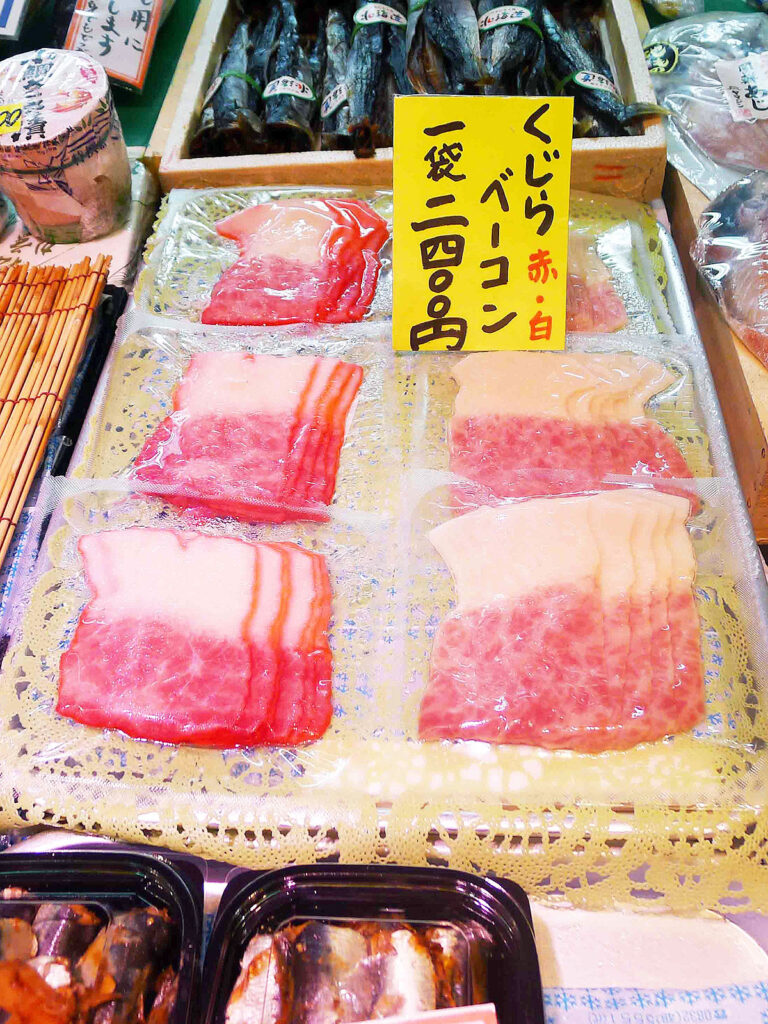 If you keep your eyes open you may very well spot whale "bacon"
Gifts to Take Home
There are plenty of things to purchase that would make great gifts for friends and family back home. Even if you live in Australia and New Zealand with tough quarantine laws, there will be suitably packaged items to take home.

Make sure that the item is commercially sealed with its contents clearly marked on the labeling. Yes this will most probably be in Japanese, but that's okay. Be aware of items you aren't allowed to bring back with you.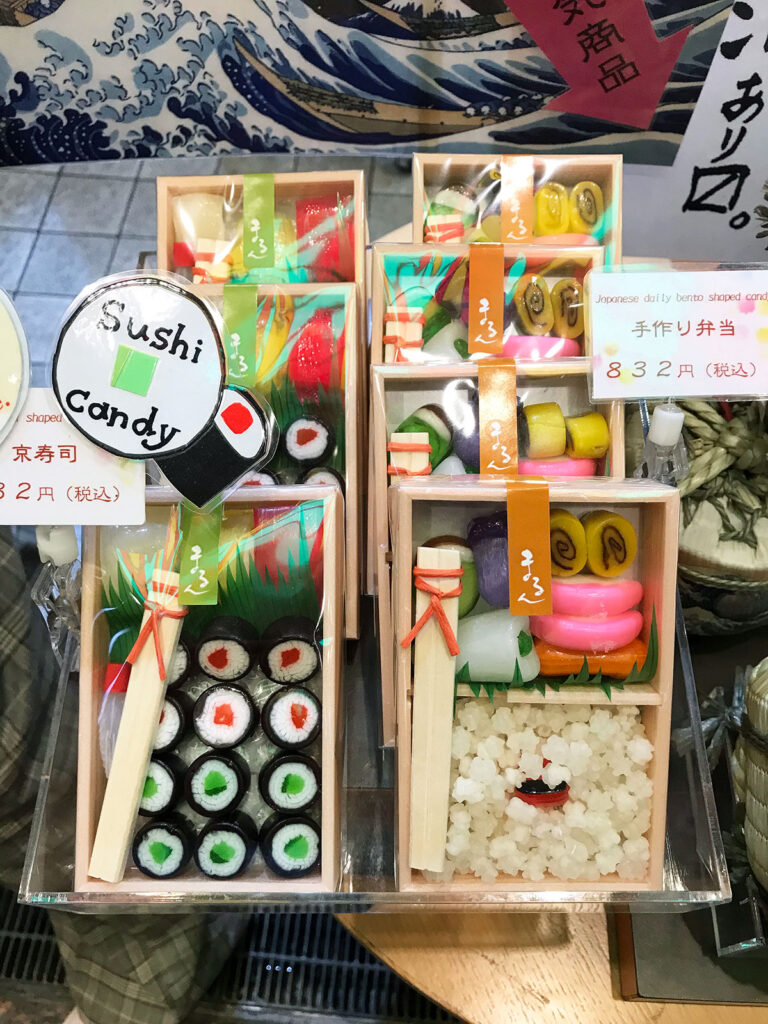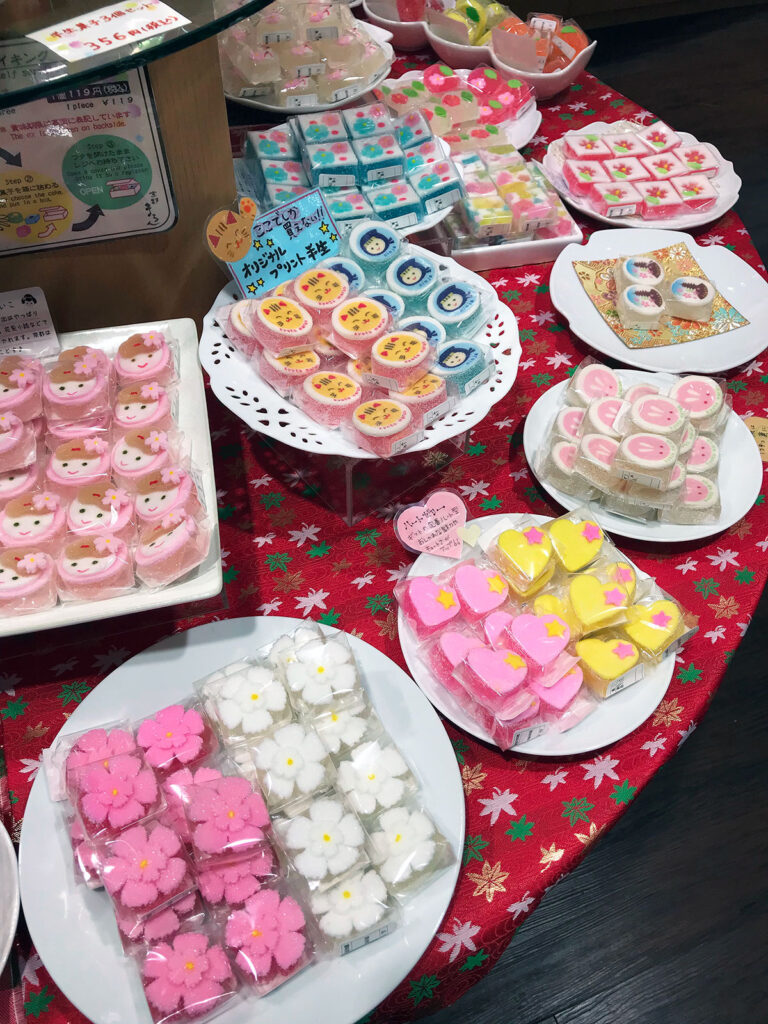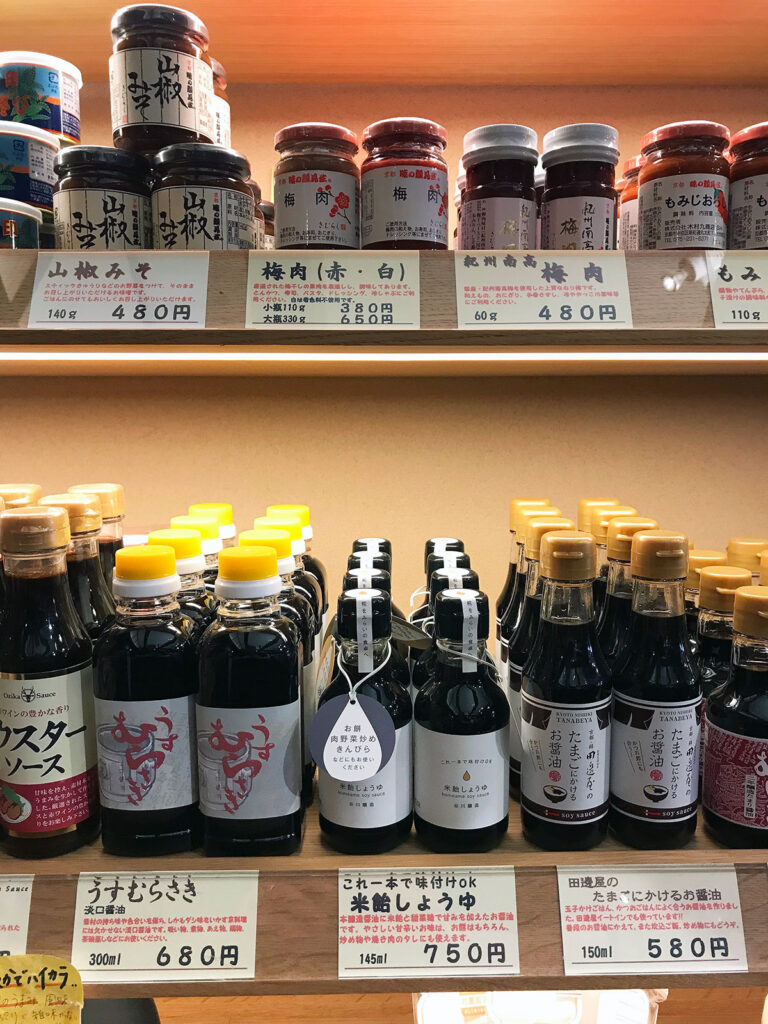 Where are the Nishiki Markets?
You will find Nishiki Markets parallel to Shijo-dori, one of the main shopping streets in Kyoto. A 400-meter long by five-meter wide, covered pedestrian-only, section of Nishikikoji-dori runs from Teramachi-dori to Takakura-dori. The markets run for six blocks.
When is the Best Time to Visit Nisiki Markets?
The markets are opend seven days a week from 9.00am to 6.00pm.

The hours vary a little from shop to shop and some shops may be closed the day you visit. Most shops will close one day a week, usually Wednesday or Sunday.

Avoid the crush!! Nishiki can get very packed with tourists, to a point where it can be hard to move through the crowd. Go early morning, it is less crowded.
Sara xxx
Further Reading on Japan
Matsumoto Castle – my favourite castle in Japan
Kyoto Apartment Hotel – accommodation with room to move and kitchen
Kani Doraku – the moving crab restaurant
Sake Bar O – Tokyo's hidden sake bar
Climbing Mt Fuji – ummm it's a long way up…..
Tsumago – an Edo era experience you have to have
Pin me to save me