Unfortunately Norsk Dor is now closed.  In it's place you will find Door Knock, Sydney's newest "hidden" Cocktail and Wine Bar.
I have a good mate that swears that if you are ever in the position of choosing which restaurant to dine at by either going up or down stairs, then head down. It's just going to be the better restaurant.
Norsk Dor is one of those "head down the stairs" restaurants. A semi hidden restaurant that is fairly new to the Sydney dining scene. I say semi as there is a sign, but you do need to know what you are looking for to find it. I'm pretty sure they wouldn't attract much walk by traffic unless either, as most would not give the entrance next to Batch Coffee a second glance.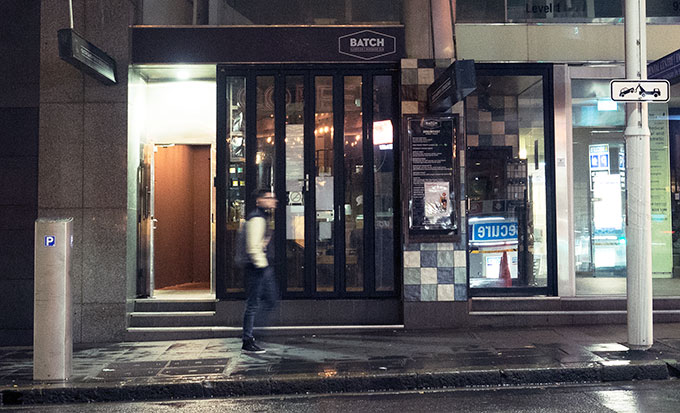 Finding Norsk Dor is part of the fun. My advice, locate Jamie's Italian on Pitt Street, and then walk directly across the street. Trust me your taste buds will thank me on that sole decision alone. Across the road you will find a dark grey door with the Norsk Dor logo on it.
Walk through this door, down a couple of flights of dimly lit stairs and then continue down what seems to be an endless dark corridor. The wolves howling and growling at the full moon aren't your vivid imagination, this is a little experience enhancer to get you in the mood.  It reminds me of one of my favourite sake bars in Manhattan, the getting there, not the wolves.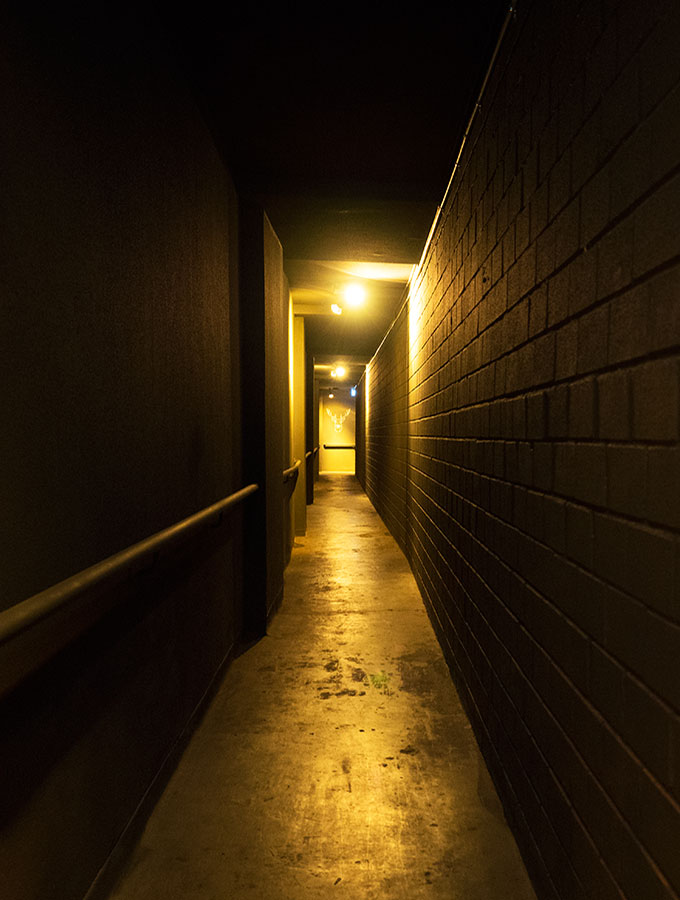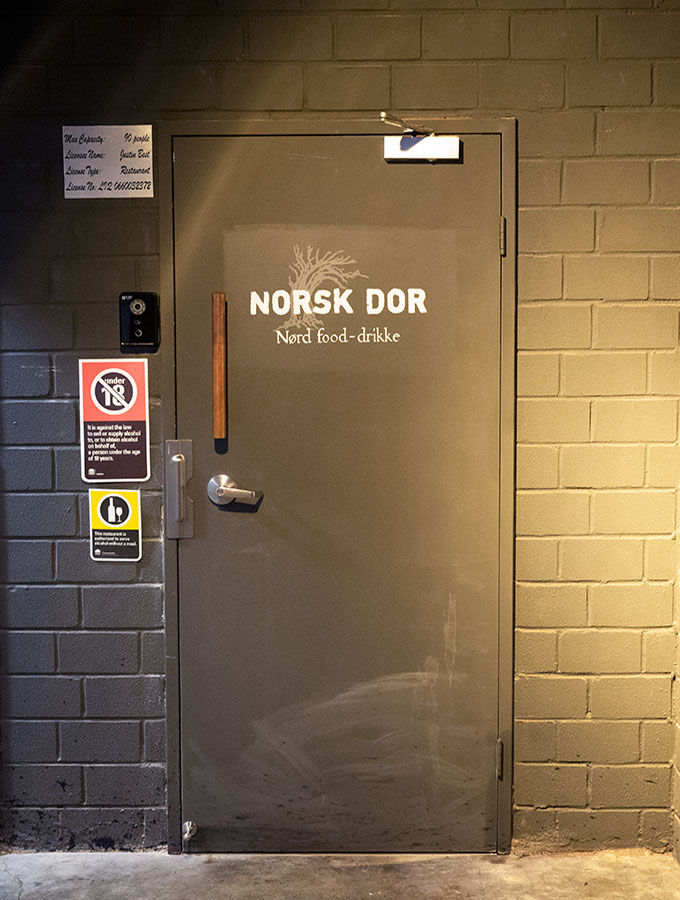 At the end of the corridor, turn right and you will find a locked door. Locate the buzzer, I still am not sure where it is located but somebody came to my rescue, and if they like you (just kidding) you will be promptly let inside.
Once inside the dark grey is replaced by an industrial scandi look and feel. Light woods, vines and jars of house made pickles and preserves are mixed together with large industrial light bulbs, exposed pipework and concrete. It makes for a modern and cosy environment. Of course you can't miss one of the major features, the fur pelts draped over the chairs (kangaroo).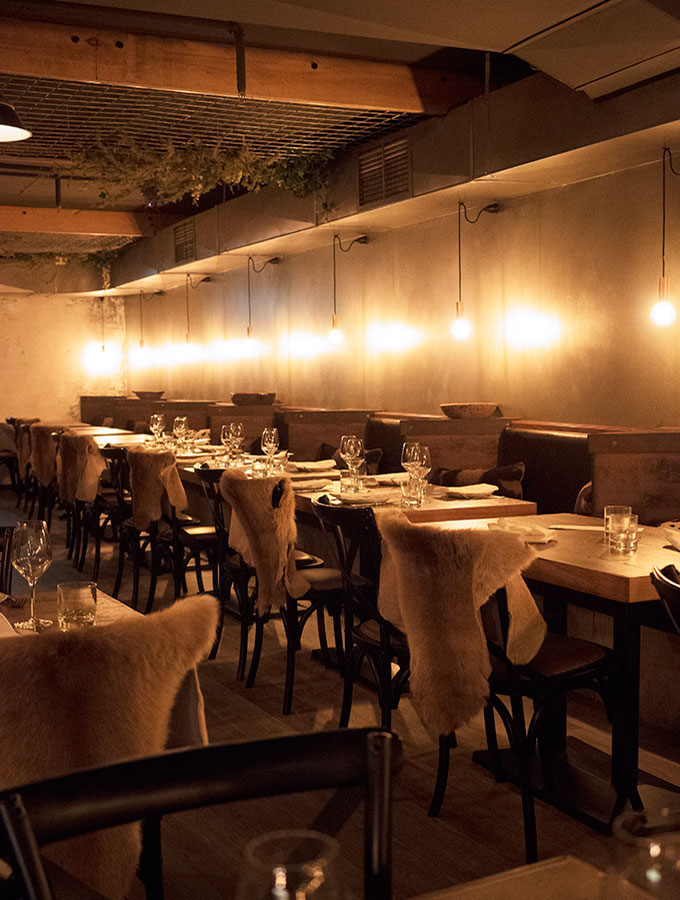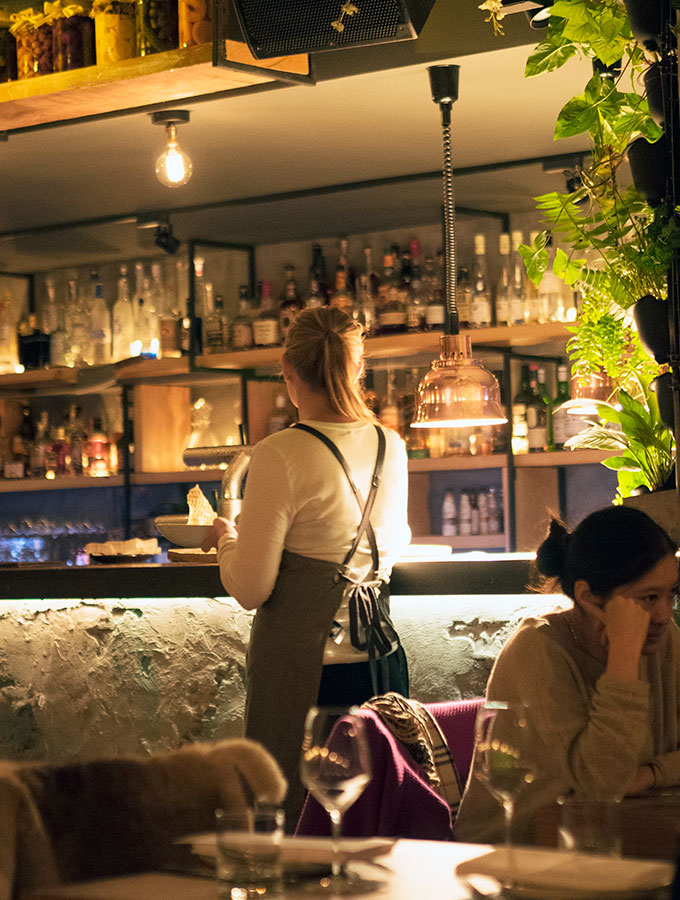 We grab a seat at bar for a pre dinner drink and are warmly greeted by James the head mixologist. There is a small but well balanced collection of cocktails on offer. All very tempting, but one you shouldn't miss is The Bancroft, made with Ron Zacappa 23, bitter orange and a house smoked coffee liquor $22.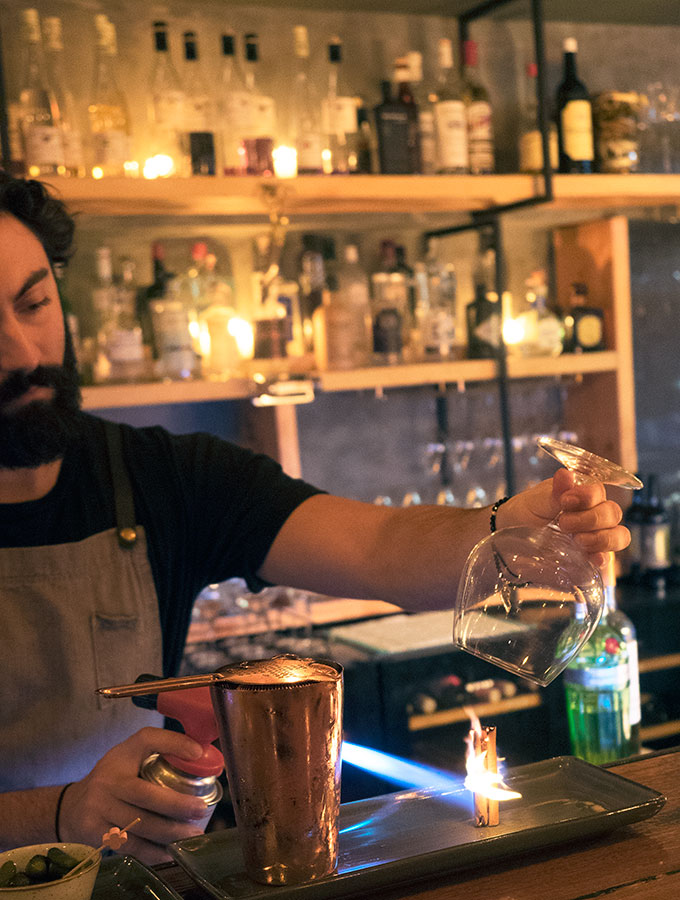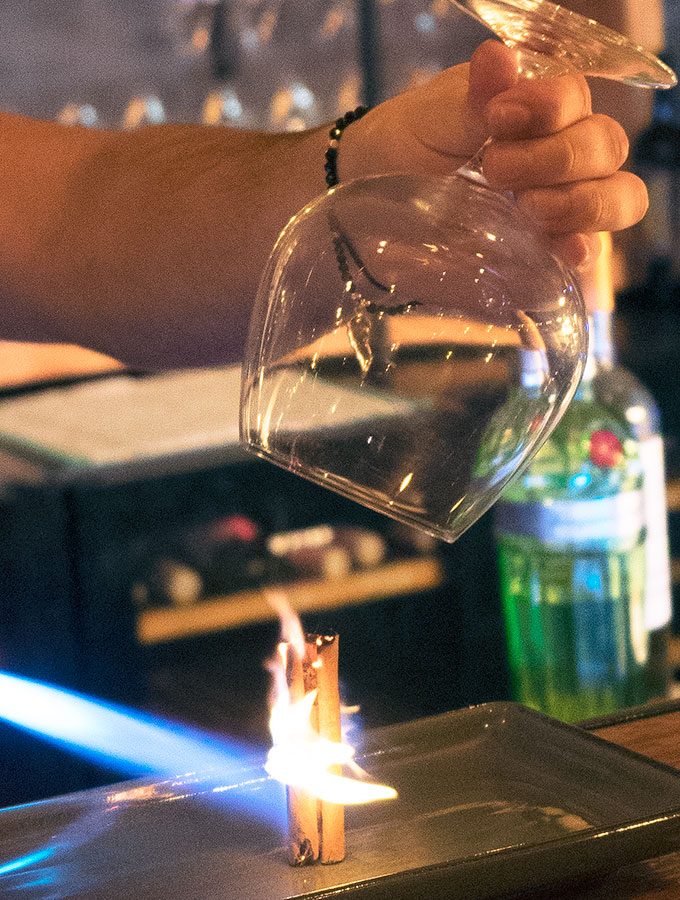 Besides being a warm smooth comforting tipple, any cocktail that is served with smoke and fire is a winner in my book. The cocktail is James own invention, and the name came to him once he had perfected it. It's named after an old boss who was a smoker that had a love of rum and coffee.
After some friendly banter with James, Norsk Dor's Kiwi FOH Manager Alex shows us to our table. It's a miserable rainy winter's night outside and I must say I feel as snug as a bug surrounded by pillows and kangaroo pelts.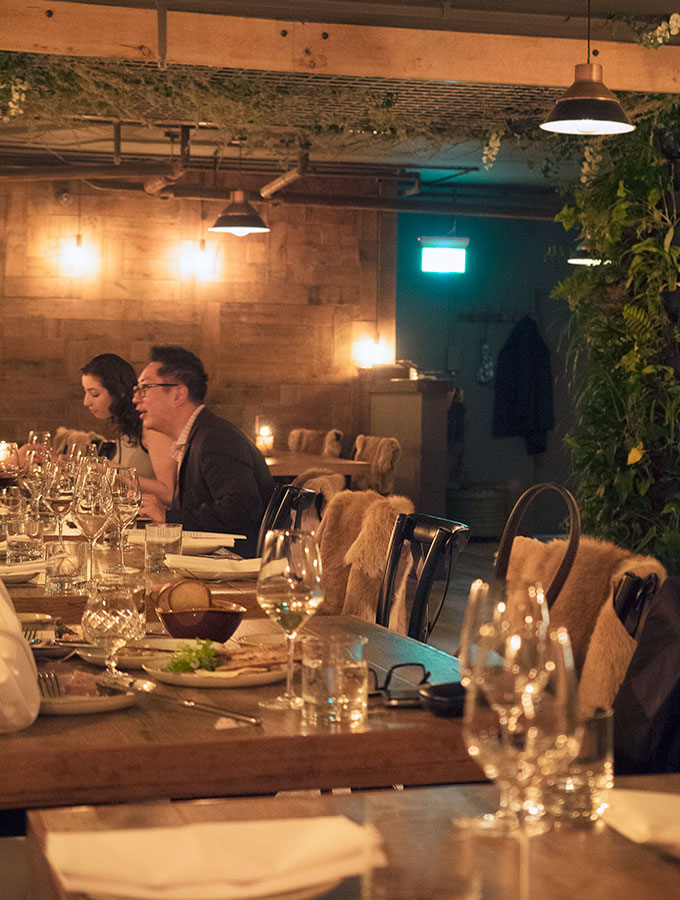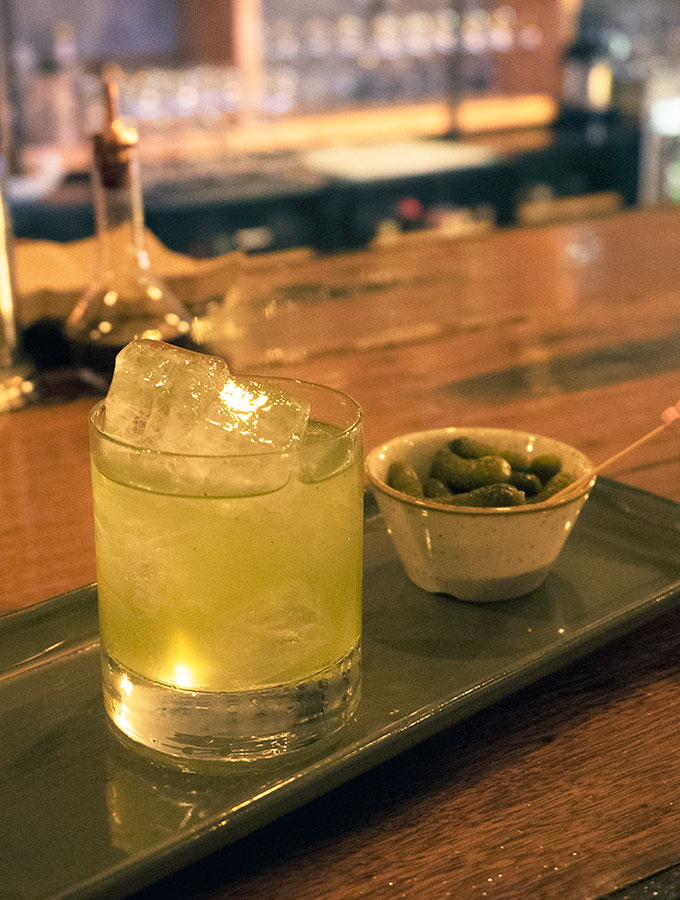 What does Norsk Dor stand for? I shuddered when I read a few blogs and restaurant reviewer sites state that Norsk means North. I had a chat to Alex about this, and even though we both agree that North Door has a lovely ring to it, it's wrong. Anybody that has been to Norway (and yes I have) knows that Norsk Dor translates as Norwegian Door.
The menu has changed slightly since they opened a few months ago. Along with the growling wolves they want diners to have not only a meal but an experience. They have been quite clever about the change. The menu is now designed to let you experience a variety of dishes without leaving you to waddle out of the joint at the end of your meal.
Set menus aren't new, but Norsk Dor have been clever in that the price of the set menu is dictated by what you order as a main. In other words, the person who orders the mushroom tart as a main ($60) won't pay as much as the person who orders the venison ($68).
On first glance $60 for a mushroom tart seems a little on the expensive side. What is included in the cost of your main dish is a generous collection of shared snacks to start your meal. These shared dishes replace a traditional entrée.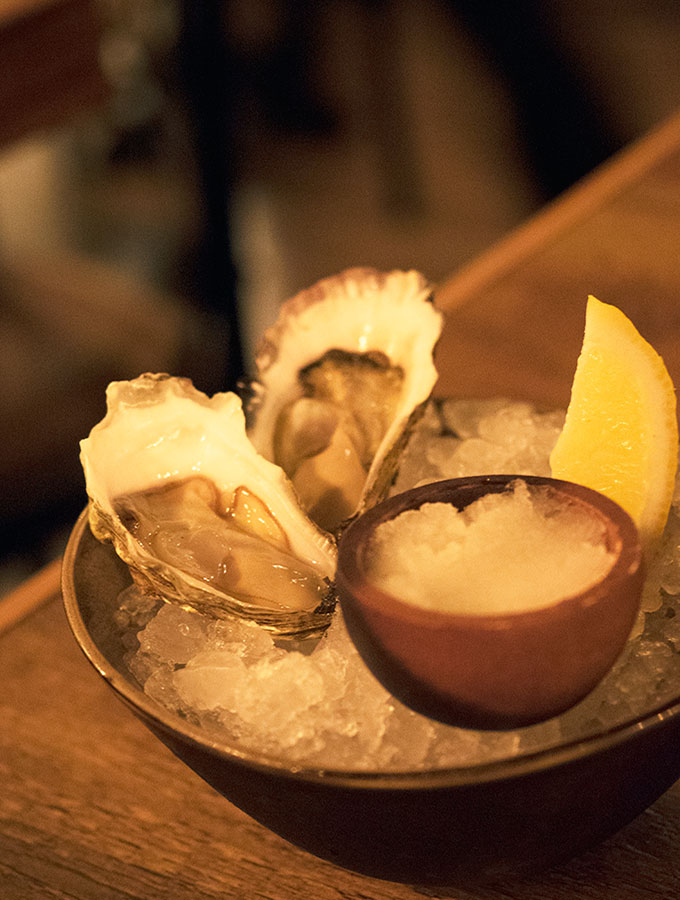 On the night we visit we make our way through six shared dishes to start with. First up is Local Oyster/Cider Sorbet/Citrus, rock oysters from Port Stephens served with cider sorbet. The oysters are creamy plump bivalves, and the cider sorbet is an interesting and winning choice with its deeper notes that linger every so slightly. It's a welcome change to the zesty notes normally served with oysters.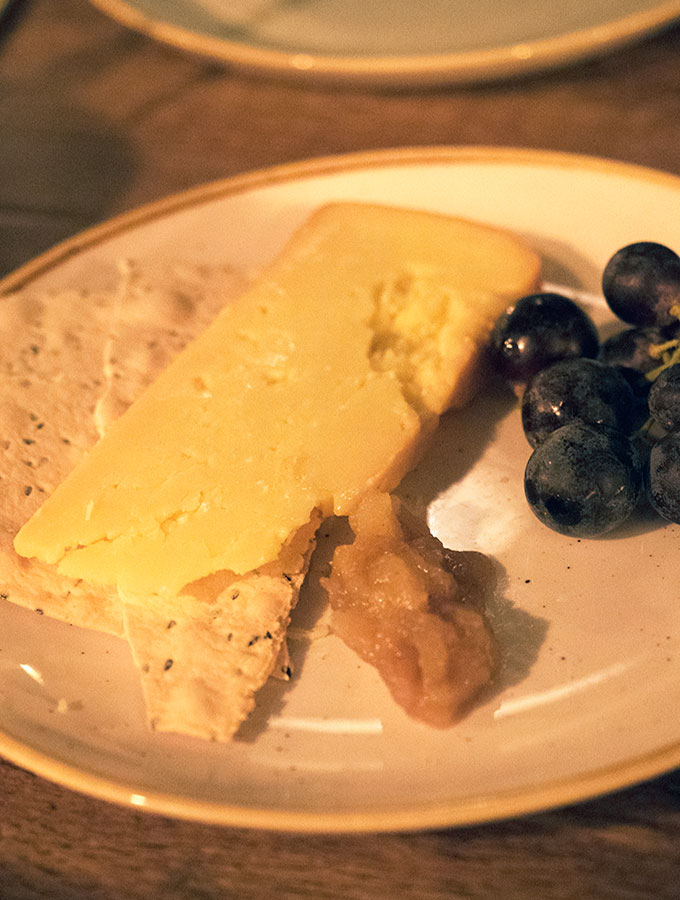 Smoked Cheddar/Apple Chutney, a wedge of local smoked cheddar served with apple chutney (they have cherry chutney on the menu at the moment) is served with lavosh and black grapes. Alex mentions to us that the 'rind' of the cheese is also edible, but a lot of people don't. We of course hoe into the lot and woof it all down like a pack of wolves.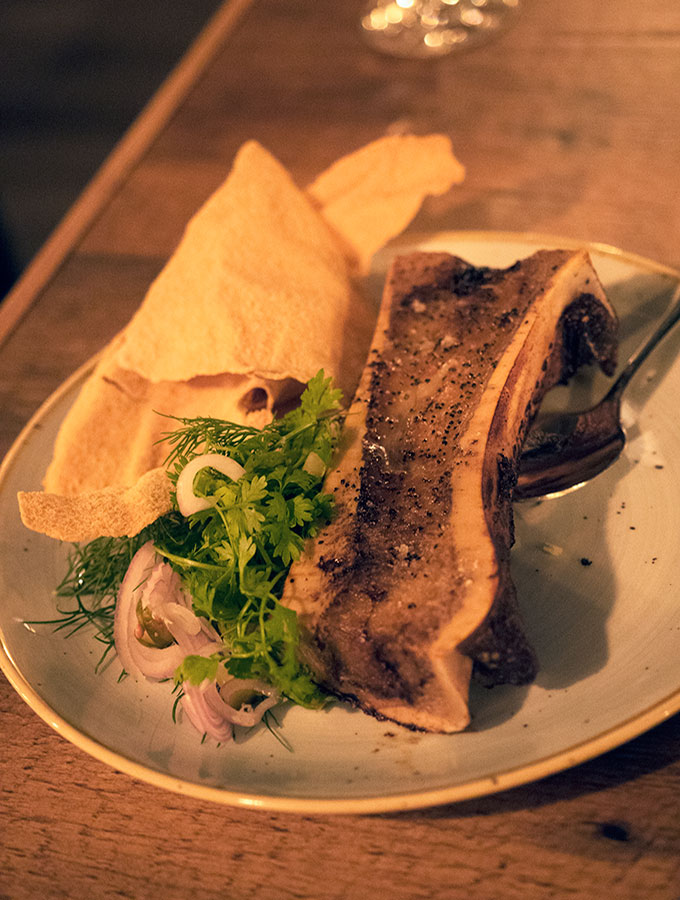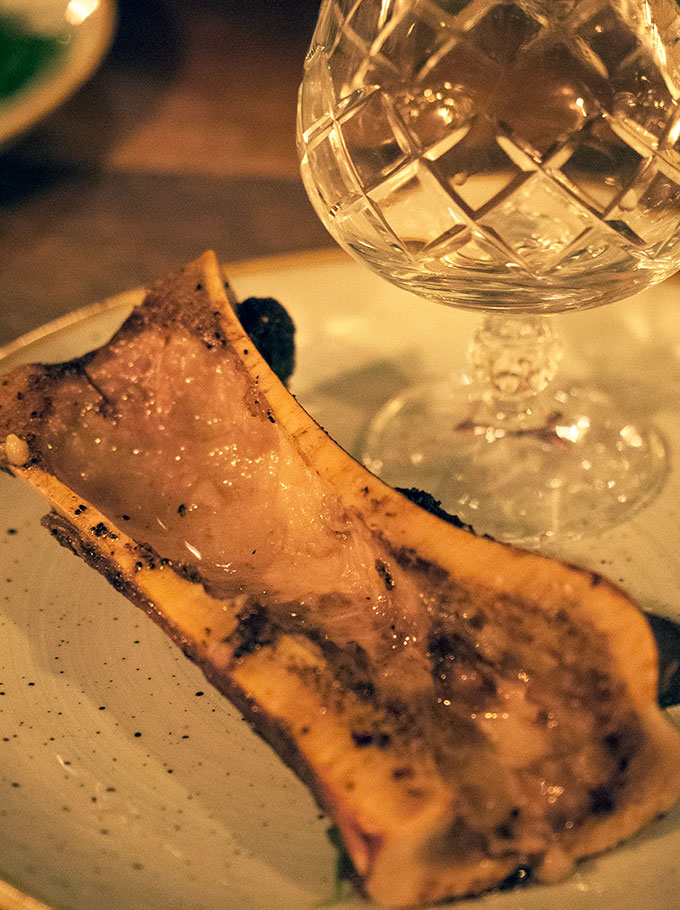 One of my favourite winter treats is bone marrow, and luckily for me it's on Norsk Dor's menu. Wagyu bone Marrow/Crust, marrow served in the bone along with a nip of Akavit, a Swedish liquor. The Akavit cuts through the delicious greasiness of the bone marrow. It's suggested that I go traditional and once I have finished the bone marrow pour my Akavit into the bone, give it a swish and drink straight from there. I do and promptly dribble a 1/3 of it down my chin and top. The rest I succeed in drinking like a true Viking and not a toddler using a glass for the first time. Was it worth the dribbling amongst friends? Yes it was.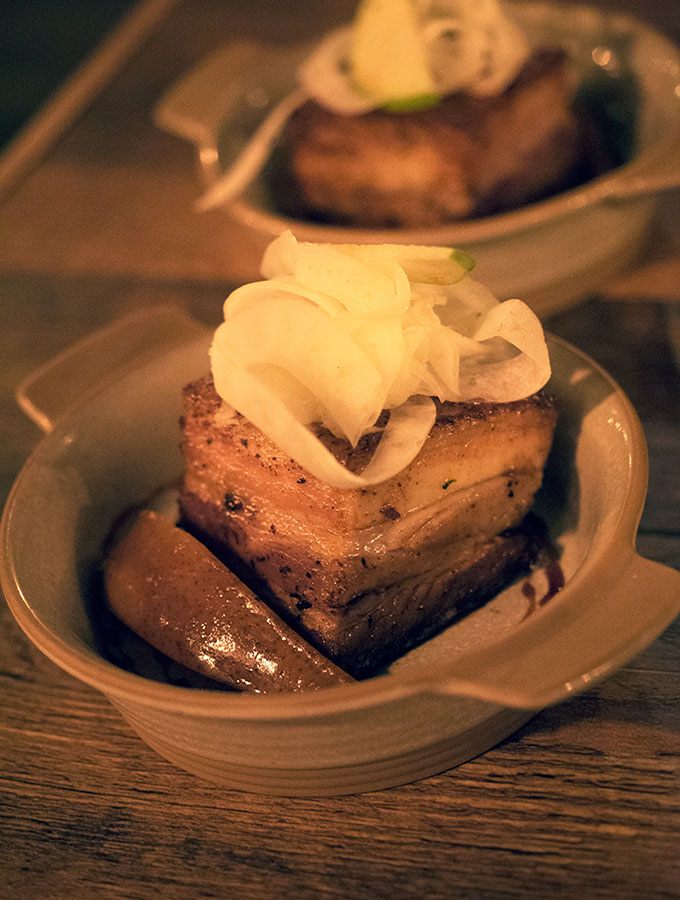 Pork Belly/Pear/Shiraz, a generous square of pork belly cooked until meltingly tender. Although cooked well it sadly lacked a little something. Maybe a little crackle for some texture, or a little more of the Shiraz jus to balance the rick pork belly?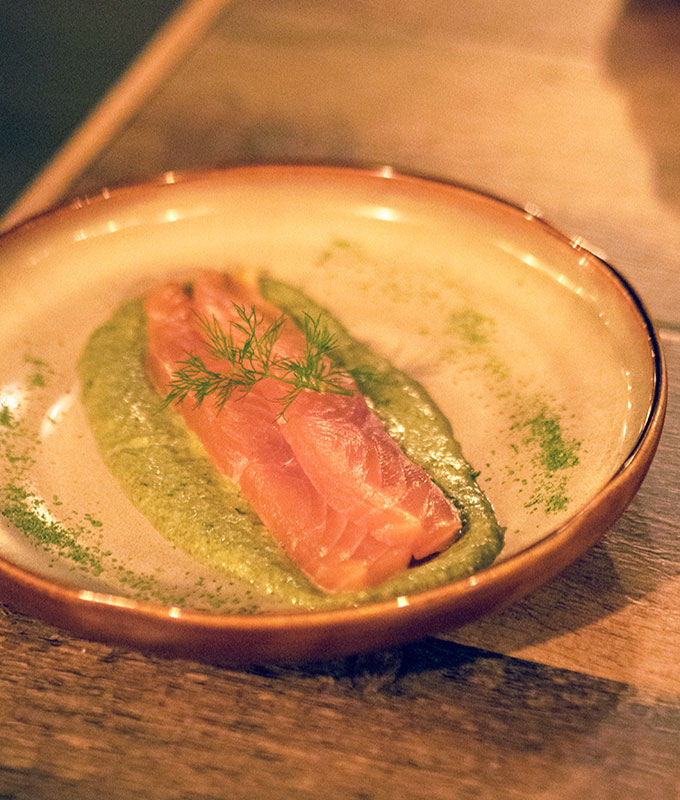 Cured Salmon/Spinach Crème/Dill, thick slices of gravlax accompanied with spinach and dill puree. A lovely salty kick lifted by fresh dill and the tang of brown mustard.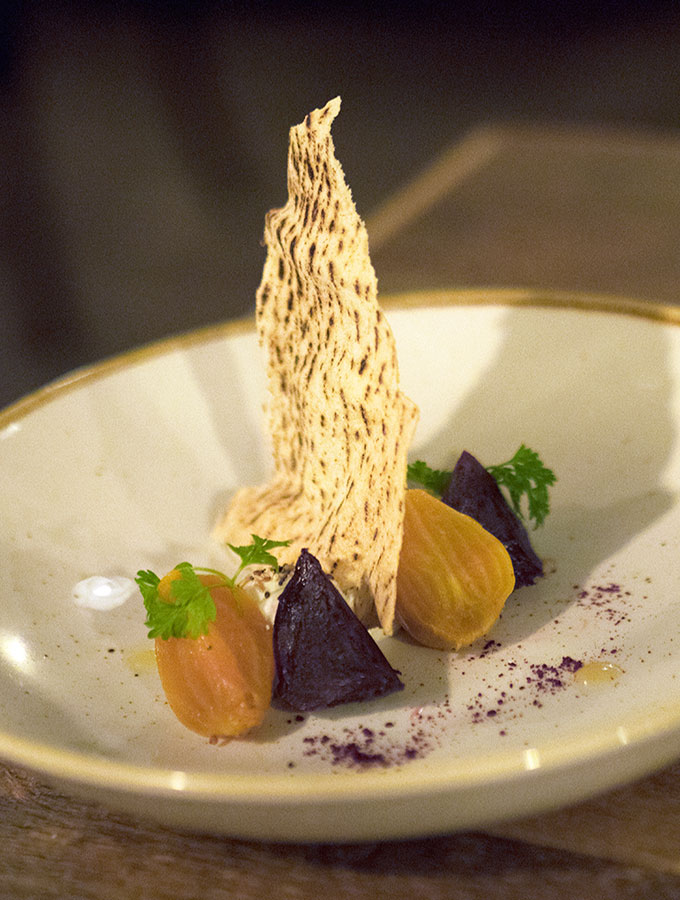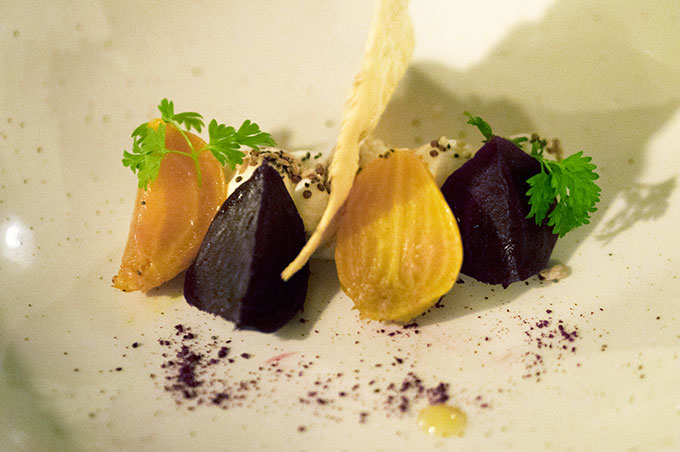 Goat's Cheese/Beetroot/Honey, our final dish amongst the snacks, which have proven a hearty start to our meal. The smooth creamy goat curd is a lovely match to the earthy beets, all being drizzled in honey.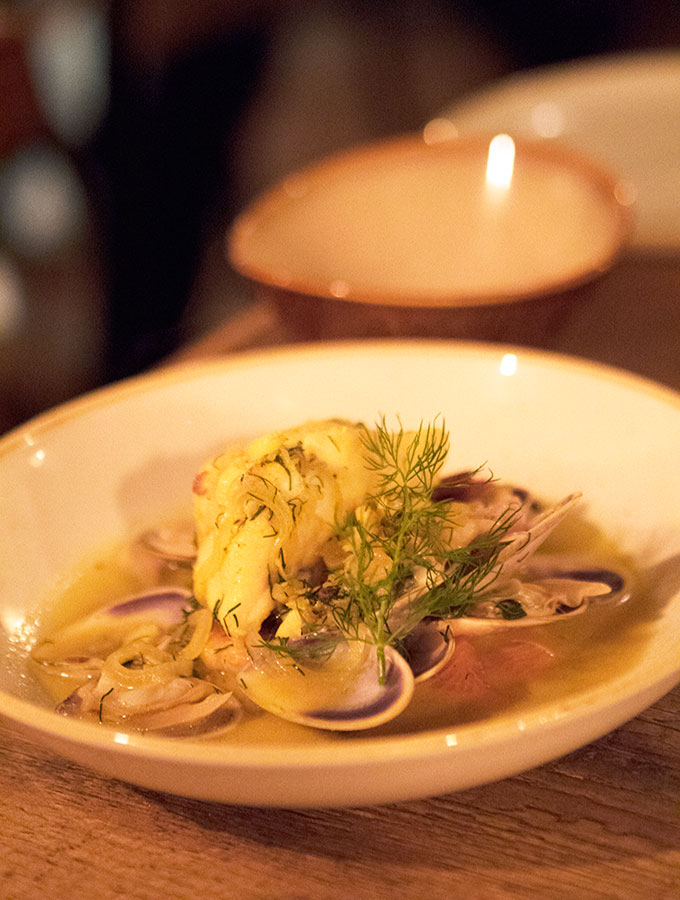 I'm torn with my choice of mains. Being a big fan of duck, do I choose the duck dish, Duck Confit/Vanilla/Smoked Date ($65) or do I go for the broth? In the end I order the Smoked Sea Broth/Pipi's/Trout/Prawns ($59).
The broth is not what I am expecting at all. It's a very hearty dish filled with fresh, cured and cooked delights. There are fresh briny oysters that have obviously been added just before serving, perfectly steamed pipis, cured trout and cooked snapper, with the added surprise of fish roe, which added a salty pop in the mouth. It's the taste of the ocean in a bowl, which is given a fresh kick with dill.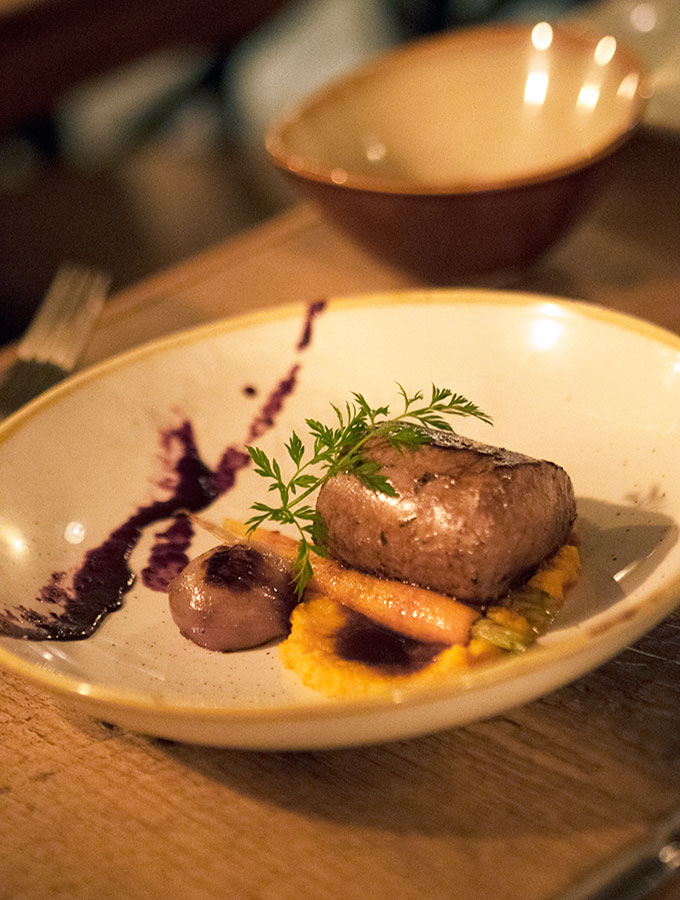 Venison/Carrots/Sweet Onion/Blueberry ($68). For perfectly cooked venison, Norsk Dor is the place to come. Perfectly cooked to rare with an elevating smoky char. The sweetness of the Dutch carrots plays well against the richness of the meat.
Sadly at the time of our visit Norsk Dor weren't serving coffee. Please note that they are working on it. Their original offer of Scandinavian style filter coffee wasn't well received. It didn't work, so it was promptly taken off the menu.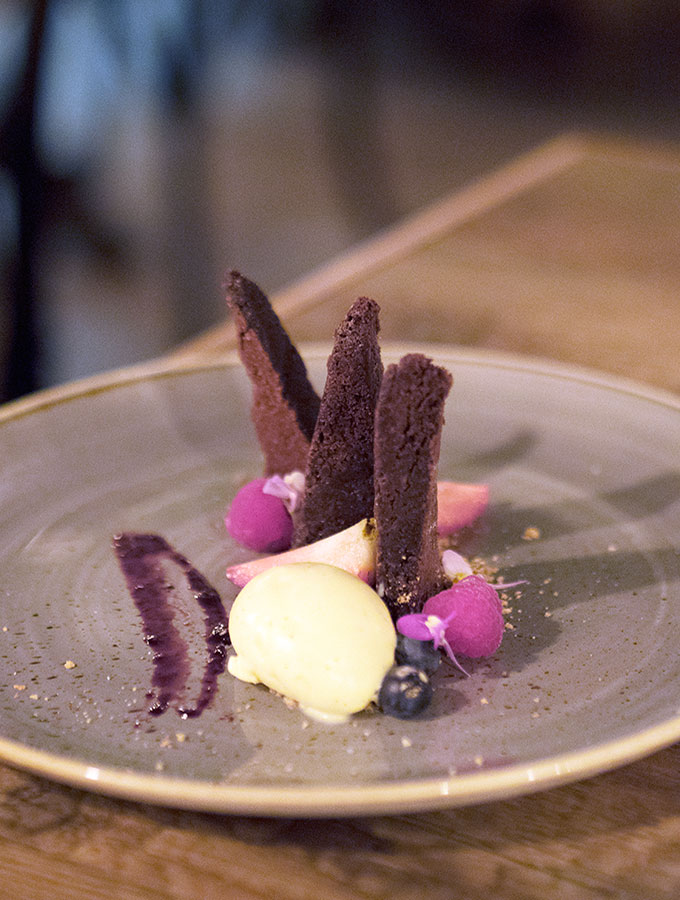 We were full as could be, but were persuaded to sharing a slice of the only dessert offering, Swedish Chocolate Cake ($12). I think that if an establishment only has one dessert on the menu, then chances are it's going to be good. The simple sounding chocolate cake definitely fitted this line of thinking. A rich, almost brownie like cake served very elegantly with some fresh strawberries and ice cream.
Will we be back? That is a definite yes. With friendly knowledgeable staff, a warm and cosy environment, small but well balance menu, and lets not forget the theatrical entrance, Norsk Dor is a must visit.
Sara xxx
Must try dish: Venison
Who should dine here: Snuggle up to your loved one for a romantic dinner for two
Who shouldn't dine here: Anybody that has problems negotiating stairs
What else you should know: You can just rock up for a drink at the bar without having to dine
Price: $59-68/person set menu
BYO: No
Bookings: Yes, and highly recommended
Opening hours: Lunch Mon – Fri 11.30am – 3pm/Dinner Mon-Sat 5pm-10pm/Bar Menu- Mon – Fri 11.30am – 12am Sat 5pm – 12am
Contact details: B2, 70 Pitt St, Sydney, Australia, website
Belly Rumbles dined as a guest of Norsk Dor.
Become a subscriber and don't miss a single delicious recipe, restaurant review or travel adventure.