I need to let you in on a little secret, just between you and I. I almost wrote a weekly roundup about My Kitchen Rules (MKR) this year, Recipe to Riches style. Mainly as I know so many of you love my weekly write up on Recipe to Riches when it airs. All the shenanigans and my no bars held review of the winning products.
As I watch MKR, I thought why not write about it? Then I took into consideration the show airs four times a week, my work commitments, plus the fact I wouldn't be home for a good whack of the time it was on air. My occasionally level head vetoed any thoughts of a weekly write up.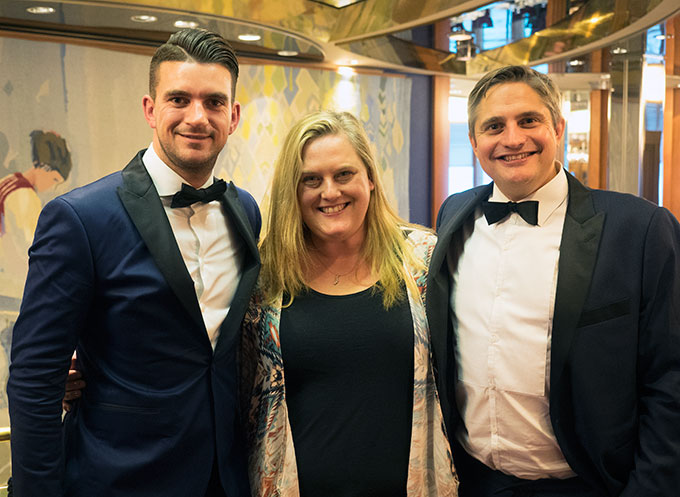 My occasionally level head got a big thank you for the veto when I received an invite to join this years' MKR winners, Will and Steve, and runners up Jac and Shaz for lunch on Royal Caribbean's Legend of the Seas.
All right, you guys know me well enough, I still would have said yes if I had written about MKR this year. But talk about awkward if I had upset any of them with what I had written during the course of the show.
Not that I probably would have about those particular four contestants. Will, Steve, Jac and Shaz were the ones I had my pom poms out to make the finals.
Royal Caribbean & MKR
Why hold the lunch on Royal Caribbean's Legend of the Seas? Royal Caribbean was a major sponsor of this season's MKR. Both the winners and runners up were given a cruise as a prize. Then on top of that Royal Caribbean ran a competition giving away the same cruise to 10 lucky viewers and their partners. Can you believe over 10,000 people entered the competition!
I was joining the "MKR" cruise for only a couple of days. Just enough time to enjoy the cocktail party on leaving Sydney and the lunch the following day with Will, Steve, Jac and Shaz. Leaving the cruise just as I had my sea legs in Brisbane.
The Cruise
It was rather exciting to get a small first hand taste of Royal Caribbean's Legend of the Seas. We were on what is called a relocation cruise, which was taking the Legend of the Seas up to Singapore. Cruise ships don't stay in one area all year round. They may cruise for a season in Asia, then cruise for another part of the year in the Americas, and then maybe in Australia. Relocation cruises are one way cruises from one destination to another. You may be more familiar with cruises that start and end at the same port.
Legend of the Seas had made her way down to Sydney from elsewhere and was then heading to Singapore for a season of cruising up there. She sails back down to Australian waters to commence her inaugural season down under in December 2015. Where she will be based in Brisbane.
Legend of the Seas had an extensive $50 million overhaul in 2013. She now boasts unique facilities that won't be found on board any other cruise ship sailing from Brisbane. Facilities like a central atrium with an acrobatic aerial show, rock climbing wall, a mini golf course and indoor swimming pool.
I'm going to share my insiders' look at Legend of the Seas a little later down the track as well as a behind the scenes look at the mini city of a galley that is on board. For now we will keep it MKR focused.
The MKR Cocktail Party
I love my town, and Sydney is at its sexiest from the water. What a location to have a cocktail party!
We happily sipped cocktails and ate canapés while watching the Sydney Opera House and Harbour Bridge fade into the distance as we sailed out the heads.
There were two lunches held, one for media and the other for the competition winners. The first lunch was the viewer lunch where they tasted three courses from the menu Jac and Shaz's cooked in the final. The second lunch of the day was for media where we sampled a couple of dishes from Will and Steve's winning menu.
As much as the boys would have loved to cook their menu for us, it wasn't to be. There is a big sign at the entrance to the galley that says no reality TV show contestants with British accents allowed.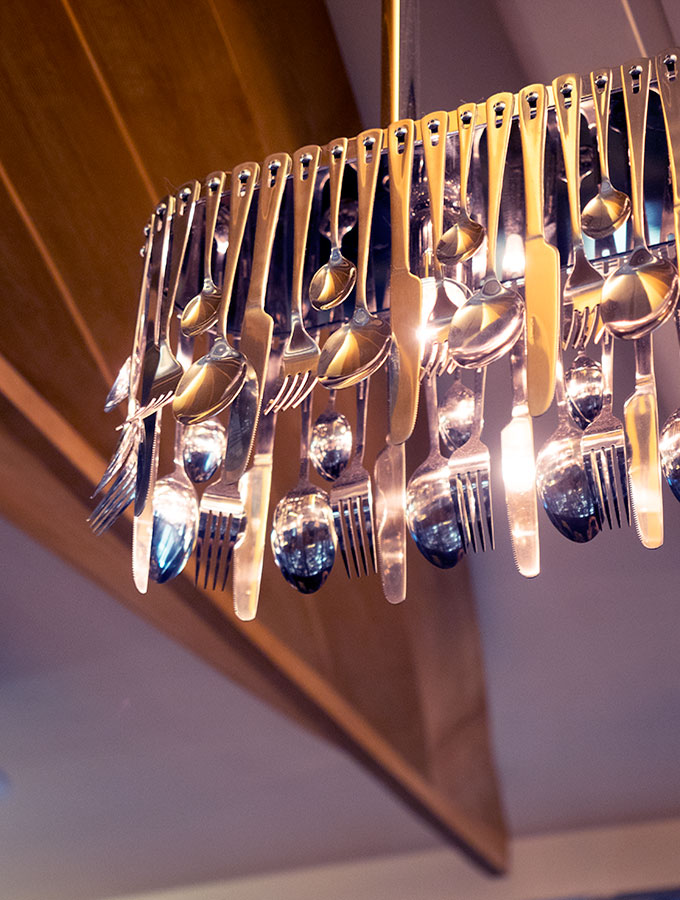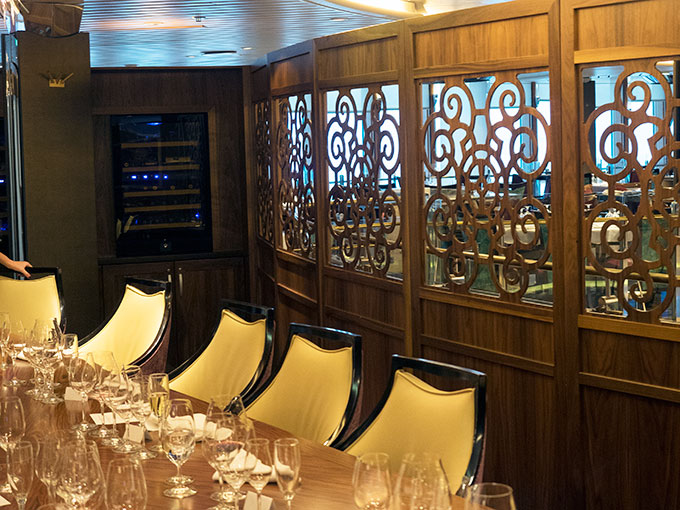 Just kidding! OH&S and other legalities of ship life were what prevented them cooking. Instead the menu was cooked under Will and Steve's guidance by Executive Chef Heimo and his crew.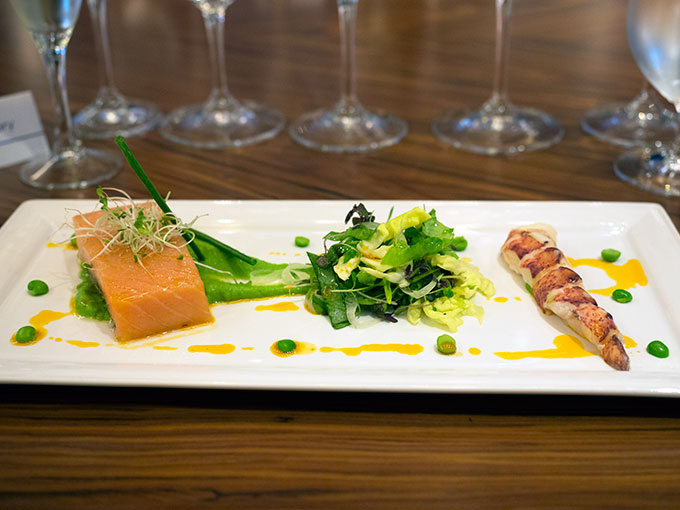 To start was confit of Atlantic salmon with pea puree, poached lobster tail and shellfish oil. It's an elegant looking dish, which lets the hero elements of salmon and lobster shine. Didn't see this one on the final? You're right, this was a ring in as quail was unavailable.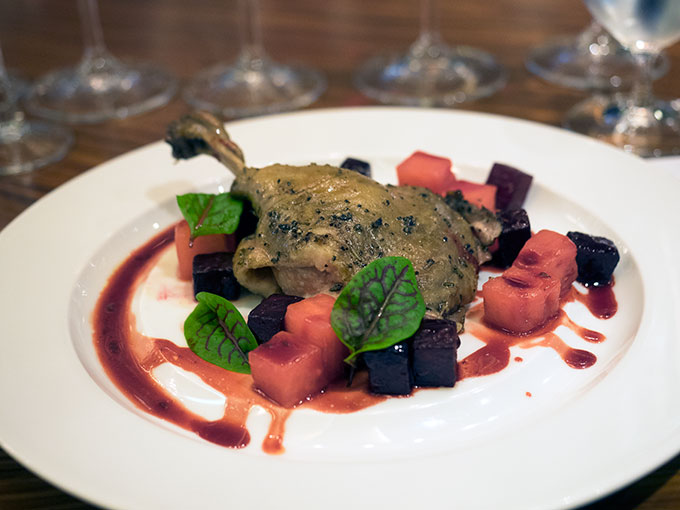 For our main we had the confit duck leg with honeyed beetroot and compressed watermelon. I am a bit of a confit duck fan, and it was a lovely dish. Duck fell from the bone and the combination of watermelon and beetroot was an interesting one that worked well.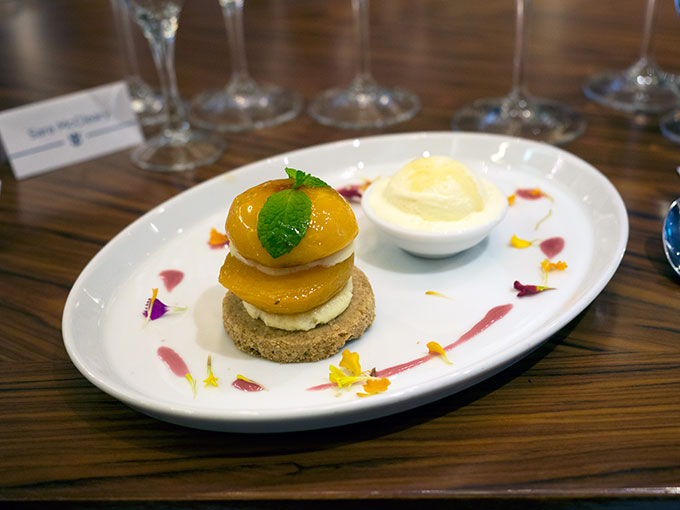 Dessert was peaches and cream. Roasted peaches served with crème fraiche ice cream on top of fennel biscuits. Hell yes to the ice cream, I really enjoyed the slight sour note that the crème fraiche gives.
What now that MKR 2015 is over?
It will be interesting to see what Jac and Shaz get up to in the future. I got the impression during the time I had with them that they aren't very comfortable with the extra attention that being being the runners up on MRK has brought them. When asked, they tell me that they didn't expect to get as far as they did on the show. What's next for the girls? There doesn't seem to be any immediate plans. If there are, they aren't willing to share right now.
And what about the boys? It seems to be full throttle and steam ahead for these guys. Will and Steve, AKA the Gourmet Pommies, have quite a lot of plans in the pipe line, including a cook book. Keep an eye out for the lads as they are sure to be popping up everywhere.
All in all it was a fun few days. I enjoyed some amazing food, awesome hospitality from the Legend of the Seas crew and had a lovely little taste of the ship.
As mentioned, I have some more to share about Legend of the Seas, so stay tuned!
Sara xxx
Become a subscriber and don't miss a single delicious recipe, restaurant review or travel adventure. Plus you will also receive extra content and benefits.