It's cold, it's windy, generally a miserable wintery Friday night in Sydney. I'm feeling horrid. That afternoon I had been hit with a massive allergy attack that had left me as a sniffling, red nosed mess. Thank goodness One6Eight is warm and welcoming inside.
One6Eight is situated on the main strip of the Balmain peninsular opposite Gladstone Park. Nestled among other local eateries, standing out with its bold red interior. A collaboration between husband and wife team Leigh and Amanda McDivitt and their good friend Paul Hargrave.
If Leigh's name seems familiar you may remember him from his days at The 3 Weeds. He is now firmly planted in the kitchen of his own establishment creating some pretty magical dishes.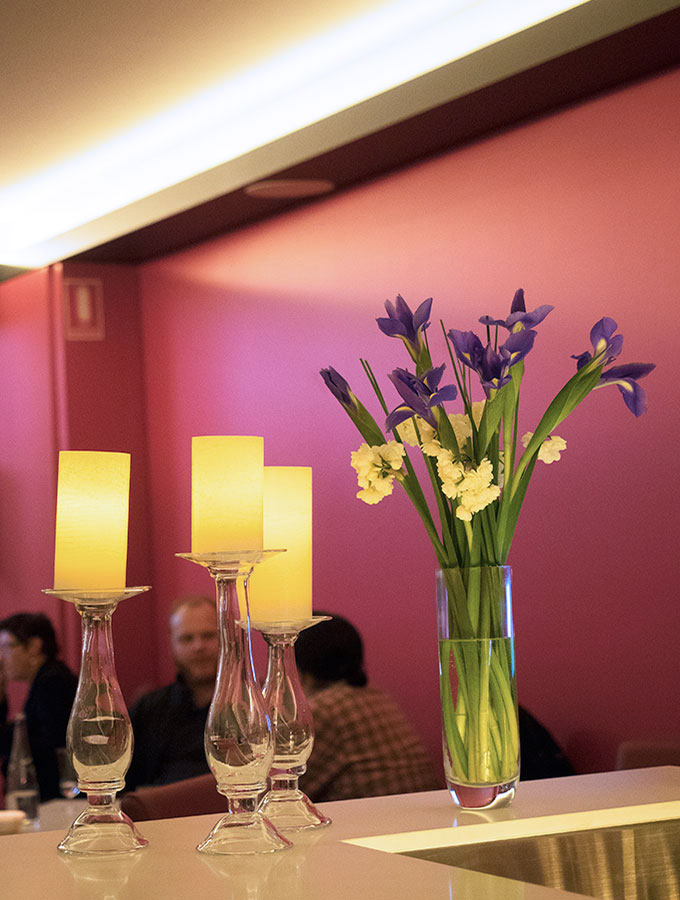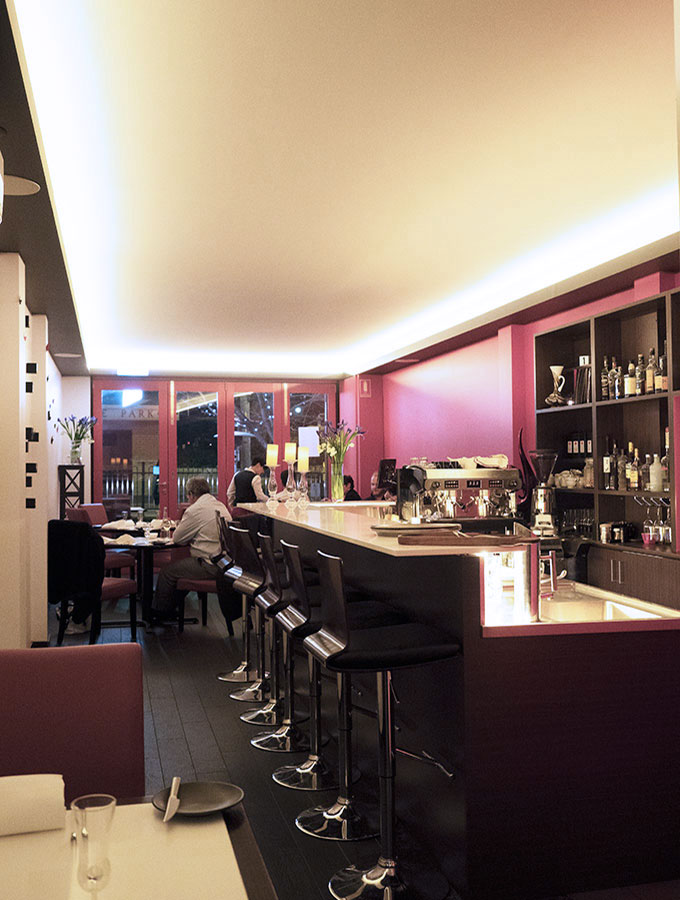 One6Eight's ethos is all about sourcing local, sustainable and organic produce. They even have their own restaurant garden. To accompany the food you will find a wine list with interest and variety, some funky and creative cocktails, tap beer and cider.
We leave ourselves in the hands of the bright and bubbly Amanda who runs front of house. I could say it more eloquently, but this lady knows her shit when it comes to beverage pairing to her husband's dishes. I get a tiny girl crush when I find out she knows her sake as well.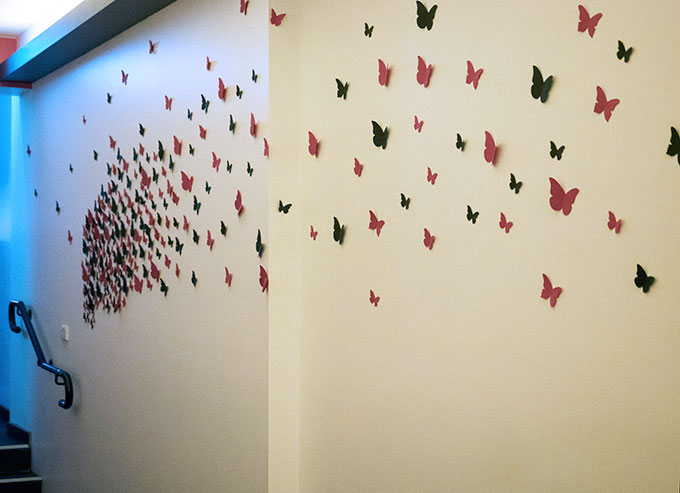 I had intended to start off with some of the Sydney Rock oysters ($4 each) on the menu, but my sniffily non functioning brain forgot all about them when it came to ordering. Which was a shame as I do love my oysters and they sounded perfect, being served with a Hendricks and cucumber granita. I love oysters and I love my Hendricks, enough said.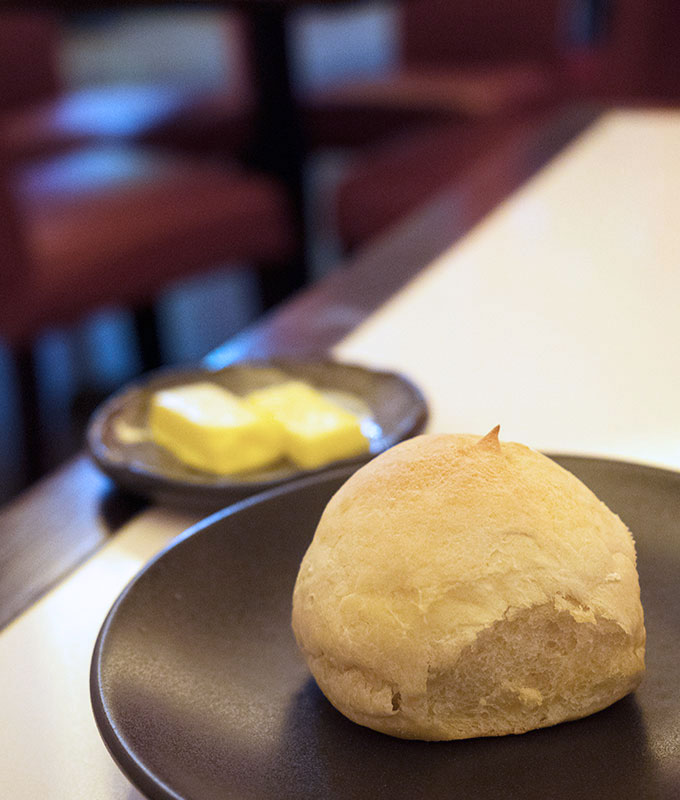 Complimentary bread and butter are well worth mentioning.  The bread is a 'semi sourdough' and is house made with apple and Glenfiddich.  The butter, also house made, is hay smoked, which is very subtle.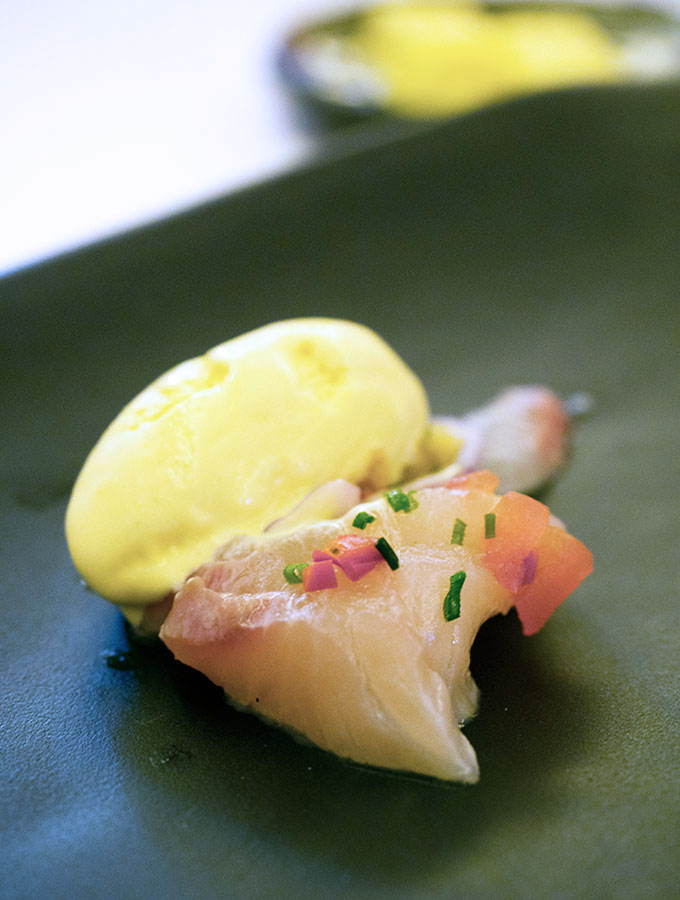 Instead Leigh sends an amuse bouche out from the kitchen. Kingfish ceviche with horseradish ice cream with a Riesling and lime chilli dressing. It is a lovely few mouthfuls to start with. The kingfish is delightful but it is the horseradish ice cream that is the stand out for me. Definite horseradish flavour, but without the strong heat kick. It is a little addictive and I have to stop myself from tracing a finger through the smear left of my plate and licking it. Okay, so maybe I did, it was really good.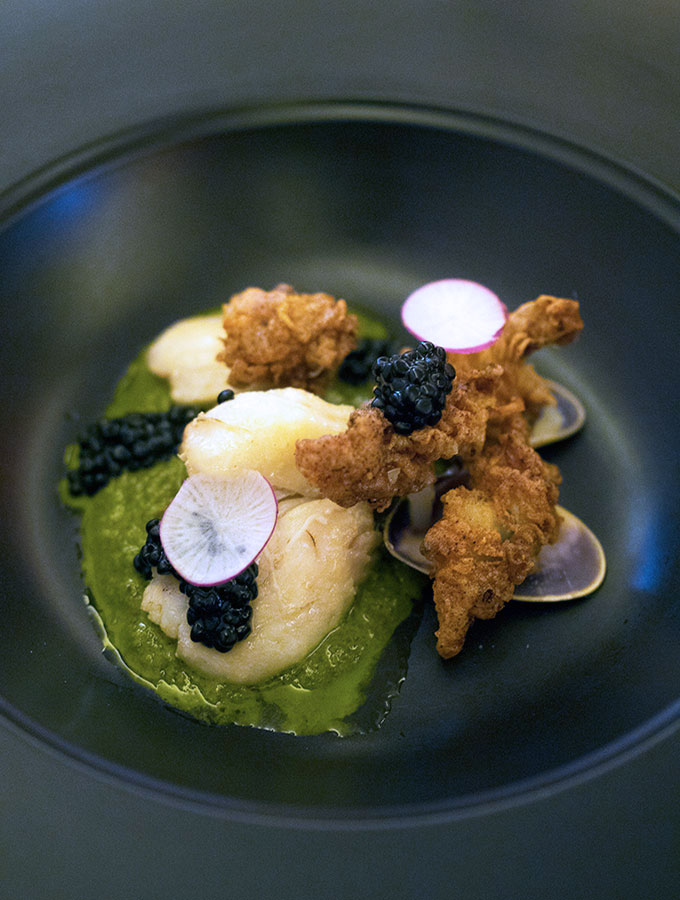 For my entrée I choose the confit leatherjacket cheeks with vongole popcorn and herb sauce ($18). It was the vongole popcorn that swayed my choice and I wasn't disappointed. The leatherjacket cheeks were delicate and well cooked sitting on top of the herb sauce. The addition of caviar added a lovely burst of briny fishiness to the dish. As for the vongole popcorn, light crisp seasoned batter encased juicy mouthfuls of vongole.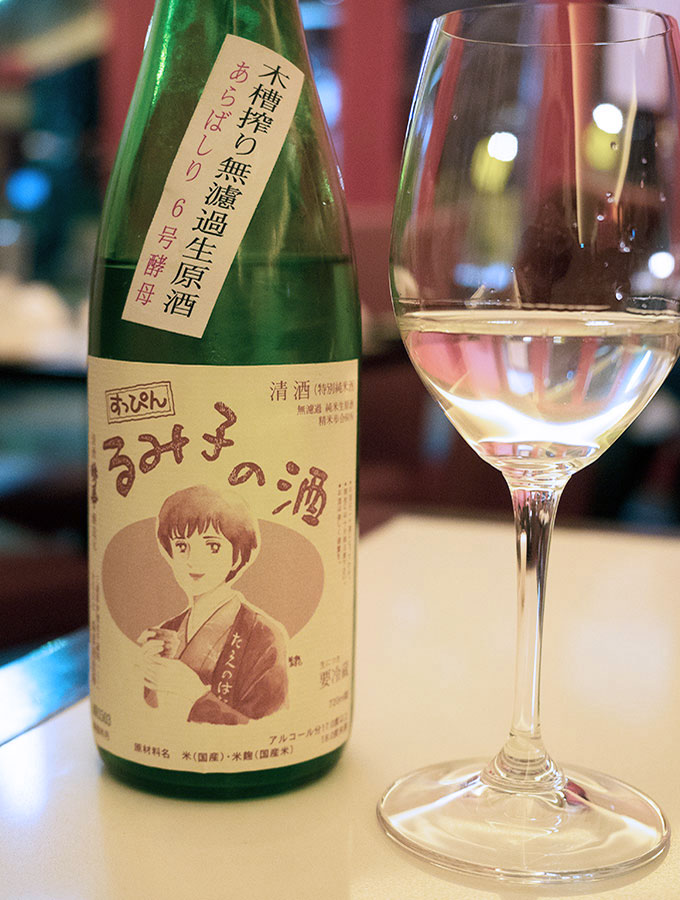 To accompany this Amanda suggested the Moriki Shuzo 'Suppin Rumiko' Sake ($35). Moriki Shuzo brewery is located in the Mie prefecture in Japan, somewhere between Kyoto and Osaka. Rumiko Moriki is one of only a few female sake brewers in Japan. It's an interesting story behind this sake. It does pair very well with my entrée, and I do find the sake a most enjoyable match.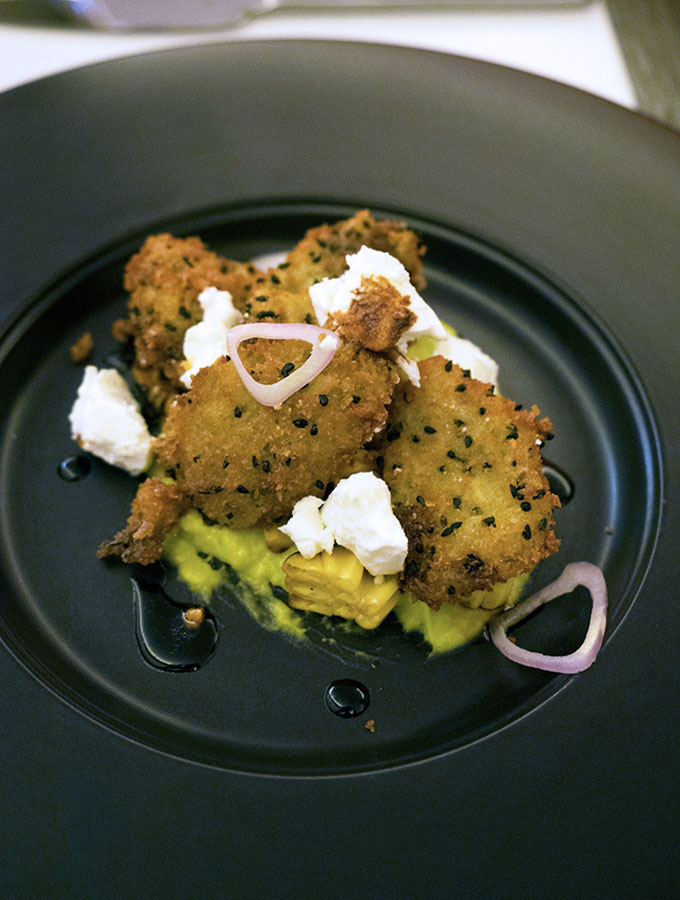 The other entrée ordered is the fried green tomato with goat's chevre, avocado and charred corn ($15). Crumbed and crunchy on the outside gives way to jammy green tomatoes on the inside. One of my favourite traits of a green tomato is how it morphs into something quite special when cooked. The charred corn adds an extra depth and sweetness to the dish with tangy goats chevre adding a tangy lift.
No wine matching is going on with this dish (or future ones), as Mac is driving and happily sitting on a Tilse's Apple Truck Cider ($7.50) from the Hunter Valley.
The main I had my eye on was quickly chosen by Mac when we were discussing what we were going to order. Wanting to order two different dishes I went for my second choice as he's a bit of a lover of venison so I wasn't going to fight it.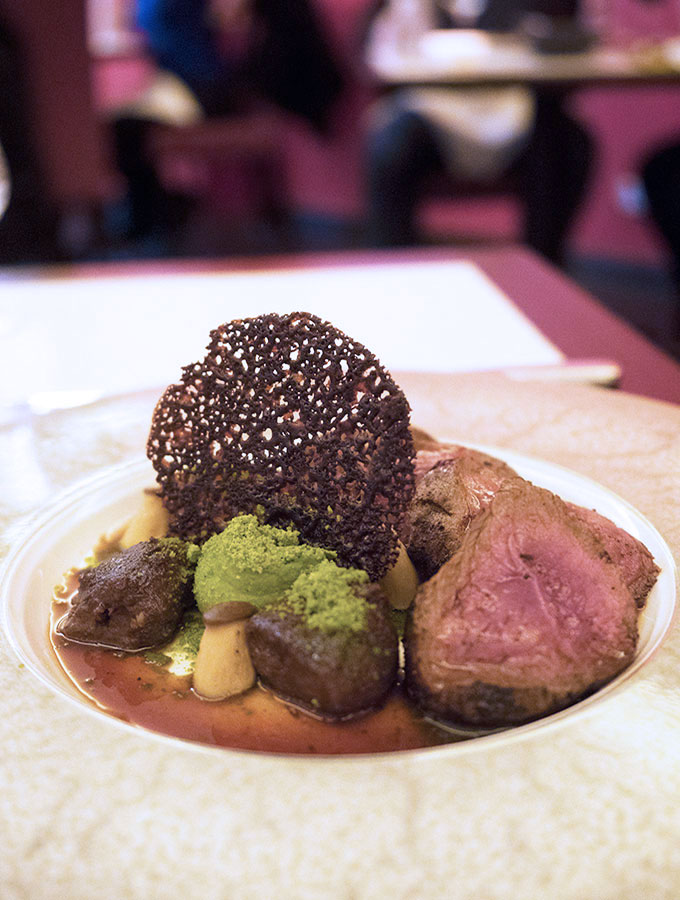 Spiced venison leg with chocolate gnocchi, pea powder and king brown mushrooms ($38). The pretty chocolate tuile and green pea powder give this winter dish a pretty element. The tiny king brown mushrooms add a 'forest' look and feel to the plate. The gnocchi are soft and pillowy, and only have a faint savoury chocolate taste. The star, the venison leg, is cooked to perfection and meltingly tender to eat.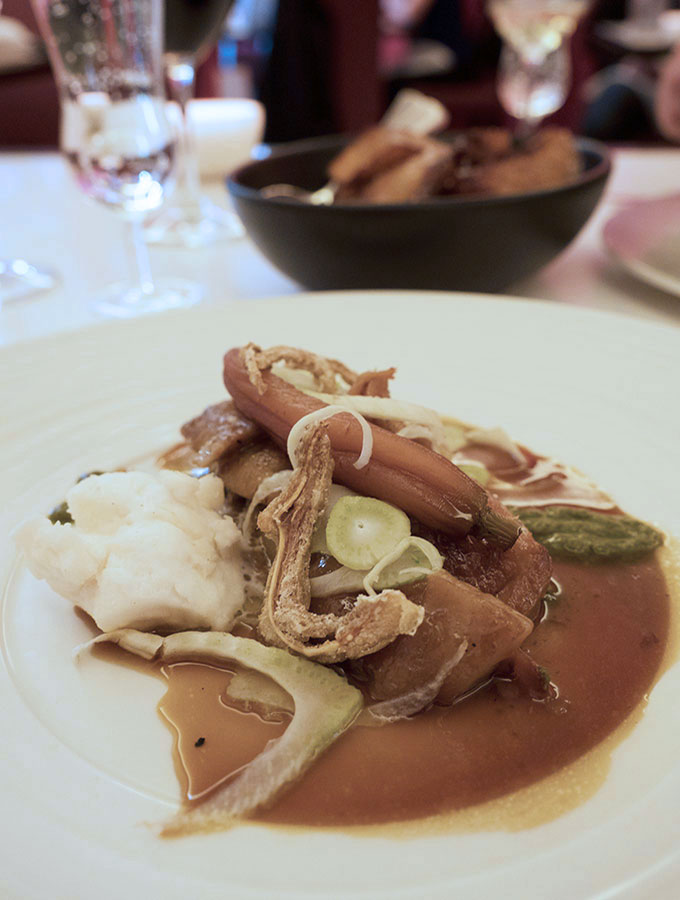 For my main I have the braised pork jowl with caramelised white carrot and lemon balm ($36). The jowl is full of flavour and tender. Some crunch is added to the dish via crisp pigs ear. There is also a fun element with the apple cider cloud, which on first inspection you could mistake for mash potato. It is a little bit of molecular gastronomy fun. A cloud of whipped cider that melts when in comes in contact with the warm pork.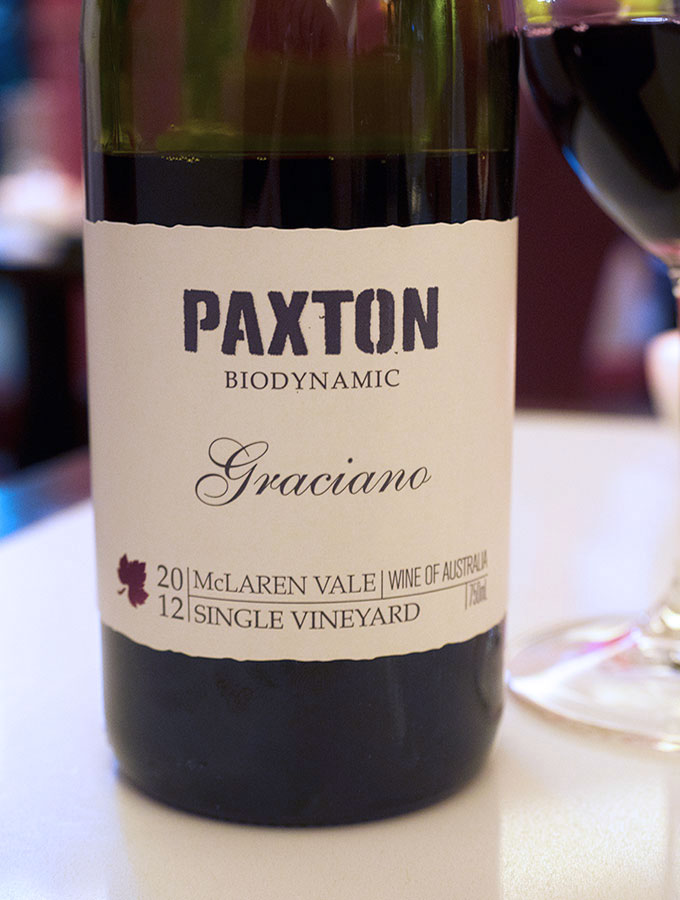 I enjoy a glass of Paxton's Biodynamic Graciano, McLaren Vale ($15) with my pork dish. Graciano is a Spanish varietal, which results in a lovely light red.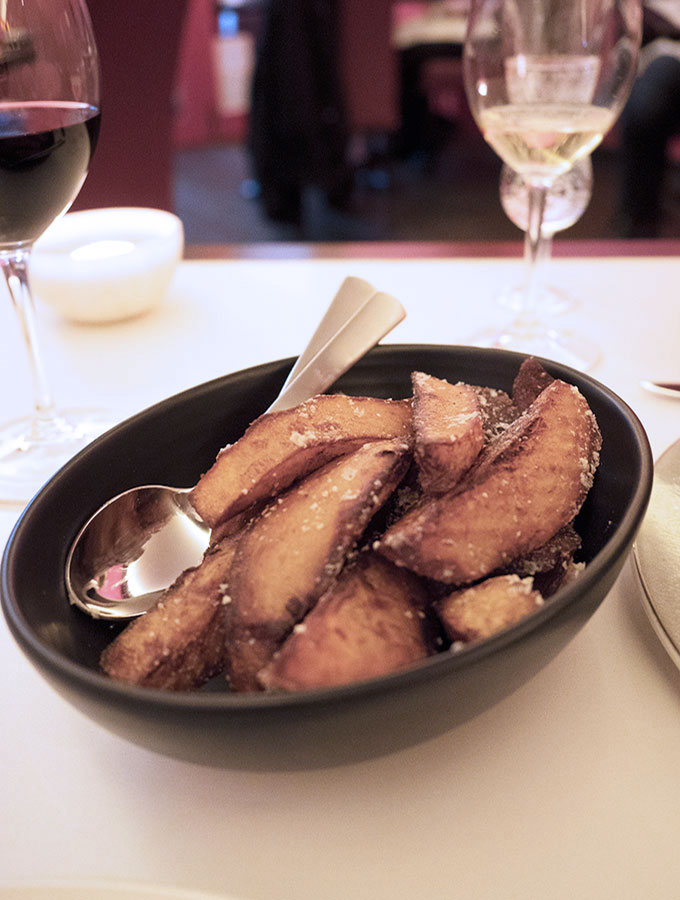 We order the Chef's hand cut chips cooked in aged beef dripping ($12) as a side. Glad we did, they are as good as they sound. Fat crunchy chips which are light and fluffy on the inside.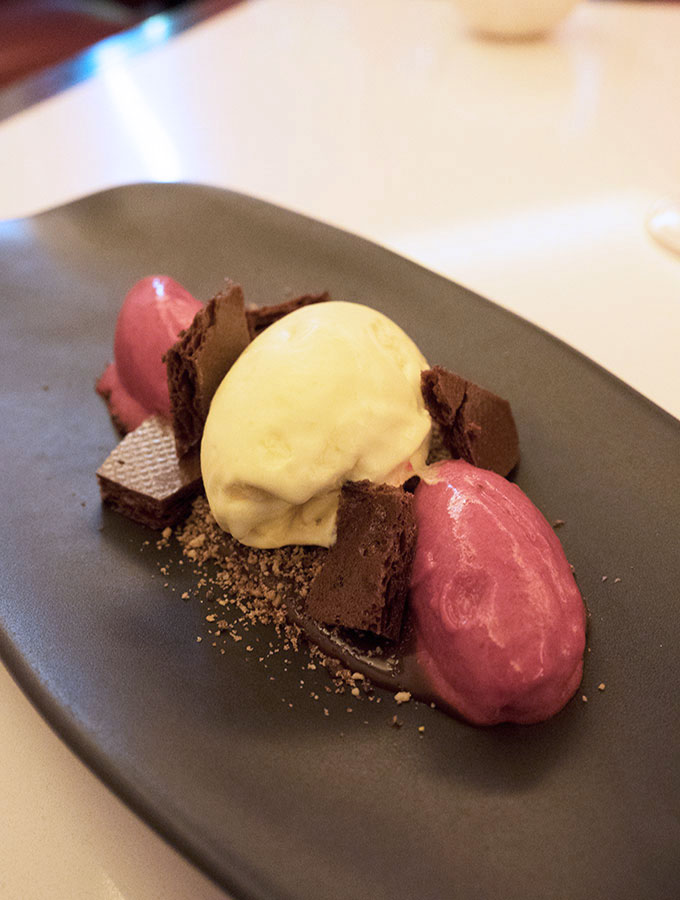 We are both pretty full and decide to share a dessert to finish off with. We go with one of Leigh's signature dishes Jack Daniels 'Tennessee Honey' ice cream with salted caramel fudge and pinenut praline ($16). It's a rich dessert, which I am glad we are sharing. The raspberry sorbet is a refreshing contrast to the rich and decadent salted caramel fudge. The chocolate honeycomb is a fun surprise on the plate.
One6eight is definitely worth travelling a few minutes from town to Balmain. The food is creative and beautifully presented and when matched with a small but interesting wine list, makes for a very enjoyable dining experience.
Sara xxx
Must try dish: Spiced venison leg with chocolate gnocchi, pea powder & king brown mushrooms.
Who should dine here: A lovely intimate restaurant for couples or those wanting a relaxed dining experience.
Who shouldn't dine here: It's a great all round restaurant that anybody would be happy to visit.
What else you should know: They offer a 7 course degustation menu ($90) in the evenings and high tea on the weekends
Price: Entrée $15-$20/Mains $28-$38/Dessert $16/Wine by glass $9-$18/Wine by bottle $45-$215
BYO: Fully licensed, but offer BYO wine only Wednesday & Thursday nights
Bookings: Yes and highly recommended
Opening hours: Wednesday to Friday 6pm – 12am, Saturday & Sunday 12pm -12am
Contact details: 233 Darling St, Balmain, +61 2 9555 8750
Website: www.one6eight.com.au
Belly Rumbles dined as a guest of One6Eight.
Don't miss one delicious recipe, restaurant review or travel adventure. Sign up to our weekly newsletter below to keep updated. There is also bonus content just for subscribers.
Subscribe to our mailing list