It's Handa Opera on Sydney Harbour time again and oh it's an experience. In case you missed out the first time, Carmen is back at Handa Opera on Sydney Harbour. As a person who has never experienced an opera before, it's a spectacle of colour and light.
It seems fitting that just as Carmen was Sara's first Handa Opera on Sydney Harbour experience, that it would be mine. Though I think I got the better deal since it didn't rain during the performance I attended.
Fresh Catering are once again behind the abundant choice of food for your pre-show and intermission hunger pangs.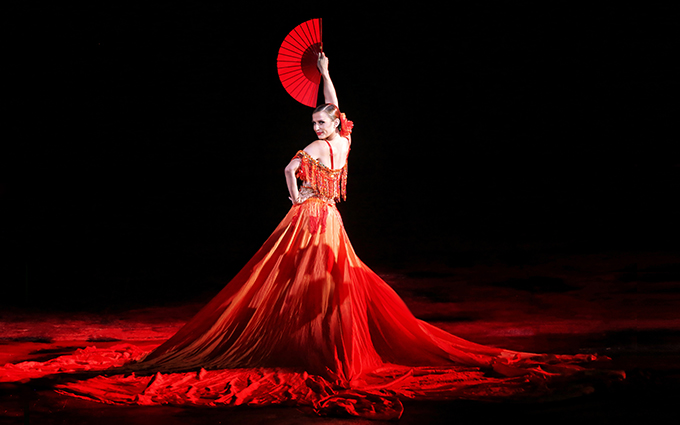 Dancer Amy Campbell in Handa Opera on Sydney Harbour — Carmen 2017. Photo credit: Prudence Upton
Food Choices at Handa Opera on Sydney Harbour
The Northern Terrace: Experience the Opera House and Harbour Bridge from a new perspective, a truly unique dining experience. Enjoy the delicious drama of classic Valencian Paella cooked right in front of you over open flame as chefs prepare the staple rice casserole in a large paellera. The Paella Bar will offer a choice of roasted vegetable frittata with traditional Sofrito & chickpeas, local fish with mussels, shrimp, calamari, chorizo, beans, garlic, artichoke, smoked paprika & saffron, or Catalan chicken asado with olives, beans, potato & smoked almonds, all served with crusty bread, Andalusian cabbage salad & lemon.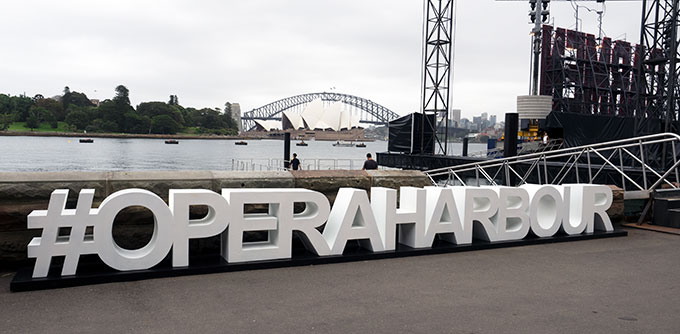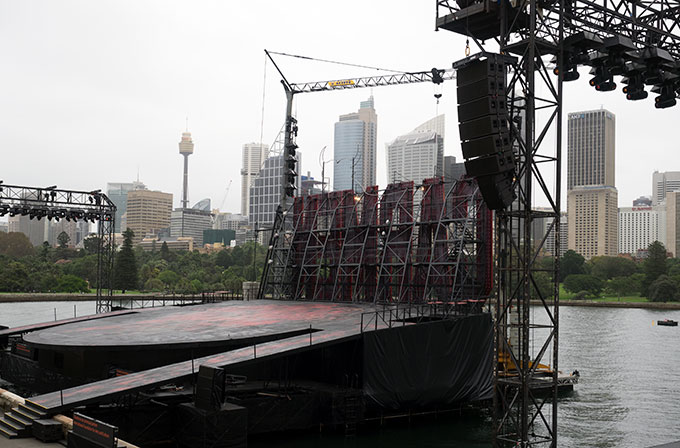 The Southern Terrace: Experience an outdoor Tapas Bar, offering guests a true Carmen dining experience with the opportunity to dine on traditional Spanish cuisine, with a focus on authenticity and variety of choice. For a fixed price, guests can select from a range of cold and hot tapas prepared to order in a purpose-built kitchen, with dishes ranging from wild mushrooms, patatas bravas, emanadas, calamari, chorizo, chicken wings and pork belly infused with Spanish spices.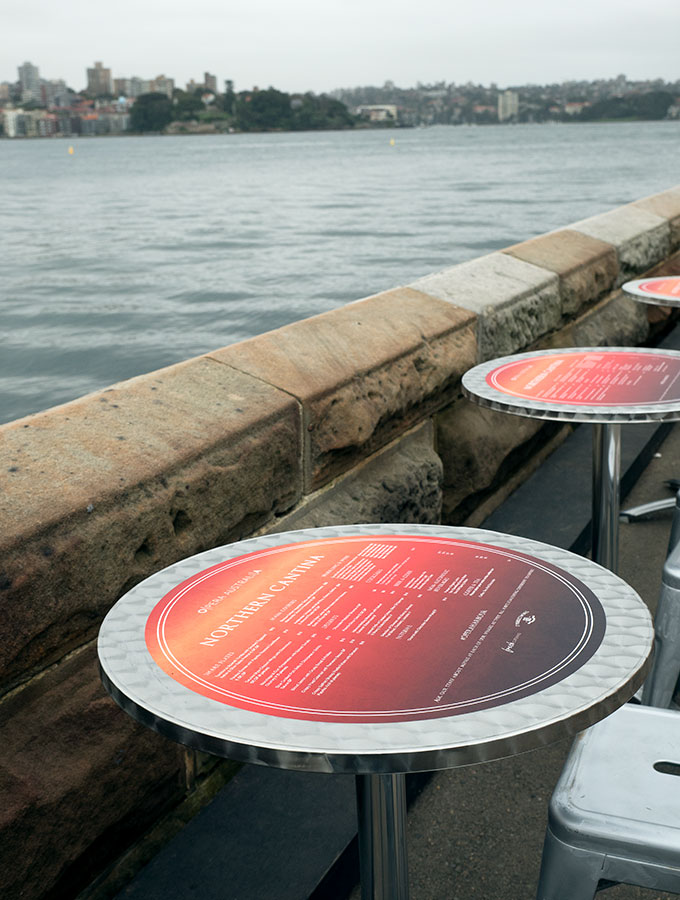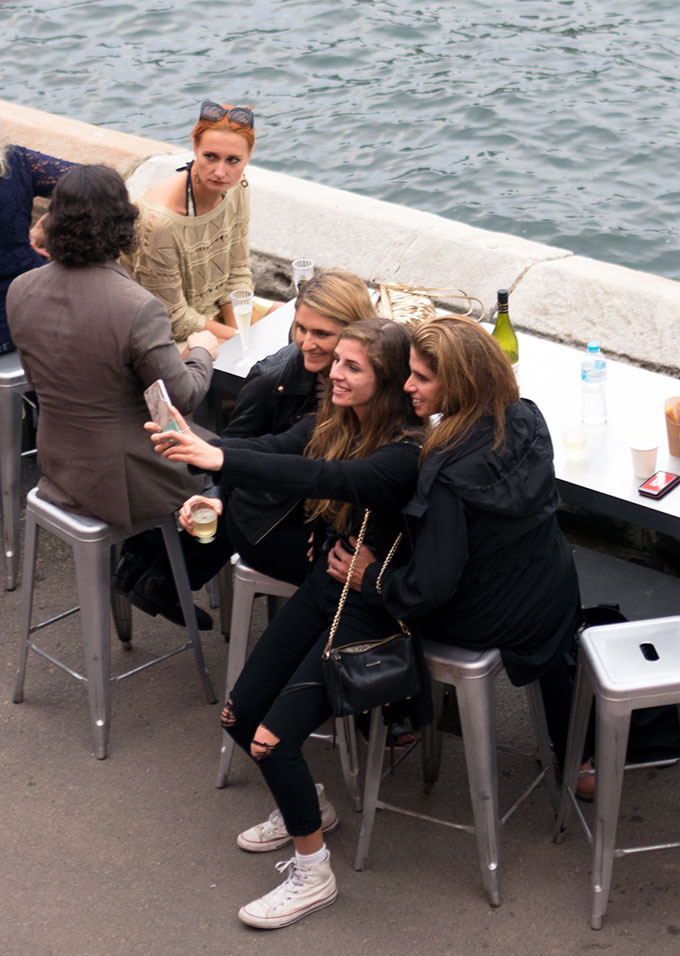 The Northern Cantina: Cafe-style dining on the harbour, serving share plates of tasty and authentic dishes from the street markets of regional Spain. Guests are able to order their food and sit directly on the waterfront, taking in the full vista of Sydney Harbour, with the Opera House in the background.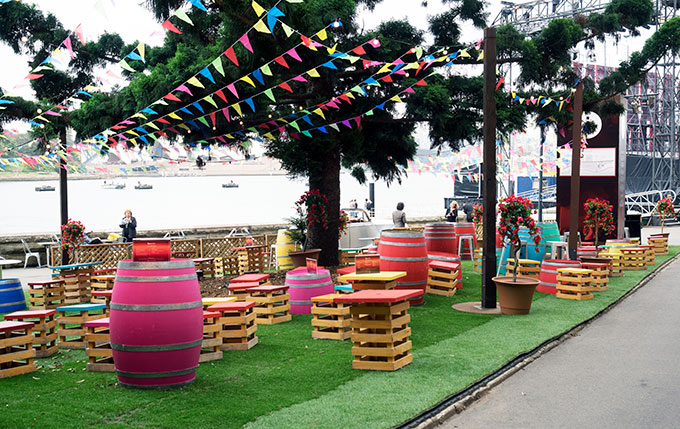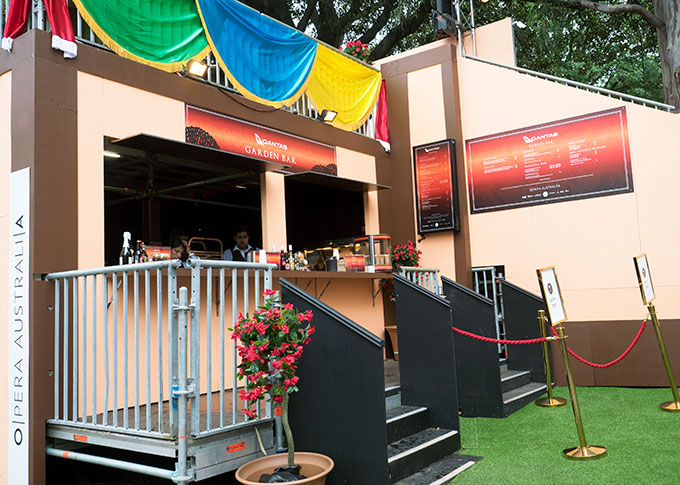 Qantas Garden Bar: Offering small bites, street food and drinks beside the water. Purpose-designed to replicate a market stall one would find at the world famous La Boqueria in Barcelona, this bar will feature specific Catalunya street food, known as Coca. These are small pizza-like flatbreads, which have a range of toppings and perfectly represent the flavours of the region. The cocas are finished in a ceramic based deck pizza oven, to impart a light smoky flavour. The Qantas Bar will feature three different cocas, as well as other cold sweet and savoury snacks. During interval, Qantas Bar will serve cooked-to-order Churros.
The Platinum Club
Our night started out in the Platinum Club with the pre-performance diner ($245). The Platinum Club offers a three course set menu dinner with matching Tyrrell's wines. Geoff Haviland (who trained at the 2 Michelin-starred L'Ortaln in the UK), is behind both the three course dinner and the alternative dining option, the Boqueria.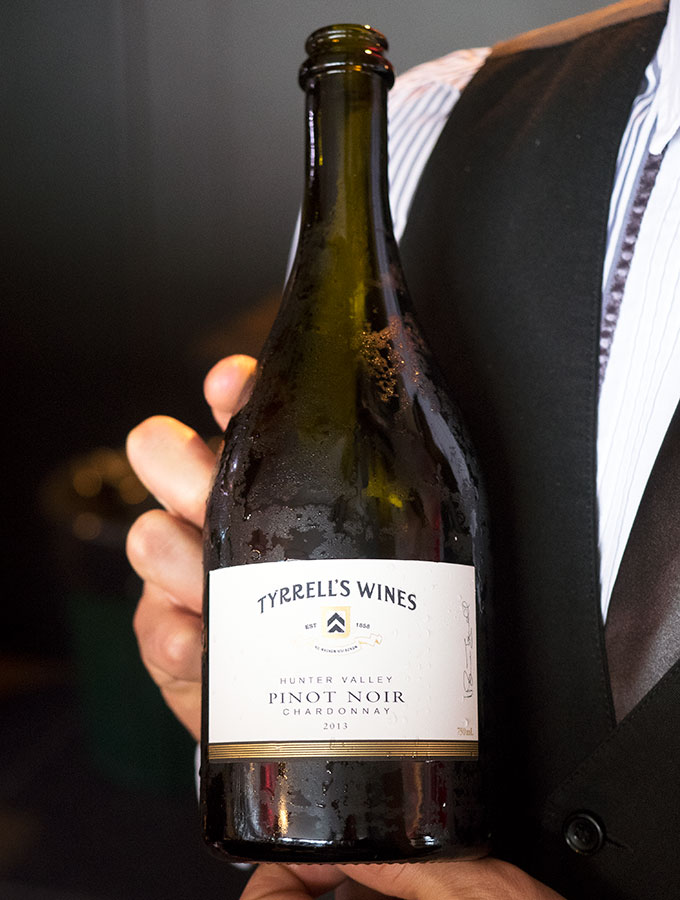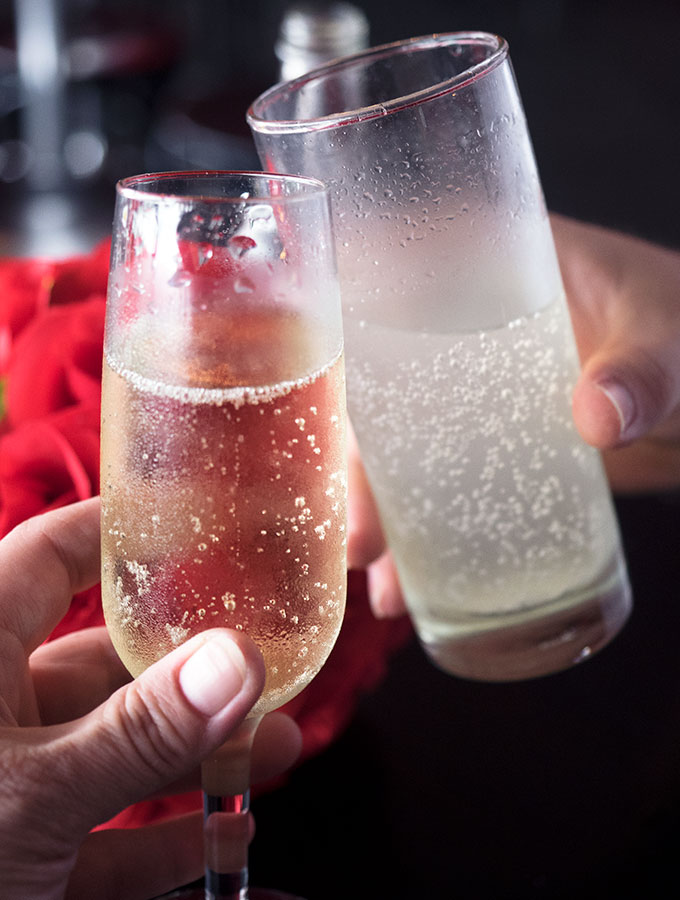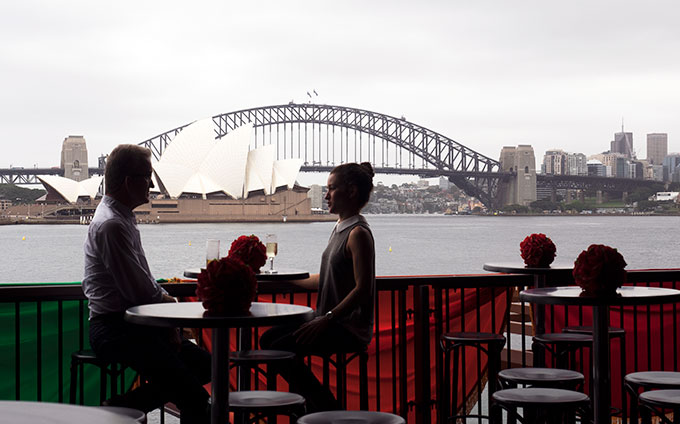 We start with a pre-dinner drink in the bar area and then make our way to our table. Once seated we are greeted with Pan Catalan with a White bean & Sherry-braised garlic Tapenade. The flavours are mellow but distinct, with the garlic coming towards the end, perfect to get the taste buds going.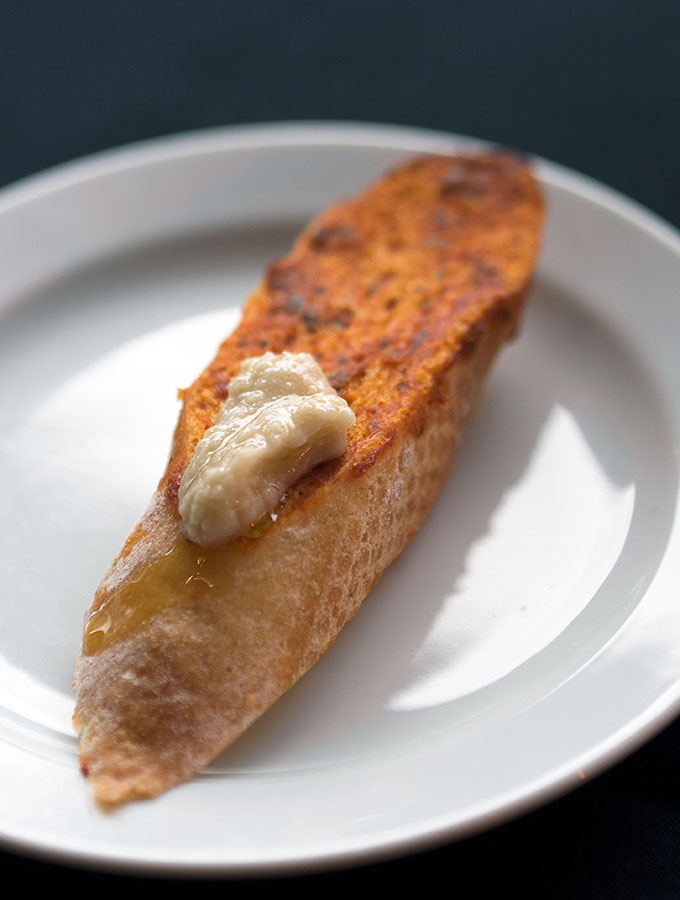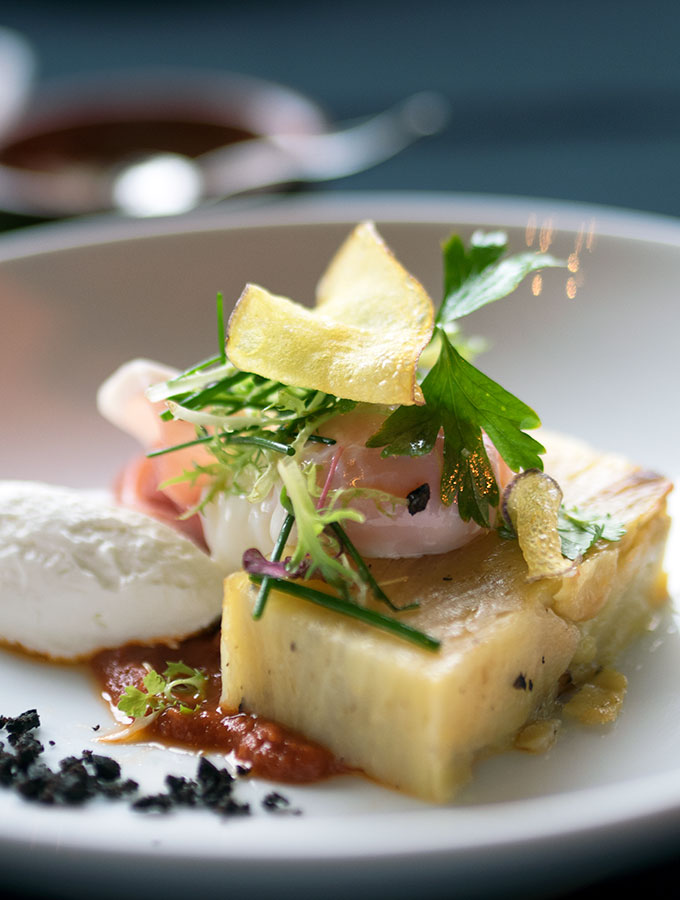 Entrees arrive, Tortilla de patatas nuevo, with truffled potato, 65°C egg, jamón ibérico, sheep's milk curd, congo chips & sofrito. Where do I begin? The egg was perfect, the crunch of the chips, and the slight salty creaminess of the curd. It all just melds into something beautiful. Strong and passionate like Carmen, with everything complementing each other.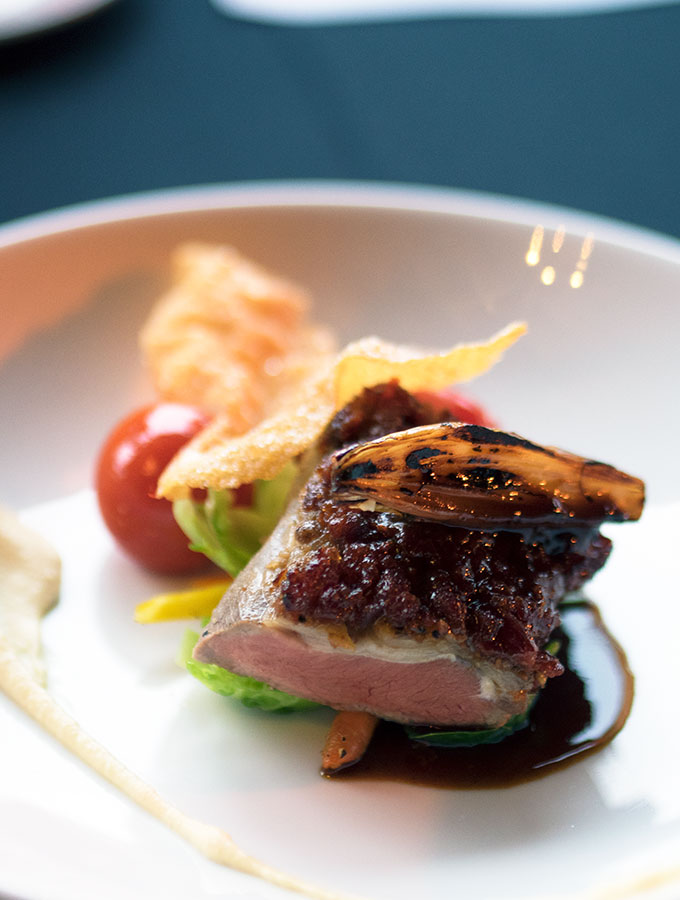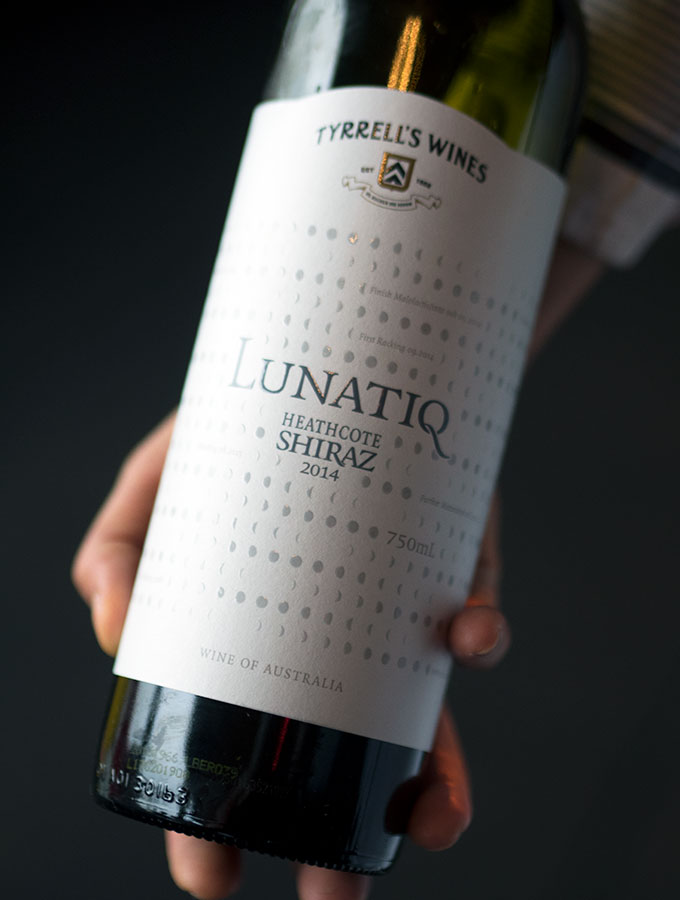 For the main course I had Grass-fed Highland lamb loin on celeriac purée, with chorizo marmalade, fava beans & Sherry-roasted wild shallot. The Lamb was cooked well and the chorizo marmalade compliments it nicely. The fava beans, I believe, were turned into a crisp that lay over the dish. It added a great crunchy element.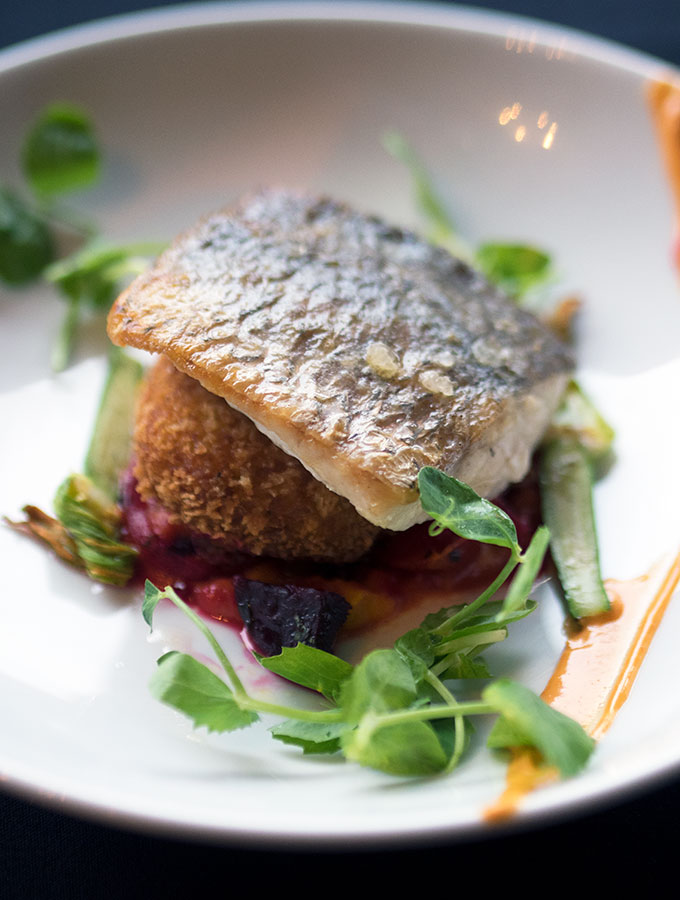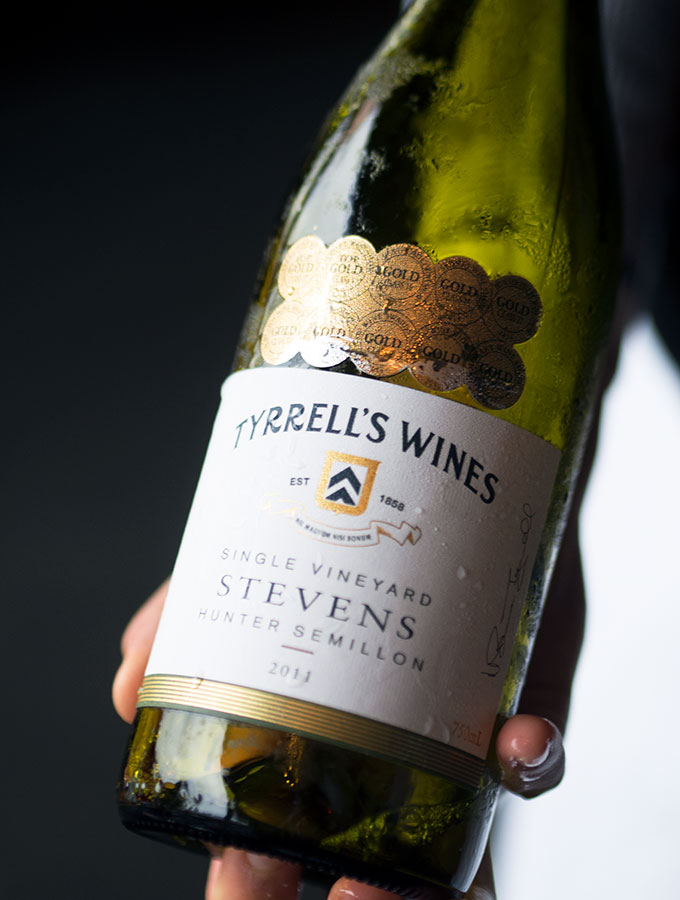 Mum (aka Sara) had Line-caught barramundi fillet on wood-roasted beets, with bacalao fritter, white anchovy boquerones & smoked piquillo aioli. The fish was cooked perfectly and Mum said she really loved the boquerones.
The vegetarian option was Chargrilled aubergine rotolo of heirloom vegetables and quinoa, served with wild mushroom sauce & pastry shard.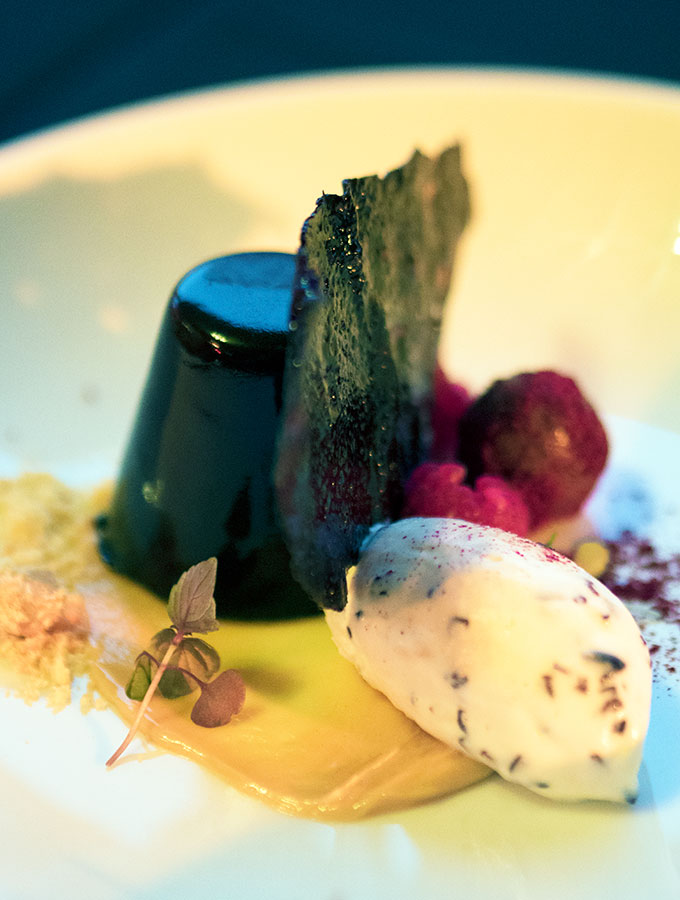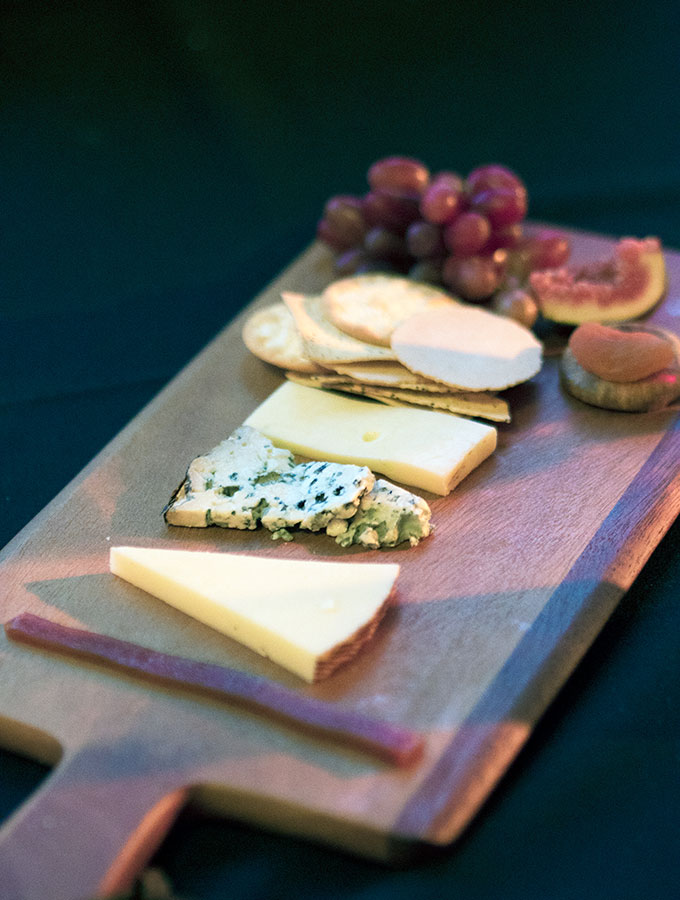 To finish off there was a choice of dessert or a cheese platter. The dessert on offer is, Bittersweet chocolate crémeux, salted dulce de leche, Pedro Ximénez truffle & alfajores shortbread crumble or a cheese plater. While the option of the cheeses is nice, the dessert is what shines, not overly sweet and perfect for any chocolate fan.
If you don't want to have a sit down dinner, there is the other option of the Boqueria ($130), which is a buffet style setting. There you will find a table laden with cured and smoked meats, empanada pastries, Spanish salads and delectable sweets. Again matched with Tyrrell's wines.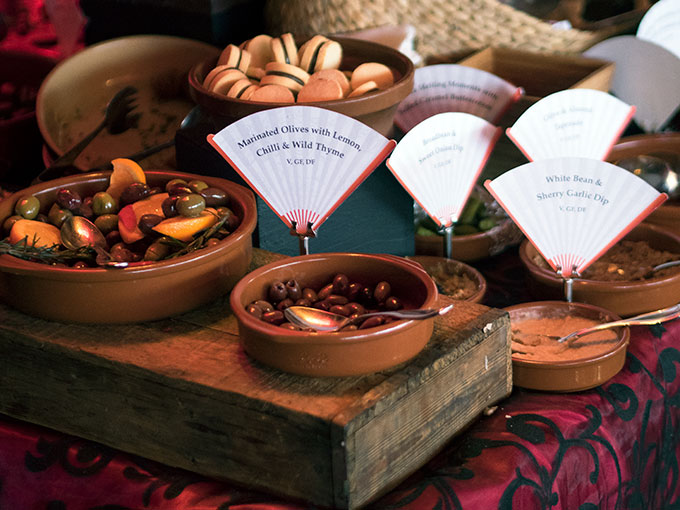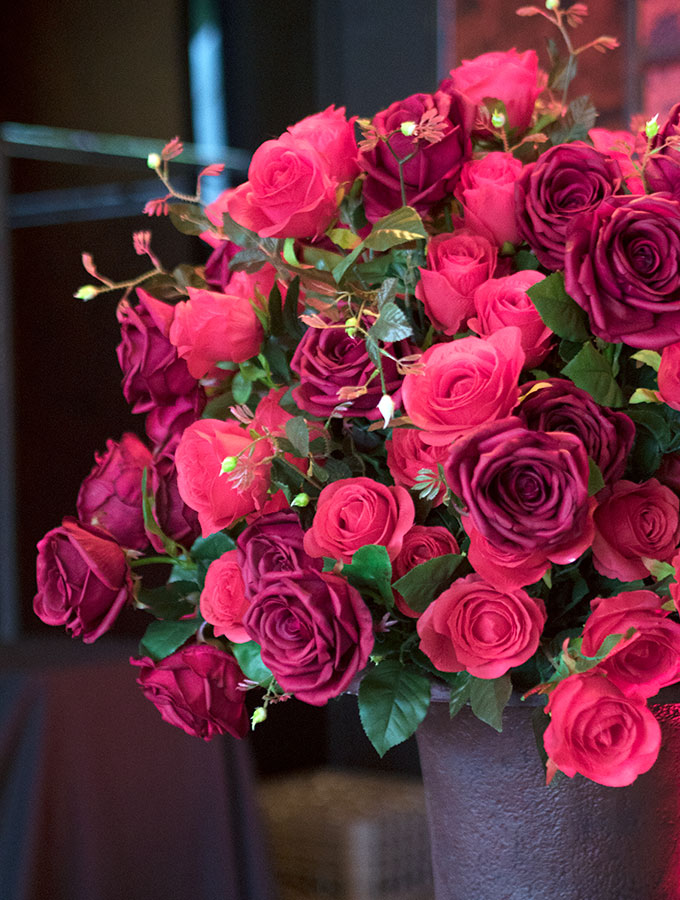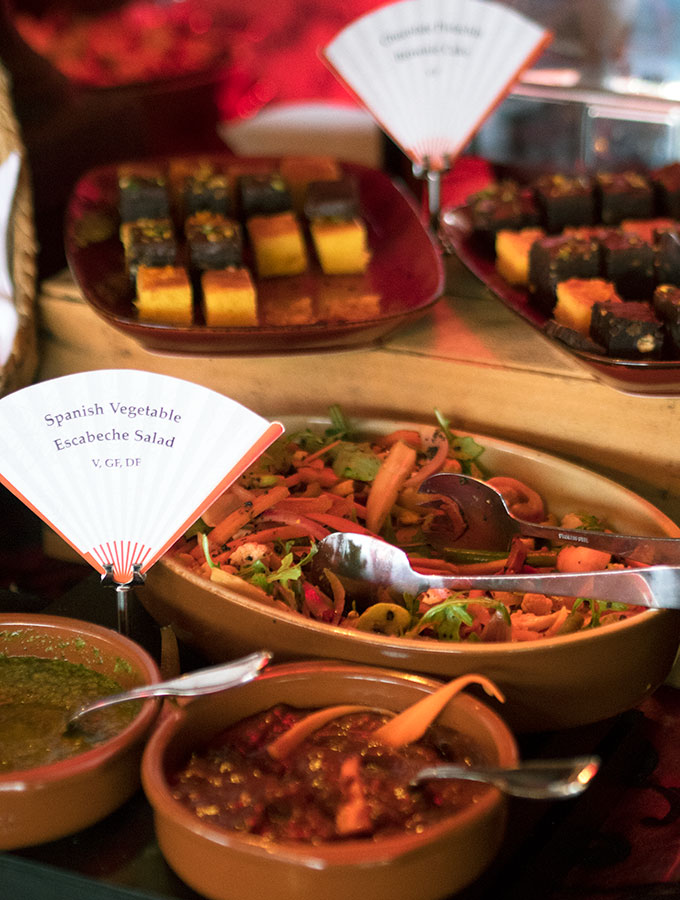 Wondering what happens behind the scenes at Handa Opera on Sydney Harbour? Click here
Let the show begin!
Taking our seats for the first half, you are surrounded with the bustling of everyone settling in there seats, then complete silence as you looked out on the stage sitting above Sydney Harbour. Silence before it all began. When it comes to opera you should read up about the one you are seeing before hand. It gives you an idea of what is happening so you don't have to read the subtitles more than looking at the stage. Personal highlight of the act being "votre toast je peux vous le render" or "Your toast I can make it to you", during which they set off the fireworks at the crescendo of the piece. The Interval hit before I knew it.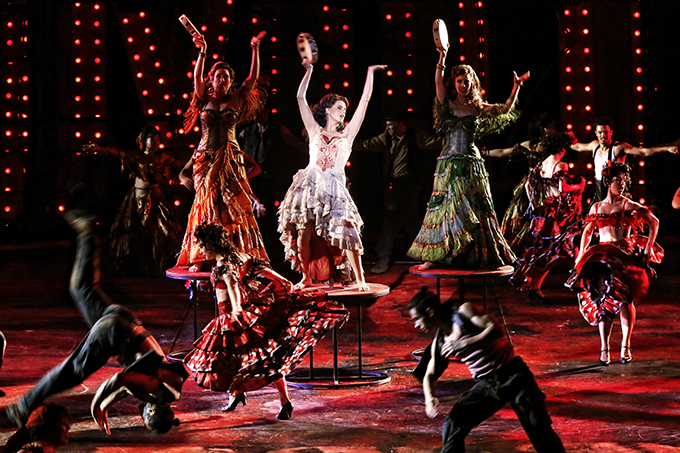 Jane Ede as Frasquita, Sian Pendry as Carmen, Margaret Trubiano as Mercédès and the cast of Handa Opera on Sydney Harbour — Carmen 2017. Photo credit: Prudence Upton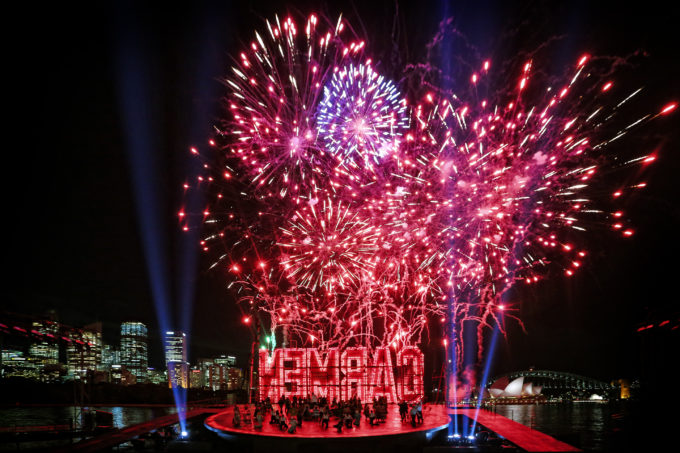 Handa Opera on Sydney Harbour — Carmen 2017. Photo credit: Prudence Upton
During interval it was back to the Platinum Club for interval drinks and the dessert plate ($60). You could also have tea or coffee if you wished. The dessert plate consisted of a Dulce de leche macaron, Tarta de Santiago, Spanish flan with Pedro Ximénez caramel and a Bittersweet chocolate truffle. These made for a wonderful treat during the intermission, with the Spanish flan being my favorite of the quartet.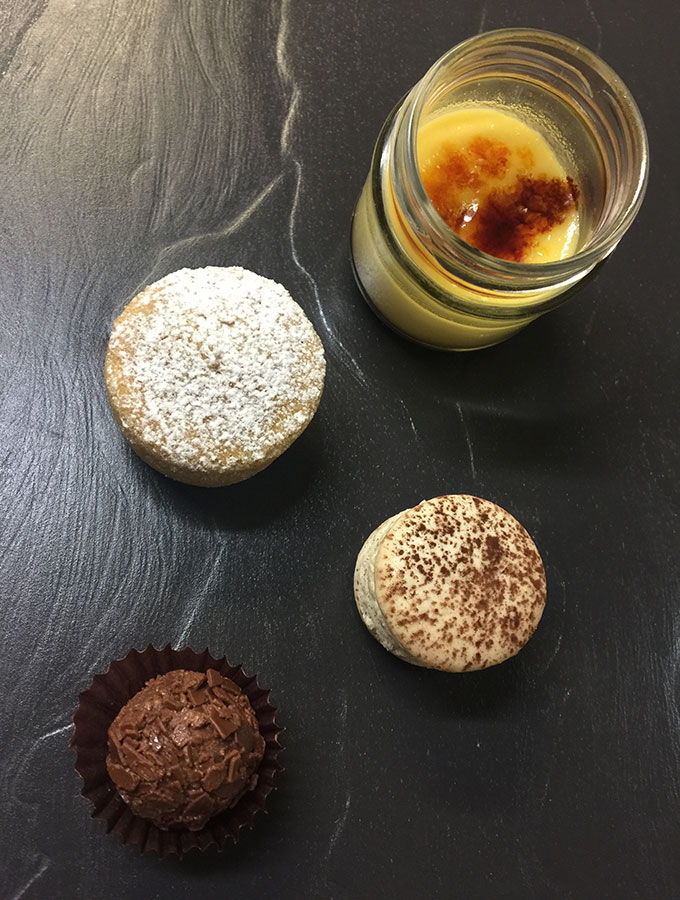 Retaking our seats, fire pots make a semi-circle on the stage as a shipping container dangles above. I haven't mentioned the cranes at the sides of the stage, but they are genius. The cranes are used throughout the production to move the larger scene pieces on and off stage. They also hold some of the stage lights. Both cranes are incorporated in such a way that they seem a part of the set, rather than a just a crane to move trucks, tanks, containers and people on and off during certain moments. But alas all good things must come to an end, and before I new it Carmen had met her fateful end and the cast were taking their bows.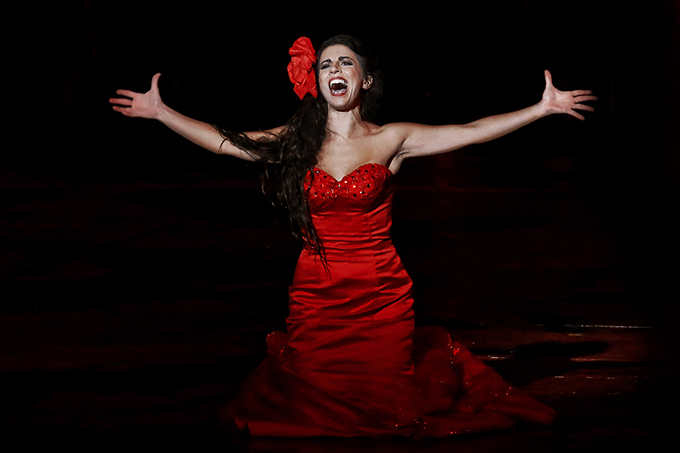 Josè Maria Lo Monaco as Carmen in Handa Opera on Sydney Harbour — Carmen 2017. Photo credit: Prudence Upton
Some advice from me to you, when the opera ends and everyone has taken their bows RUN. Seriously though, apart from a few bottlenecks on the paths leaving is quite painless. I would suggest taking public transport in or organizing a pick up at the art museum nearby as traffic will get a bit congested around the exit of the venue.
Did Handa Opera on Sydney Harbour win me over to the opera side? Yes, yes it did!
Handa Opera on Sydney Harbour is currently running until April 23rd at the Fleet Steps, Mrs Macquarie's Point, Sydney. Performance begins at 7:30pm Site opens at 5pm for bar and restaurant venues. Platinum dining can be booked at time of ticket purchase from https://opera.org.au/harbour Adult tickets for performance only from $99 (booking fees apply).
Josh xxx
Belly Rumbles attended Carmen & the Platinum Club care of Fresh Catering and Opera Australia
Become a subscriber and don't miss a single delicious recipe, restaurant review or travel adventure.