Of course in my upside down twisted manner we are starting with a product not from a paddock, but from the ocean, Tasman Sea Salt. An environmentally conscious and sustainable salt producer in Tasmania, Australia. It would have been way too predictable of me to start with cheese or pork, and really, would you want it any other way?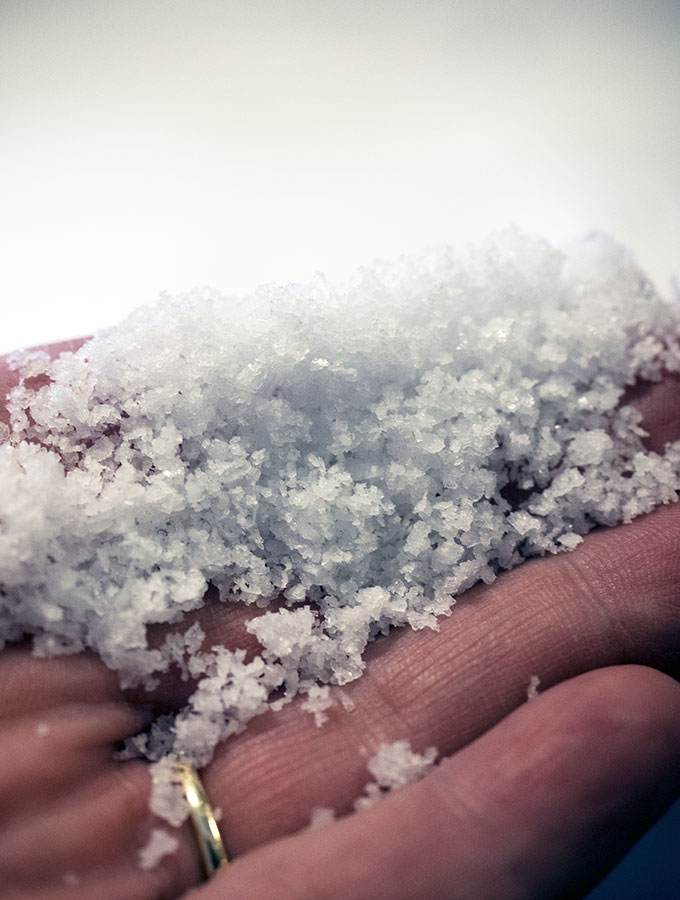 What do you think a sea salt manufacturing plant looks like? Probably due to a past life of occasionally traipsing around manufacturing plants wearing a hardhat and steel cap boots, I envisaged something quite industrial. Large pipes sucking up seawater into a mega structure, whilst chimneys spewed steam from an evaporation process.
My thoughts couldn't have been further from the truth.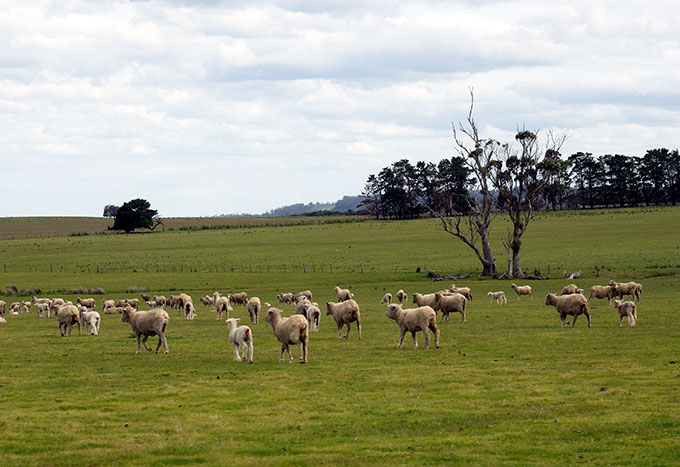 We drive through the paddock gate and head down a very bumpy dirt. A fair share of bouncing around is happening as we drive through rolling green pastures and past flocks of sheep. At this point Chris reminds us of the harsh realities of farming life. "You may not want to look to your left up here, it's lambing season and sadly there are a couple of casualties." It doesn't faze me as I was introduced to reality of farming at an early age, but do appreciate Chris' warning.
Continuing through fertile green farmland we finally arrive at our destination, the edge of the clear turquoise water of Great Oyster Bay. As hard as I look there isn't a salt producing mega structure to be found. Instead there are a couple of colour bond structures that could quite easily be mistaken for storage or equipment sheds. All rather unobtrusive and not looking out of place close to the shoreline.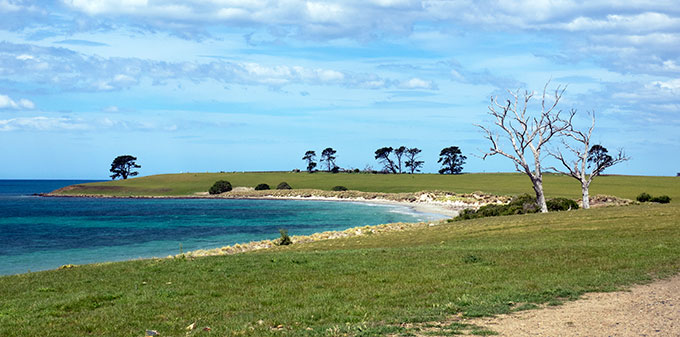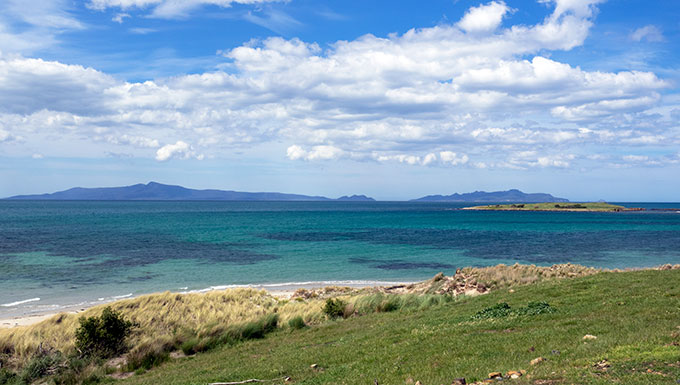 Tasman Sea Salt is located in one of the most beautiful and pristine parts of Australia, Tasmania. The waters of Great Oyster Bay are clean and clear. Directly across the bay is the stunning Freycinet Peninsula and National Park. For owners Chris Manson and Alice Laing, it's all about preserving the environment and being sustainable.
Neither Chris nor Alice has a family history or background in salt making. Their business was born of absence and passion. An absence of Tasmanian salt and a passion for good food.
Chris is a born and raised Tassie boy. After finishing high school he moved to Sydney to study Science Law. He then did what a lot of Aussies do and set off to see the world, travelling through Europe and finally settling in London to work as a lawyer.
Alice hails from Scotland and developed a love of food from a very early age. After many years of running her own successful freelance catering company, she moved to London to work on sponsorship for the Olympic Games.
It was in London that Chris and Alice met, fell in love and married.
Both are massive foodies, and Chris tells me that it was Alice that turned him from a "Greedy" into a "Foodie". It was on their trips back to visit Chris' family in Tasmania that started them questioning why Tasmania wasn't producing sea salt. Being surrounded by a pristine natural resource, they couldn't work out why salt wasn't being produced.
Hence to say they moved back to Tasmania and Tasman Sea Salt was born.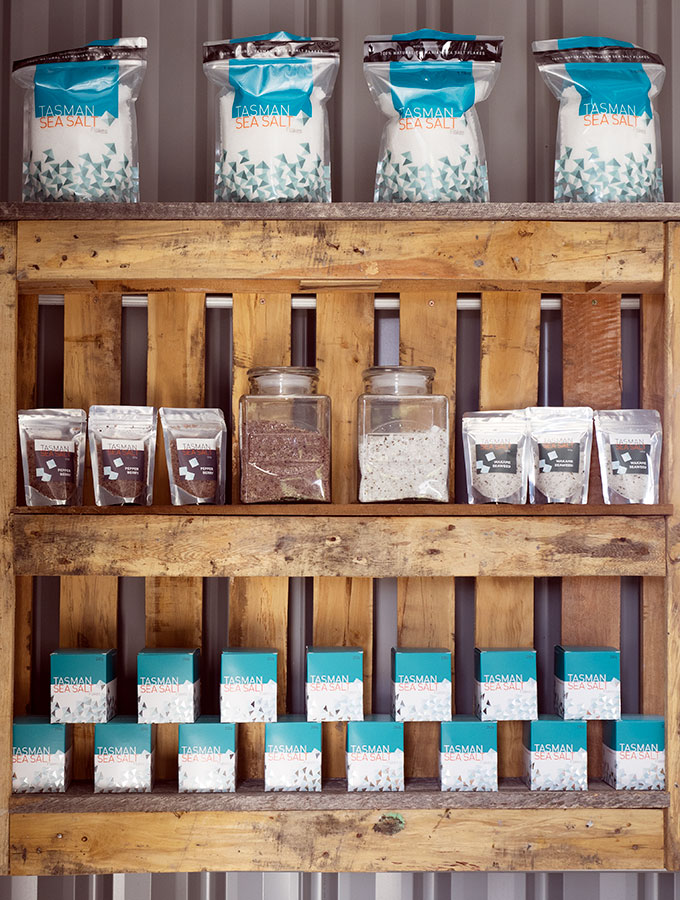 Tasman Sea Salt – Sustainability and the Environment
Creating and running a sustainable business was extremely important to them. They let the natural resources do as much as they possibly can in the production of their salt. The production process is environmentally friendly comprising of a combination of traditional salt making techniques and use of clean energy, naturally occurring thermal and solar.
The only "waste" product is fresh water.
How does Tasman Sea Salt turn seawater into salt?
Chris and Alice make their sea salt a little differently to others. Therefore I am not going to give you the finer details of their production process. It has been a giant learning curve for them, with lots of hits and misses. Equipment wise a lot of it is modified from other industries for their needs, to create a salt making process like no other.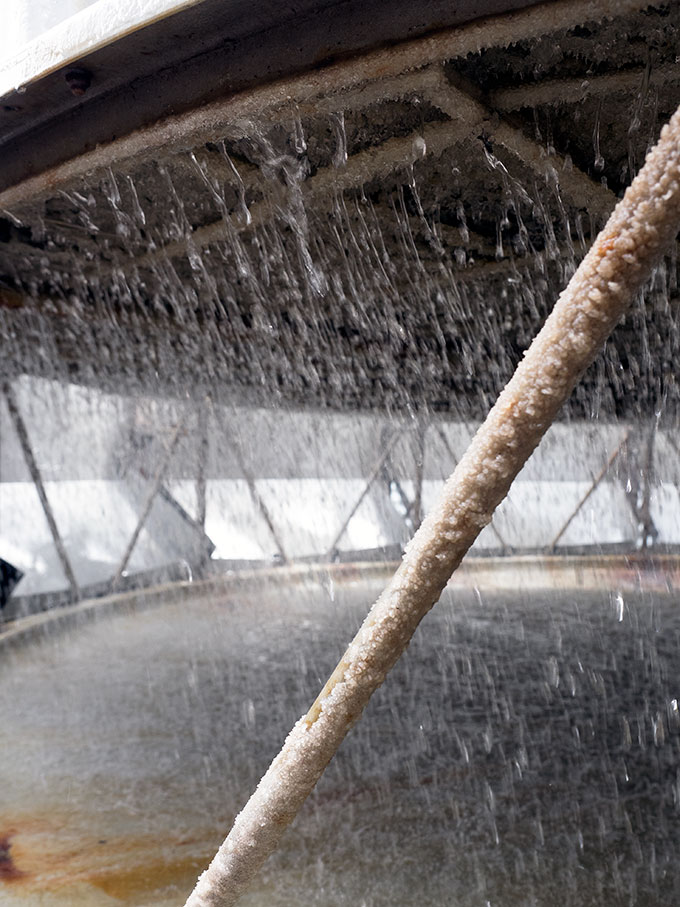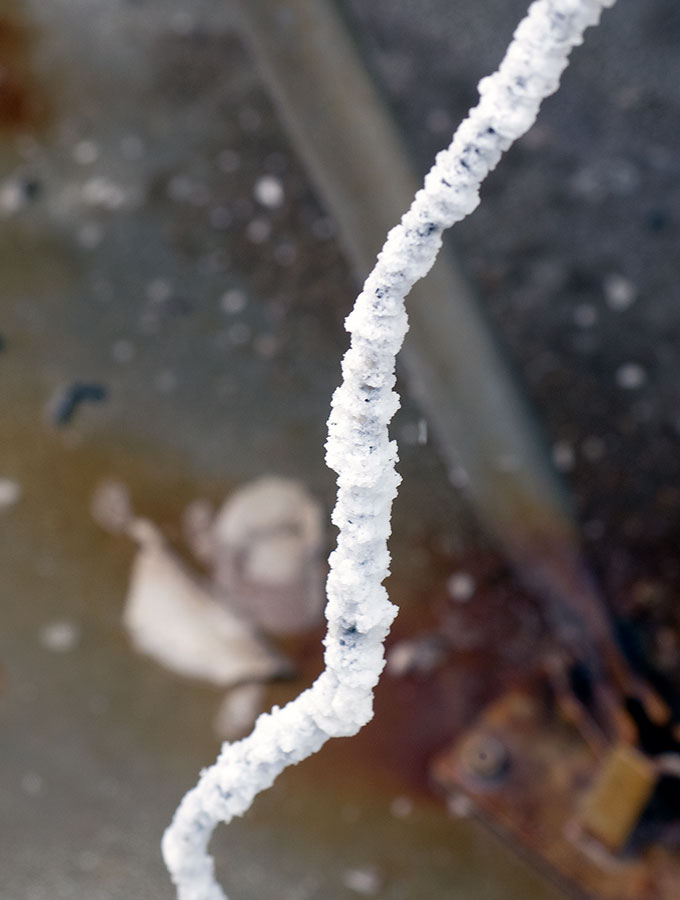 (salt magically grows on everything!)
In theory anyone can make sea salt, all you need to do is remove the liquid from seawater and you are left with salt. Sounds pretty easy, doesn't it? In theory it is, but in reality on a commercial basis, not so much. As I mentioned there has been a lot of trial and error for them to get to the stage they are at now with a quality product. A product I might add that top chefs in Tasmania and beyond now choose to use.
The process begins with water being sucked up from the bay into a tank. Any grit, shells or other foreign matter is filtered out of the water before it goes through the process of salt making. A check on humidity, and if it is low enough the salt making to start.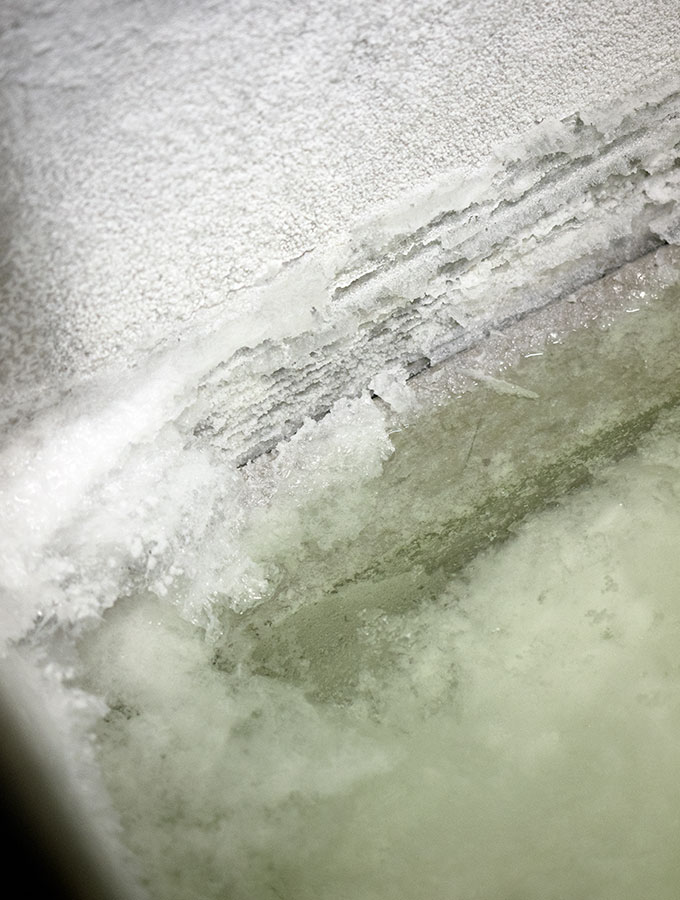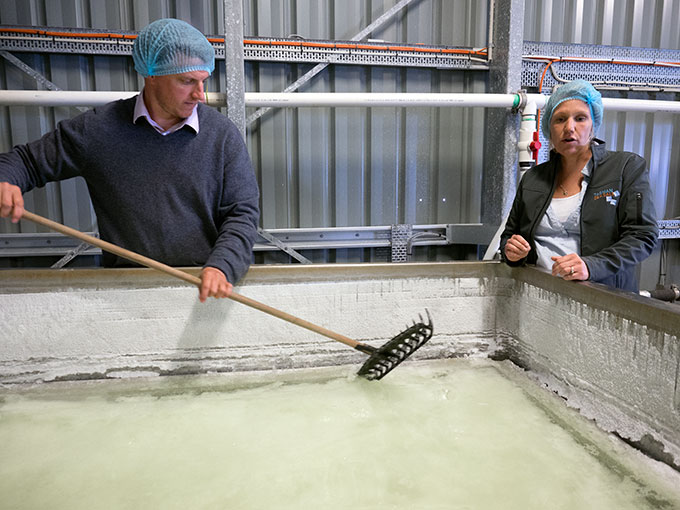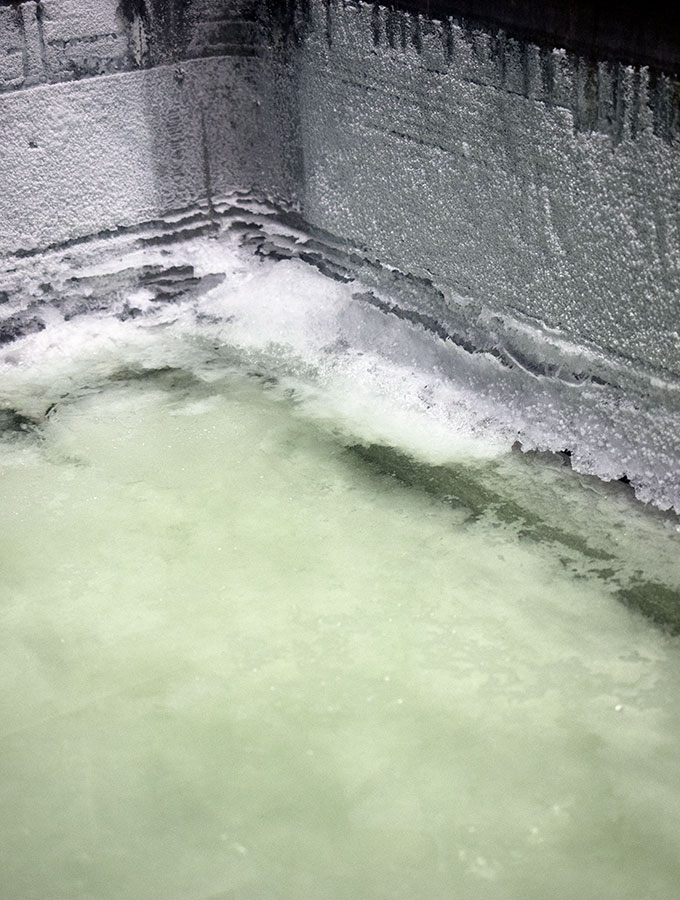 Solar energy is used to heat the water in vats gently. As the water heats and evaporates crystals form. As they form they fall to the bottom of the vats. The higher the temperature of the water the smaller the salt crystals, the lower the temperature the larger they are. Once all crystals have formed the tray is removed from the vat to another station to start the drying process. The salt is raked and left to dry over a number of days.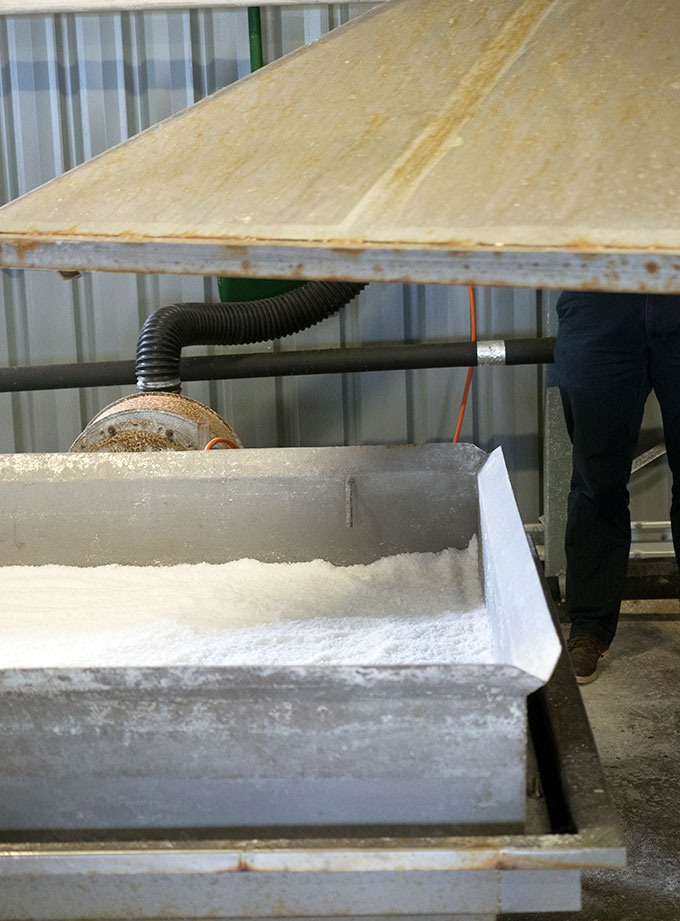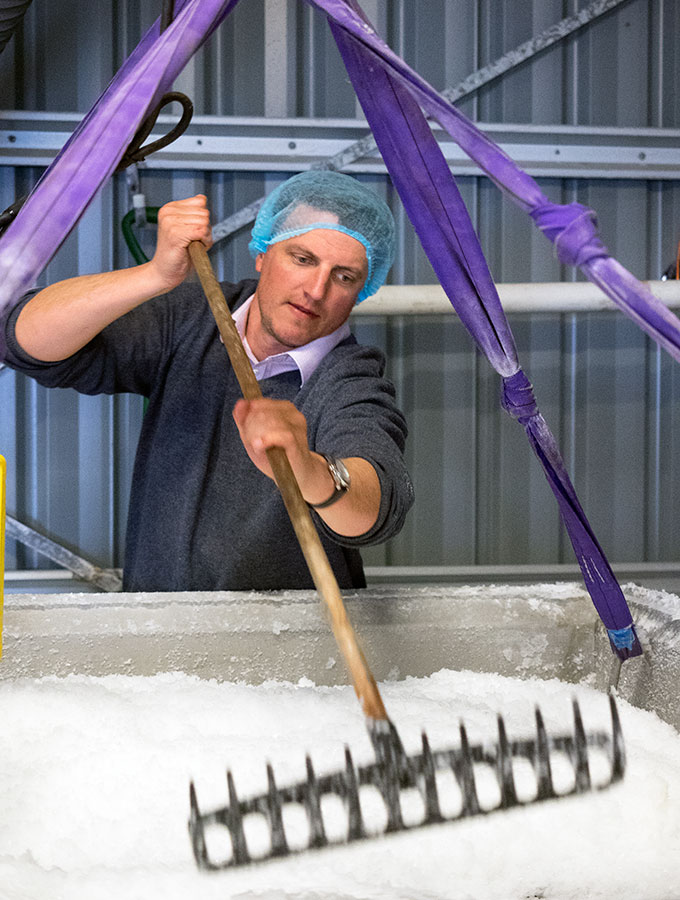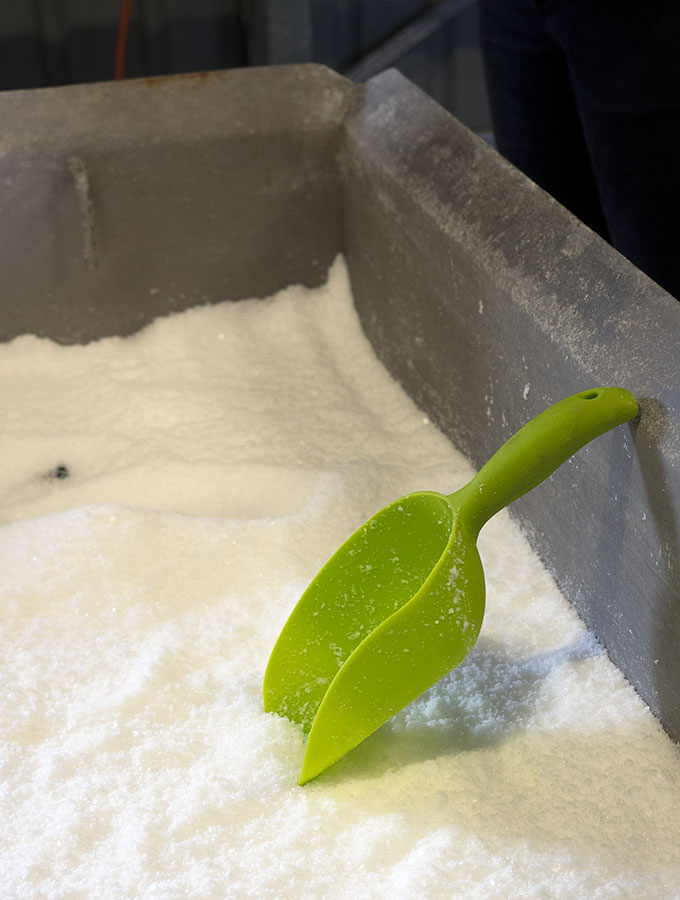 It takes them 10 days to transform seawater into sea salt. Which is quite incredible when you consider it takes 18 months to make salt on traditional salt flats.
Around 400kg of salt is harvested from one vat and they produce around one tonne of salt a week.
The dangers of producing sea salt.
Pristine waters, lack of humans and National Parks equal a lot of nature. While we are enjoying the beautiful spread of food that Alice has prepared us for lunch, we watch an assortment of birds enjoying themselves on the rocks and beach. They are having a hoot of a time.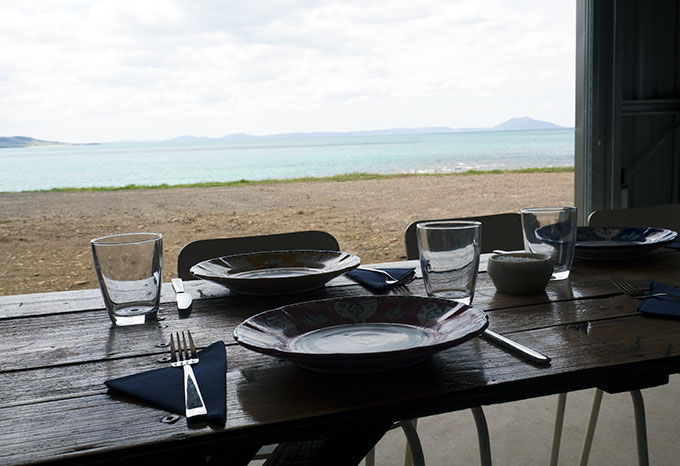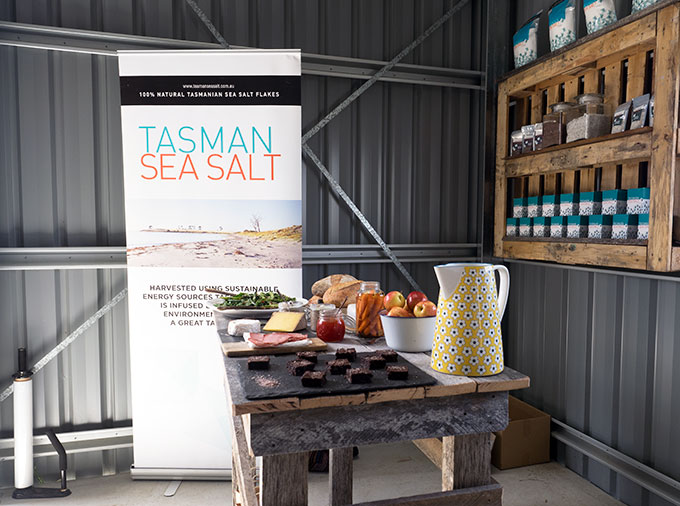 You will find all sorts of sea animals from dolphins right through to sharks. It is the sharks that add a touch of danger to the business. Chris shared that only recently there was a fatal attack on a scallop diver in the area.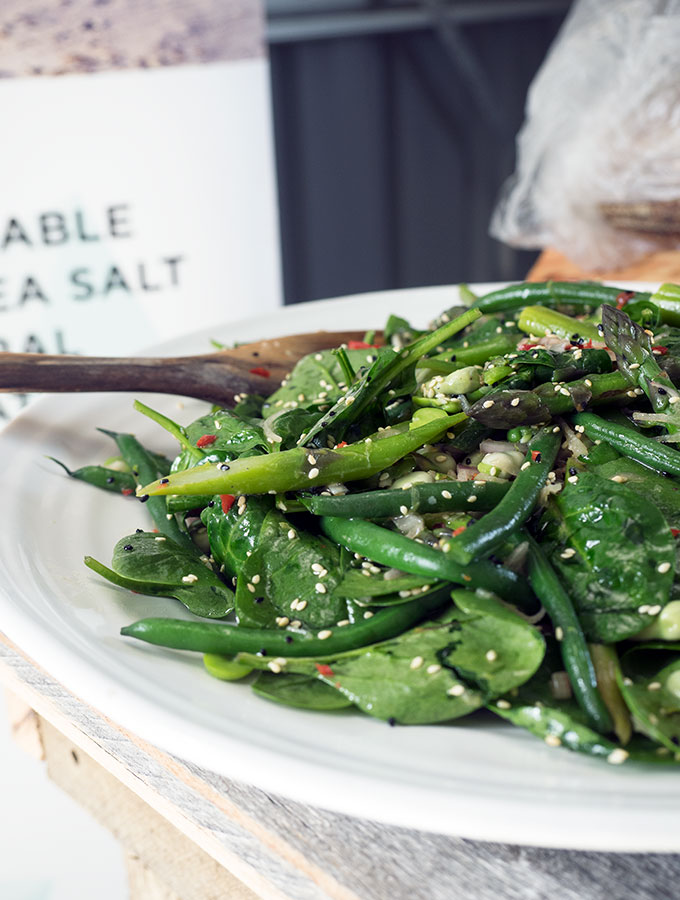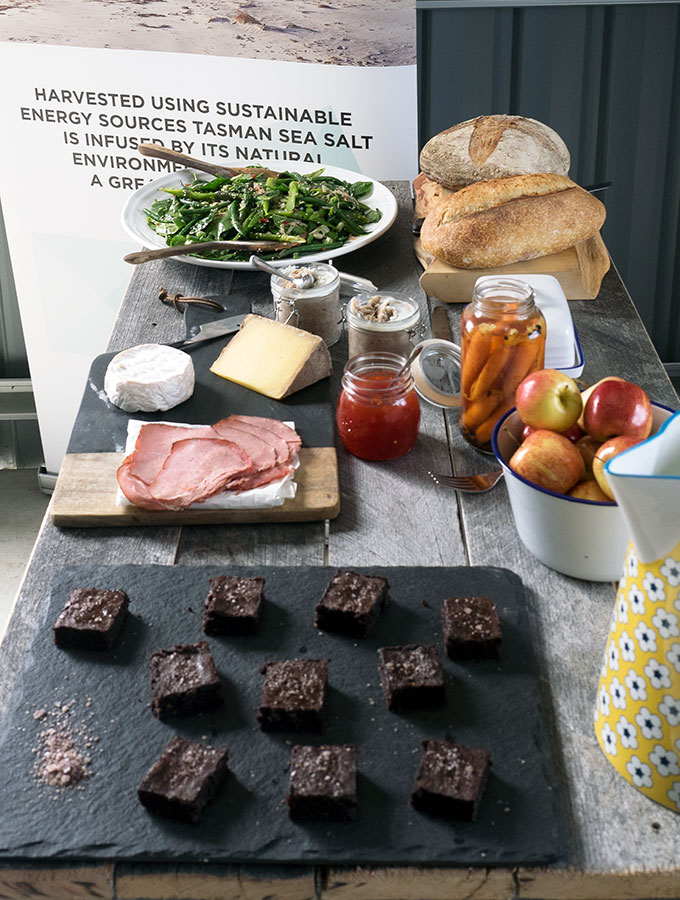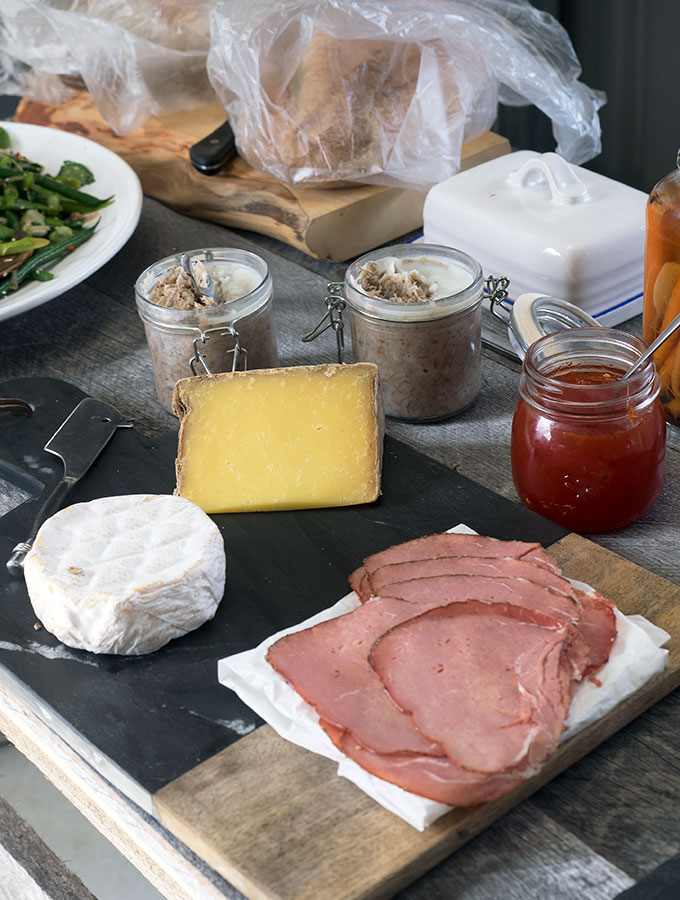 Chris is the lucky one that has to done a wetsuit every so often to fix issues with the pipe that sucks the sea water. Since the attack those clear turquoise waters haven't looked quite the same.
How does Tasman Sea Salt compare to others?
It all starts with the water. The ocean surrounding Tasmania is one of the cleanest in the world. The waters in the area are also high in nutrients. The salt produced from these waters is low in sodium and high in potassium.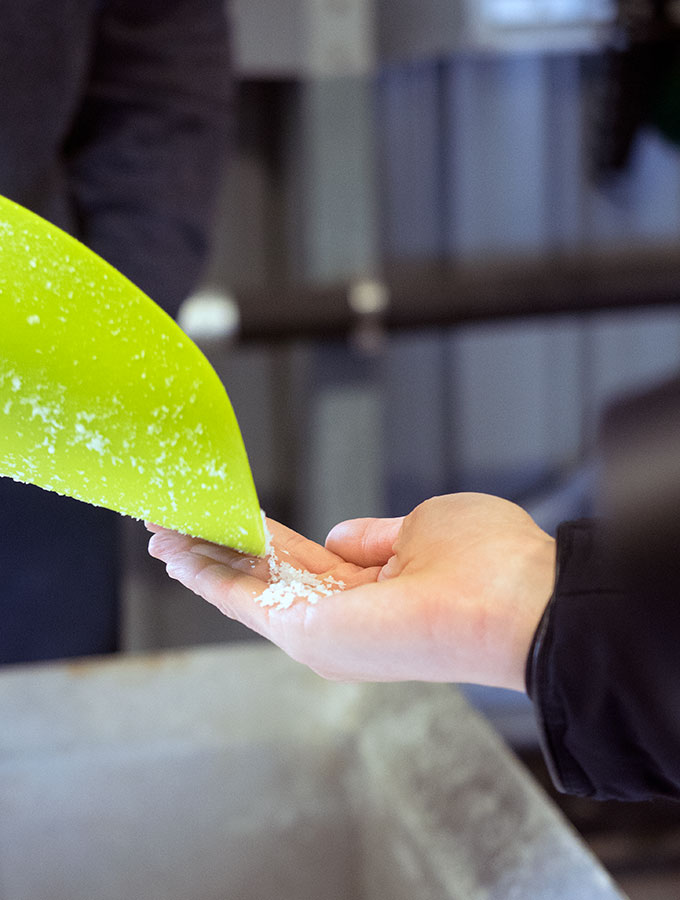 The salt is brilliant white in colour, which is highly unusual for salt that hasn't been refined. Unrefined salt will have a colour, this could be anything from grey to red. The colouring is caused by the salt's mineral content. Normally when you see white salt it has been refined, removing all the trace minerals and leaving you with high sodium salt.
I've taken part in all sorts of food and beverage tastings before, but never have I taken part in a salt tasting. I mean salt is salt, right?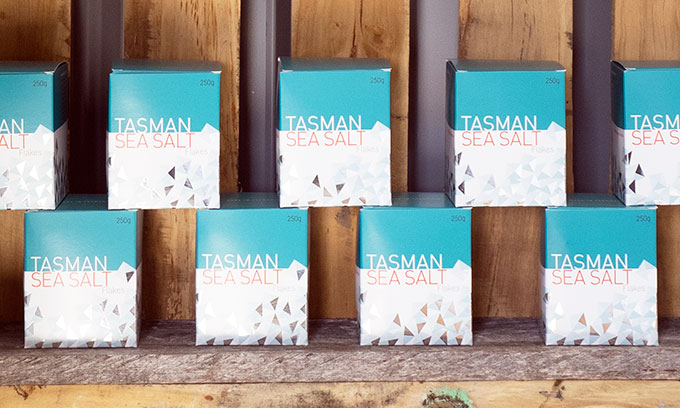 It was interesting to find out that salt does have a taste besides just being salty. Something I had never thought of before tasting a variety of salts in one go. One tasted "meaty" due to its high iron content, one had an almost tangy taste and another just tasted just plain horrible. A very interesting experiment, I will never look at salt the same way again.
Taking into consideration that nothing is added or removed from Tasman Sea Salt it has a very "clean" taste with an interesting depth of flavour. What is instantly noticeable as a cook is the texture and feel of the salt. If there is such a thing as a soft salt this would be it, the larger crystals crumble very easily between your fingers, unlike the rock hard flakes of some other brands.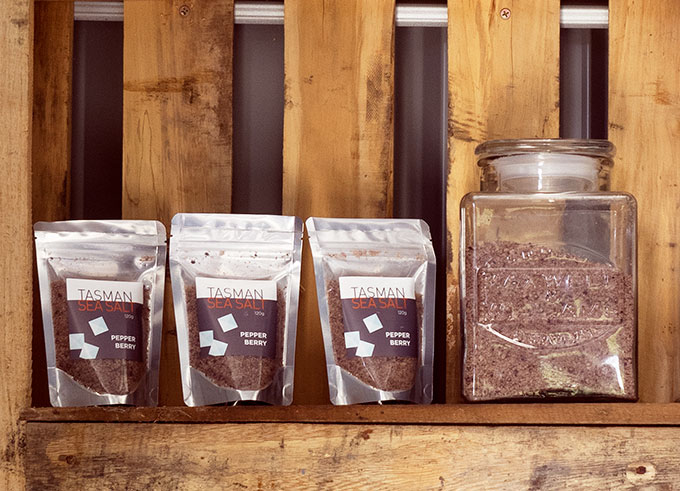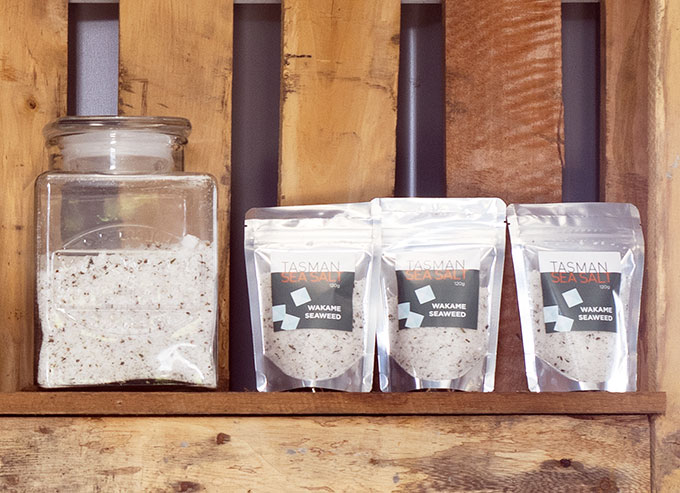 Tasman Sea Salt also produce a couple of flavoured salts, Pepper Berry Sea Salt and Wakame Seaweed Sea Salt. Made with local Tasmanian produce keeping them a completely Tasmanian product. The sea salt with native pepper berry has become a firm favourite of mine and I am making good use of it.
There you go my friends, all sea salt is not created equal. Nor does it taste the same.
Some food for thought, what waters did the current sea salt you are using come from?
Sara xxx
Belly Rumbles travelled to Tasmania as a guest of Tasman Sea Salt.
Become a subscriber and don't miss a single delicious recipe, restaurant review or travel adventure.