Paperbark Restaurant in Sydney offers a vegan menu that showcases native Australian ingredients. The dishes are creative and would easily satisfy those with a penchant for meat.
What prompts me to make a reservation at Paperbark isn't their glowing reviews as a vegan restaurant. Good gracious no. I'm not even vegetarian. It is their use of native Australian ingredients that lures me.
I find it quite disheartening that Australian native ingredients don't play a starring roll in the Sydney dining scene. Why more chefs don't showcase our unique ingredients more, I'm not quite sure. Though they are slowly creeping on to menus.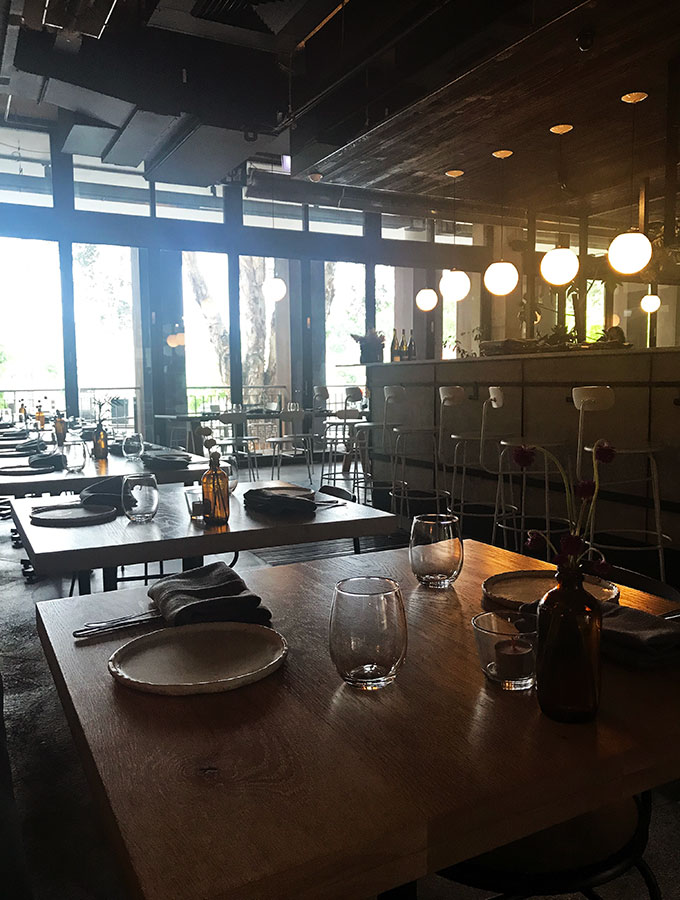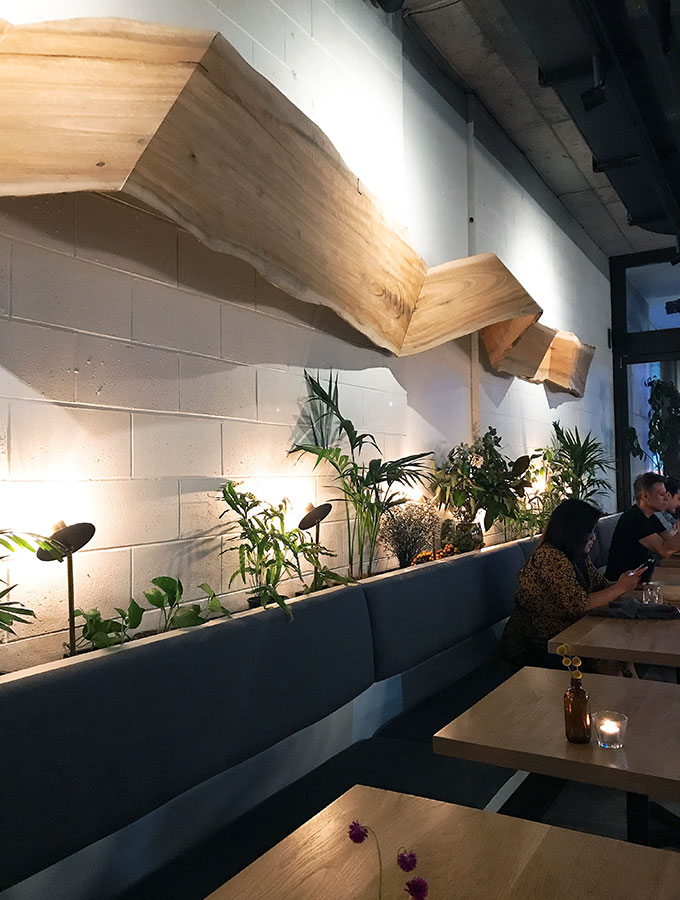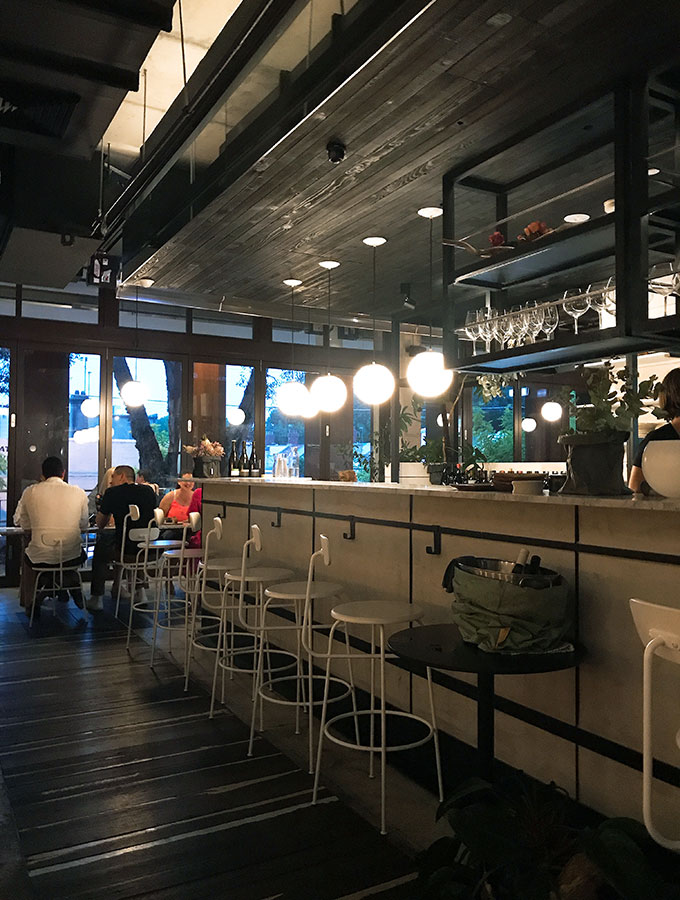 The restaurant is light, bright and airy. The large floor to ceiling glass windows makes sure of this. The slightly industrial vibe is softened by wood and greenery. A beautiful piece of paperbark art fluidly moves across the white wall of the space.
Paperbark were fantastic when catering to a special dietary need for Mac. It's a weird one, for medical reasons he can't eat hot, spicy or tangy food. It is a killer as they are all foods that he loves, but since a major operation a few years ago they are forbidden fruits.
We find as it is an unusual one, that some restaurants just don't get it or believe that it is a taste preference. Paperbark was amazing in catering to his requirements where needed while Josh and I enjoyed the standard dishes.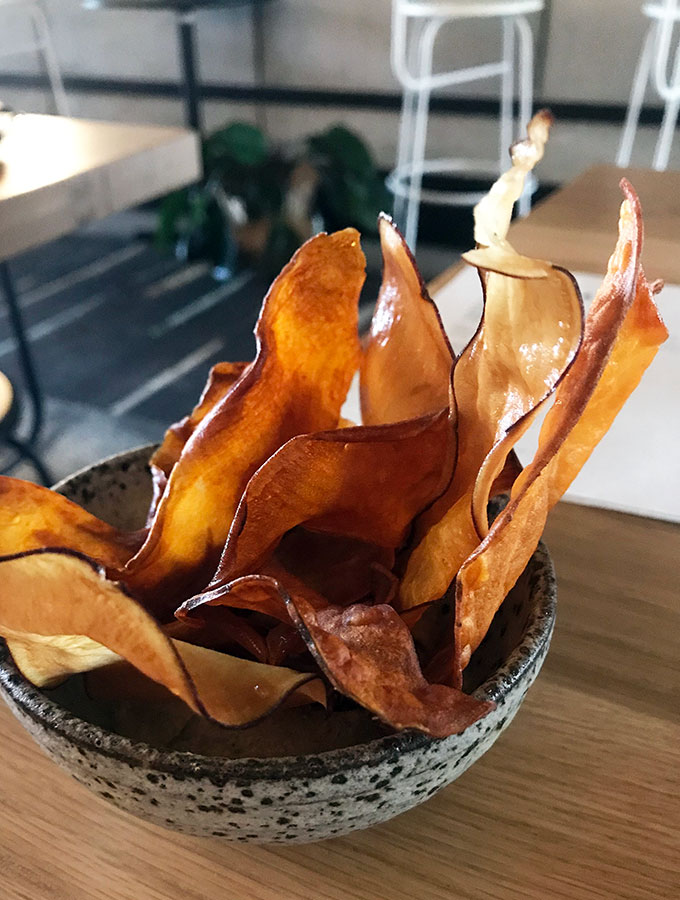 Eggplant, pepperberry dip: Thin crunchy chips sit on top of a smokey eggplant and pepperberry dip. The carnivores at our table wishfully believe that the chips look just like crispy pig ears. Ahhh the joys of bringing meat eaters to a vegan restaurant. The dip has the lovely fruity pepper hit from the native pepperberry.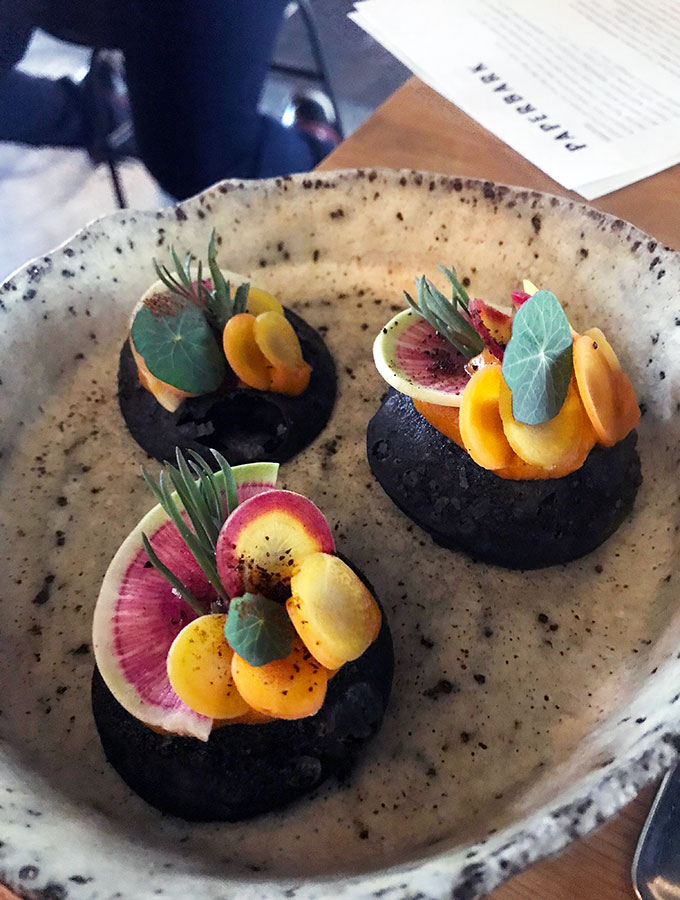 Pumpkin, wattleseed tostada: Crunchy tostadas are filled with pumpkin puree, topped with radish and a sprinkle of wattleseed.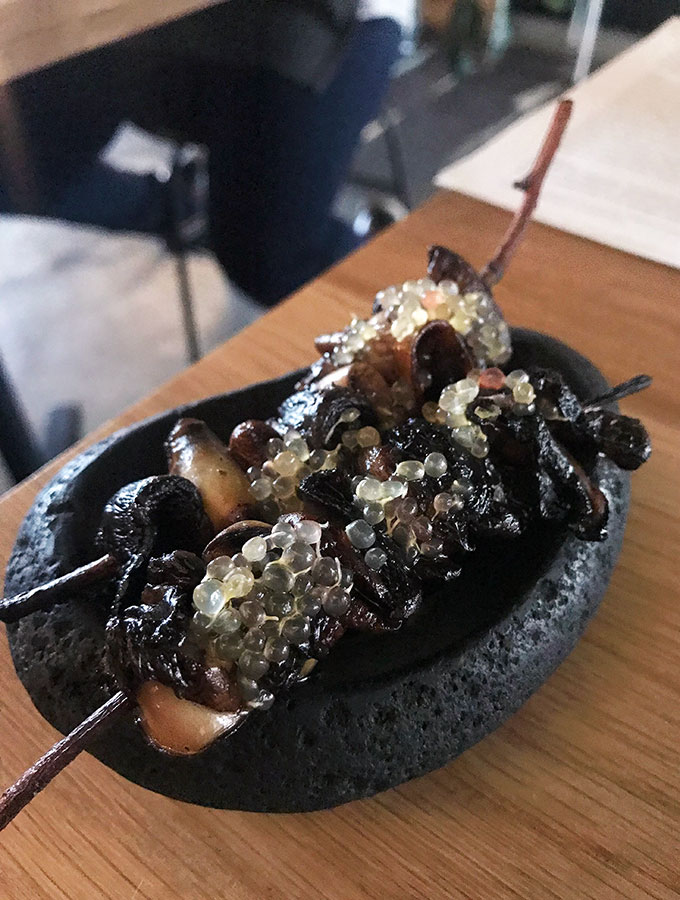 Paperbark mushrooms, macadamia, finger lime: If Paperbark Restaurant has a signature dish it has to be these mushrooms. The menu changes constantly, but these guys seem to be a permanent fixture, and for good reason. Mushrooms are skewered on to sticks and smoked in paperbark. They sit on a macadamia cream and are topped with finger lime "caviar". A subtle smoke flavour with the zingy pop of the finger lime is delicious.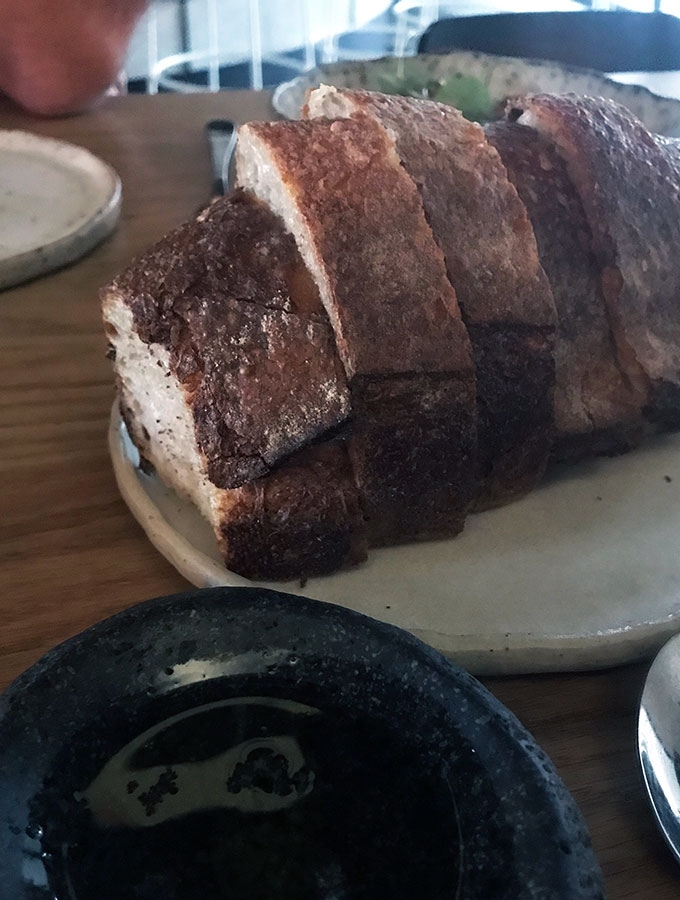 Iggy's bread, Alto olive oil: Dense and chewy Iggy's sourdough is accompanied by award winning Alto olive oil from the foothills of the Great Dividing Range.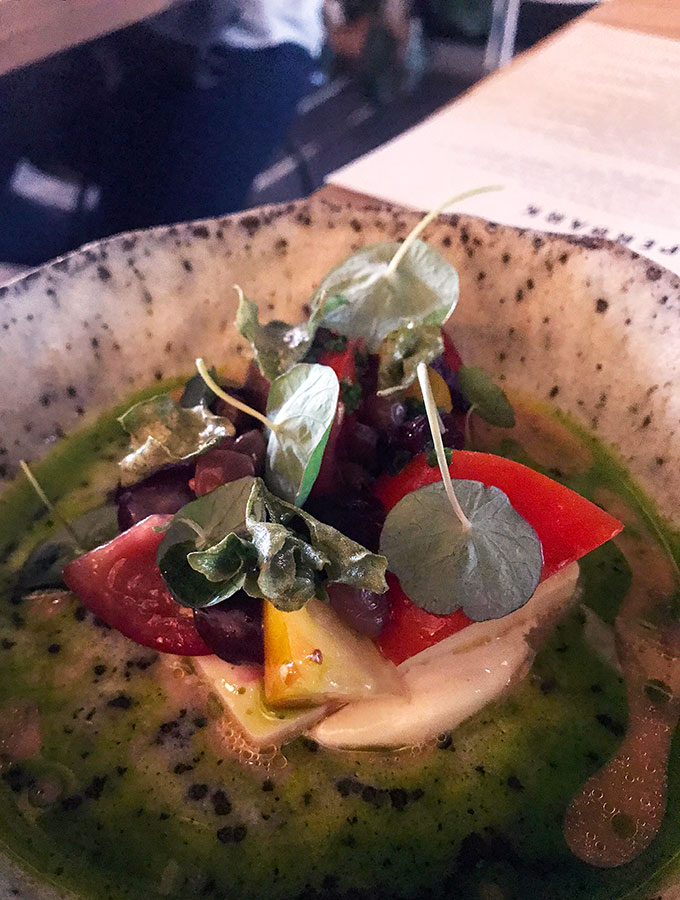 Tomato, riberry: The tomatoes have a glorious tang to them which goes well with the riberry (small leaved lily pilly). The flavour is enhanced with the addition of dried saltbush leaves.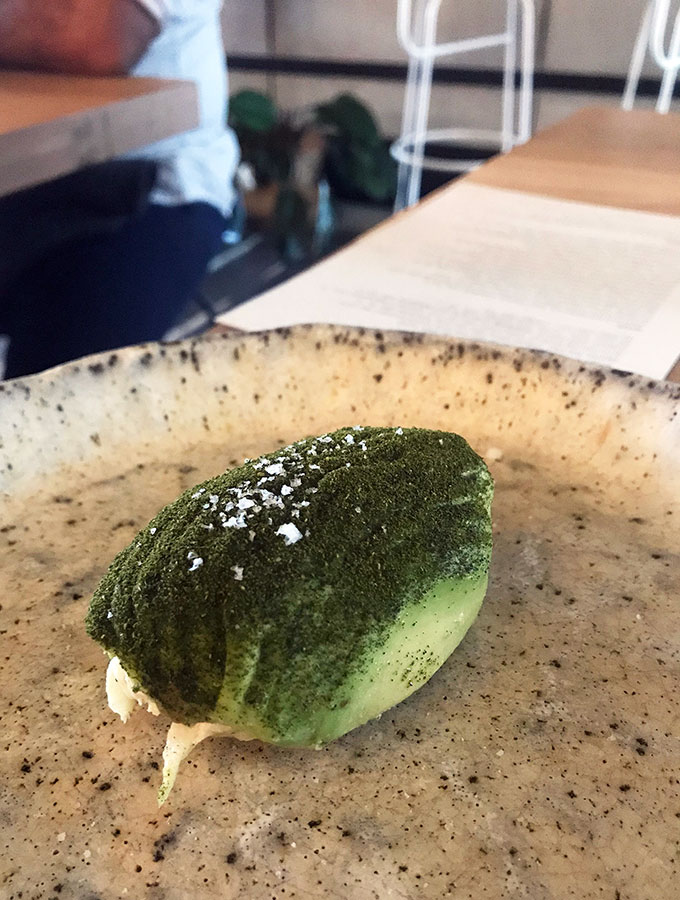 Avocado, celeriac: Perfectly sliced avocado moulds itself around smoked celeriac. The smoked celeriac reminds me of smoked salmon. The smokey package is dusted in green kale dust and a sprinkling of sea salt.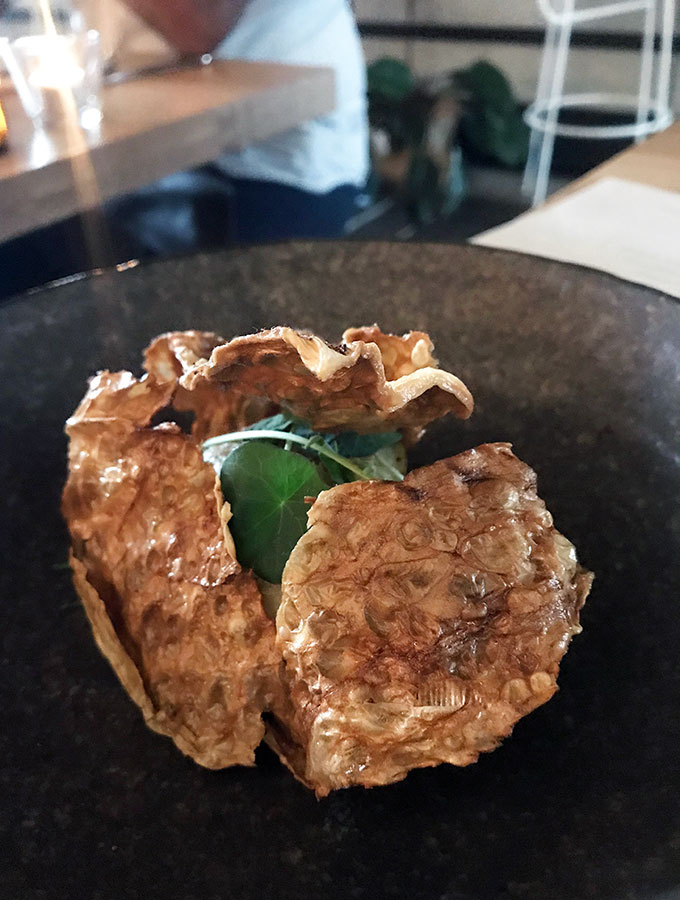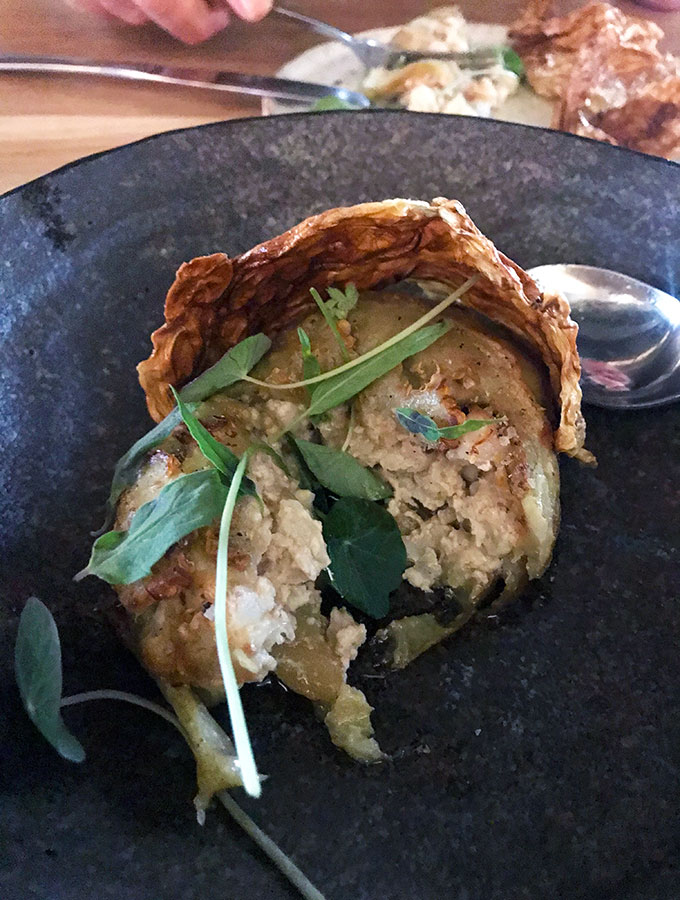 Eggplant, cauliflower, macadamia: I do love a good surprise package. Crunchy dehydrated cabbage leaves hide a parcel of cauliflower and tahini wrapped inside eggplant. The cabbage leaves are surprisingly sweet with a wattle seed crumb. The eggplant has been smoked and marinated in lemon myrtle. Native mint and nasturtium add a fresh green element.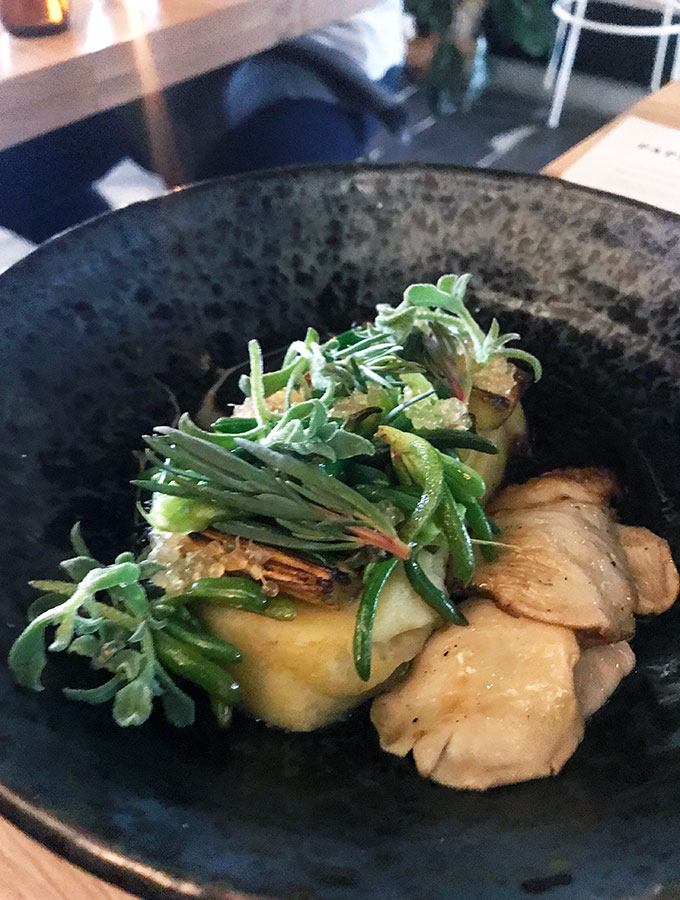 Leek, oyster mushroom, Davidson plum: Leeks are smoked in paperbark and then finished on the grill. Oyster mushrooms sit on top of potato mash. The dish is adorned with pig face, ice plant and finger lime. The Davidson plum sauce adds an addictive bitter note to the dish.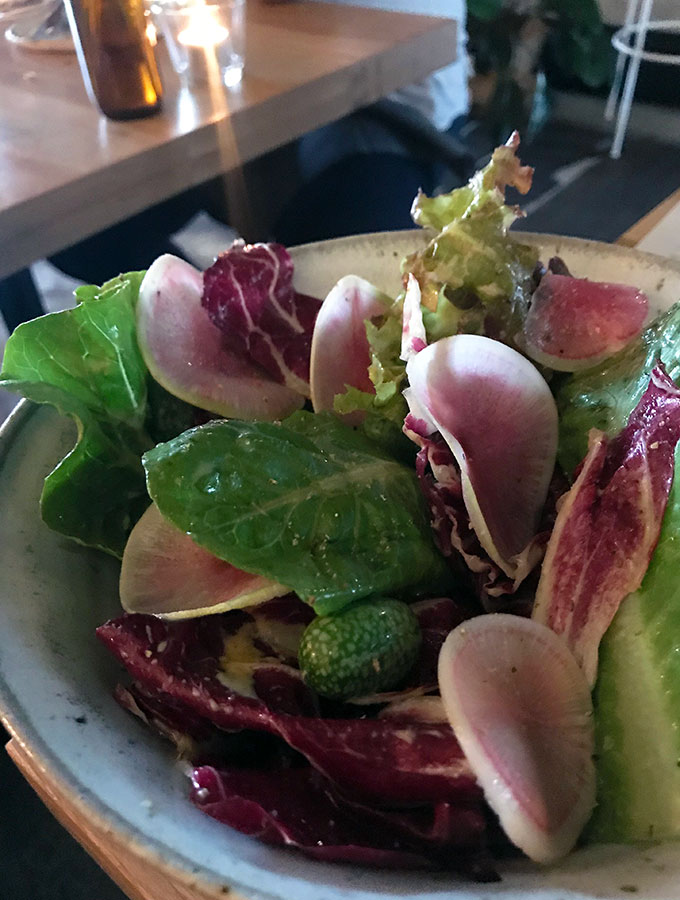 Salad: There is also a generous green salad to accompany the dishes. I'm thrilled to see the addition of Mexican watermelon cucumber and watermelon radish. We are also offered extra bread.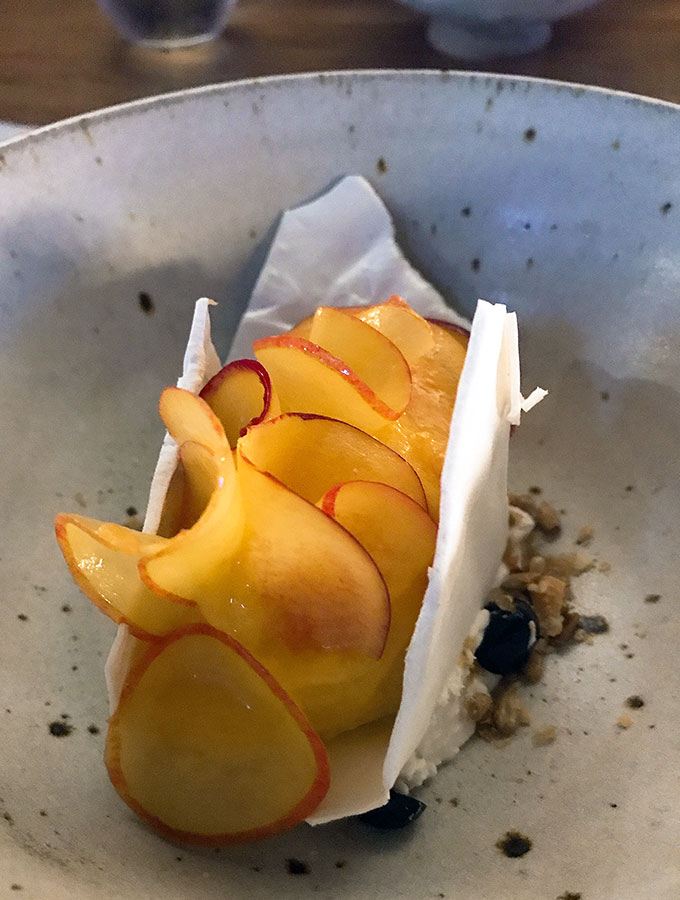 Mango, nectarine, lemon myrtle, macadamia: A very pretty way to finish the meal. Mango sorbet is hidden beneath thin slices of nectarine. This all sits on top of whipped coconut cream and surrounded by macadamia meringue shards. The meringue is made with aquafaba (chickpea water) and you can't tell that the meringue isn't made with egg whites.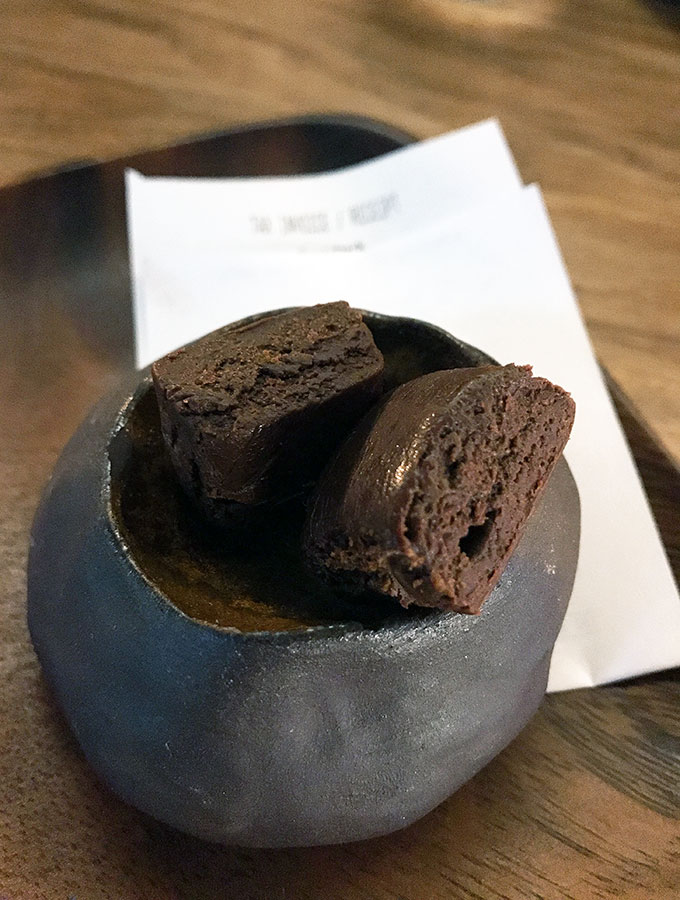 One final sweet surprise comes along with the bill, cocoa cardamom nougat.
Considering I'm not vegan, did I miss the meat? Not at all. The dishes are creative, flavourful and interesting. At the end of the eight course kitchen menu, I was incredibly full.
If you are after a dining experience that showcases native Australian ingredients then Paperbark restaurant is a definitely worth a visit.
Sara xxx
Paperbark in a nutshell
Paperbark Restaurant describes themselves as a plant based restaurant working with small scale producers, minium intervention wine and supporting native Australian ingredients.
8 course kitchen menu $95/person, Monday, Wednesday – Saturday
3 course tasting menu $55/person, Monday, Wednesday +Thursday
Bar menu Monday, Wednesday – Saturday
Must try: Paperbark mushrooms
BYO: No, but they have an all Australian wine list and creative cocktails.
Bookings: Highly recommended, but they do take walk ins.
Contact: +61 2 9310 1356 – 8/18 Dank St, Waterloo (entrance on Phillip)
www.paperbarkrestaurant.com
Other Sydney Restaurants you'll love
Yellow – Vegetarian restaurant also offering a vegan menu in Potts Point
Bodhi – Vegetarian dim sum and Chinese classics specialising in faux meat
JPB – Emphasis on local Aussie ingredients and they have their own bees
Boathouse on Blackwattle Bay – This is the place to try Aussie oysters
Solander Dining & Bar – Aussie native produce with vegetarians well catered for
PIN ME TO YOUR MUST VISIT BOARD