Paul's 'famous' Hamburgers has been around for ages.  Since 1957 actually, when Paul and Katina Zerefos established a mini-market/milk-bar and burger shop on the present site.  Today only the burger shop remains.  Did you know that Paul actually never made a hamburger?  It was his wife Katina that devised the famous burger recipe.
Katina and her children were the driving force behind the burger shop.  Originally it was only burgers that were made, they specialised in them.  Eventually the menu expanded to include milkshakes, hot chips and their signature freshly 'squeezed' pineapple crush.
It has been a long time between visits to Paul's, many years, well over ten.  When we first moved to The Shire 20 years ago, Paul's was our go to burger joint.  We really loved the burgers, but then something happened, in 1998 new owners took over.  We ventured back a couple of times but the burgers were never the same, so we stopped going.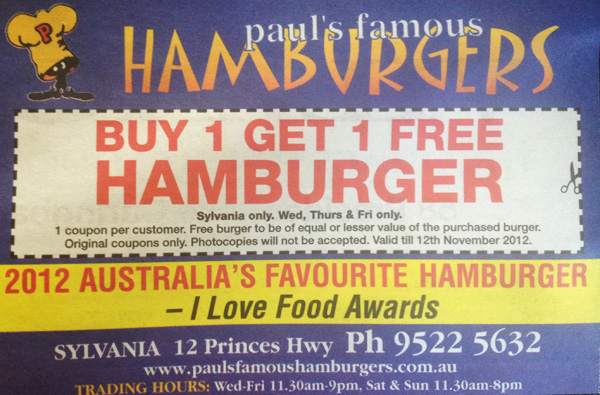 In one of our local papers recently there was a two for one coupon for Paul's.  I noticed that it also stated that they were voted Australia's favourite hamburger for 2012 in the 'I Love Food Awards'.  I took this as a sign to visit a once favourite burger joint in my 'quest for decent eating' in The Shire.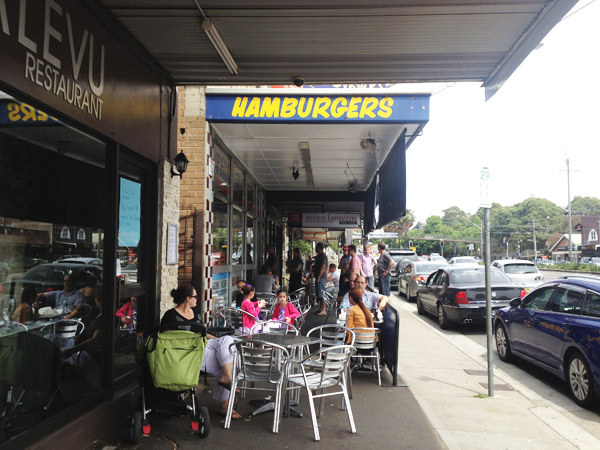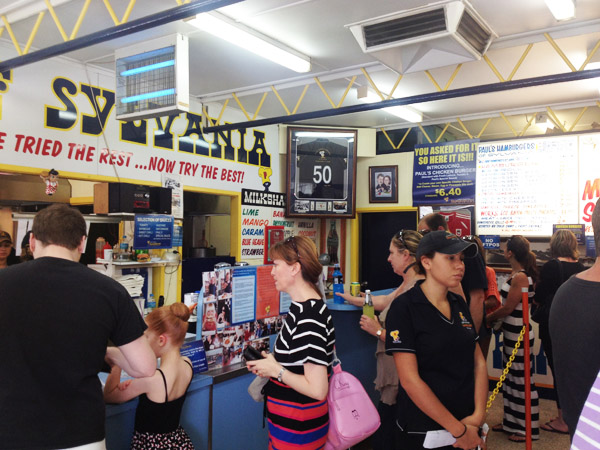 Paul's is a busy place.  On the weekends people are lined up out the door.  Don't let this factor deter you from a visit as the line moves quickly, their system runs like clockwork.  Your order is taken while you are in line.  By the time you reach the counter your food has been freshly prepared by the assembly line of six people.  You pay, collect your food and then you are out the door on your way.  There are a few tables out the front if you wish to eat there.  Alternatively you can walk down to a small park under Tom Ugly's Bridge and sit on the grassy banks of the Georges River as you eat.  Or you can do what we did, as we live locally, take it home.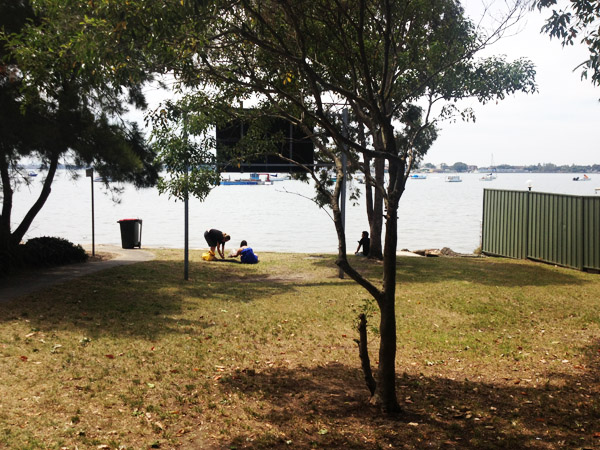 All burgers are served on a soft seeded bun with iceberg lettuce, tomato, raw onions and tomato sauce.  There are optional extras at no extra cost, beetroot, cooked onions and a selection of sauces.  There are other extras available at a price, egg, bacon, cheese and pineapple.
The noticeable change I see since my last visit many years ago is the addition of chicken burgers to the menu, everything else is the same.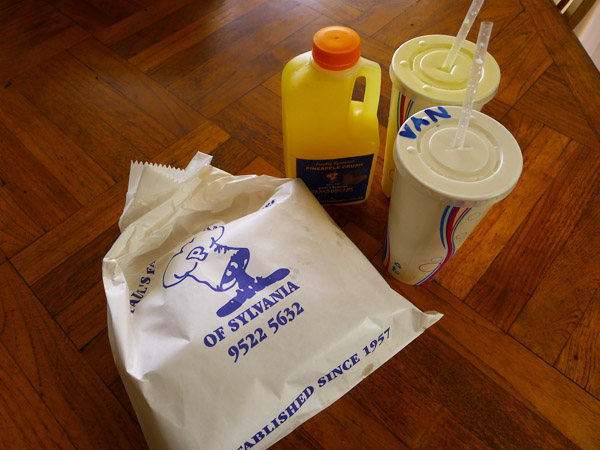 We order a pineapple and a vanilla malt shake ($4.20) as well as one litre of pineapple crush ($4.80).  There are 15 shake flavours on the menu, my first choice of coconut wasn't available.  The shakes are great, cold and creamy.  The pineapple crush is how I remember it, sweet with a slight tang and has noticeable crushed pineapple chunks through it.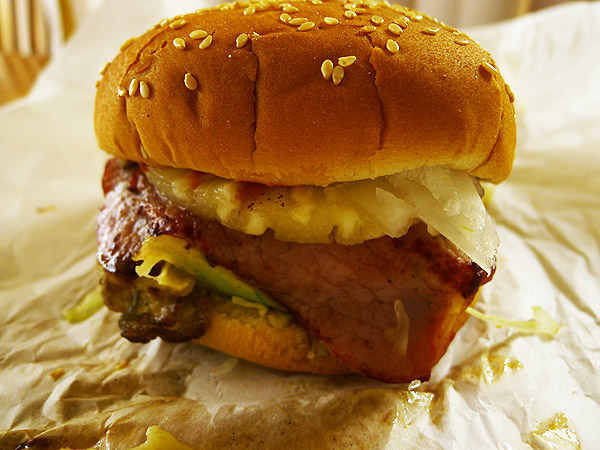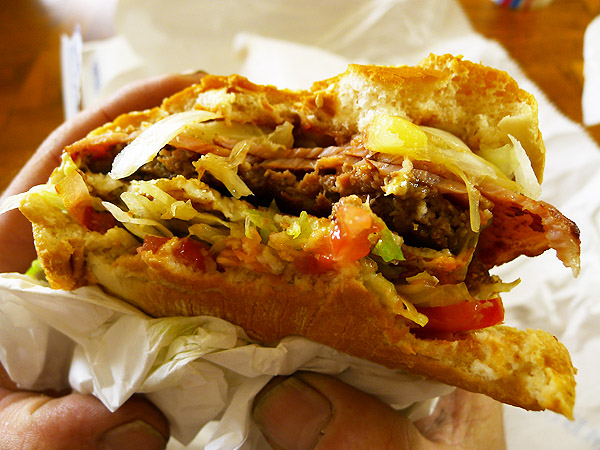 The works burger has the standard filling plus egg, bacon, cheese and pineapple ($8.60).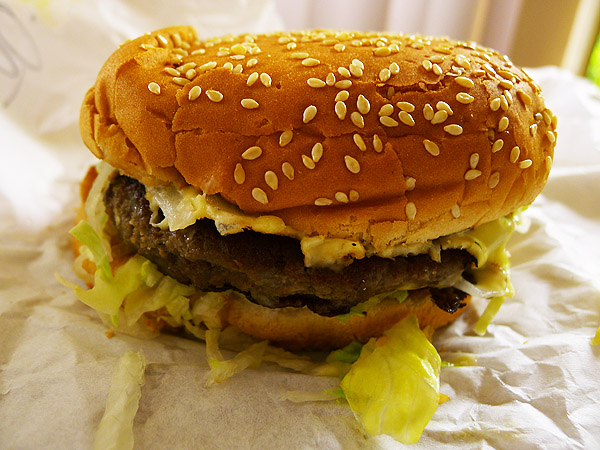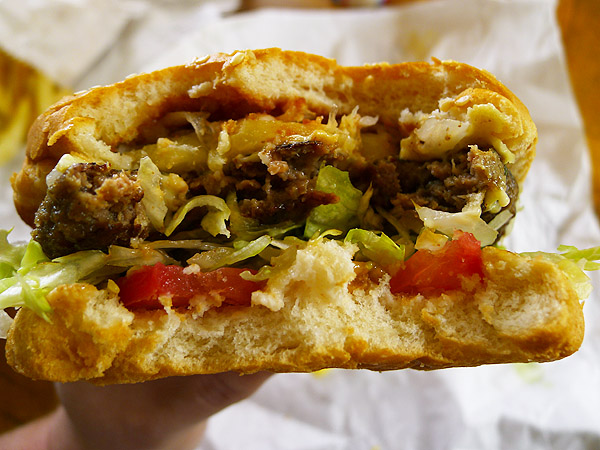 Cheese burger with pineapple, has the addition of cheese and pineapple to the standard filling ($7.20).
I really don't know how these can be Australia's favourite burgers.  They aren't that great.  I find them slightly sloppy as the bun is only slightly toasted (if at all), which means it gets very soggy towards the end.  The beef patty, to me, seems to have filler in it.  I suspect this due to its soft texture, and lack of taste.  The pineapple is also void of any distinct flavour.  Thank goodness for the raw onions and the bacon on the works burger which give the burgers a flavour boost.  Sadly my two for one voucher wasn't valid as it was a Sunday.
Would I recommend?  I wouldn't recommend trekking across Sydney for one of these burgers.  If you are in the area and want a burger, give them a try, everyone's taste buds are different.   Will I be going back, no, there are better burgers to be had.
Dear Belly Rumbles' reader, have you tried Paul's Famous Hamburgers?  What did you think, are they the best burgers in Australia?
Sara xxx
Paul's Famous Hamburgers
12 Princes Highway, Sylvania
Tel:  +61 (2) 9522 5632
www.paulsfamoushamburgers.com.au
Other Shire Reviews

Inc Cafe, Cronulla (2012)
Ham, Cronulla (2012)
The Teahouse, Camellia Gardens, Caringbah (2011)
Swiss Quattro, Sylvania (2011)
Mike's Grill @ The Crest Hotel, Sylvania (2010)
Summer Salt, Cronulla (2009)