First of all, those closest to me will probably faint at the above photo. For those that don't know me intimately, I don't drink beer.  I didn't start to enjoy coffee until I was in my mid 20s, so there is hope for me yet.  Over the years I keep trying but it isn't my cup of tea.  I have been known to drink beer, once taking a swig from my Dad's draught in Japan when I was hot and thirsty and other times I am not going to mention here, let's just say I hope those that witnessed the events were too drunk to remember.
So why am I holding a cold glass of Coopers Pale Ale?  Oh and by the way I did more than hold, I had a few sips as well.  I was drawn by the pie that accompanied this pale amber liquid.
During Crave Sydney International Food Festival, Coopers Brewery is holding the Coopers Pie n' Pale Challenge.  Various establishments around Sydney are putting their best gourmet pie forward via a $20 pie n' pale special.  Could you get any more Australian than a pie and beer for lunch or dinner?
Beside chowing down on a great meal deal during the month of October you can also be part of the action by voting on your favourite pie for the People's Choice Award via an iPhone Ap.
When I think of pubs, I instantly think of pub crawl.  They were popular when I was young and stupid many many moons ago.  Now I am older and more mature, I thought what about a pie crawl?  Who better to join me trying various pies around town than the one and only  Josh Vs Food, the resident stomach at Belly Rumbles.  Bonus Josh also drinks beer so was able to enjoy some of Coopers on offer.
With iPhone Ap downloaded, our first stop on our pie crawl was the Pyrmont Point Hotel.  As soon as I saw they had a Nepalese Billygoat pie as their offering, I knew I wanted to try it.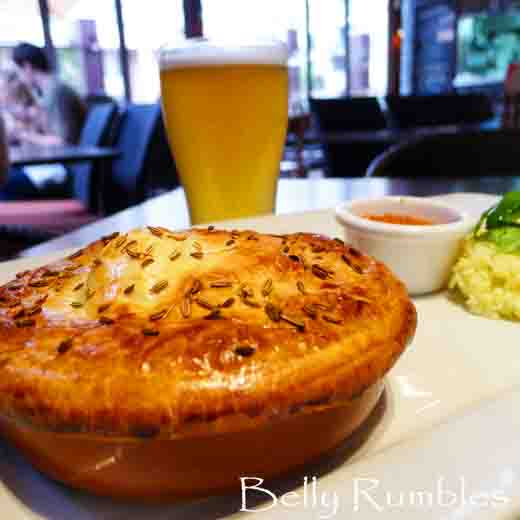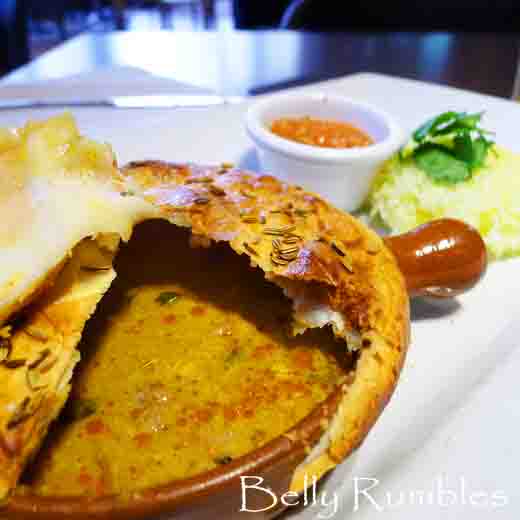 The pie is what I class as a pot pie and served with saffron rice and tomato relish.  At first both Josh and I were wondering why there was rice on the side, but once we broke away part of the pastry topping it became apparent.  The filling was very liquid, even more so than what I expect a curry to be, a spoon would be needed to eat the soup like mixture.  Once the rice was added you were able to scoop it up with your fork and pieces of the crisp fennel studded pastry shell.  The filling was spicy with whole cloves and cardamom and had a mild heat to it.
Next stop was The Grand Hotel, part of the Merrivale Group.  It is a quaint little pub with lots of rich warm wood, I imagine it would be very popular with city workers for lunch.
The idea of our pie crawl was to share a pie at each establishment, otherwise it would of been just way too much food.  The chef at The Grand was extremely generous and two pies turned up for Josh and I to try.  The pie offering at The Grand is a massive one, definitely a fantastic deal with a beer included.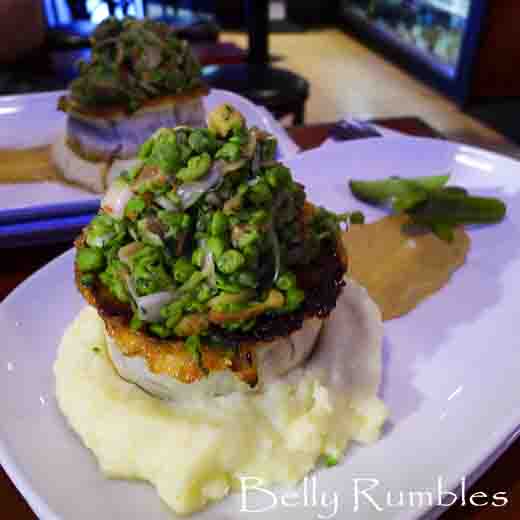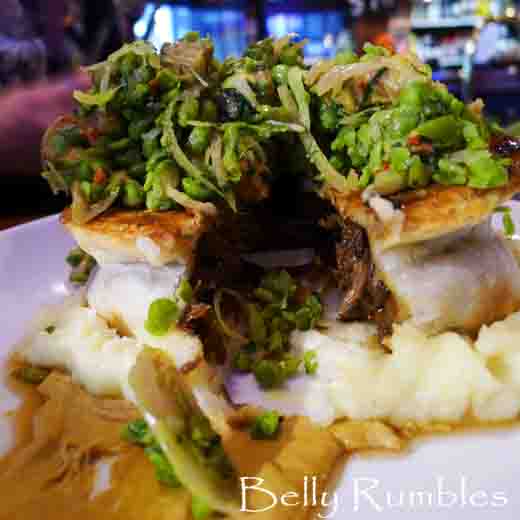 A beef pie topped with sautéed peas, chunks of bacon and shallots sitting on top a generous serving of mashed potatoes, with mustard and gherkins on the side.  This is what I call a man's meal.  The beef filling was extremely tender but slightly sweet with carrots.  The pastry was excellent with a lovely  flaky lid,  very enjoyable.
Talking to staff we find out that the pie has been extremely popular with their lunch time crowd, I can see why, such a generous offering.  Sadly Josh and I hardly do it justice by not eating it all, we had one more pie to try.
Waddling away from The Grand we head to our third and last destination on our pie crawl, the Arthouse Hotel Sydney.  I am no stranger to the Arthouse, have dropped in for a drink many times, but I have never actually eaten there.  The pie n' pale deal is available in the main bar area but Josh and I find ourselves in The Dome restaurant upstairs for our pie tasting.   
It felt a little strange sitting in The Dome's fine dining establishment to have a pie, but here we were with the white linen and silverware.  Actually I will be heading back to The Dome to try out their regular menu, quite taken by the ambience of the establishment and their extremely helpful happy staff.  Plus I was very impressed with their pie.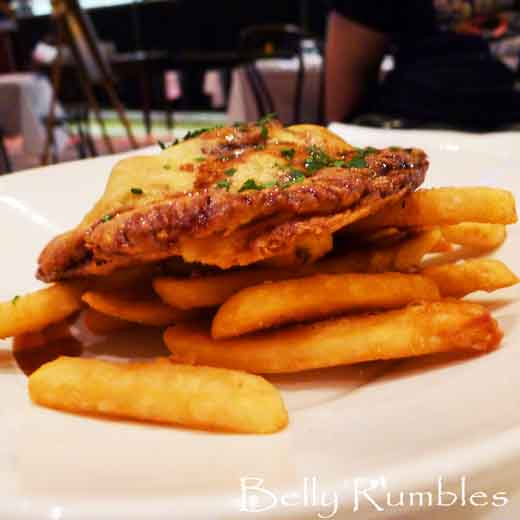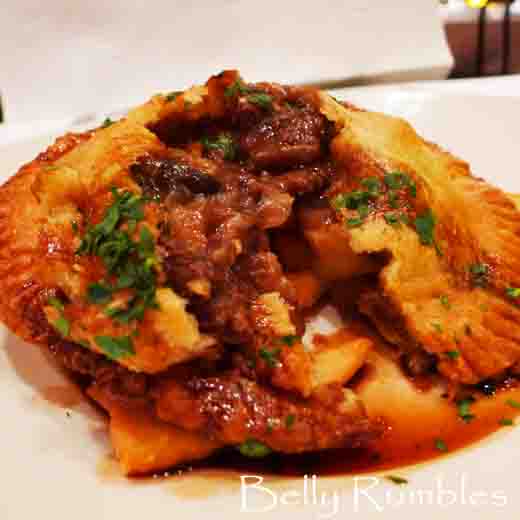 The Arthouse offering is a Northern Territory Buffalo pie.  Josh and I were both in agreement, the best pie of the day. The filling of big tender buffalo chunks, carrot, potato and mushroom was delicious.  The pastry is amazing, when talking to the Chef I find out that it is made with crème fraiche, the pastry is so light, flaky and tasty.  The pie is served on large crisp fluffy chips with a light gravy.  The Arthouse got our vote as our favourite pie.
There are 25 establishments involved in the Pie n' Pale Challenge.  There are a couple of other pies that caught my attention, Paddington Inn's "rabbit pie with celeriac puree and gooseberry jam" as well as the Welcome Hotel Rozelle's "the drunken piglet".
To find out more details have a look at the Coopers site and download the iPhone Ap.  The Ap has all the information about the pubs are offering and where you can find them, it also allows you to vote for your favourite.  One word of warning, some of the pies have been matched to the wrong hotel in the Ap and advertising.  If you are going to an establishment for a particular pie I suggest you ring ahead to confirm their offering.  The Grand Hotel is listed as having a chicken pie which is not the case.  I also found the Ap to be a little buggy but made voting easy.
Your vote will go towards the overall judging which will include votes by Colin Fassnidge (Head Chef, Four in Hand), Mikey Robbins (comedian), Joanna Savill (Editor, Sydney Food Guide) and Glenn Cooper (Cooper's Executive Chairman). Beside voting to have your favourite pie come out in front you will go in to the draw to win a luxurious harbour cruise for yourself and three friends.
So do tell my dear Belly Rumbles reader, what would be your ultimate pie filling?
STOP THE PRESS:  Happy to announce that the eventual winner of the pie comp was Belly Rumble's favourite pie, the Northern Territory Buffalo pie from The Arthouse.  Congratulations guys!!!
Sara xxx
Sara & Josh went on their pie crawl with many thanks to Katie from Frank PR, Pyrmont Point Hotel, The Grand Hotel and Arthouse Hotel Sydney.