Pies, winter, Southern Highlands, that must mean it's Pie Time. During June the Southern Highlands of NSW are paying tribute to this Aussie icon. With more pies and events than you can poke a sauce bottle at.
What would Aussie life be without pies? We love our sport and we love our pies. Could you imagine any kids sporting game or major sporting event where there weren't pies?
Over the age of 40? Then I am sure you will remember a catchy jingle on the TV in the 70's. "Football, meat pies, kangaroos and Holden cars", the four things that General Motors Holden deemed were Australian back then. It was a jingle on everybody's lips, not a bad bit of patriotic marketing at the time, and one of Holden's most popular pieces of advertising.
Being in the age demographic that happily sang that jingle in the 70's, Pie Time and I are a perfect fit. Last weekend Mac and I headed to the Southern Highlands for 36 hours of "pielicious" fun and to experience Pie Time first hand.
Gumnut Patisserie Mittagong
After a 1.5 hour drive from Sydney we are in Bowral. Really not long at all, and I think "why don't we head to the Southern Highlands more often?"
First port of call on our Pie Time trail is Gumnut Patisserie located in an industrial area of Mittagong. This is Gumnut's HQ, they also have two other retail outlets. It's busy, with locals coming and going as they pick up freshly baked supplies on this cold winter Saturday morning.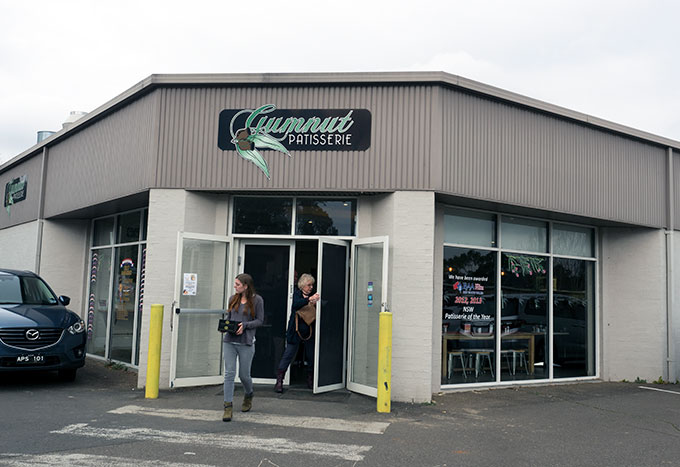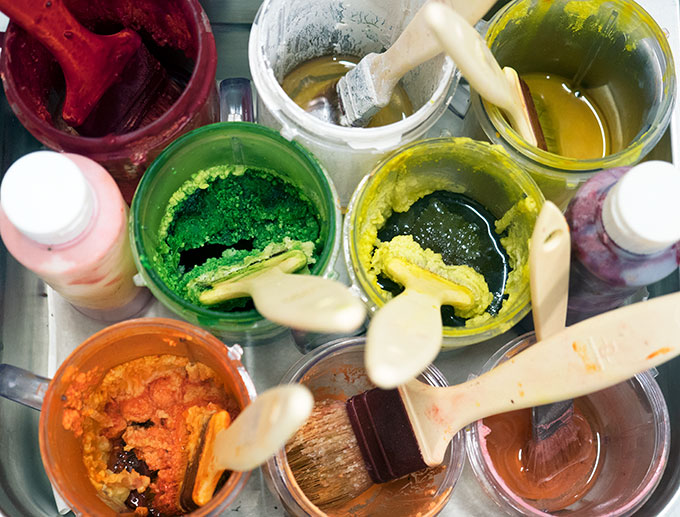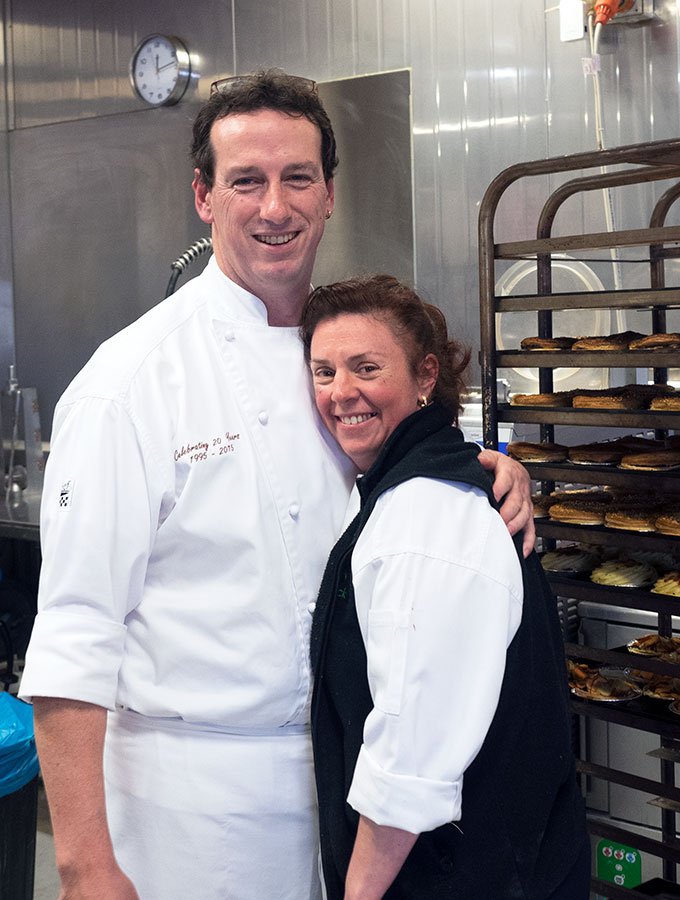 We are here to see pastry chef owners Tracy and Vicki Nickl about pies. A little pie education and tour of their bakery. Even though they bake 3,500 pies a week, pies are not what Gumnut is known for, they make incredible cakes and tarts. This Saturday alone they have baked 2,500 sweet tarts to get them through the weekend.
Tracy isn't a local boy, he grew up in Western Sydney and was educated at Sydney's Hospitality and Commercial Cookery hub, Ryde Tafe. Why Bowral? It's all about the climate, Bowral has the perfect climate for pastry making.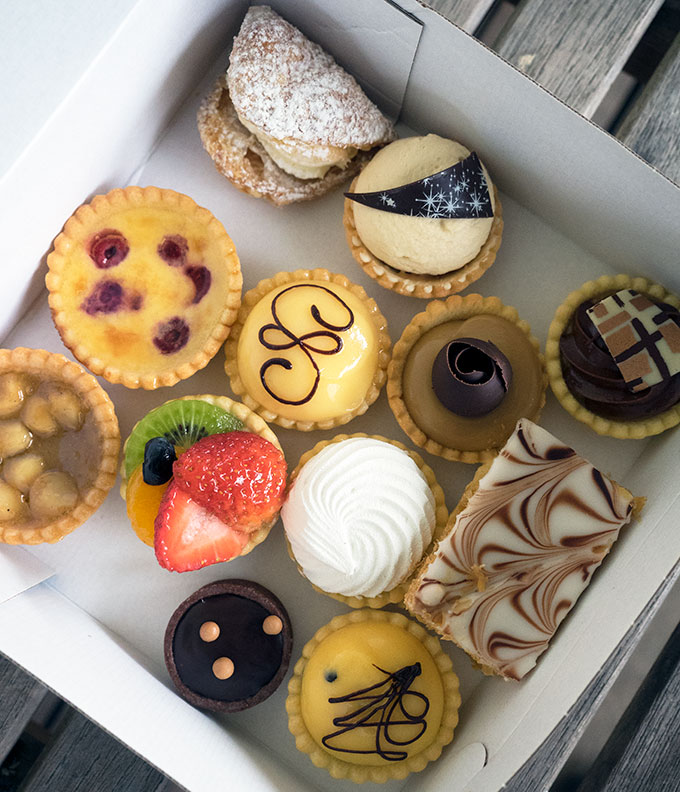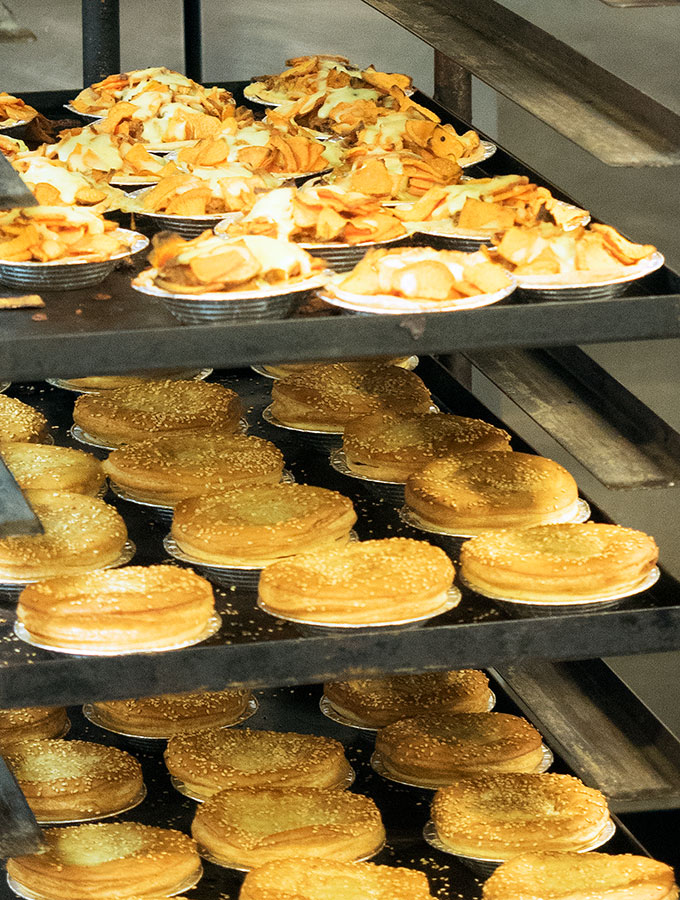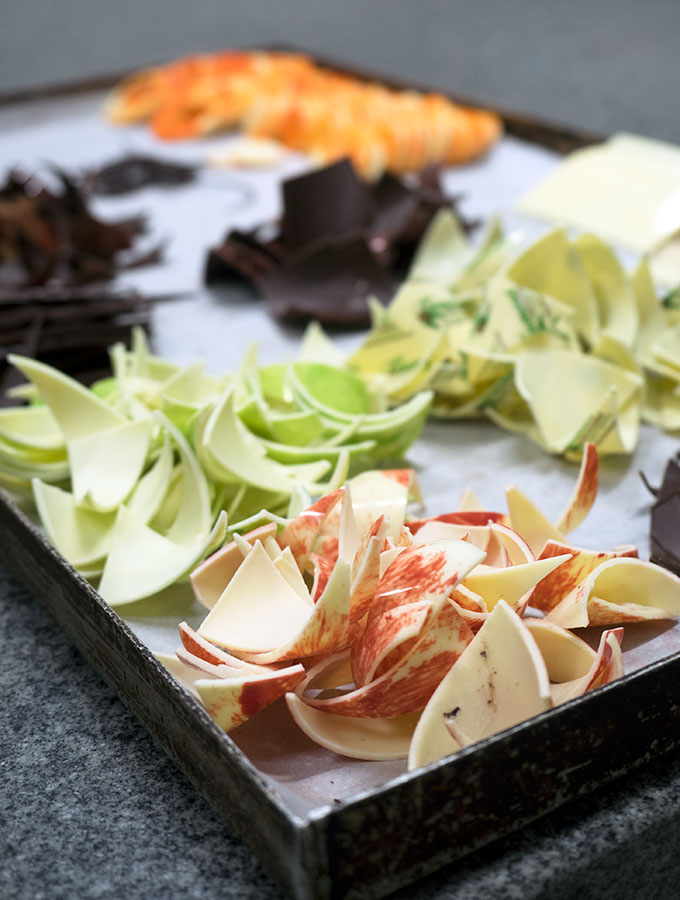 Passionate about what he does, and so is his partner Vicki, Tracy only uses butter in his pastry. Staying far away from the industry of margarine. "Pastry is a privilege of life", he happily tells me, and that he wants everyone to eat good butter pastry as least once. I couldn't agree more.
Everything is made from scratch on site. The kitchen smells so inviting with the scent of baked goods wafting through the air.
They make 16 different types of pies through out the year. Some of the flavours are seasonal. Due to an older population in the area, steak and kidney is a firm favourite as well as a traditional meat pie.
Gumnut's Pie Time pie: Eden Pie, lamb pie with sweet potato mash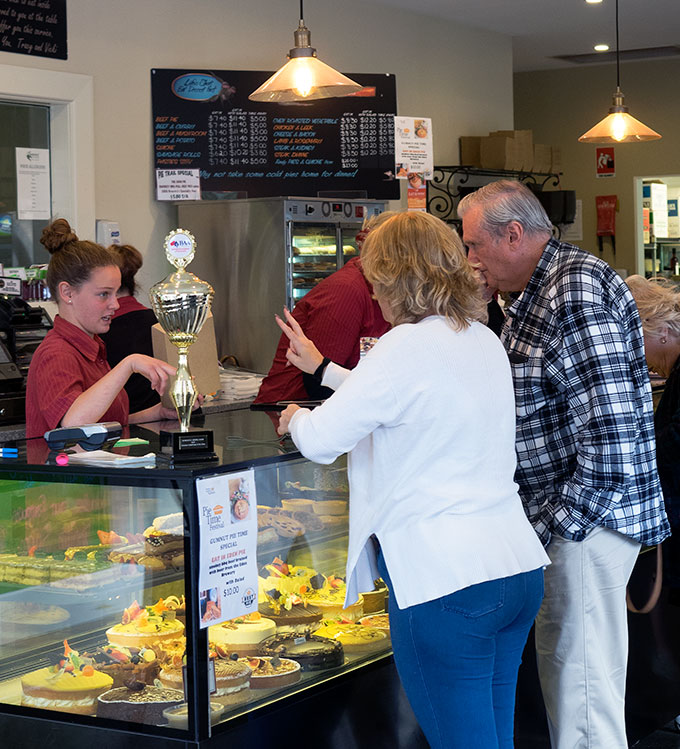 Centennial Vineyard's Restaurant
With a selection of Gumnut's pies and tarts in hand we head to Centennial Vineyard's Restaurant to try their Pie Time offering for lunch. A short drive from town and we are in the rolling vineyard of Centennial.
We stick our nose in the cellar door, but it is crazy busy and give it a miss to head straight to the restaurant. A large space, wooden with cathedral ceilings, and reminds me a little of a ski chalet. The large fireplace at one end cements this idea. It is warm and inviting in contrast to the cold and miserable day outside.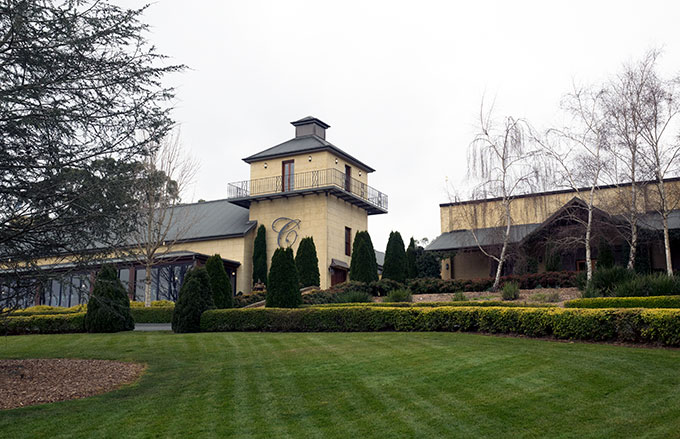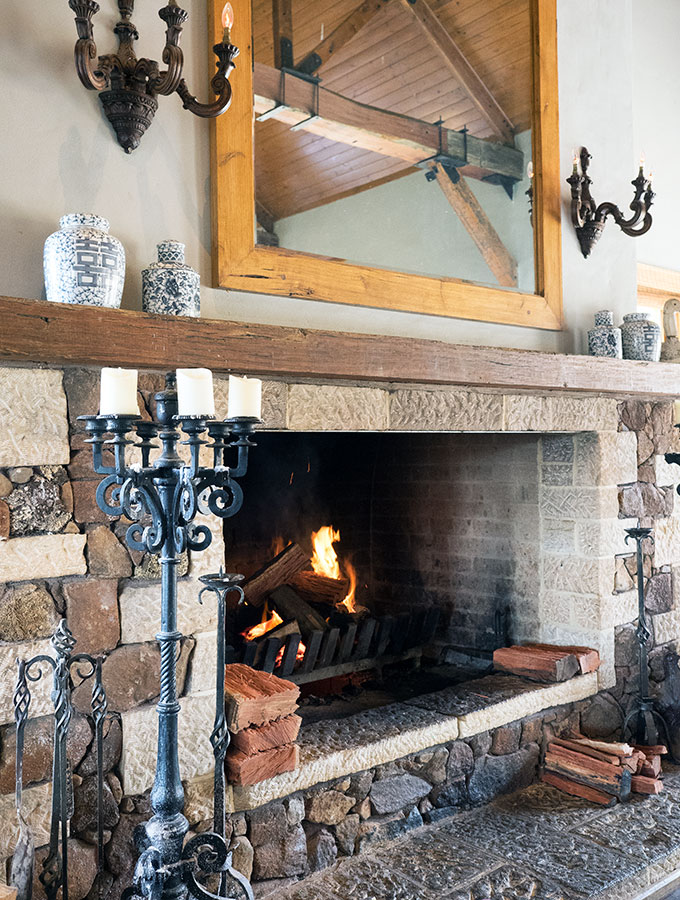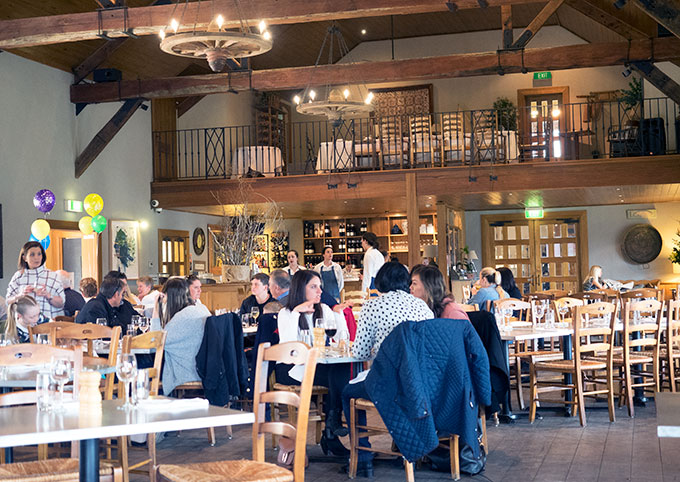 A couple of surprise dishes from the chef start our lunch off. First a curry pumpkin soup amuse, which is then followed by egg and local black truffles on toasted brioche. Both these dishes are delicious pallet warmers to the main event.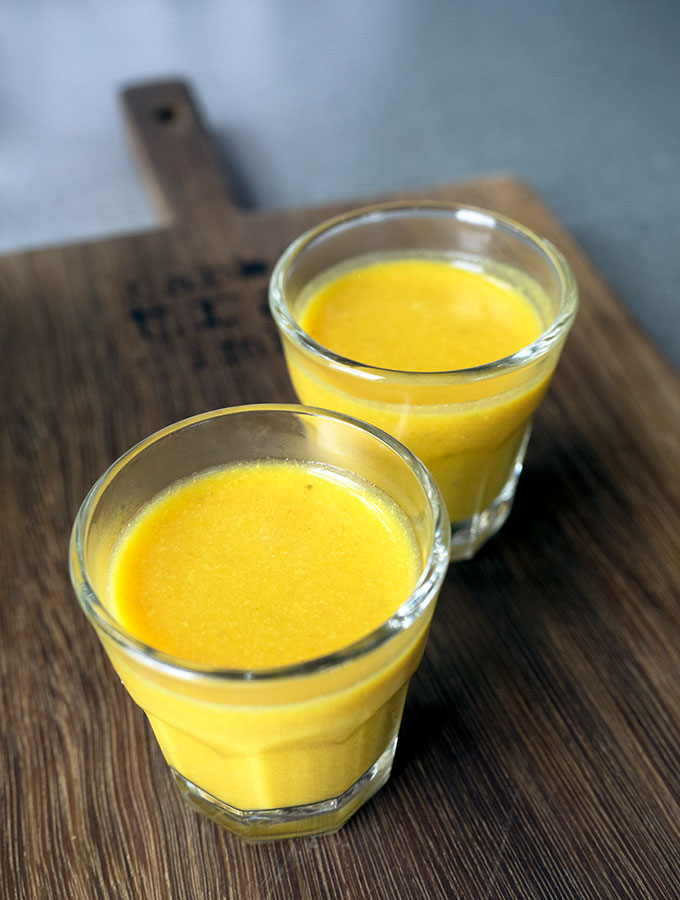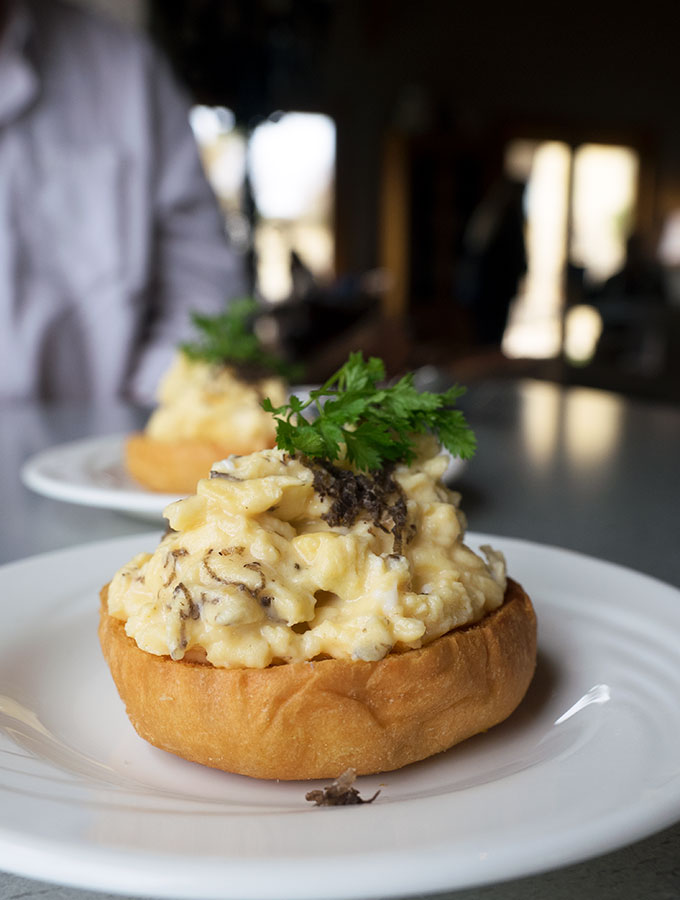 For Pie Time, Centennial's signature pie is a Merlot and Highlands Beef Pot Pie, baked under puff pastry with baby carrots, cabbage puck and tomato relish ($34). This is served with a glass of Centennial's Quattro Rosso.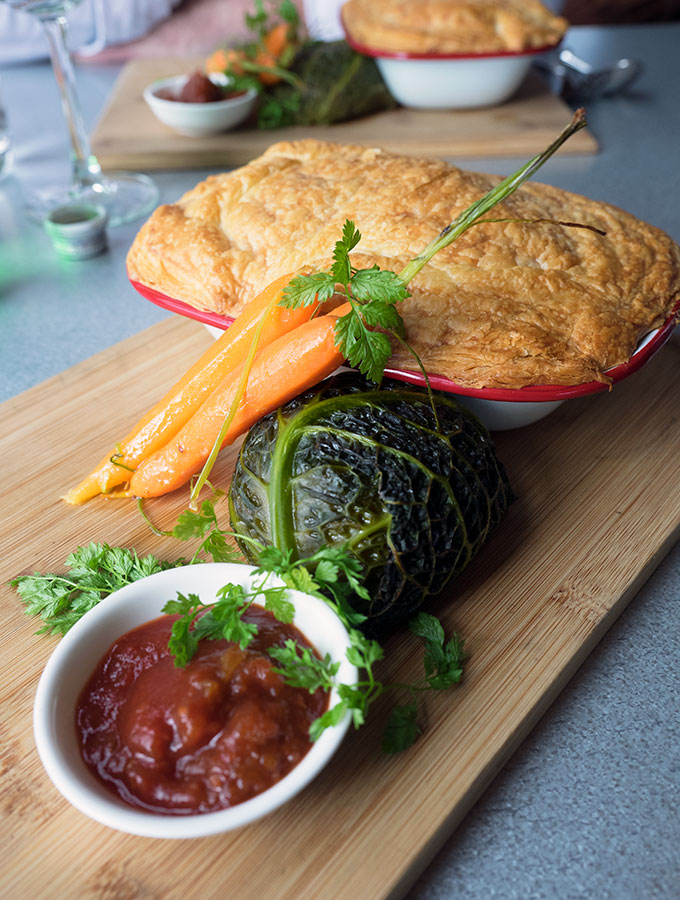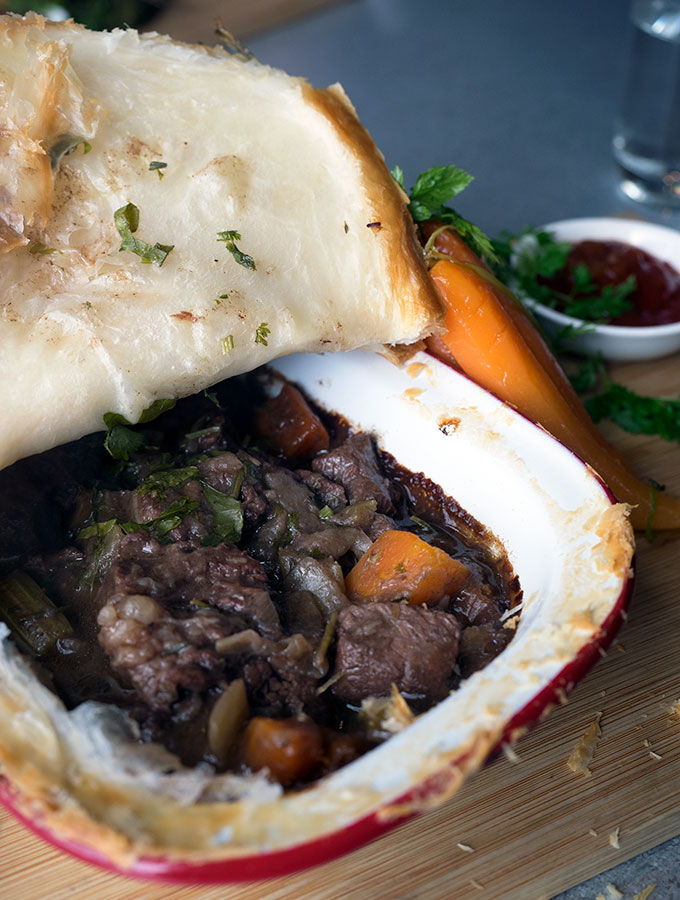 The pie is filled with chunky beef and vegetables. I am intrigued on what the cabbage puck is, it ends up being sauerkraut style cabbage wrapped tightly in a cabbage leaf. It is the perfect side to the hearty pie.
Centennial's Pie Time pie: Centennial Merlot & Highlands Beef Pot Pie + glass of Centennial Quattro Rosso.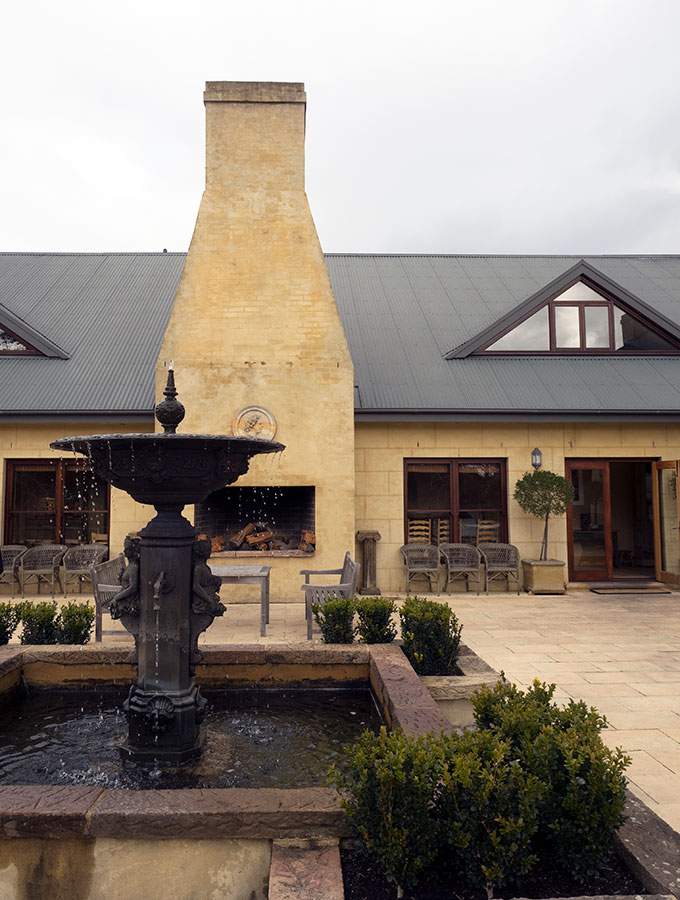 Bradman Museum & International Cricket Hall of Fame
Sport and pies, do go well together. Therefore it is no surprise that there is a Pie Time pie on offer at the Bradman Museum & International Cricket Hall of Fame's café Stumps.
Before heading to Stumps Café we have a tour of the museum and hall of fame. I admit I'm not a cricket fan and wasn't looking forward to this stop on the itinerary. My lack of love is probably due to numerous summers in my youth where the only thing on the idiot box during the day was. I would sit, escaping the summer heat with my dad and mentally will somebody to get a duck.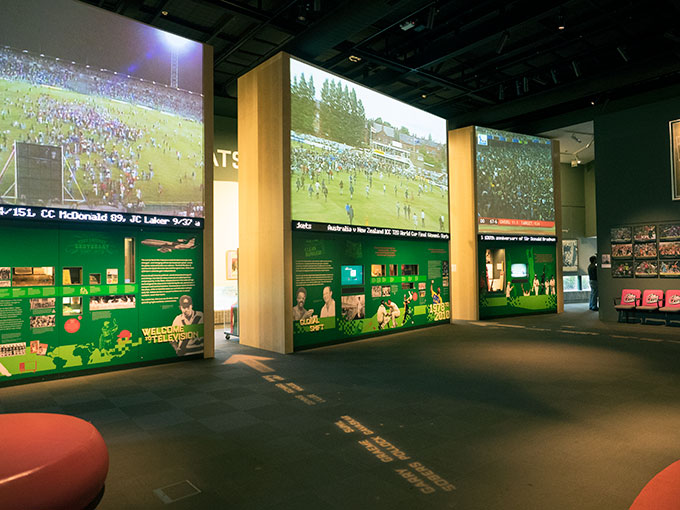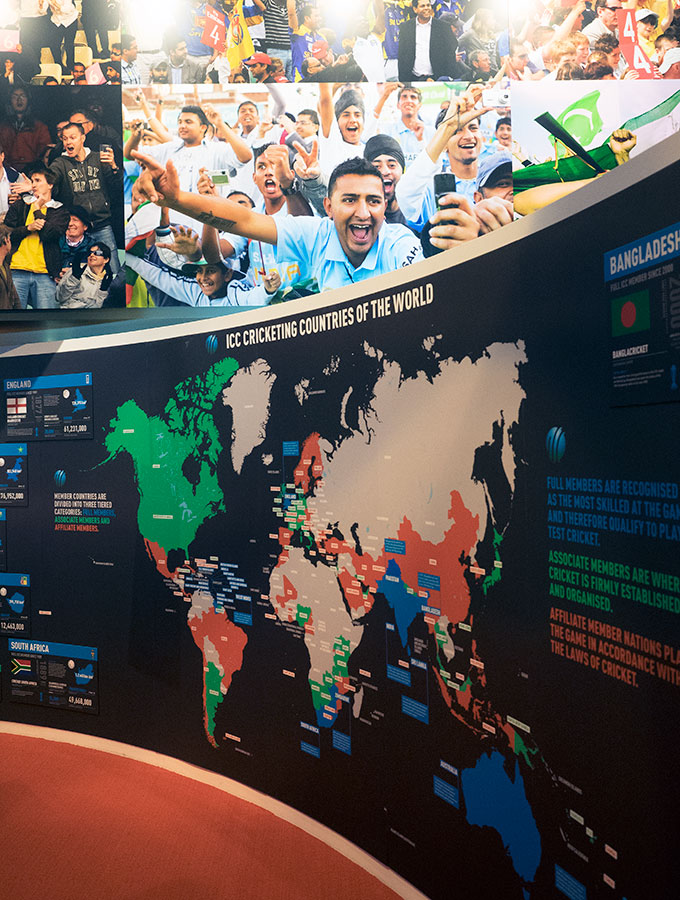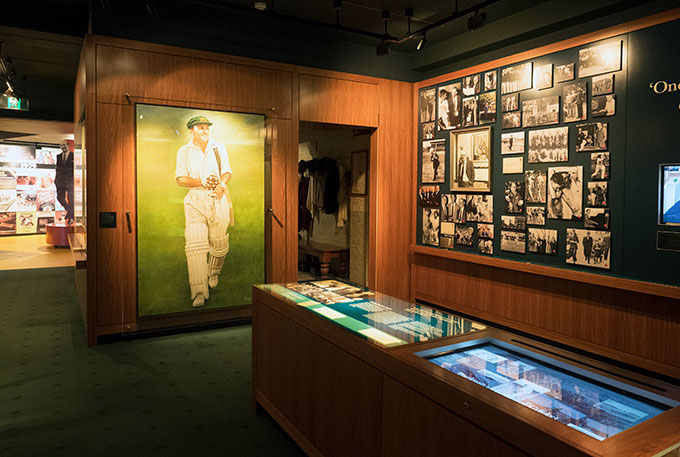 My only excitement was seeing a cartoon duck stroll sadly across the TV screen for a few seconds. As dad sat there cursing under his breath I would be thrilled to see the arrival of the duck.
I hated watching it, but playing street cricket, or I should say paddock cricket, was a whole different thing. I loved it!
You would think with all those endless hours watching cricket with my dad that I would know a thing or two about cricket…….. Nope.
Tina is our enthusiastic guide taking us around the museum and hall of fame. We start in the "learning" room, where I think Tina would have been quite happy to leave me. She is a fountain of information and when she talks about the first Women's One Day International World Cup in England that I twig. Tina was one of those pioneering women that played back in 1973. I feel rather honoured that Tina Macpherson is taking time out of her day to show me around and share her passion for cricket.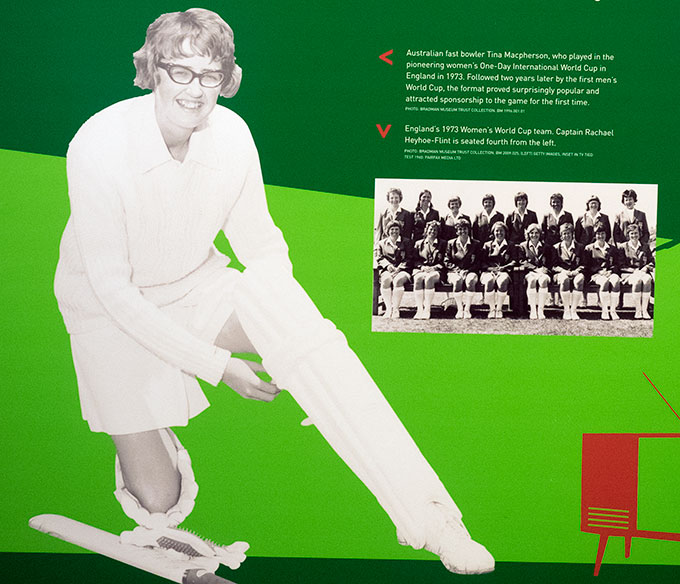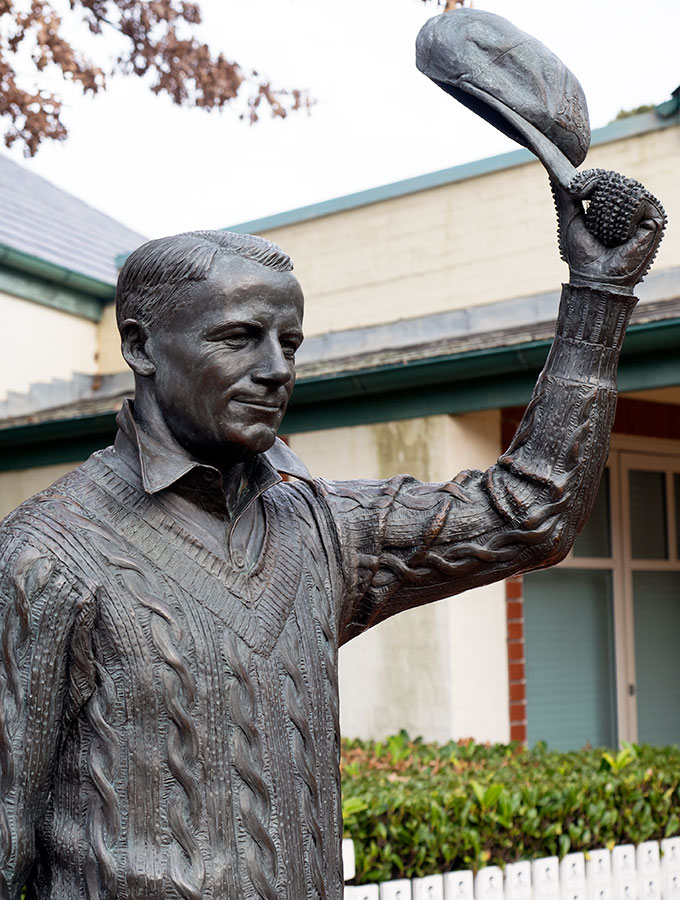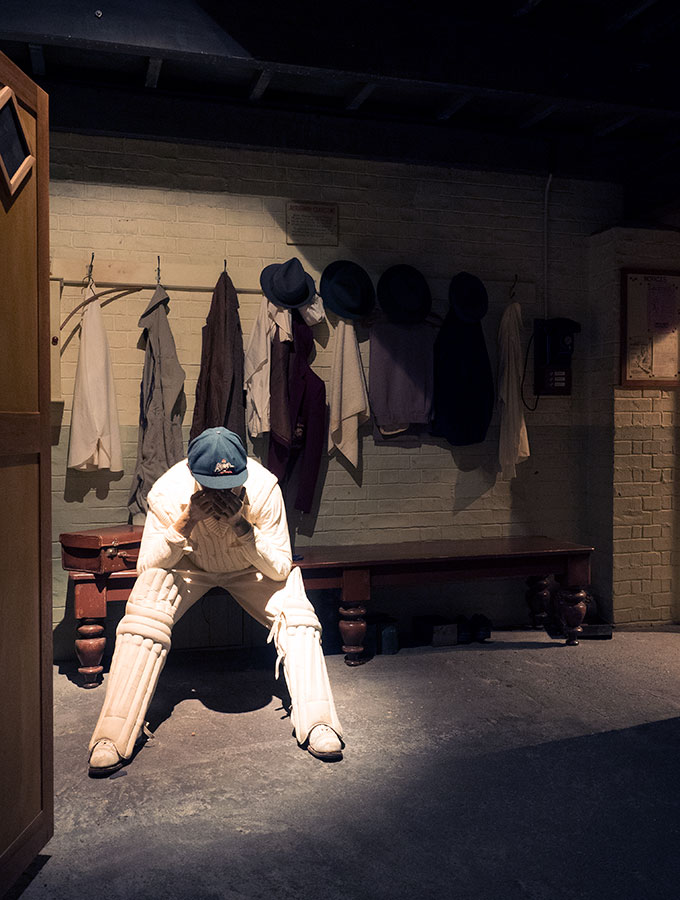 Even though I am not a fan of the game, it comes as a big shock to me that I actually thoroughly enjoy the visit. A step back into Australian history, a glimpse in to Sir Donald Bradman's life and a visit back to my childhood. The old photos and videos alone are worth going to have a look at. It covers everything, including Kerry Packer and the controversial bodyline incident.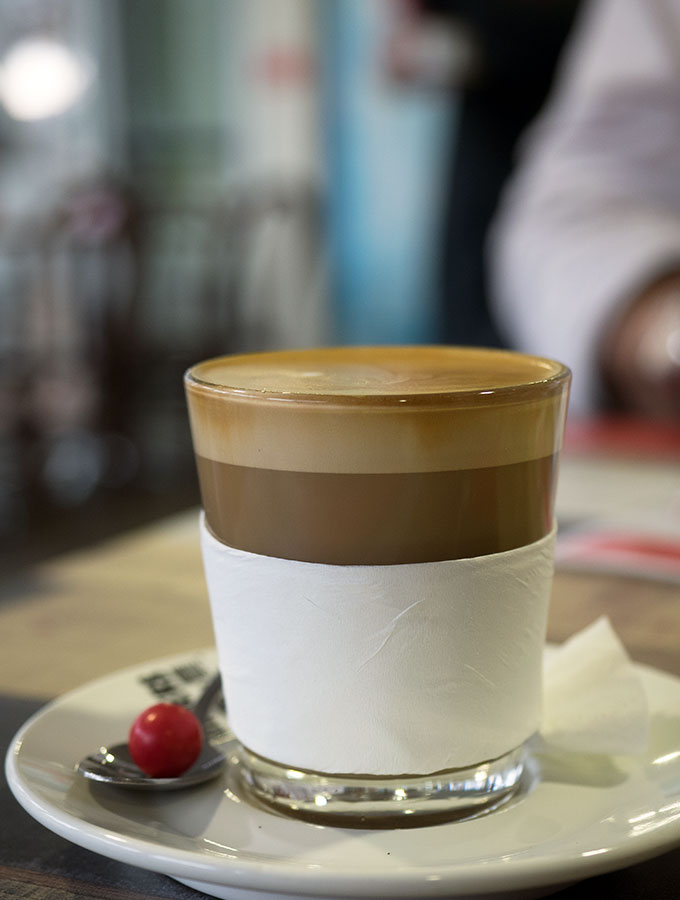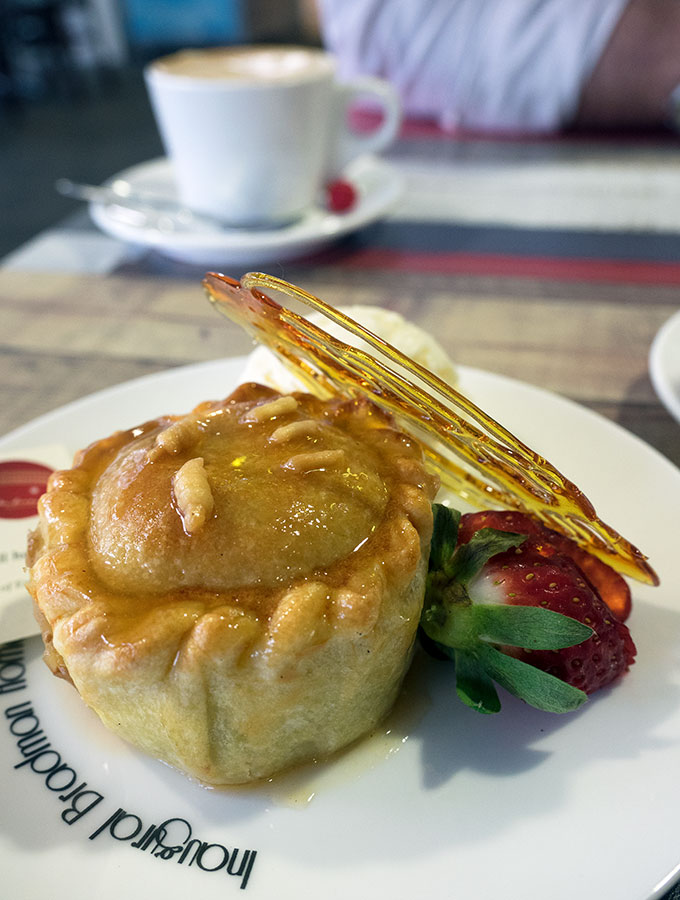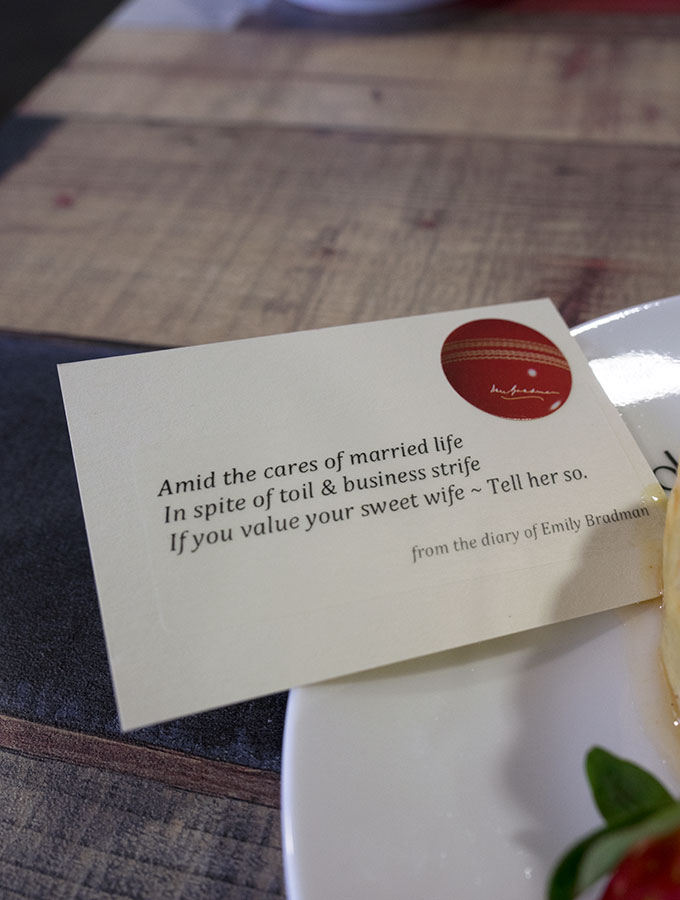 After our tour it is Pie Time. The pie is a recipe from Sir Donald Bradman's wife Emily. A pie filled with sticky caramel, fresh apples and figs served with a choice of cream or ice cream and a large toffee shard. A nice touch is a side of wisdom taken from Emily's diary.
Stumps Cafe Pie Time pie: Sweet Emily Pie with cream or ice cream.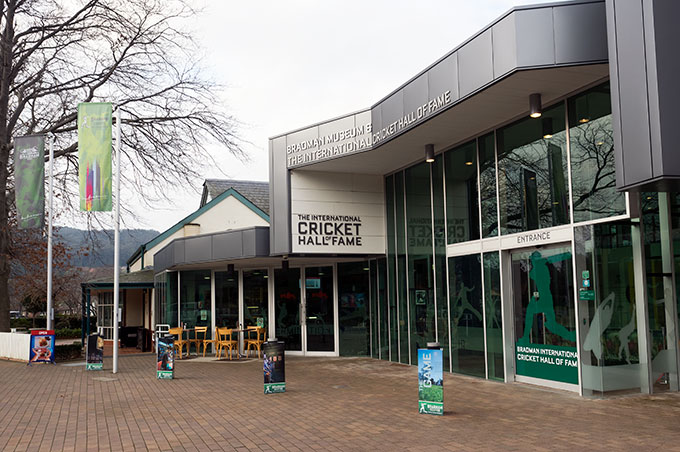 Heatherbrae's Pies Cooking Class
As mentioned there are lots of activities going on during Pie Time. Not only do you eat pie, but you can also learn to make them too.
We attend an evening pie making class at Heatherbrae's Pies at Sutton Forest.
It's dark, using GPS and we aren't sure if we are heading to the right place. We end up at a Service Centre on the Hume Highway, which has me second guessing if we are in the right area. Surely we aren't doing a pie cooking class amongst the petrol stations and fast food chains at this highway stop for travellers on their way to Sydney?
Then I spot Heatherbrae's Pies right at the back, away from all the other service amenities. Walking in I'm still not sure if I'm in the right place, hoping I'm not meant to be at another Heatherbrae somewhere else.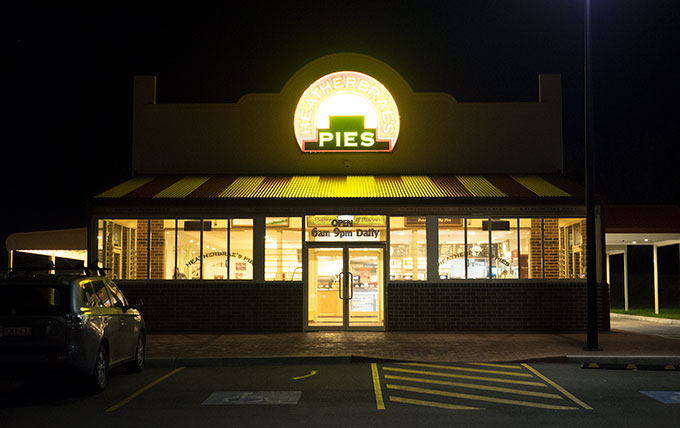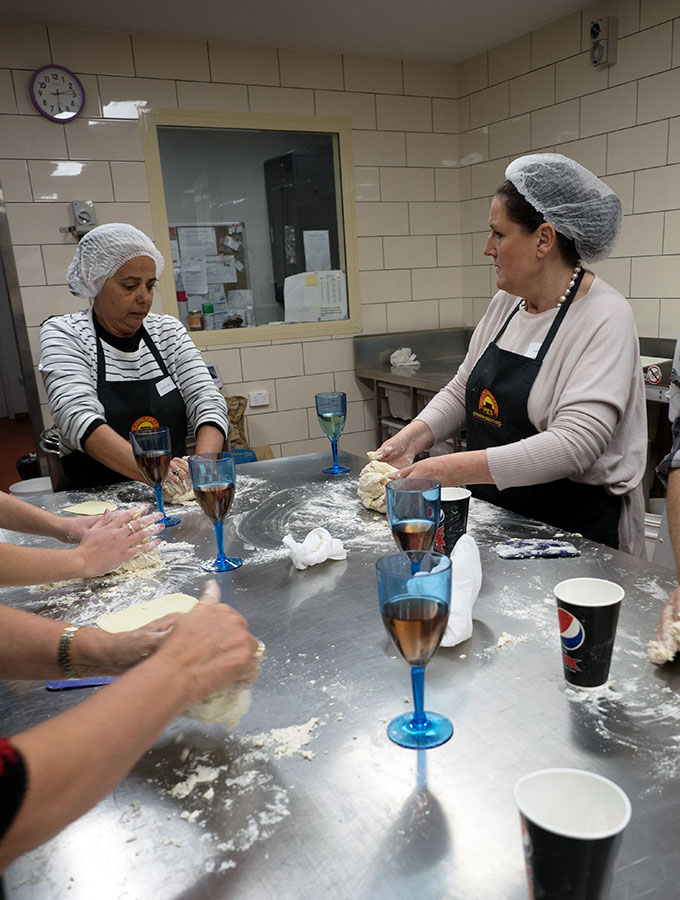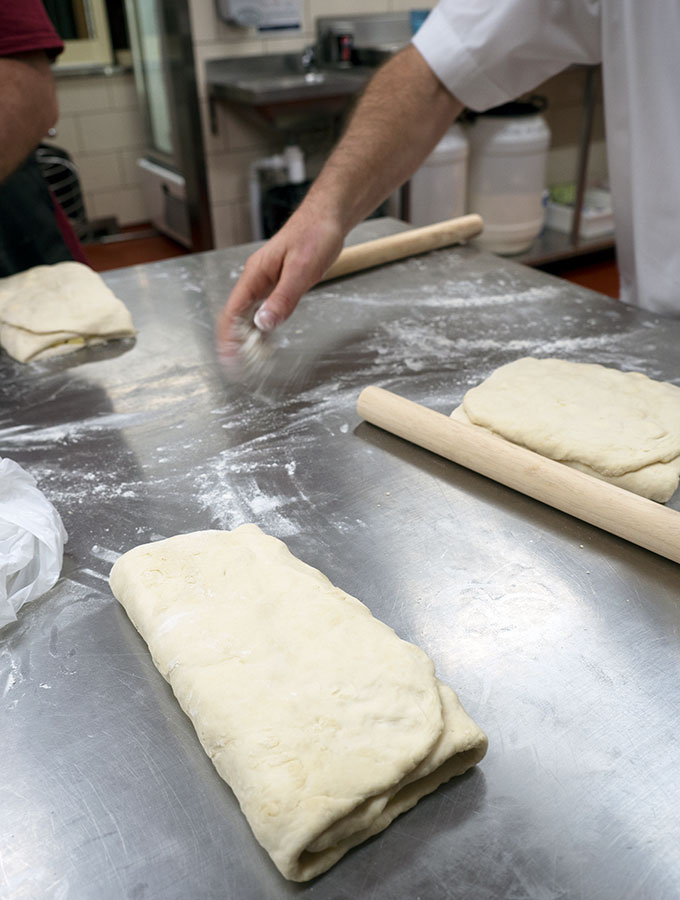 Thankfully I'm in the right place and join the others out the back of the diner/pie shop. There are seven of us taking the class, the first of probably many more for Heatherbrea's Pies.
It is a relaxed class, which involves wine. Not bad for a Saturday night, cooking education with vino, I'm not complaining. We learn to make puff pastry, and short crust pasty. The puff we end up taking home at the end of the class, but the short crust we use in the family pie we make during the class.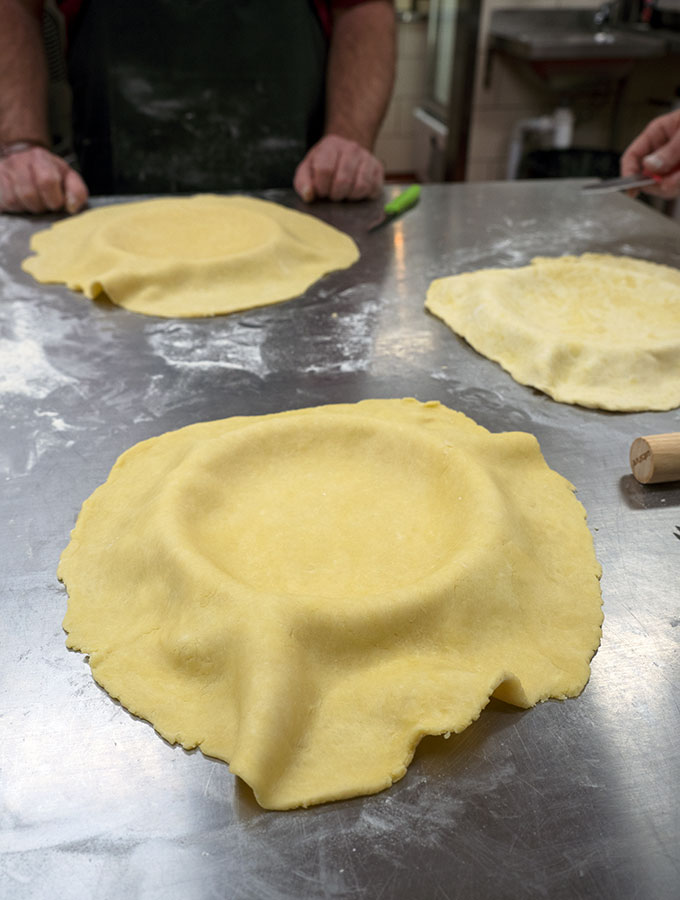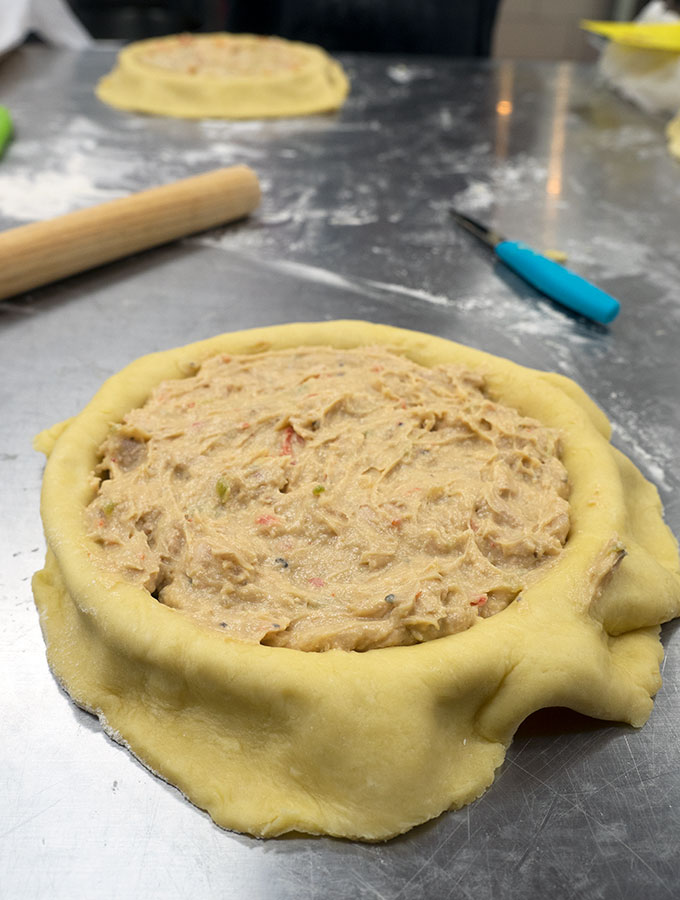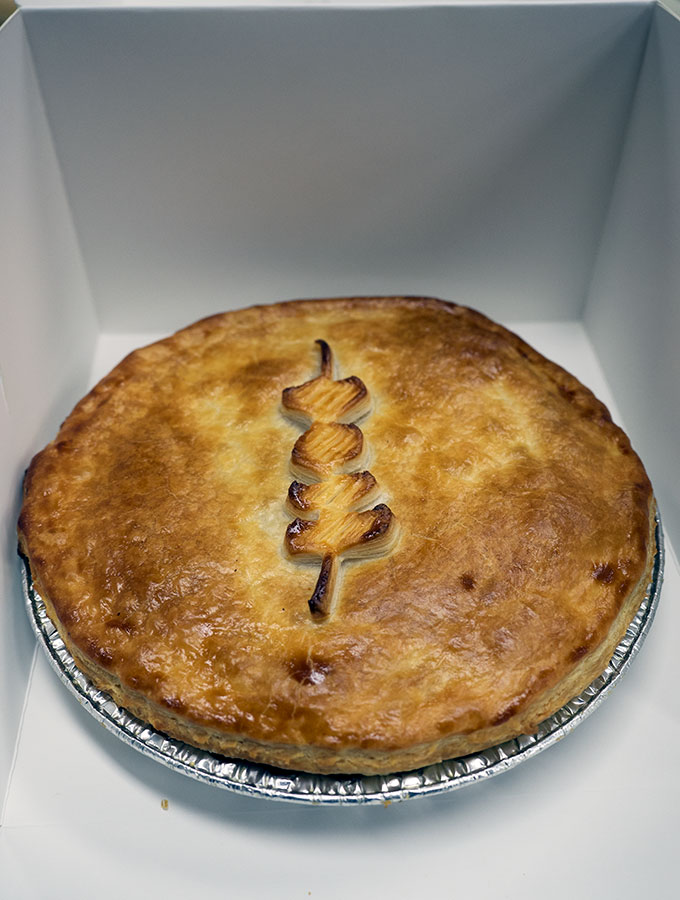 We also try a wide range of Heatherbrae's pies, in mini form as well as sausage rolls. There are sweet offerings as well. Nobody is going hungry tonight that's for sure.
We can choose any filling we like from Heatherbrae's range for our family pie. I decide to go for the satay chicken and Mac goes for a chicken and vegetable.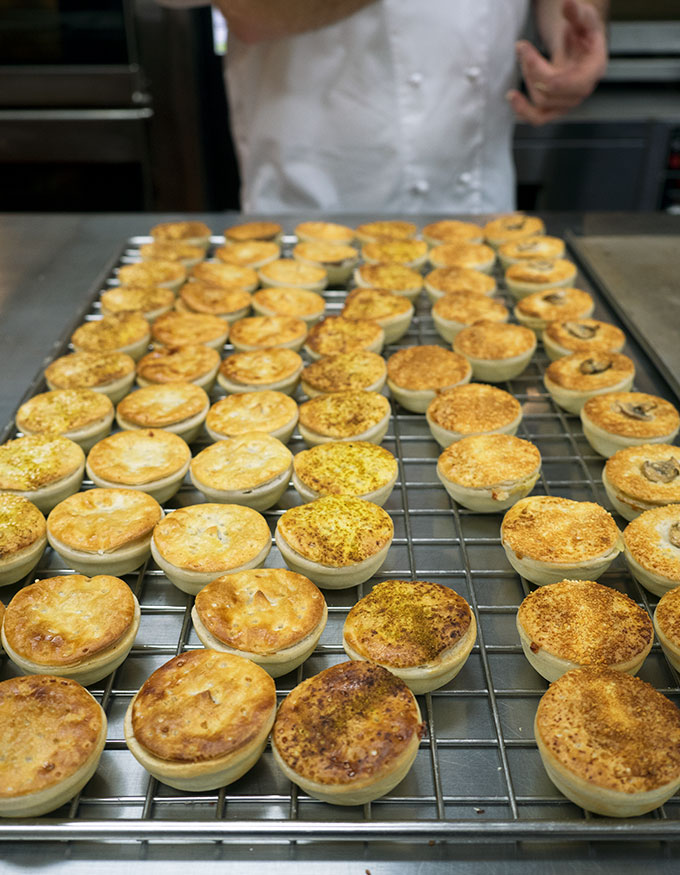 As part of the class we get to take our baked family pies with us as well as, pastry recipes, the recipe for their Pie Time pie, and the recipe for Heatherbrea's award winning seafood pie. They even supply us with their secret blend of herbs and spices.
Heatherbrae's Pies Pie Time pie: Champagne Chicken, Swiss Cheese & Trio of Mushroom Pie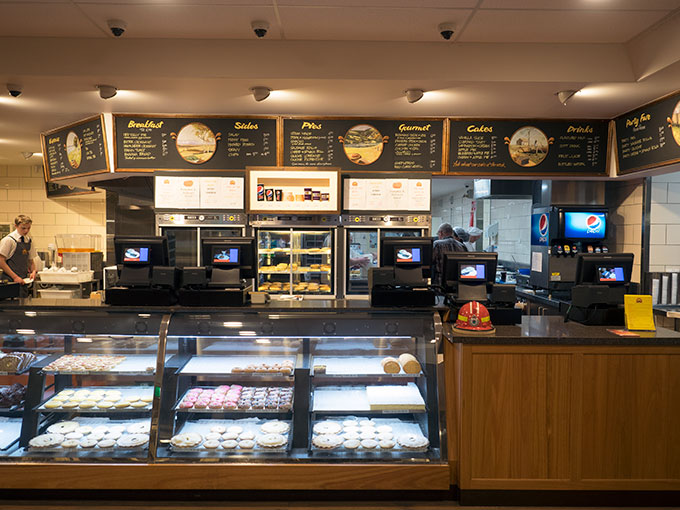 Peppers Craigieburn, Bowral
Overnight we stay at Peppers Craigieburn. Craigieburn is a gorgeous hotel on the outskirts of Bowral, which was built 100 years ago.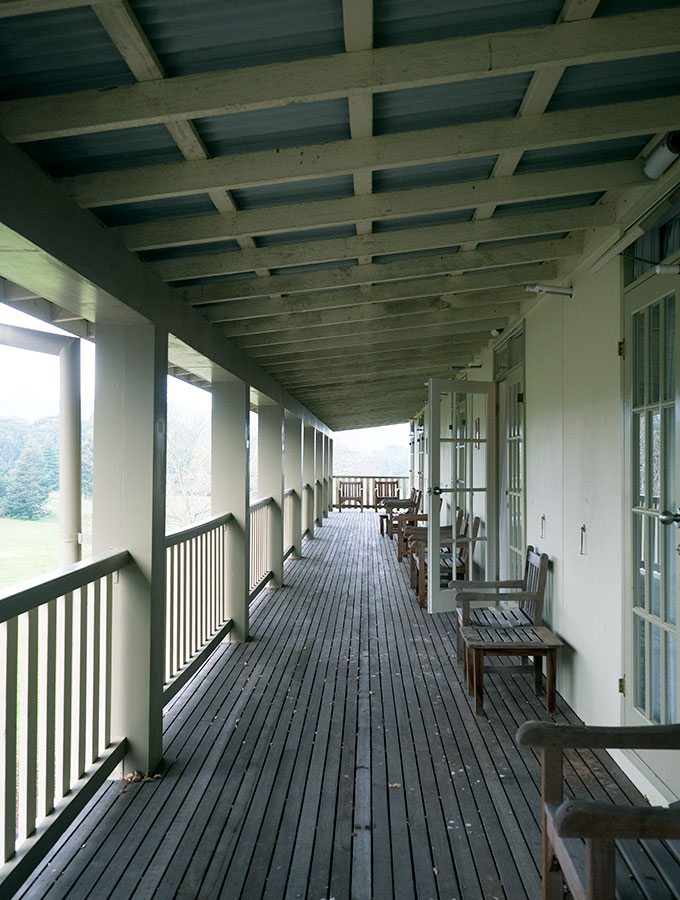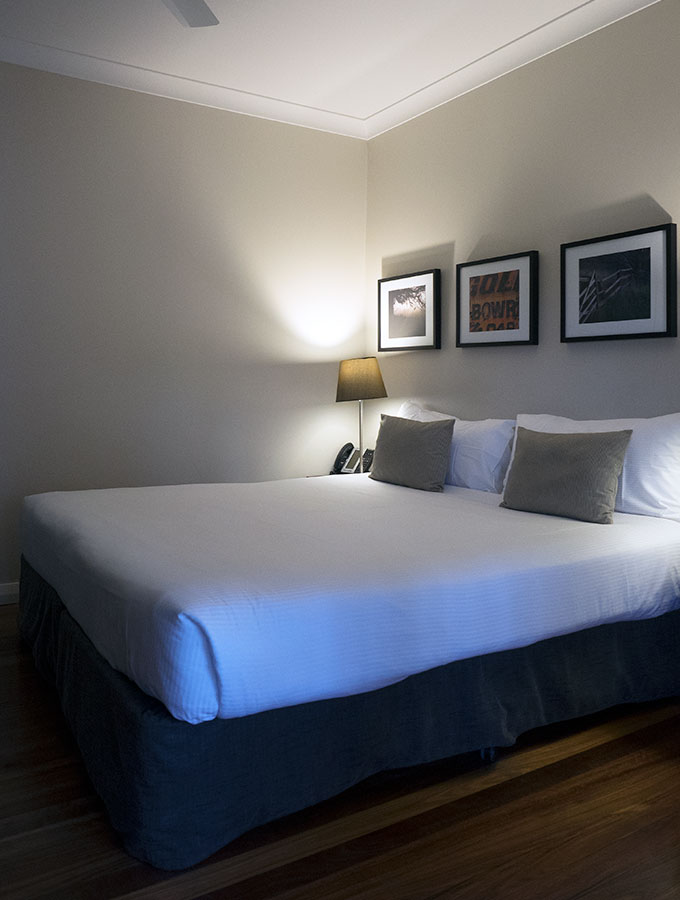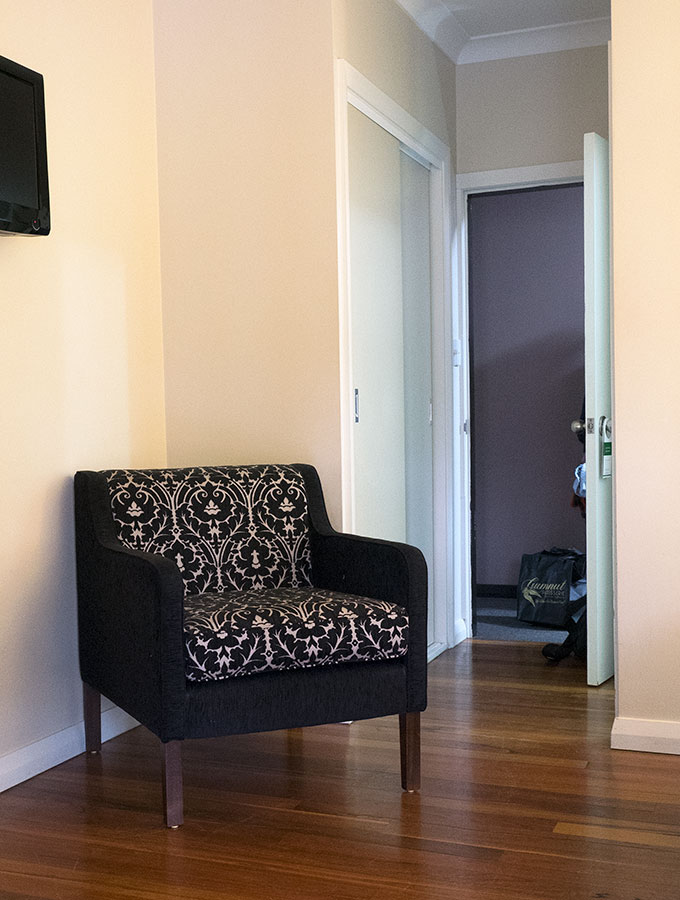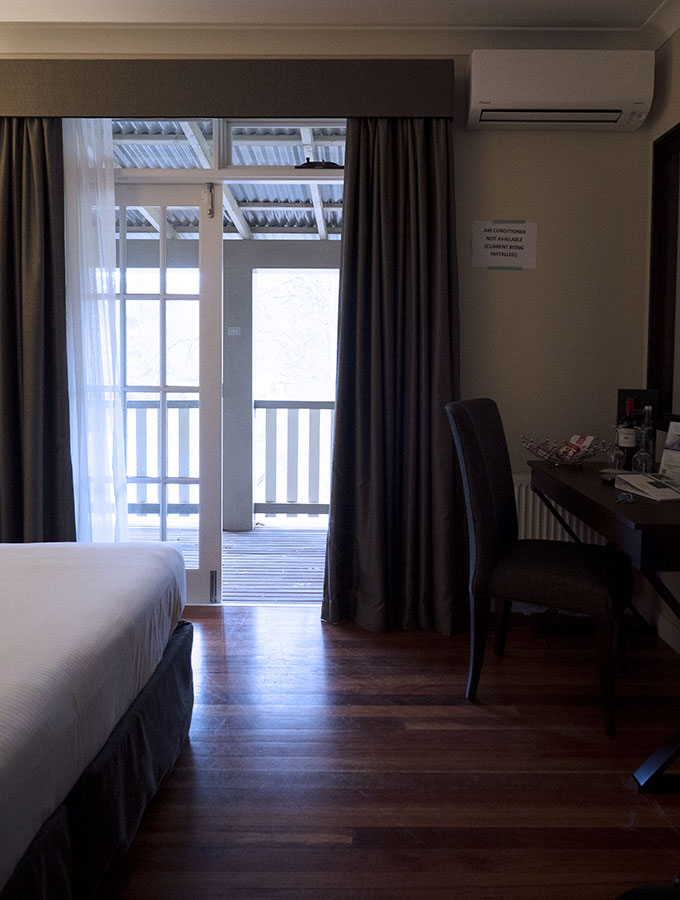 We were booked in for a Pie Time Stays package, which includes a pie and a glass of mulled wine for dinner. Sadly I don't eat lamb and there wasn't an alternative pie on offer. As we had been eating pies all day, it really wasn't an issue, we were a little "pied" out. Therefore we decided to choose something else from the menu at extra cost.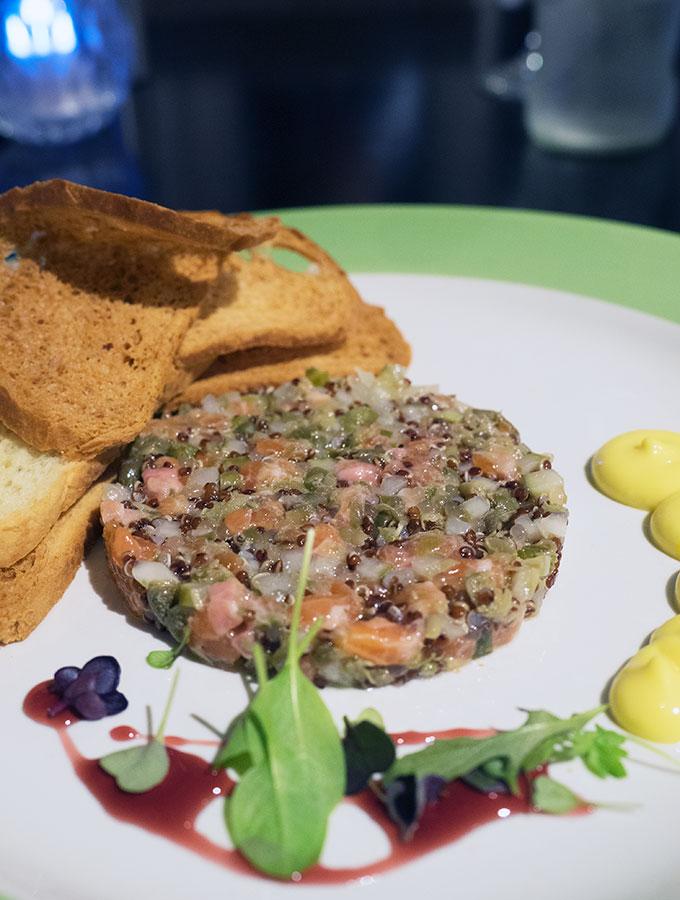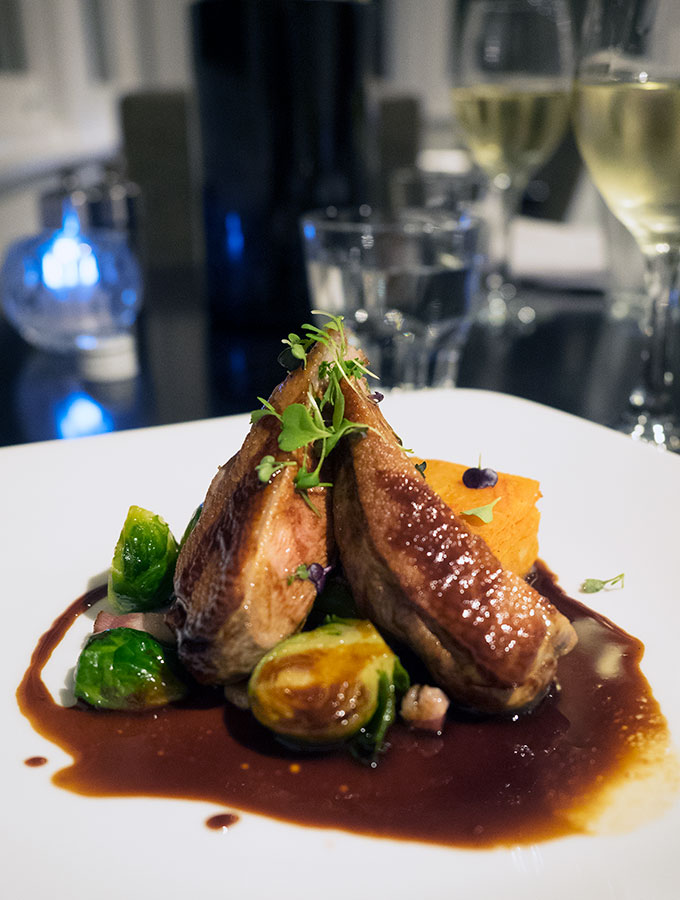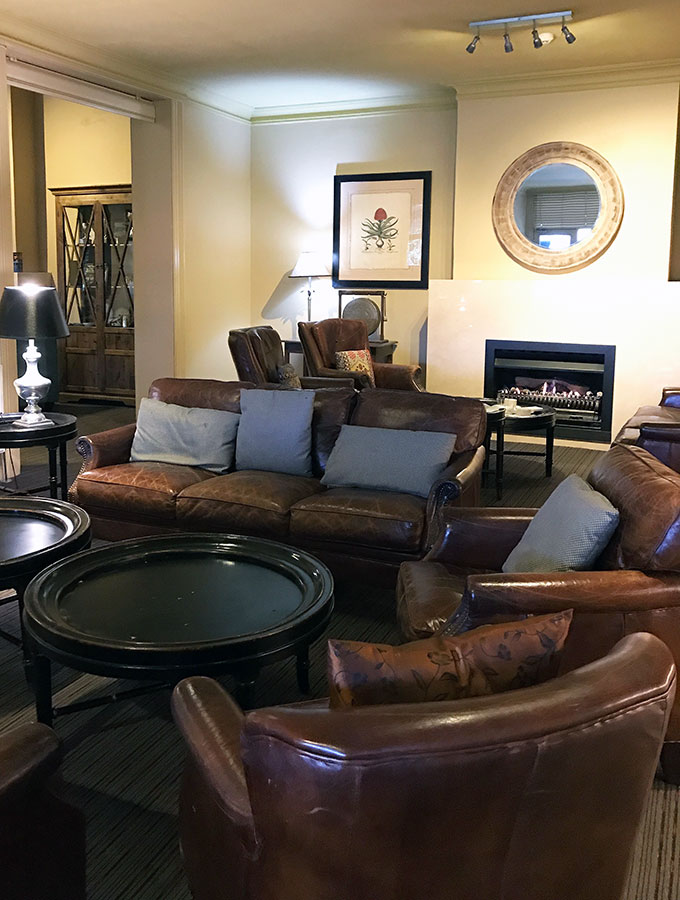 I was advised that the pie not only is excellent (if you like lamb) but is presented a little differently to a normal pie, more like a parcel. In tradition of a pie, but far more upmarket and in line with Craigieburn's restaurant Hickory's. You can choose to have your pie in Hickory's or in the bar area in front of one of the numerous fireplaces.
Peppers Craigieburn Pie Time Pie: Lamb, Tunnel Mushroom, Tertini Shiraz Pie with mashed potato and gremolata green bean salad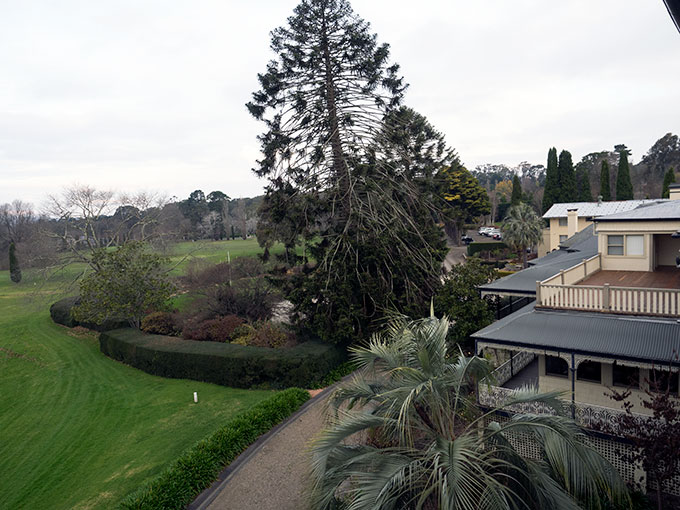 Farm Club Australia
After a hearty buffet breakfast at Craigieburn we head off to Farm Club Australia. I have to admit I am not quite sure what to expect at Farm Club. What happens at Farm Club stays at Farm Club?
I can't but help think of Fight Club when I read Farm Club on the itinerary. First rule of Farm Club, you do not talk about Farm Club. The second rule of Farm Club, you do not talk about Farm Club……….. Will there be cows and pigs boxing out in the paddocks?
Yes, there goes that vivid imagination of mine again.
Firstly, we do want to talk about Farm Club! You also won't find any boxing animals. There may be a couple of amorous free range pigs in the back paddock, but hey it is a working farm.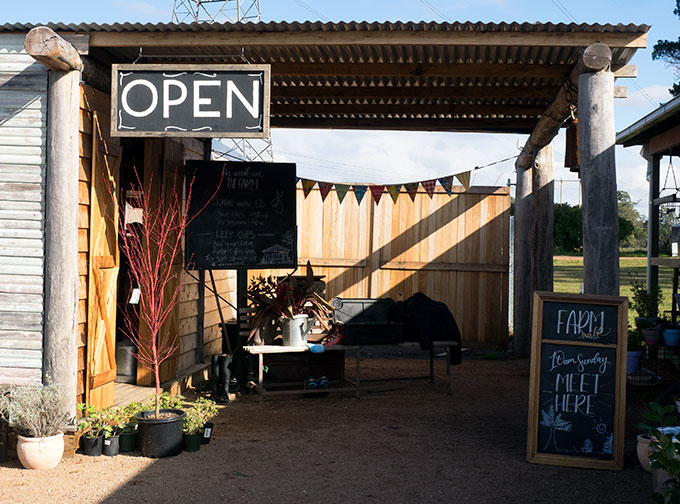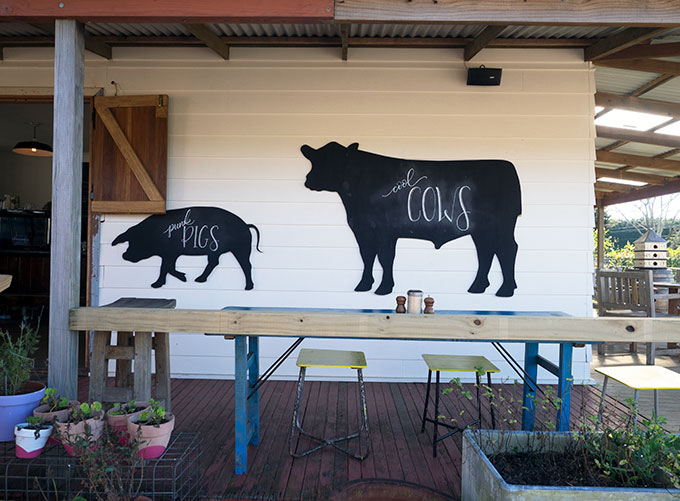 Not really knowing what to expect, I discover that Farm Club is my kind of place. Organic seasonal produce, free range animals, pasture raised chickens, bee hives and stunning on site accommodation.
They are "all about local", sustainable and seasonal. Plus you will be greeted with pure, honest, warm country hospitality.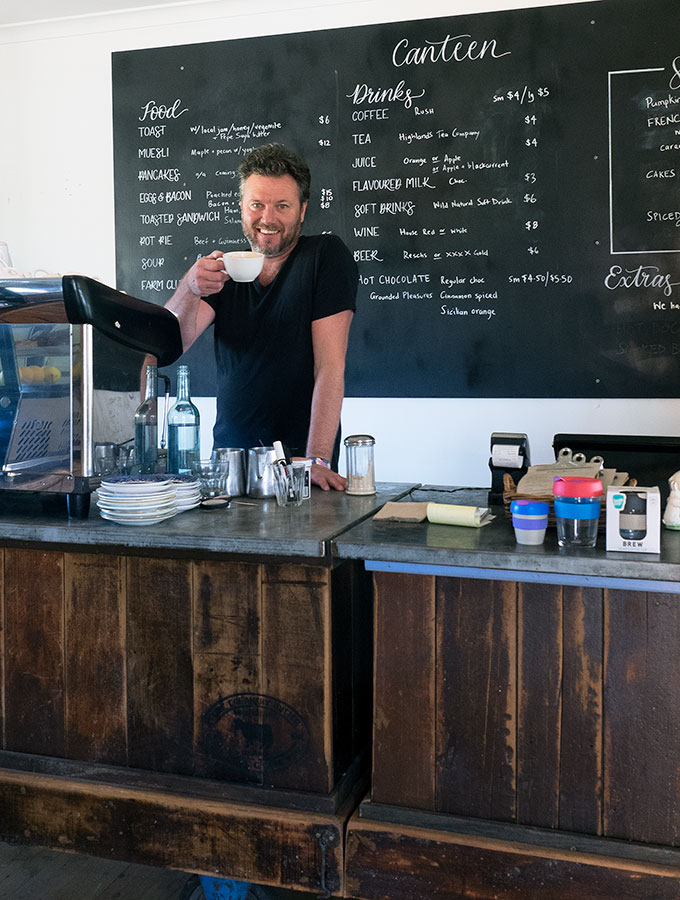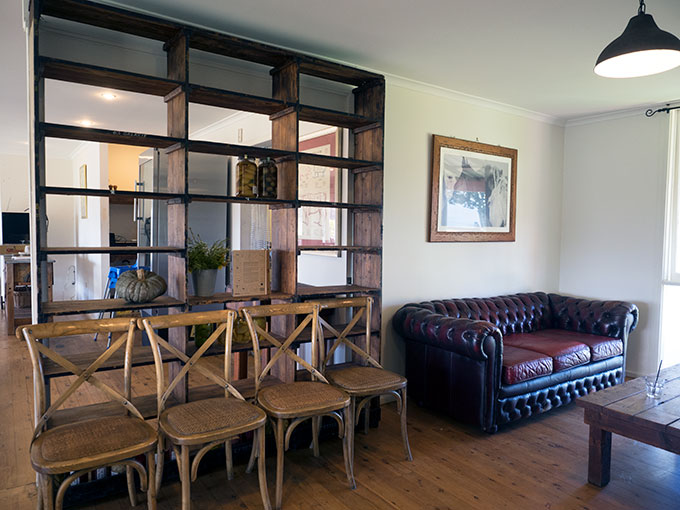 When visiting most people will only go as far as the on site shop and café. The shop stocks various local produce. Vegies and fruit from Farm Club's own vegie plots, as well as some from other locals. Pasture raised hens' eggs, that are the freshest I have had in ages (even better than my local free range farmers' market eggs).
There are a variety of local jams, jellies and spreads. There are also olives and oils, as well as local dairy products. They also stock some not so local Peppe Saya butter, which is wonderful butter made artisian butter maker Pierre Issa in Sydney.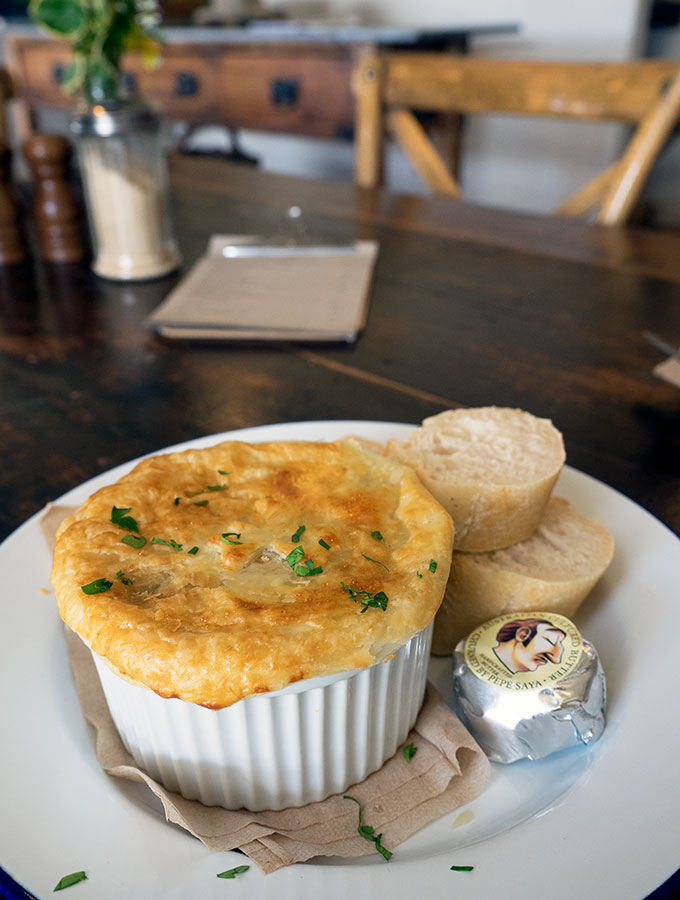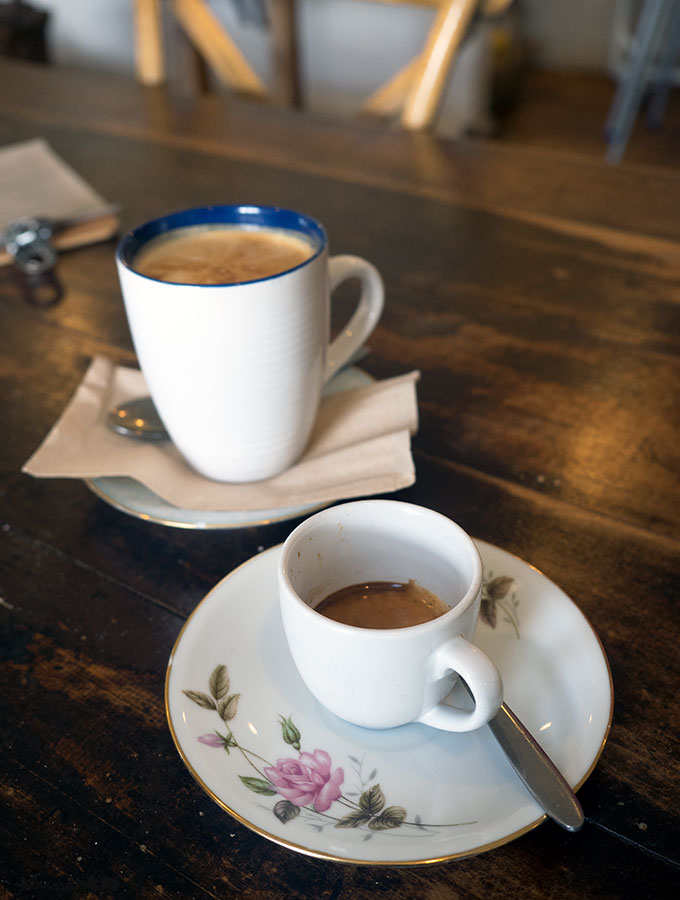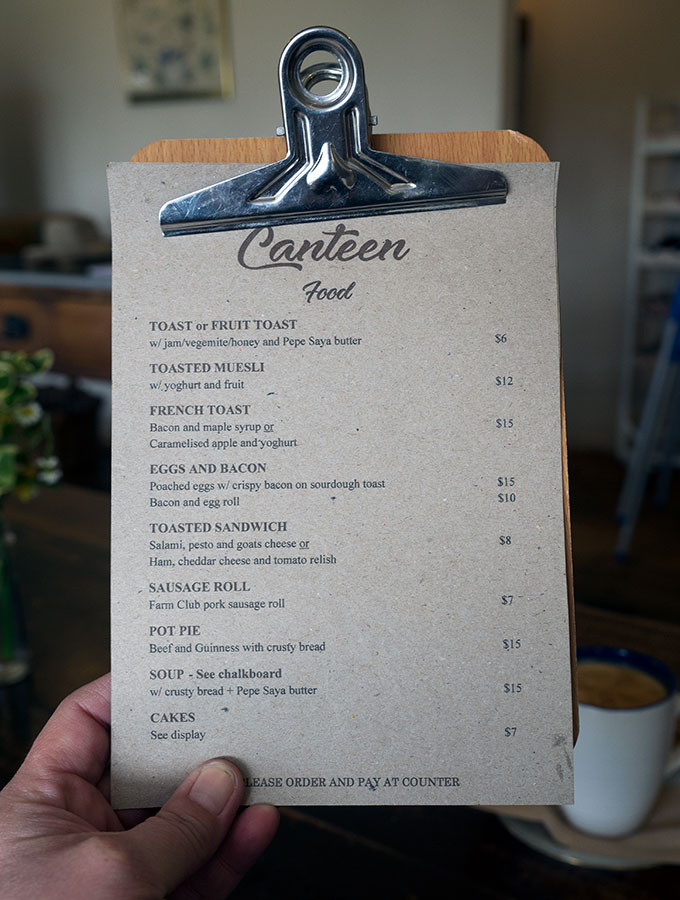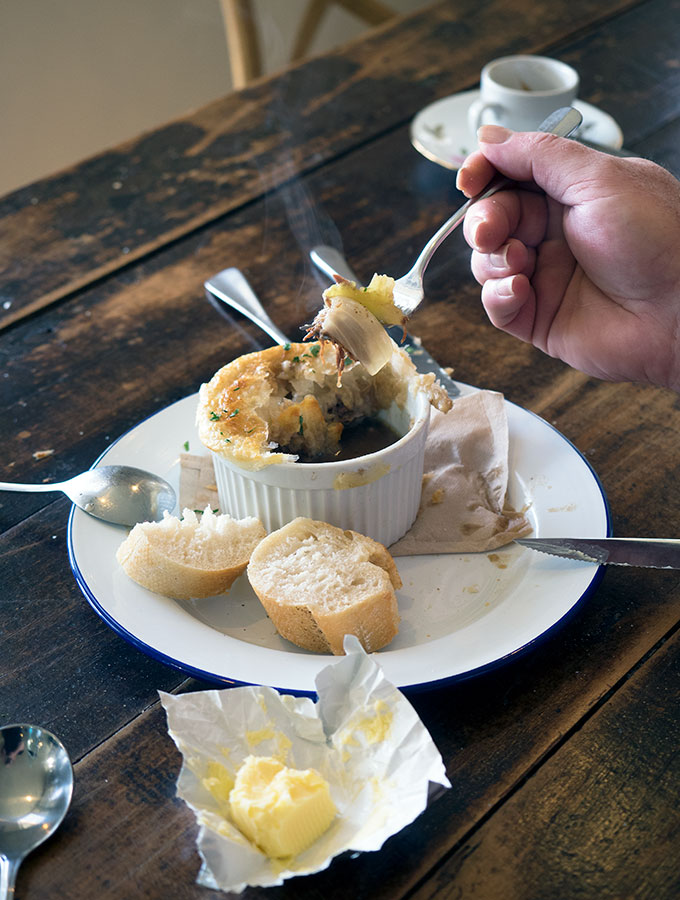 The café offers a variety of dishes for breakfast and lunch, but we are here for the pie. Farm Club's pie is a Beef and Guinness Pot Pie, served with a side of baguette and peppe saya butter. The pie is filled with chunks of beef, onion, carrot and celery and we make good use of the bread to mop up the tasty gravy in the filling. We wash this down with some great coffee.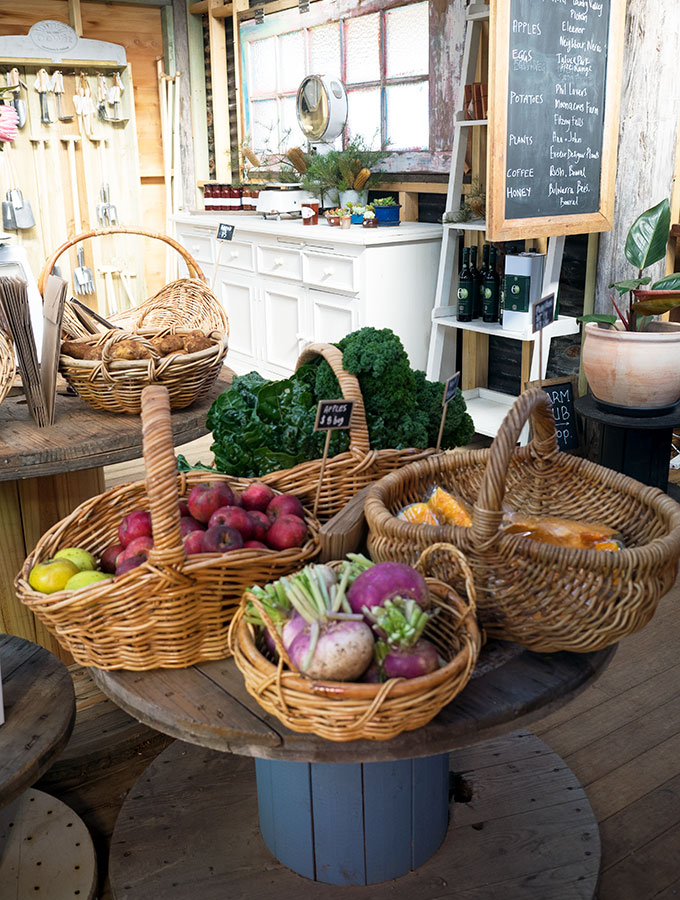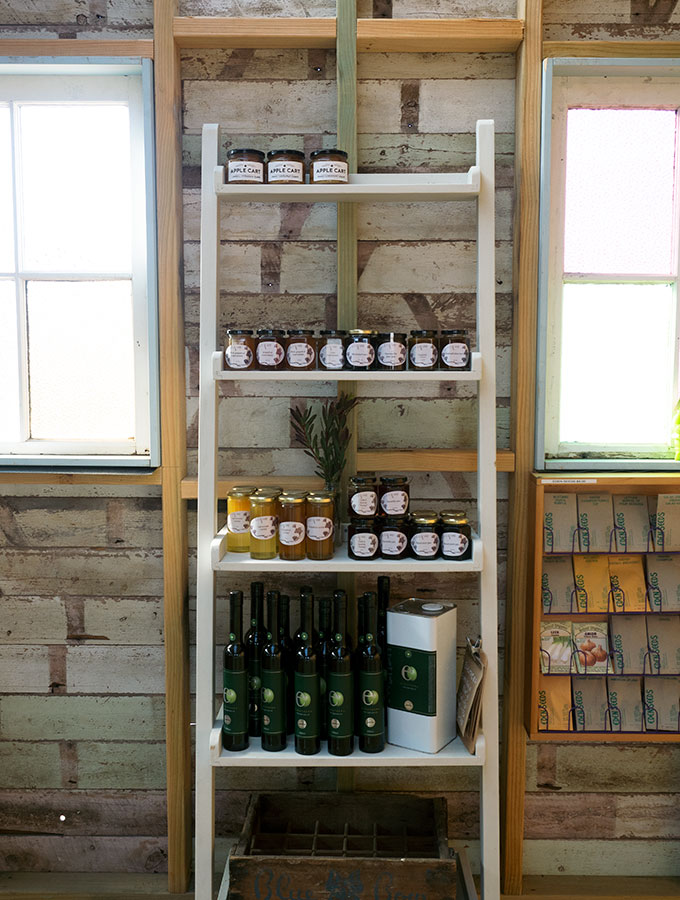 With all the pies I have eaten so far over the weekend I can't help but stock up on some organic veggies, eggs from the hens I had said hello to a short time before and some olive oil.
Farm Club's Pie Time Pie:Beef and Guinness Pot Pie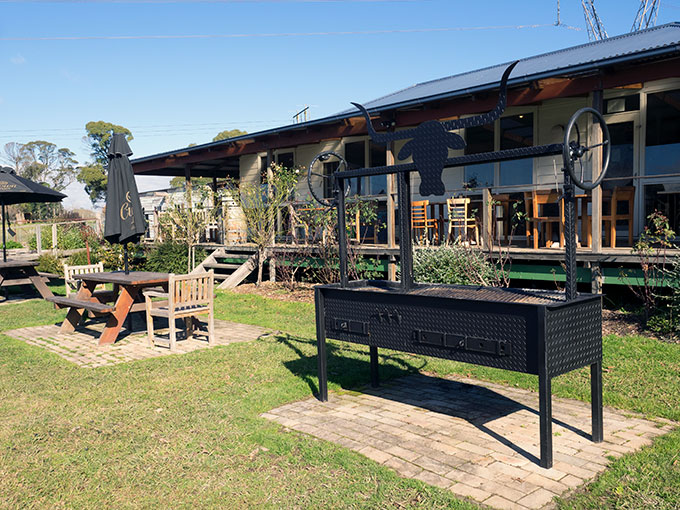 Burrawang Village General Store Café
With a fond wave farewell to the warm folks at Farm Club we make our way to the last stop on our Pie Time Trail, Burrawang Village General Store.
Burrawang Village is a small and charming village, with not much else there except cute local houses and the Café. But what a café it is!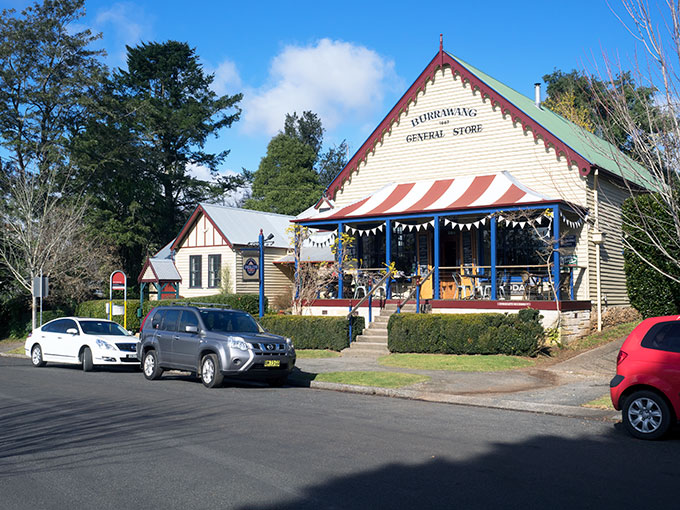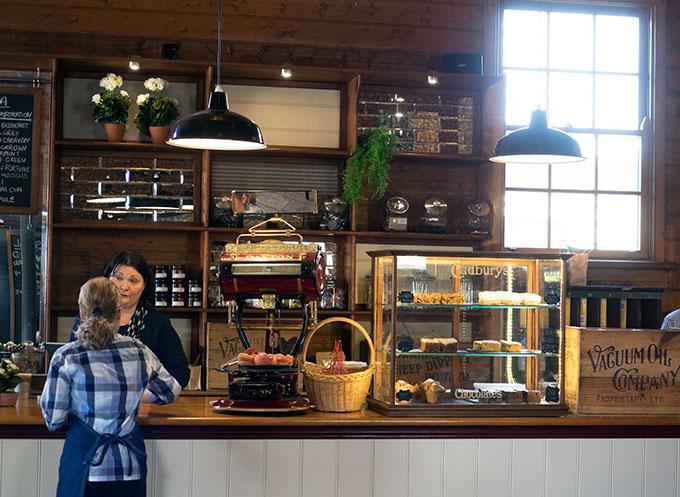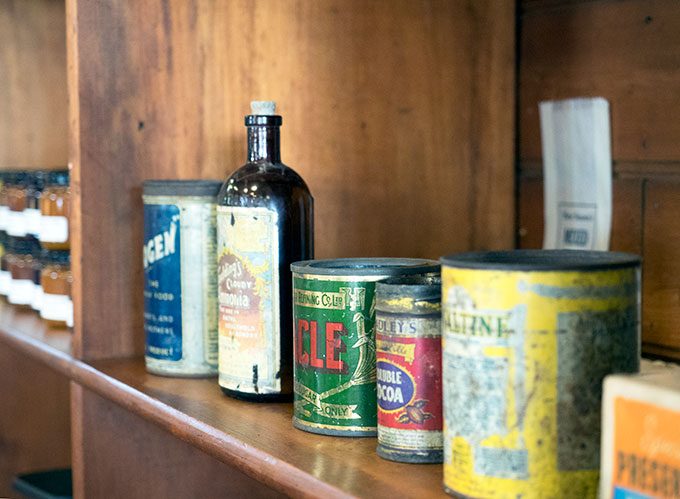 The café started its life back in 1867 when it was built as a general store. It is now a culinary destination for locals and visitors. For a Sunday, in a small quiet town, the café is bustling.
The Pie Time pie is roasted duck with fig and onion, served with a side of salad. This pie is my winning pie of the weekend and both Mac and I agree is the favourite hands down.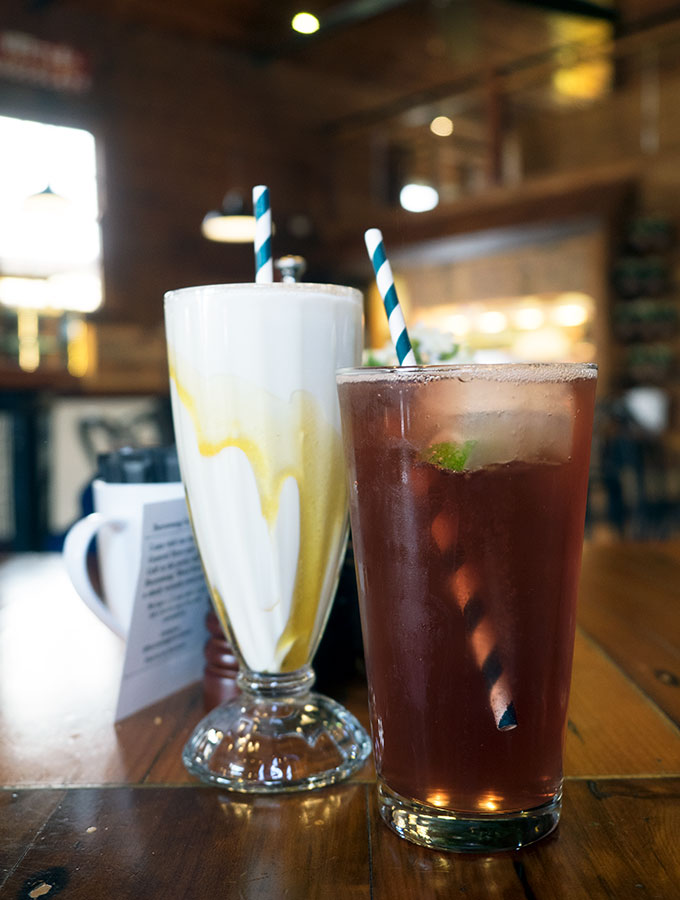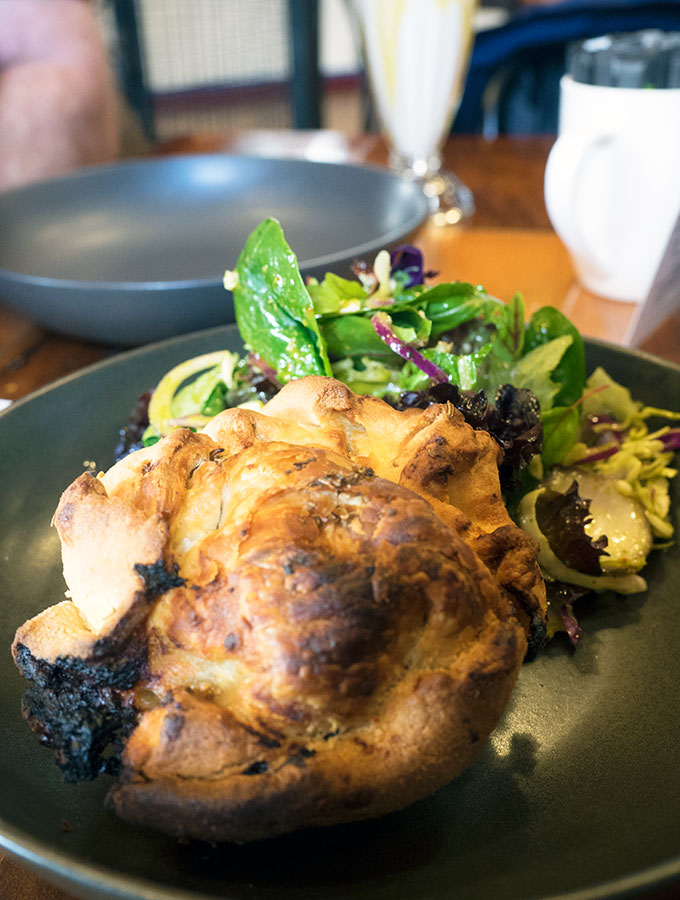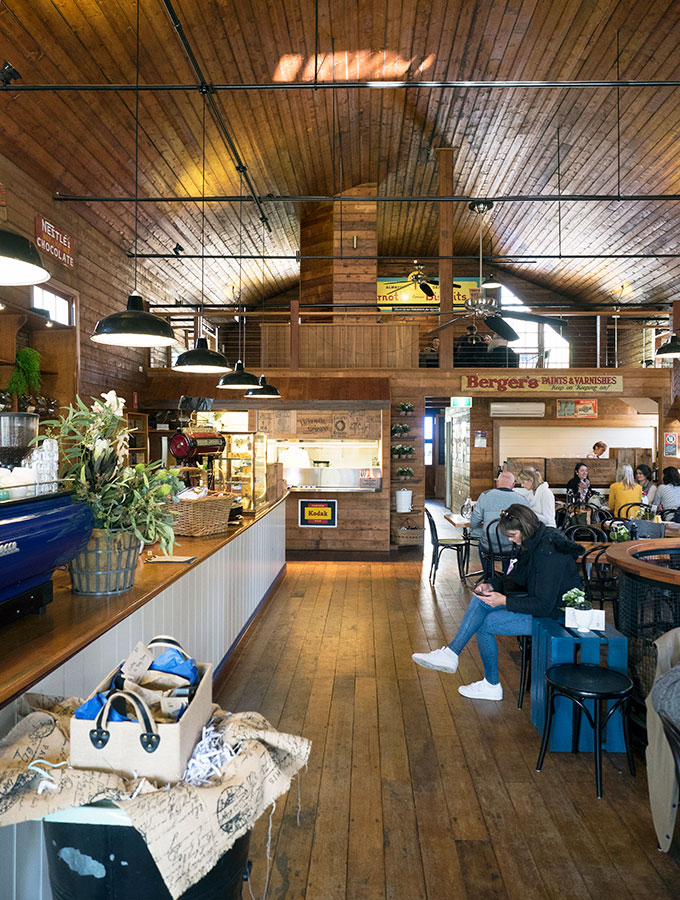 The short crust pastry is brilliant, buttery and extremely short with a lovely puff lid. The duck filling is naturally sweetened with the fig, and the salad has a slight chilli kick to it.
This pie my friends, is a must on your Pie Time eating adventure.
Burrawang Village General Store Café Pie Time Pie: Roasted Duck, Caramelised Fig & Onion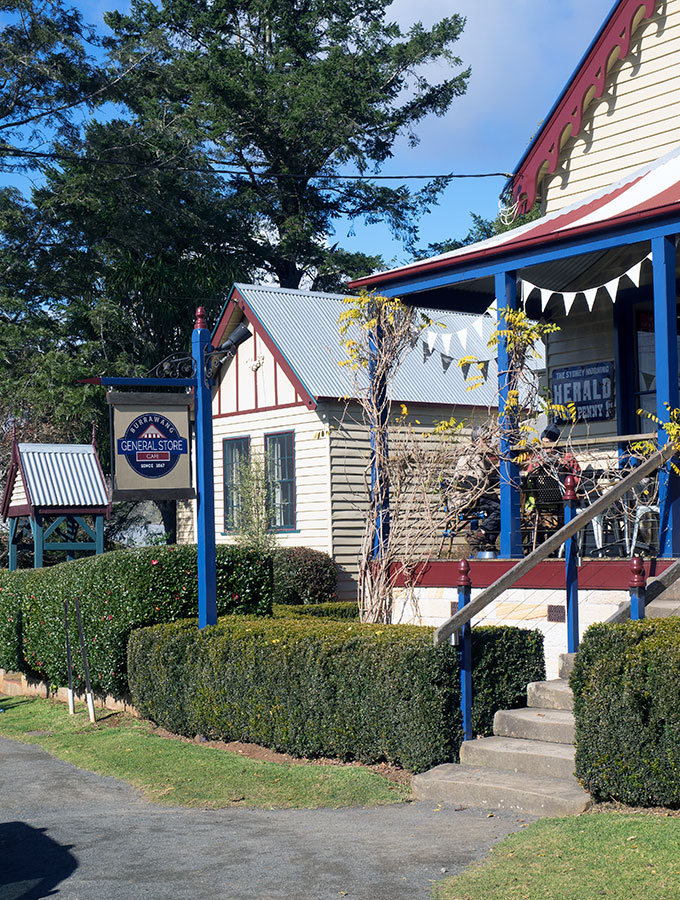 Pie Time Southern Highlands NSW
This weekend is the highlight of the month long Pie Time celebration. There will be pie matching, pie cooking, pie tasting, market stalls and entertainment at Pie Time Central, Bowral.
There are 41 establishments taking part with signature pies right through the month of June. Not only in Bowral but all around the highlands. You can download a Pie Time Pie Trail Map which shows you who, where and what. You will find pies from Penrose, to Mittagong, down to Kangaroo Valley and then back to Robertson.
Sara xxx
Belly Rumbles was a guest of Destination NSW and the establishments mentioned below with much thanks.
Gumnut Patisserie
Cavendish & Dalton Sts, Mittagong
Centennial Vineyards
Centennial Rd, Bowral
Bradman Museum & International Cricket Hall of Fame
St Jude St, Bowral
Peppers Craigieburn
Centennial Rd, Bowral
Heatherbrae's Pies
Hume Hwy Service Centre, Sally's Corner Rd, Sutton Forest
Farm Club Australia
1 Werai Rd, Werai
Burrawang Village General Store Café
11 Hoddle Street, Burrawang
Become a subscriber and don't miss a single delicious recipe, restaurant review or travel adventure.