Have you heard about Plates for Mates?  Have you heard of Chef Matt Golinski?
Matt is an Aussie chef that reached celebrity status for his appearances on the television cooking show Ready Steady Cook.  Tragedy struck Matt and his family during the early hours of Boxing Day (26th December) 2011, when their family home was engulfed by fire.
Matt's wife Rachel and their three daughters Starlia, Willow and Sage's lives were lost in the fire.  Matt not only suffered the unbearable loss of his family, but also sustained third degree burns to over 40% of his body.
Plates for Mates is a fund raising initiative conceived by some of Australia's leading chefs; Janelle Bloom, George Calombaris, Manu Feildel, Damian Heads, Alastair McLeod and Gary Mehigan.  A way for them to express their care, concern and support for Matt.
Funds raised from Plates for mates fundraising initiatives go to the Matthew Golinski Recovery Fund Trust and also The McComb Foundation.
Most fundraising events were held between 1st – 30th April 2012, however there are still a few events happening.  One of those events is a cooking class with Zigi Ozeri.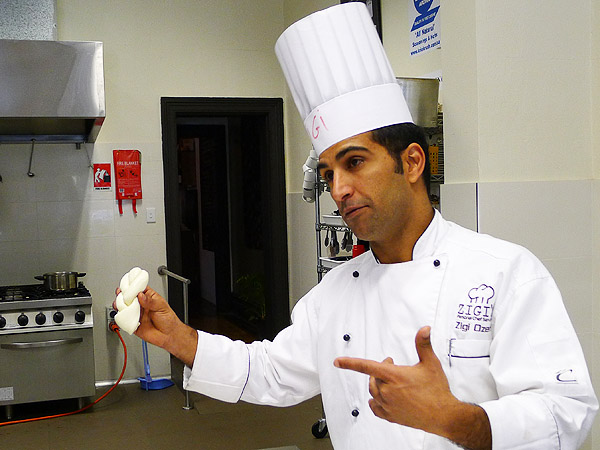 Zigi has over 10 years experience both locally and internationally, and is a well-respected industry award winning chef.
His experience has included some of Sydney finest hotels where he spent his time designing menus and perfecting the art of preparing and cooking fine dining food, as well as he teaches at Ultimo TAFE and running a various renowned cooking class in community colleges.
On top of that he runs his own catering company, cooking school and fabulous wine and cheese bar.  (see my review).
A special cooking class is being held at Zigi's Cooking School on Sunday 21st October to raise funds as part of Plates for Mates for Matt.
Learn how to cook a restaurant quality balanced four course dinner to impress your family and friends.  Zigi will guide you through techniques used in restaurants that can be adapted in your home to help you produce a memorable meal.  The cost of the cooking class is $140/person.  Please head to the website "here" for more information on the cooking class and for bookings.
If you can't attend a Plates for Mates fundraising event, you can still drop by the website and make a donation if you would like to.  platesformates.com.au
Sara xxx
Zigi's Cooking School
86 Abercrombie St
Chippendale, Sydney
Ph: +61 (2) 9699 4222
www.zigis.com.au