Since my parents, waved farewell to Sydney and moved to live on the Gold Coast I spend quite a bit of time up here each year.  It also happens that two girlfriends I have known since school have made the GC their home as well.  Besides having quality time with my parents on each visit, it has become mandatory that I have a girly dinner out with my friends Ms S and Ms K.
We sit there for hours chatting, it starts as soon as we lay eyes on each other and I pity the poor wait staff that usually have to come back two or three times to take our orders.  We are generally the last ones to leave the restaurant.  Then the ritual of hugs, kisses and goodbyes usually takes place at least two times in the car park.  Our dinners are the perfect example of three good friends, defragging about life and enjoying good food and each others' company, a perfect combination.
I am back up on the Gold Coast and I realise that I have yet to write about any of the restaurants that we have visited together.  I actually feel quite bad about this, as they both know about Belly Rumbles.  A restaurant is picked that they think I will like (we generally try something new).  Ms S and Ms K sit patiently while I take photos, they know about 'the rules' when dining out with a food blogger, God bless them.  They are forgiving when I am rude and quickly make notes on my iPhone.  These two woman are truly wonderful about my restaurant antics, but yet, I am to write about one of our dinners.
This leads me to a dinner at Point Break early November last year.  It was a great choice picked by Ms K.  The restaurant is in a beach front location towards Burleigh Head.  Large glass doors open up from the bright and breezy restaurant on to a large balcony overlooking the beach.  The restaurant is named after its location, on the point break.
Head Chef Aaron Vanderstaay has created a Pacific Rim menu, and he tries to source raw ingredients locally wherever possible.  There is a wide variety of wines available as well as a rum menu.  Why rum?  Rum is the spirit of the sea.  There are light, gold and dark rums available as well as classic rum cocktails.
A large tapas menu covering a selection of vegetable, cheese, meat and seafood dishes is available.  Salads, pizza, larger mains and dessert are also covered.
We decide to order an assortment of tapas dishes to share.  Staff are helpful with suggestions on how much they think we should order, which is great when you are eating somewhere new.  They even helped us out with our wine choice, which we were extremely pleased with, even ordering a second bottle.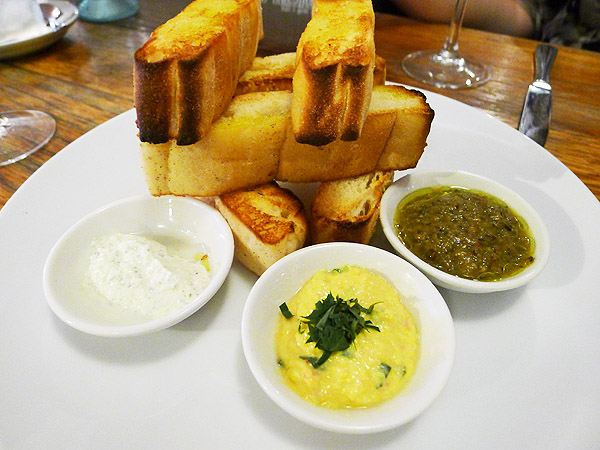 Turkish Fingers with three seasonal dips $10.90:  The dips on offer the day of our visit were curry green lentil, raita and corn & coriander.  The Turkish bread was grilled with a touch of oil and garlic, served warm.  All three of the home-made dips were great, but the corn and coriander was the winner for me.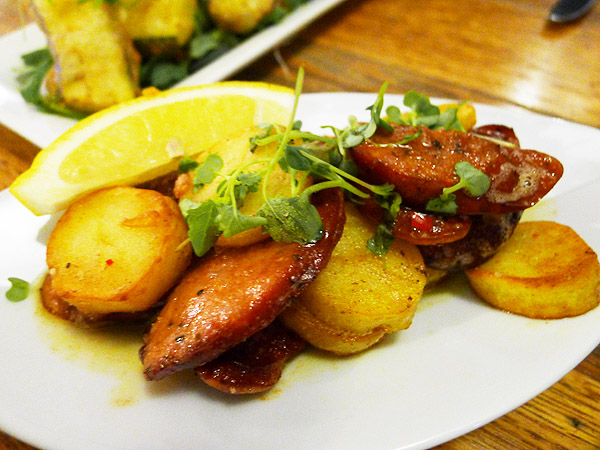 Chorizo sausage with sauté Kipfler potato $12.90:  The chorizo was cooked well, not over done and the potatoes were nice and crispy tied nicely together with a paprika chilli butter.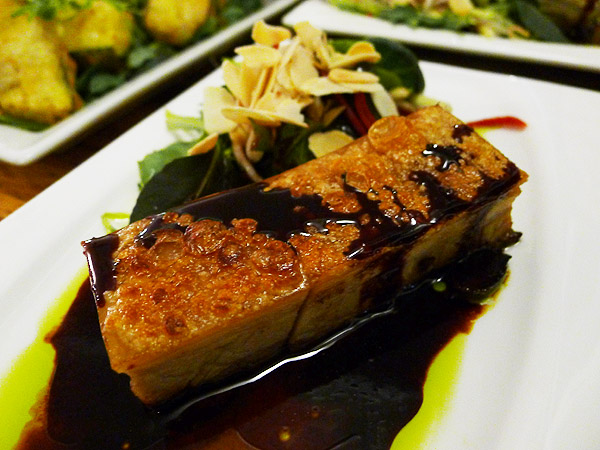 Crispy skinned pork belly $12.90:  The pork belly is free range and was slowly cooked to perfection.  Served with a cinnamon and star anise glaze, toasted almonds, granny smith apple, petite leaf salad and spiced black cherry vinaigrette.  It's good, we order two of them.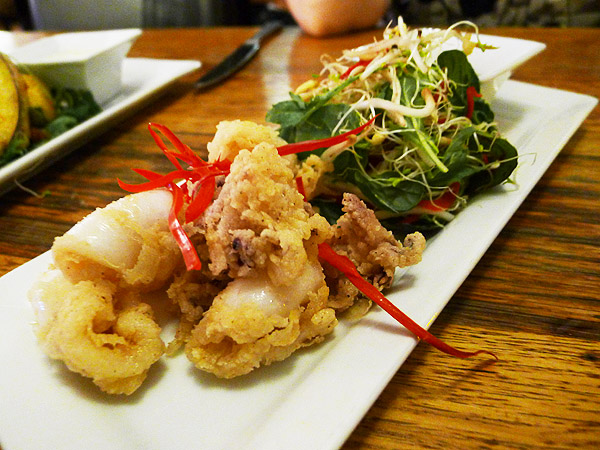 Baby calamari $13.90:  Lightly fried with ponzu dipping sauce and sprout salad.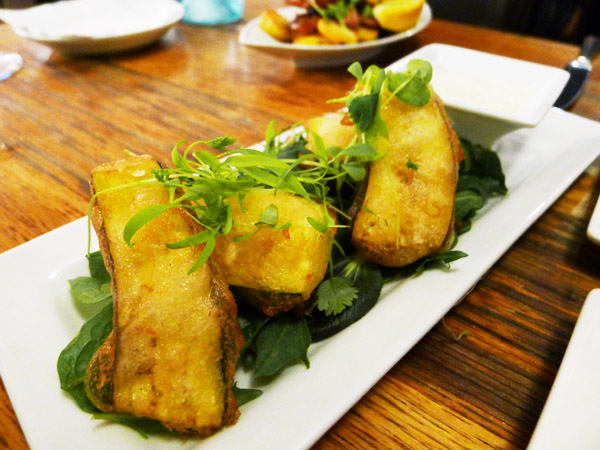 Tempura eggplant & zucchini $10.90:  Eggplant was beautifully soft under the crispy batter, served with a raita dip.
Yes, we had room for dessert, and after looking at the menu, it was a must.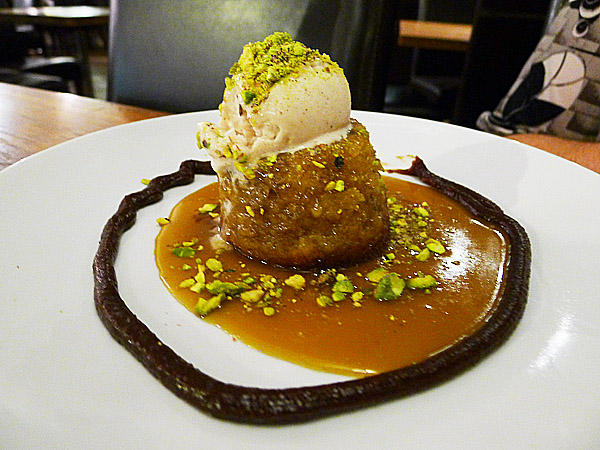 Banana pudding $12.90:  Sounded a little pedestrian but we all agree it was the standout dessert.  Banana pudding served with cinnamon gelati, butterscotch sauce, date jam and crushed pistachio.  There may have been spoon wars over the last few remaining mouthfuls.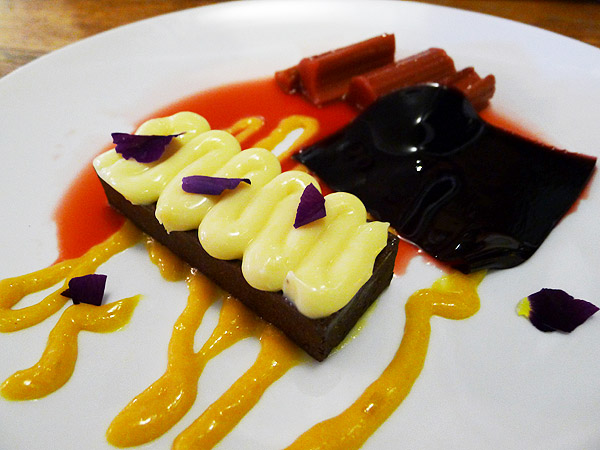 White chocolate tart $12.90:  The second favourite dessert.  The dark chocolate tart case holds a soft a delicate white chocolate cream.  The tart is served citrus curd, rhubarb compote and blueberry sheet.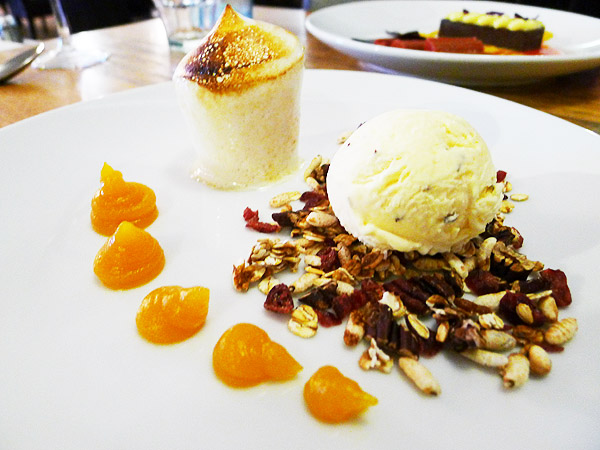 Toasted maple marshmallow $12.90:  This was actually my choice of the desserts and the least favourite of the night.  It was the mention of toasted maple marshmallow that won me over in ordering it.  The marshmallow was served with pecan and dried cranberry granola, pumpkin rum coulis and lavender ice cream.  Sadly the granola was lacking as a dessert element on the plate, was just way too healthy tasting.
The verdict:  If you are staying in Burleigh I recommend a stroll to Point Break for dinner or lunch, enjoy the food and have a good sample of their rum menu.  Not staying in Burleigh, then forgo the rum tasting or catch a cab.
Do tell dear Belly  Rumbles reader, what do you think of healthy granola in a dessert?
Sara xxx
Point Break Bar & Grill
43 Goodwin Terrace, Burleigh Heads, Gold Coast, Qld
Tel:  +61 7 5535 0822
www.pointbreakburleigh.com