I think everything sounds far sexier in French. Take poulet en demi deuil for example, would be quite happy for a lover to whisper that in my ear. Sadly when translated into English, it doesn't have the same ring. Chicken in half mourning sounds more on the sad side than sexy.
I was gifted a gorgeous Western Australia fresh black truffle from the lovely people at Lilydale along with a few packs from their 'Ready for You to Roast' range. Not a bad pick up and cook at home range, the breast roasts marinated in fennel and chili infused oil, were our favourites of what we tried.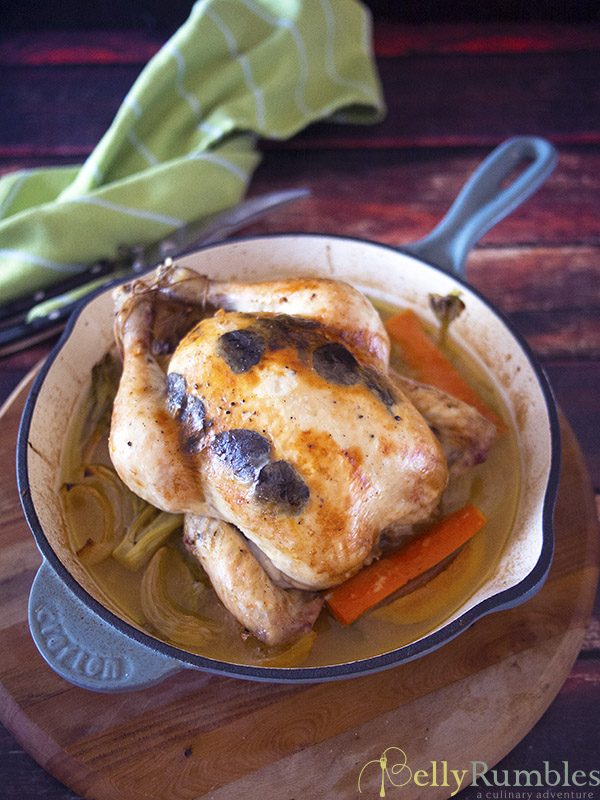 I wanted to make something special with that stunning black truffle. Actually in the end I made that truffle stretch. I also infused hens eggs with the truffle (recipe and technique to come).
With Bastille Day around the corner, this dish just seemed the perfect one to make. But why is it called chicken in half mourning? It is the visual appearance of the truffle. When the black truffles are placed under the skin of the poultry it gives the impression of a black veil.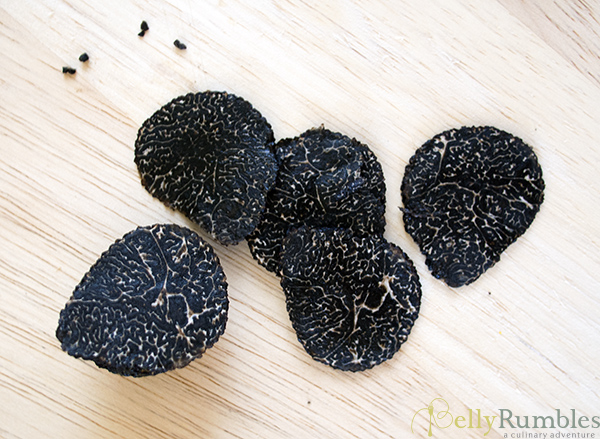 On researching the recipe for Poulet en demi deuil, I referred to my trusty 'The Escoffier', a guide to the fine art of French Cuisine, by Auguste Escoffier. Escoffier was the leading chef in modernizing French cuisine. His books are a brilliant guide for those wanting to enhance their French culinary skills. The down side is they are very textbook like. If you are new to cooking and uncomfortable in the kitchen, they can be a little confusing.
Escoffier's recipe for pullet en demi deuil reads as follows;
Between the skin and beasts of the fowl insert a few fine slices of raw truffle. Lard the pullet and poach it.
When it is ready, strain the cooking liquor through a napkin; reduce it, and add it to a very white Supreme sauce (106a), containing slices of truffle.
Cook it with some of the sauce, and serve what remains, separately in a sauceboat.
Simple and straight forward? Well I didn't think so.
There were two main factors with Escoffier's recipe for which further research was needed. Poaching the chicken in what, and what exactly was supreme sauce?
The Supreme sauce was easy, he gave me a reference number to follow. The sauce is based on poultry stock and mushroom cooking liquor, to which you then add poultry veloute. The sauce, as delicious as it sounded, was getting too element heavy for the time I had. I needed to come up with an easier alternative for the sauce.
On scouring The Escoffier's basics section I found reference to poaching poultry. The poaching is an interesting technique and one that I will try in the future, but for my recipe I decided not to poach the chicken. After having a good browse around the internet, it came apparent that no modern day recipe poached their chickens in half mourning. They were all oven roasted. This made me start to think about why Escoffier poached and the benefits of roasting.
Poaching achieves a moist succulent chicken with a lovely stock for use in making an accompanying sauce. Roasting gives you a lovely browned skin, but there is a chance you can dry out the breast meat of the chicken when cooking a whole chicken.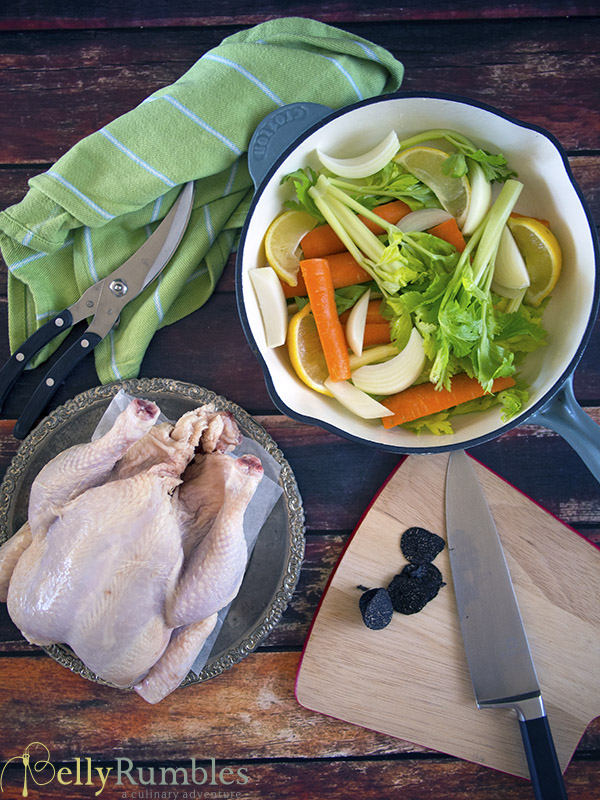 I came up with a cooking plan to stay semi true to Escoffier. The decision was made to place the chicken on a 'raft' of vegetables in an ovenproof dish. I added lemon as well as Escoffier uses lemon when poaching poultry. Water was also added and the chicken well covered with baking paper (to prevent foil sticking) and then aluminium foil. Cooked on a medium/low oven temperature the liquid created a steam to aid in the cooking process. Foil was removed for the last 30 minutes of cooking and oven temperature raised to brown the chicken.
The left over cooking liquor had been flavoured by the vegetables, chicken juices and any escaped truffle butter. Basically making a small quantity of stock.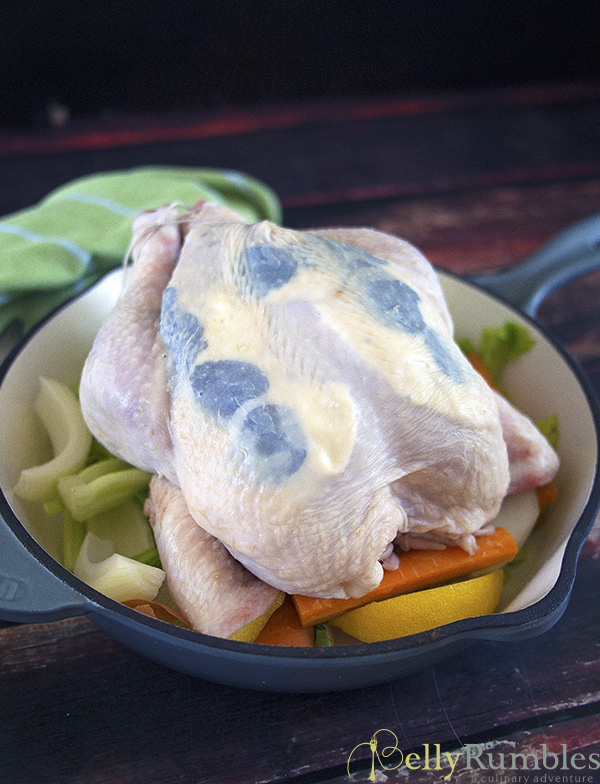 If you find that the breast is browning more quickly than the rest of your chicken for the final cooking stage, create a shield by placing a piece of baking paper over the area and then some aluminium foil on top of the paper. If you place foil directly on the chicken you run the chance of it sticking.
Total Time
2
hours
20
minutes
Poulet en Demi Deuil or chicken in half mourning. A flavoursome chicken dish using black truffles.
Ingredients
1

whole free-range chicken

-

1.5 – 1.7Kg

30

grams

truffle butter

-

softened

10

grams

fresh black truffle

-

thinly sliced

½

celery top

-

leaves and small stalks

1

large carrot

-

cut into 8 pieces lengthwise

½

lemon cut into quarters

½

brown onion

-

skin removed and quartered

1

cup

water

Salt & pepper

Sauce

Strained liquor from cooking the chicken

½

cup

cream

¼

cup

dry sherry
Instructions
Pre-heat oven at 160 deg C (320 deg F)

Rinse and dry the chicken.

Gently run your fingers between the chicken breast and skin to loosen the skin from the meat. Take it slow and be careful if you have long nails. You don't want to break the skin.

Place truffle butter evenly under the skin. Then gently place your truffle slices under the skin on top of the butter. Again take your time, it is fiddly, but you will get there eventually.

Rub a little olive oil over the chicken and then season with some ground salt and pepper.

In a baking dish place celery, carrot, lemon (give them a slight squeeze) and onion. Place chicken on top of your vegetable 'raft' and pour in 1 cup of water.

Cover the top of the chicken, the breast area, with some baking paper. Then cover baking dish entirely in a couple of sheets of aluminium foil. Place in the oven and cook for 1 hour 15 minutes.

Remove foil and baking paper. Prick the wings, legs and bottom of the chicken gently with a thin skewer or tooth pick. Raise the oven temperature up to 180 deg C (360 deg F) and bake for a further 20/30 minutes until golden brown. Cover the breast with some baking paper, if needed, to prevent burning

Once chicken has finished cooking, remove from oven and leave to rest covered with foil while you make the sauce.


Sauce


In a medium size pot reduce liquor reserved from cooking to 1/3. Add cream and sherry and simmer gently for around five minutes. Taste to see if it requires any seasoning. Serve sauce with poulet en demi deuil.
Nutrition
Calories:
185
kcal
|
Carbohydrates:
5
g
|
Protein:
1
g
|
Fat:
17
g
|
Saturated Fat:
10
g
|
Cholesterol:
57
mg
|
Sodium:
86
mg
|
Potassium:
146
mg
|
Fiber:
1
g
|
Sugar:
1
g
|
Vitamin A:
3195
IU
|
Vitamin C:
9.1
mg
|
Calcium:
31
mg
|
Iron:
0.2
mg
DID YOU MAKE THIS RECIPE?
I do a happy dance when people let me know, tag me on Insgragram @bellyrumbles #bellyrumbles
The chicken was scrumptiously moist and the sauce I created from the cooking liquor sublime. The result was the perfect roast chicken. If you don't have a truffle you could always follow the directions of this recipe and place herbs under the skin of your chicken with some butter. The chicken won't be in mourning, but will certainly be delicious.
Sara xxx