The Primus Hotel Sydney is located on Pitt Street in a prime location in the heart of town. A five minute stroll in one direction from the main shopping hub of Pitt Street Mall. Another five minute stroll in the other direction you will find yourself in Sydney's sprawling China Town area.
As they say location is everything, but it isn't just the GPS coordinates of the Primus Hotel Sydney that makes this an attractive accommodation choice. Sydney's newest (open just over 6 months) luxury hotel calls the former Metropolitan Water Sewerage & Drainage Board Building home.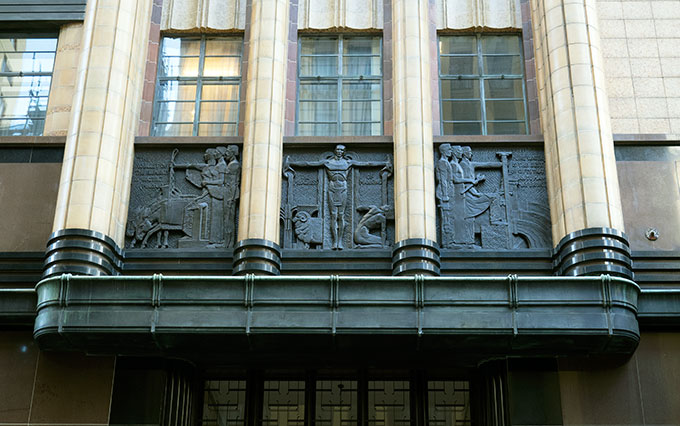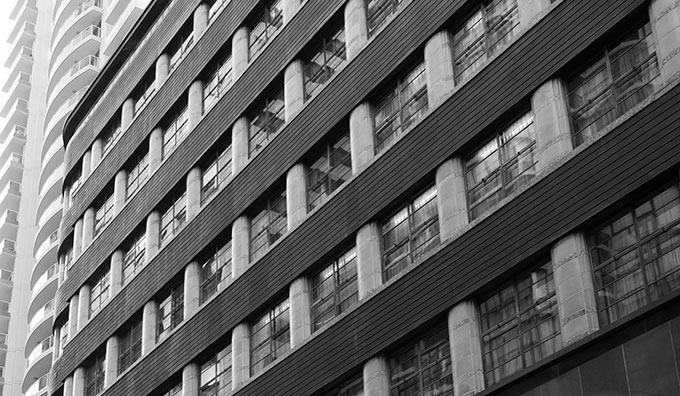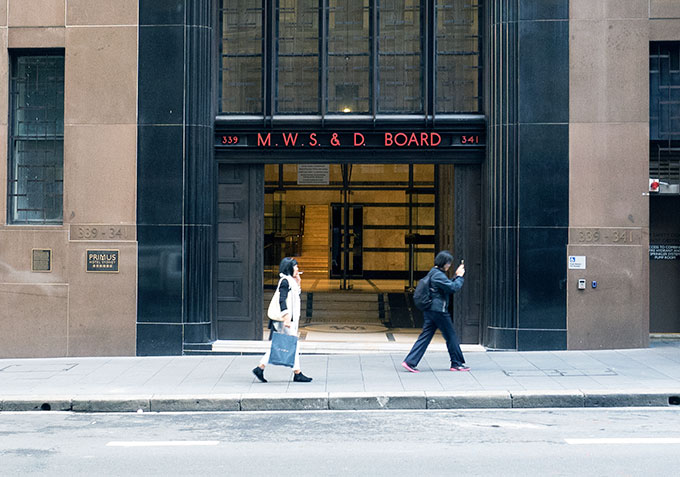 This may not sound very flash, but what a building it is. There is a reason why it is heritage listed and the results of the meticulous restorations are outstanding. You would never know that this stunning example of Inter-War Art Deco architecture was once a government building and home to bureaucrats and paper pushers.
Designed by one of Australia' most celebrated architects, Henry Budden, the Water Board Building was the most expensive building built at the time. It seems only logical that it continues its journey as one of Sydney's premier luxury hotels.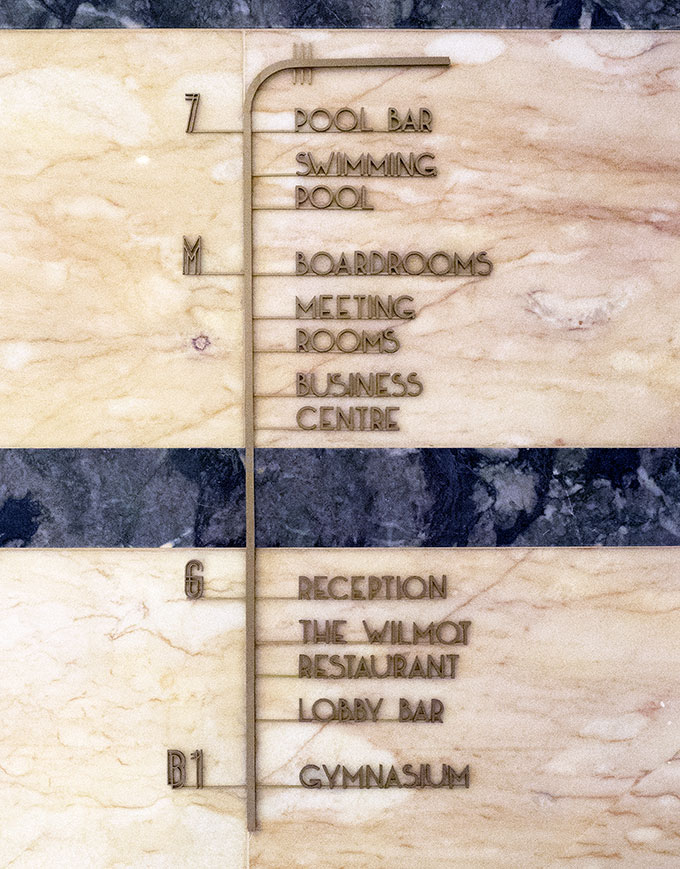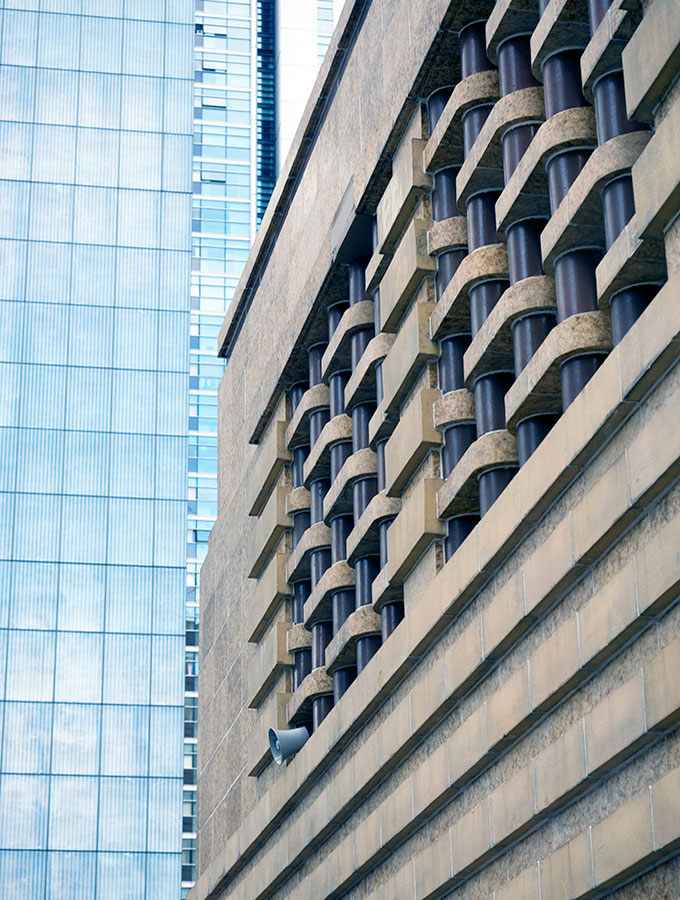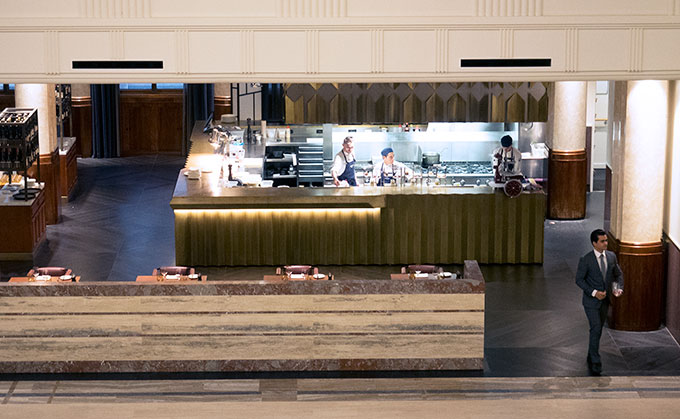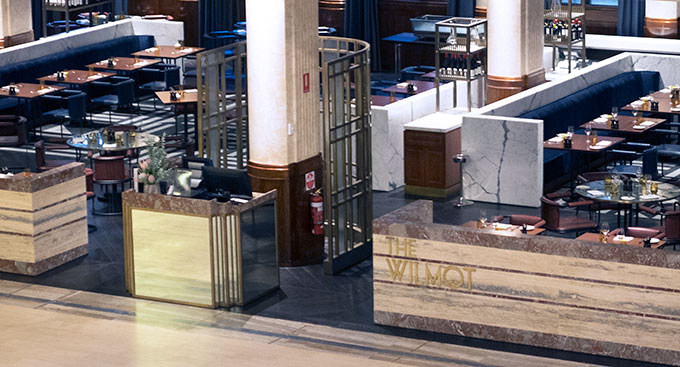 It's understated luxury at its best. When you arrive at the Primus Hotel Sydney you wont find any glaring neon signs letting you know you have arrived. The building showcases itself in its entire splendor with only a small unobtrusive plaque, 'The Primus" letting you know the building's true identity.
When arriving by car you may find yourself second guessing if you have arrived at the right spot. Is your GPS actually telling you the truth? Fear not, one of the watchful staff will quickly pick up that you are a slightly confused guest and come to your rescue. Bags will be whisked inside and you will be escorted to reception to check in. If you are driving valet parking can be arranged at $70/night, be sure to let them know when booking.
Primus Hotel Sydney – The Rooms
After checking in with the delightfully helpful staff at reception we were shown to our room. There are various room types to choose from and we stayed in one of the executive rooms.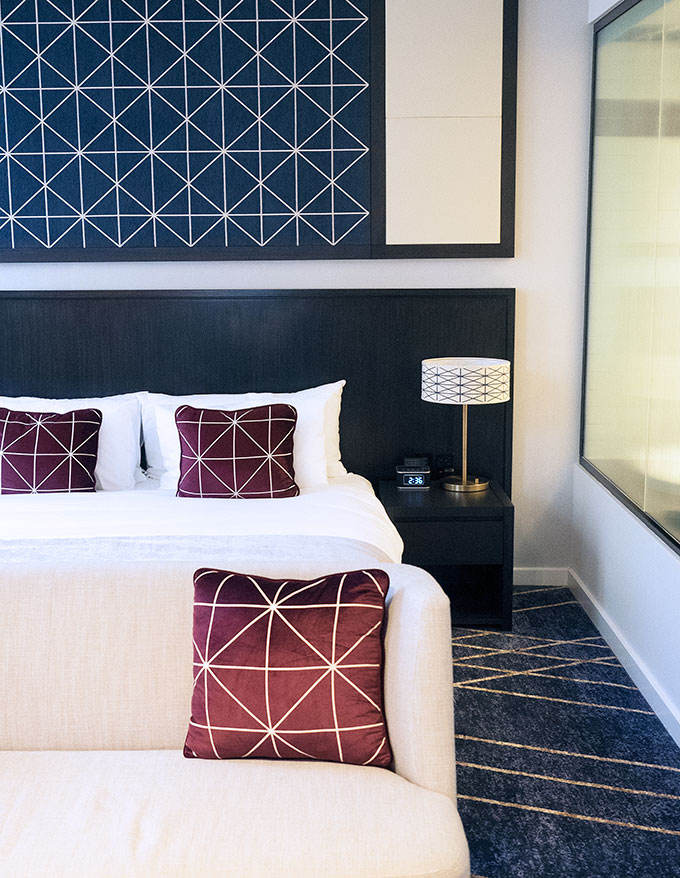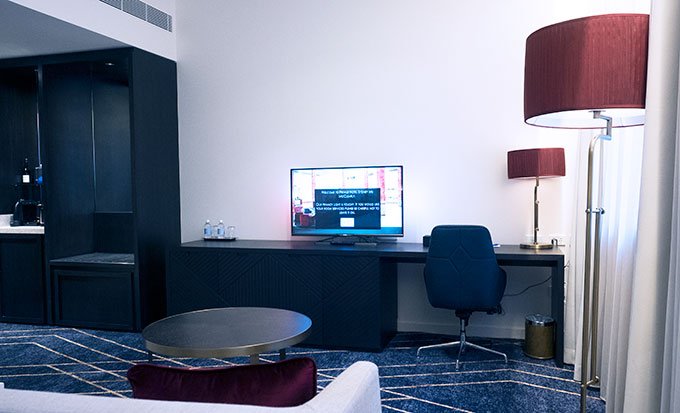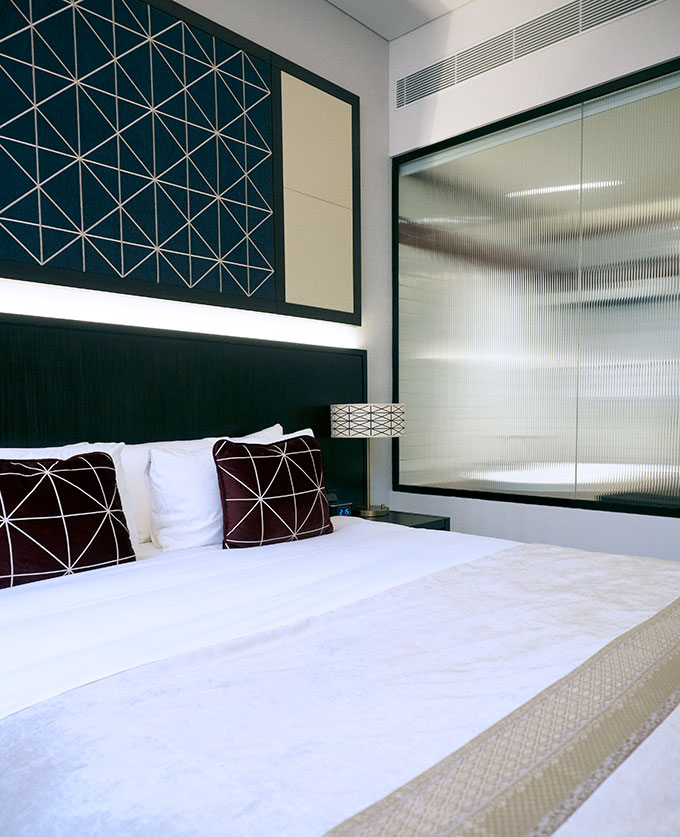 The room is large (40m sq) with enormous windows running one length of the room looking out over Pitt Street. They have kept an art deco look and feel within the rooms and all the mod cons are there. A soothing combination of luxury and comfort. It's hard to decide whether to watch television or use the free Wi-Fi from the super comfortable king size bed.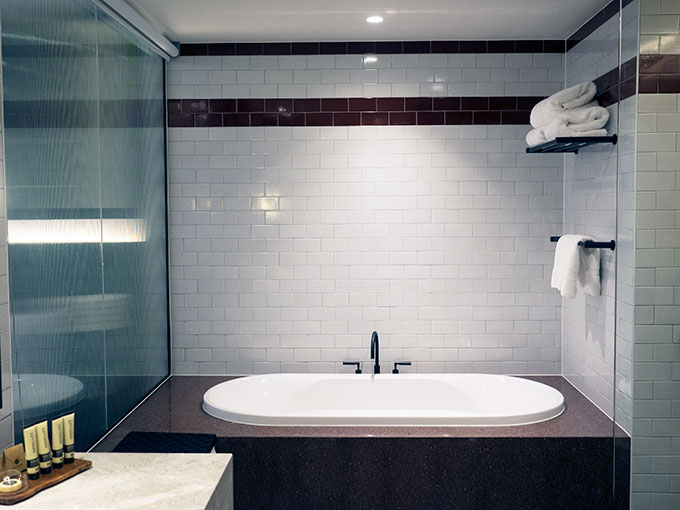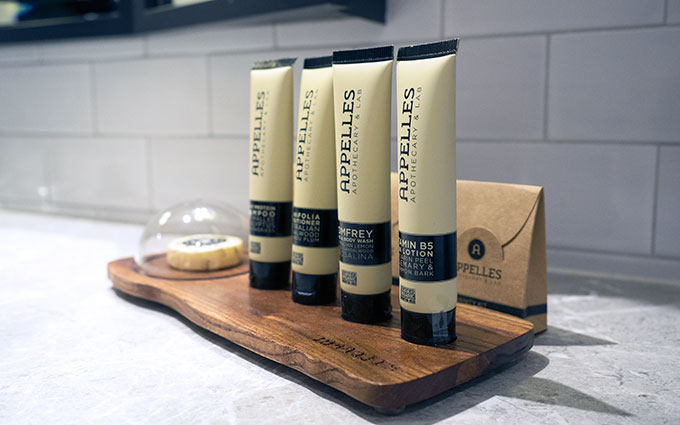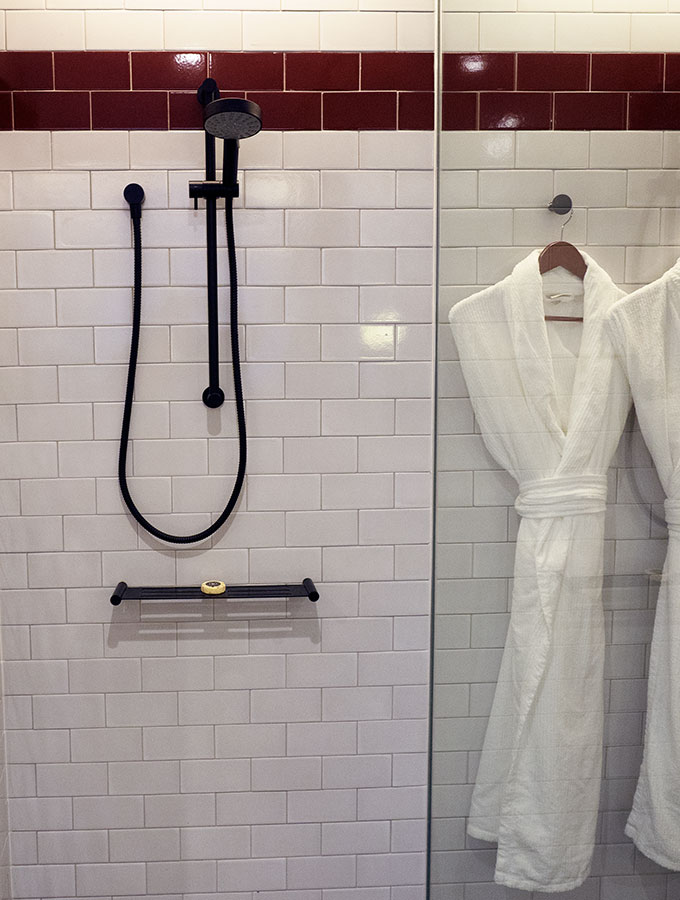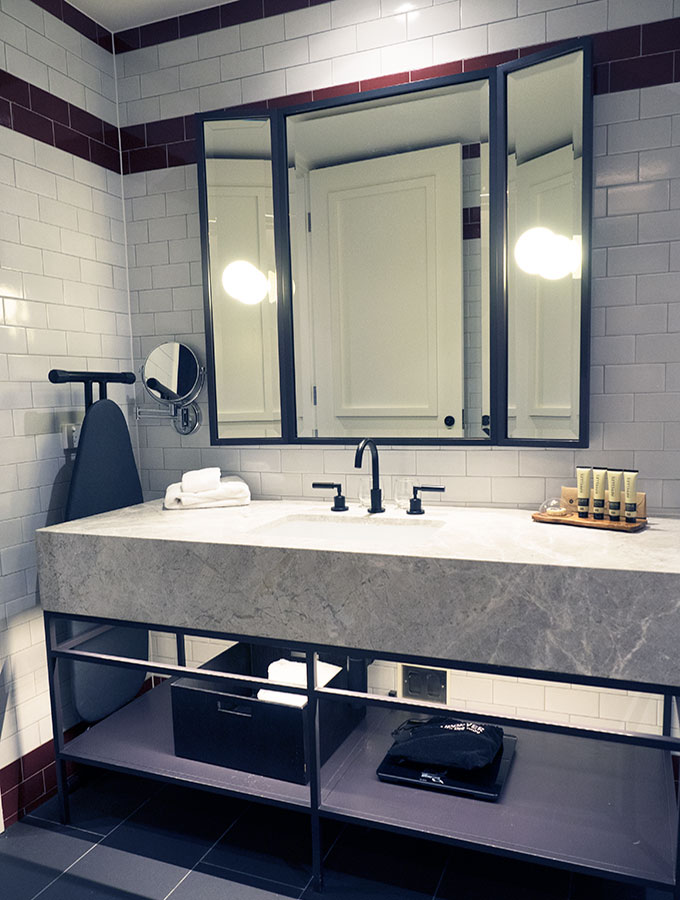 Bathrooms are usually not the highlight of your room, but in the case of staying at Primus Hotel Sydney I was gob smacked. The bathroom is huge, probably about half the size of the main room. There is an enormous soaking tub, spacious walk in shower, lush robes and slippers. Plus Appelles amenities, a favourite of mine as they make use of Australian native ingredients, and smell amazing.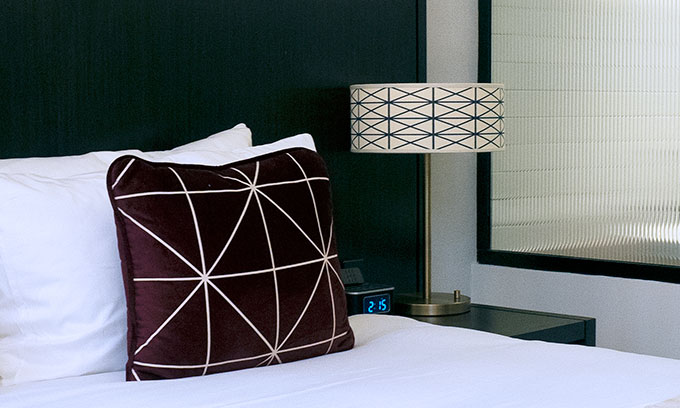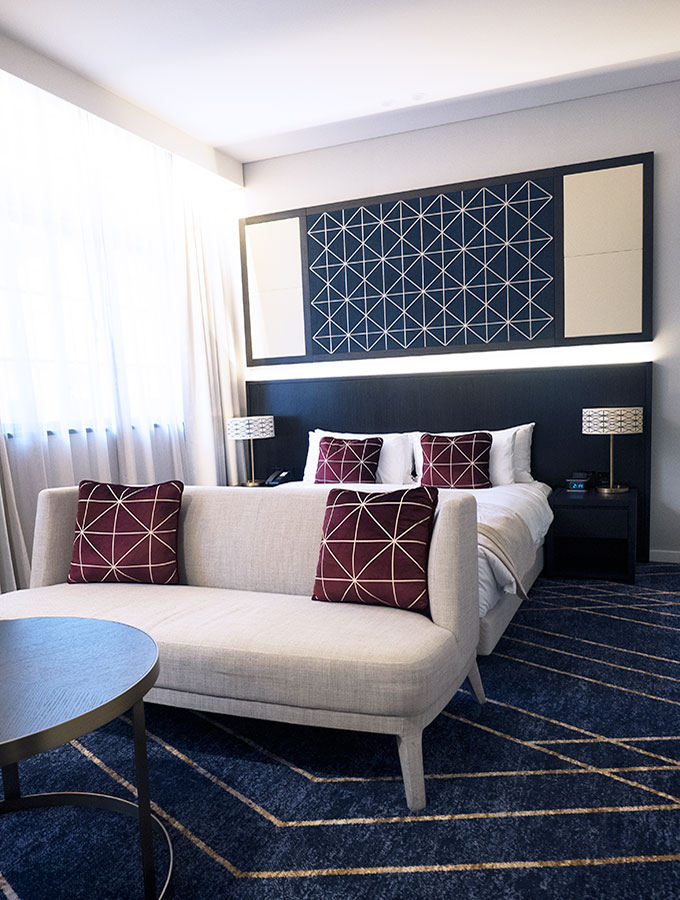 There are of course all the other things you would expect like a mini bar, 24 hour room service, safe, iron and laundry service. There is also a Nespresso machine, shoe shining kit and a handy power adaptor in the mini bar if you have left yours at home.
Primus Hotel Sydney – The Pool & Gym
With some time to spare before heading to the Lobby Bar for our high tea we decided to have a look at the rooftop pool and bar area, as well as the gym.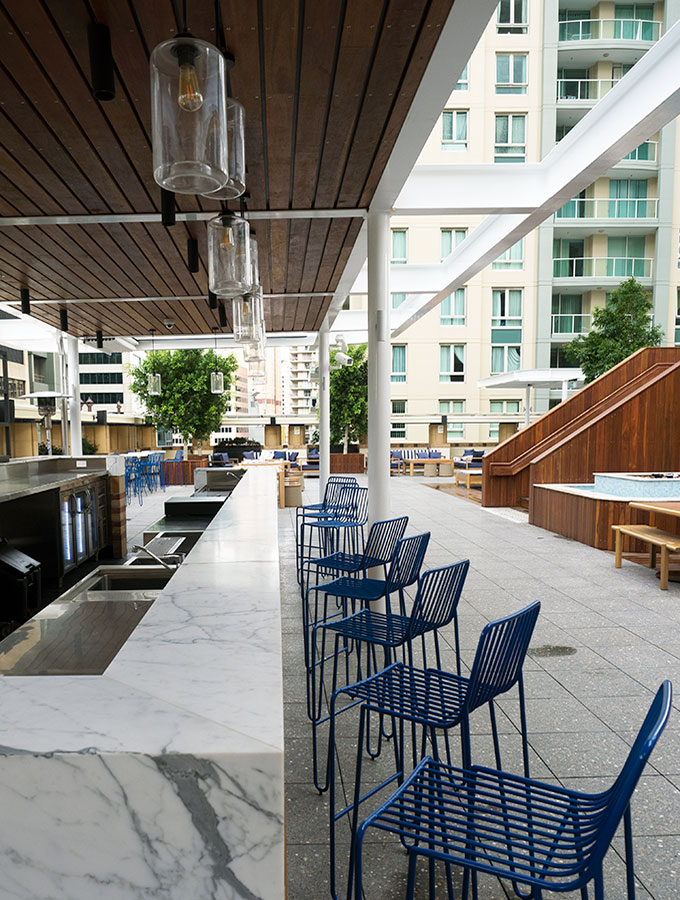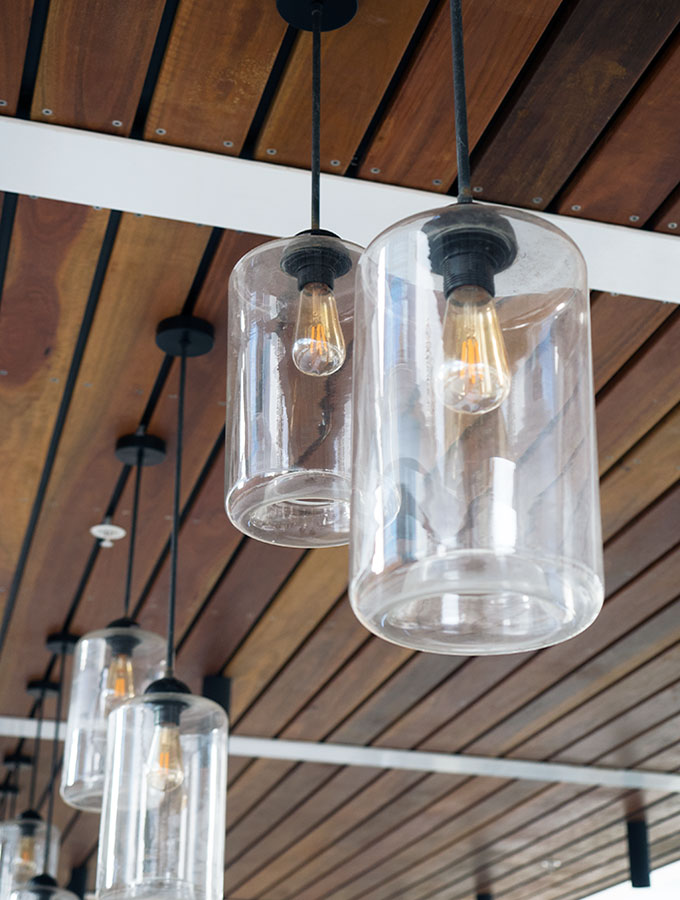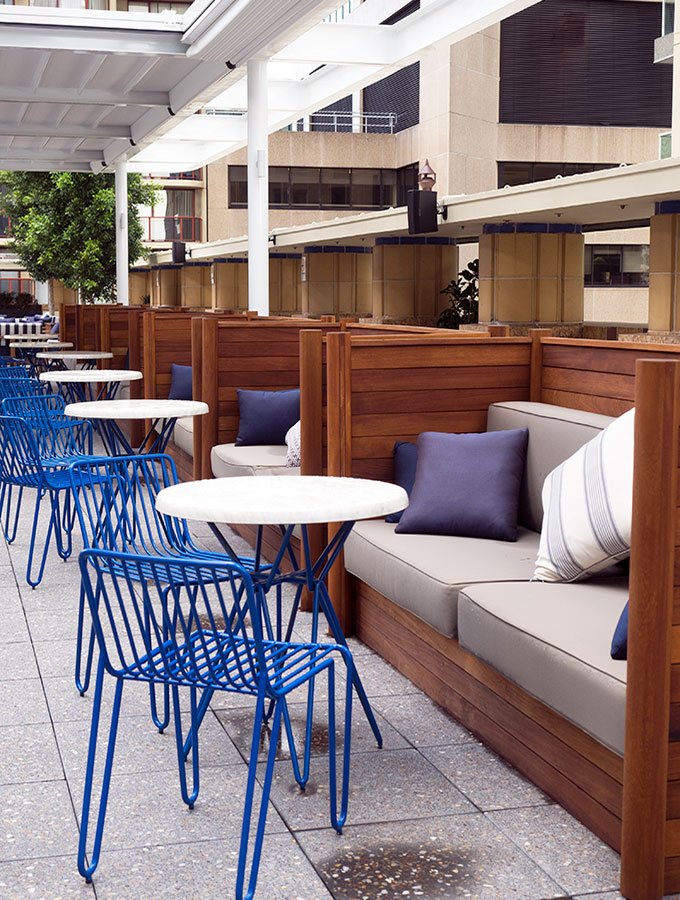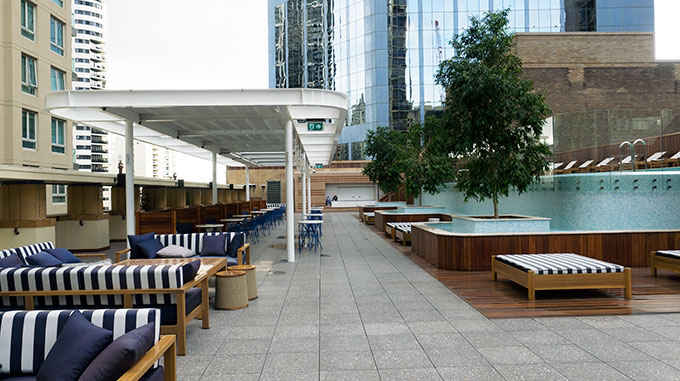 Sadly it was a rainy old Sydney day when we stayed and the bar wasn't open. Which was a big shame as it is a spectacular area. There are plenty of spaces to relax and enjoy the outdoors, from bar stools, table and chairs through to sun lounges. The pool is elevated above the main seating and entertaining area. Whilst it isn't a big resort style pool it is more than adequate to cool off on a hot summer's day or get a few laps in.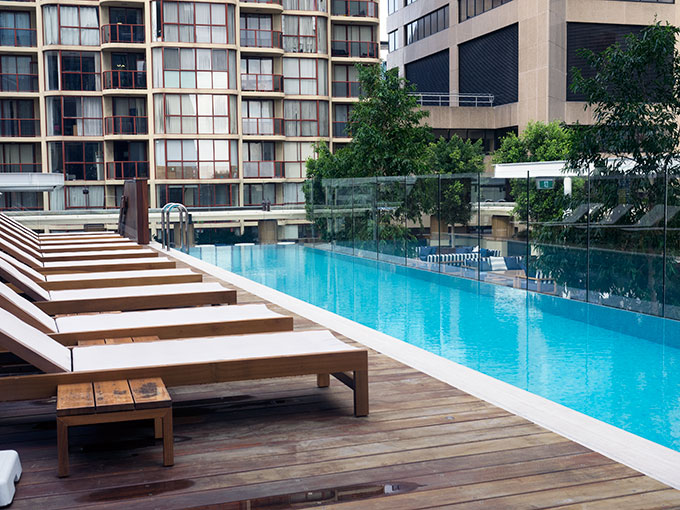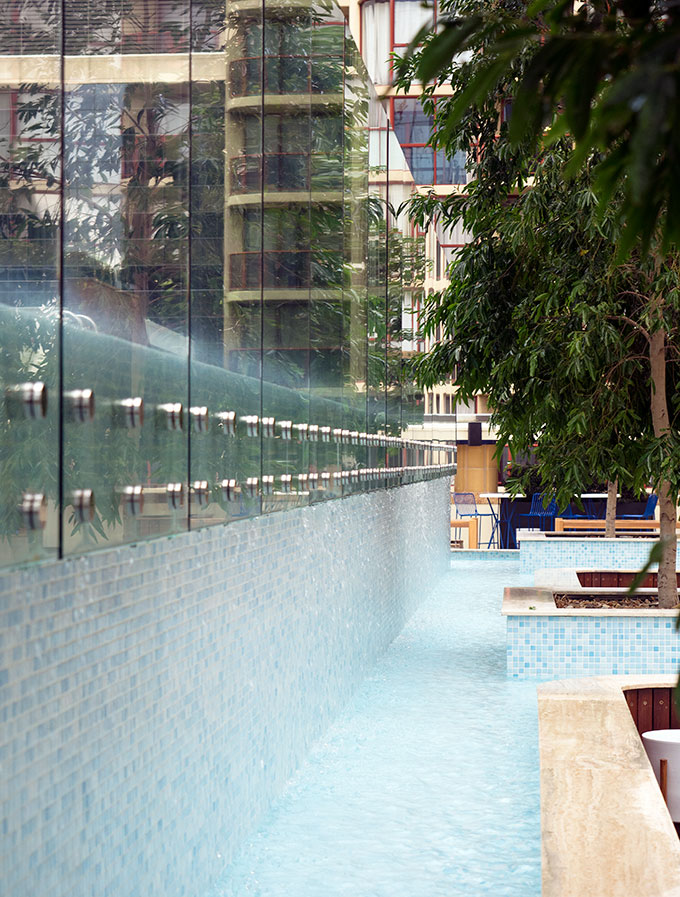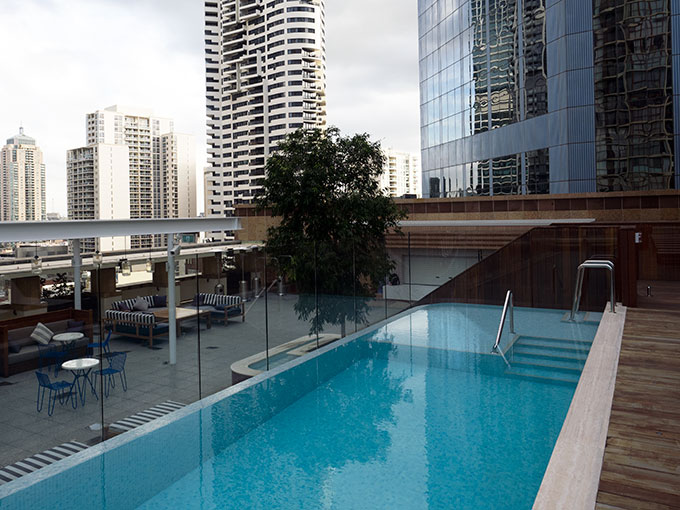 You will find the gym down in the basement area of the hotel. All the equipment you need to keep your fitness going while away from your regular routine. Plus there is the added touch of free bottled water for those working out.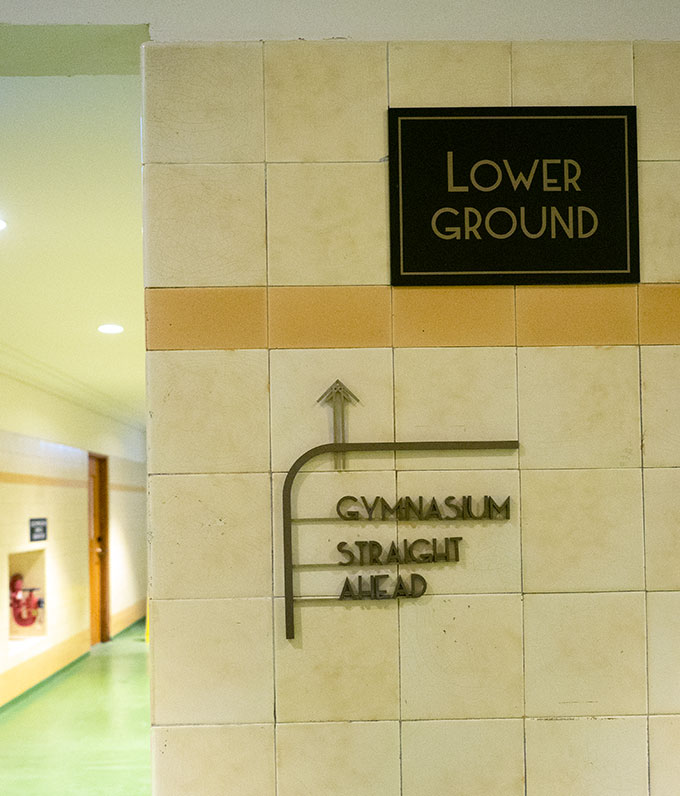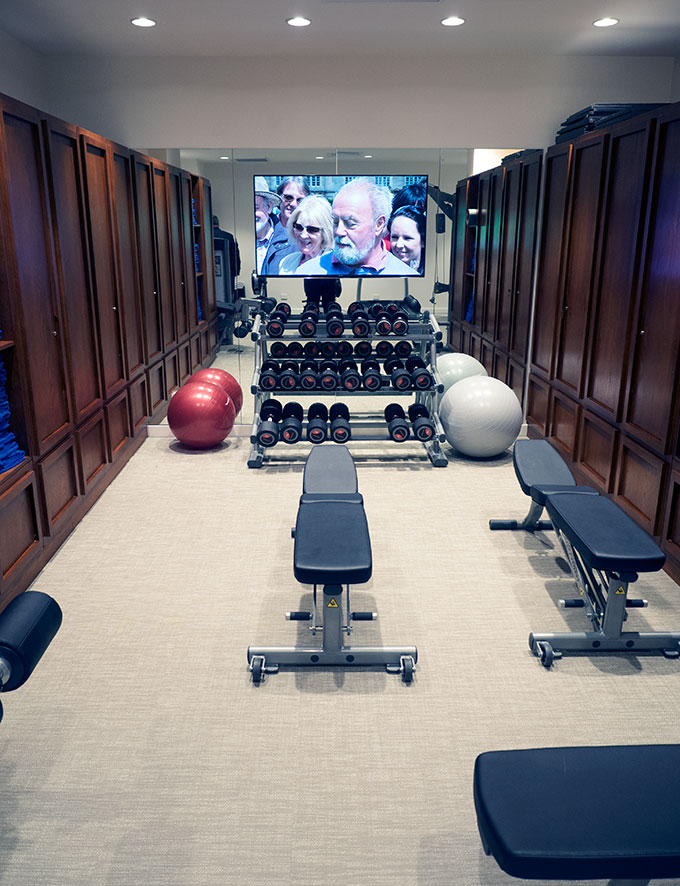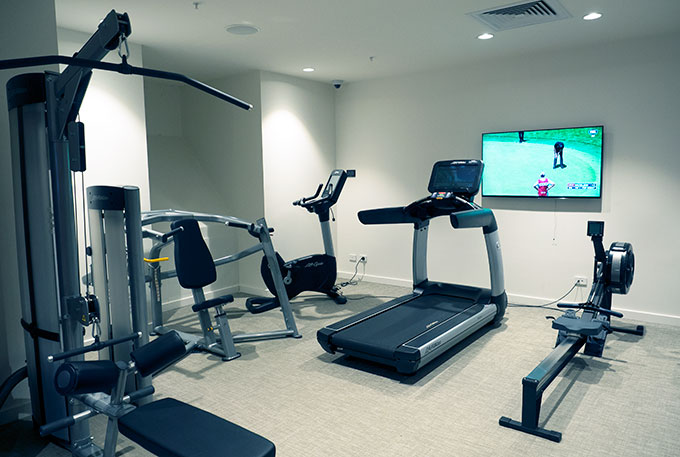 Primus Hotel Sydney – Gentlemen's High Tea
There is quite an extensive choice for high tea in Sydney, but the Primus Hotel Sydney offers something that others don't. A Gentlemen's high tea. It's a generous high tea, which would satisfy any guy (or gal's) stomach.
High tea is available in the lobby bar/lounge seven days a week. The lobby is a grand two story affair, which allows the building's architecture to shine. One of the main features you will notice as you enjoy your high tea are the meticulously restored eight metre high scagliola columns. They are simply stunning.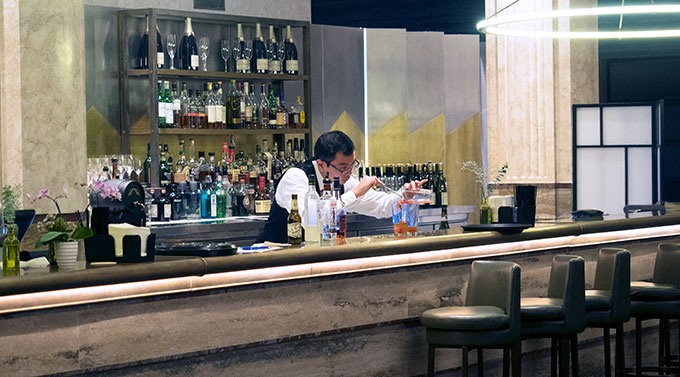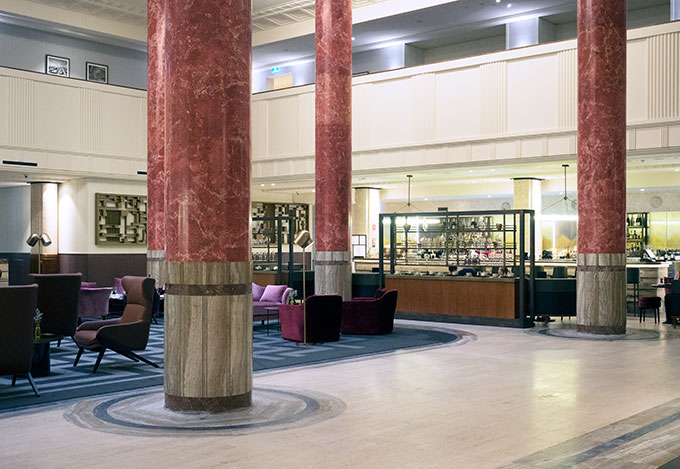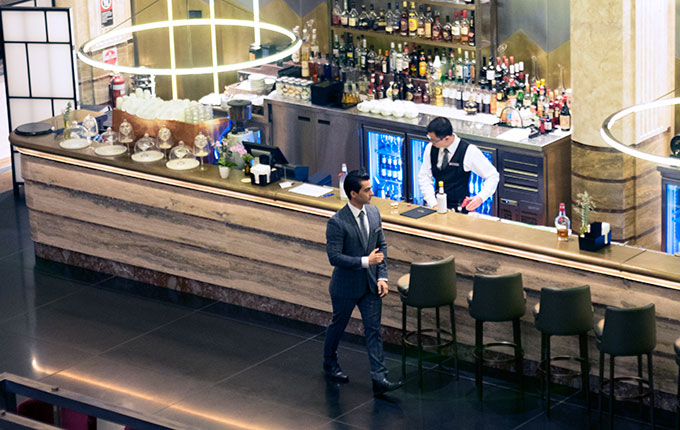 Head Chef Ryan Hong is the gentleman behind the high teas at Primus Hotel Sydney. The high teas are in addition to the dishes Ryan whips up for the hotel's main restaurant, The Wilmot. Before settling in at the Primus Hotel Sydney, Ryan was busy in the kitchens of Rockpool Bar and Grill and Black by Ezard. He was also Head Chef at the Parkroyal Darling Harbour where he opened Adobe Bistro and Bar.
Ryan's style is blending Asian influences with European finesse. His high teas showcase this and give you a taste of what you may expect in the main restaurant.
The Gentlemen's High Tea consists of delicious savoury bites including, Oysters Kilpatrick with two plump Sydney rock oysters topped with the most finely chopped bacon I have seen in a long time, and tangy Kilpatrick sauce.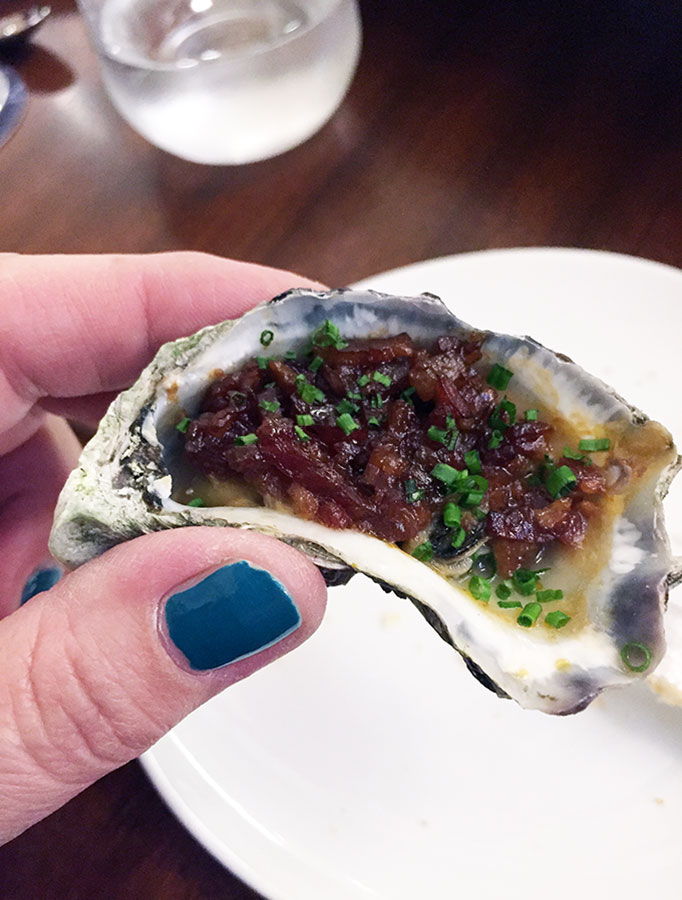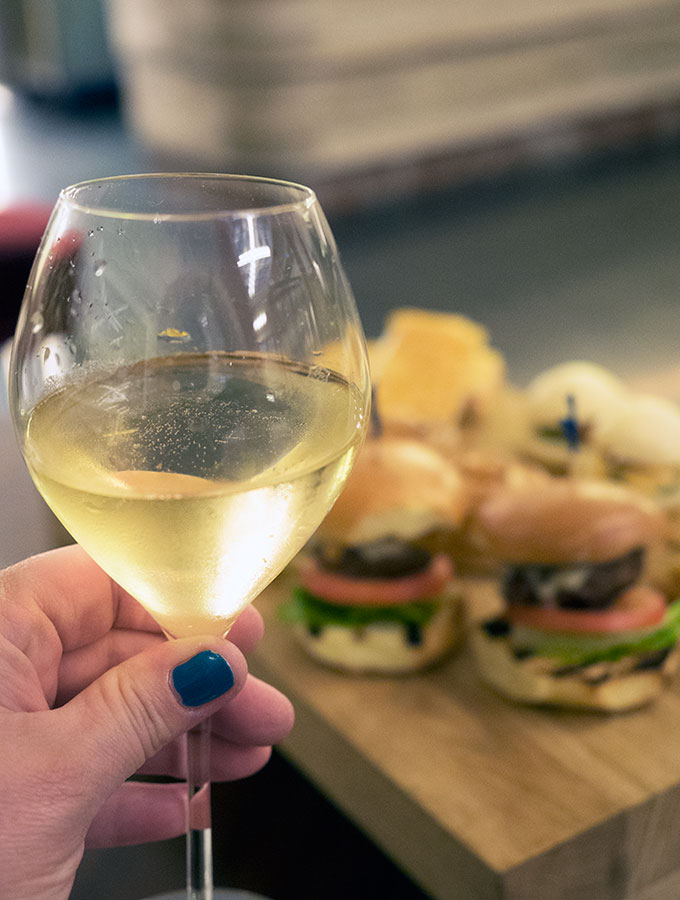 The Wagyu Sliders are petite brioche buns with plump round medium rare wagyu patties, Swiss cheese, pickle, lettuce, tomato and a mustard dressing. Plus there lamb shoulder croquets with celeriac, chicken wings with chilli aioli, beef and burgundy pies and cheese and ham toasted finger sandwiches.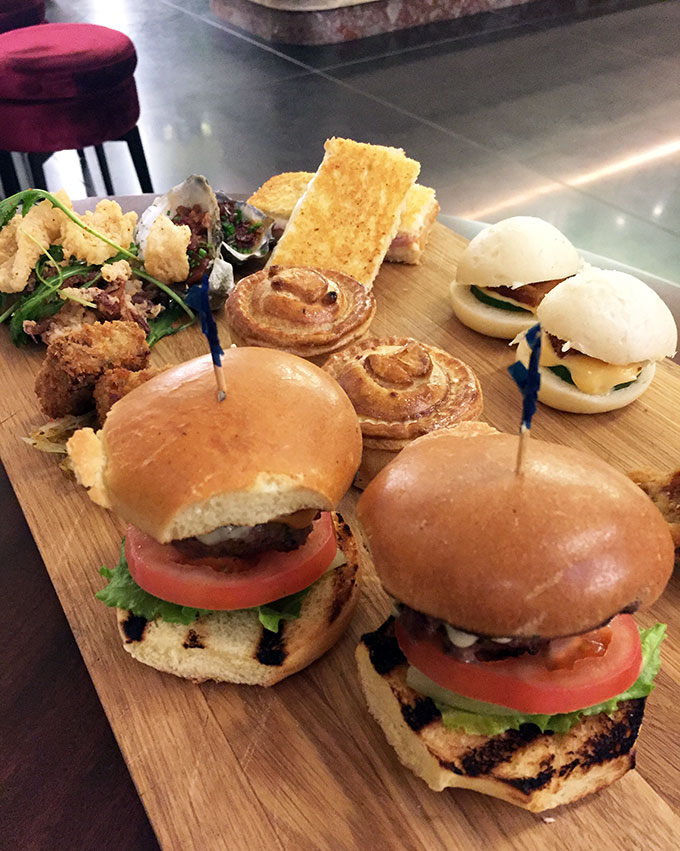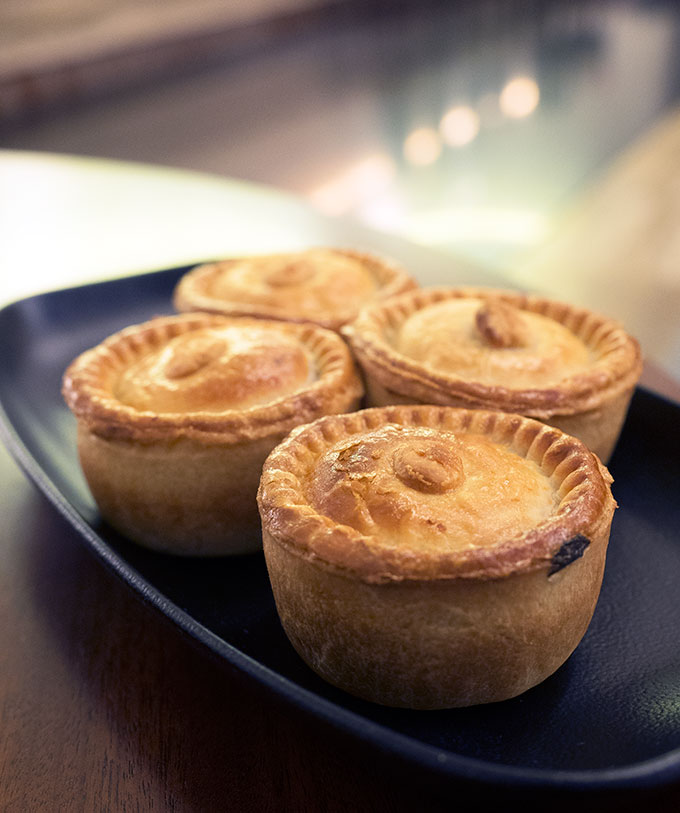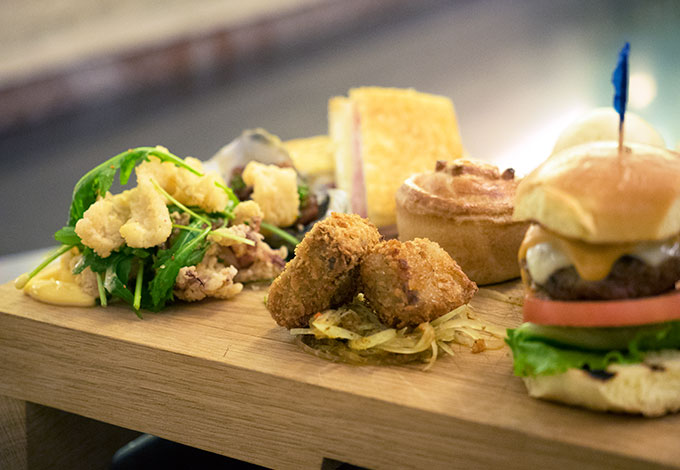 We enjoy everything, but it's interesting to note that it is those items that have an Asian influence that we enjoy the most. The salt and pepper squid is tender with a light crisp coating, which has a touch of chilli heat. The pork buns are little delightful mini mouthfuls of steamed buns with pork belly, cucumber and a spicy mayo, we would have been very happy for a couple more.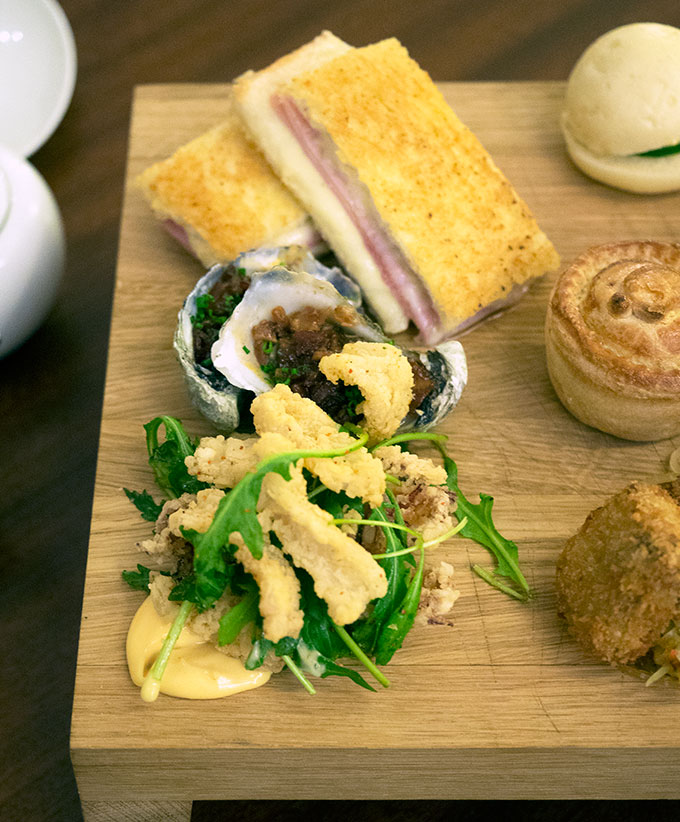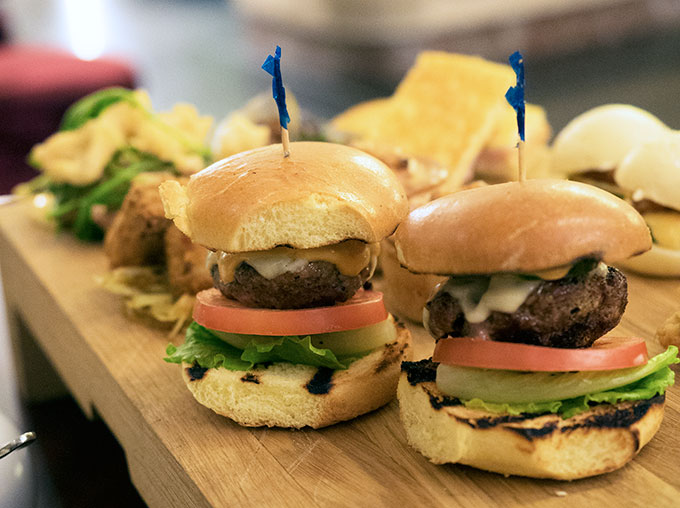 As I always enjoy the savoury options of a high tea more than the sweet, I find the Gentlemen's high tea quite appealing. Though it would have been nice if there had been one sweet offering on the board to finish with.
Of course there is also the Wilmot high tea, which is the signature high tea of the Primus Hotel Sydney and a more traditional high tea. The tea? A large choice and your teapot is continuously topped up when needed.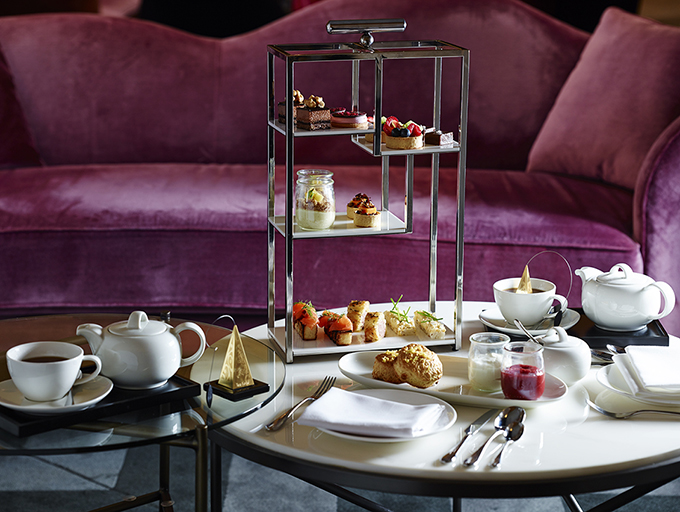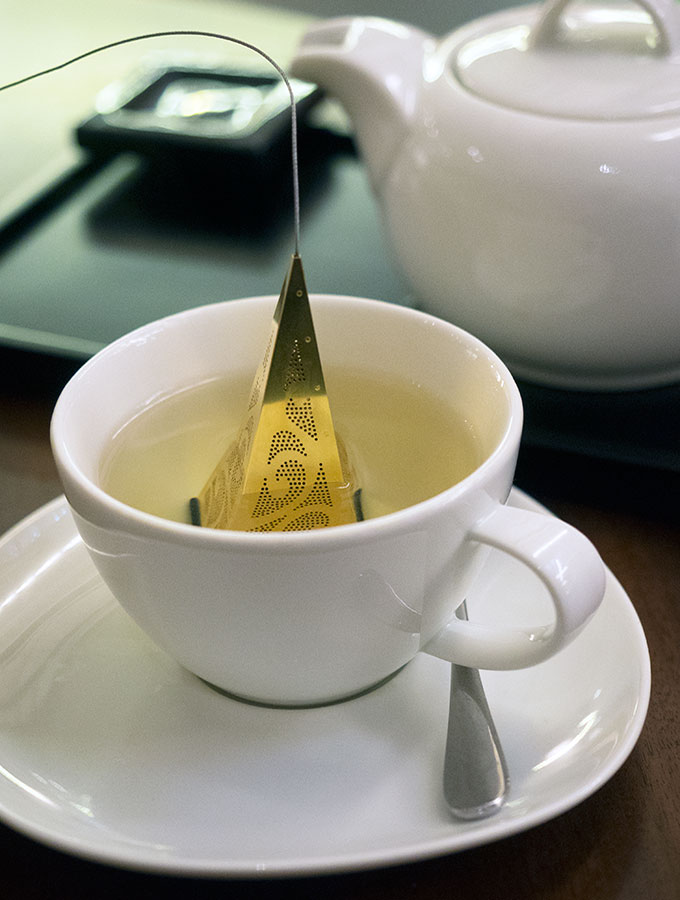 High tea is available seven days a week from 3-5pm in the lobby lounge. Prices range from food only $45, $55 including a glass of Chandon sparkling or beer and $65 including a glass of Veuve Clicquot or a premium cocktail.
Primus Hotel Sydney – How did we sleep?
After returning back to the hotel after a night of checking out some of Sydney's hidden bars, we discovered that the Primus Hotel Sydney has a turn down service. Water on the bedside tables, slippers laid out ready for our weary feet, and the bed turned down with breakfast menus at our finger tips if we wanted to order breakfast in our room for the next morning.
We slept very soundly. The bed comfortable and even though our room looked over Pitt Street no Saturday night noises wafted through to our room.
Primus Hotel Sydney – Breakfast at The Wilmot
After a very lazy sleep in we headed down to enjoy a late breakfast in The Wilmot restaurant. A buffet brimming with a variety of quality breakfast offerings, fresh fruit, mini pastries, jams, breads, cereals, Carmen's muesli, freshly squeezed juices, yoghurt pots, stewed fruit, meats and cheeses. Then there were the hot offerings of mushrooms, eggs, bacon, hash browns, tomatoes, beans and much more. You are also able to order eggs anyway you like them or an omelette to be delivered freshly cooked to your table.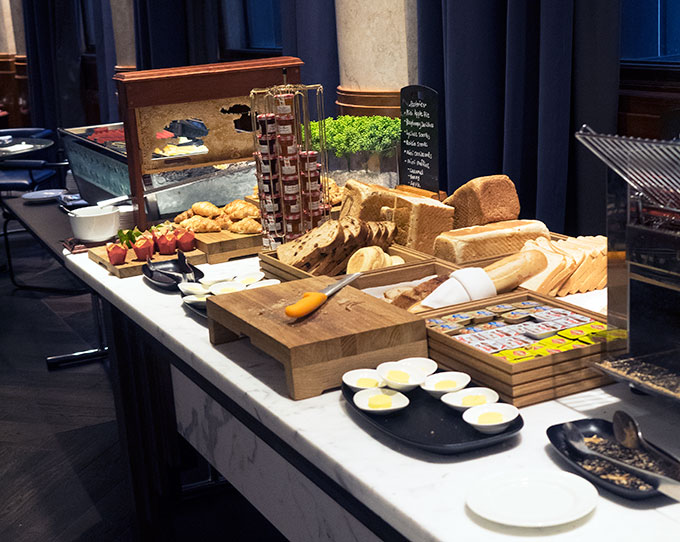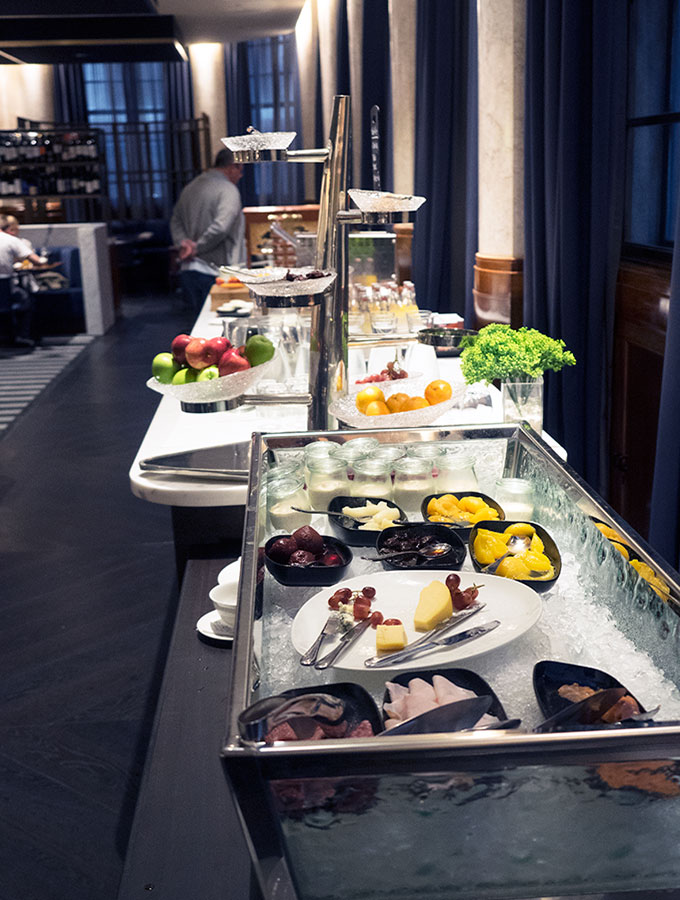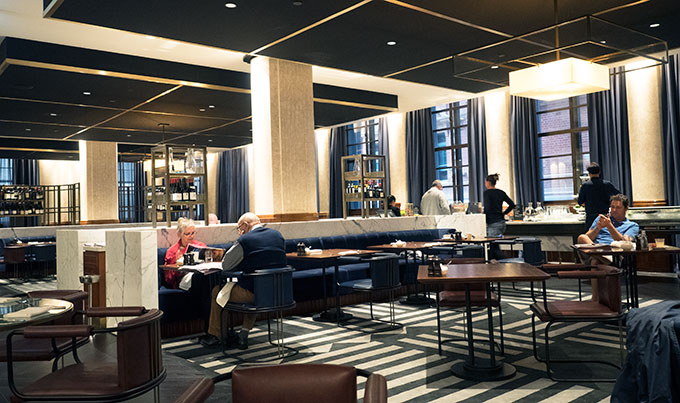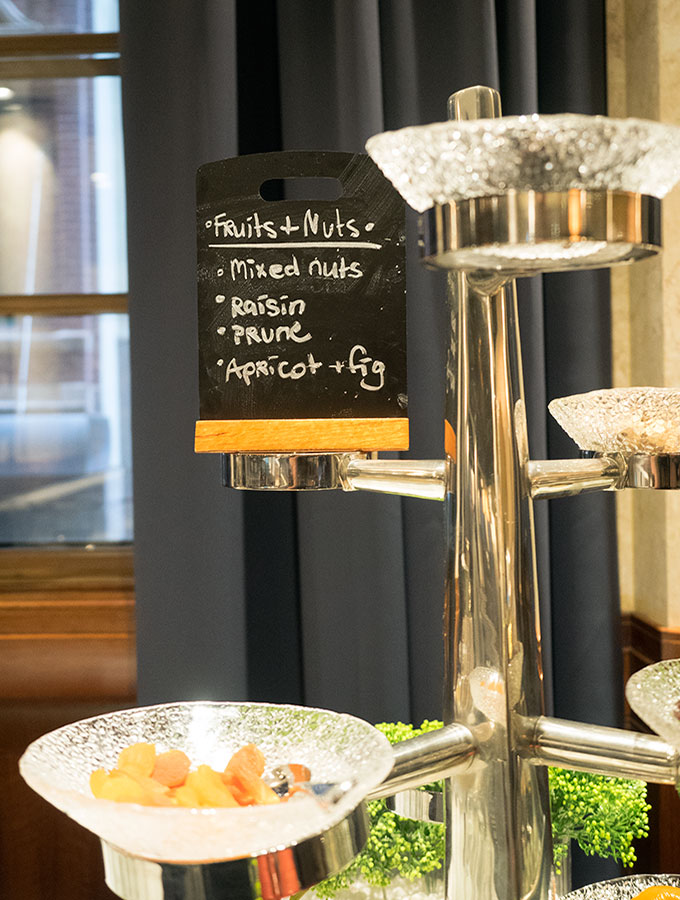 We had the most enjoyable and relaxing Sunday morning breakfast. You are encouraged to take your time, eat as much as you want and start the morning off relaxed.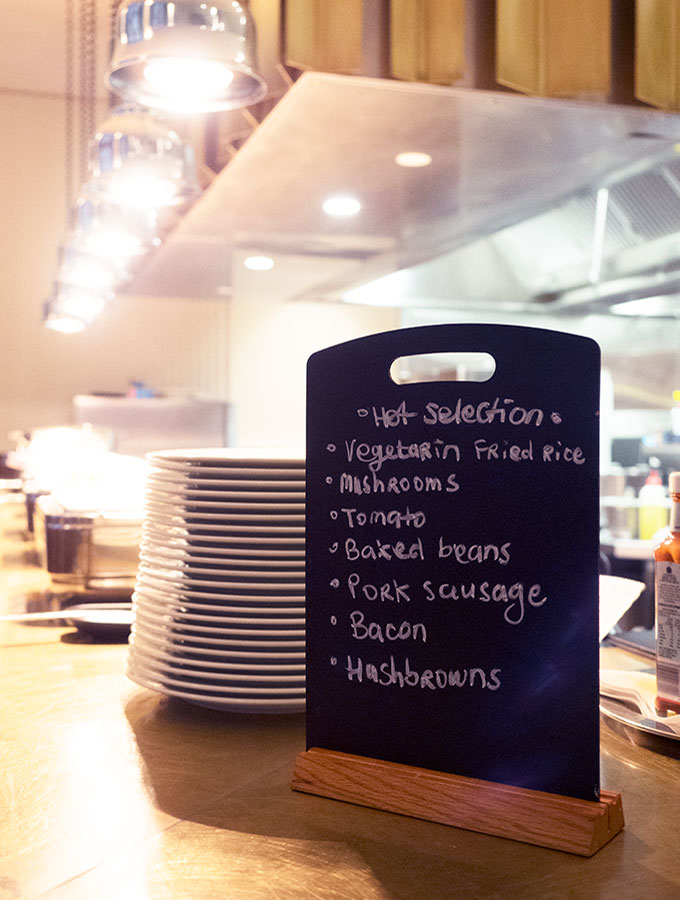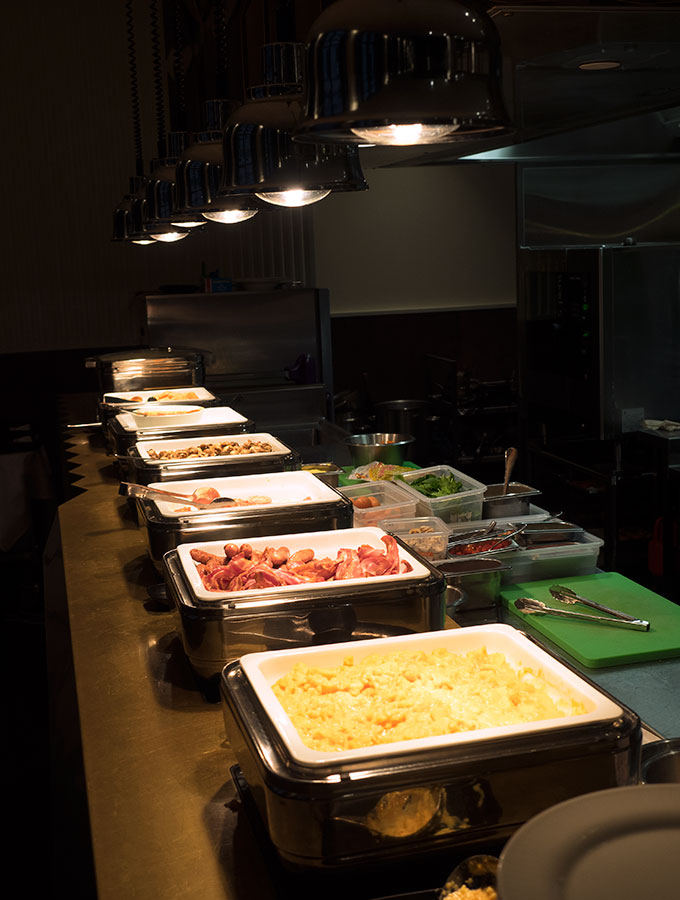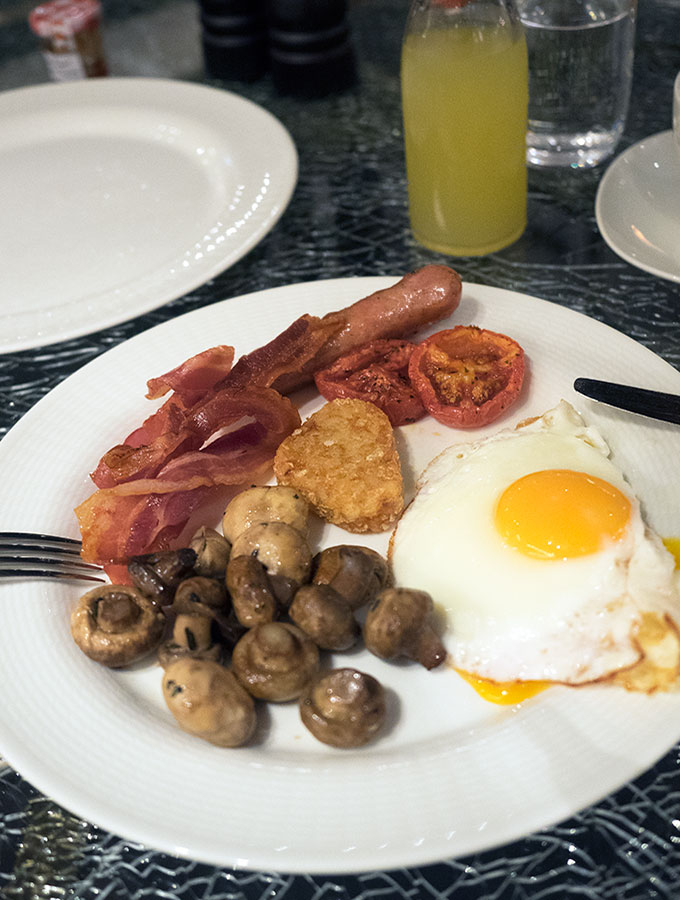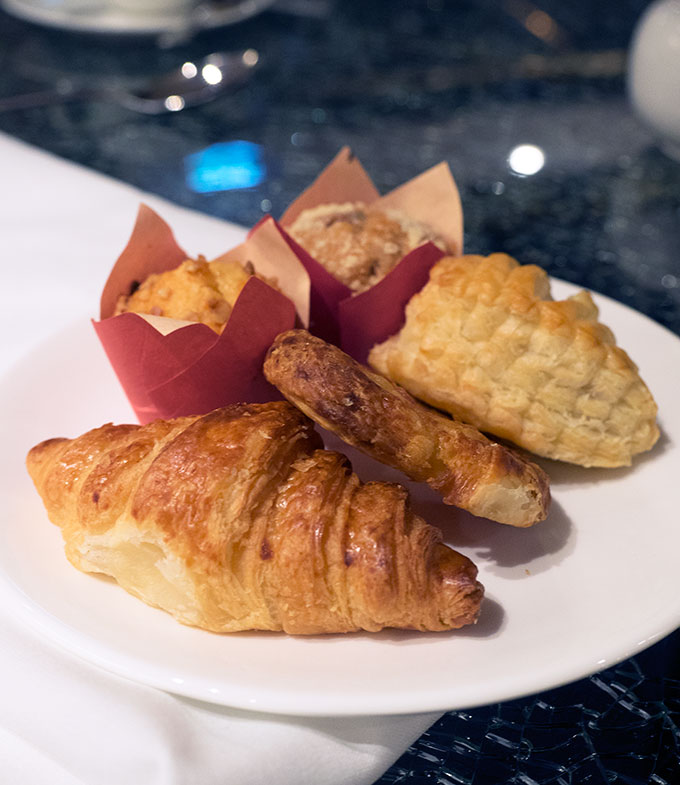 Primus Hotel Sydney – The Verdict
As I mentioned Primus Hotel Sydney is in a great central location. Close to good bars, restaurants and entertainment options. It is the perfect hotel for business travellers as well as couples and families.
It has a wonderful pool area, and when Sydney turns up the heat, you will find it a most valuable asset after a day out exploring or working.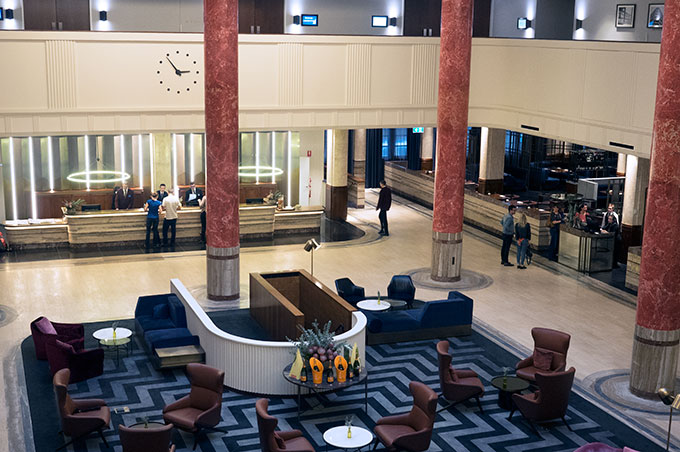 The rooms are comfortable and quiet, which makes the Primus Hotel Sydney a perfect option to rest your head whether visiting from out of town or having a staycation in your home city.
Sara xxx
Sara stayed as a guest of the Primus Hotel Sydney. Her views, as always, are of course her own.
Primus Hotel Sydney
339 Pitt Street, Sydney, Australia Tel: +61 2 8027 8000
website
Become a subscriber and don't miss a single delicious recipe, restaurant review or travel adventure.