Birthdays, aren't they wonderful things? An excuse to go out and eat, and if it is your birthday you get to pick. There are only two days that separate Josh's and my birthdays. For the past 18 years my birthday has generally been consumed with kids parties etc, as he had the big celebratory 18th last year. This year I had a plan, and my foodie son willingly agreed. An adult family lunch at Quay to celebrate both our birthdays.
The last time I visited Quay would have been 20 – 25 years ago. Not even sure if it was called Quay back then, but I do know that renowned Chef Peter Gilmore wasn't behind the pass. The food was good back then, but not the standard it is today.
The present day Quay ranks number 26 on the S Pellegrino World's 50 Best Restaurant's list, and is the highest ranked Australian restaurant in the world. Peter has been behind the helm as Executive Chef since August 2001. It's located in prime position overlooking two of Sydney's icons, The Sydney Opera House and The Sydney Harbour Bridge.
Parking is available, but you do need to advise them when you book. I for some reason didn't. All was okay, one of the owners was just leaving and we were more than welcome to park in their spot. Friendly helpful security in arranging that for us, nice first impression.
The friendliness didn't stop there, we were greeted at reception with a smile and then cheerfully ushered to our crisp white linen clad table. We were blessed with the most gorgeous sunny day, just perfect for a Friday lunch and I could not have requested a more perfect position. We were seated by the window looking out on the two Sydney icons and the rest of our bustling harbour, sheer bliss!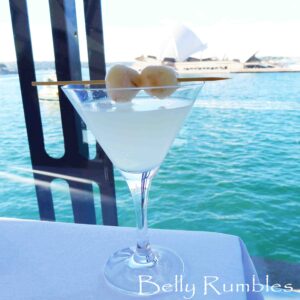 The boys start off with a beer and I decide to have a lychee martini while we pondered the menu. At lunch there are two options to choose from. One is the eight course tasting menu which also includes coffee/tea and petit fours $220.00. The alternatively choice is either 3 courses for $115 or 4 courses for $135. After having a good peruse of both we choose to have the four course option.
We are offered a selection of warm bread. Actually the bread just keeps being offered throughout the meal. To start we are presented with an amuse bouche of tartare tuna, dashi jelly with white asparagus puree. Very pretty and quite tasty, it achieved its purpose as my taste buds were salivating for more.
Daniel Wegener, Quay's sommelier has put together an extensive wine list including wines produced under biodynamic conditions through a commitment to sustainable agriculture. There are natural wines, or old world, which are created with minimal intervention as well as standard wines from around the world. Wines start around the $60/bottle mark and the most expensive I spotted was a 1985 Henri Jayer, Cote de Nuits, Pinot Noir $7,280. We settled for a budget Australian Sauvignon Blanc, a 2010 Rosily $62/bottle to accompany our meal.
Course One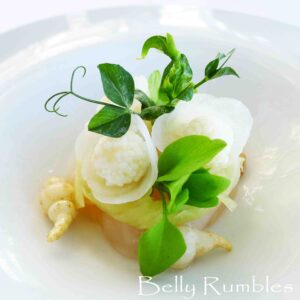 Sashimi of sea scallops, smoked eel flowers, apple, organic crosnes, horseradish, sorrel shoots, virgin pine kernel oil: The boys both ordered the scallop dish, which I was a bit surprised with as Mac is not a big fan of scallops. A beautiful combination of flavour and texture. For those wondering crosne are the sea shell looking tubers on the plate, aren't they gorgeous! They are actually from a plant that is a member of the mint family. They taste nothing like mint, and have a nice light nutty flavoured crisp crunch.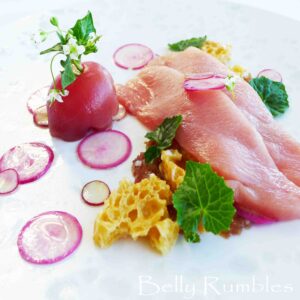 Southern tuna, toro, pink turnips, jamon de bellota juniper, wasabi flowers: The tuna was melt in your mouth. I thought the turnips would be served a bit differently, to be honest they just reminded me of radish. I love the way Peter plays with textures and the wasabi flowers are just so pretty.
Course Two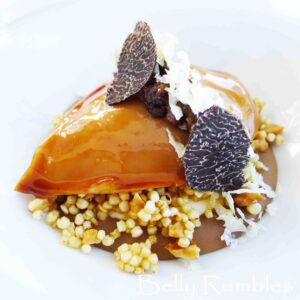 Slow cooked coturnix quail breast, pumpernickel, walnuts, quinoa, truffle, chestnuts, milk skin: Sadly I was a little disappointed with this dish. It really comes down to each to their own, but I didn't enjoy the puree it was all sitting on. Now saying that, the quail was perfectly cooked. I found the milk skin quite interesting. You really needed the quinoa for the crunch aspect in this dish. I shared my truffle with Josh and gave him one of the generous slices, I'm such a nice mum!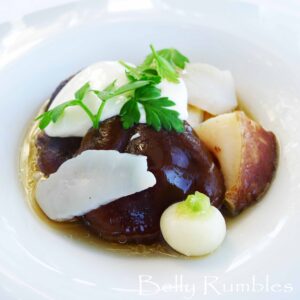 Gentle braise of black lipped abalone, pearl oyster, rare breed pig, shiitake, native sea parsley, ginger scented milk curd, earth and sea consommé: This was Mac's choice and the main component of this dish was the shitake mushroom, it seemed to take over the dish. I had to have a taste and found the combination with the milk curd quite tasty.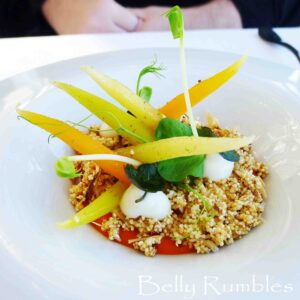 Organic heirloom carrots, cumin, fennel & celery seeds, comté-infused curd, almonds, amaranth: Josh stunned me completely by ordering the vegetarian option of the organic heirloom carrot dish, actually he floored me. I am so glad he did, as I felt he had ordered the winning dish out of the three. Stunningly presented and was packed with taste and texture.
Course Three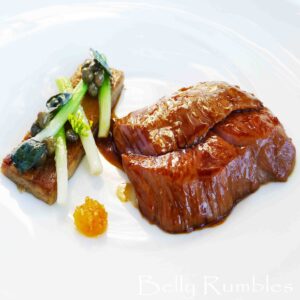 Milk fed Suffolk lamb leg, artichoke emulsion, Pantelleria capers, confit lamb belly, citrus marmalade, nasturtiums: Mac ordered the lamb as his third choice. He thoroughly enjoyed this dish. I am not a lamb fan at all but had to have a taste (I am terrible that way). The lamb leg was extremely tender and didn't have that over powering lamb taste that I don't like. Mac said I wouldn't of enjoyed the belly as it was a lot stronger in taste, but he was in heaven.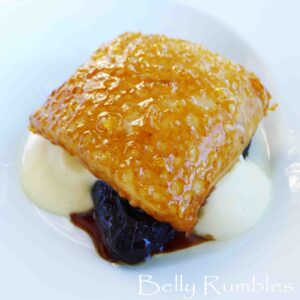 Berkshire pig jowl, maltose crackling, prunes, cauliflower cream, perfumed with prune kernel oil: Both Josh and I ordered the piggie. Once placed in front of us our waiter advises us to take the time to enjoy the aroma. Both Josh and I shot each other a quizzical look across the table and then took a deep breath in. Who would of every thought something could smell so good! The pork is melt in your mouth tender, I am lost in pure delight with each mouthful, I don't want it to end.
Is it wrong to mop up the remaining juices and puree with bread in one of the world's top restaurants? Probably, but that is what I did. Actually I had run out of bread and basically tackled the person distributing bread for some more. I did try to not be obvious about it, but if any of the attentive staff looking after us noticed, they were keeping mum.
Course Four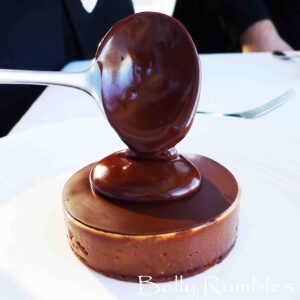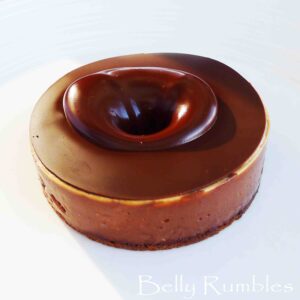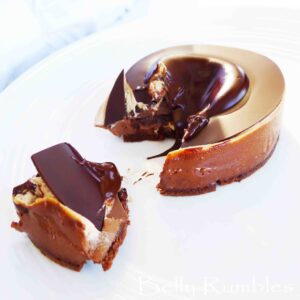 Quay's Eight texture chocolate cake: This was Mac's dessert of choice. I didn't tell him about the surprise on serving, well actually I had completely forgotten. The cake is placed in front of you and then the eighth texture, warm chocolate sauce, is poured on top. What is so magical about this is that it melts the top layer creating a sink hole. Yes I had to have a try and it is a rich chocolate lovers delight.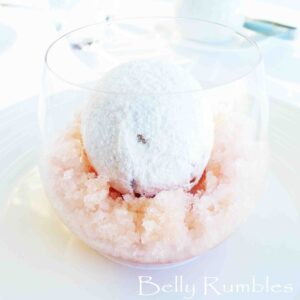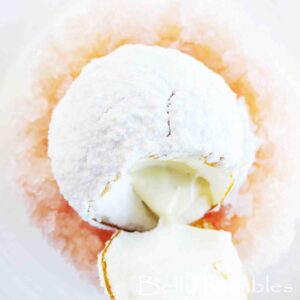 Guava & custard apple snow egg: I already knew I was going to order the snow egg, that decision was made about a month in advance. Actually it was one of the reasons why we didn't have the degustation menu as it isn't on it. With all the hype surrounding the snow egg caused by MasterChef, was it everything it was said to crack up to be?
Oh yes it was! You crack through the tuile surround and your spoon dips in to soft meringue to be met with custard apple ice-cream. All of this is sitting on a pretty pale pink guava granita. Every mouthful was thoroughly enjoyed.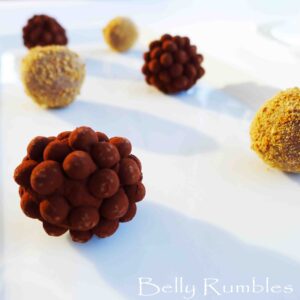 Lunch came to an end with coffee and two types of petite fours. The lighter of the two was palm blossom, sugar, milk, chocolate ganache, with a roasted hazelnut in the centre. The darker one had a Amedei Chuao chocolate ganache centre, muscatel grapes and amaretto chocolate crispies on the outside.
Our visit to Quay was definitely a lunch to remember. I will return. Now that I have tried Peter's snow egg I will be back for the tasting menu.
Sara xxx