You may be wondering what raclette is? It may not sound like it, but raclette is a very tasty and delicious cheese.
A cheese that I feel has two faces. When eaten as is has a mild nutty flavour with a touch of milky sweetness, but nowhere near as sweet as say a Swiss cheese. When heated the cheese changes flavour, taking on a stronger and slightly salty flavour.
Heidi Farm's raclette has just been awarded the prestigious title of Grand Champion Cheese at the recent Australian Grand Dairy Awards. The judges stated that Heidi Farm's raclette was a "World class cheese".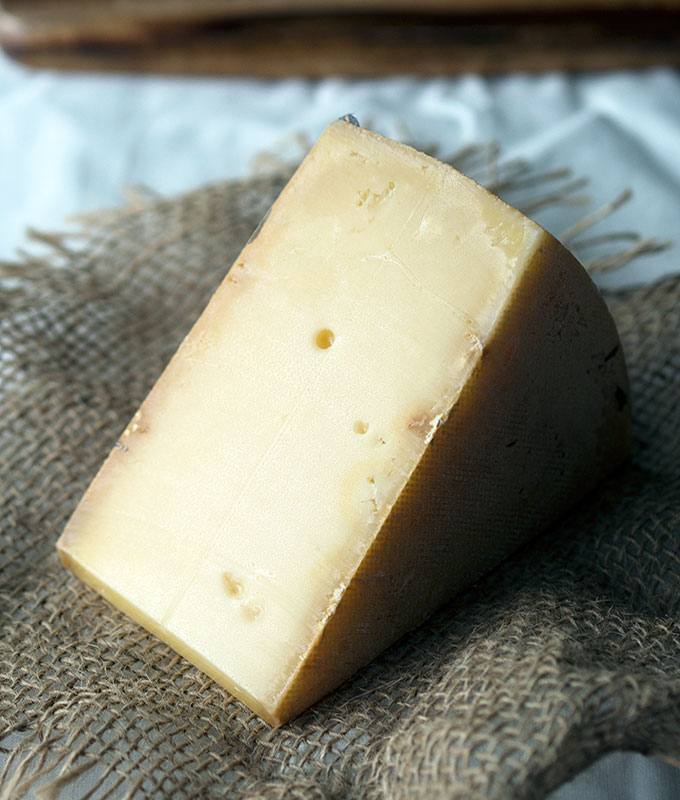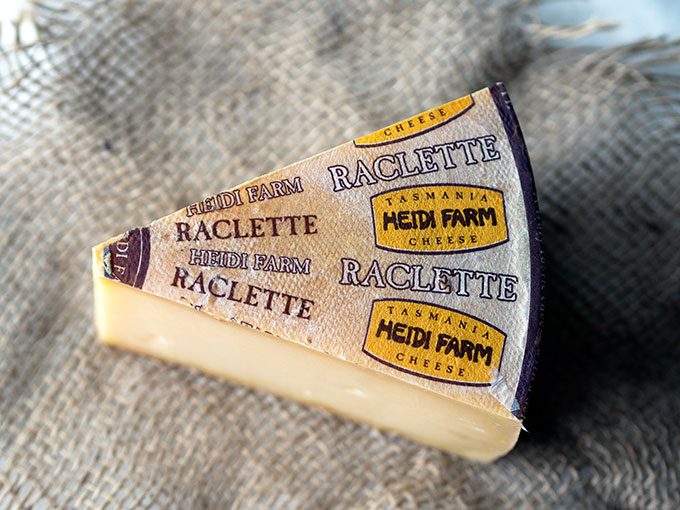 Now that you know what raclette is, you may be wondering the best way to enjoy eating it.
One of the most popular ways to eat raclette is served melted over waxy boiled potatoes. A brilliant side dish, but I feel a little heavy for the Australian Summer. Though it would be glorious accompanying a baked Christmas day lunch.
The other popular way to eat raclette is grilled in a raclette pan, a mini pan in the shape of a slice of raclette. A slice of cheese is placed in the pan and then gently heated until melted. Then you are free to use it a bit like you would a fondue, by dipping various items into it. Alternatively you can add ingredients with the cheese to the pan and heat them all together.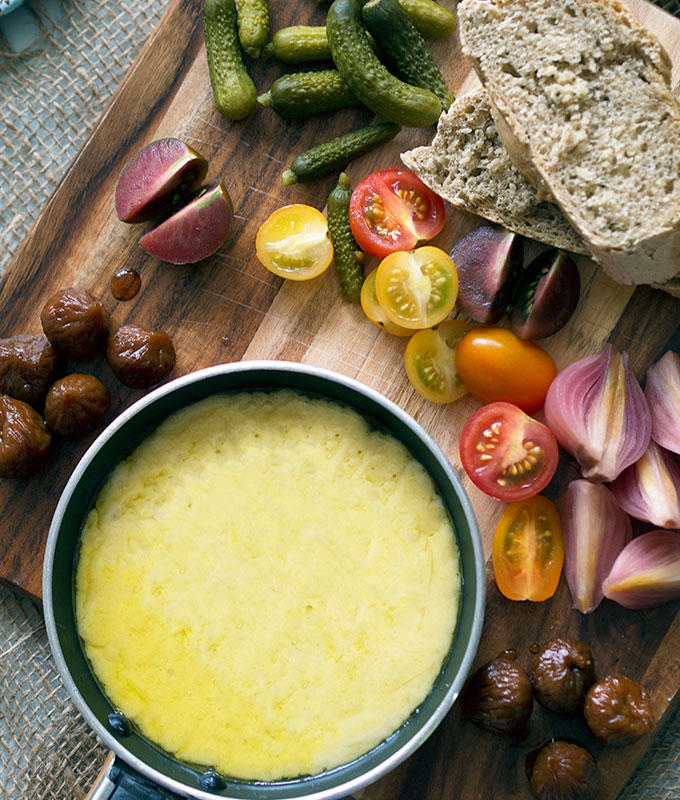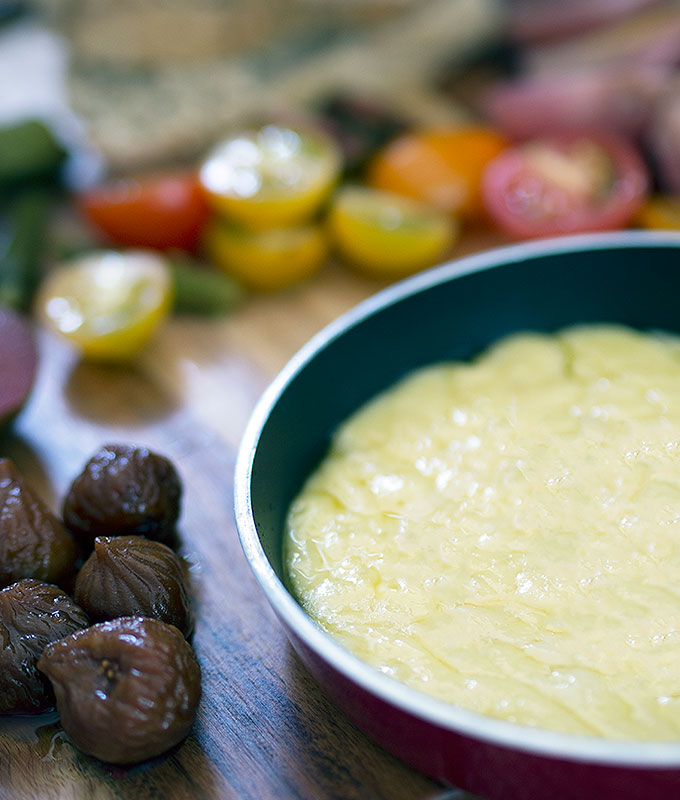 A raclette party is a bit like a fondue party. You cook and eat at the table. Lots of fun, but most people don't have the set up to grill multiple mini triangle pans at the table. I wanted to come up with a version of eating raclette this way, but more adapted to the Australian lifestyle.
I instantly thought of out door dining and barbeques. Leaving the thought of potatoes far behind but still retaining some of the traditional accompanying ingredients like crusty bread, cornichons and pickled onions.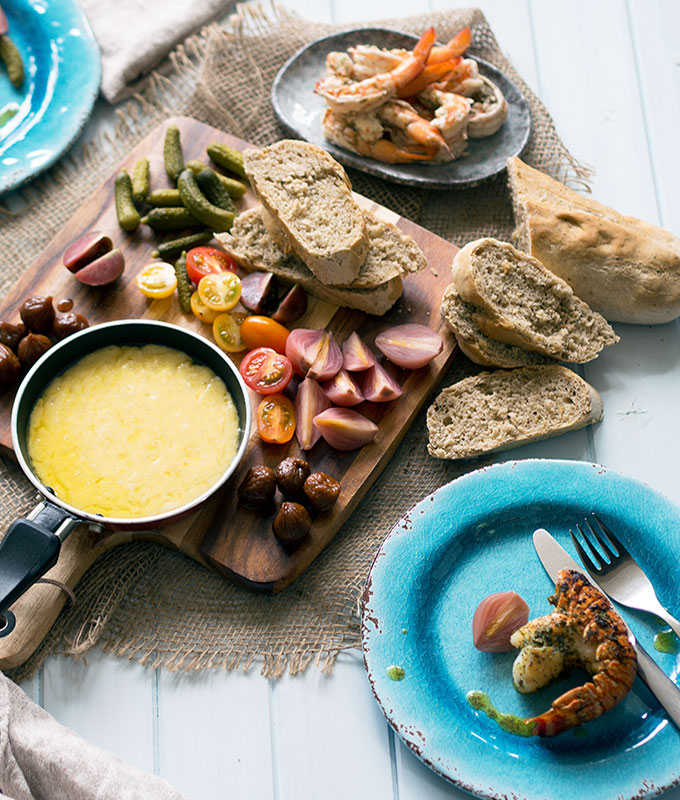 The crusty bread came in the form of wattleseed and native thyme bread. A crusty bread which is perfect for dipping into the melted cheese. Of course you don't need to make your own bread a French baguette would be just as nice.
I love cornichons so I stayed traditional here. The pickled onions were pickled red Spanish onions. For a contrast in flavour sticky marinated baby figs added a sweet element. A few ripe mini mixed tomatoes added some freshness to the mix.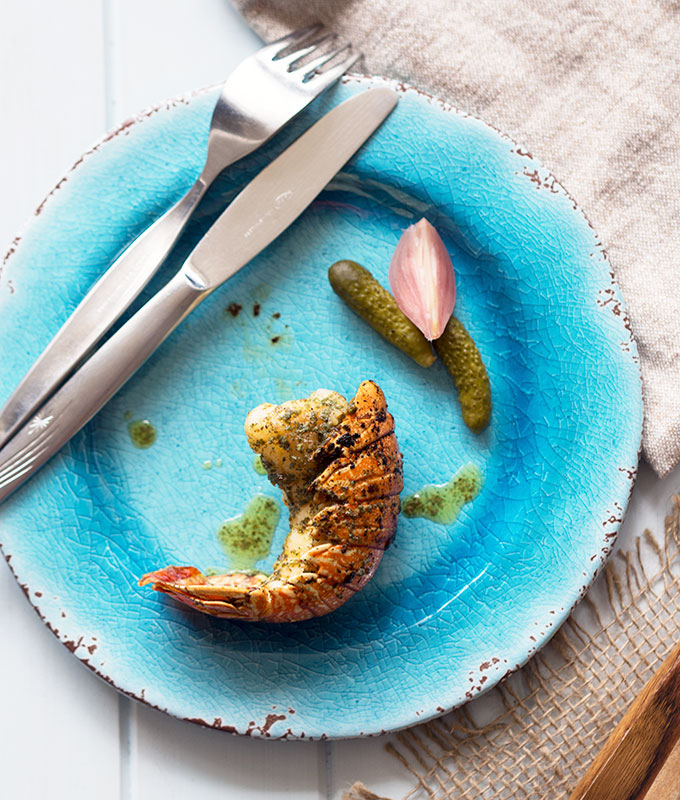 The other key dishes to accompany the cheese were BBQ lobster tails with mountain pepperleaf and saltbush butter, and poached lemon myrtle prawns.
To prepare the raclette is very easy and a recipe isn't needed. You will need a couple of small non stick pans. These can be obtained from Asian home ware shops for a couple of dollars each.
Slice the raclette thinly and lay the slices in the bottom of a mini non stick pan, around 1cm thickness. Place on the rack in your BBQ and gently heat until the cheese becomes molten. Remove and eat immediately. Repeat this process until you have had your fill of raclette.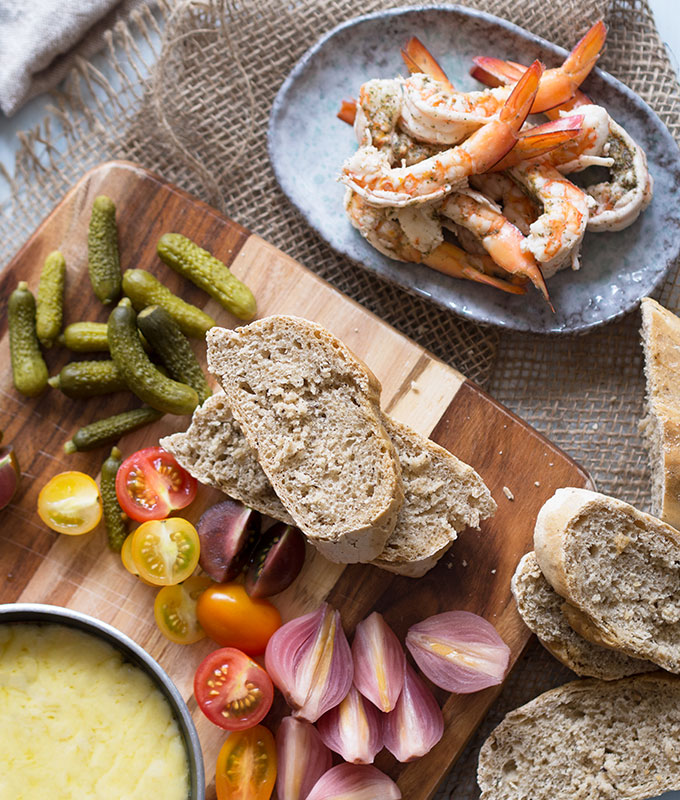 Be careful not to brown or over heat your cheese. This will cause oils to separate. While still delicious, the perfect way to serve this cheese is just melted.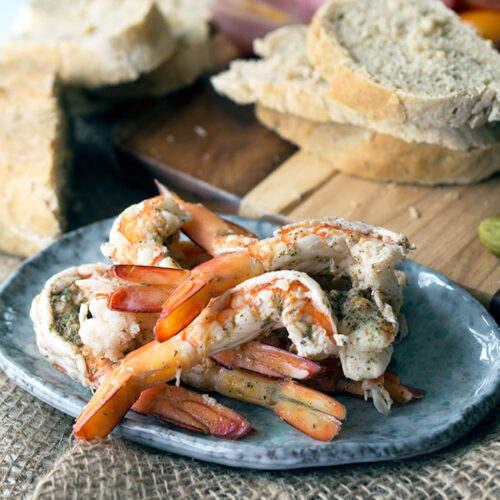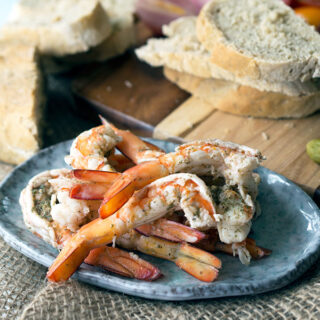 Poached Lemon Myrtle Prawns
Soft and delicate prawns with an lemon myrtle.
Ingredients
10

large green prawns

cleaned and shelled with tails intact

1

teaspoon

lemon myrtle

ground

½

cup

olive oil

¾

cup

dry white wine
Instructions
Place prawns in a medium sized saucepan. Sprinkle over the lemon myrtle and then cover with olive oil and white wine.

Bring prawns to a low simmer and cook for around 5 minutes or until just cooked. Remove saucepan from the heat and leave prawns to cool slightly in the mixture.

Strain prawns from liquid, cover and place in the fridge until ready to serve.
Nutrition
Serving:
1
grams
Calories:
288
kcal
Carbohydrates:
1
g
Protein:
2
g
Fat:
27
g
Saturated Fat:
3
g
Cholesterol:
22
mg
Sodium:
101
mg
Did You Make This Recipe?
I do a happy dance when people share how they went. Tag me on Instagram or Twitter @bellyrumbles & #bellyrumbles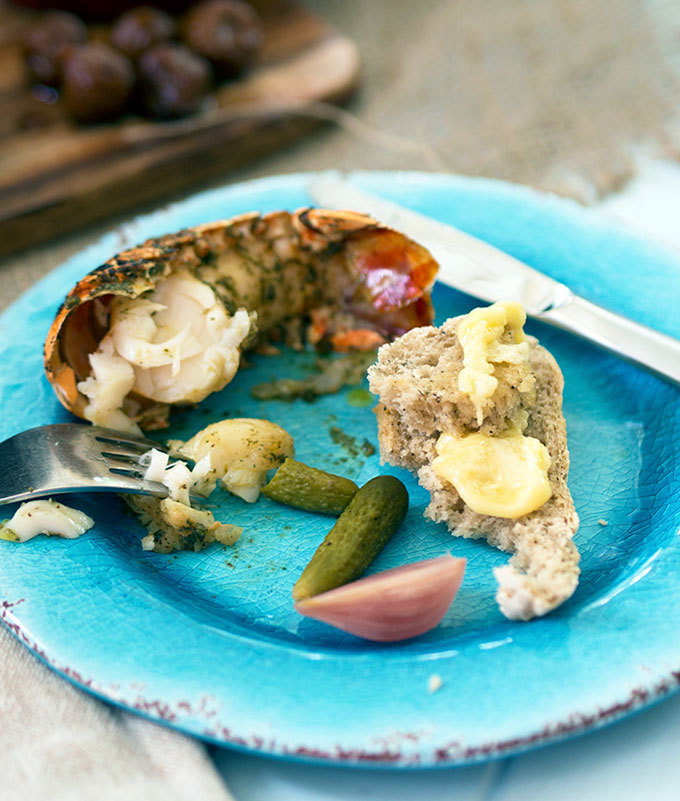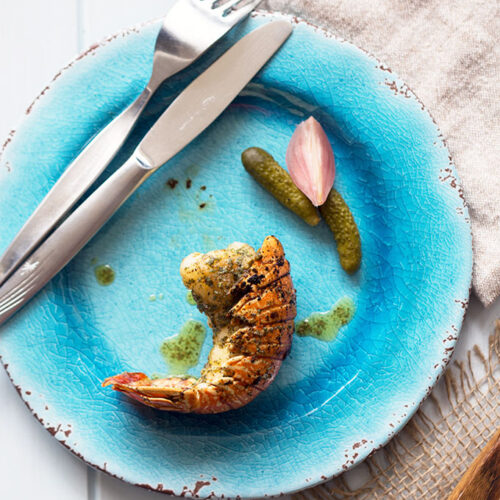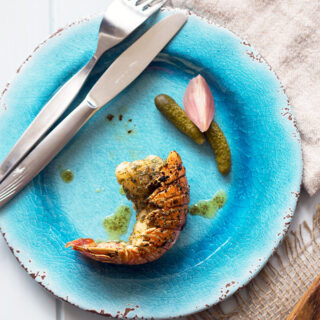 Aussie BBQ Lobster Tails
Simple BBQ lobster with pepperleaf and saltbush butter
Ingredients
2

green lobster tails

50

grams

butter

unsalted

1

teaspoon

mountain pepperleaf

ground

1

teaspoon

saltbush

ground
Instructions
To prepare lobsters remove the underside of the shell with kitchen scissors. Cut down each side of the shell and then pull it away. Also remove the small paddle looking fins.

Gently lift lobster meat partially from shell by moving your fingers down the back of the lobster meat loosening it. This will make the cooked lobster easier to tackle when eating.

In a small saucepan melt butter and stir through pepperleaf and saltbush.

Place lobster tails on the BBQ and brush liberally with butter mixture. Continually brush with butter while cooking over a medium heat. As soon as lobster tails have cooked through remove from BBQ, drizzle with a little more butter and serve immediately.
Nutrition
Serving:
1
grams
Calories:
89
kcal
Fat:
10
g
Saturated Fat:
6
g
Cholesterol:
26
mg
Sodium:
89
mg
Did You Make This Recipe?
I do a happy dance when people share how they went. Tag me on Instagram or Twitter @bellyrumbles & #bellyrumbles
Australian Grand Dairy Awards
As mentioned earlier the 16th annual Australian Grand Dairy Awards have just been held and nearly 400 products were entered for judging. All up there were 20 product class winners as well as the announcement of the Grand Champion Cheese and Grand Champion Dairy winners.
The Australian Grand Dairy Awards have been running since 1999. Recognising quality and innovation in Australian dairy produce and paying tribute to the skilled creators behind the products.
The winning products in each class are awarded a Gold Champion Medal and then two Grand Champions are chosen one from the cheese and the other from the dairy winners. The Grand Champion is awarded a royal blue medal.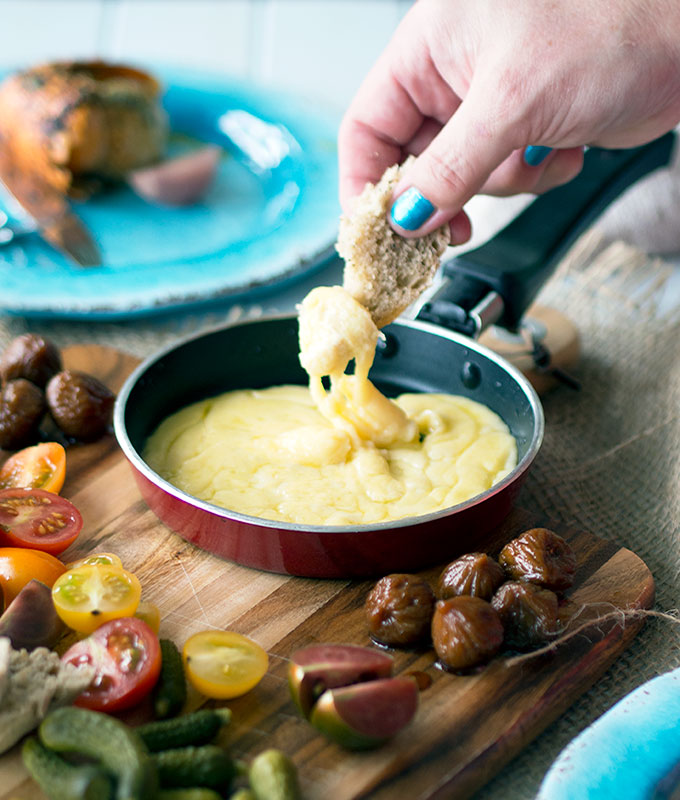 You may be interested to know what other Australian dairy products won awards this year.
Fresh Unripened Cheese: Floridia Ricotta
White Mould Cheese: Kingaroy Cheese Bunya Black
Semi-Hard and Eye Cheese: Heidi Farm Raclette
Cheddar Style Cheese: Alexandrina Vintage Cheddar
Hard Cheese: La Vera Parmesan
Blue Cheese: King Island Dairy Discovery Ash Blue
Washed Rind Cheese: Boosey Creek Cheese Warby Red
Flavoured Cheese: Barambah Organics Labna with Fennel & Sea Salt
Goat's or Sheep's Milk Cheese: Berry's Creek Rowefords Blue
Natural Yogurt: Mundella Greek Natural Yoghurt
Flavoured Yogurt: Ruby and Roy's Passionfruit Greek Yoghurt
Ice Cream: Dooley's Premium Vanilla Ice Cream
Dairy Gelato: Cow and the Moon Passionfruit Crème Gelato
Dairy Dessert: Yalla Chocolate Mousse
Milk: Brownes Fresh Full Cream Milk
Specialty White Dairy Drink: Pauls' Smarter White Milk
Flavoured Dairy Drink: Dare Iced Coffee Double Espresso
Cream: Tweedvale Pure Pouring Cream
Butter or Butter Blend: Devondale Original Butter
Dairy Dip: Paradise Beach Purveyors Pesto Swirl Dip
I have to say I was very happy with the final spread. My love of Australian native ingredients, seafood and cheese all covered. Hope I have inspired you for your next summer bbq entertaining venture, even if it is just entertaining yourself and family.
Sara xxx
This post is sponsored by the Australian Grand Dairy Awards