I have a few obsessions.  Nothing strange about that, I am sure we all do.  My obsession with props isn't a secret.   I came clean to you all about that addiction earlier this year.  I may have mentioned another obsession of mine a while back.  I'm a rather sad compulsive recipe clipper.
I have  a display folder which has been stretched way past it's designed capacity, filled with clipped recipes.  You know those display folders, often found rattling around the back of the stationery cupboard at work.  Plastic coil bound, about 20 clear plastic sleeves, hard plastic back and front.  They come in a variety of colours and are A4 in size.  My particular folder is green (note, not nicked from the work stationery cupboard).
These folders are slender little suckers, when new, probably about 3mm thick.  I have managed to fatten mine up to nice and chunky 13cm.  That is equivalent to around 24 copies of Gourmet Traveller stacked one on top of another.  I have estimated that this folder contains at least 2000 clipped recipes.
I won't make you do the math, happy to do it for you.  If I was to make every recipe clipped, one a day, I would get through that folder in five and a half years minimum.  And that is only if I don't obsessively add to it, which is bound to happen.
Decision was made last weekend, CULL!
This may seem very simple to most. But let me tell you, it isn't, seriously, it really isn't.  Each clipped recipe is known to me.  Spago's pizza dough recipe, plucked from some long forgotten magazine about 20 years ago.  I wonder if Wolfgang still uses the recipe that I have?  That one is a keeper, at least Wolfgang will know who to call if he needs it.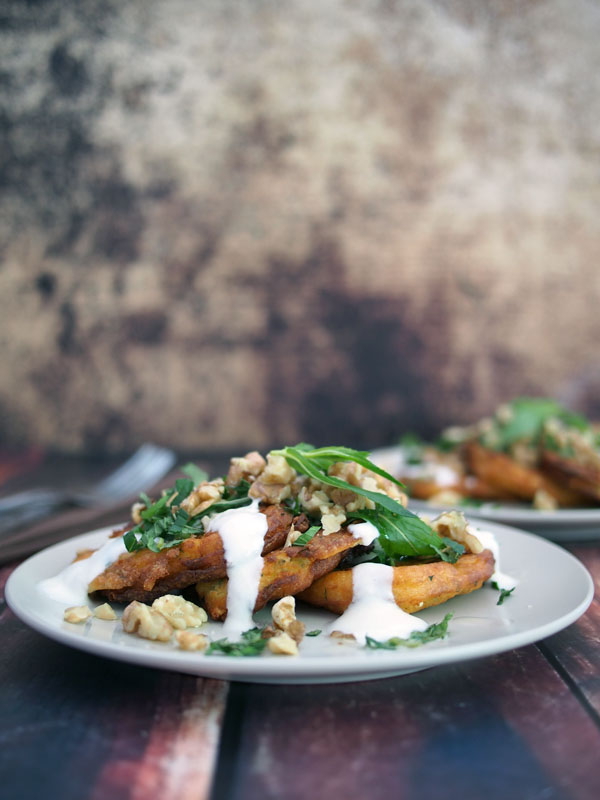 Endless recipes for chicken, salads, soups that I will never make as my taste buds have changed over time.  That recipe I pulled  out of the Good Living for venison five years ago, because Mac likes venison.  (Note to self, Saturday buy venison, make the damn dish and make husband's weekend).
Breads, beef, seafood, marinades, jams, cakes and biscuits.   Actually the cakes and biscuits have started to morph into another separate folder.  If you are seeking a recipe for basically anything, chances are I will have it, come see me.  If not clipped then it will surely be found in one of my many cook books.  Let's leave the cook book obsession for now, that's a completely new post.
When I started Belly Rumbles, I realised I needed to note down on my clippings where they came from, who's recipe it was etc.  Then if I made it and shared it here, I could credit and refer back to whence it came from.  Sadly so many made the green folder long before I started writing about food.
One of those recipes is this one.  I am pretty sure by the paper it is printed on, and the layout, it was plucked from one of two lift-out magazines from the Sydney Sunday papers.  My guess, Sydney Morning Herald.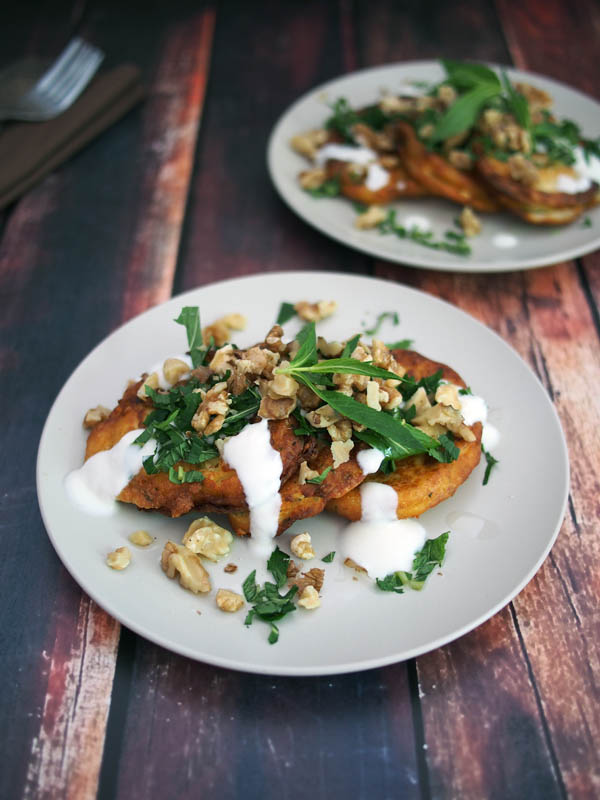 I have looked at this recipe so many times.  Many a week it has made it out of 'the' folder in anticipation of a weeknight meal.  It just never happened and subsequently found its way back to 'the' file.  Last weekend when the culling began, it once again made it out of 'the' folder.  This time destined to be cooked and never return to said folder.  Of course in my true style, I didn't really follow the recipe but used it as an idea.  Taking advantage of ingredients that I had in the fridge.  More feta, less ricotta.  More garlic, because there can never ever be enough garlic.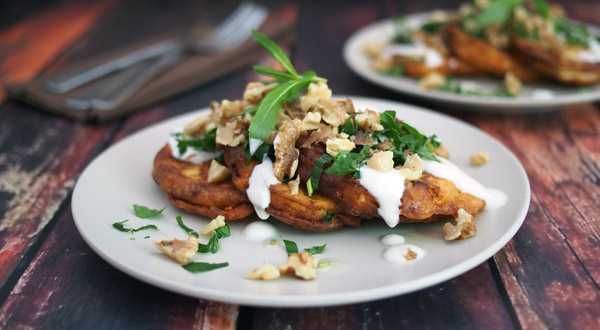 Ricotta & Feta Fritters
A great mid week dinner.
Print
Ingredients
250

grams

ricotta

2

eggs

1/4

cup

plain flour

1

Tablespoons

chopped parsley

Salt & cracked pepper

100

grams

feta

crumbles

1/2

cup

walnuts

toasted

handful mint

finely chopped
Instructions
Combine ricotta and eggs in a medium bowl. Add flour, chopped parsley.

Leave mix to rest for 20 minutes in the fridge or when ready to make your fritters.

Before cooking add crumbled feta and season with salt and pepper.

In a medium pan, heat 1cm of your preferred oil. Test oil is hot enough with a small dollop of batter, it should start to fry gently.

When oil is heated, place heaped dessert spoonfuls of batter in your pan. Cook until golden underneath and then turn with a spatula, continue cooking the other side. Once cooked, place on paper towel while cooking the remainder of your fritters.

Serve with chopped toasted walnuts, chopped mint and yoghurt sauce.
Nutrition Facts
Ricotta & Feta Fritters
Amount Per Serving
Calories 661
Calories from Fat 450
% Daily Value*
Total Fat 50g 77%
Cholesterol 271mg 90%
Sodium 727mg 30%
Potassium 351mg 10%
Total Carbohydrates 22g 7%
Protein 32g 64%
* Percent Daily Values are based on a 2000 calorie diet.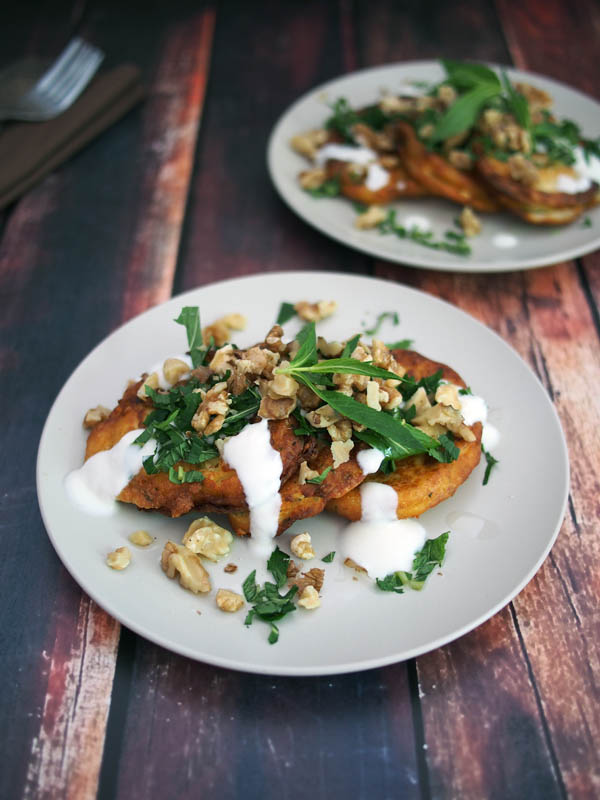 Garlic Yoghurt Sauce
Print
Ingredients
200

grams

Greek yoghurt

1

clove

garlic

small, crushed

2

Tablespoons

extra virgin olive oil

Juice of 1/2 a lemon
Instructions
In a bowl mix all ingredients. Chill, covered, in the fridge for at least 30 minutes for flavours to develop. Serve with ricotta and feta fitters.
Nutrition Facts
Garlic Yoghurt Sauce
Amount Per Serving
Calories 201
Calories from Fat 144
% Daily Value*
Total Fat 16g 25%
Cholesterol 5mg 2%
Sodium 41mg 2%
Total Carbohydrates 4g 1%
Protein 10g 20%
* Percent Daily Values are based on a 2000 calorie diet.
This recipe is the perfect mid week recipe or for Sunday couch potato action.  The fresh herbs give the hint of healthy against all the cheese.  Toasted walnuts add a textural crunch.  I suggest serving these fritters with a garden salad to balance it out even more.
Do tell dear Belly Rumbles' reader are you a compulsive recipe hoarder like me?
Sara xxx