I am not a breakfast person, never have been and never will be.  Brunch on the other hand is a totally different story.  Sunday brunch would have to be my ultimate meal.  Lazy sleep in, Sunday papers and a decadent breakfast.
The great thing about brunch is that if it is heading towards lunch, the you can always add alcohol.  Bloody Marys are fantastic for those who are suffering a hangover from a heavy Saturday night.  Ultimately for me it is a glass of sparkling white.  Please don't think I am having a boozy Sunday brunch every weekend, but on this occasion I had a recipe I wanted to try as well as a bottle of Wolf Blass' Yellow Label Pinot Noir Chardonnay Sparkling.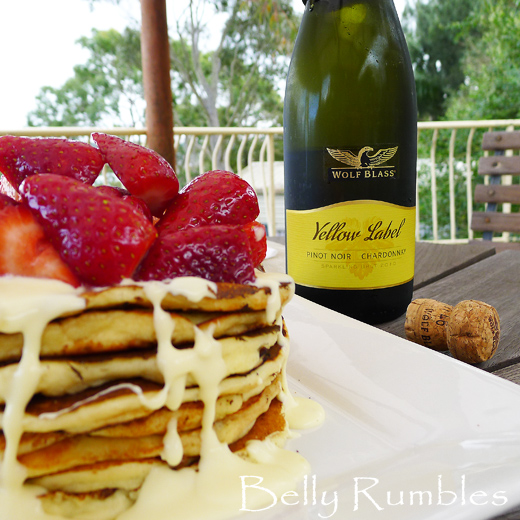 Wolf Blass is celebrating the release of the 2010 Wolf Blass Yellow Label Pinot Noir Chardonnay Sparkling Brut.  I dare you to say that three times fast after two glasses!  It is the first sparkling wine to be released under the Yellow Label range in Australia.  They are also offering a Belly Rumbles reader a wonderful hamper so you too can try this new release.
Wolf Blass was established in the Barossa Valley in 1966 and has grown from a humble tin shed to become one of the world's most successful and awarded wine brands.  This new sparkling to their range is bottle fermented for nine months and matured on lees (lees refers to deposits of dead yeast or residual yeast and other particles that precipitate, or are carried by the action of "fining", to the bottom of a vat of wine after fermentation and aging.).
Being matured on lees emphasises the elegant fruit flavours and displays  a delicate mousse (bubbles).  The nose exhibits delicious lemon curd and brioche aromas along with hints of honeysuckle.  The palate has a textual finesse with bold strawberries and cream flavours, layered over a good dose of toast with a lengthy mineral finish.
With a wine description of the above, what better to serve with this sparkling brut than ricotta pancakes, sparkling strawberries and lemon cream.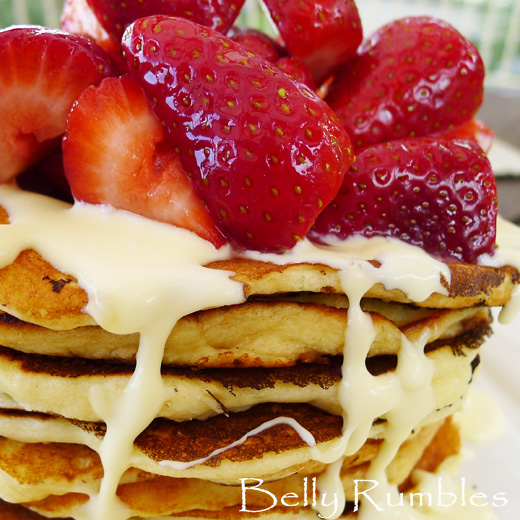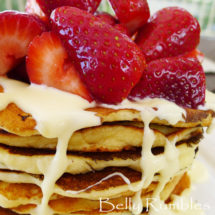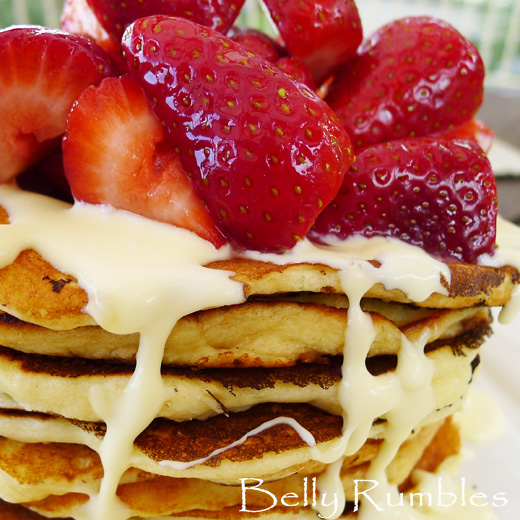 Ricotta Pancakes, Sparkling Strawberries & lemon Cream
Print
Pin
Rate
Ingredients
Pancakes
1

cup

ricotta

1

cup

sour cream

3

eggs

separated

1/2

teaspoon

baking soda

1

cup

plain flour

Pinch

salt

2

tablespoons

lemon juice

2

tablespoons

lemon zest

grated

butter

for cooking
Sparkling Strawberries
1

punnet

strawberries

washed, hulled & halved

1/4

cup

sparkling white

1/4

cup

caster sugar
Lemon Cream
1/4

cup

lemon curd

1/2

cup

Thick cream
Instructions
In a medium size bowl combine sparkling white and caster sugar, mix. Add strawberries, mix well and leave until ready to serve.

In a medium size bowl combine thick cream and lemon curd. Mix until completely combined and leave in fridge until ready to serve.

In a medium size bowl, using an electric mixer, beat egg whites until they are fairly stiff but not dry. Set aside.

In a large size bowl, use an electric mixer to beat ricotta, sour cream and egg yolks. This can be done by hand but a hand held electric mixer makes this job a breeze, especially if you are using ricotta bought from your local deli which is quite hard compared to the ricotta available in tubs at your supermarket.

Mix in baking soda, flour, salt and sugar in to your ricotta mixture.

Stir in the lemon juice and lemon zest in to your mixture.

Gently fold in the beaten egg whites.

Heat a medium non stick fry pan over medium/low heat.

When the pan is hot add 1/2 tablespoon of butter and coat the surface. Add a few heaped tablespoons of batter to the pan and spread it out to form a circle. How big or small you make your pancakes is up to you. Mine were around 15cm in diameter. Cook until lightly browned on the bottom and then flip and finish cooking on the other side. Continue with the rest of the mixture. Cover pancakes on a plate with a plate with a little aluminium foil to keep warm.
Assembly Instructions
You can either serve your pancakes individually or stack them high as I did.   Whichever method you choose, top with lemon cream and drained strawberries (reserve marinade).  Drizzle the 'strawberry sparkling marinade on top of your strawberries once assembled.  Serve remaining cream and marinade in separate bowls for extra if people wish to have it.
This recipe would be amazing if adapted for canapés, perfect mouthfuls.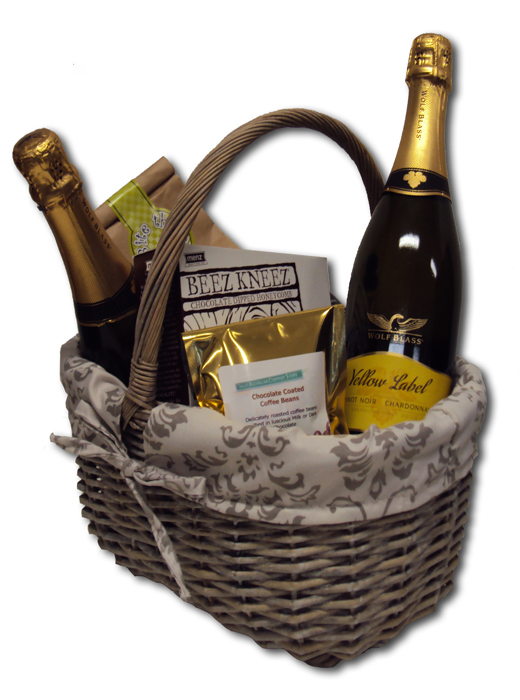 To celebrate the new release Wolf Blass has created a fantastic hamper for one lucky Belly Rumbles reader.  The hamper includes two bottles of the newly released Sparkling Brut as well as a selection of South Australia's finest gourmet food products, including chocolate covered coffee beans and handmade biscotti.
Entry is easy, just leave a comment below and let me know what your favourite breakfast is, or are you like me and are more a brunch person?
For additional entries, follow me on twitter (if not doing so already) and tweet the competition to your followers (tag me in of course), follow Belly Rumbles on Facebook and share the competition from there, or do both to increase your chances of winning, each tweet or share will be an extra chance of winning.  You can enter as many times as you like, competition closes Tuesday 7th August at midnight (EST).  Unfortunately competition is only open to residents of Australia.  Winner will be randomly selected.
Sara xxx