You may remember my first road test of Adriano Zumbo's new macaron mix, which is now available in supermarkets around Australia. It was a great success. I ended up with awesome looking macarons. Sadly not the case for my second road test.
Even though the salted caramel macarons looked great once made, I wasn't happy with the flavour. They tasted a touch too artificial for my liking. Decision was made to give the other flavour in his range, passionfruit, a try.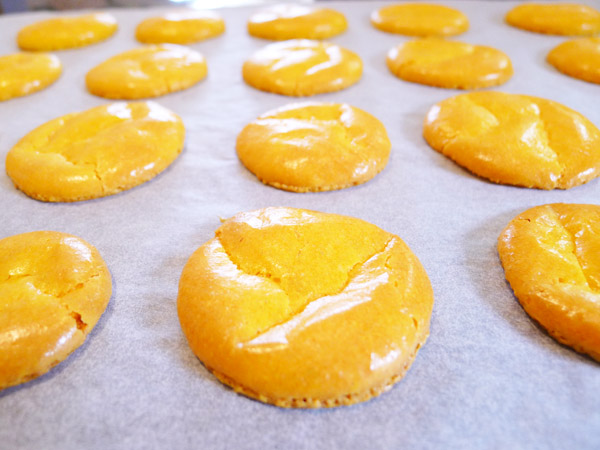 shells just out of the oven, hit and miss, they tried hard to have feet
I followed all the steps as with my first road test. Unfortunately this time my macarons didn't work out. They were a bit of a disaster. No feet and the shells were thin and flat.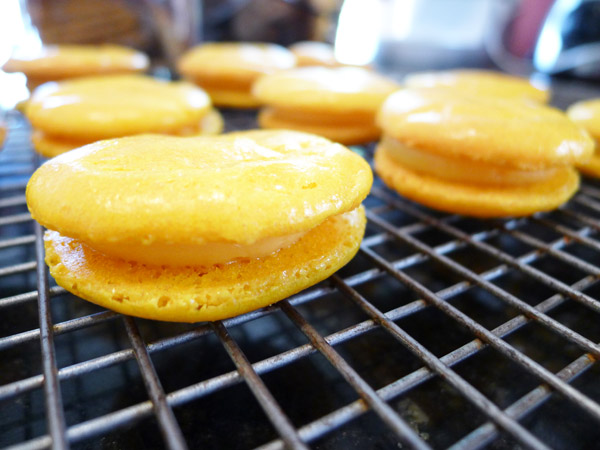 What did I do differently? Different kitchen, which means oven, but this was my kitchen. The first road test took place at my parents. Different climate, first road test was on the Gold Coast the second one was in Sydney. Both of them were on warm sunny days. The only other difference was, in this case I used my Kenwood mixer and not hand held beaters as last time.
The taste? Even though they are ugly little puppies, they taste so much nicer than the salted caramel. A nice passionfruit tang in the filling and not as artificial in taste.
Sorry to overload you with Zumbo road tests, but I just had to share 🙂
Sara xxx
More Product Road Test Reading
Lyn & Sals Brownie Cookies – MKR cookie cookoff
Aldi Degustation by Teage Ezard – how does Aldi produce stack up?
Is There Chicken in Your Store Bought Chicken Stock?
Ikea Swedish Meatballs – do they live up to the hype?
Marion's Kitchen – Thai satay sticks
Frozen vs Homemade Mashed Potato – which one is the winner
The Best Frozen Pepperoni Pizza in Australia – the result will surprise you