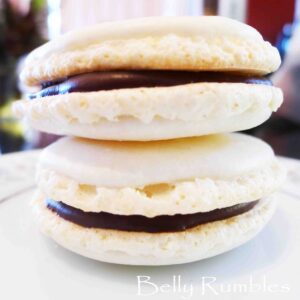 I am always wary when Chefs or personalities come out with a product or just put their name and face to it. So when I saw Donna Hay's new range of prepared mixture goodies on the shelves at Woolworths, it did make me go hmmm. I will admit I am not a big Donna Hay fan. Don't get me wrong, I love any Aussie woman that makes a name for herself, go Donna. I am not as Donna crazy as some people, I don't buy her magazine (not for many many years anyway) or watch her TV show regularly. I do admire her as a business woman very much. Though if I see her do her pasta twirl one more time!
The mixes were on special for the introductory price of $6.99, normally they will retail for $7.99. The range seems to be only stocked at Woolworths and is nowhere to be seen on Coles' shelves. Initially my first impression was $7.99 is expensive for a pre-mix.
The packaging is in the Donna Hay blue, of course! Which makes it quite distinctive on the shelves when sitting amongst the other products.
I decided to try the macarons. Macarons in a pre-mix? If they worked, I would have to give her credit. I know of home cooks that have spent quite a bit of time perfecting the art of macaron making, gone to classes, it's not easy. Many times have I seen the excited tweets of "I have feet!" grace twitter, referring to the "foot" that appears on the macaron if you are successful.
The pre-mix states it has no artificial colours, flavours or preservatives. A pack is said to make 12 macrons and each one has approximately is 670kj
Donna says on the pack "Macarons are one of my favourite treats, so I've turned them into a simple baking mix. They are a crisp, delicious biscuit with a soft, chewy centre, sandwiched with a rich chocolate filling. The best quality ingredients have been measured and weighted for you, so it's just like baking from scratch, only easier, with the wonderful homemade flavour. Happy Baking!"
Ingredients: Egg mix: sugar, eg white powder, starch (tapioca or maize). Almond mix: almond meal, sugar, starch (tapioca or maize)
All you need to add is 2T of cream for the choc mix and water to the egg mix.
The process of making them is very easy to follow and does not require any special talent at all. Would be a great one to make with the kids. I did make one mistake, and that was not using two trays and cooking the whole batch at once. I placed the macaron mix on one tray and left some mix in the bowl which I placed on a tray once the first batch had cooked. Reason being is I only have my bottom oven working at the moment. I could have squeezed two trays in and should of. If you leave the mix sit for any length of time after you make it, you will not get feet!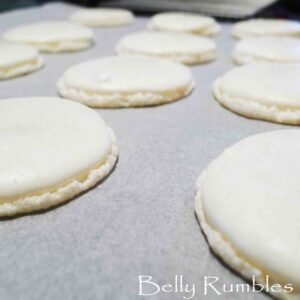 I followed Donna's instructions and spooned the mix on. Take my advice, if you know how to pipe, pipe the mixture on to the trays and you will end up with a perfect result.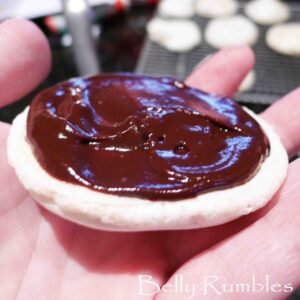 They were gooey where they had to be, crisp where you wanted them to be. I achieved feet and the choc filling was divine.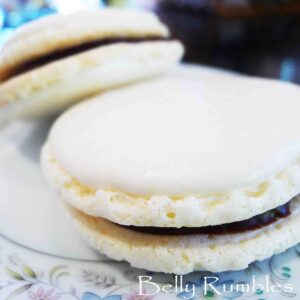 I am not a big pre-mix person, I tend to like to make things from scratch. I am impressed and would buy the product again to have in the cupboard for when I just wanted to whip something on the spur of the moment which was a little on the indulgent side.
Donna, well done, I am very impressed!
Sara xxx