No matter if you are a Valentine's Day fan or you sit in the anti Valentine camp, if you don't like robots then there is something very very wrong with you.
I have decided that today will forever be known as Robot's Bearing Hearts' Day. What better alternative to Valentine's Day than the celebration of robot love. There really isn't enough robot love out there, and it will be appreciated, when in the future we welcome our robot overlords.
The above is a youtube of Jonathon Coulton's song Chiron Beta Prime. I bet they wished they had my cookies and not soilent green.
I have to admit the cookies weren't my idea, but came up in a discussion with Ms Lily. So I have to give credit where credit is due, thank you for your brilliant suggestion for a valentine post.
The recipe I used was the one from a Daring Bakers' Challenge a while ago. I find the cookies do not spread when baking and really keep their shape well. Okay, not so important with circles, but if you are going to cut intricate shapes, it is the perfect recipe. The royal icing is also brilliant to pipe.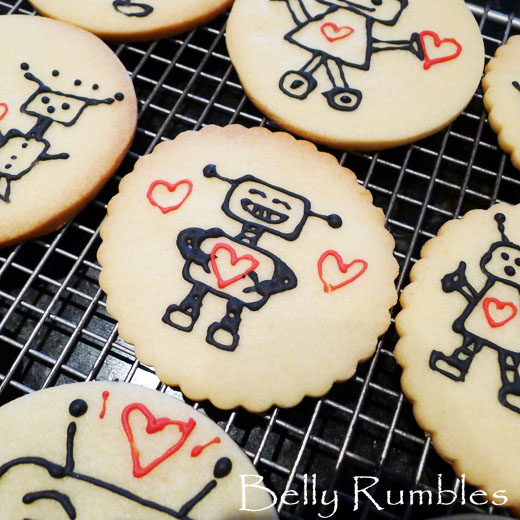 I am not the best with piping icing, I just don't get enough practice. My robots sadly are a little shaky and I am sure a lot of you out there would do a much better job. Wow my hands were so sore after icing the cookies, concentration and trying to keep a steady hand took its toll.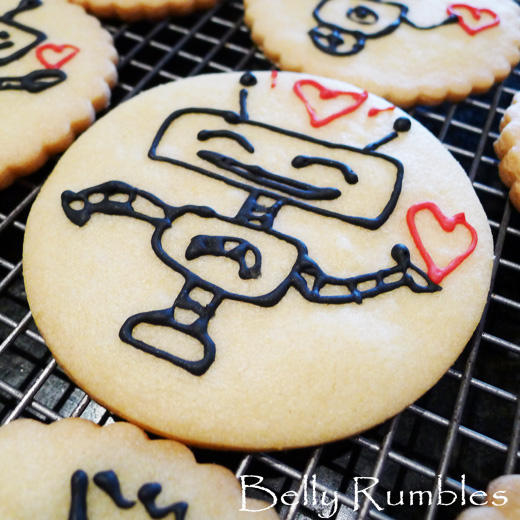 I was tossing up whether to ice the biscuit first and then pipe the robots and hearts on top of white icing. I decided against it for two reasons. Firstly I am lazy, secondly there ends up being a lot of icing on the cookie. As the cookies were going no further than my kitchen and to be consumed by Josh, Mac and myself, I didn't want them sickly sweet. If you were going to make these to give out to people, I really do believe icing the top of the biscuit first will give a visually better result.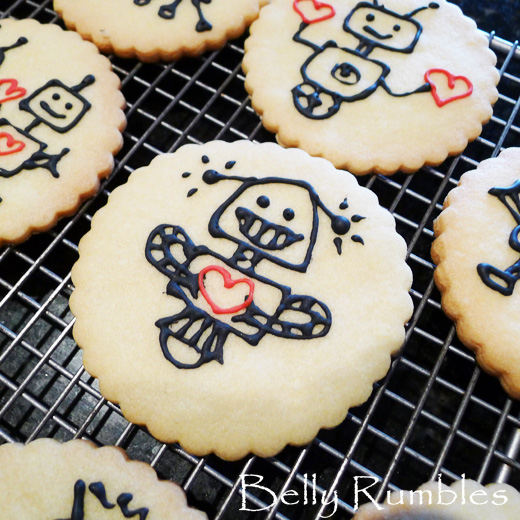 No matter what you are doing today, I wish you all a Happy Robots Bearing Hearts' Day, and I hope my cookies bring a smile to your face.
Sara xxx