Root & Bone. Said out of context could be a bit embarrassing. "I'm going to root and bone….." It's a bit like the wombat joke. If you're not an Aussie and reading this, you probably have no idea what I am going on about. Google it.
Root & Bone was firmly at the top of my "must do" list when I was in New York last. And just to make sure we are all firmly planted on the same page, Root & Bone is a restaurant not a sexually good time.
Mr Internet told me they do pretty tasty fried chicken, but that wasn't my main reason. Oh yes my fried chicken loving friends, there was a bigger draw card to Root & Bone than that or me.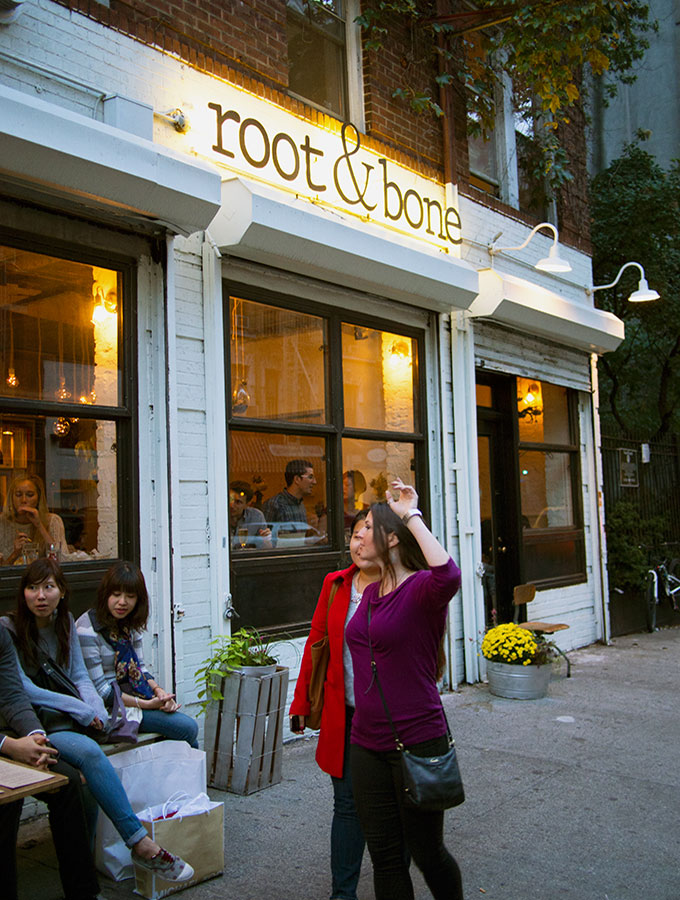 That draw card came in the form of Chef de Cuisine Janine Booth. Besides being a talented chef that appeared on Top Chef Season 11, Janine is an Aussie doing well in the Big Apple.
In 2014 Root & Bone opened in the East Village with Janine, and her partner Jeff McInnis (also the Executive Chef), at the helm. Their goal is to bring delicious Southern and rural American cooking to New York, with a side order of the culture.
Not being an expert on Southern or rural American cooking, I can't comment if they have succeeded there. What I can say is, you will be in for a treat, the food tastes great and the service is helpful and inviting.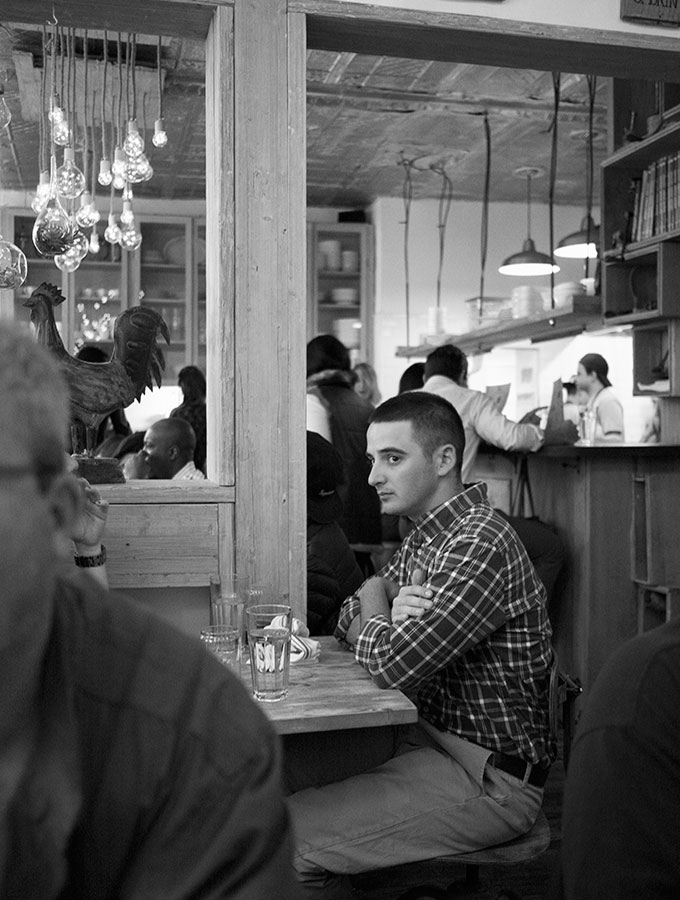 Root & Bone do take a couple of reservations, but generally you have to rock up and wait for a table. I decided to get there at 5.45pm on a Saturday evening. They open at 5.30pm (I believe they open at 5pm now) and we arrived at 5.45pm, it was still pretty quite inside. We had no problems getting a table. By the time 6.45pm arrived the place was packed and bench space out the front full with people waiting for a table.
A cosy restaurant, seating around 75 without much space between tables and chairs. The large glass windows facing on to 3rd Street give the establishment breathing space.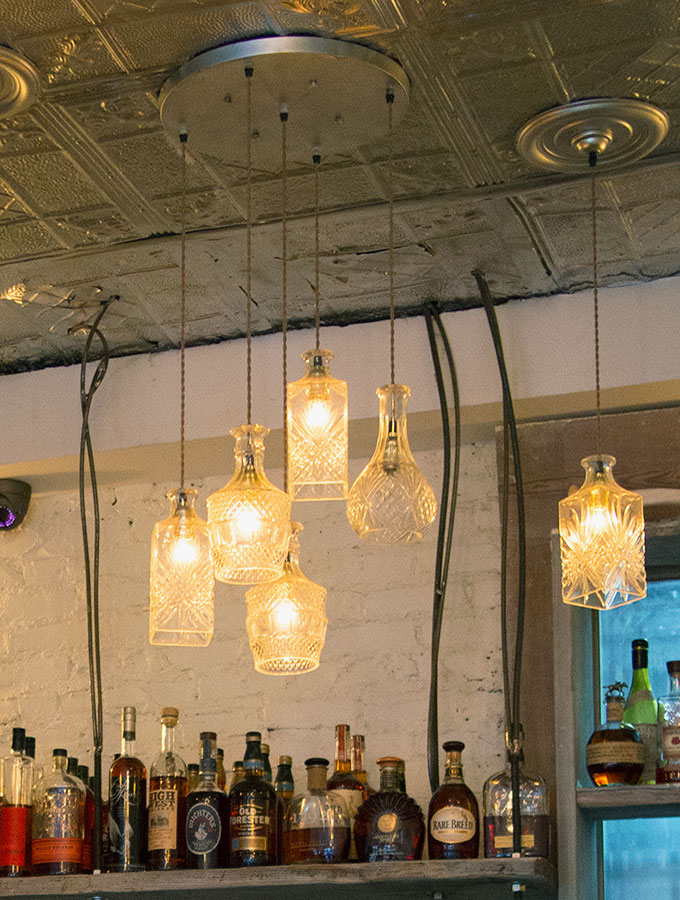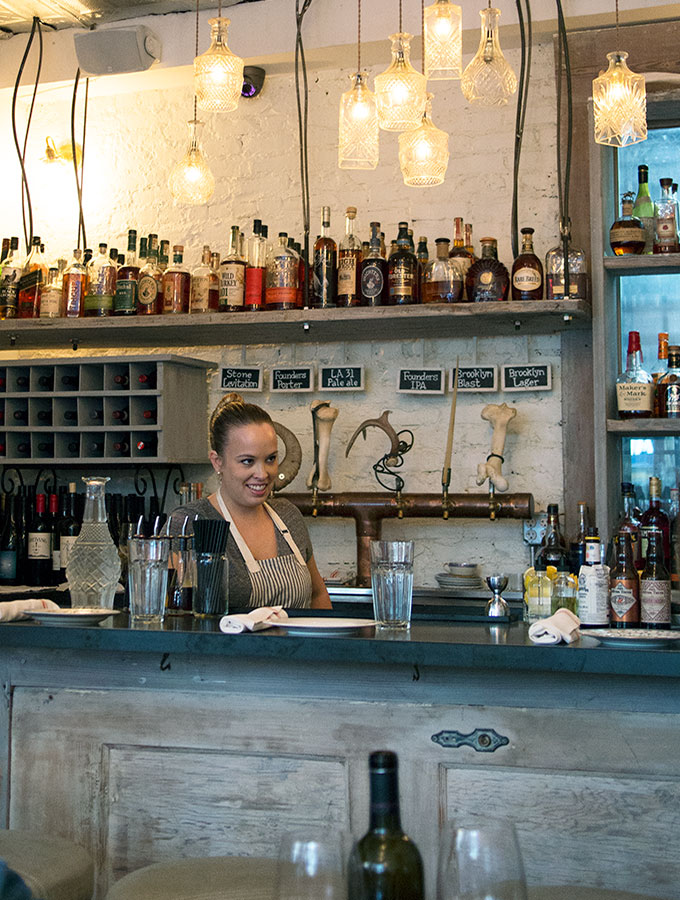 On looking around you will notice a few quirky touches. I am personally going to steal their lighting idea. Hanging from the pressed metal ceiling are crystal decanters, which have had their bottoms cut off to accommodate light globes. A fantastic effect seeing them all hanging together in a cluster above the bar. I also spy various bones and antlers as the handles on the beer taps.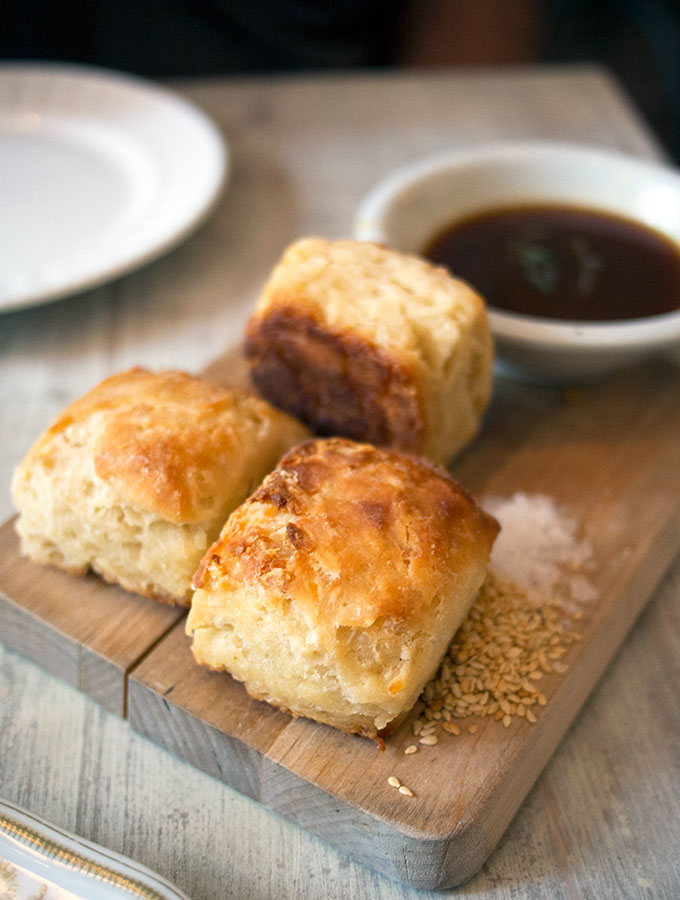 We start with Grandma Daisy's Angel Biscuits ($7). They are served with NY honey toasted chicken jus, fresh thyme, roasted benne seed sea salt. Benne seed is what they call sesame seed in the South.
What Americans call biscuits, we Aussies call scones. The first time I ever tried a biscuit in the USA I was utterly disappointed. I was expecting this magical new food item that had filled my youth via American sitcoms, but had never tried before. (A bit like Sesame Street and my 'stick of butter' obsession at a very young age, nobody knew what on earth I was talking about.) When I took a bite of my first ever biscuit in the States, I very sadly stated to those sitting with me "it's just a scone".
I have since discovered, just like Aussie scones, not all American biscuits are created equal. Root & Bone's were light, flaky and buttery, and not as scone like as my past experiences. The jus provided to dip into has a deep roasted chicken flavour with sweet honey overtones. You really do just keep dunking away, you can't help it.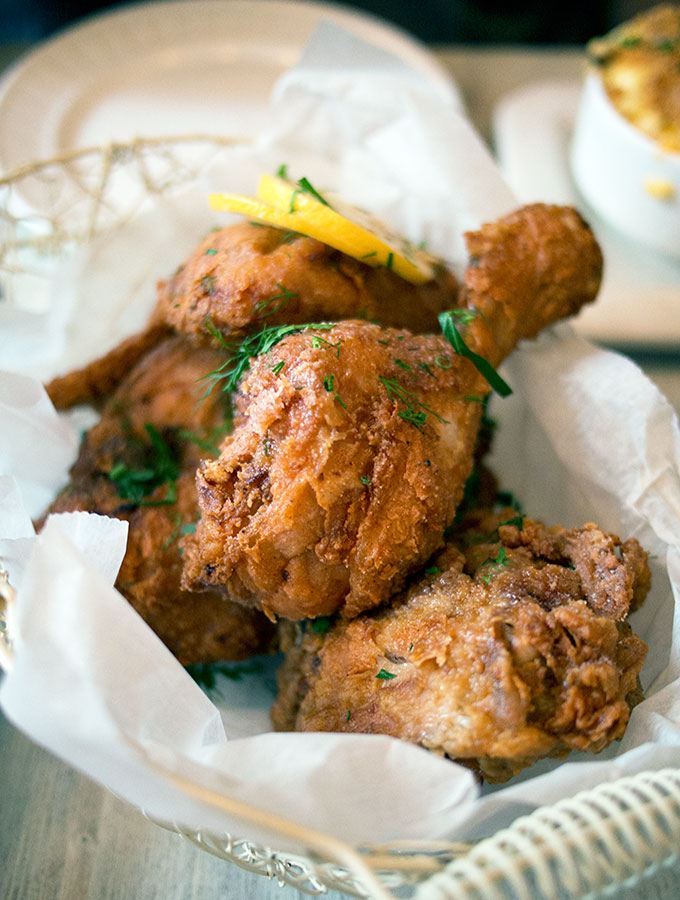 We have to order the Crispy Free Range Bucket of Bird ($18/half $35/whole bird). It has been brined in sweet tea, then lemon dusted and served with Tabasco honey.
We go for a half a bird (4pcs), unlike the couple next to us that are happily hoeing into a full bird plus sides. I'm glad we only went with the half bird, as with the waffles and macaroni & cheese we had enough food between us.
The bird is juicy and full of flavour. The coating light and crunchy. As I take a second bite I ask myself "is it possible to be in love with a piece of fried chicken?". (I do know a few of you will say yes.)
As I finish gnawing on a chicken leg I realise that love would be futile between us, it would never last. You can't really love something that continually disappears in your presence. My lust will have to be reduced to fleeting affairs.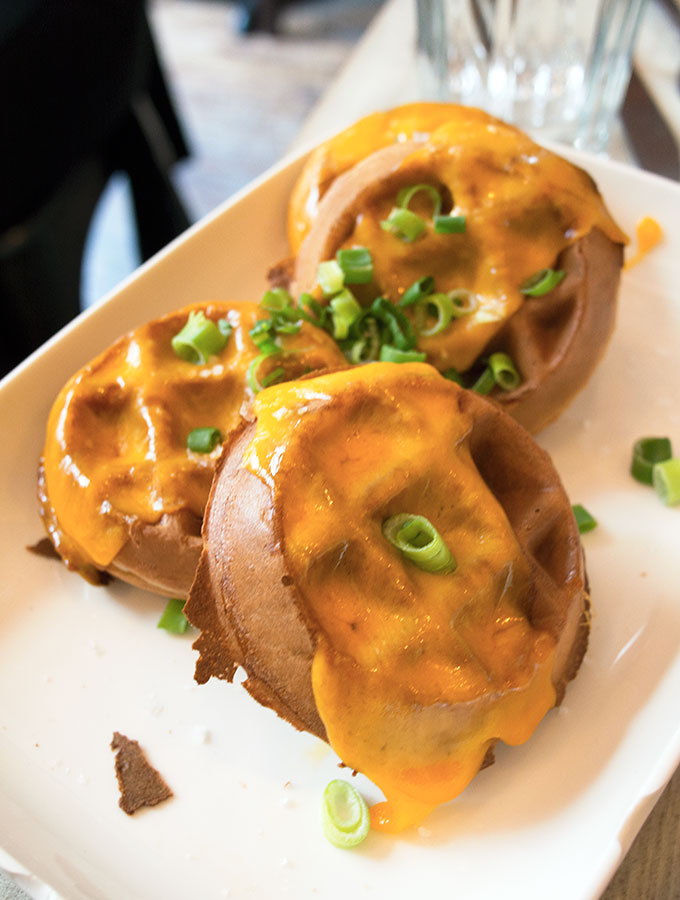 We choose a couple of sides, Buckwheat Waffle with Cheddar ($8), which is served with whisky maple syrup.
The waffles are okay, fluffy waffles coated in melted cheddar cheese. I feel that every mouthful I take of a waffle, I am cheating on the chicken. Remember it is a fleeting affair to be savoured.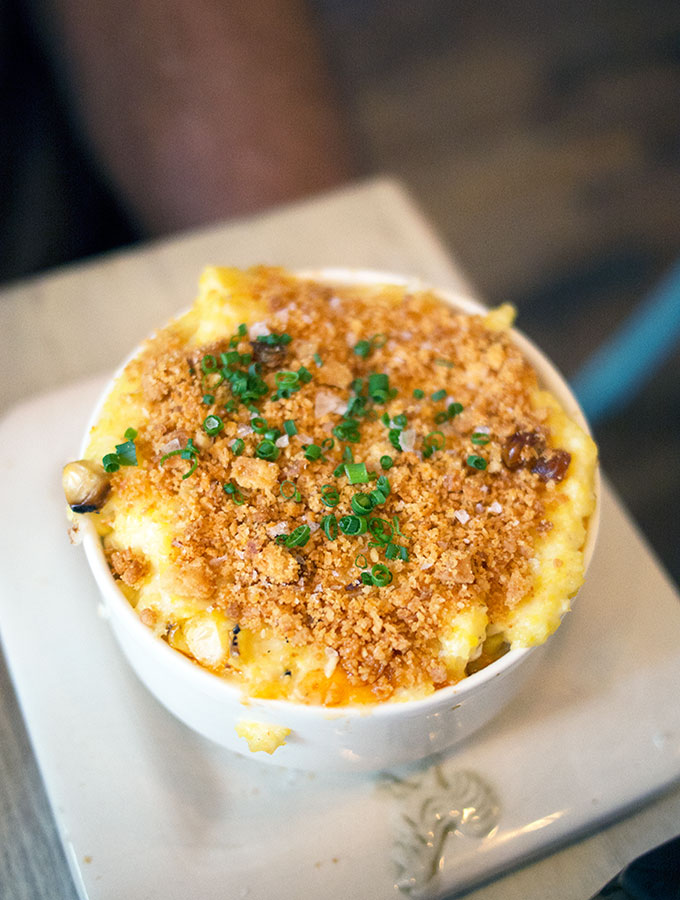 A deceivingly generous serve of Macaroni & Cheese ($8), big pasta, crunchy cheese and biscuit thyme crust.
It is a hearty macaroni and cheese. Like all the dishes we have had, it is pure comfort food. I really enjoy the crunchy topping, but I am one that loves texture in my food.
I can see why Root & Bone is popular with the locals. It is inviting and the food honest and tasty. The chicken is a must. In fact staff will encourage you to order it, and they are right in doing so. If you don't have a reservation, I suggest getting there early to save waiting. Local? They home deliver. Damn shame they don't home deliver to Sydney.
Sara xxx
Root & Bone
200 East 3rd Street, NYC
Tel + 1 (646) 682 7080
Website
Don't miss one delicious recipe, restaurant review or travel adventure. Sign up to our weekly newsletter below to keep updated. There is also bonus content just for subscribers.