The first time I had heard of this establishment was when I was reading a post on Helen's blog, Grab Your Fork.  The first thing I saw was a picture of a crispy roasted suckling pig then I read something along the lines of how Helen threw herself at the nearby table to take a photo of this holy grail of piggiedom.  I am sure there was something about knocking people out of the way, flying over to the diners nearby and forcing her presence on them to take pictures of this deliciousness.  Okay well maybe it didn't happen quite like that, but have a read of her post for confirmation.
Not too long after Helen's post I received an invite to join her at her birthday at Signorelli Gastronomia to indulge ourselves in a piggie feast.  Why hell yes, notmissingoutoncatchingupwith agroupof awesomepeople, break bread and share what looked to be an incredible piggie delight.
Signorelli Gastronomia is not an easy place to find.  It is located on the ground floor of the Accenture Building in Pyrmont.  There is no signage outside and I was feeling very lost until I spotted somebody I knew looking just as confused as I was.
It is an interesting mix of restaurant and provedore.  It is very atmospheric sitting amongst hanging salami, prosciutto, produce dotted around everywhere, deli counter, a cheese room and wine room.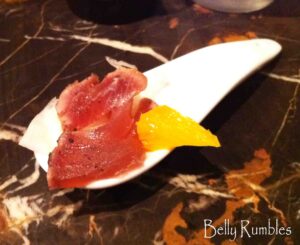 Seared tuna & orange
We started off with an amuse bouche of seared tuna with orange, which was a nice surprise.  A delicious mouthful to get the juices flowing.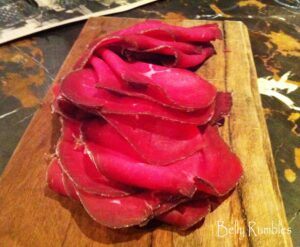 Wagyu bresaola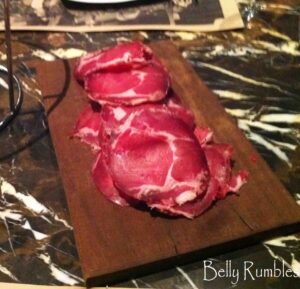 Capocollo
Thinly sliced wagyu bresaola and capocollo followed served on wooden boards.
Prosciutto di parma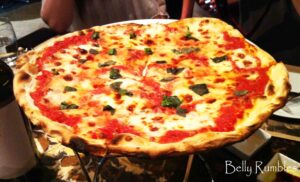 Margherita
Then came the pizzas, prosciutto di parma, margherita and garlic.  I started off with a slice of the margherita, how I like my pizzas, simple, not over the top with toppings, thin and crispy, was delicious.  I also had a slice of the prosciutto di parma, so glad I did, was mouth watering.  I didn't sample the garlic and sadly didn't get a picture, but was told it too was delicious.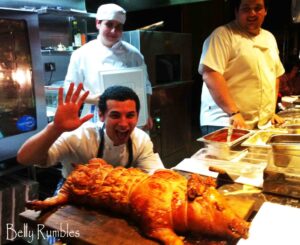 Trevor & friends
Was a great tease up to the main event, the reason why this restaurant was picked for the celebration, Trevor!  Yes from some reason they named our piggie Trevor.  I think everyone fell silent while it was bought out to the pizza station next to where we were all seated.  Silence followed by a mass of people jumping to their feet cameras in hand.  Hey, we are all food bloggers.  The rest of the restaurant basically stopped what they were doing, a little gobsmacked at our excitement, to watch us as their entertainment as we all busily snapped away at Trevor like paparazzi.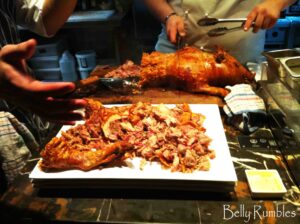 Trevor, a 9.5kg sight to behold.  It They had prepared him by removing nearly all the bones, legs and head were left intact.  He was then stuffed with pork meat, spices and herbs.  Tied back up for the cooking process to retain his shape.  Once he came out whole and he was presented on his wooden platter, they then went on to shred the tender meat and put it on three plates for the table.
Inspecting the leftovers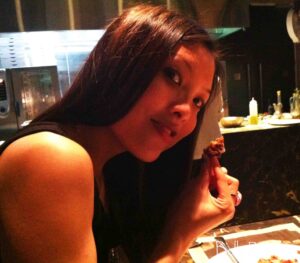 Scored a crispy ear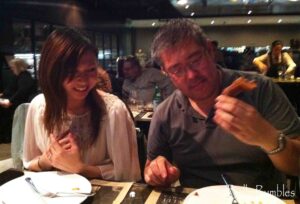 So what can we retrieve from this crispy leg?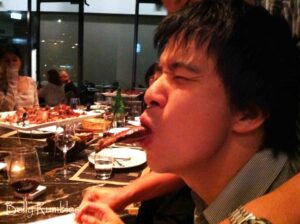 Tongue action
It is quite a sight to watch 16 crackling manic people pick the plates clean of thin crispy crackling within minutes.  Every now and again you would hear "I have found some more" which was then shared.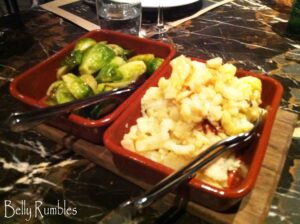 Cauliflower & brussel sprouts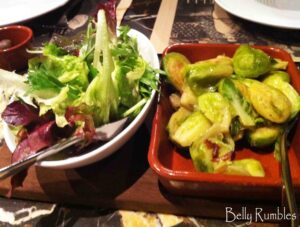 Salad & brussel sprouts
The meat tender, juicy and flavoursome from the stuffing.  Our piggie was accompanied with salad, cauliflower and brussel sprouts.  Wow so much pork.  They were kind enough to make up little pork piggie bags for us to take away as there was no way that we were going to get through it all.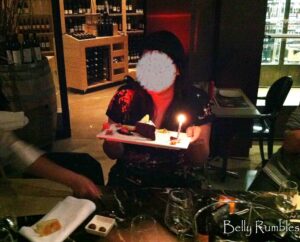 An incognito birthday girl
They surprised Helen with a slice of chocolate cake (which she graciously shared between the 16 of us) and we all sang happy birthday.  Suze had made a gorgeous "The Hungry Caterpillar" cupcake cake, which was decided to be had after leaving the restaurant due to wanting to charge cakeage for cupcakes.
Sadly I missed out on further festivities and Suze's cake, I had to leave early as I was off to Canberra at 4.30am the next morning.
Was a fantastic evening with fantastic foodie friends.
Sara xxx