I wanted to make something pretty for Mothers' Day and I think that this strawberry cheesecake sponge cake ticks that box. I feel mothers deserve something pretty every so often. Sure I'm biased as I am a mother. But I like pretty on the odd occasion, something that makes me go "ooooooo sooo preeeettty". Yup, said just like that.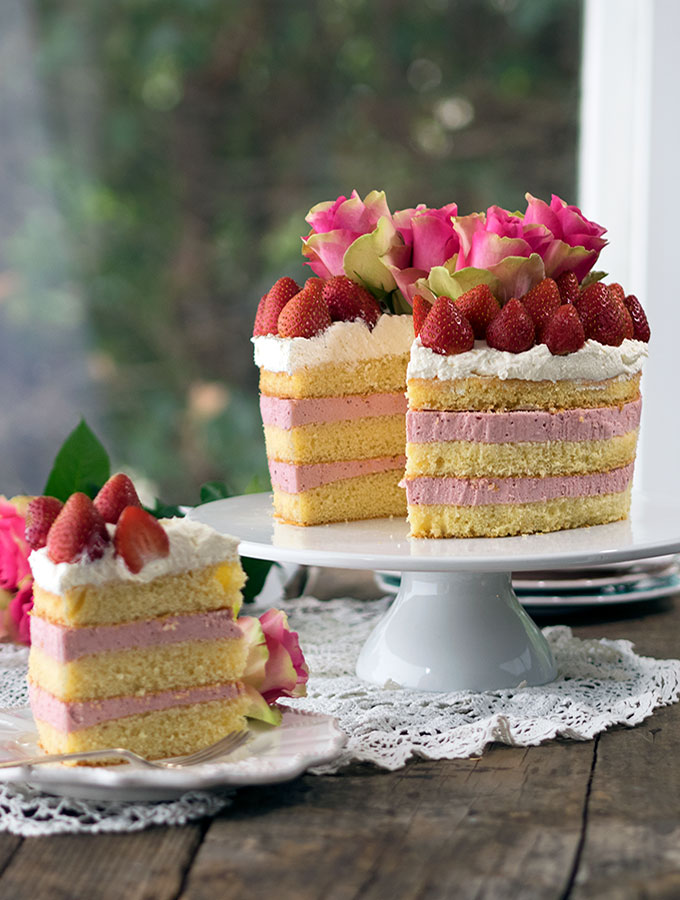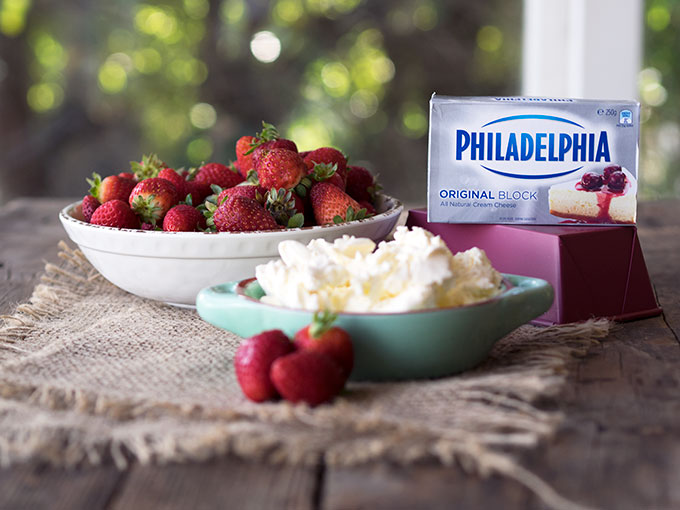 I have teamed up once again with PHILADELPHIA Australia for this recipe. I wanted to create something pretty and they wanted something that showed that not all cheesecakes are created equal, and that we can get a little creative with cream cheese. I think I have ticked that box too!
There is even more beauty to this strawberry cheesecake sponge than the pretty pink layers, flowers and luscious strawberries. The unseen beauty is that you can make it all from scratch or you can cheat. Well you are only cheating a little, but if you aren't a baker you can still make this very pretty cake.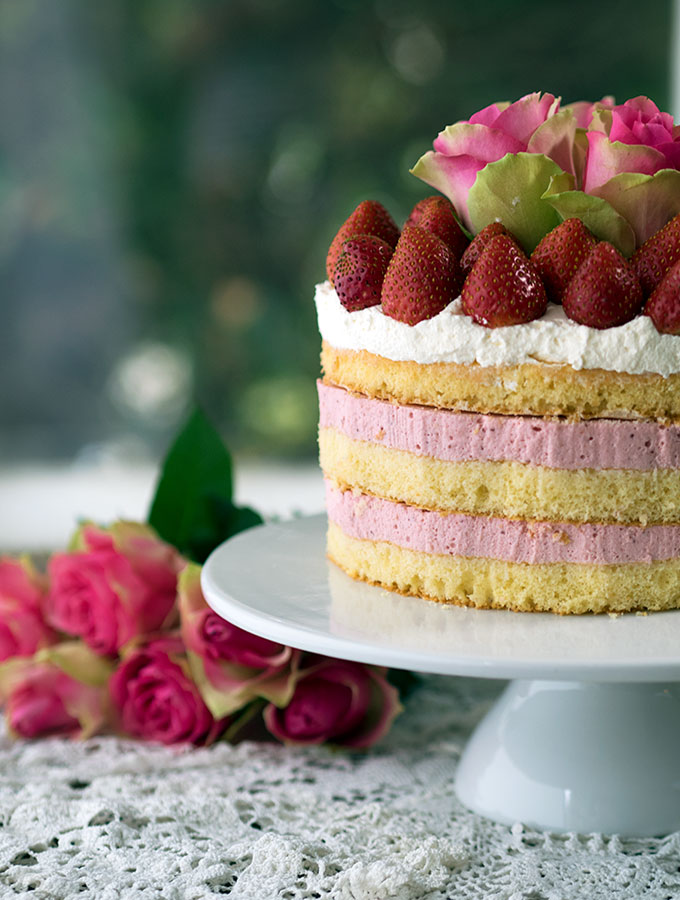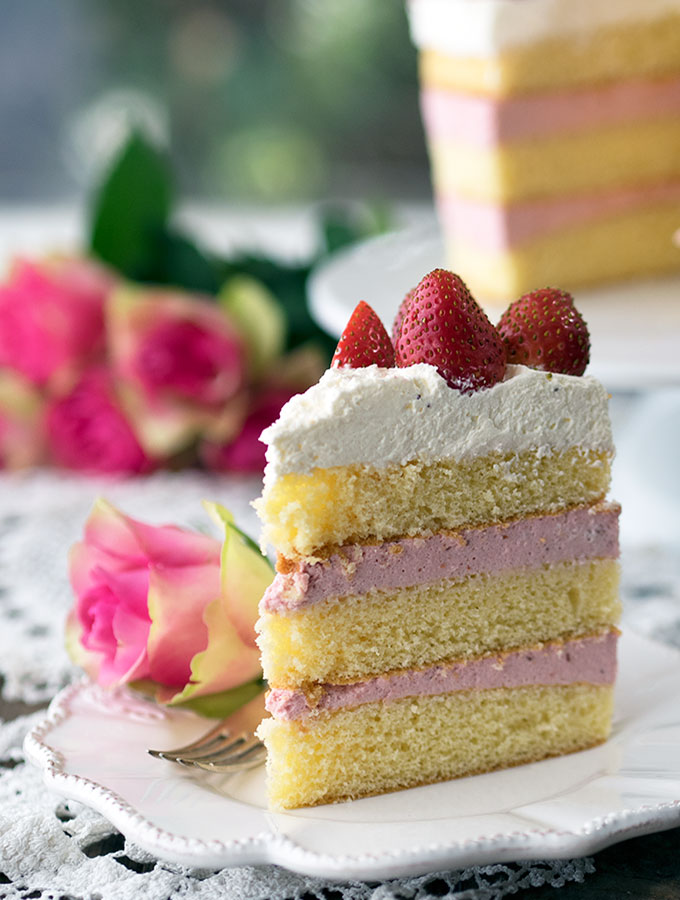 If you aren't comfortable at the thought of making sponge cakes from scratch, and I know a lot of people aren't. Or you are time poor and don't have the time to make the sponges, then why not buy the sponge cake component of this recipe? I won't tell anyone, I promise.
I do encourage you to make the sponge cake from scratch, as I have for the cake in the photos. The sponge cake recipe I have provided has worked for me many times over. But if you don't want to, for whatever reason, then buy them. By the time you make the delicious strawberry cheesecake filling, top it with cream, strawberries and flowers, I doubt anyone will be the wiser. Unless of course your mum is a member of the Country Women's Association.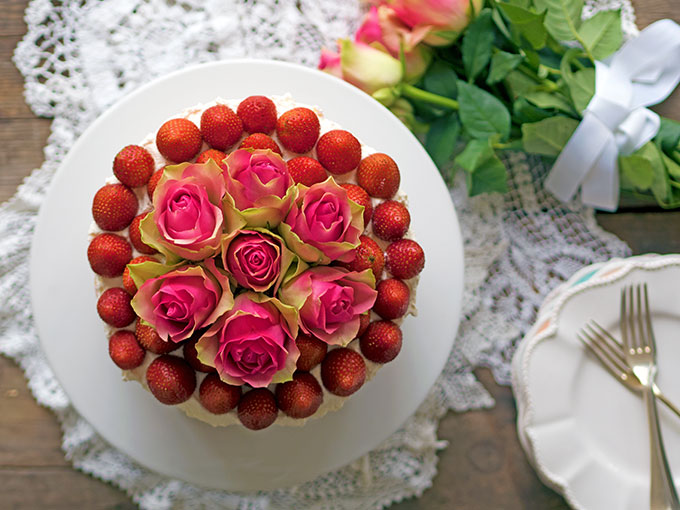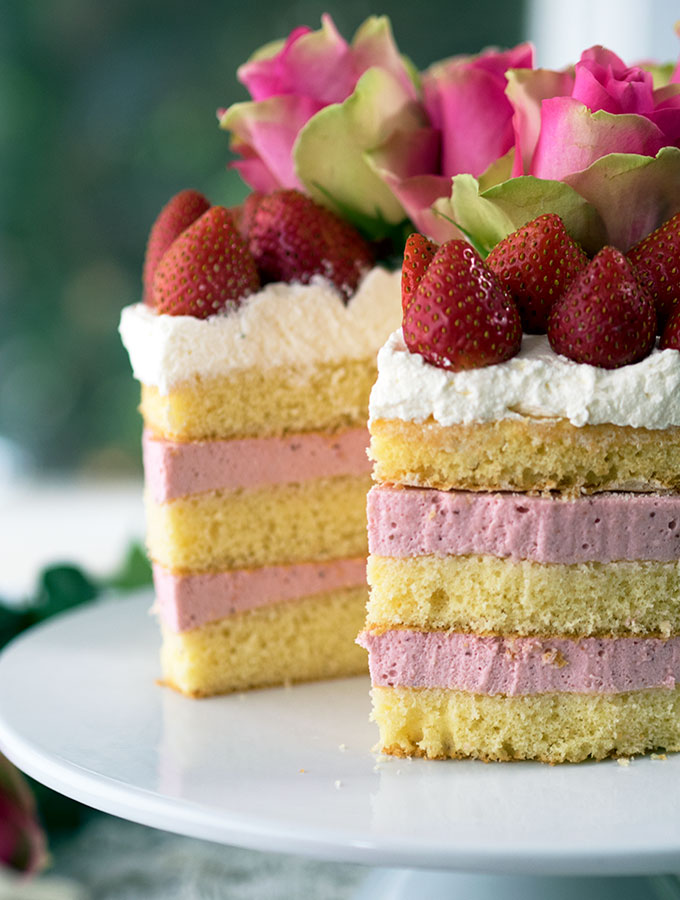 If you are going to cheat with this strawberry cheesecake sponge cake, you will still need two cake tins the same size as your purchased sponge cakes. This is required to support your filling as it sets in the fridge on top of two of your sponge cake layers. Also note if you do buy your sponges, they will probably be thicker (higher) than if you make your sponge cake as per my recipe.
The strawberry cheesecake filling is light and is packed with strawberry flavour. The PHILLY cream cheese adds the trademark cheesecake tang. It's a delicious take on a traditional strawberry and cream sponge cake.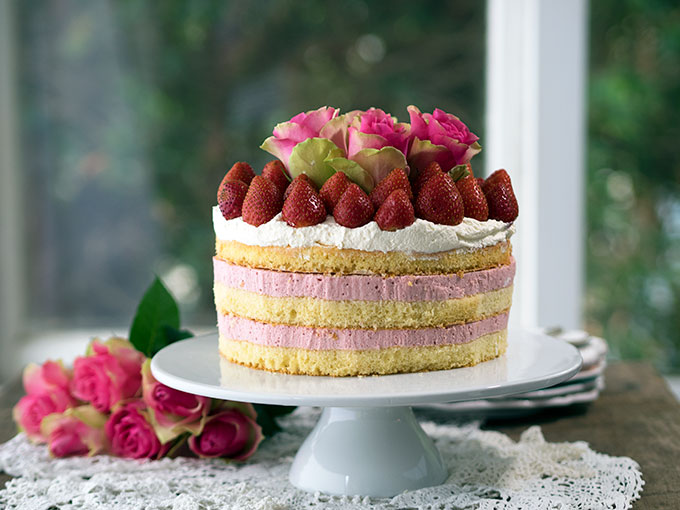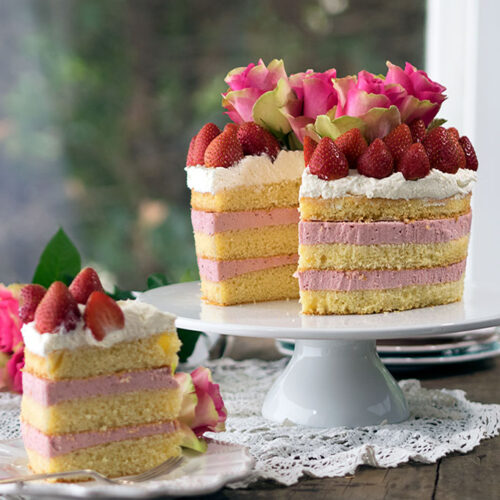 A delightful and pretty sponge cake filled with strawberry cheesecake.
Ingredients
Sponge Cake
8

eggs

-

55-60g each at room temperature

pinch

of salt

330

grams

caster sugar

360

grams

self raising flour

120

ml

milk

40

grams

butter

Strawberry Puree

500

grams

strawberries

-

chopped

110

grams

caster sugar
Strawberry Cheesecake Filling
500

grams

Cream Cheese

-

room temperature

500

ml

strawberry puree

3

teaspoons

gelatine powder

To Decorate

300

ml

of cream

-

whipped

Extra strawberries & flowers

flower note: please make sure any flowers you use are food safe and haven't been sprayed with pesticides etc
Instructions
Sponge Cake
Important Note: The ingredient list above will yield you 4 sponge layers. Only 3 are necessary for this recipe. You can make all 4 and freeze one cake layer for later use. They freeze well. The below recipe makes 2 sponge layers at a time.
Preheat oven at 170°C (340°F). Grease two 23cm (9inch) round cake tins and then dust with flour. Make sure tins are well covered and to shake excess flour out.
Place 4 eggs into a bowl with a pinch of salt, beat eggs until they become lightly frothy.
Then add 165g of caster sugar a little at a time. Make sure you beat the sugar into the eggs well between each addition. This will take a little time, around 10 minutes to incorporate all the sugar thoroughly. The egg mixture will almost triple in size, become very creamy and glossy. A little bit like making meringue.
When you can draw a figure 8 on top of your creamy egg mixture with your finger, you know it is ready.
Melt 20g of butter into 60ml of milk and whisk gently into the your egg mixture with 180g of sifted self raising flour.
Divide mixture between your two prepared cake tins and place in oven. Cook for around 15 minutes. The cakes are ready when they start to come away from the side of the cake tins and spring back when gently touched onto in the centre.
Turn out on to racks, making sure the base of the cake is on the rack and cool.
Repeat the above with the remainder of the ingredients to make the other two sponge layers.

Strawberry PureeBegin this step while you are making your sponge cakes.

Place strawberries and sugar in a heavy based medium sized saucepan. Heat gently until all the sugar has dissolved. Then bring strawberry mixture to a simmer for 10 minutes.

Strawberries should be tender and darker in colour. There should also be liquid released from the strawberries. Almost like a runny jam.

Remove strawberries from the saucepan into a clean bowl and place in the fridge to cool.

Once cool, blend with a stick blender and leave in fridge until required for the filling.

Strawberry Cheesecake Filling
Place two cooled sponge cake layers back into the two cake tins that they were cooked in. Make sure that the cake tins are lined with a round of baking paper on the bottom and a strip of baking paper around the insides of the tins.
With an electric mixer (hand or stand), beat PHILLY cream cheese in a large bowl until smooth and slightly whipped.
In a small bowl add 1.5 tablespoons of boiling water to your gelatine powder and mix well. Set aside to cool while you complete the next step.
Gradually add 500ml of the strawberry puree, a little at a time, making sure to incorporate it well into the cream cheese before adding more. Don't worry if your puree mixture didn't quite make 500ml, but if there is more than that, don't add any more than 500ml of the puree.
Once the strawberry puree and cream cheese are thoroughly combined, whip in the gelatine. Making sure to incorporate well.
Pour the strawberry cheesecake mixture evenly on top of the two sponge cakes you have prepared in the tins. Make sure to spread the mixture out and have it level on top.
Place cakes in the fridge to allow the cheesecake mixture to set. This will take a few hours.

To Assemble
Gently remove cakes topped with strawberry cream cheese from cake tins.
Place one on top of the other and place the reserved sponge layer on the top.
If you have made your sponge cakes yourself, don't be at all surprised if they are slightly different in shape. You may find one wider than the other. Once the layers are on top of each other (before you decorate), trim around your cake with a sharp knife to even them up.
Spread whipped cream on top of the cake and decorate with strawberries and flowers.
Store cake in the fridge until ready to use.
Recipe Notes
Please note there is an amendment in the below recipe from the original publish date. The amount of gelatine should read 3 teaspoons not 3 tablespoons
DID YOU MAKE THIS RECIPE?
I do a happy dance when people let me know, tag me on Insgragram @bellyrumbles #bellyrumbles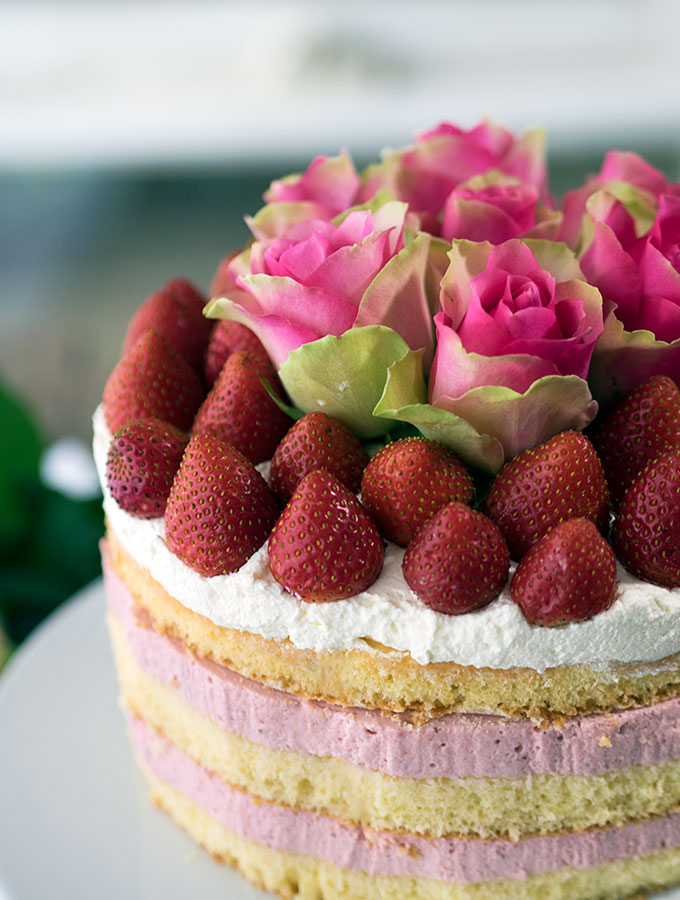 The cake is a very generous size once assembled due to its height, and will very easily feed 12 people, or 16 people without a crumb leftover.
The strawberry cheesecake sponge cake is the perfect centrepiece to a Mothers' Day lunch. Pretty with a little bit of wow factor. It's sure to make your mother smile.
Sara xxx
Belly Rumbles would like to acknowledge its partnership PHILADELPHIA Australia for this post. This recipe was created, developed and photographed by Sara McCleary.
Other Cheesecake Recipes
Baked Matcha White Chocolate Cheesecake – green tea cheesecake topped with decadent dark chocolate ganache
Basque Burnt Cheesecake – four ingredient cheesecake sensation
Cheeselova – the love child of cheesecake and pavlova
Baked White Chocolate and Mango Cheesecake – creamy cheesecake topped with summery mangoes
Chocolate Cheesecake Crackle Pie – chocolate crackle shell with chocolate cheesecake filling
Lemon Myrtle Cheesecake – A creamy taste of Australia with a macadamia base
Baked Anzac Cheesecake – All the flavours of an Aussie ANZAC biscuit in cheesecake form
Don't miss one delicious recipe, restaurant review or travel adventure. Sign up to our weekly newsletter below to keep updated. There is also bonus content just for subscribers.