Sunny Harbour Seafood is a regular yum cha spot for us in Hurstville.  Even though we have frequented this restaurant many times to partake in various dumplings, we have never had dinner here.  Mum and Dad were down from Queensland for a very brief visit and it was decided a Chinese meal was on the cards.  The perfect opportunity to try Sunny Harbour as we didn't want to drive in to town.  Let's face it, decent Chinese restaurants in the Sutherland Shire are hard to find.  Well, sadly, I haven't found one yet and I have been living here for 19 years.
The restaurant is both licensed and BYO.  Service is quick and attentive.  We notice we are the only caucasian family eating there that evening, so that has to be a good sign that the food is good.  I notice that most of the families dining take advantage of the mud crab special that is on offer.  What that special is, I'm not sure as I couldn't read the menu.  I didn't ask as it wasn't what we were after.  I am very tempted to go back and try it out as the crab looked awesome.
My Mum isn't a very adventurous eater, so we ordered pretty mainstream dishes.  Not ordered on the menu was chicken with fried bones and tofu stuffed with shrimp, both items I want to try and feel they warrant a return visit.
We didn't order entrees and instead decided on five main dishes and steamed rice.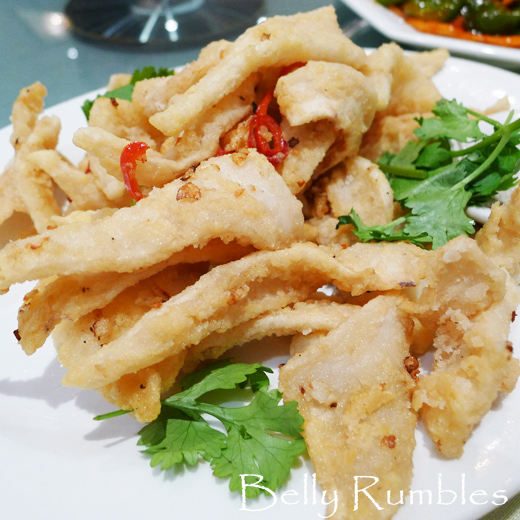 Deep fried chilli & salt calamari $19.80
Fantastically crisp and tender.  Sadly lacking a on the chilli side.  Salt served separately for you to sprinkle on.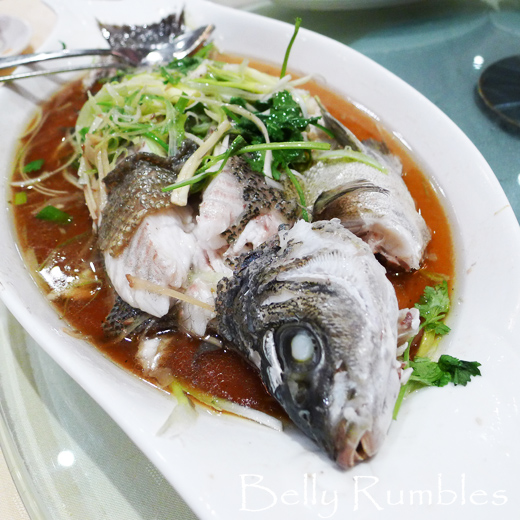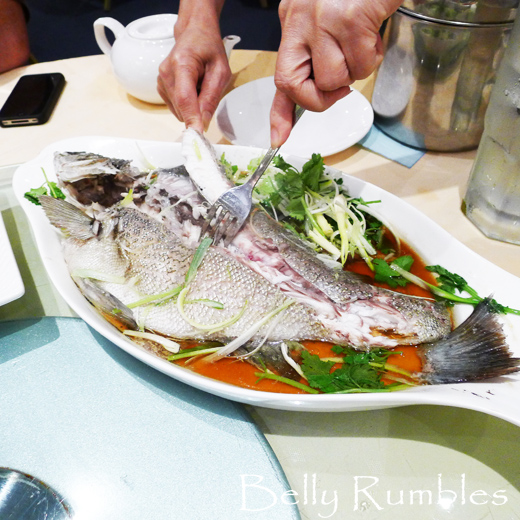 Steamed perch with shallot, ginger & soy $23/kg
The fish was cooked beautifully, lovely and moist.  Served to the table whole and skilfully de-boned in front of us.  Wish I had that technique.  Unfortunately I found that the sauce was a little on the soupy side, way too much of it.  It was also lacking in ginger, I think I found one julienned piece, everyone agreed it was lacking.  Josh and I had a cheek each, battle of the chopsticks as we were both hoping to nab both of them to ourselves.
 Very very mild, I was expecting a little bit of heat in this dish, but there was none, no heat at all.  Was okay, pretty mundane, thank goodness for the green capsicum to add a bit of taste and texture.
I actually ordered this dish, as I had a bit of a craving for it.  The battered pork was crunchy on the outside, but pork still tender.  The sauce had a great balance between the sweet and sour, not too sweet.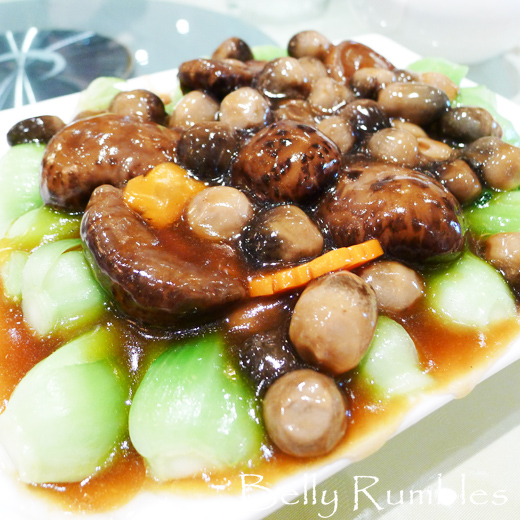 Two mushrooms & vegetables $19.80
Shitake and straw mushrooms served on baby bok choy.  The mushrooms were a winner, I especially liked the shitake.
All in all the meal wasn't bad, still prefer the longer drive in to town, but it's not a bad alternative when feeling lazy.  Yes I will be back to try the crab special, chicken and tofu with prawn.  Will also be back for yum cha.
Do tell dear Belly Rumbles' reader, are you lacking in a certain cuisine where you live and wish something decent would open up?
Sara xxx