Sushia Izakaya and Bar is located on Bond St in Sydney's financial district.  Hidden away at the back on the ground floor of number 20.  You do need to know it is there or be looking for it.  But apparently the suits that work in the area all know it is there, as at lunch time Sushia is packed to the rafters.
It is a different story on the cold and rainy Thursday night that I visit.  The suits have left the financial district to head home and the venue is a lot calmer and sedate.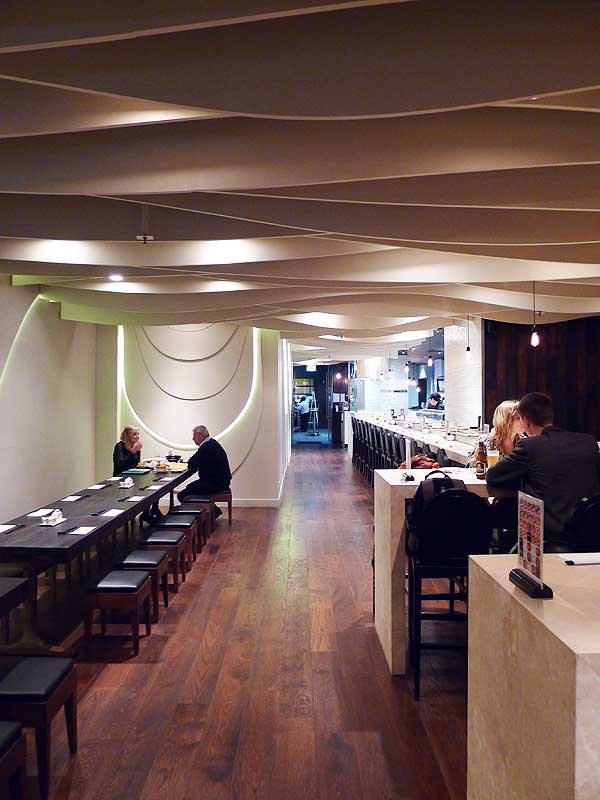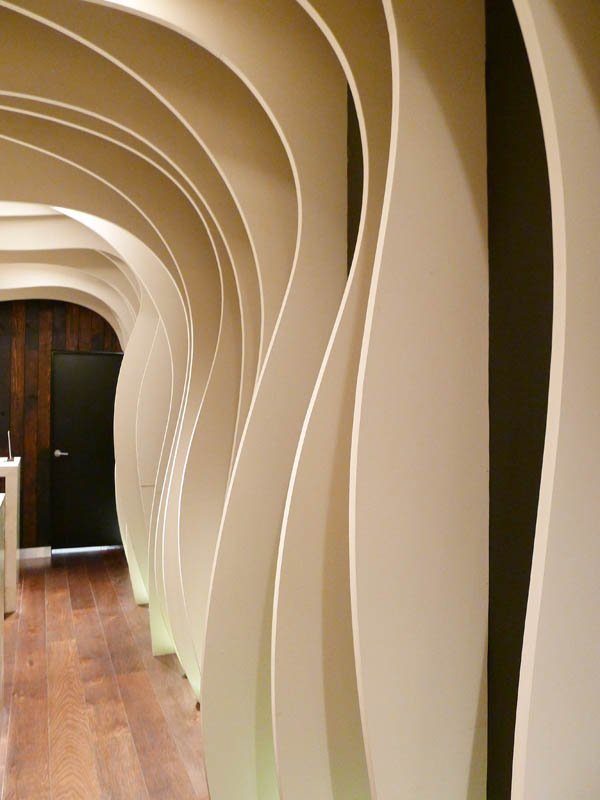 The restaurant is long.  Narrow at the front which then opens up once you walk past the open kitchen.  As soon as you enter the back part of the restaurant you are struck by the curvy design of the walls and ceiling.  The owners of Sushia also own the architectural company which came up with the striking design to reduce noise.  I love it, but you can't help but feel for a moment you have been swallowed by a whale.  It is a fun thought which brings a giggle.
The decision is made to enjoy a bottle of Otokoyama Junmai sake from Hokkido with the meal.  If sake isn't your bag, there is a great range of Japanese craft beers on offer.  Ocean Kujukuri Stout, Pilsner and Pale Ale, as well as Ise Kadoya Kodo Brown Ale, all $12 for a 300ml bottle.  There are a few more varieties on the menu as well.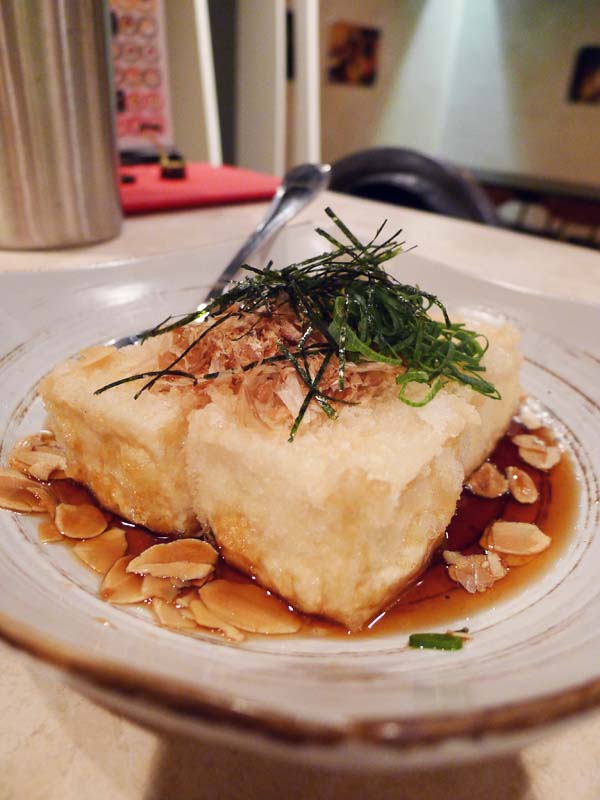 agedashi tofu with almond flakes $8.50
The tofu is hand-made, you can tell, so light, silky and ever so tasty.  Agedashi tofu is a favourite of mine and I am loving the quirky use of toasted almonds to add that little extra crunch.  This dish is the winner for me of the evening.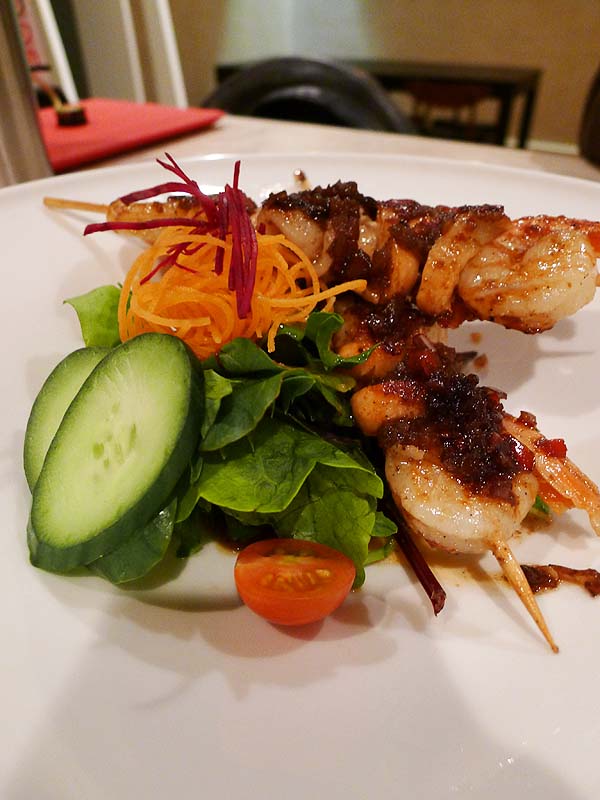 seafood kushikayki with chilli balsamic sauce $12.90
The skewers are a mixture of prawns, scallop and salmon.  The balsamic sauce is more like a relish.  The dressing a big hit for me and is what makes this dish.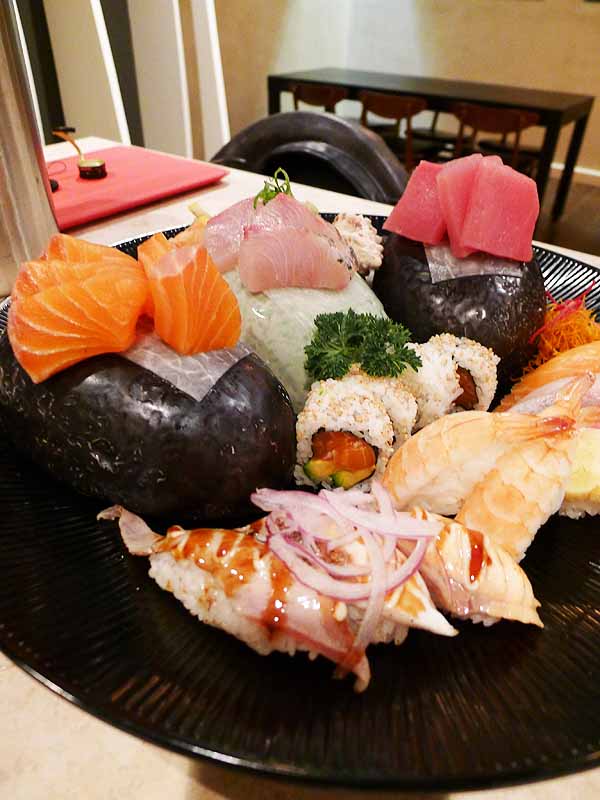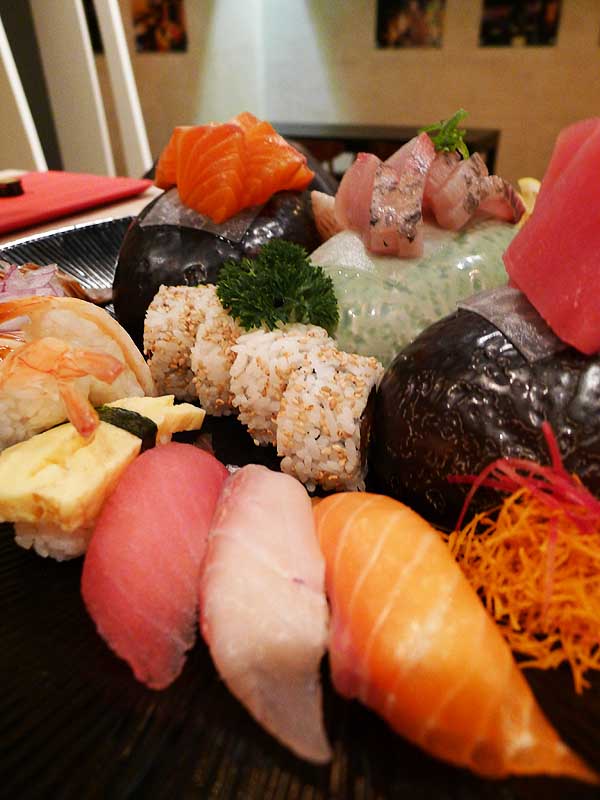 sushi & sashimi platter $34.90
The platter can't be faulted.  The salmon is gorgeously buttery in the mouth.  The sushi rice is a brilliant example of how sushi rice should be, each grain separate, not mushy and still all holding together.
 Japanese sliced wagyu 9+ with mashed sweet potato and sesame demi sauce.  A nice dish but the use of the mashed sweet potato leaves me a little confused.
Completely full and not feeling at all like dessert, the arm is twisted to try the black sesame ice cream.  It is home-made using crushed black sesame instead of using a paste.  The nuttiness and texture that is achieved by making it this way,  delightfully plays in your mouth.  Normally served with waffles for $6.50.
Would I return?  For the friendly service, good sake, quality sashimi and agedashi tofu fix, yes I would.
Sara xxx
Belly Rumbles dined as a guest of Sushia
Sushia Izakaya & Bar
Shop 4, Ground Floor
20 Bond St, Sydney
Tel:  +61 2 9221 4422
www.sushia.com.au