I turned to Sandra (The $120 Food Challenge) and whispered, "If the Queen had just walked in I wouldn't have given a bras razoo, but that's Margaret Fulton".
Let's rewind and start at the beginning shall we. I was invited to Suzanne Gibbs' home to cook with her and some other bloggers, that is an invitation you don't pass up. We were invited to cook alongside Suzanne and have a little cooking challenge with mystery ingredients and Philadelphia's dessert cream.
Suzanne has an amazing culinary background. She studied at Le Cordon Bleu in London and then was appointed as Head Pastry and Sweet Chef at the Le Cordon Bleu Restaurant. On her return to Oz she was commissioned to write 'The French Cookbook'. Worked alongside Margaret Fulton to produce a 30 part cookery course published weekly, and has written for the Woman's Day, Sunday Telegraph and Australian Home Beautiful. Was New Idea's Food Editor for 20 years, and Food Director of Australian Table and BBC Australia Good Food Guide. Suzanne was also responsible for the updated version of 'The Margaret Fulton Cookbook' and contributed to the new edition of 'Margaret Fulton's Encyclopaedia of Food & Cookery'.
Oh and I forgot to mention, cooking is in her genes, Suzanne's mother just happens to be Margaret Fulton.
The afternoon started with a general chin wag and getting to know each other and listening to stories about Margaret and Suzanne. We looked through some old publications of Margaret's and were privy to some old family photos. Then it was in to the kitchen with Suzanne where she demonstrated an incredibly easy Chocolate Roulade. The recipe is a family favourite which makes a regular birthday appearance. The beauty of this recipe is there isn't any flour and is dead simple to make.
With the cake, or should I say light as air chocolate soufflé, in the oven, it gave us a chance to decide what we were going to cook. We were given four secret ingredients to choose form, vanilla, cinnamon, orange or strawberries. We had access to other various ingredients as well as Philadelphia's new 50% fat free Dessert Cream.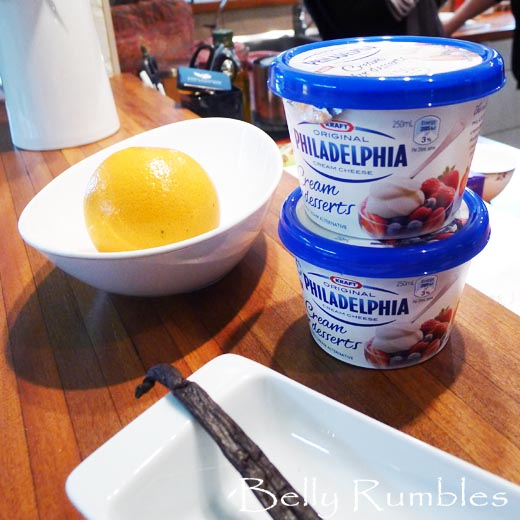 Sandra, Sarah (A Beach Cottage) and Julie (Gourmet Getaways) worked out pretty quickly what they were going to make. Sadly this is where my mind went blank, I froze.
Again, a reminder to you all why I have no intention to auditioning for MasterChef.
I could of had a duck, oranges and brandy in front of me and said, "nope, I have nothing". I don't do well when I want to impress. Oh wow the pressure! I wanted to showcase Philadelphia's new Dessert Cream beautifully as well as showing Suzanne I can actually cook.
This is where Julie and Suzanne step in to save the day.
Julie bought me out of my coma of recipe blankness and offered me a simple recipe for white chocolate mousse and Suzanne provided the chocolate from her own pantry. Thanks ladies.
The mousse itself needed something, it needed a bit of texture somewhere.
I had my eyes on some walnuts and really wanted to make use of them. I made a simple walnut praline, which was crushed and layered with the mousse and left a shard on top for presentation.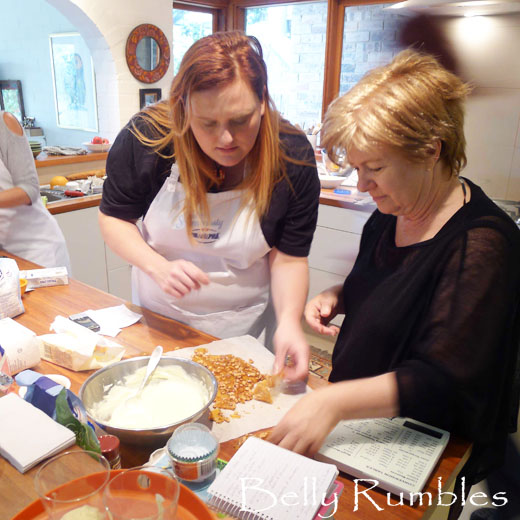 Considering there were five of us in the kitchen, we all just clicked and worked so well with each other. Suzanne was busily helping when needed and imparting her vast knowledge and tips as we went along.
With afternoon tea nearly ready, that is when I got the shock of my life. Margaret Fulton walked in the front door, and that, my dear readers, leads me back to my opening statement.
For those of you that don't live in Australia and may not know who Margaret Fulton is, she is regarded as the matriarch of Australian cooking and is credited with changing the way Australians eat.
Her first cookbook, 'the Margaret Fulton cookbook' was published in 1968 and sold over 1.5 million copies. Margaret has even been nominated by the National Trust as an Australian Living National Treasure. As Margaret herself said, there are more of her books in Australian households than termites. For us foodies, she really has as much impact as meeting the Queen.
I wasn't expecting to meet Margaret that afternoon, so this was an amazing surprise for me, adding to an already amazing day.
With afternoon tea prepared, and to Suzanne and Margaret's amusement, our finalising of our mad blogger photography, it was time to sit down and enjoy our hard work.
I think that is when the penny dropped for us all, Margaret Fulton was actually going to eat our food. I was sipping on my tea and that is when it happened, Margaret picked up my mousse and she liked it, she really really liked it.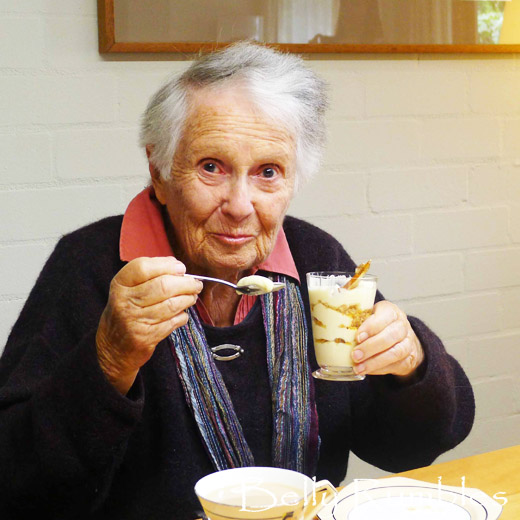 We chatted and ate for quite a while, was such a pleasant afternoon. Discussing our family Christmas rituals, listening to Suzanne and Margaret's stories, but all good things must come to an end and sadly we waved good bye to Suzanne and Margaret.
With doors closed behind us, that is when all four of us stood on the street outside the house like giddy 16 year old school girls. It was all so surreal and our faces were sore from smiling all afternoon.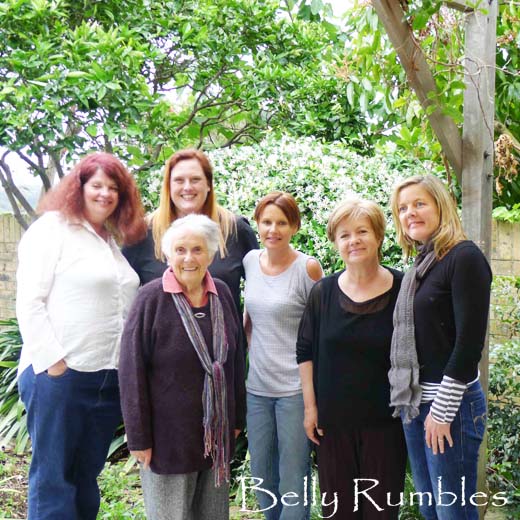 Sandra, Me, Margaret, Julie, Suzanne & Sarah
Leading up to Christmas I am going to share with you Suzanne's recipe for her roulade and also another version of the mousse I made. With the silly season approaching and all that extra food consumed I want to share some rich and decadent but lower in fat recipes with you, so stay tuned.
Sara xxx
Belly Rumbles was invited to this event by Liquid Ideas and Kraft.