It was only after returning back to Sydney that I discovered that a little restaurant Dad and I stumbled across in Nihonbashi, was in fact, 'world famous' for their tempura. The main flagship restaurant is, as the name states, located in Ginza. We had come across their Nihonbashi branch which is one of eight dotted around Tokyo.
It was the last day of a very quick business trip to Tokyo, and the morning has been shopping for my usual stash of supplies to take home with me. Dad had joined me on the shopping spree and has since decided against doing that in future. Arms laden with bags we call in to a building of restaurants near where we were staying in Nihonbashi. On level 3 we eventually find somewhere to eat we both agreed on.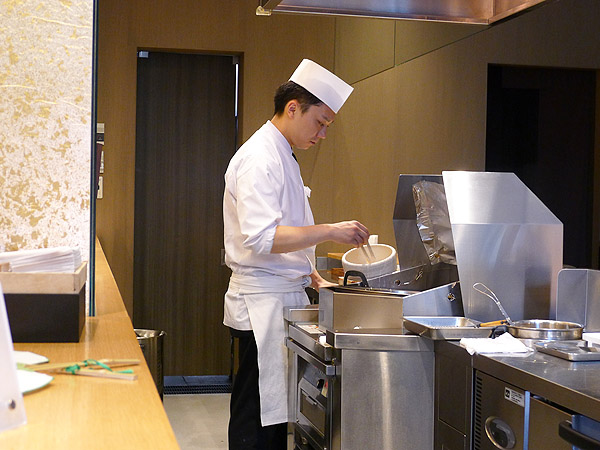 This branch of Ten-Ichi is tiny. There is counter seating for roughly eight people, and table seating for around another eight at a squeeze. The size of Ten-Ichi isn't unusual for Tokyo. I have grown quite fond of stumbling upon these 'hole-in-the-wall' eating establishments. They generally specialise in one type of Japanese style dish, and in this case, tempura.
For lunch there is a choice of two set menus, one with more dishes than the other. We settle on the Yen 5,600 set menu. It is an extremely hot and muggy Summer day outside. Drinks are quickly ordered, a beer for Dad (Yen 600) and a ginger ale for me (Yen 400). I am so hot that I scull my drink in order to quench my thirst, the reason for my choice of beverage. Before I started travelling to Japan I never drank ginger ale, but now I crave it on a hot day when over there.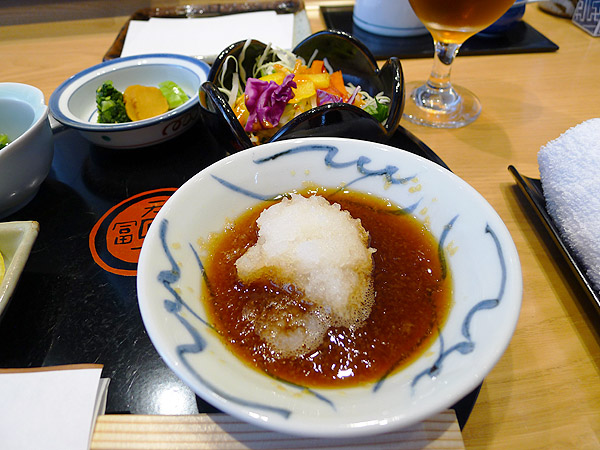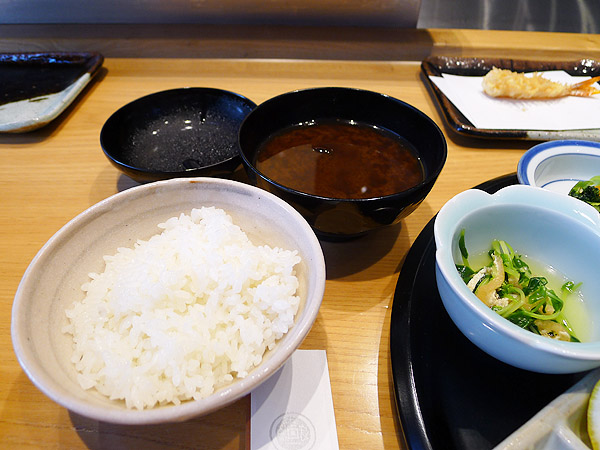 condiments and rice are brought out in readiness of our meal
Each type of tempura is cooked and served individually. The batter crisp and light, as good tempura should be. There is a gorgeous crunch sound as you bite through. The highest quality ingredients are used, and for each piece, the chef advises us which sauce, or to use the salt and lemon to dip into.
I love the little green peppers that you find in Japan. Often found on a yakitori menu, and if you have the chance order them, go for it, don't worry they aren't hot.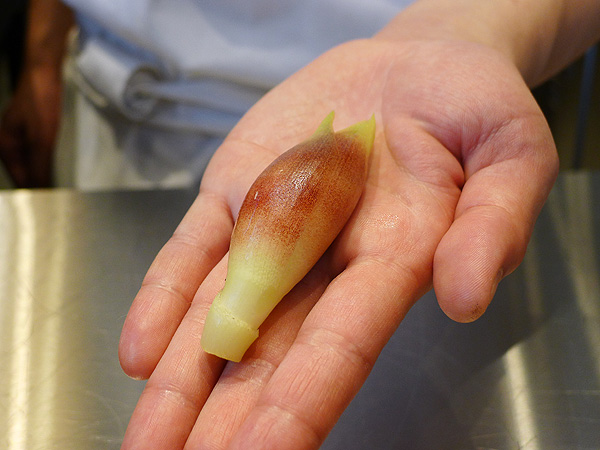 I ask the chef what the ingredient is that is served up alongside the peppers. I work out it is a type of ginger, but he happily brings the uncooked version over to me to look at. In Japan there is a range of gingers. Some so hot that they burn like a chilli, and then others without much heat at all. The one served to us was of the mild variety.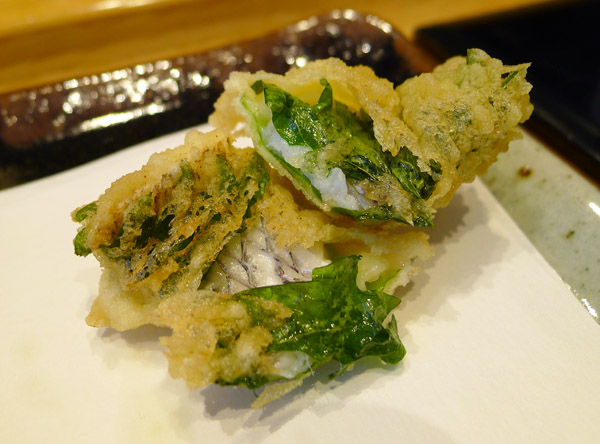 white fish wrapped in shiso leaves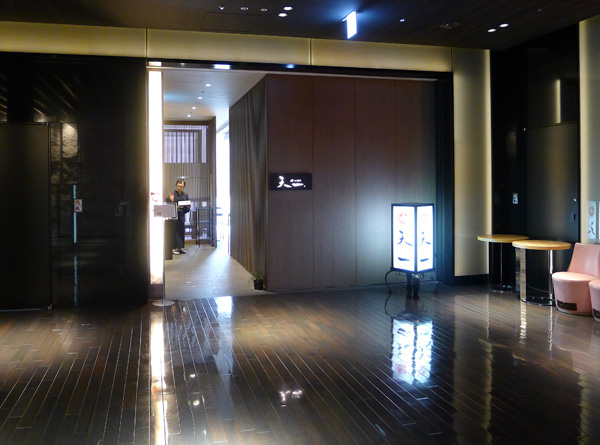 The lunch was brilliant, a great little find. Staff were so lovely and the chef was happy to have a chat. You can see, in the distance, of the photo above, our hostess waving us goodbye until we are out of sight. This surprisingly happens more times than you would think. Once I was waved and bowed goodbye, the whole time I was walking up to the pedestrian crossing from the restaurant, waited for the lights to change, crossed the road, walked back towards the restaurant on the opposite side, until disappearing down the stairs to the train. All the time I am waving and bowing back, it was hilarious! One of my many happy memories of travelling to Japan.
Do tell dear Belly Rumbles' reader. Do you get as thrilled as I do when you stumble upon a great little restaurant?
Sara xxx
Ten-Ichi Ginza
Yuito 3F, 2-4-3
Nihonbashimuromachi, Chuo-ku, Tokyo, 103-0022
Tel: + 81 (0) 3 3272 7141
www.tenichi.co.jp