The Bistro at Manly Pavilion offers sweeping Sydney Harbour views, cool cocktails and dishes to tantalise your taste buds.
Being a Sydney local, Manly really isn't on my radar. I think of it as a tourist trap with a nice beach. Mind you, it is a place that I recommend every person coming to Sydney go and visit. Give me a choice between Bondi and Manly beaches, and Manly wins every time. Of course Cronulla beach puts them both to shame, but we won't go there right now.
There are two main reasons why I recommend visitors to our city to visit Manly. The ferry trip from Circular Quay is spectacular. If you are on a budget it is the optimal way to go for a cruise on stunning Sydney Harbour.
The other is Manly Beach. Jump off the ferry, walk up The Corso, and you will be greeted with the pristine white sands of Manly Beach.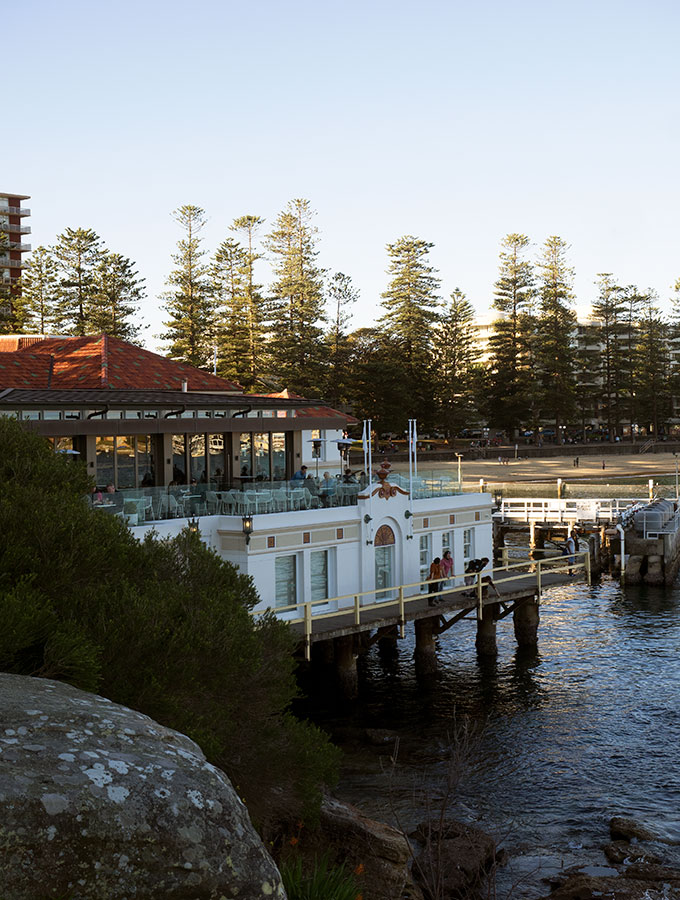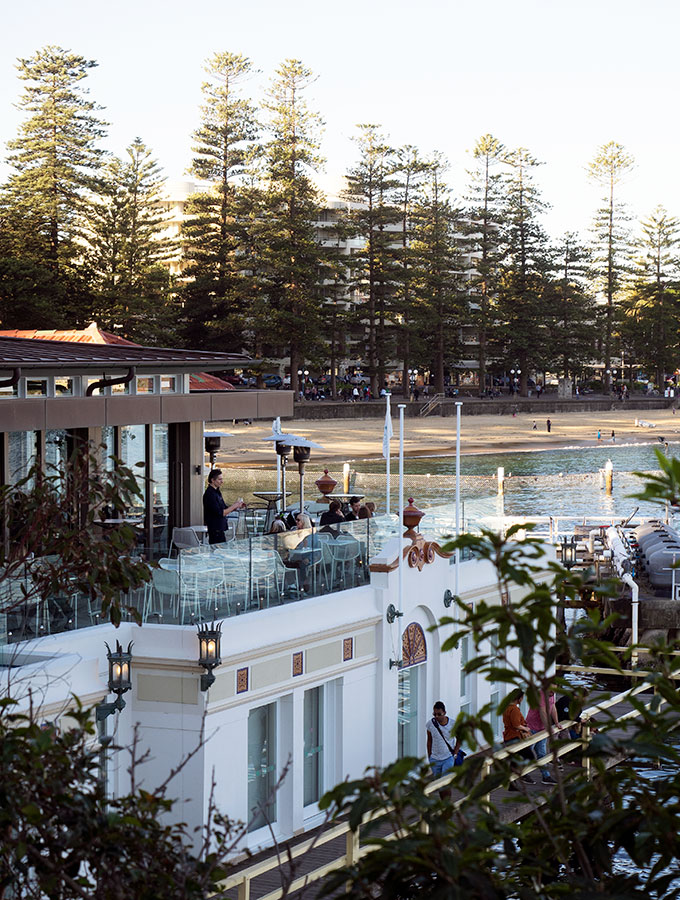 Lately there is a third reason to make the trip to Manly. Over the years I haven't thought of Manly as a dining destination. What came to mind were beach side fare, pubs, fast food chains, fish & chips, ice cream and other fast touristy type establishments.
But over the past few years, if you step away from The Corso there is a lovely offering of small bars and restaurants worth the ferry ride for this Sydney gal. One of those restaurants is a rather new establishment, The Bistro at Manly Pavilion.
For those not familiar with The Manly Pavilion, it's an iconic building on Sydney Harbour. A beautiful heritage listed old dame of an era past. The Manly Pavilion was originally a bathers' pavilion (bather's change rooms), built in 1933. After it's change room days it became a high end dining venue that closed in 2013 and stayed empty and unloved.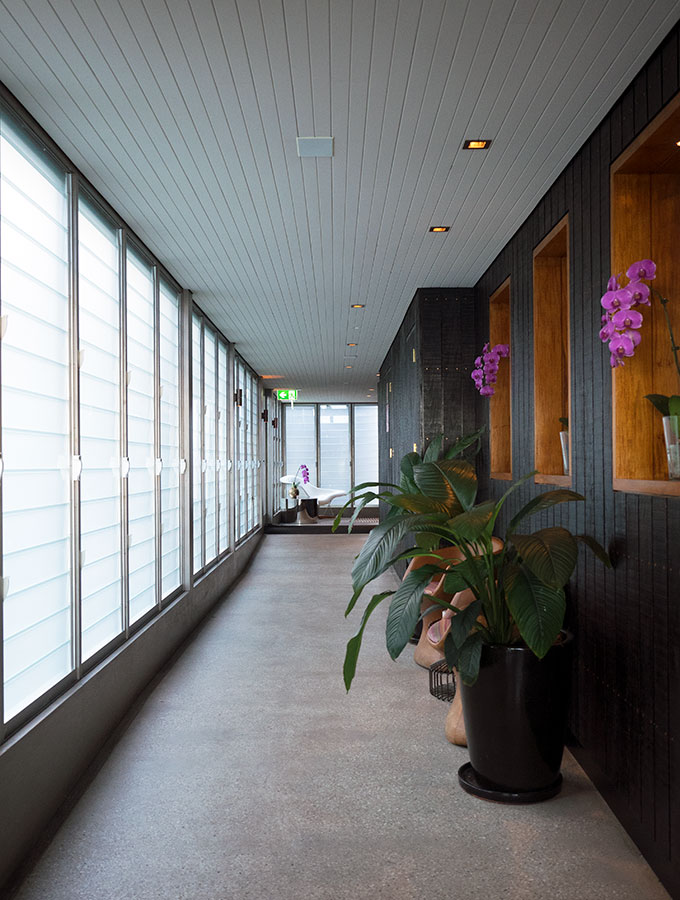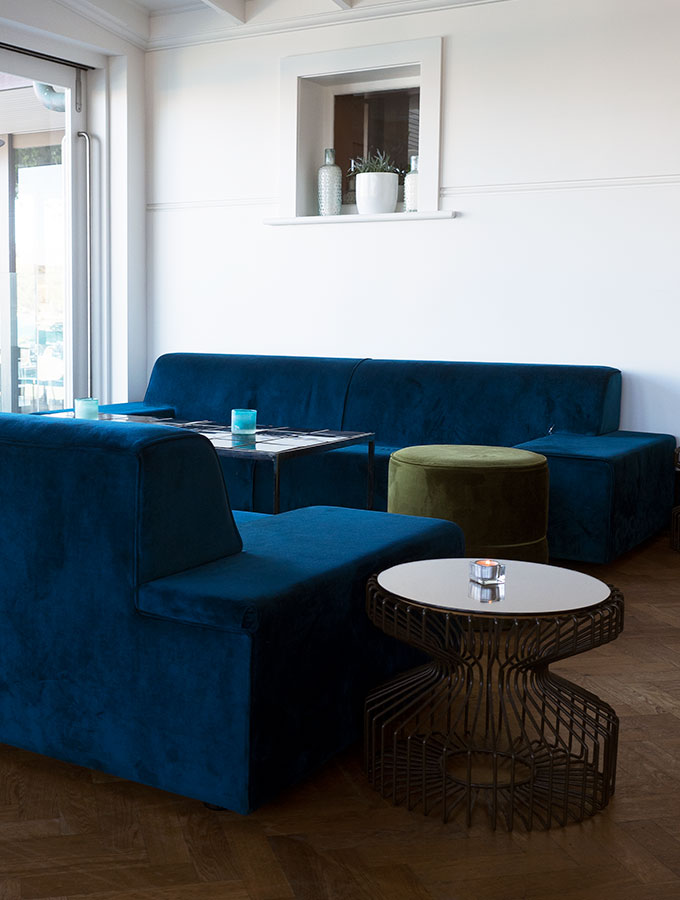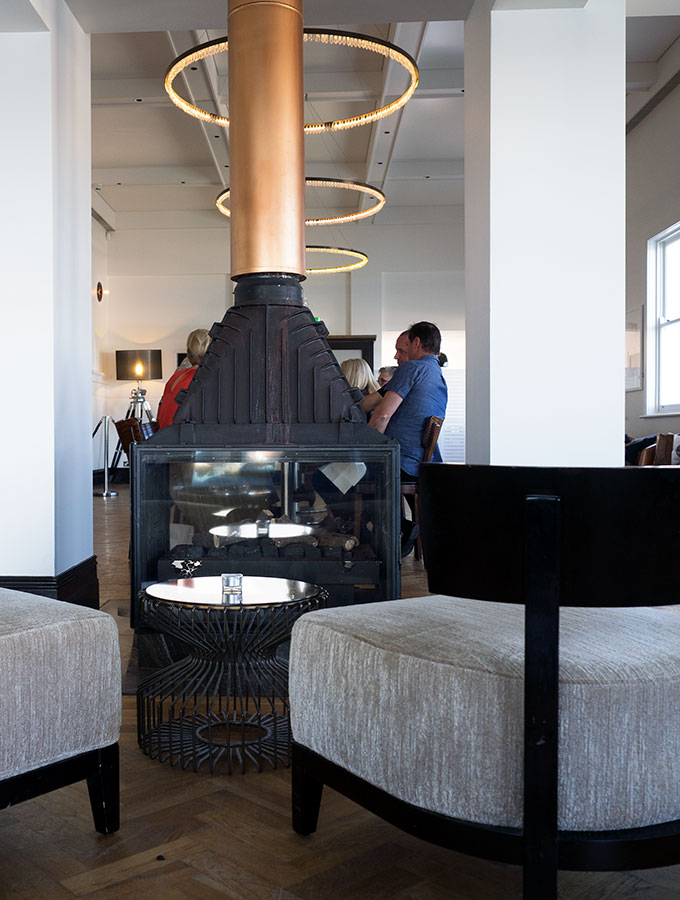 That was until the Miramare Group jumped in and revived this beautiful property. Paul Severino, Director of Manly Pavilion, shared with me that he had his eye on the property from the day the previous tenants vacated. When the property was put out to tender, he jumped in to secure it with gusto.
I'm glad he did, as what they have created with the space is a venue for everyone. Tourists, locals and morning joggers are all equally welcomed to come and dine or grab a drink (or after jog latte/mimosa). The Bistro at Manly Pavilion is both a dining venue and bar.
The space is light, bright and airy inside. On trend polished concrete floors, wooden tables with potted succulents, black leather bench seating that matches the black seats on the wooden chairs. The walls and windows are crowned with hanging plants to add a splash of green.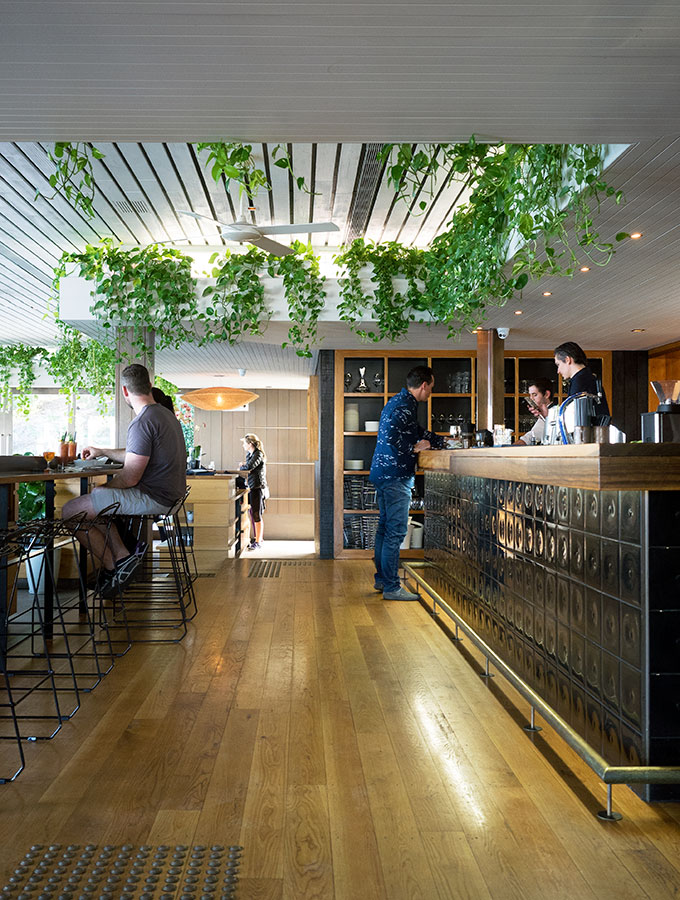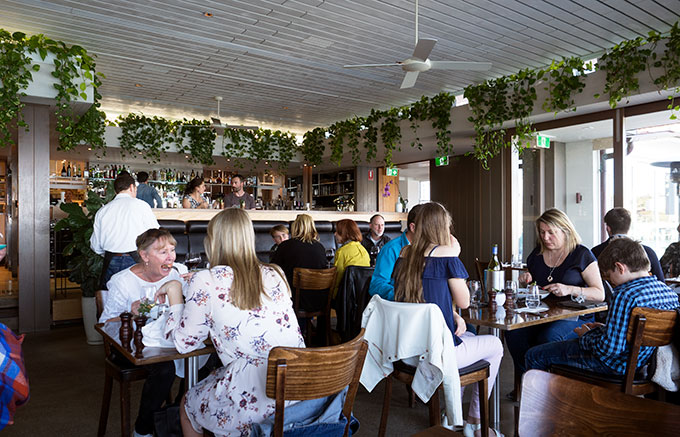 The raised bar at the back oversees the restaurant and has the perfect view out the full length windows. The only diners with a better view are the ones enjoying their time at one of the many tables on the generous wrap around balcony.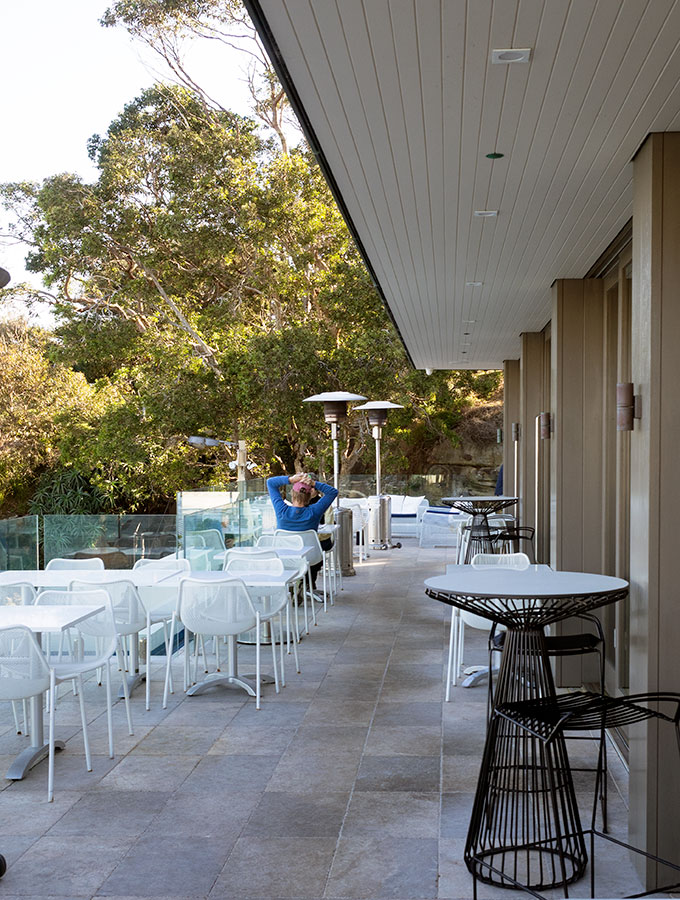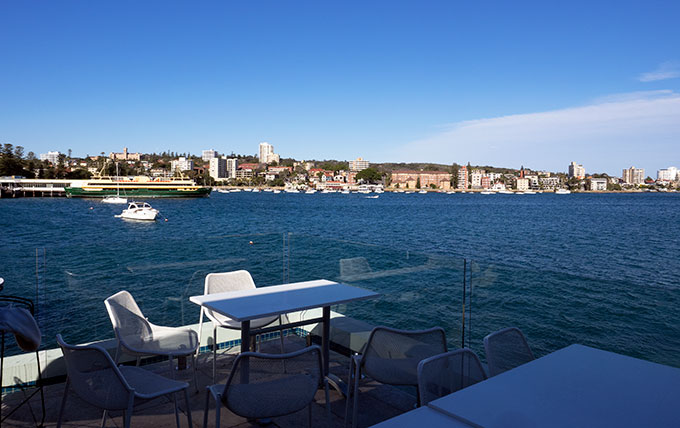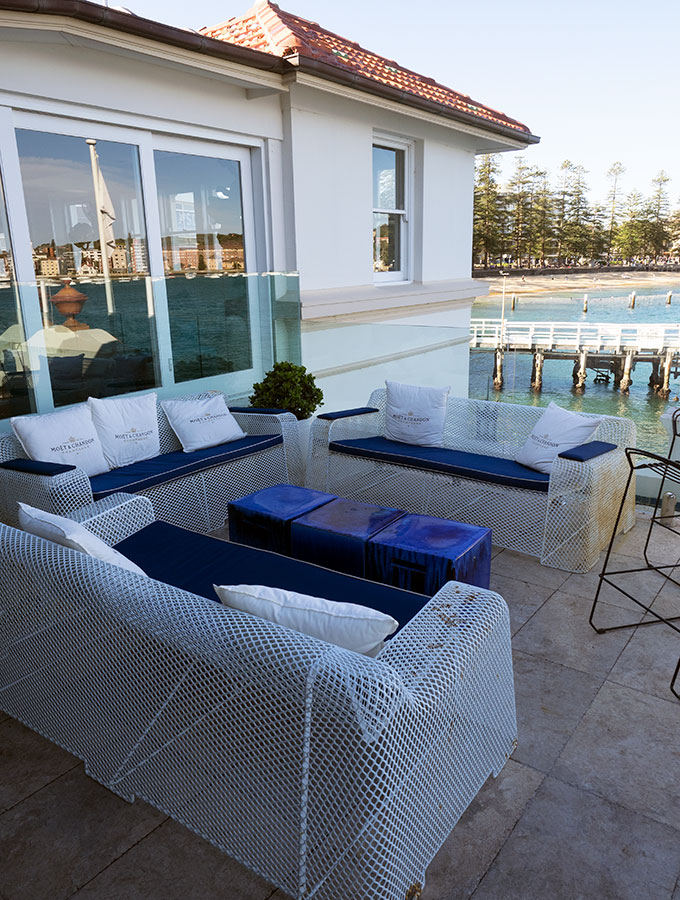 I'm here with Mac for a lazy Sunday lunch prepared by Head Chef Andrea Corsi. Andrea has been at The Bistro at Manly Pavilion for just a month, but has already put his mark on the menu. Keeping some firmly loved favourites and adding his own flair, which the regulars seem to love.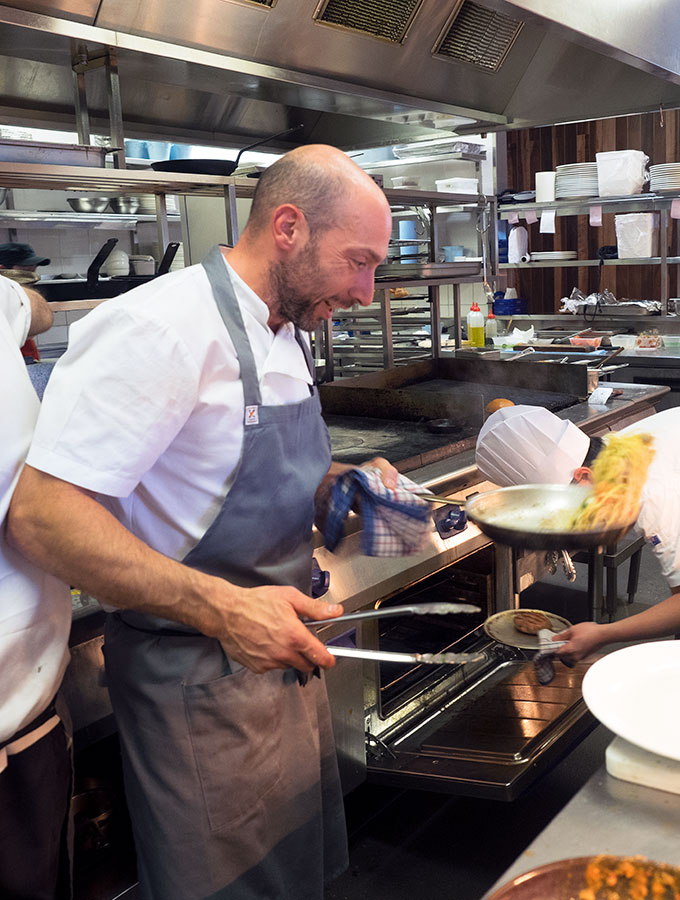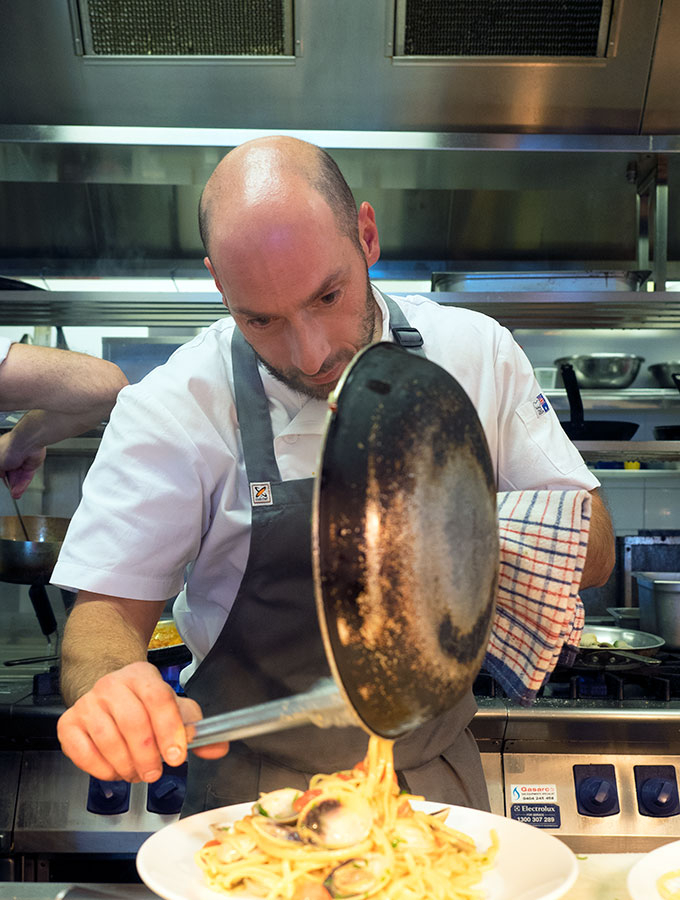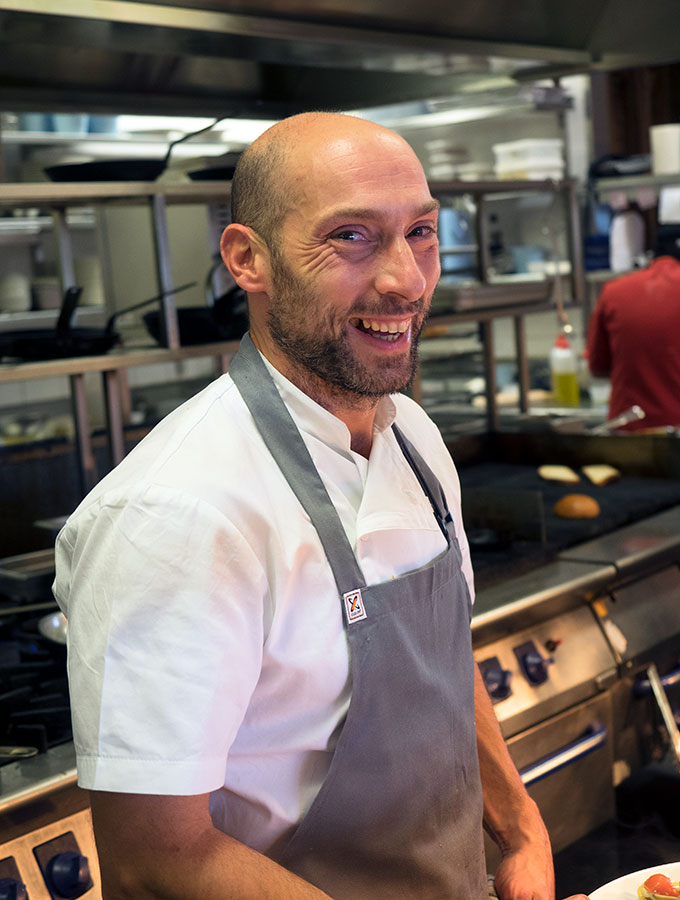 And it's no wonder, Tuscan born Andrea has quite a background in the hospitality industry. Before taking over the kitchen at the Bistro at Manly Pavilion he has worked under notable chefs such as Raymond Blanc at Le Manoir aux Quat' Saisons in the UK, and Australia's very own Giovanni Pilu at both Cala Luna and Pilu at Freshwater. With whom he then co-owned Cavallino. To add to his knowledge, Andrea has also successfully become a certified Sommelier.
Chef Andrea Corsi's passion for food radiates out from every fibre of his being.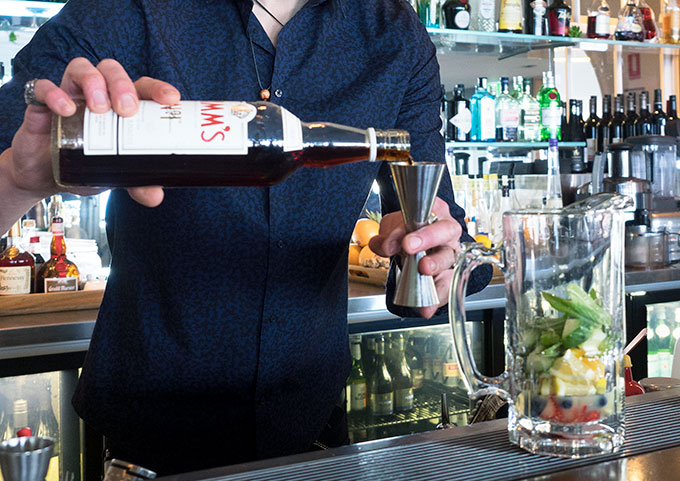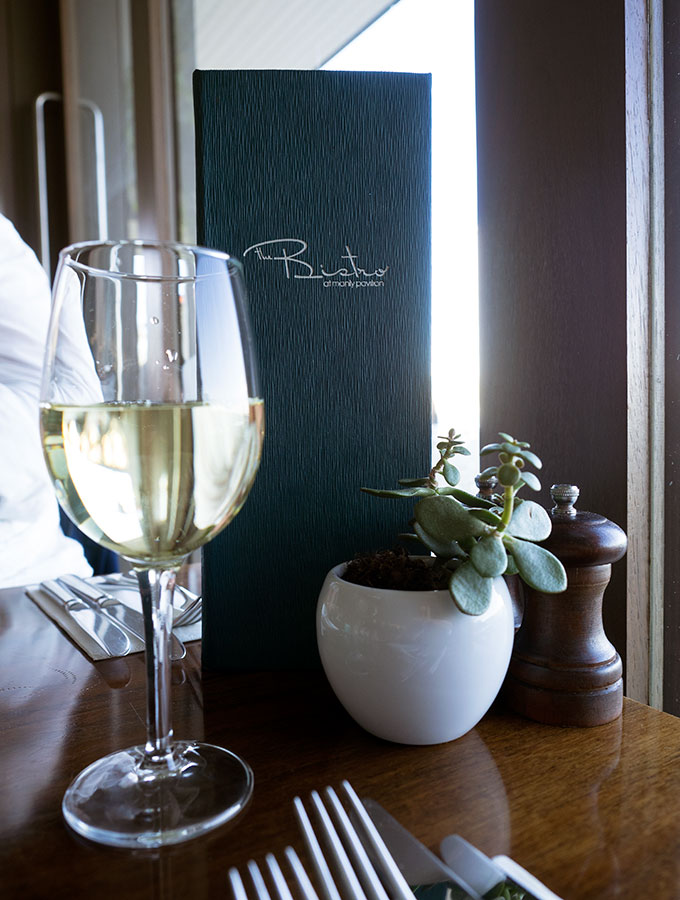 Cocktails are a popular choice to be enjoyed over Sunday lunch. The one litre Pimm's jugs are in high demand by ladies who lunch. Instead I decide to settle on a glass of Minnow Creek Sauvignon Blanc. Mac is even more boring by ordering a flat white.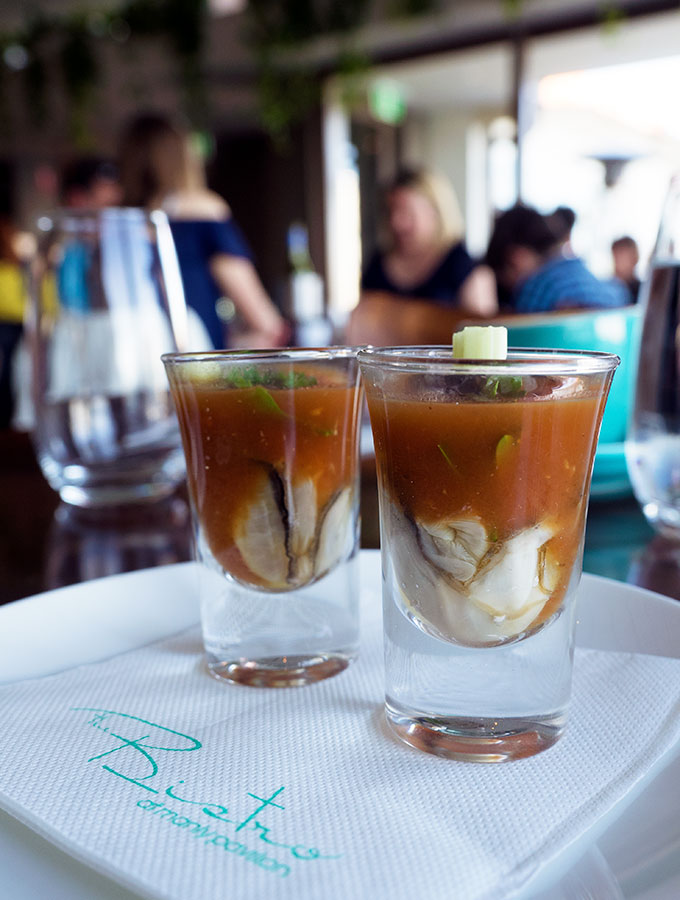 When I see oyster shots on a menu they beckon me like mythical sirens, and The Bistro at Manly Pavilion offer Oyster Bloody Mary Shots ($4 each). A large plump Pacific Oyster is placed in a shot glass topped with spicy Bloody Mary mixture and served with a small baton of celery.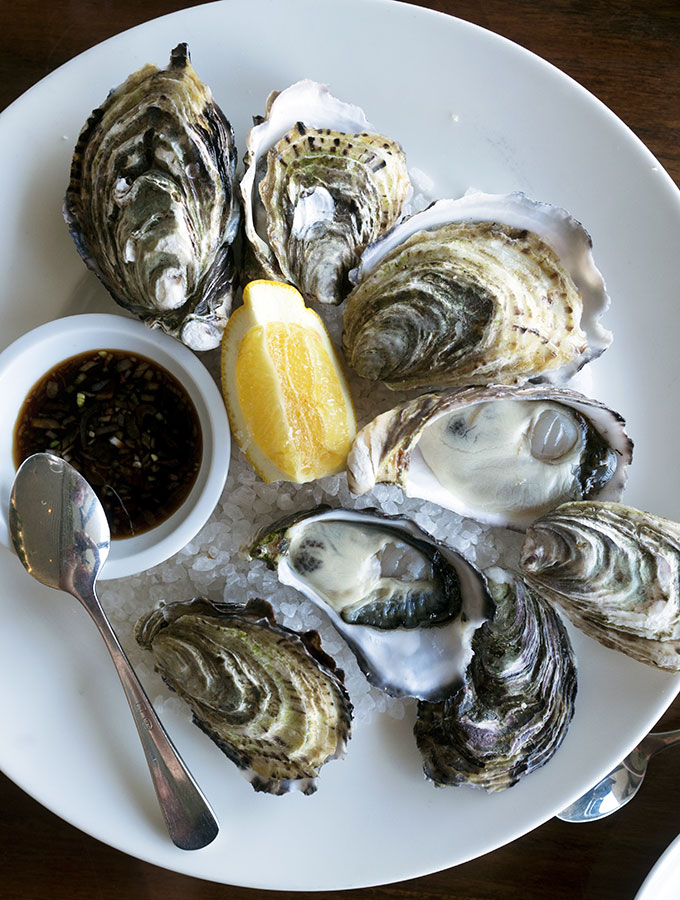 Oysters don't only appear in the shots, you can order your oysters natural or Kilpatrick with pancetta. We go for natural and are presented with six plump creamy freshly shucked Pacific Oysters from Coffin Bay in South Australia ($21).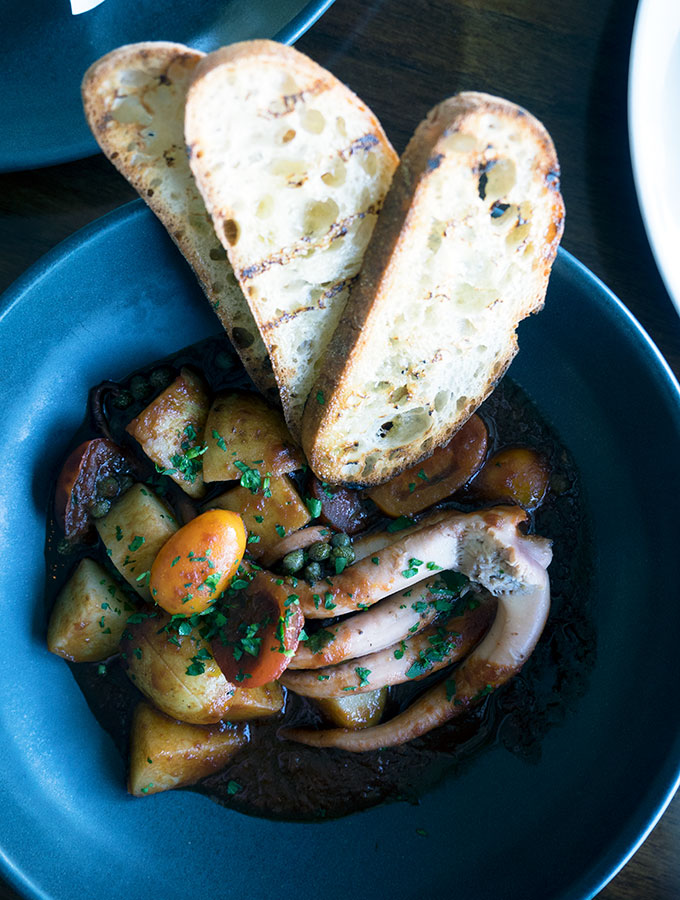 When the Chef is Italian, and you see Braised Octopus ($23) on the menu it really is a must to order. I wasn't disappointed. Tender octopus, which could be cut with a butter knife, swimming in a hearty tomato based sauce with a generous amount of baby capers, potato and cherry tomatoes. Served with grilled crusty focaccia to mop it all up.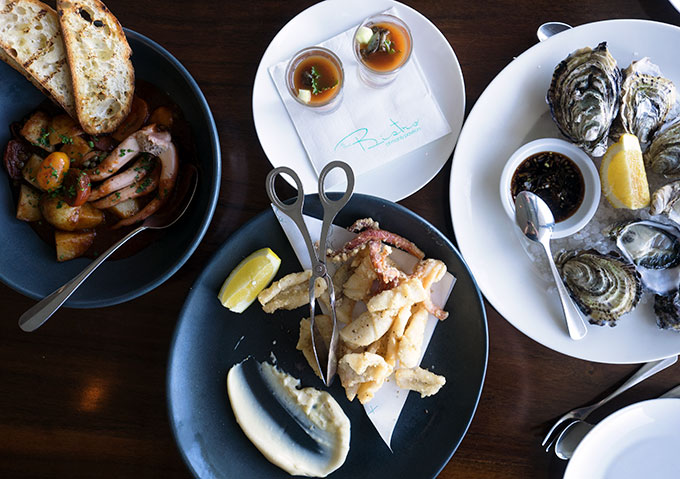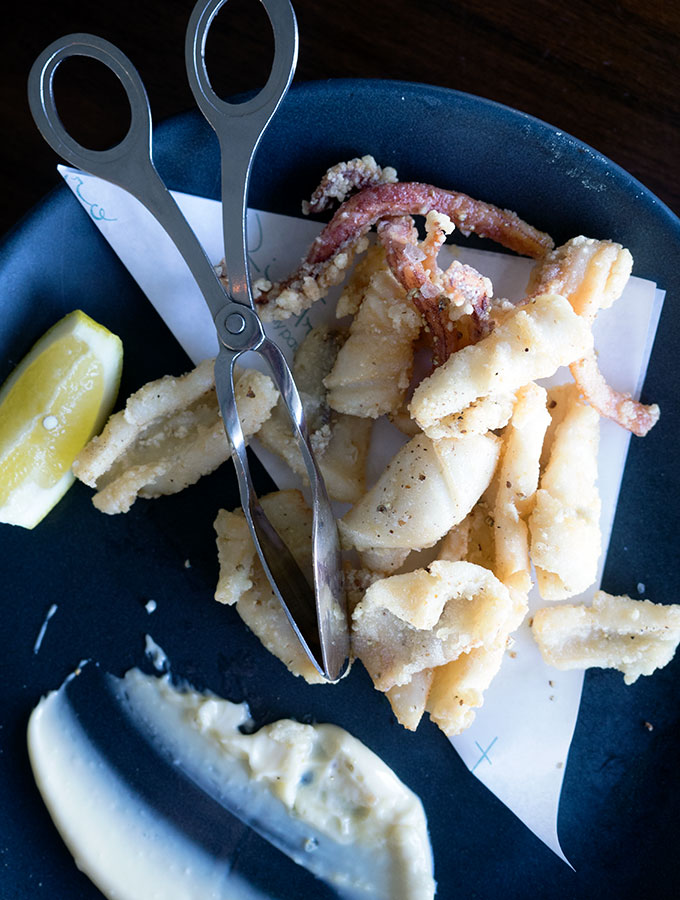 We would have been content with those dishes, but Paul insists that we order a serving of the Calamari ($19) to try. One of his favourite dishes, which is all prepared fresh in house. He organises a half serving for us and I am glad he does. The salt and pepper coating is light and crisp, the calamari is delightfully tender. We polish the lot off with the garlicky aioli.
For the main event originally I was going to order the Ora King Salmon served with asparagus, potato & saffron salad and crispy pancetta ($35). Paul talks me out of my decision as he tells me about their very popular Cod dish. Paul seems to be very talented at talking me out of my decisions.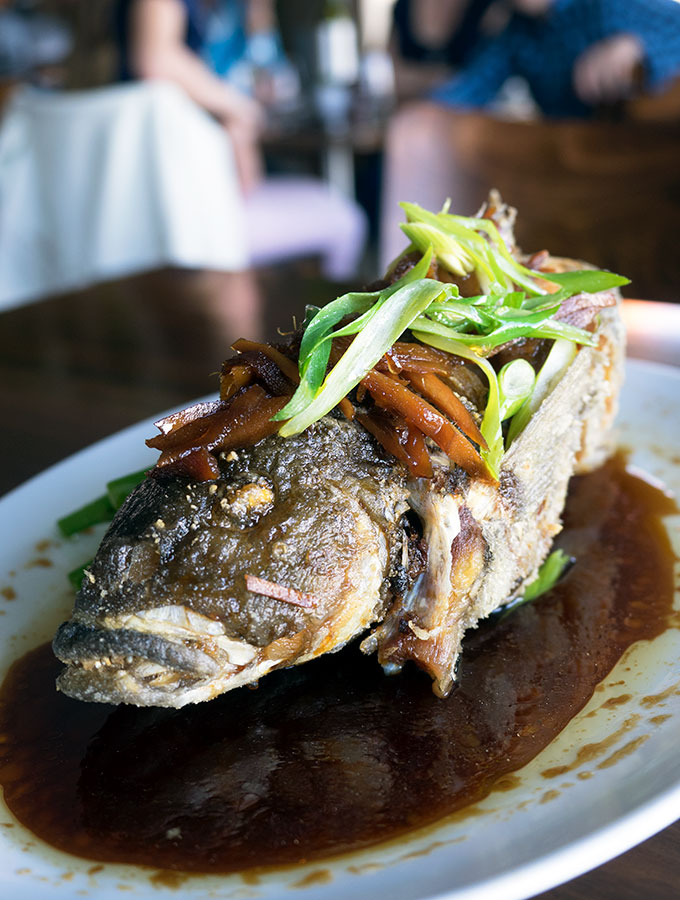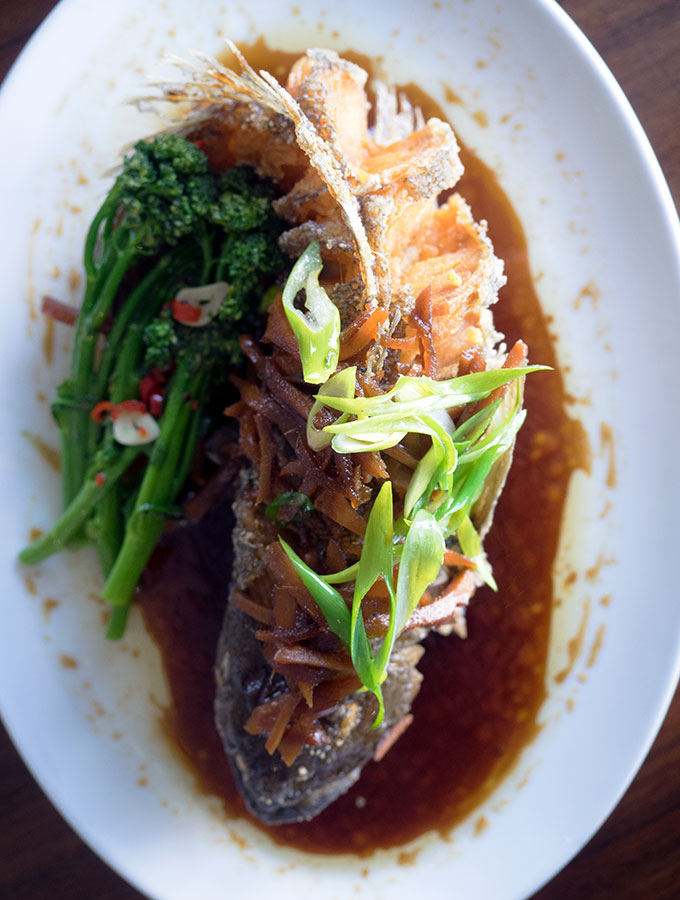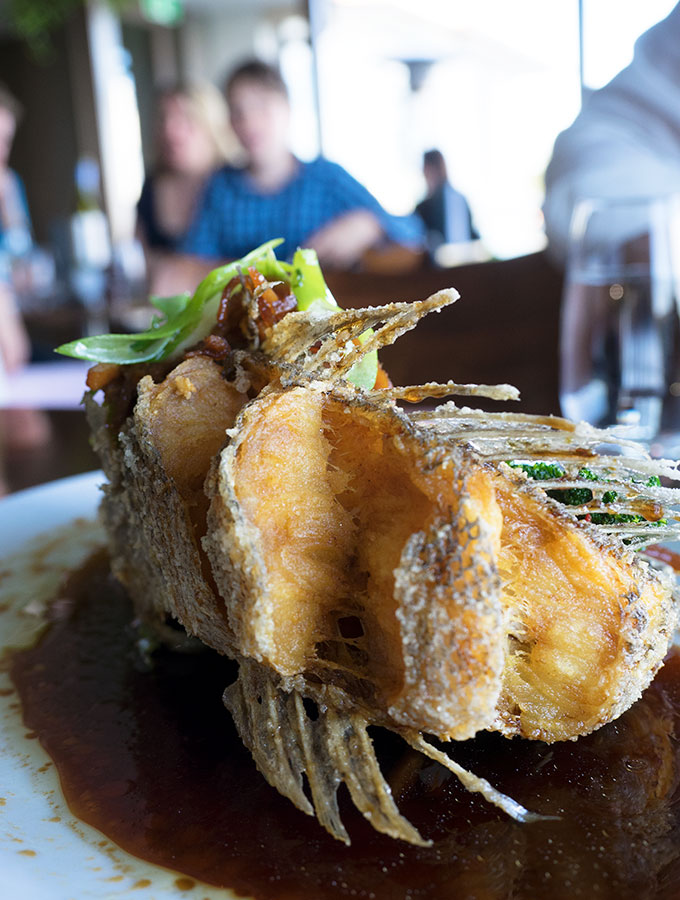 Instead I order Deep Fried Whole NZ Blue Cod with lime, ginger, tamari, broccolini and chilli ($48). It is a show stopping dish (my photos do not do it justice). I know it is eye catching as I watch diners inflict whip lash on themselves watching the dish move from the kitchen to our table.
If you look closely at the back ground of the photo above, you can see the table behind turning around to look at the my cod! Nothing like having an audience while you eat.
The cod is perfectly crisp, and each bite reveals tender moist fat flakes of fish hiding behind the crunch. The sauce has a lovely balance and I love the thick batons of ginger dancing merrily with green shallots along the fish's back.
It may not be very Italian (a dish on the menu from the previous chef), but Andrea tells me he can't take it off the menu. One, it is a very popular dish, and two; Andrea likes the dish and loves using Asian flavours in his cooking. The cod won't be going anywhere soon.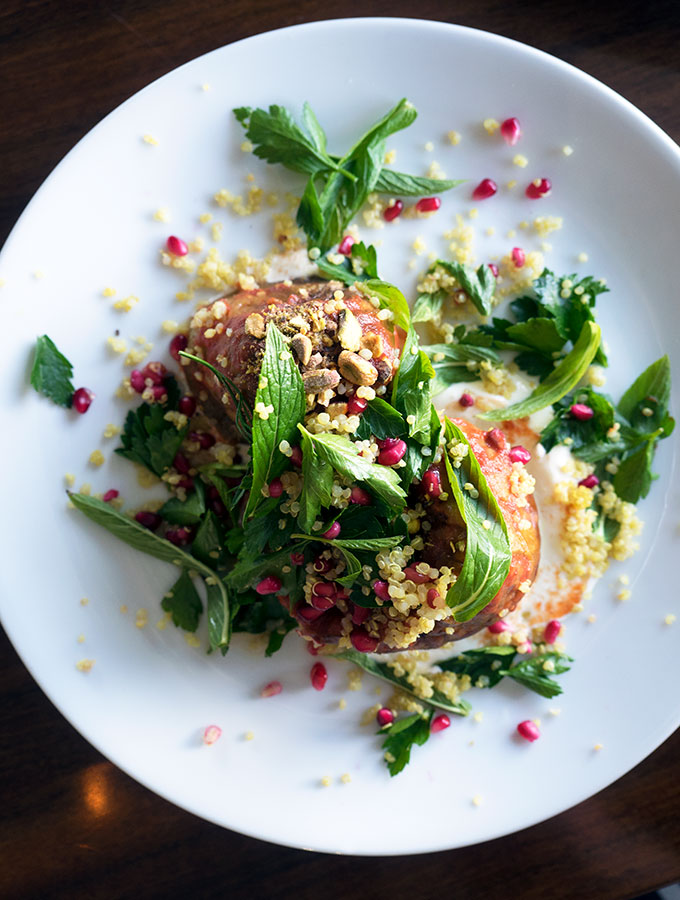 To my surprise Mac orders the Roasted Eggplant with pomegranate, burnt butter labneh, mint and grains ($28). With Veal Milanese ($34), Pork Belly ($32) and Grilled Rib Eye ($45) on the menu I thought it was a weird choice for him. I think he regretted it a little when he saw my cod. The roasted eggplant is a very generous dish, and I thought a rather pretty one.
Did we have room for dessert? No. Did we have dessert? Yes, but only for you, just so you could see what was on offer. Ahh the sacrifices we make.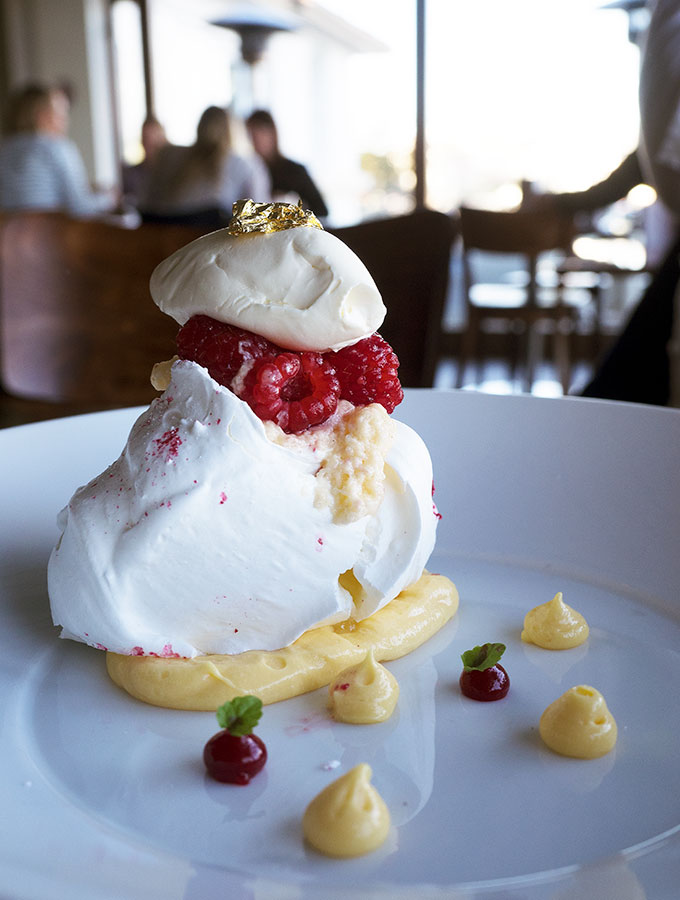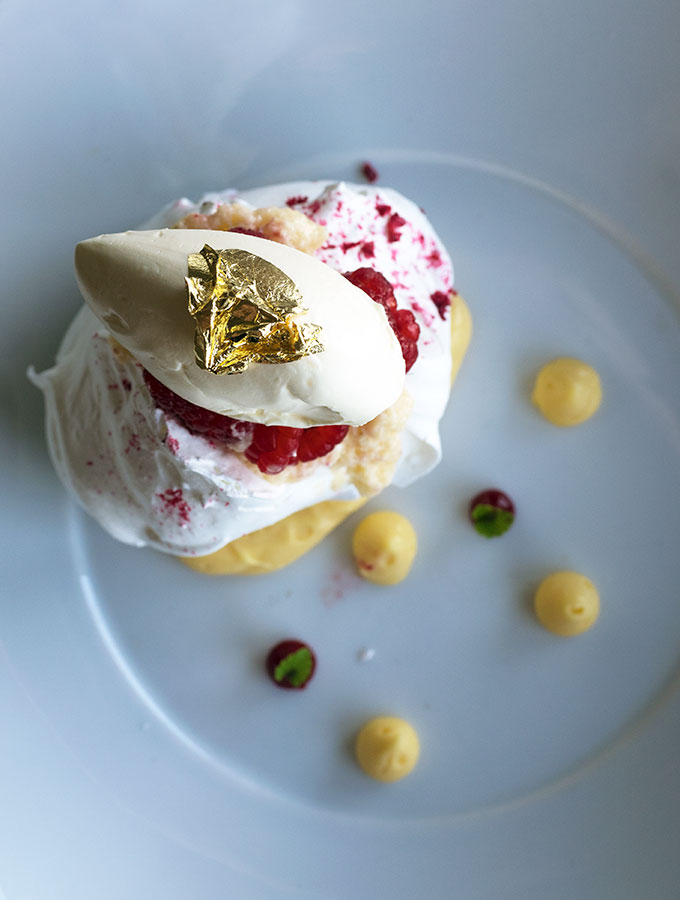 Considering we were sitting in the Manly Pavilion, The Manly Pav ($16) had to be ordered. A perfectly cooked individual pavlova topped with champagne cream, raspberries and passionfruit curd. It is a lovely combination of tang, creaminess, and sweet meringue with a soft marshmallow centre.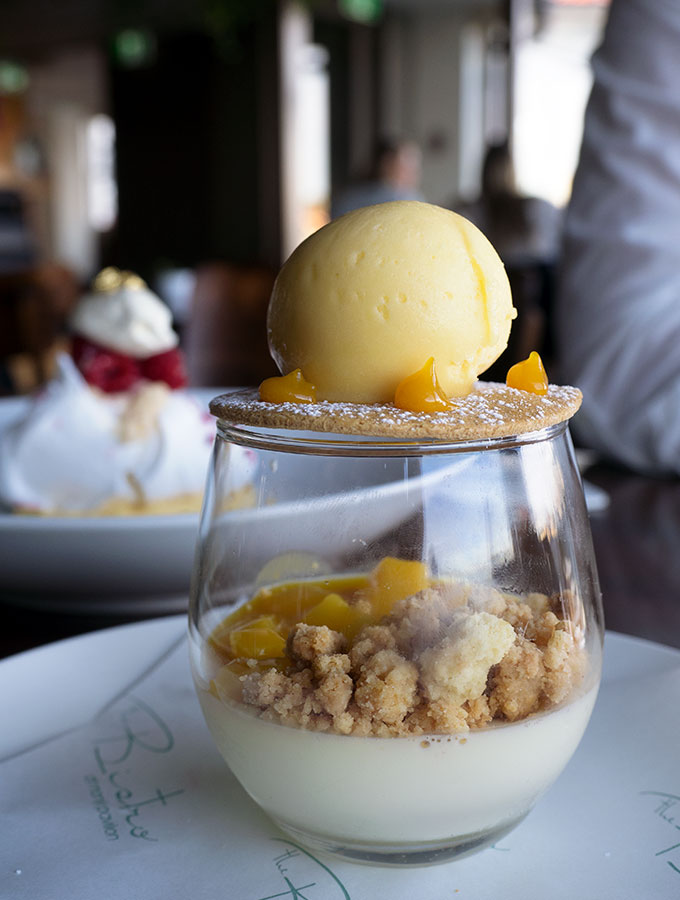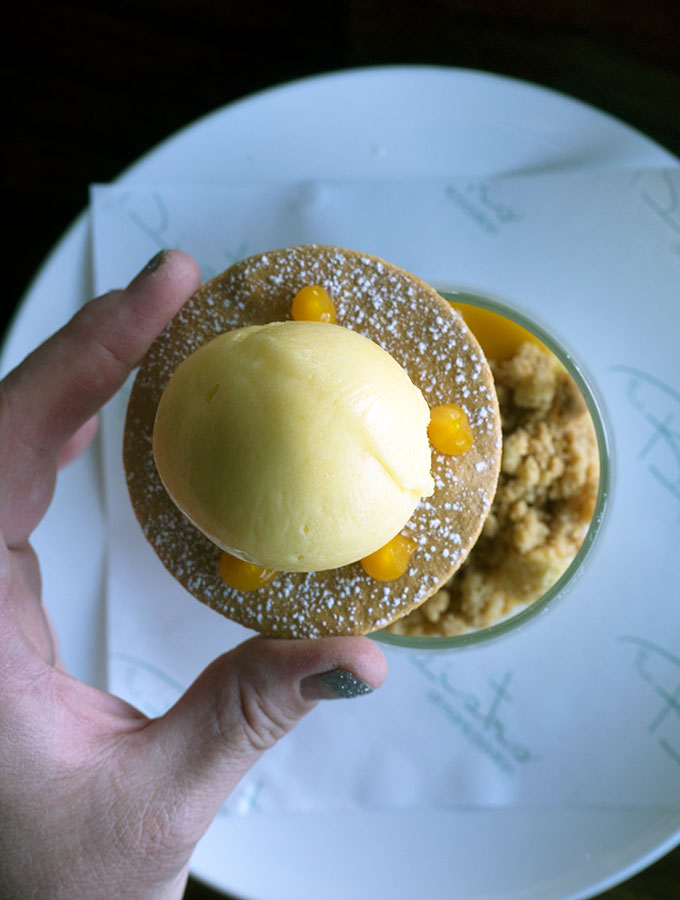 Lemongrass Panna Cotta ($16) was the other dessert ordered. A glass set panna cotta topped with ginger crumble. The glass is then topped with biscuit disk, which has a scoop of mango sorbet sitting on top. The crumble has a light ginger flavour, which doesn't over power the delicate lemongrass panna cotta. Plus the crumble adds such a wonderful texture to the dessert.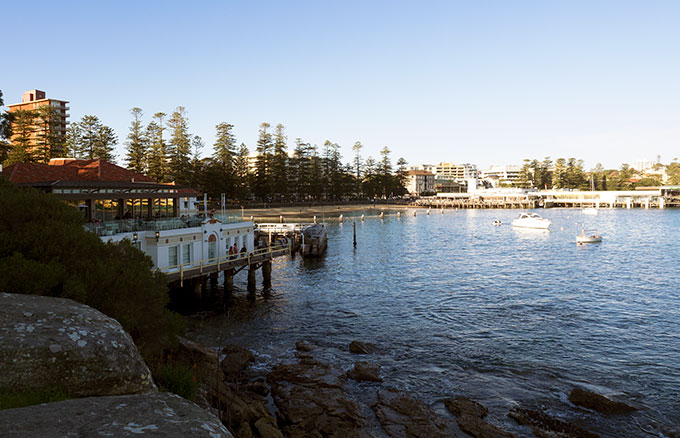 After lunch I stand in the park on Federation Point. Overlooking Manly Cove, watching the ferries come and go, I think "why don't I make the trip to Manly more often?". It's a beautiful sunny winter's day in Sydney and I'm taking in the last of the stunning view before walking back to the car and heading home.
Sara xxx
Belly Rumbles was a guest of The Bistro at Manly Pavilion with much thanks.
More Sydney Eats
Austrian Schnitzelhause – the great schnitzel challenge
German Austrian Club – Oktoberfest fun!
Da Vinci's – pizza palooza in Summer Hills
Boilerhouse Restaurant – at the most haunted place in Sydney
Armory Wharf Cafe – waterside dining Newington
Puntion Trattoria – quirky lighting and a woodfired oven
New Shanghai – wine pairing with dumplings
High Tea Stamford Plaza – with amazing curry puffs
Become a subscriber and don't miss a single delicious recipe, restaurant review or travel adventure.