The Blocks has popped up at Walsh Bay for three weeks only.  A collaboration between Penfolds wines and London based designers, Studio Toogood.  A sensory journey that encourages visitors to discover their palettes using sight, touch and smell.  Once your senses have been heightened grab a table and enjoy some of the world's greatest wines which have been matched to mouth watering dishes. Entry to The Block is absolutely free. 
The 5 Oaks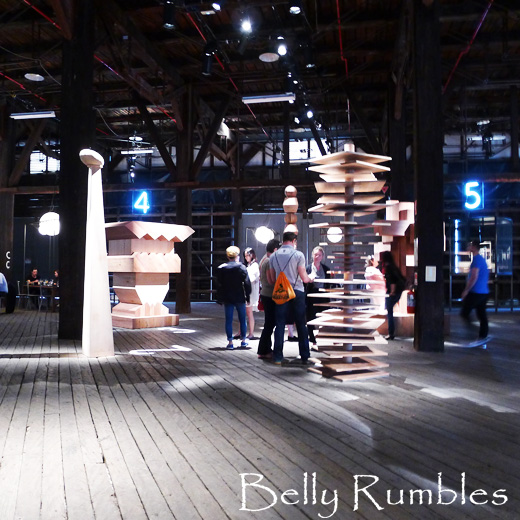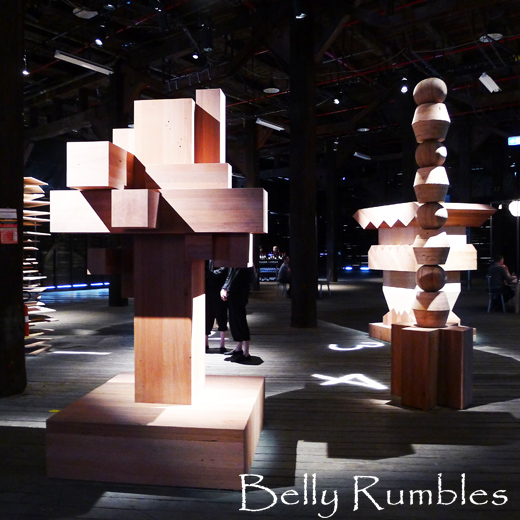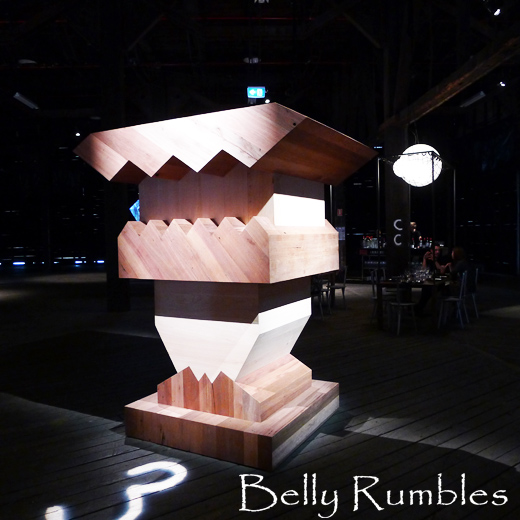 Five large wooden totems which have been impregnated with different bespoke scents.  Each totem represents a particular group of wines; aromatic whites, Chardonnay, varietal blends, regional and shiraz.  It is designed to guide each guest to select the appropriate wines to suit your personal palate.
The Must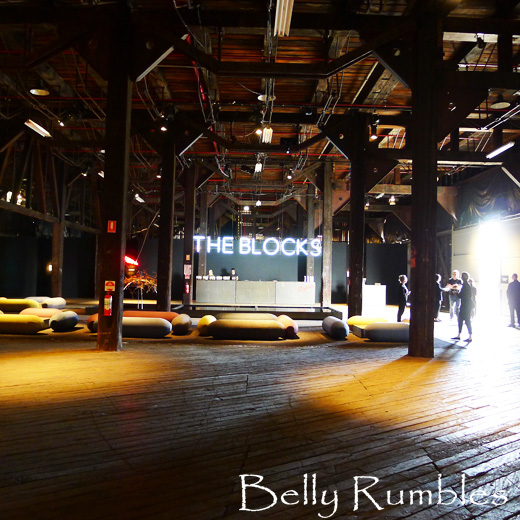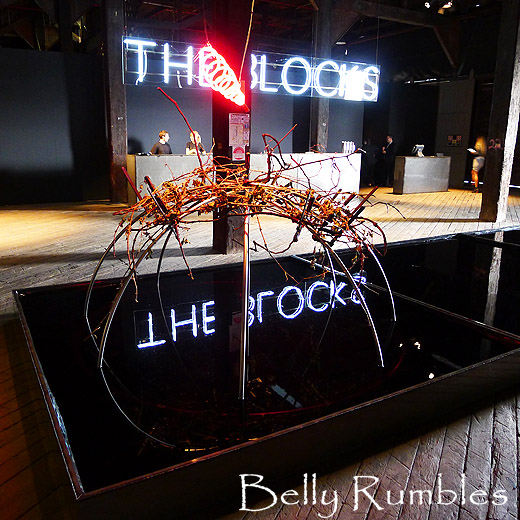 Relax around a pool of wine whist ordering Penfolds Bin and Luxury wines.
The 5 Cabinets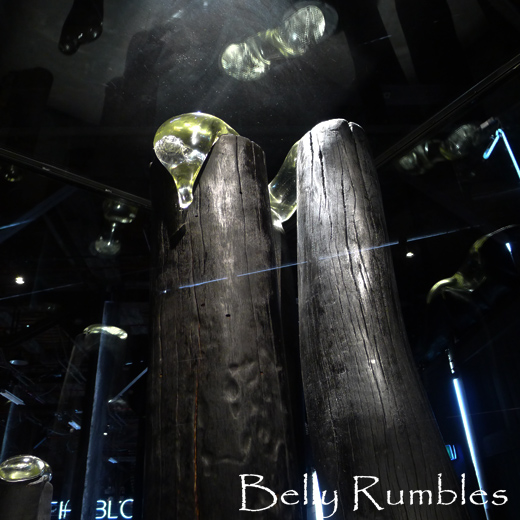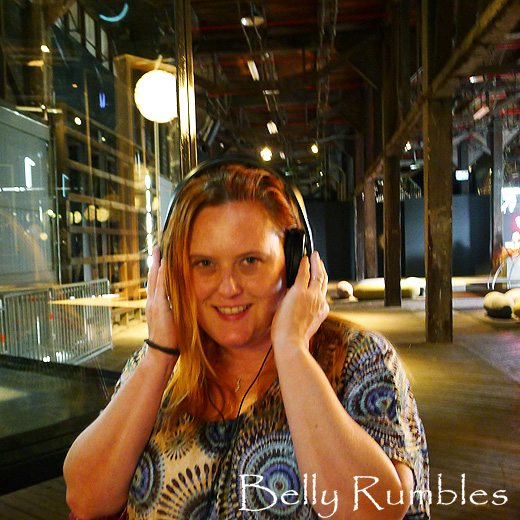 Listening to the 'artwork' of totem #5
Each totem is matched with a particular art work.  Glass cabinets filled with highly visual, poetic interpretations of the terminology normally associated with describing wine.  The five emerging Australian artists and designers;  Stevie Fieldsend, Samuel Hodge, Kit Webster, Katherine Huang, David Haines & Joyce Hinterbinding.
The Noses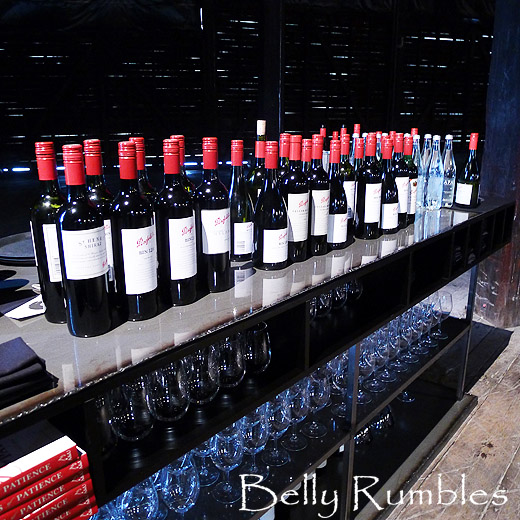 The Noses will be found standing in The Oaks.  They are the trained sommeliers that will help guide you through your experience.
The Blocks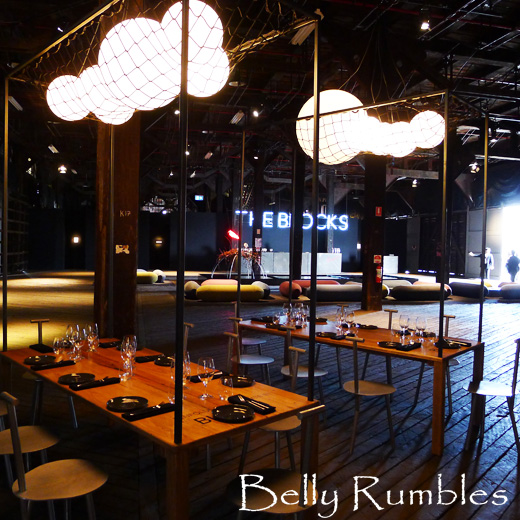 Once you have worked out which totem's scent appeals to you the most, head to The Blocks.  Take a seat under the canopies of illuminated grapes on a Faye Toogood's iconic Spade chair.  Here you can order your wine flight tasting that corresponds with your choice of scent.  Alternatively you can order Penfolds Bin and luxury wine varieties.  Match your wines with food which has been specially designed by Executive, Jock Zonfrillo of Magill Estate Restaurant.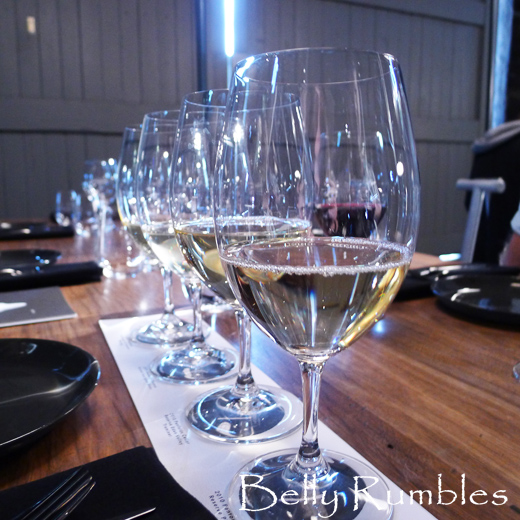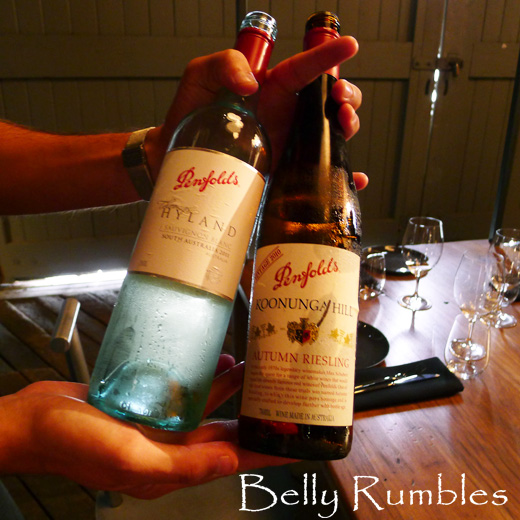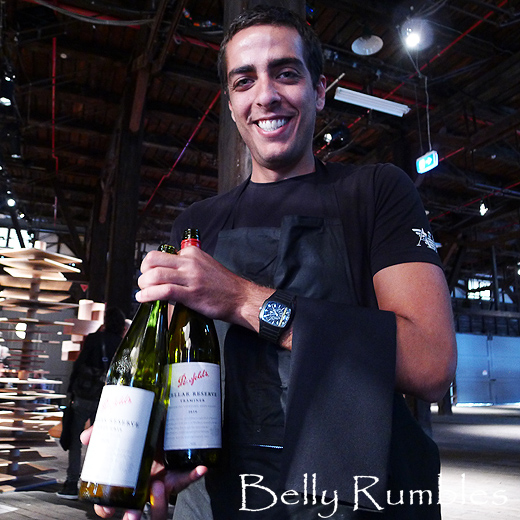 I selected totem '1' which was the aromatic whites and chose the corresponding wine flight $35 (4 x 75ml glasses).  My wine flight of four wines consisted of; 2010 Penfolds Koonunga Hill Autumn Riesling, 2011 Penfolds Thomas Hyland Savignon Blanc, 2010 Penfolds Cellar Reserve Eden Valley Traminer and 2010 Penfolds Cellar Reserve Pinot Gris.  Mac chose a glass of the 2010 Penfolds Cellar Reserve McLaren Vale Tempranillo, which is yet to be released to the public, $18/glass or $75/bottle.  Josh decided to enjoy a Mary Penfold cocktail $16.
Served in the most gorgeous hand tuned wooden bowl.  Finely chopped beef fillet studded with chopped capers and onion, seasoned well.  The halo of wafer thin crisp bread could of been more substantial to scoop up the zingy, tasty tartare.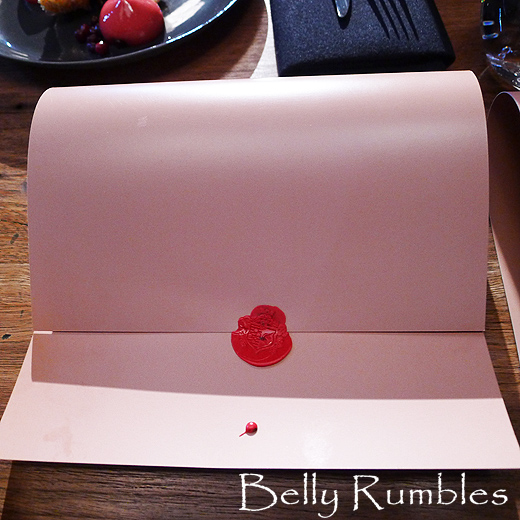 The packaging the proscuitto & wagyu are served in, don't you love the wax seal.
The proscuitto is made from pigs which are raised by the Magill Estate.  They outsource the curing of the pork legs to a local, trusted, butcher.  The proscuitto is then made to the Magill Estate method.  The actual proscuitto slices are noticably smaller than what you would find at your local deli, due to the smaller pork legs used. 
The Wagyu beef has a marble score of +9, sliced paper thin, topped with micro herbs and a splash of truffle cream.  It is buttery and melts on your tongue.  I was tempted to order another serve.
A thick dollop of dark chocolate ganache is surrounded by broken doughnut, raspberry mouse, pomegranate and currents.
The Blocks is in Sydney for three weeks only before moving to Melbourne.  Even though entry is free, bookings are essential through The Blocks' website.
Sara xxx
The Blocks
Pier 2/3
13 Hickson Road, Walsh Bay
16th March – 5th April 2012
http://www.theblockslive.com/about/