The Boathouse is one of my favourite restaurants in Sydney for various reasons. The gorgeous location on top of a converted boathouse that juts in to Blackwattle Bay. The fully glassed in space that gives you views, no matter where you look or are seated, Anzac Bridge, Sydney skyline or the Sydney Fish Markets. Then there of course is the pride they take in the produce they source for their patrons.
Which brings us to their oysters. An incredible variety and all freshly shucked. The majority of the oysters are Sydney Rock varieties from both the North and South coasts of NSW, but there are also a couple of Angasi and Coffin Bay varieties on the menu too. Regular Belly Rumbles readers will know of my love affair with oysters.The Boathouse was established by Tony Papas and Robert Smallbone in 1997. Does the name Tony Papas ring a bell? Well it should. Tony was Executive Chef and partner of The Bayswater Brasserie (now closed). The Boathouse was the second restaurant to be opened by the Brasserie Group. By the way, Tony is also responsible for bringing us Brasserie Bread along with Michael Klausen. Did I just ring that bell for you?
When I had to think of where we were going to dine out with a couple of out of town colleagues for dinner, I thought why not pick one of my favourite restaurants?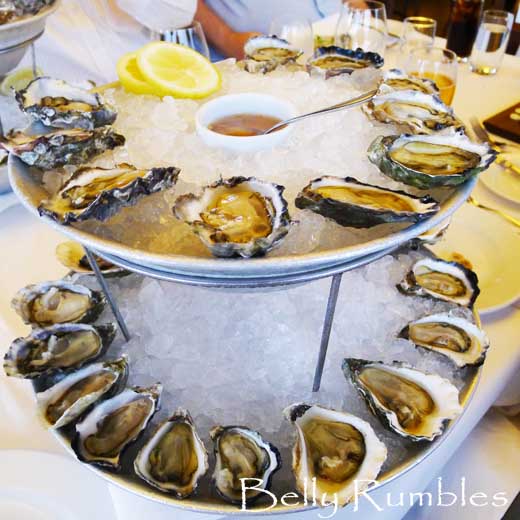 One dozen Sydney Rock, Angasi & Coffin Bay varieties of oysters each $4.20 – $6.00/oyster
Four of us ordered a dozen oysters each. As one guest was over from Japan we decided to go for the one of each variety approach. The idea was to try each of the different oysters and compare tastes. Trust me not all oysters are created equal even if they are all classed as Sydney Rocks etc. When I have dined here in the past I still order a dozen but tend to order only 4 varieties to truly enjoy the taste and compare. The oysters are served natural with a vinaigrette and thinly sliced rye. For the record Clair De Lune are my favourite.
Yellowfin tuna served with seared cuttlefish, ginger and soy. Josh loved this dish and was particularly taken by the slightly charred flavour the seared cuttlefish added.
The melt in your mouth venison was served with a wasabi mayonnaise and side salad with fried onion rings. Let's just say Mac thought this dish was drool worthy. The venison nearly dissolved on the tongue accompanied with the lovely kick of the mayonnaise.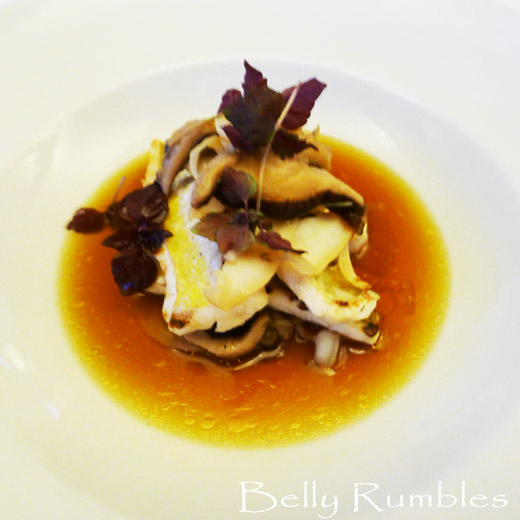 Braised Ocean Leather Jacket $41
Ocean Jacket with abalone, duck consommé and shitake mushrooms. Q ordered this dish due to the abalone. He was slightly disappointed that there wasn't more thinly sliced abalone with the dish, but we both agreed that it wasn't meant to be the star, the Ocean Jacket was. It was thoroughly enjoyed.
Cone Bay Barramundi with beetroot, Cavalo Nero and braised beef cheek. My Barramundi was cooked perfectly with the crispest of skins. Sadly the taste of beef just didn't marry well with the Barramundi. The braised beef cheek was actually a little chewy where I expected it to be tender and melt in your mouth. Everything else on the plate was fine.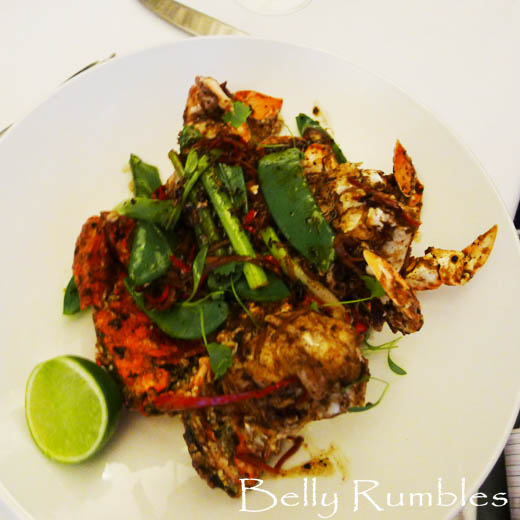 Spanner Crab with black bean sauce $45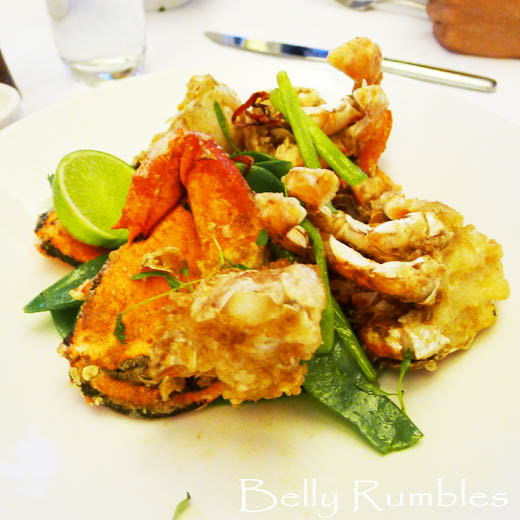 Spanner Crab salt and pepper style $45
The Spanner crab was one of the specials of the day, a whole crab served in either a ginger and black bean sauce or salt and pepper style. The crabs made you work for your supper with crab crackers and fingers fully working hard to extract the sweet crab meat. Both Ivan the Terrible and Hank thoroughly enjoyed them.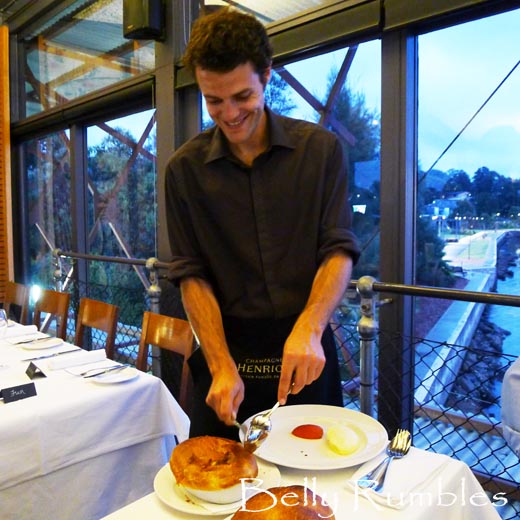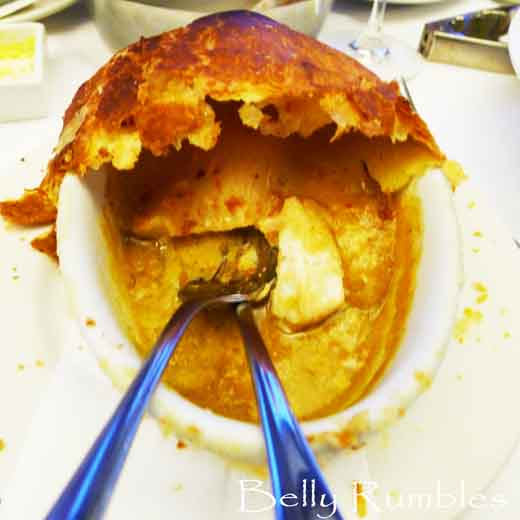 Snapper pie is served with smoked tomato and mashed potato. You need to allow 25 minutes for preparation. Both Mac and Josh had this and they both said it was worthy of being The Boathouse's signature dish. The snapper pie is wheeled out on a trolley to your table for serving. The waiter breaks through the crisp pie shell and then plates up the creamy, with a hint of curry, snapper filling. I tried the smoked tomato and it is quite an amazing flavour.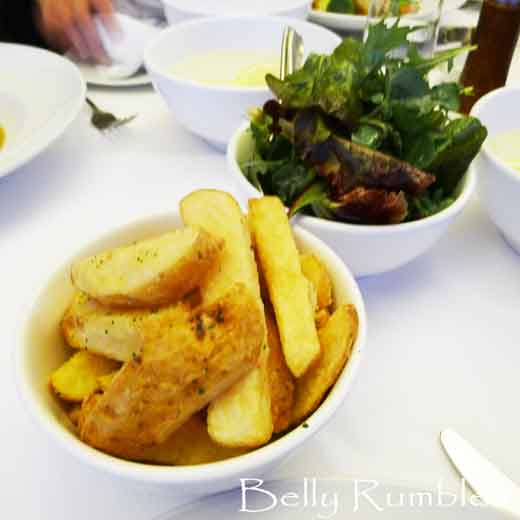 Hand Cut Chips $14 & Mixed Leaf Salad $10
We ordered some sides to accompany our meals. Two serves of the chips and one of the salad. The salad was your basic run of the mill one. The hand cut chips were thick and crunchy with a fluffy interior.
Honey mousse with berries, honey comb and a jam donut. I was so glad when Josh ordered this, as I couldn't of eaten a whole dessert myself I helped myself to a taste of his. The honey mousse was light and delicious and the donut was served warm.
Rich dark chocolate pudding served with toasted barley ice cream and prune. Q really enjoyed his dessert, would be a winner with anyone that enjoyed chocolate.
There are a couple of options on the menu for those that don't eat seafood as well as vegetarian options.
The Boathouse isn't a cheap eat, or middle of the road eat for that matter, but is perfect for special occasions or to take people from out of town. If you love oysters and expertly plated and prepared seafood, you will love The Boathouse.
Sara xxx