I remember when the historic Como Hotel burnt to the ground. The disbelief and feeling of loss by the whole community was quite amazing. There was a great love for this beautiful old hotel. It was part of the area's history and landscape.
The original hotel was over 100 years old when that fateful fire ripped through her. It started its life as a German Club, I believe for German railway workers. It then became the 'local' in 1887.
The local in those days wasn't very local. There was nothing around it. Day trippers would row across the Georges River to the Como Pleasure Grounds for a day of picnicking. When the railway line eventually went in it opened up the area. Land was subdivided into residential blocks and Como became a viable suburb not just a weekend destination.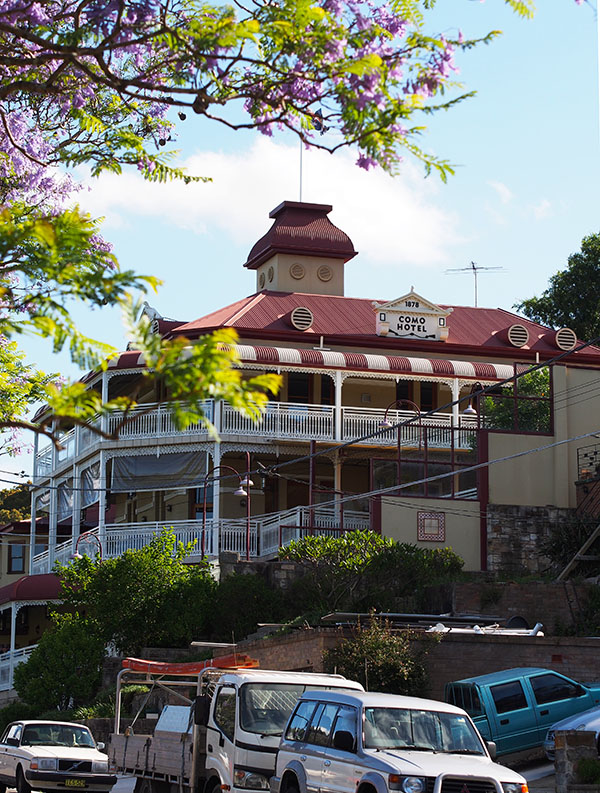 After burning to the ground it was eventually re-built and a restaurant opened up on the premises called The Burnt Door. The main feature was an old burnt door from the original hotel. Sadly the restaurant was hit and miss when it came to food. In the end it was predominantly miss and we stopped going. It was such a shame as it is a great location, overlooking Scylla Bay and the Georges River.
Having not visited for a few years and noticing that there had been a name change, I decided it was time to re-visit. With the wide verandahs and gorgeous view over the bay, what better place to have a girls lunch with Ms K, who was visiting from the Gold Coast.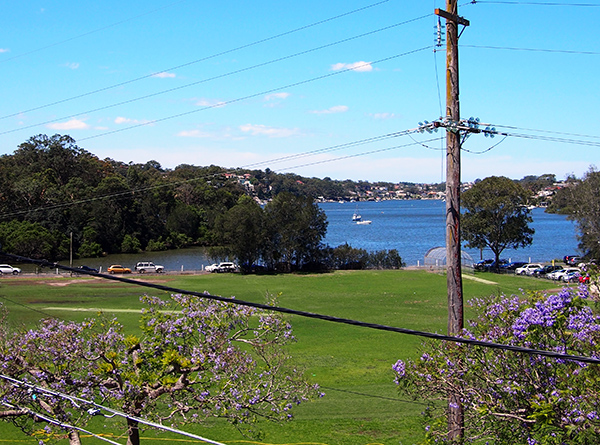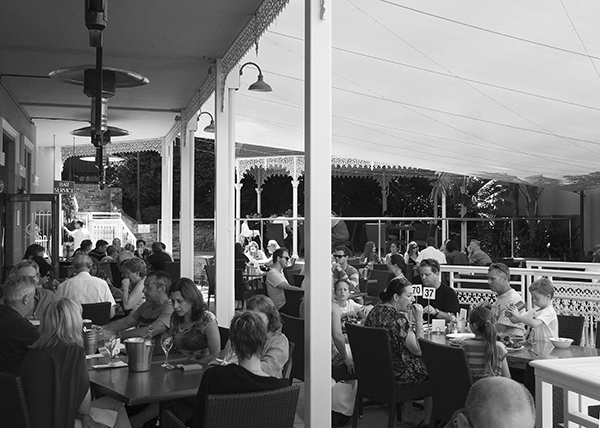 Grab a table as soon as you get there, as it's a busy place on the weekend. You can ring up and reserve one if you wish, and I do recommend this option. Order next to the bar, take a number and the food is bought out to you when ready.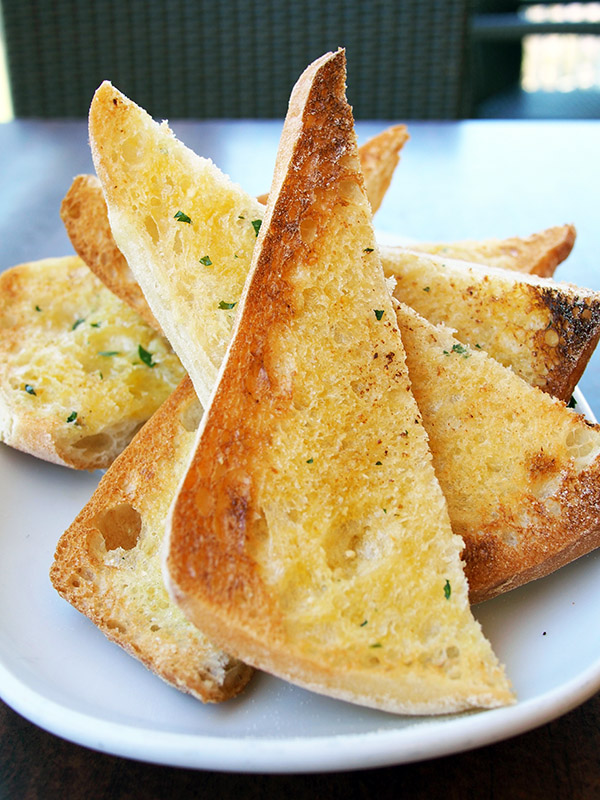 Both feeling rather hungry we start with some garlic bread $9. The smell was wafting past us while we perused the menu, this was ultimately the deciding factor in that choice. Generous serve and tastes like garlic bread as expected, and we can't finish it all between us.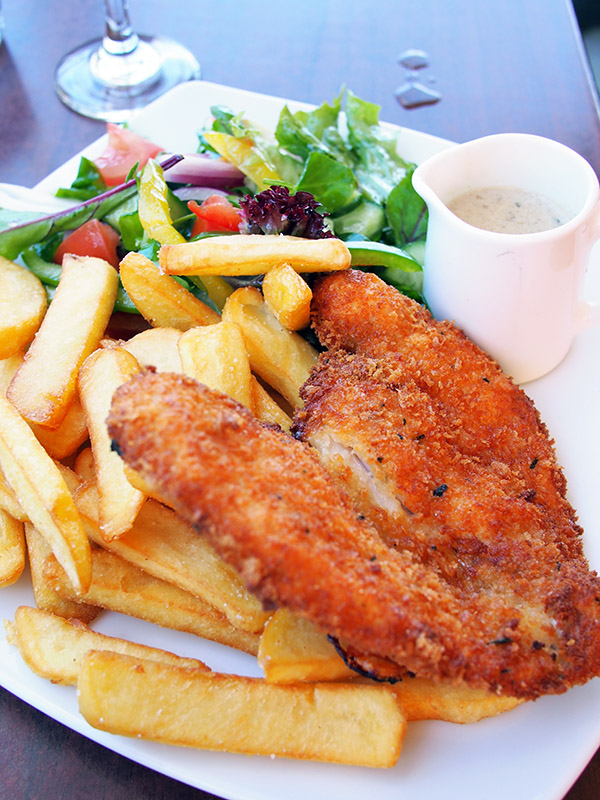 Ms K orders the parmesan and herb crumbed chicken schnitzel $21. It becomes apparent that generous serves are what they provide at The Como Grill. Some crunchy thick house cut fries accompanies the schnitzel, as well as salad and a mushroom and cream sauce $21. Ms K is very happy with her choice, schnitzel is thick and juicy and the crumbs nice and crisp.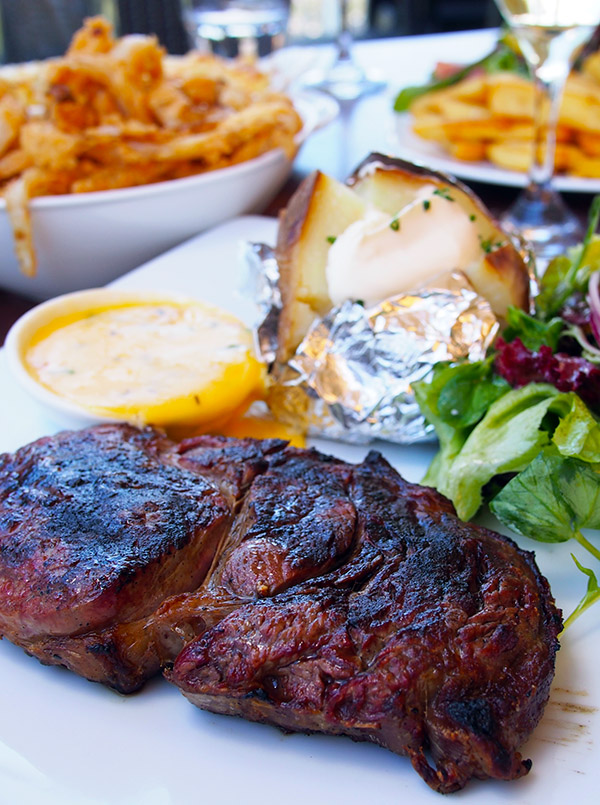 I decide to go for a steak as they have called the restaurant The Como 'Grill' after all. I decided on the pasture fed scotch fillet $24 from Tamworth in Central Northern NSW. You have a choice of sauces and I decide on the béarnaise to accompany my baked potato and salad. If you don't want salad you can choose to have the daily vegetables. Steak is cooked as asked, medium rare, I'm a happy girl.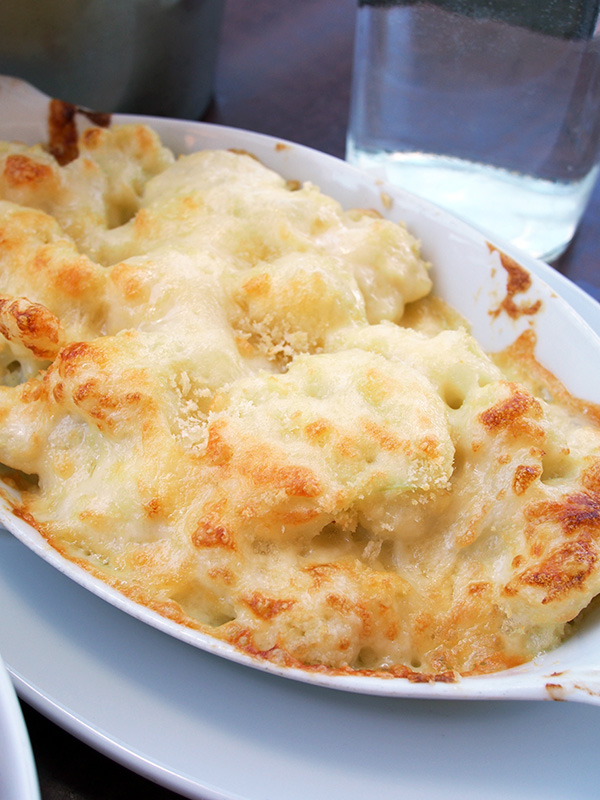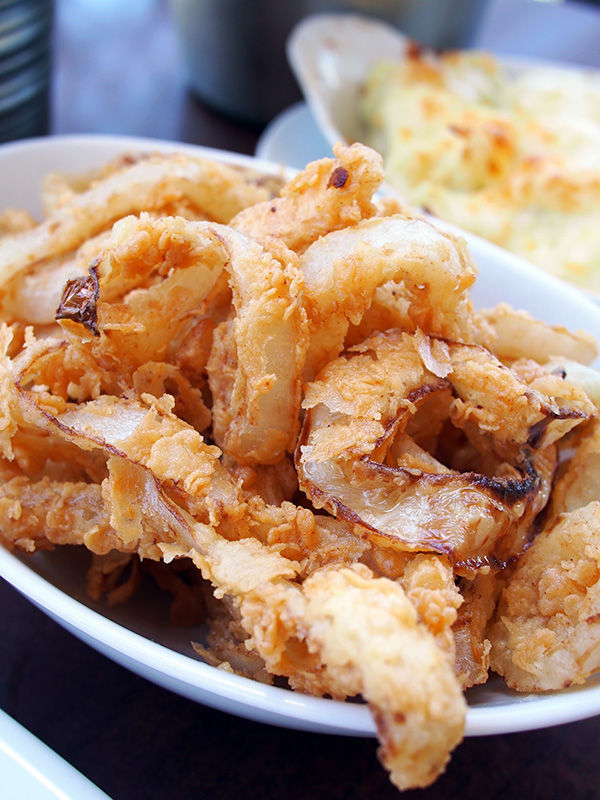 We also order some sides. Ms K is lusting after the cauliflower and cheese bake $9 and I have my eye on the onion rings $9. Not being able to choose between the two we order both. Of course way too much food as the sides are also very generous portions. The cauliflower bake is great, nice and tender with lashings of cheese sauce. Onion rings are made from Spanish onions and have a lovely crunch, but once they get cold they are quite oily. But that is to be expected and a lesson as to why one shouldn't gossip and eat instead.
The Como Grill is well worth a visit. If you don't want to drive it's a very easy train trip. You could even coincide your visit with the local markets held at the Como public school once a month (about a 5 minute walk away). Word of warning though, during football season the pub gets packed. If you are heading there when there is a home game playing, make sure you book a table. Don't say I haven't warned you.
I leave you with some bird stalking photos which I took in the Como Pleasure Grounds after our lunch. Nothing beats a nest full of baby birds, even if they are Noisy Miners.
Sara xxx
The Como Grill
35 Cremona Road, Como, Sydney
Tel: +61 2 9528 9900
Other cafes close by
Jack of Hearts and Jude – sister cafe with the same retro vibe and great coffee
Cafe 2232 – just around the corner also with good coffee
Kuro Neko Ramen – the first ramen joint to open in the Shire
Blackfish Cafe & Grill – right on the water at Como + dog friendly
Left Bower – house roasted beans with 70s vibes