I'm part of the competition, here's hoping I win! Better still, let's hope we win together!
I'm not sure what is more exciting about being a Kitchen Star Contestant. Being in the running to win a brand new kitchen, or that you have the opportunity to win $20,000!!
Somehow I have made it through to be one of six Kitchen Star Contestants. Not really sure how that all happened and it happened all very quickly. But now it is a case of let the games begin.
More accurately let's watch Sara make an idiot of herself online.
You may or may not be aware that The Good Guys are proud partners of Channel 7's My Kitchen Rules (MKR). The Kitchen Star Competition is being held by The Good Guys along side the MKR main event.
I, along with my fellow contestants, will be set cooking challenges by a couple of MKR teams. Basically we need to come up with something bigger and better, and win all the voting love we can on our dishes.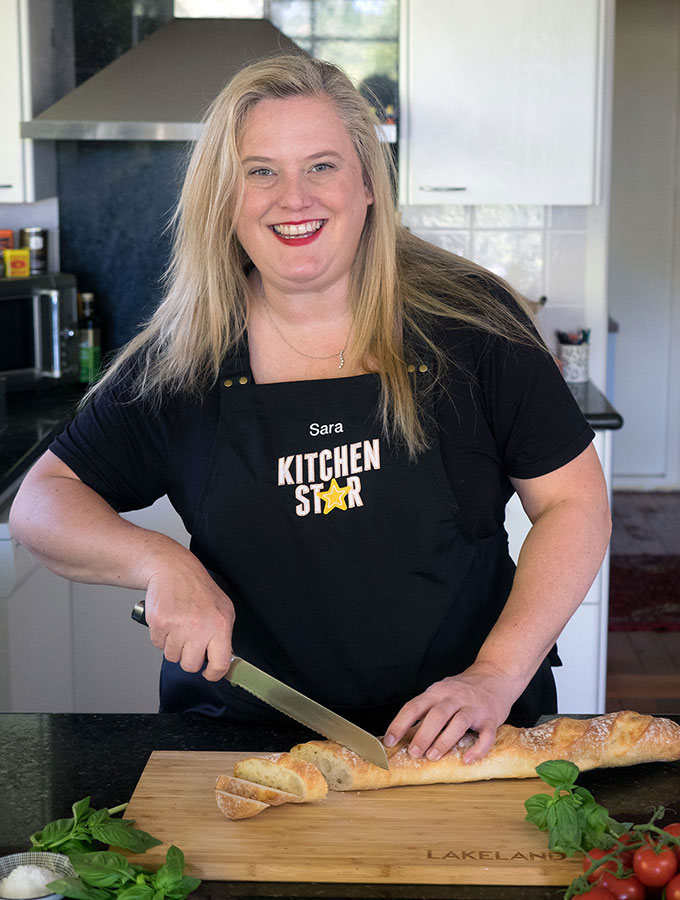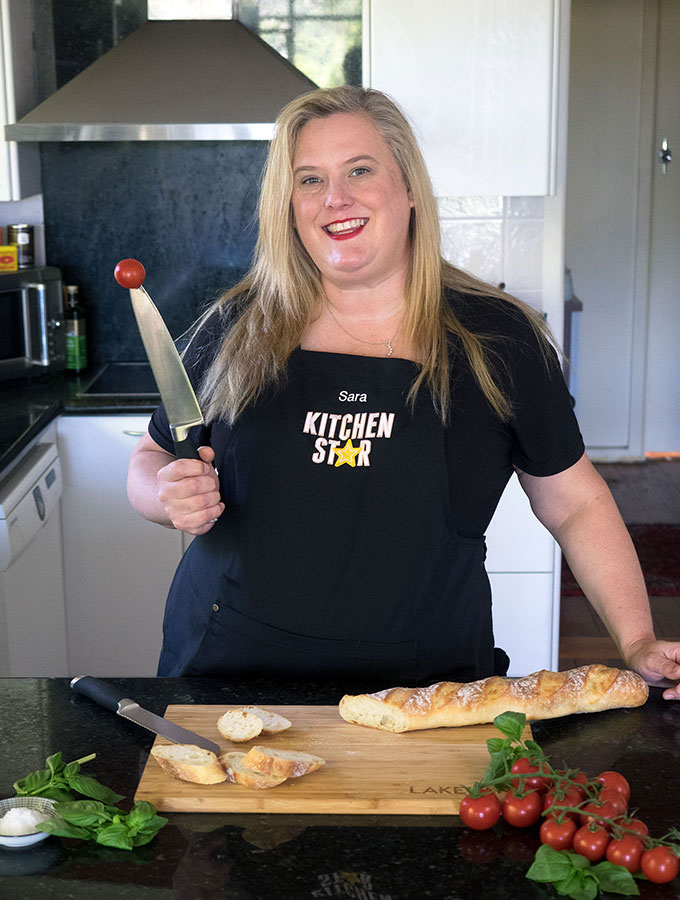 The recipes will be presented in a short video for your viewing entertainment. The most important part is I want you to vote for me, please! By voting you will be in the running to win $20,000 and if I receive the most votes I win a desperately needed new kitchen.
The Good Guys sent all the contestants a swag of kitchen gadgets and appliances to use while shooting our recipe videos, and to keep when we are done. Really very generous of them. All the goodies are hot of the MKR set, and it is really quite fun watching each night to see if 'my' blender (or whatnot) is being used and by whom.
Simon from the local The Good Guys at Caringbah delivered the numerous boxes to my place. Between you and I they are living in my entrance hall right now as I have nowhere to put them!!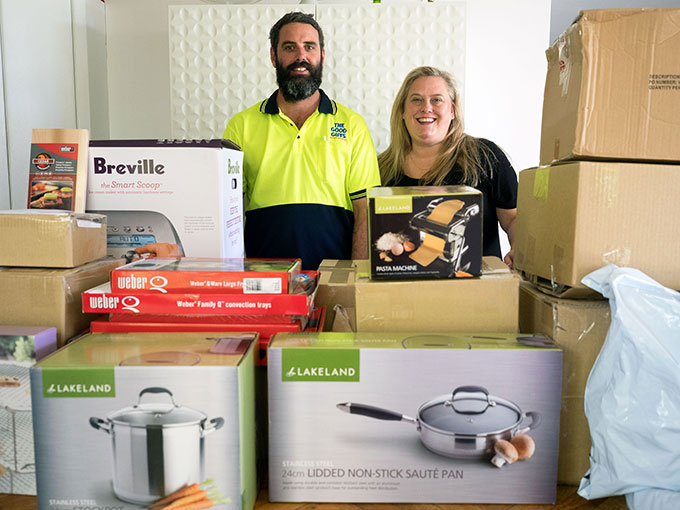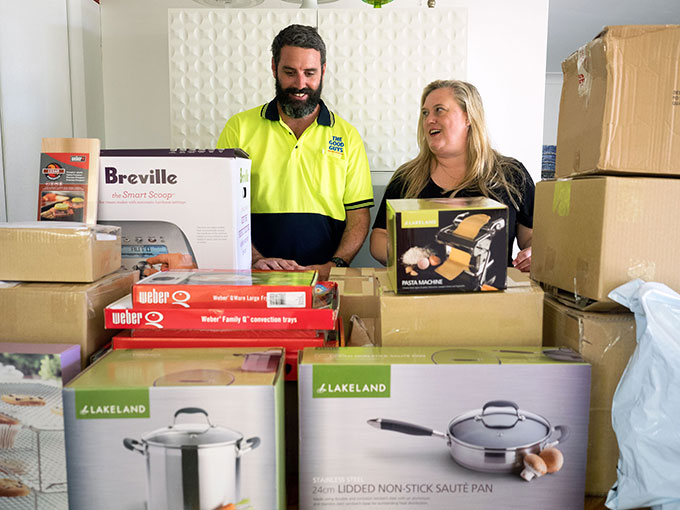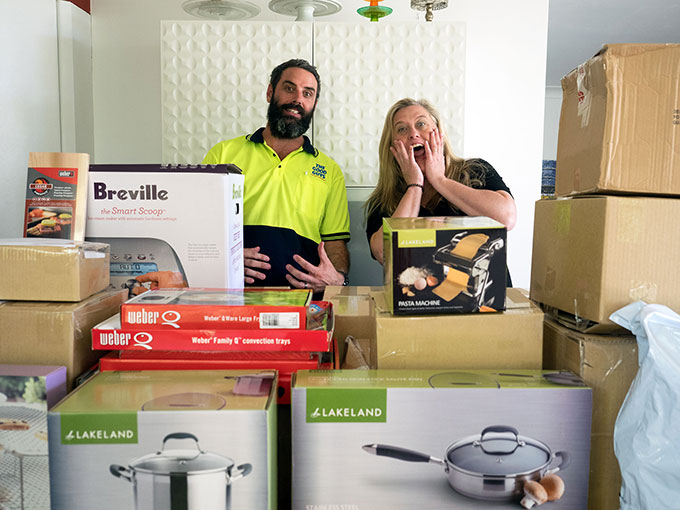 The competition is a popularity contest, and I must admit I am not a great fan of "the most votes wins" competitions. I generally avoid them completely. Basically I hate spamming people to vote for me, it just isn't in my nature.
So why I have decided to take part?
Hello….. New Kitchen!
Actually Josh has told me I am my worst enemy. I have already decided I'm not going to win. I found out on Monday who I am competing against, and they are some pretty amazing talented people.
But that's okay, because I am placing myself outside of my comfort zone doing this. I have to be on camera, uggghhhh!! No more hiding behind the blog and only releasing those perfectly posed photos. The ones that hide double chins, lumps and bumps.
So kitchen or no kitchen this is an exercise of growth for me, and also for Belly Rumbles. That move we wanted to take into filming recipes for our readers has just taken a fast track. Always just couldn't find the time, now I am producing six over a short span of time.
Each Monday, when the recipe videos are released on The Good Guys website, I will be sharing the behind the scenes with you all on Belly Rumbles.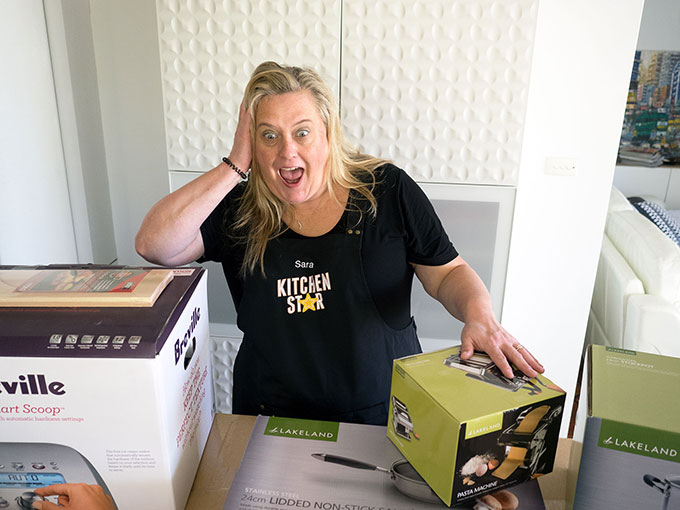 Revealing some of the funny things that went on during filming. I will also elaborate a bit more on the recipe. I've worked out 1 minute 30 seconds is not a lot of time to share the making of a recipe. Especially when I can talk under water.
We will also be sharing the BLOOPERS!!! Josh is making a short compilation of his favourite outtakes/bloopers from filming that week's recipe. That alone will be worth dropping by Belly Rumbles on a Monday to see.
I can't wait to share the first challenge recipe with you next week. You are going to love it!!
Sara xxx
Become a subscriber and don't miss a single delicious recipe, restaurant review or travel adventure.
Subscribe to our mailing list