Josh and I found ourselves yet again at Ms.G's for another March into Merivale event, 'The Morning After the Night Before'.  We were there the previous Saturday for 'Milk Bar Memories'.
Even though neither of us were suffering from a hangover, both of us were looking forward to discovering what delights Dan Hong and Jowett Yu had lined up for us.  The menu reflected what Dan and Jowett craved themselves when hungover.  $50/person for five courses, including a drink on arrival, either an Ocean Mary, fruit smoothie or a glass of sparkling white.
I decided on trying Ms.G's version of a Bloody Mary, the Ocean Mary.  You could choose to have it spicy or not, I chose spicy of course.  It really had a chilli kick on first sip, but was very drinkable.  Josh decided to try the strawberry and banana smoothie, thick and creamy.
What better way to start a brunch designed for those with a hangover, dim sums and spring rolls.  Prawn, scallop and corn dim sum and a crisp pork and egg spring roll.  The spring roll had the surprise addition of cucumber and oozy stringy cheese.  Both the dim sum and spring roll were delicious.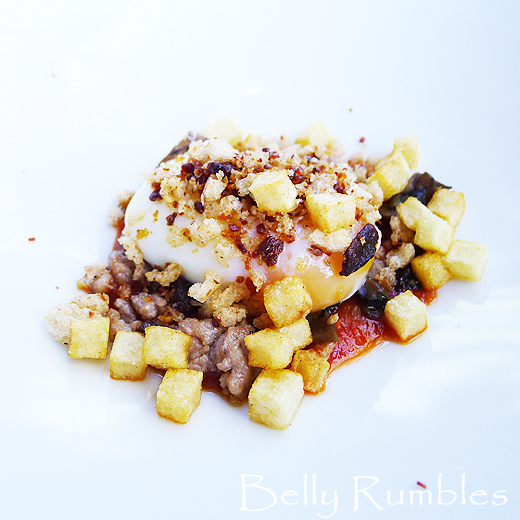 Didn't quite know what to expect with this dish, and was pleasantly surprised when I was presented with a 60 degree egg.  The perfectly cooked egg was nestled amongst tiny fried diced potato, mushroom, egg, crumbles of pork and fennel sausage with a hand grated tomato sauce.  How could you go wrong with an oozy egg yolk spilling in to all that tasty goodness? 
I am told that the pork and chicken broth had been cooking for 24 hours, and I don't doubt it as it is packed with flavour.  Even though not a true tonkotsu due to the use of chicken as well as the immediately noticeable colour (not creamy white), I loved every mouthful.  The pork bones have given the broth that slightly oily gelatinous slick across the top when slightly cooled.  Packed full of corn, a thin slice of rolled pork belly, and topped with bamboo shoot.  This dish is the winning dish of the day for both Josh and I.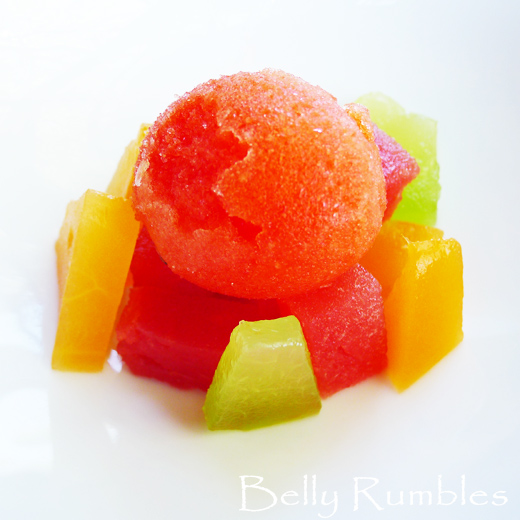 Fresh melon with berocca sorbet
Compressed watermelon, honeydew melon and rockmelon topped with a scoop of berocca sorbet.  Very refreshing after the ramen.  Yes, the sorbet did taste like that vitamin morning kick starter Berocca.
This could of been a winner, sadly it was a fizzer.  A glass of cola with a scoop of vanilla ice cream which had pieces of bacon through it.  Bacon marries very well with sweet flavours, think maple syrup, and I had high hopes for this dish.  I must admit, I was hoping it wasn't going to be an actual float, but a dish recreated to represent the flavours of one.  If the bacon had been candied, I think it could of worked.  Sadly the bacon wasn't and was chewy in the ice cream.
Was another fun 'mummy and me' brunch/lunch for Josh and I.  We are both now very keen to return for a 'normal' meal at Ms.G's.
Do tell dear Belly Rumbles reader, do you like the salty/sweet combination in foods?
Sara xxx