Westfield Level 5 food court really has a massive foodie hype about it.  Not working in the city, I must admit, I have not spent a great deal of time there.  So when occasion has called for me to venture in to the big smoke to do some shopping I have started to stick my head in and see what's what.
I was doing a pre Japan shop to purchase some goodies to take over as presents and hunger struck.  The Snag Stand was on my foodie radar and the perfect reason to venture to level 5.
Decisions decisions, what to have?  Their range is quite extensive.  Who would of thought that choosing a sausage on a bun would be so difficult.  Would I have the Wagyu beef with butter & garlic mash, herbed gravy topped with sautéed onions ($10.90)?  Maybe pork & fennel Italian, freshly grilled with sautéed tri colour capsicum, sautéed onions & balsamic glaze on a toasted brioche roll ($9.90)?  The Backyarder sounded interesting, a classic Aussie beef & tomato sausage on a rustic roll with creamy coleslaw, Coopers Ale BBQ sauce & cheddar cheese ($8.90)? Or the chicken & rocket, which sounded on the healthier side, served on a soft poppy seed roll with rocket pesto aioli, fresh tomatoes & shaved parmesan ($9.90)?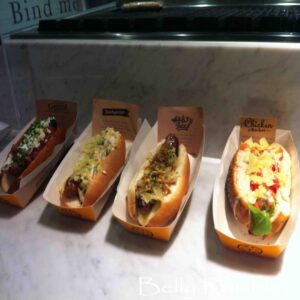 The Snag Stand source the sausages from some of the most respected and awarded artisan butchers in Australia; Rodriguez Bros, AC Butchery, Rudi's (a Sutherland Shire favourite of mine), Brot & Wurst and Pino's (another frequently visited establishment).
After a hard decision I settle on an American Classic.  Wood smoked frankfurt with American yellow mustard, tomato sauce, onions and sweet relish on a toasted brioche roll ($6.90).
I ordered some chips ($3.90), made from Tasmanian Russet potatoes and a small tub of curry ketchup dipping sauce ($1.00).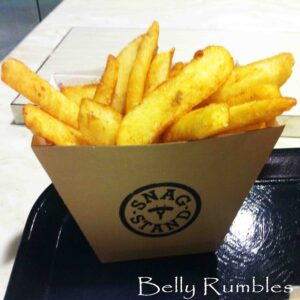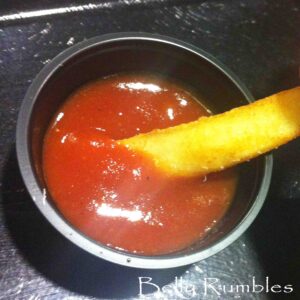 When you order and pay you are given a beeper to let you know when your order is ready.  I wasn't impressed with the wait, 13 minutes!  They were busy making display items to put out on the counter instead of making my lunch!!!  I wasn't the only one that was not impressed.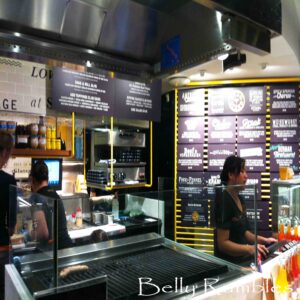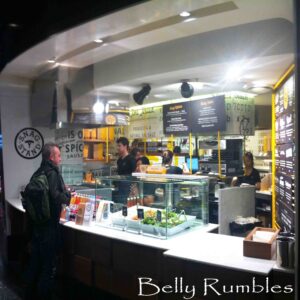 So what did I think of my American Classic?  The actual frankfurt was lovely, it was a Rudi's, I know them well and they are great.  There was a little too much sauce and mustard on it for my taste.  I prefer my dogs on the less goopy side.  The fries were crisp on the outside and fluffy on the inside.  The curry ketchup dipping sauce was a sweet tomato sauce with a curry flavour.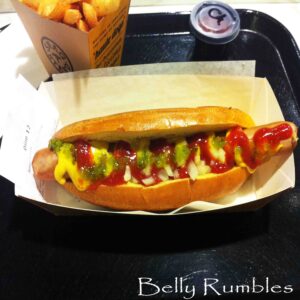 Would I go back?  Yes I would, to try some of their more interesting snags.  There is actually a duck snag I have my eye on, nom nom nom.
All photos care of my beloved  iPhone, my apologies about the crappy quality.
Sara xxx