The first time I went to Camellia Gardens would have been 15 years ago with a 3 year old Josh.  The gardens are magical for kids.  Running water, ducks, turtles, flowers and of course camellias.  You can spend hours exploring the different paths that lead to "secret" gardens.  Well not really, but the way it is planned out it is awesome, you don't know what is around every turn.
I hadn't actually eaten at the Teahouse when Josh was younger and then as he got older we stopped going.  I thought it would be the perfect location to take Ms Shelly and the Princess (age 4) to celebrate their combined belated birthdays.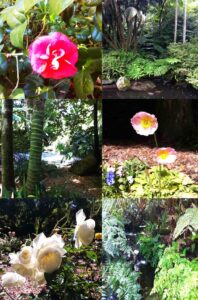 The Teahouse now does high tea and as Ms Shelly hadn't been to a high tea before I thought it would be perfect with some duck feeding for the Princess to follow.
On the website they recommend that you make a booking.  Please note, for high tea you HAVE to make a booking and stipulate to them that it is for high tea.  This isn't clear and I made the mistake.  I rang up and booked for the four of us and when we turned up I realised something was wrong when our table wasn't set with china and linen like others having high tea.  They hadn't accommodated the booking as high tea.
Only if you look at the menu on the website does it state you need to pay a deposit and book in advance stating high tea.  In my own defence too, they didn't double check either when I made the booking.
I was crushed as quite honestly the website is not clear.  We were prepared to order from the kiosk menu for lunch, but they came back and advised that they could accommodate us.  Lunch sadly started off on the wrong foot and was slightly made to feel that they were doing us the favour.  Example was the way they threw the table together.  High tea is about grace and style, our china, cutlery and napkins were placed down without much elegance at all.
We ordered high tea for Ms Shelly, Josh and I with the idea that the Princess would nibble on the things she liked from what we had.
There is a medium assortment of teas available, with iced tea, hot chocolate, coffee or soft drink as an alternative.  I decided on the girly grey and Ms Shelly had the lemongrass & ginger tea.  Josh went for a hot chocolate.
You are presented in the typical fashion of a three tier serving platter.
The bottom tier consisted of sandwiches cut in quarters with their crusts off.  These consisted of chicken avocado mayonnaise & lettuce, salmon red onion lettuce & mayonnaise and the third sandwich option was ham chutney & lettuce.  The chicken and salmon sandwiches were very enjoyable, sadly the ham ones were very soggy.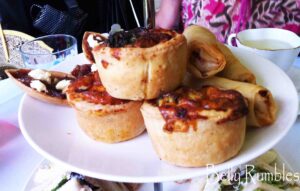 The middle tier was the savoury pastry tier.  There were vegetable quiches, caramelised onion & feta tarts and spring rolls.  I thought the quiches were a little on the large size and weren't all that appetising.  Not sure what place a spring roll has at a high tea, unless it is that way themed.  I did enjoy the caramelised tarts.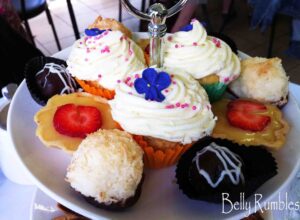 The top tier was full of sweet pastries.  Frosted cup cakes, lemon tarts, coconut macaroons and chocolate "rum??" balls.  The Princess really enjoyed the cup cakes and so did Josh, Ms Shelly and I left them to it.  Lemon tarts were nice.  Josh ate my chocolate ball and macaroon, both okay according to him.
I just noticed when I was going through their on line menu when writing this post that we should of received their "famous teahouse scones" which we didn't.
The high tea is $30 per head and you have the option to byo your own champagne.
The Teahouse is in a lovely setting which is great for kids to explore afterwards (or before).  Lots of duck feeding to be had and turtle spotting.  The Camellia Gardens is a bit of an oasis in Caringbah.  In regard to the high tea, not bad value for $30, even better if you get scones.
Sara xxx